Using suitable PVC glue for your inflatable boats is essential. Because when they get damaged, you really need to properly seal them back. And the most crucial thing is to find the proper adhesive or PVC glue.
If you're reading this article, you surely must be looking for the best PVC glue for inflatable boats. Inflatable boats need to be repaired with glues that are water and heat-resistant. So, choosing the right type of glue is important.
As there are hundreds of PVC adhesives out there available in the market. Contrarily, you might not be able to pick the best PVC glue on your own.
Therefore, we have looked at over 50 products and hand-picked the best 13 PVC glue among them. Added to that, we've made a short buying guide for your better understanding too.
So, without further delay, let's check these combos out!
List of the Best Inflatable Boat Repair PVC Glue
1. GEAR AID Repair Adhesive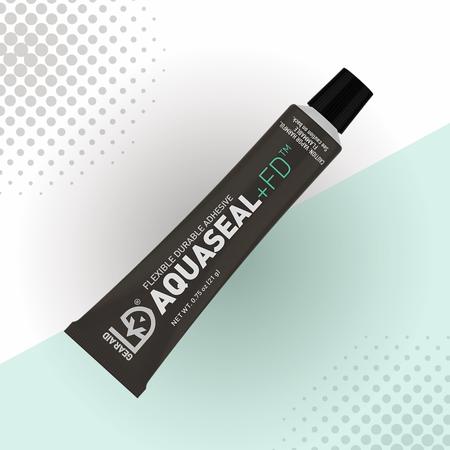 Product Overview
The first item on today's list is the GEAR AID Aquaseal FD Flexible Repair Adhesive. Now, it's on the top because this is considered the most premium glue according to many users. Even when we took matters into our own hands, we found a lot of positives honestly.
Now, let's go check the details of this PVC glue.
Let's start off with the sizing. The GEAR AID Repair Adhesive comes in 2 sizes. One is 0.75 oz and another is the bigger tube of 8 oz.
Now get some knowledge on compatibility. This glue works well on leather, neoprene, rubber, nylon, canvas, and GORE-TEX fabric.
This PVC adhesive can easily fix rips and tears permanently. You can use it in your waders, wetsuits, muck boots, and of course PVC inflatable boats.
You've to use this as a fabric and vinyl repair adhesive to patch holes and seal the leaks. It will cure the leaks in 8-12 hours.
This glue is unaffected by water and extreme temperatures.
Overall this glue works amazingly on PVC inflatable boats. This one is the prime choice for fixing PVC boats all over the place.
Pros
Water-resistant.
Can endure extreme heat.
Fixes rips and bruises permanently.
Compatible with all types of material.
Cons
Doesn't come with any patch.
2. HH-66 PVC Vinyl Cement Glue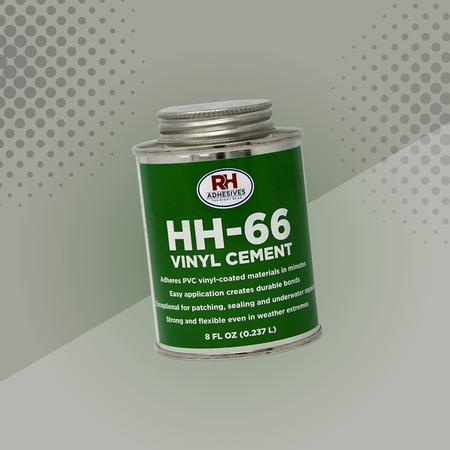 Product Overview
The second item on our tier list is the HH-66 PVC Vinyl Cement Glue. This one is also another remarkable adhesive for fixing PVC inflatable boats. Does it compete for head to head with the previous product?
Let's go find out the details.
First and foremost thing. Let's talk about the sizing this product comes in.
Unlike the previous product. This one comes in a can. And this adhesive comes in only one size; 8 oz.
The PVC glue is made of vinyl. Which suits plastic the most? The glue is compatible with most of materials. But the company recommendation is plastic. Which means it works best on plastic.
The vinyl glue is clear-colored so when it dries off you won't even notice the glue. Besides this glue is also extremely heat resistant.
Overall this vinyl cement is also a very good option for repairing your PVC inflatable boats.
Pros
Comes in a bigger 8 oz can.
Made of Vinyl cement.
The color of the glue is clear.
Cons
It only works best on plastic.
3. PVC Stitch Liquid Patch

Product Overview
The third product we are about to review is the PVC Stitch Liquid Patch.
Just like the very first product this one also comes in a tube.
Now, let's go find out what it has uncommon than that.
Again starting off with the sizing. The PVC Stitch Liquid Patch comes in a tube of 0.68 oz. And it has only one size. This one is the smallest of all on our list.
Talking about the color. It has no color. The glue is transparent.
Let's give a look at this glues compatibility. This Adhesive is mostly suitable for faux leather. But it also works great on neoprene, vinyl, polyester, eco-leather, Cordura, and GORE-TEX fabric. Besides, you can also use it for repairing pool liners.
This product is remarkably designed to repair in every field condition. And also most outdoor gear. Such as rafts, PVC inflatable boats, kayaks & SUP paddle boats, inflatable air mattresses & water mattresses, Cordura bags & others.
Besides, after applying it to your gear, it is ready to use in only 2 hours. But the maximum strength is acquired in 10-12 hours.
Added to that, this adhesive is water-resistant, also UV heat-resistant. It comes with a lower temperature rating of 32 degrees Fahrenheit. And an upper temperature of 115 degrees of Fahrenheit.
Overall this is a must-buy adhesive for repairing most outdoor and PVC inflatable boats.
Pros
Transparent adhesive.
Water and UV-resistant.
Dries quickly in 2 hours.
Cons
Suits Faux leather the most.
4. Strongest Glue by HG POWER GLUE
Product Overview
The fourth product on our tier list is the Strongest Glue by HG POWER GLUE.
Just like its name, it is a strong glue for repairing gears and PVC inflatable boats. But what something different does it has to offer than the previous products we reviewed?
Let's explore it.
First, let's quickly see what size this glue comes in. The Strongest Glue comes in one size only. It is 0/80 oz. The color of this adhesive is white.
This glue mostly works best with plastic materials. But also it's used for bonding wood, rubber, glass, metal, aluminum, ceramics, and stone. Basically, everything that bonds together. It's like super glue.
One remarkable thing about this glue that we should mention is its sealing time. This glue can bond in only 5 seconds. Besides the company claims that it has 600 percent more sticking strength than conventional glues. It is an industrial glue made of cyanoacrylate adhesive.
If you put it in any refrigerator it can be stored for 1-2 years. Still have outstanding bonding ability. Which is absolutely unbelievable.
The Strongest glue is waterproof and durable. It's also heat and cold-resistant.
It has a lower temperature rating of -49 degrees Fahrenheit. And an upper temperature of 239 degrees of Fahrenheit. Which is absolutely breathtaking.
Overall this is the king of the glues. We highly recommend this glue for fixing PVC inflatable boats.
Pros
600 percent more bonding strength.
Extreme heat and cold resistance.
It can be stored for a longer period of time.
Superior bonding strength.
Cons
It won't work with fabrics.
5. BRIS Inflatable Boat Repair PVC Glue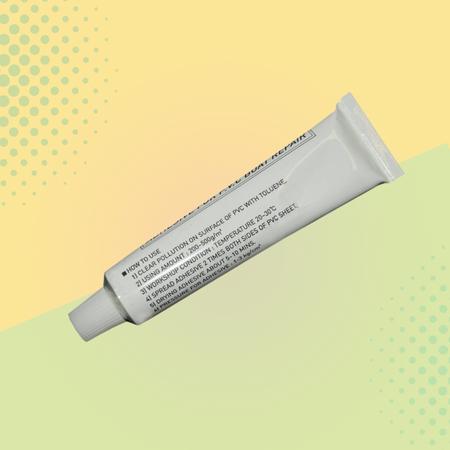 Product Overview
The last but not the least product on our list is the BRIS Inflatable Boat Repair PVC Glue. Although it stands in the last place, it's surely not bad by any means. Besides, it beat out the rest of the products available in the market to claim its position. Do consider that too.
Without further ado, let's go see the details about this adhesive.
Let's quickie take a peek at its size and information. This adhesive comes in a tube of 1 oz. And the whole package comes in 5 tubes. Within this price, this is an absolute good deal.
The BRIS Inflatable Boat Repair PVC Glue is made especially for repairing boats. The most compatible material for this adhesive is plastic. You can repair most of the inflatable stuff with this glue.
Acetal material is used to make the glue. And it has a strong bonding strength. It is made for use in inflatable gears. So, it doesn't get wet Even if you're applying it in a wet area. It will do its job perfectly fine.
Nothing much to talk about this glue. It is a decent glue that is made for only one purpose. Which is fixing inflatable boats and other gears. So, it is also recommended by us.
Pros
Specially made for inflatable objects.
Works best with plastic
Made of acetal strong chemical
Cons
It cant be used for wood or glasses.
Buying Guide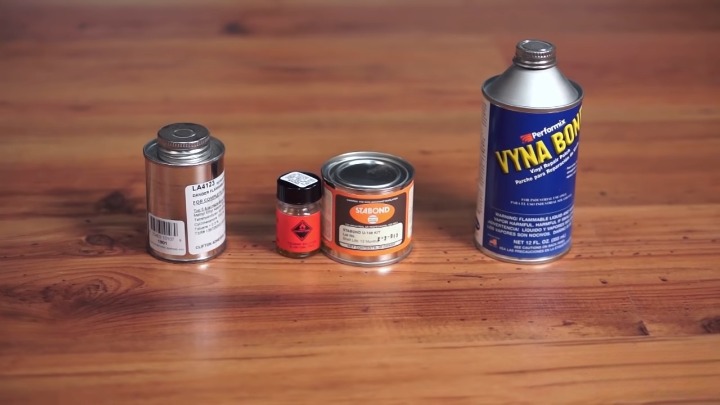 We have introduced and talked in detail about the 5 best PVC glue in our opinion. But before jumping right into buying there are some facts you must have a clear knowledge of. So that you can pick the right product for your need. In this part, we are about to talk about those in detail.
Boat fabric Construction Type
Before buying an adhesive you must know the fabric construction type of your boat or dinghy. It's the most important factor to determine.
You need to find out if it is a Hypalon fabric or a PVC fabric. And then you can buy the glue that will work on the fabric best. There are different glues for these two types of fabrics out there in the market. So, don't get confused learn your boat's fabric type first.
By now, you must know how to identify your boat's fabric. In the next segment, we will discuss the types of glues you can find in the market and which one you should get for repairing your inflatable Boat.
Glue Type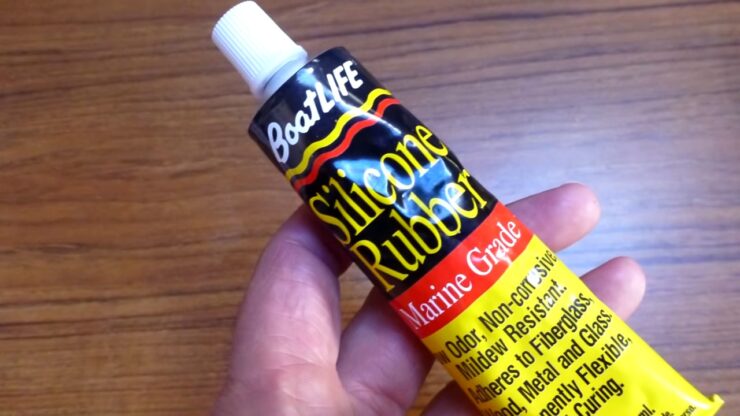 Choosing the perfect glue for your inflatable boat repair might be confusing. There are a lot of adhesive manufacturers. And choosing the wrong one can get you unstuck in dangerous moments.
There are mainly two types of Glue made for inflatable boats to be repaired. In the next segment, we are going to discuss it thoroughly.
1. Single-part glue
The single-part glue is basically simply applied glue which comes usually in a tube. This type of glue is ok for faster repairs and temporary solutions. But these are not recommended by us for a long-lasting robust repair.
2. Two-part glue
Two-part glues offer greater strength than single-part adhesives. The two-part adhesive has faster drying times and is usually used for long-lasting repairs.
Two-part glues work great for any type of inflatable boat fabric. Whether your boat has PVC fabric or Hypalon it'll fix it like a champ.
We think we have covered everything you should know about PVC inflatable boat repairing glues. Don't make mistakes. Good luck.
Curing Time
Curing time is an important factor when it comes to PVC glues. As you will be using it in inflatable boats mostly. The curing time needs to be fewer so it can be set easily and make a seal quickly.
How to Glue a PVC Inflatable Boat?
PVC glue is an important tool to have when working with inflatable boats. It can be used to attach objects together, seal seams, and even create a waterproof seal. Here are three tips for using PVC glue on an inflatable boat:
1. Prep your materials: Make sure that all of your pieces are cleaned and free of dust or other debris. Additionally, make sure that the surfaces you're going to be gluing are clean and dry.
2. Apply the glue: Apply a thin layer of PVC glue to the joint you want to join. Make sure that the area is fully covered and that the glue is evenly applied. Let the glue dry for at least 30 minutes before proceeding.
3. Finish up the job: Once the PVC glue has dried, you can finish up the job by applying additional pressure to the joints with a rubber mallet or hammer.
FAQs
1. Can I use super glue to fix PVC?
You certainly can. But it won't give the best result. There are tons of PVC glues out there on the market. Instead of using super glue try using PVC glue.
2. What is a Type P PVC adhesive?
P stands for pressure. The type P PVC adhesive is used with more water pressure. Which has more sealing power. And basically, these are the expensive ones. Which has a faster drying ability.
3. Can I use CPVC glue for PVC inflatable boats?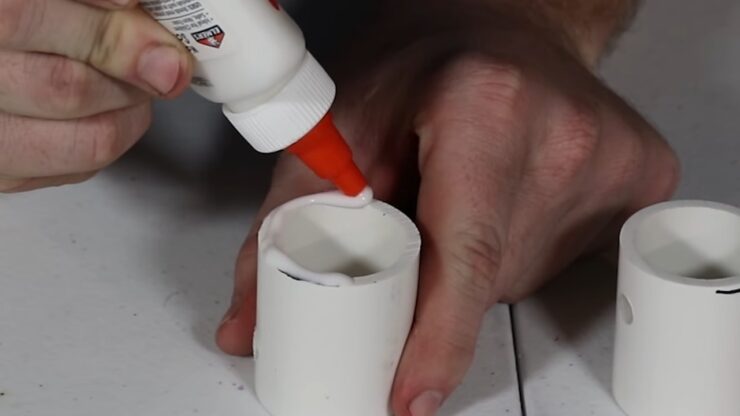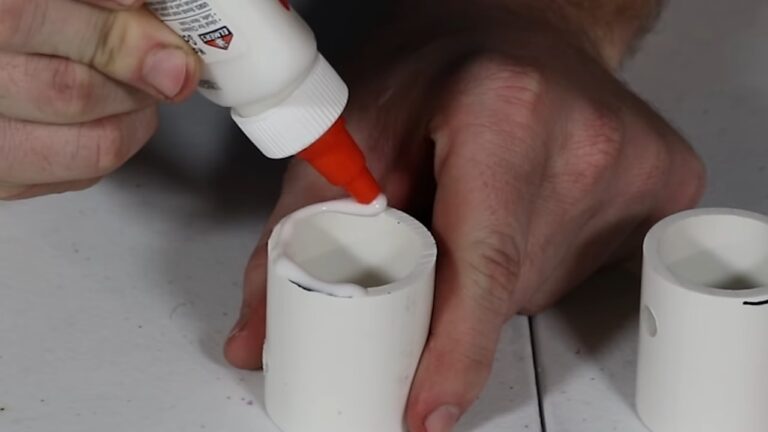 Yes, you can but you should not. Most of you get confused between CPVC and PVC. CPVC glues are alternatives for PVC and the Cheapest ones. So, don't buy them it can get you into trouble.
4. Is Gorilla glue good for inflatables?
Gorilla Glue is a popular adhesive for inflatable boats and kayaks. It is strong and holds surfaces together well. However, some people have experienced problems with it breaking down in the sun or water.
5. Can you use super glue on inflatables?
Super glue is a great adhesive for repairing or attaching inflatables, but it should only be used in a covered area to minimize fumes and prevent contact with other materials. Super glue can be used on most inflatables, but it's important to test the adhesive before using it on expensive items.
Final Words
Well, that's all summed up for the Best PVC glue for inflatable boats. Before buying your PVC glue, read the buying guide carefully.
Well, we've covered everything you will need to know in the buying guide. Hope you learned everything you should know. Now it's time for you to pick one that you truly need.
You can find more options for you in this table:

I'm Liam Jackson, the proud owner and driving force behind KayakPaddling.net. Born somewhere in the expansive beauty of the United States, I've nurtured a lifelong passion for kayaking and fishing that has led me to explore the far corners of our nation's waterways.