As the solo kayak enthusiast, we assure you the best inflatable kayak is the one that you should NEVER neglect to own even though you are presented with the options to pick for the best fishing experience.
Well, the inflatable kayak means a weightless creation that you can hold on top of your head, packed up in your car trunk and you do not need to wrap it up on your roof, and cost-effective as they are considerably inexpensive than the traditional kayaks.
They are as equipped as any other kayak you can find making ups and downs in the river, lakes, and the open seas.
And when it comes to picking the right inflatable kayak for fishing, this should contain a lot more than the recreational kayaks.
Comparison Table:
Yes, there is just one biggest drawback that is not only an illusion but the evident fact of getting it leaked/punctured over the time but worry not, there is the solution provided in the form of a quick repair patch kit and one piece of air pump to get the inflated kayak to load back over the water.
So, we are not going to hold you back to the core as we have already assembled the top 10 best inflatable kayak reviews for fishing to feel the experience that you would never have in your life EVER.
Top Picks Inflatable Kayaks
1. Sevylor Coleman Colorado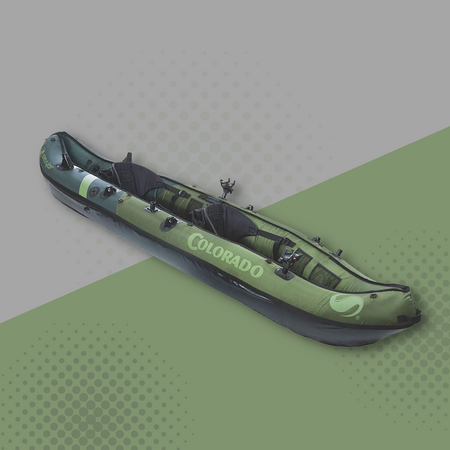 The build that wins the trust, and this 10 feet long inflated fishing kayak from Sevylor Coleman Colorado is the one that you would be actively looking for.
It was made with the 18-gauged high-grade PVC construction designed exclusively for the use in the lake with the bottom made of 1000D tarpaulin, and the cover made with 840D nylon combined to provide the increased protection from getting punctured.
But that is not just it, the real and notable feature it got is having designed with the multiple air chambers which remain inflated in case any other chamber goes punctured.
Even if you retain the air pressure to reach the highest end and still, it would not let the unit leak the air, and that is not going to ever happen with Sevylor Coleman Colorado fishing kayak.
For the enhanced fishing experience, it comes loaded with quick set rod holders from Berkley with the adjustability feature to go with hands-free fishing, never needing to keep the rod in your hand.
Installed with some of the meshed storage pockets so that you can keep your gear and the snacks that are always in your reach and you do not need to look up for them when you know the fish is netted on the hook.
And D-rings, which provide the ability to attach the equipment that you need to be in closer reach.
Undoubtedly, this 10-feet and 2-persons accommodating inflatable fishing kayak is a whole new experience to ride all around the lake in search of fish!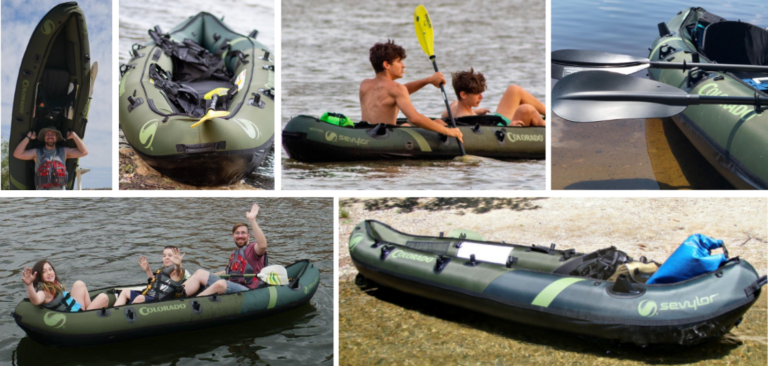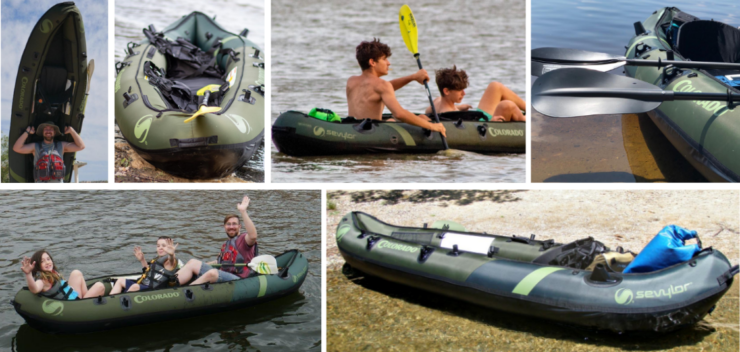 Pros
Accommodates two persons
High-grade PVC used
Airtight system
Motor included
Cons
No pump and paddle are included with the purchase.
---
2. Intex Explorer K2 Inflatable Kayak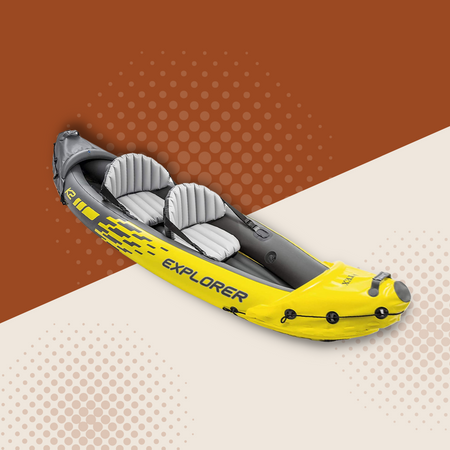 Soft-padded and 2-persons kayak to hit the water, this Intex Explorer K2 has everything going inflated, from the bottom to walls to the seats which are perceived to be extra-comfortable and add enough cushioning to feel excellent, relaxed, and lightweight over the water.
The way, it is constructed along with the few notable features started from the installed skeg that brings the standard directional system that enables you to conveniently make the hard maneuvers without hitting single trouble.
Included with a durable and flexible pair of paddles to accommodate dual kayakers ready to bash the water for the hunt of fish, the cockpit delivers extreme comfort with enough leg area to freely move the legs so as not to feel exhausted.
Sized to over 10 feet in length, colored in yellow with an extremely brightened combination it brings you the ease of seeking help in case any tragic incident happens and it remains visible from the distance.
Got over three different inflatable sections that would not let this inflatable kayak sink into the water as the two separate parts would still allow it to keep floating to take it along the shore to repair it all by yourself.
Lightweight in design, but it accommodates a weight capacity of a maximum of 400 pounds, which would easily balance the weight of two adult folks to fish all day long.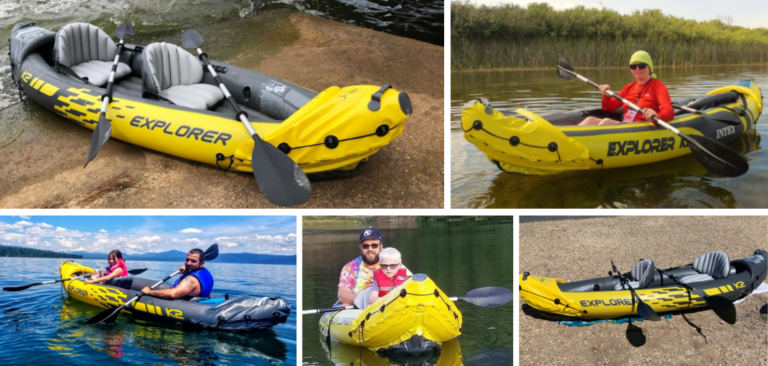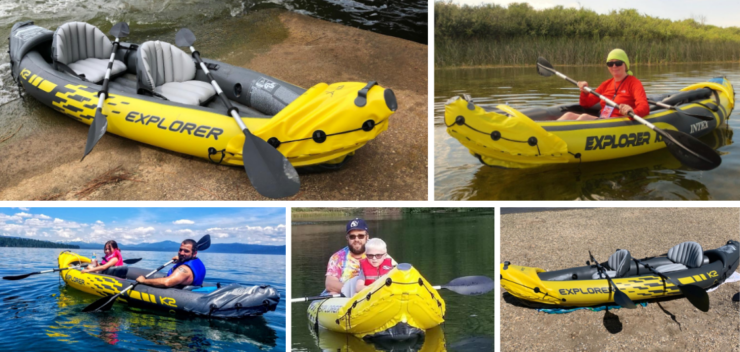 Pros
Removable skeg
Brighter yellow color
Three separate inflatable chambers
---
3. Advanced Elements AdvancedFrame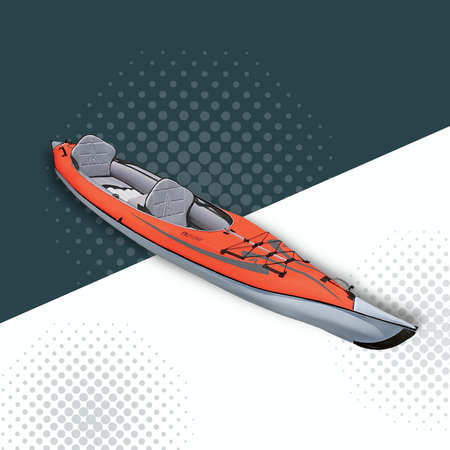 Belonging to the larger inflatable kayak for fishing, this 15-feet long Advanced Elements AdvancedFrame is the one that can be utilized as a solo or tandem, depending upon the preference and does not limit you to NOT let your friend join you on the water ride.
The high-end hull is designed with aluminum ribs which improve the tracking through the bow and sterns to keep it upright on the water where every single paddling would allow you to complete a more significant distance with each stroke than many other kayaks available on the market.
Luckily, the same concept is applied to its design, where it comes wrapped into three different compartments and laminated with high-end materials so as not to get punctured easily.
And the foldable design along with the carrying bag to stuff it when folded turns out to be a relatively critical feature to make it travel and space-friendly where it would not be much space in the car's trunk and just one person hold it near the shore and pump it up before sending it into the water.
It requires you to attach the seats after you have successfully inflated them, but that would not take much of your time and connects within seconds after the first and second tries.
No reason to dislike this Advanced Elements AdvancedFrame kayak as it is all inflated and ready to go into the water to get paddling for hours before hitting with the signs of exhaustion!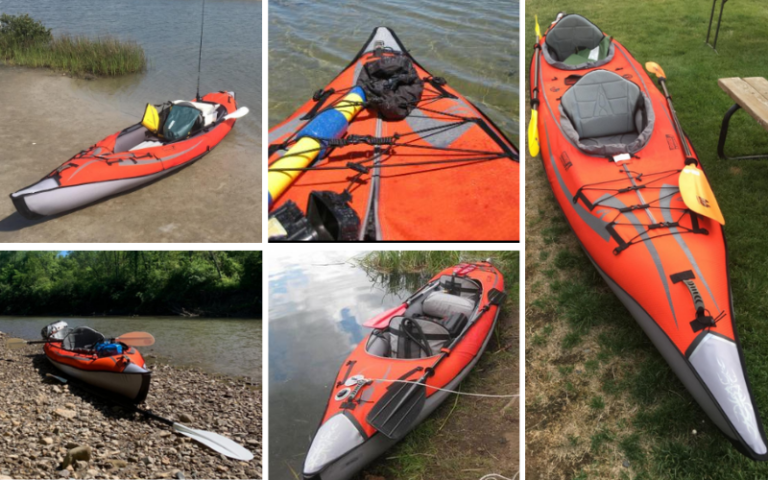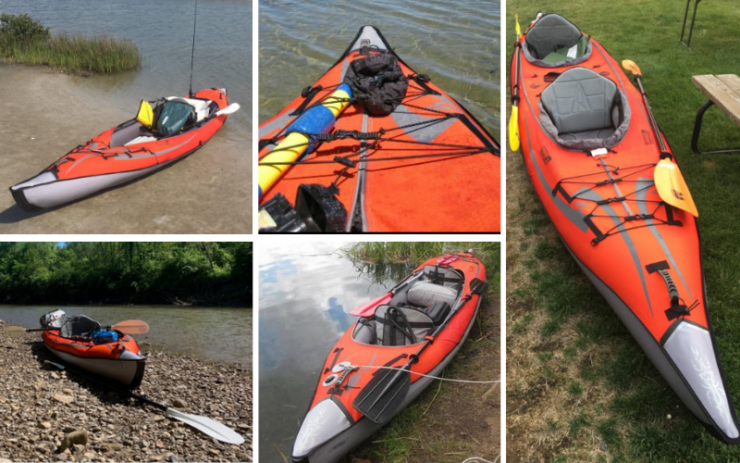 Pros
Convertible design
No assembly required
Adjustable seating preferences
Cons
Cannot recommend standing
---
4. Intex Challenger 2 Person Inflatable Kayak

Another from the same brand, this Intex Challenger K2 comes with a design that feels like being seated on a jet-ski boat ready to hit the higher throttle to gain the maximum speed in no time.
But that is not an accurate claim to believe… Intex Challenger kayaks have a sporty design increasing your fund to the extreme level with making the paddling more comfortable to steer around the water.
Add the bright green color and embossed with the sporty graphics to make the kayak to get visible from an extreme distance to keep other kayakers informed as to how you have been circling around and falling under the radar of other folks riding to keep the distance.
Having included the pair of aluminum paddles that sizes to 86 inches and the high-output air pump, which would assist in inflating the kayak within minutes so that you could make this kayak to deflate in full without an issue.
It was made with vinyl that comes with UV damage-resistant and protects it from getting punctured due to overheating while increasing its durability to keep operating for years to come.
Goes to be hitting the length of over 11ft, and the maximum weight capacity to bear over 400 pounds can easily fit in tandem as needed.
Deflate and wrap it in the carrying bag and you are good to go along with the removable seats to take down when not in use and would require a minute's assembly to get them loaded back.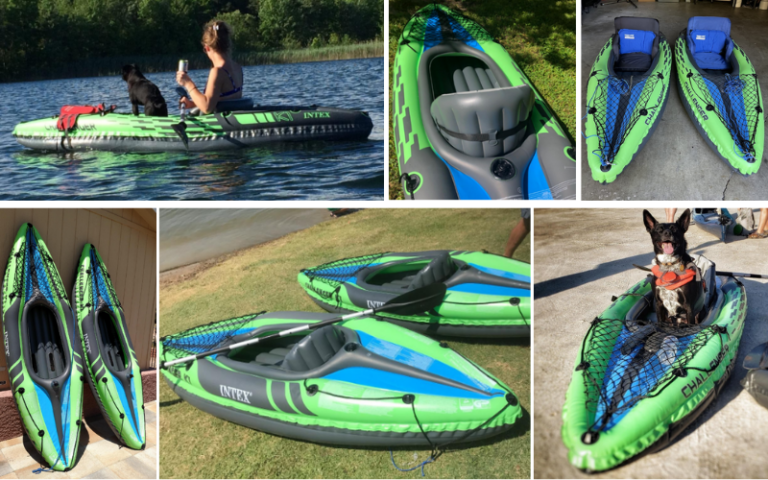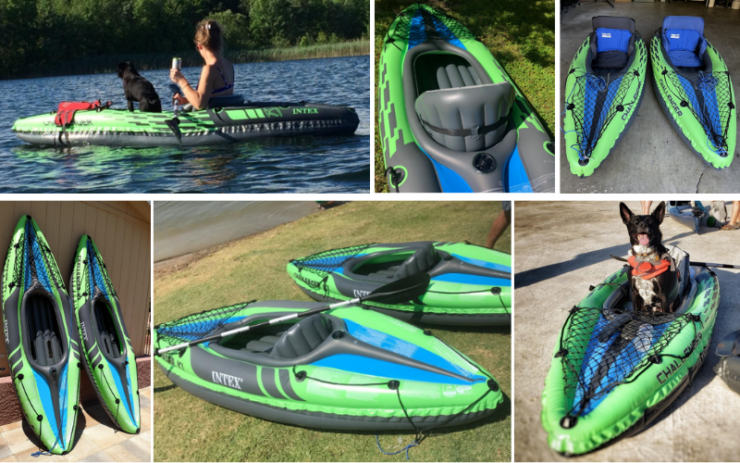 Pros
Vinyl-coated design
UV protected
Removable skeg
Cons
Try not to lower in the alligator-infested water.
---
5. Sea Eagle 370 Pro Kayak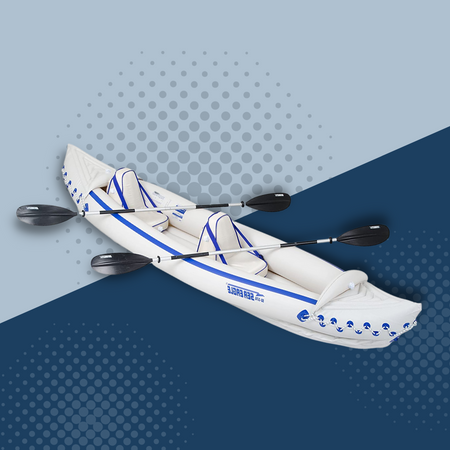 Not one and not two, but Sea Eagle 370 Pro accommodates over 2 and a half folks to get seated to conquer the world (water) with a pair of paddles.
Yeah, we deliberately claimed as it would accommodate three complete adult and grown-up riders for sure. And that half accommodation is designed for the child or the pet to get seated and enjoy the comfortable ride on the water taking part in helping you to paddle along.
With the claim of maximum weight capacity, that is indeed quite enough for two and a half persons to comfortably sit and ride all around the lake and can go out for the whitewater as well if you are curious to catch the trouts which you can expect they are only found in the dangerous water.
Endorsed with not just one but dual skegs on the bottom, which deliver the more accessible and timely tracking and the speed to maintain even in the rough water, which would not let you steer away from the path.
To deal with and steer this Sea Eagle 370 Pro kayak, not the ordinary paddles are meant to bring it in your control, but the included 7'10" of paddles loaded with asymmetrical blades and the aluminum shaft to bear all the roughness and the stiffness to ride on the water with confidence.
It comes with five independent compartments to fill in the air so that you are sure of not running into any problem in case any of the compartments gets punctured and still it would help the kayak to stay afloat.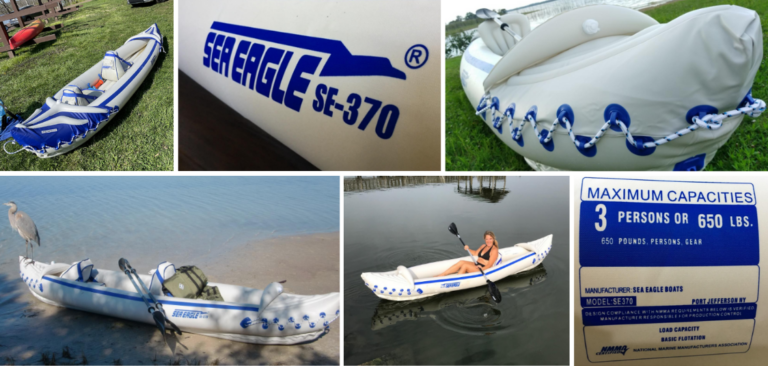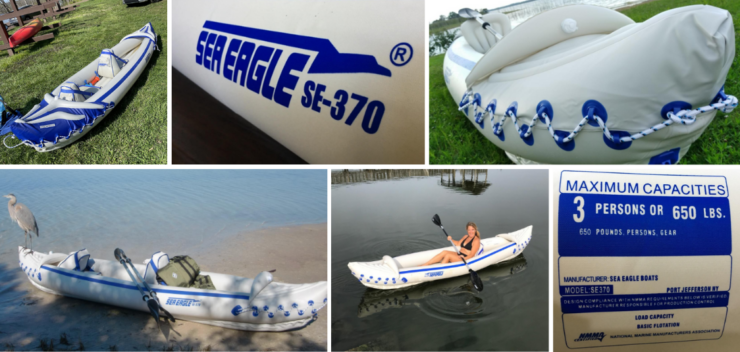 Pros
Three persons
Comes with paddles
---
6. Sevylor QuikPak K5 Inflatable Kayak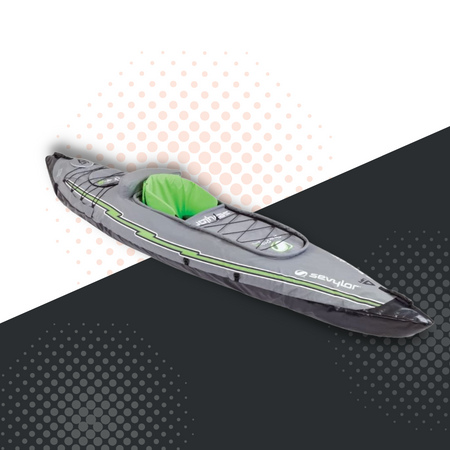 Solo kayaking demands the trust and the confidence to sense the way before entering into the water or getting seated into the kayak, and if you look at the design of Sevylor Quikpak K5 would never want you to raise such questions even in the imagination.
Constructed with 24-gauge PVC material and in rugged formation enables it to conquer the lakes no matter how deep they are and this kayak would not mind entering into the water.
The bottom is made of tarpaulin and the polyester covering the walls enables its design to go puncture-resistance even it rubs through the swift edges and gets entangled between the rocks but it would hardly get punctured, also if it does and it comes with multiple air chambers allowing to support the kayak to afloat on the water as other inflated areas would divide the balance in between.
Integrated with double locking valves and dual locking points would streamline the way of inflating and deflating the kayak but that would be done in no time without getting spotted.
And wrapped with spray covers keep the unit all dried up where you would not need to continue using the towel along with the D-rings that are best at work to hang the stuff on the go.
Included with bungees, they are good to keep in your valuables store and would not let you slip them out.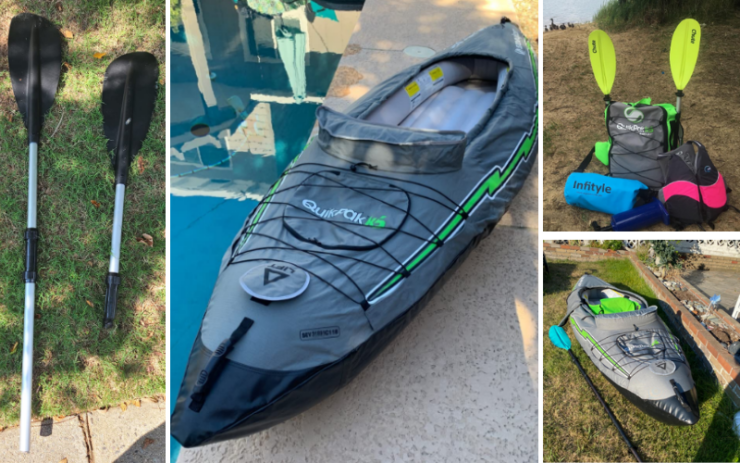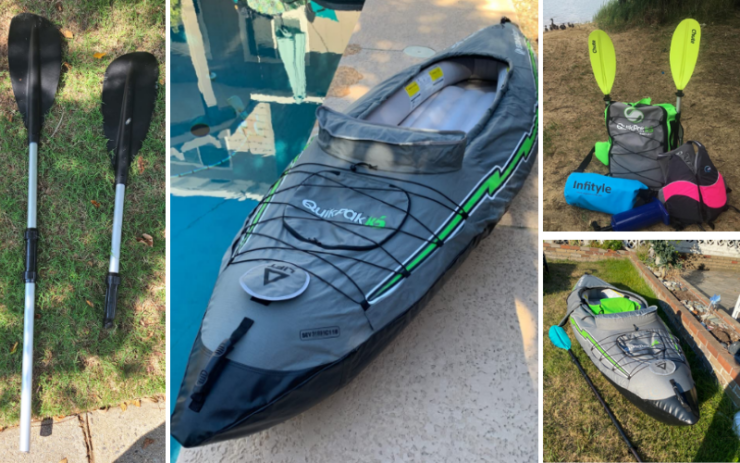 Pros
Multiple air chambers
High-grade PVC
---
7. Intex Excursion Pro K2 Inflatable Kayak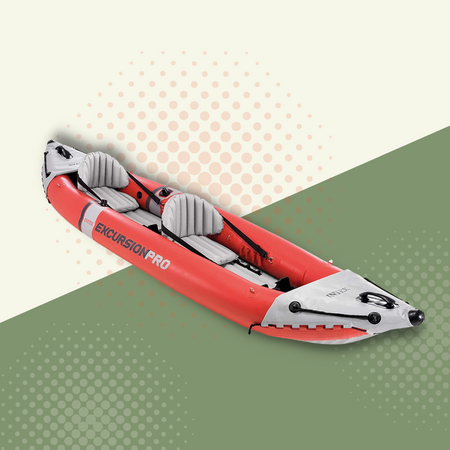 We LOVE it! The construction is pure love!
Made with the extremely tough PVC and used the polyester at the core to keep it super lightweight and keep it considerably resistant to the possible damages generally produced from abrasion, impacts on the sides, and the sunlight, of course, the real killer everything to ruin the shape.
Designed to sustain the higher pressure at the time of inflating this Intex Excursion Pro kayak to provide control and rigidity where it got the spring-loaded valves which help to inflate and deflate the kayak well before a minute.
Comes loaded with two different skegs depending on the water level it is cruising on so that it always remains in your control the hard turns are made possible without any issues within the conditions of deep and shallow waters.
With a maximum capacity of over 400 lbs, having three separate chambers to fill the air and in case if either of the chambers gets punctured but the unit still keeps floating minimizes the chance of sinking no matter what happens. But it is always advised to keep wearing the life-saving jacket at all costs regardless if you are accompanied by anyone or going solo.
Loaded with adjustable footrests and removable seats with the backrest and the seat booster, which you can remove when not using to keep yourself calm, comfortable, and ready to remain in the water all day long.
And that is made it possible to keep Intex Excursion Pro to get liked the most by the fishermen as it got two fishing rod holders minimizing to keep it in your hands for hours. Still, the fishing experience would be enhanced when you have them hooked on their dedicated holders.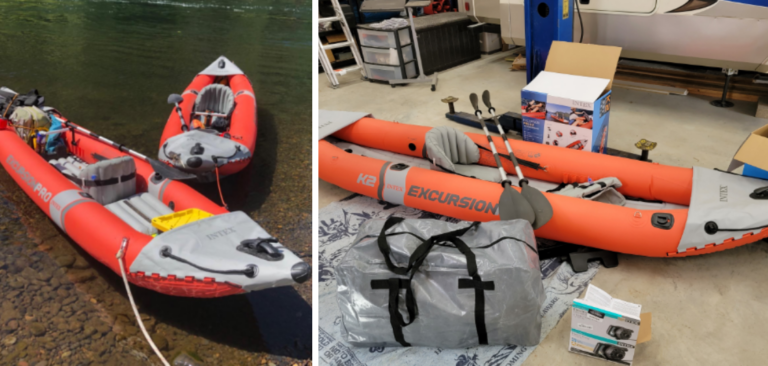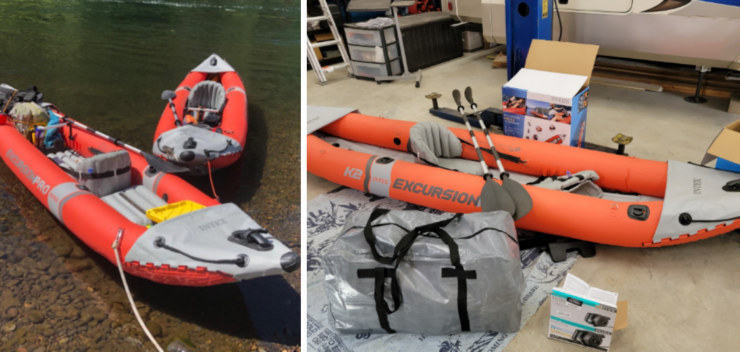 Pros
Brilliant design and color
Inflatable and removable seats
Free carrying bag included
---
8. Sevylor Quikpak K1 Inflatable Kayak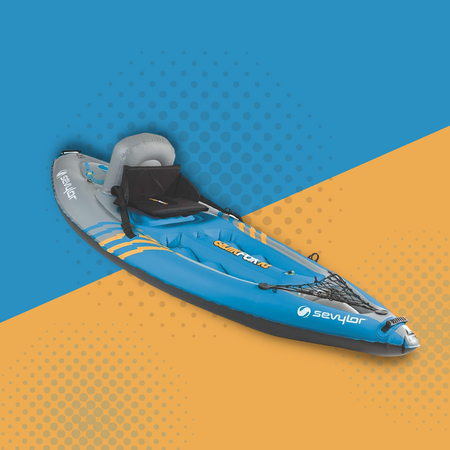 Simple and stylish, this one-person kayak is specifically designed to up the game of fishing to experience the world-level fish catching time with having seated on this Sevylor Quikpak K1 to go deep in the water for the search of the trophy fish.
As with the construction, you can blindly trust the build as it has 21-gauge PVC material with the rugged shape to operate best in the lakes with no chance of getting punctured or running into similar issues as it is really a tough challenge to get it punctured.
With the bottom being made of tarpaulin it has enough power to deal with the roughness of the surface to keep it protected when contacting with the underwater rocks, and so on.
Airtight the unit to the end level of pressure, but still, it would not let you lose the air if you have it filled up more than average, but that is NOT going to lose any of the pressure when you try to get seated upon.
Not one or two, but it got as many compartments that go inflated separately, enhancing its performance to deal with emergencies over the water when one or two compartments get punctured, and what's more enjoyable than that?
And the backrest installed on the seat can take you to long feet and get the back relaxed ensuring you are out of strain and exhaustion from the day-long of fishing experience.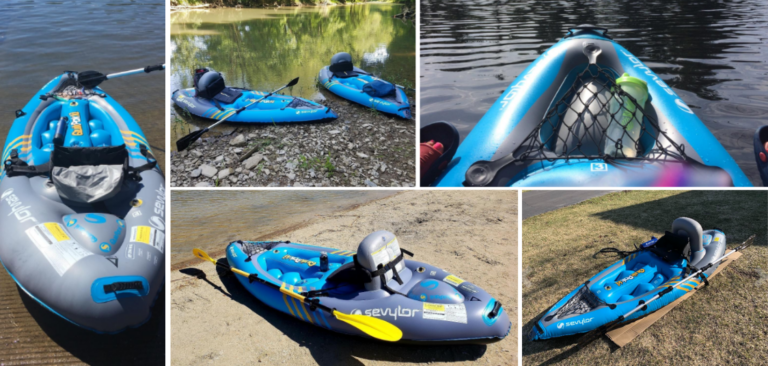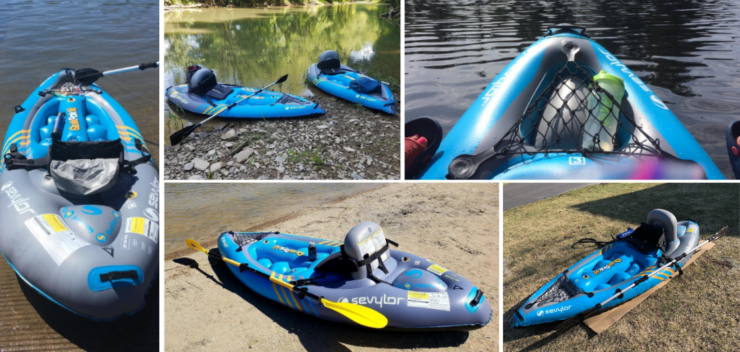 Pros
Included with backrests on the seat
Comes with multiple air chambers
Cons
Requires 5 minutes of setup time
---
9. Airhead Montana Kayak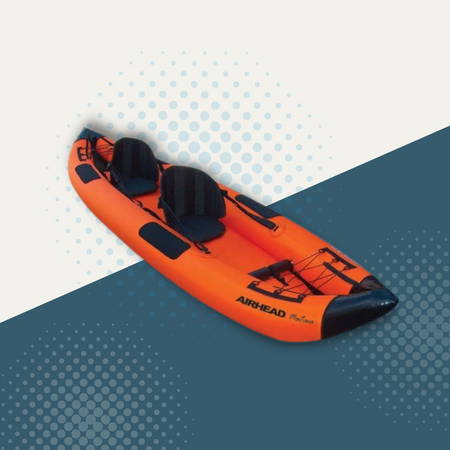 A get-together spent without hitting the water (any kind) is just a waste of time… The real fun is experienced on the surface of the water, and that is what belongs to our motive of bringing Airhead Montana kayak for the avid lovers wanting to keep a tab of how it looks and the price it belongs to.
The more straightforward design ensures Airhead has invested much over the unit to keep the competitors at bay and emerging to lead the industry, sooner.
With the capacity to get two persons seated, it has the power to conquer the lakes and the whitewater as well but of a moderate level, or else it could get damaged and leaked.
Having over three compartments are tightly enclosed with 840 nylon with the claim of getting it protected from ruining via UV lights, and the water-resistant coating would not turn out to pose any danger to the design to turn loose due to getting contact with the excessive and direct sunlight.
Make the elbow guards keep your elbows comfortable and upright during the paddling by having over 6 D-rings located at the bow and stern to keep your gears stay secured.
Lower at the drag but super convenient at tracking, this Airhead Montana kayak would never disappoint you.
Pros
UV–protective design
Integrated elbow guards
Can go into rough terrains
---
10. Driftsun Voyager Kayak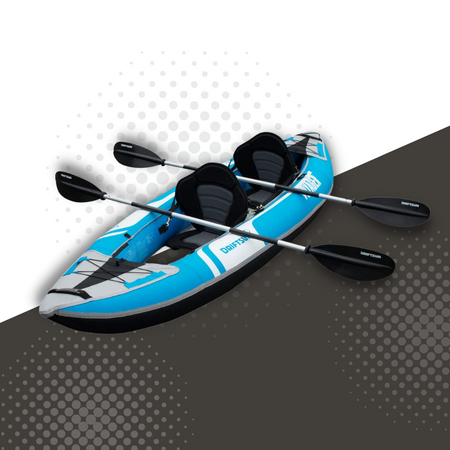 Last, in the quest, this Driftsun Voyager finally completes the list of best-rated inflatable kayaks for fishing.
The complete 10-feet length which fully accommodates over two persons to get seated and paddle all around the water to retain their fun and going tandem is the real fun to explore every scenery and the view to mesmerize their eyes.
Having the compact design, which may often turn out to become one heck of the issue with maneuverability because of the size, can turn out to cause a problem to lose control. Still, with Driftsun Voyager, you would not experience the same.
Lightweight to the extreme level of up to 27 lbs that requires no additional assistance to lower it down on the water.
It requires only five minutes to get started with everything defined to put in its shape.
With the pointed-nose entry design, it just cuts out the control and the pressure which you cannot afford to lose.
Wrapped with high-grade EVA padded seats along with high-back support which would take you to do fishing all day long.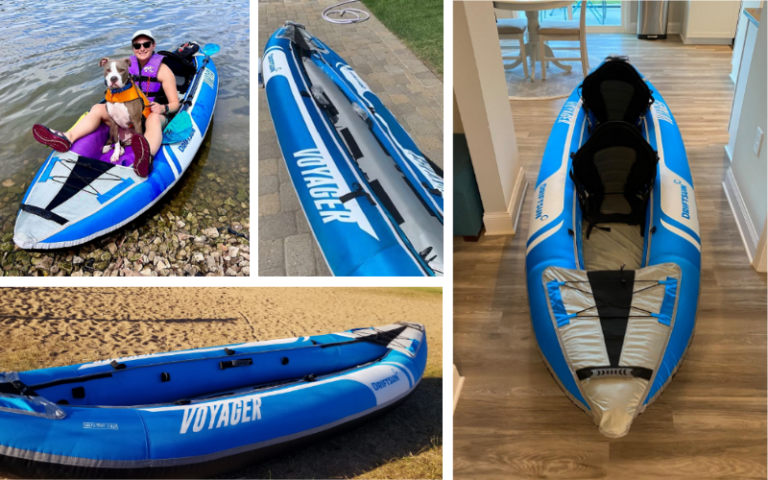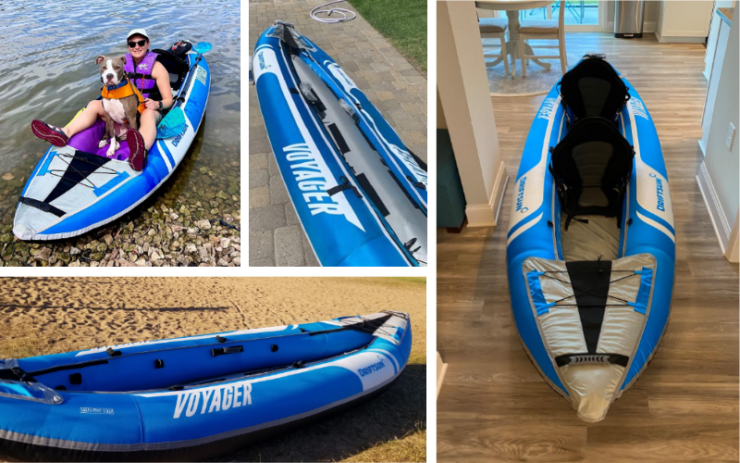 Pros
Quick inflation
The top cover is made for the tear-resistant quality
---
How to Choose the Best-Rated Inflatable Kayak For You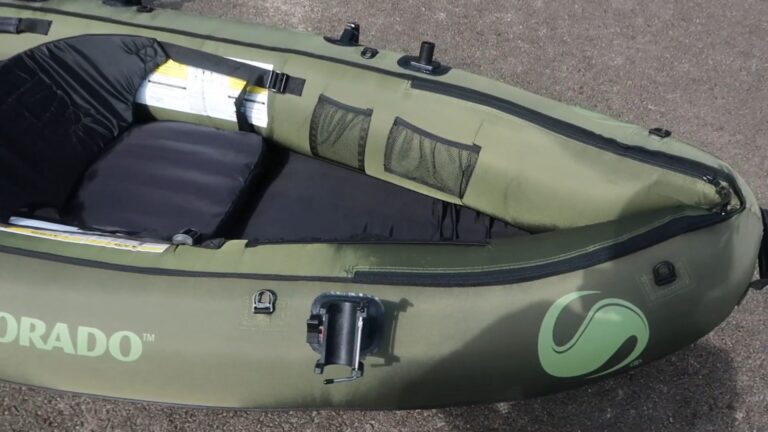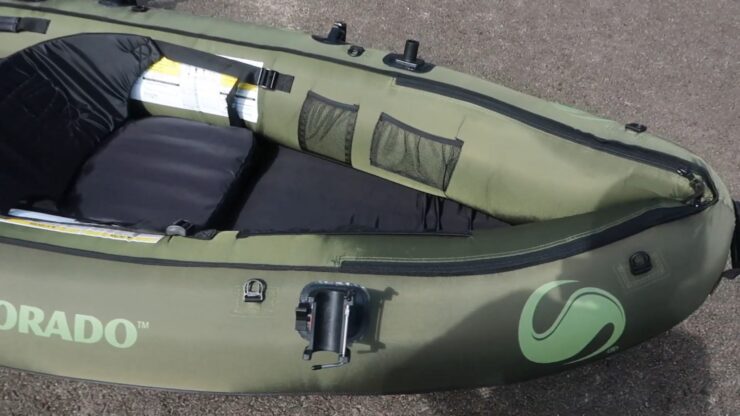 There are a variety of kayaks options available in the market nowadays. They vary from hard shell routes to foldable ones, but there is also a lighter inflatable kayak option that is trending.
Inflatable kayaks in comparison to their hardshell counterparts are much more convenient to use and lighter to carry at varied locations.
There is no all-around inflatable kayak known so far, for instance, white water kayaks are there to endure beating while for fishing inflatable you have to choose the one that can bear hooks, fins, and knives.
As they are available for every kayaking activity and experience level, the best approach is to research them and get to know beforehand what you are looking for. Here is the guide that will help you in choosing the most appropriate inflatable kayak for your paddling experience, so, without any further delay let's proceed.
Why you should choose an inflatable kayak
There are a whole lot of advantages that the inflatable kayaks hold over the hard shell ones.
Inflatable kayaks are highly convenient to store. You can easily place them in a garage or small spaced closet without any hassles.
The inflatable kayaks are highly comfortable as compared to their hardshell counterparts. You can comfortably lie down on the soft floor while paddling without leg numbness. With the clip, you can get back support and feel like sitting in a lounge in the living room.
Also, the inflatables have high portability, you can fold them and carry them along with you like a rucksack.
Which material to choose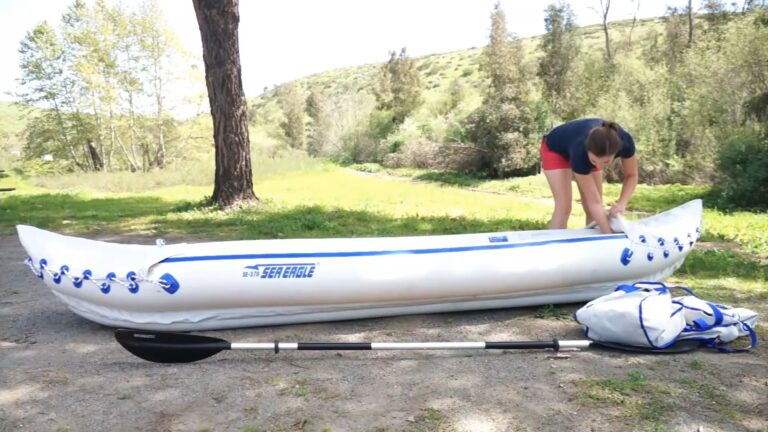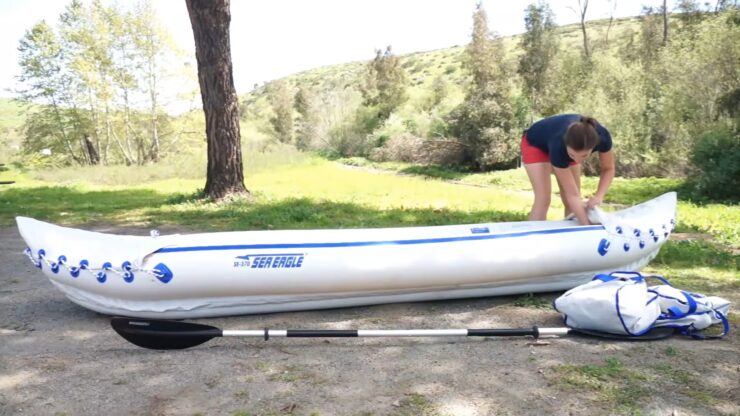 The inflatable kayaks are made up of three materials PVC, Pennel Orca, and Nitro Lyon.
PVC-made inflatable kayaks are highly durable and can be welded or glued. They are highly affordable and with the use of nylon, they can become tear-resistant with more strength. Beware as these inflatables are not resistant to chemicals, UV, or extreme weather conditions.
For white water or rugged use, I would recommend the ones with Pennel orca. They are highly durable and tough. In addition, they are abrasion, UV, and chemical resistant. They are also immune to higher temperatures.  These types of kayaks are composed of polyester or nylon interior with the coating of Pennel orca. The material is opposed to welding. It must be glued which is a bit of a hassle. Also, such highly warranted inflatables come with a high price tag which is understandable rather than a downside.
Nitro Lyon is more environmentally friendly as compared to Pennel orca or PVC also it is puncture and abrasion resistant. The material can bear harsh climate conditions.  The material though highly durable comes with a higher price tag. As compared to the above-mentioned materials it is easier to patch and much stronger. Also, Nitro Lyon is heavier which is why its usage is limited to the parts of kayaks that are most prone to wear and tear.
Which size do you choose for inflatable kayaks?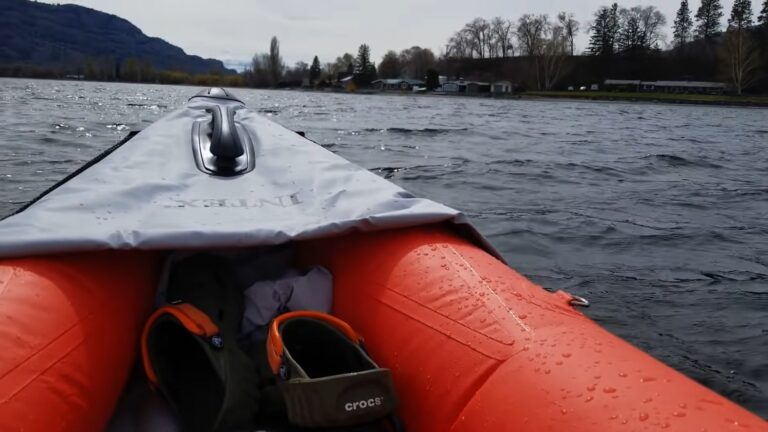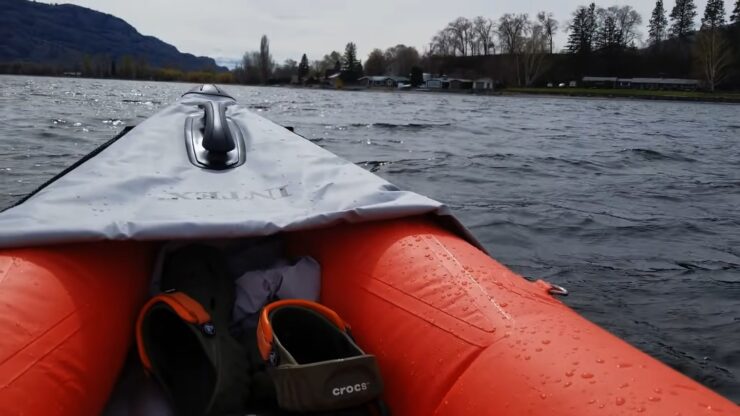 The size of the inflatable kayak that is most suitable for you depends upon the functionality of the kayaking and the persons you are going to bring out with you.  You should wisely choose the cockpit size of the kayak as it's the main part where you are going to sit all the time.
For lakes and ocean tours one should go for longer and leaner inflatables as they glide better.
A solo paddler can be ideal for exotic fun experiences as they are shorter, so less force is required for tossing and turning.
For paddling in the river and white water one should opt for shorter boats as they are stronger and easy to control.
For family usage, large-sized kayaks are highly suitable as they have large cockpit sizes and are deemed to be highly stable.
Weight Capacity
When buying an inflatable kayak you have to be certain about the weight capacity of the kayak. Although being over the specified weight will not drown the kayak but it will lower it and make it unstable.
Every kayak has a weight capacity that varies by the kayak type and manufacturing.
Try to keep the weight limit of the kayak at 65 percent of its maximum capacity for optimum results.  Inflatable kayaks typically have a higher weight limit as compared to the hard shell ones because of greater buoyancy.
The majority of inflatable kayaks have a maximum weight capacity of 500 lbs, but there are also some inflatables that exceed the weight capacity of 750 lbs. Inflatable kayaks as compared to hard-shell kayaks are wider, this feature provides them with extra stability.
FAQ's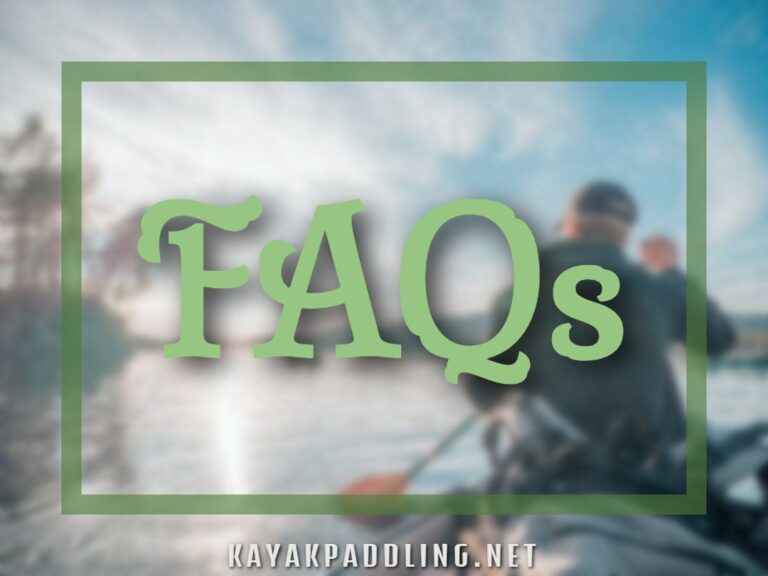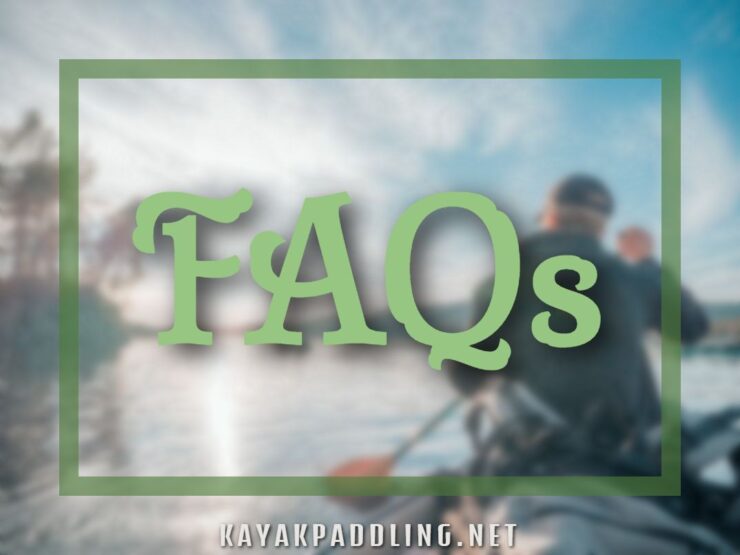 1. Can inflatable kayaks be used for tracking?
The answer to this question is dependent on the model you choose. Some of the inflatable kayaks come without rudders that are used for steering and too many yaw movements of inflatables can also drive you crazy.
But with time there are great advancements in the overall design and features of inflatable kayaks. Most inflatable kayaks come with a tracking fin. A kayak with a rigid high-pressure floor or keels can improve the overall experience of tracking. If you choose a model with a suitable size, shape, and rigidity you can hardly have any issues.
2. Are inflatable kayaks as durable as their hardshell counterparts?
Most people are anxious about the durability of inflatable kayaks as they are not considered to be strong enough as hard shell ones. But let me clear this ambiguity that there is a high range of variation in the durability of both blows up and hard-shell kayaks. For hard-shell kayaks, you have to opt for high-quality material, and for inflatable, you have to go for a higher price and purpose which will ensure greater durability. So, a durable inflatable kayak may cost you higher but not more than a hard shell one.
3. Ain't inflatable kayaks more prone to punctures?
Inflatable kayaks are quite safe to use because puncture cases are quite rare. But you have to be conscious of not dragging the kayaks over sharp objects or crushing them into docks. Even if it got punctured the amazing fact is that an inflatable kayak has three separate air chambers so even if one got deflated the other two will keep you afloat and with a little harder paddle you can reach the shore quite easily.
4. How much time does it take to inflate a blowup kayak?
The time required for inflation depends on the size of the kayak and your speed. Most of the kayak comes with a hand or foot pump and it takes 5 to 8 minutes to inflate the kayak with them. A kayak with an air pressure of 5-6 PSI is far easier to inflate as compared to one of 15 PSI.  You can also go for an electric pump if you have a shortage of time but be extra cautious about not to over inflate or pop the kayak.
5. Can inflatable kayaks be trusted in white waters?
In this case, I would say you get what you have paid for. Not all inflated kayaks are designed for the whitewater experience. White water kayaks are different from the usual ones as they provide greater maneuverability and control. For white water paddling, you should go for a short kayak as they have great portability and convenient storage.
6. Are inflatable kayaks comfortable?
Inflatable kayaks are much more comfortable as compared to their hard-shell counterparts. Due to the soft inflatable floor, you can go hours and hours of paddling without feeling numbness or losing your legs. Also, most inflatable kayaks have a clip in their seat that is ideal for backrest support. While paddling you can just recline like relaxing in a lounge chair. When in summer you decide to jump off for a swim then hauling back into the kayak is much more convenient as the edges of inflatable kayaks are much softer and cooler than the hard shell ones.
7. Are inflatable kayaks suited for families?
There are a variety of inflatable kayaks that are specifically designed for families. Some are large enough to accommodate a family of two adults, four children, and even two dogs. For buying the best inflatable kayak for families length, stability and weight capacity are some primary factors to consider.
8. How do I store my inflatable kayak?
Most of the kayaks come with a storage guide.  First of all, store them in an area away from hot sunlight or cold conditions. A small space closet or a garage can be ideal locations. Make sure to deflate it properly and then cool it into the storage bags.
Also, you have to completely dry the kayak before packing so then you don't have to deal with mold and mildew afterward.
9. How long does an inflatable kayak last?
A quality inflatable kayak if used lightly and stored properly can be used for 9 years. Most manufacturers also offer a limited warranty which may last from  2 to 10 years. It all depends upon the quality of the kayak which is primarily determined by the price.
Conclusion
Finally, we call off our list of the top best inflatable kayaks.
Indeed these kayaks are set to increase your fun and when you are set to paddle through the force of water to reach your prime location to lower the line.
Best designed to conquer the lakes and the seashores, the integrated functionalities which the kayaks should contain and especially for the fishing purpose to go tension free to adjust the valuable stuff.
Luckily, this has gone sorted for good through this extensive list of top-rated inflatable kayaks for fishing covering all the best options available in the market.
So, get one and lower it into the water the very next minute! 🙂