For great water adventures, you'll definitely need a great boat. A boat that will stand the test of time and give you amazing memories. But with the variety available, it can be tricky to decide on the ultimate boat.
So, which will you choose sea ray vs bayliner?
If you ask us, pick the bayliner. They are a great option with standard furnishings on a budget. A bayliner will also last you up to 7 years. However, if you want to invest in something more durable, pick the sea ray. It comes with greater features and requires less maintenance than the bayliner.
To decide on the best boat, you'll need more information on them. So, we'd love it if you kept reading. Our segment covers all the details that you should consider before deciding on the one to buy.
So, let's begin our quest for the best boat!
Sea Ray and Bayliner are two well-known and respected boat brands in the recreational boating industry. Both offer a wide range of boats to suit various preferences, budgets, and lifestyles. While each brand has its own unique strengths and weaknesses, it's difficult to determine which one reigns supreme as the better boat manufacturer. In this article, we'll compare Sea Ray and Bayliner to help you make an informed decision about which brand might be right for you.
Sea Ray Boats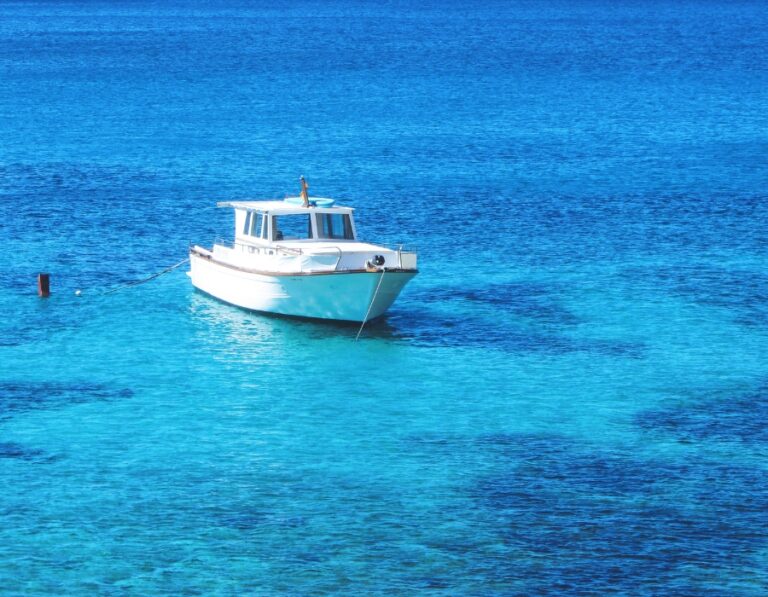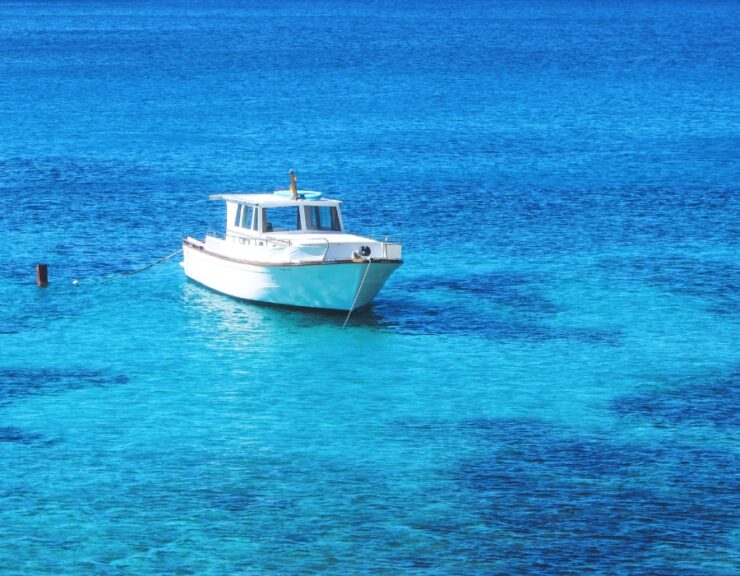 Sea Ray is a premium brand that has been producing high-quality boats for more than 60 years. They offer a wide range of boats, from sports boats and cruisers to yachts and superyachts. Sea Ray is known for its attention to detail, luxurious finishes, and innovative designs that make their boats stand out from the competition. They also offer a comprehensive warranty and exceptional customer service, which adds to their overall value proposition.
Pros
Superior build quality and craftsmanship
Wide range of boats for various purposes and preferences
Innovative designs and advanced technologies
Exceptional customer service and warranty
Excellent resale value
Cons
Higher price point compared to other brands
Limited customization options
Maintenance and repair costs can be high
Bayliner Boats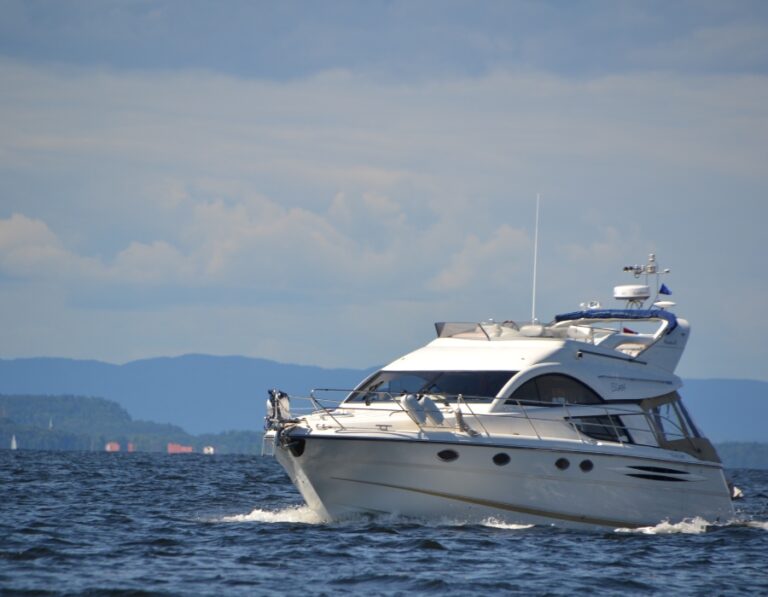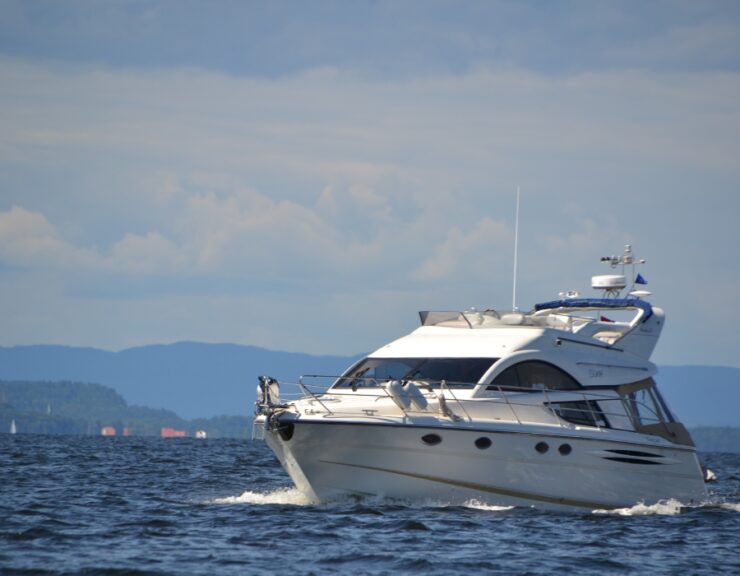 Bayliner, on the other hand, is a more affordable and accessible brand that offers boats at a lower price point than Sea Ray. They have been producing boats for over 60 years and have a strong reputation for producing reliable, easy-to-use, and affordable boats. Bayliner boats are designed for entry-level and budget-conscious boaters who want a quality boat that won't break the bank.
Pros
Affordable price point
Wide range of boats for various purposes and preferences
Easy-to-use and low-maintenance boats
Great for entry-level boaters
Good resale value
Cons
Build quality and finishes are not as high as Sea Ray
Limited customization options
Limited range of advanced technologies
Significant Differences Between Sea Ray And Bayliner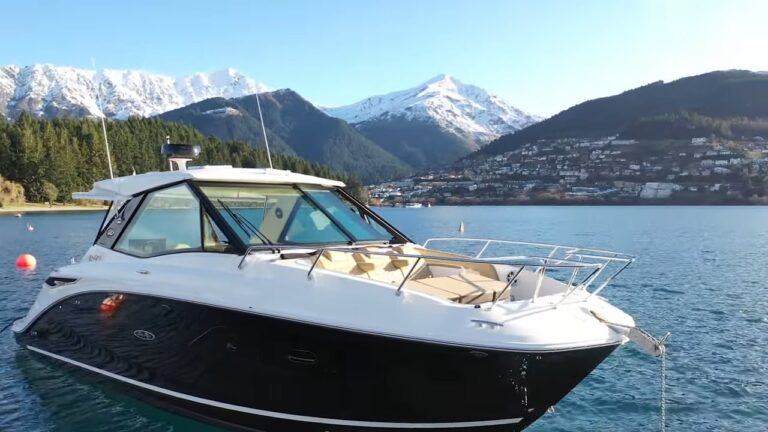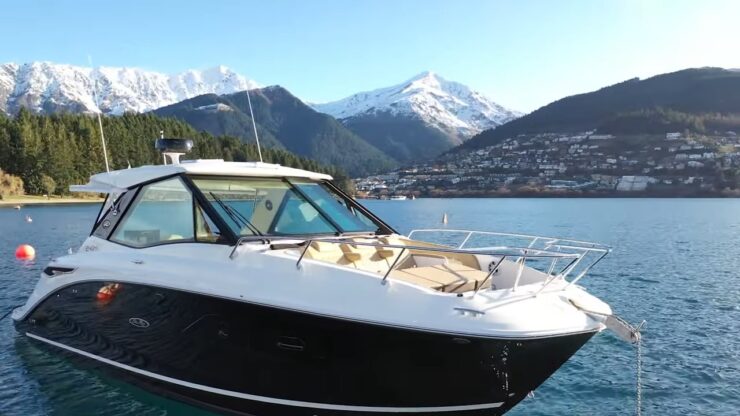 While they're both widely available brands, they have considerable differences. Understanding these differences should help you choose the ultimate boat.
To make things easy for you, we've put together a table below. This way you can see the differences briefly side by side. This should later help you acknowledge the differences in detail-
| | | |
| --- | --- | --- |
| Feature | Sea Ray | Bayliner |
| Price | Starts at $40,000, can reach over 1 Million USD | Ranges between $20,000 to $60,000 |
| Furnishings- both outdoor and indoor | Metal and wood-based furnishings, high-quality materials used | Mainly made from plastics and wood |
| Maintenance | Once a year | Once every 6 months |
| Durability | Can last up to a decade | Lasts for around 5 to 7 years |
Now that you know what you're dealing with, let's see these features individually-
Do The Prices Vary?
There is a very steep price difference between sea ray and bayliner. So, if we consider cost, sea ray is the more expensive option.
Sea ray is a premium brand. Their boats start at around $40,000. Plus they are always coming out with new models. Some of these can cost you as much as 1 million dollars.
This high price is courtesy of high-quality materials and furnishings. Sea ray is also known to have new and cutting-edge technology on their boats. This makes it a great choice for long-term and experienced boat enthusiasts.
Bayliner is a more affordable option. Their boats start at $20,000 and can go up to $60,000. Their features are more limited than sea rays. But they are a reliable brand. They're also preferred highly by boat enthusiasts with a budget.
How Do The Furnishings Differ?
Furnishings play a huge role in deciding which boat to get. While outdoor furnishings provide protection, indoor furnishings provide an aesthetic appeal. Sea ray and bayliner differ here too.
Sea ray has high-quality materials in its furnishings. The exterior is made with reinforced wood and metal.
The indoor furnishings are top-notch with dense foam seats and metal reinforcements. This is partly the reason why sea ray hails a higher price than bayliner.
On the other hand, bayliner has a more simplistic approach. Their furnishings are made of wood and plastics mainly. There are some metal reinforcements but they aren't comparable with sea ray.
What About Differences In Maintenance?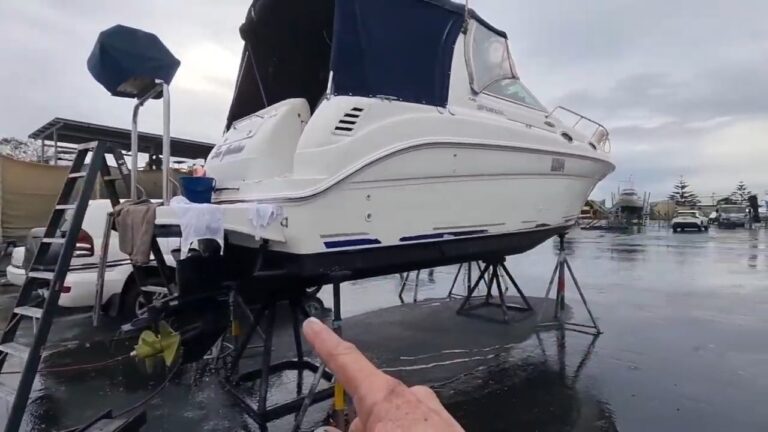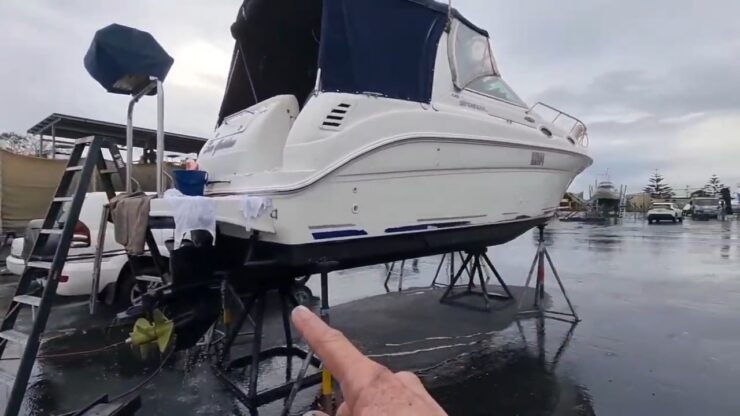 To keep your boats running smoothly, you'll need proper maintenance. However, in the case of maintenance, sea ray and bayliner tend to differ.
With a sea ray boat, you'll only need to check once a year. That's because the internal furnishings and technical mechanisms are made of high-quality materials.
This makes them resistant to most kinds of damage done by rough waves. As a result, you can rest easy. You're unlikely to face pesky trouble like unfreezing a boat steering cable.
Now, the case is quite different with a bayliner boat. It's made with materials that aren't the same quality as sea rays. While this makes their prices cheaper, it also begs for frequent maintenance.
You need to check a bayliner once every 6 months. Many users of bayliner claim that it's best to carry out a check before every trip. This way you can avoid all sorts of issues and keep your bayliner in top shape.
For both boats, it's wise to seek professional help for an in-depth check. This can be annual or even once in 2 years.
Some boat troubles arise only after they've been used for over a year. Professional help can assist to eradicate these. You can also invest in better items for your boat like top-notch marine spark plugs. These can help improve the performance of your boat.
Which Boat Has Greater Durability?
Considering furnishings and maintenance, sea ray lasts longer. With proper care, a sea ray boat can last over a decade.
The same can't be said for bayliner. With the right maintenance, a bayliner boat can last up to 5 years. After that point, you'll need to be extra careful about your boat.
That's because it can be quite prone to damage from water and impact. As a result, you'll need to highly prioritize maintenance.
Routine checks can help add 2 more years to your boat. It can also help fast identification and solving of issues like problematic as tank vents.
Once you've taken a look, we can proceed to the last bits of the article.
Final Verdict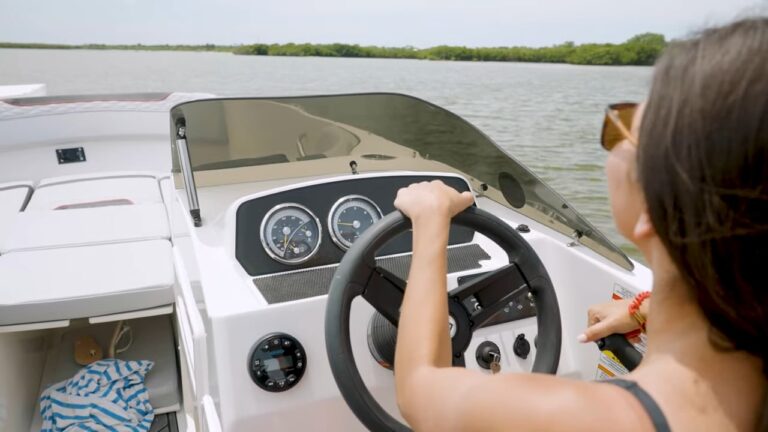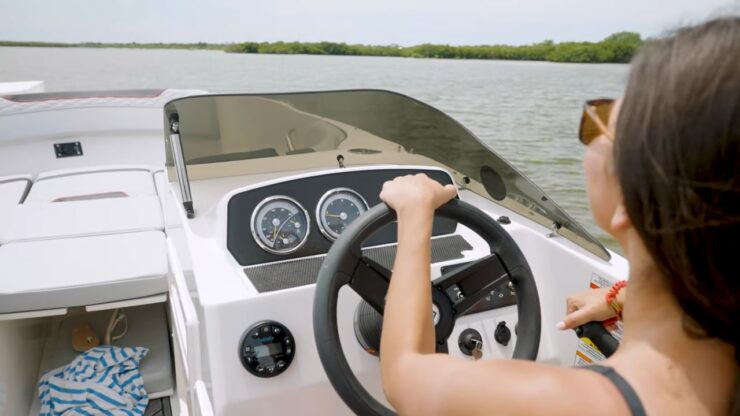 So, will it be sea ray or bayliner? Still undecided with the boat you want to get? Allow us to give you one final nudge.
If you're new to boating or have a small budget, pick the bayliner. You just have to check the boat regularly, that's all. This way you'll know more about boats and gain experience.
You can pick a sea ray if you want a boat that'll last long. The furnishings and durability make it a great investment. If you're experienced with boating and want something long-lasting, pick sea ray.
Again, boat maintenance is essential for both boats to achieve the best performance. Keep your boats in check to ensure that it runs smoothly for years. And don't worry! It's not that hard to maintain a boat by yourself.
We hope you're able to decide based on the details. This brings us near the end of our segment.
FAQs
Are sea ray and bayliner the same company?
Yes they are. Sea ray, bayliner, and mercury belong to one company. This is the Brunswick Corporation. Based in the United States, they are leaders in the marine industry. They've been in business since 1845 making world-renowned boats and marine gear.
Why did sea ray stop making big boats?
Answer: Sea ray stopped making big boats due to market pricing inconsistency. Company officials claim that they had to sell their boats for unsatisfactory prices. This wasn't feasible as the company was incurring losses over a premium product.
Where are bayliner boats made?
Answer: Bayliner boats are mainly made in the United States. They have production plants in the states of Washington and Tennessee. However, they also have plants in Mexico, Portugal, and Brazil.
Are Sea Ray and Bayliner the same company?
In 1986, the Boat Group division of Brunswick
Is Sea Ray a high-end boat?
Yes, Sea Ray is a high-end boat brand that is known for producing luxury boats with exceptional finishes and advanced technologies. They have been in the boating industry for over 60 years and offer a wide range of boats, from sports boats and cruisers to yachts and superyachts.
Their boats are typically priced higher than other brands due to their superior build quality and craftsmanship, attention to detail, and innovative designs. They also offer a comprehensive warranty and exceptional customer service, which adds to their overall value proposition.
Overall, Sea Ray is considered a premium brand in the recreational boating industry.
Can Bayliners go in the ocean?
Bayliner offers a range of boats that are designed for various purposes, including coastal cruising, fishing, and water sports. However, it's important to note that not all Bayliner boats are suitable for offshore use and some may be better suited for calm waters, lakes, and rivers.
It's important to choose a boat that is designed for the specific type of boating you plan to do and to always follow safe boating practices, including checking weather conditions and ensuring that your boat is properly equipped and maintained for the conditions you'll be facing.
It's also a good idea to consult with a knowledgeable boating expert to ensure that your Bayliner is suitable for the type of ocean boating you plan to do.
Where is Bayliner made?
Facilities for Bayliner may be found at Reynosa, Tamaulipas, Mexico as well as Knoxville, Tennessee, Dandridge, Tennessee, and Arlington, Washington, in the United States.
For the European and South American markets, Bayliner also operates plants in Brazil and Portugal.
Wrapping Up
Both Sea Ray and Bayliner boats offer great quality and value for boat owners. Each brand has its own unique features and benefits that should be taken into account when making a purchase decision.
Sea Ray boats are typically larger than Bayliners, offering more storage capacity, speed, and amenities such as bow thrusters for maneuverability in tight spaces.
Bayliners tend to be more fuel-efficient due to their larger engines but may require slightly more maintenance than Sea Rays do. Ultimately, the choice between these two brands is up to you – consider your needs carefully before making your decision!
Now that you know all about Sea Ray versus Bayliner boats, it's time to visit your local dealer and make the right choice for you!