Sometimes it becomes hard for you to remove the fish hook from the fish's mouth as it is not so easy to reach out if the hook is deep inside the mouth. Additionally, putting your fingers anywhere near the sharp teeth of large, dangerous fish like pike, bluefish, or sharks is never a good idea. You must never use your bare hands to remove the hook, which is why you can for a tool like fish hook removers.
In this article, we will talk about some of the best fish hook removers that are there in the market and have some of the best reviews from previous customers. This way, it will become helpful for you to use this guide to buy the most suitable hook remover.
 Best Fish Hook Removers Review 2023
Further, we will provide specifications and reviews of some of the good fish hook removers from good brands that can help you remove the hooks and also will work in the long run. You can choose the hook removers according to your preference.
1. Booms Fishing R1 Stainless Steel Fish Hook Remover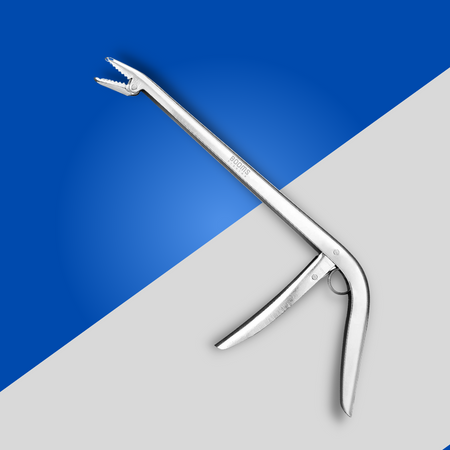 This stainless steel hook remover is designed with precision, the handle is ergonomic, and the serrated jaws make it easier for the user to catch the hook easily. Also, one of the most important things is to safely remove the hook from the fish's jaws, and this hook remover removes it safely, reducing the damage to the fish.
It also ensures that fish injuries are reduced. This remover is recommended for medium and large fishes like sharks or muskies. You will get to know more about this in the features:
Features:
It works in saltwater and freshwater, so it is highly versatile no matter what kind of water the fishes are in.
The hook is made of stainless steel, which makes it pretty durable. Durability is essential, and the premium quality stainless steel makes it easier for you.
The company provides a lifetime warranty. It backs up with a hassle-free money-back guarantee for non-human damage. This ensures that it works in the long run. Booms boom fishing is committed to 100% satisfaction for all our customers.
The spring-loaded handle and 11-1/2″ one-handed grip allow e\xact and fast hook clearance. Usually, joints are the areas where the tool can damage, but it is tightened with screws, ensuring longevity.
The claws, like hook remover, are designed in such a manner that they grip the hook firmly and ensure that at one use, you can easily remove it from the fish's mouth without making it hard for the fish.
Pros
Great quality at a reasonable price. Professionals also recommend it.
The claws have a good grip that holds the hook firmly.
It squeezes out quickly when you try to take the hook out.
2. 4PCS Fish Hook Remover Fishing Hook Remover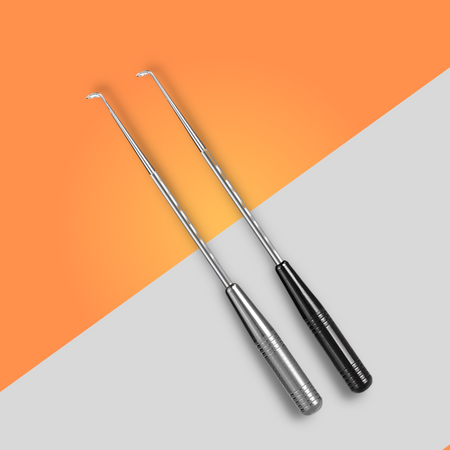 The hook remover can remove hooks in 3 seconds, is smooth, and won't damage fish or fishing lines. The technique used to remove the hook is pretty straightforward and makes it easier for you to remove it as fast as possible. It has an improved hook remover design, ensuring you remove it quickly on one try.
The fishing hook removal tool uses a space aluminum handle with high-strength anodized aluminum and a rust-resistant steel hook body. Stainless steel ensures that rusting does not appear. And the solid magnetic adsorption on the underside of the hook remover handle makes it easier to pick up the hook.
Features:
The remover's structure or composition is designed for fast magnetic adsorption.
To ensure that you don't slip out on the first attempt, the Non-slip Space Aluminum Handle is what makes it different yet helps to hold the grip.
The extraction process contains a 360-degree spiral needle made of rust-free stainless steel, which is responsible for executing the maximum task.
At the end of the remover, there are plastic tube protectors that prevent deformation.
The remover comes with cushioning memory foam which is on both sides. It is highly important as it is a sharp tool and needs to be placed with care so this additional feature is impressive.
The fish hook remover has an overall length of 6.8 inches, weighs 0.88 ounces, and features red, gray, black, and blue colors.
Pros
At such an economical price, there are four removers that you can use in the future.
The protecting bottom is highly good for the user as it helps to make it sturdy and have a proper hold on the grip.
Its functioning is quite easy and does not make it hard for beginners.
Good for medium and small fishes.
3. Booms Fishing R08 Fishing Hook Remover Tool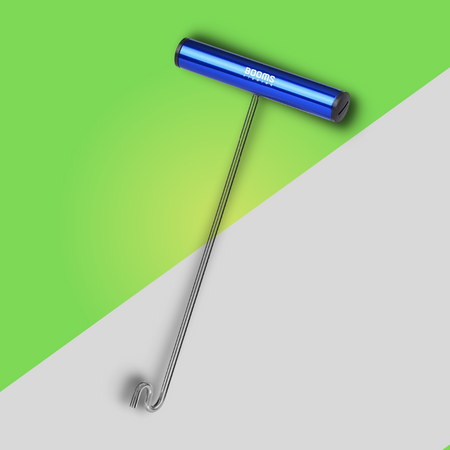 This type of fishing removal tool is designed in accordance with the removal of hooks from medium or large-size fish. It is also made up of premium quality austenitic stainless steel that ensures no corrosion. This tool is more of a primitive and standard tool. If you dislike the advanced tool or have the habit of the old ones, you can consider buying this one. It mainly works in saltwater, so you must keep this in mind before buying it.
Features:
The hook and the size are appropriate for large and medium-sized fish.
It comes with a T-shaped handle, making it easy to handle and grip. This is uncommon among different removals tools, so this is a distinctive feature of this hook remover.
To emphasize the structure of the Dual curve design, push and pull embedded hooks ensure that once the pointed part gets connected to the hook, it will quickly get pulled about without much exertion.
As appropriate for the big and medium fished, 10" is the overall and 5" handle lengths.
Corrosion-resistant austenitic stainless steel construction. Ensuring that it can be durable for a long time.
Pros
The push and pull bends make it different from the other tools and make it easier for the user to get the hook without hurting the fish.
The handle is made of aluminum, ensuring it will be highly durable.
T Shaped handle ensures a good grip and fork control over the whole process.
4. CRAZY SHARK Hook Remover Aluminum Fish Hook Remover Extractor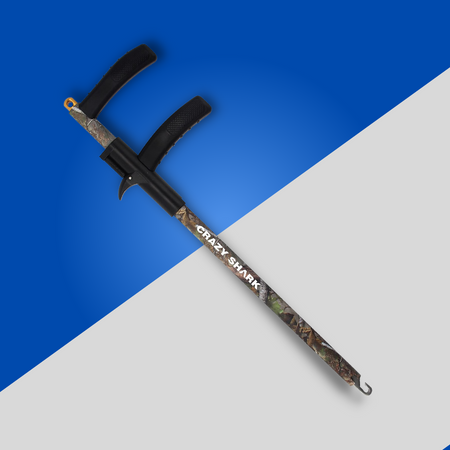 This CRAZY SHARK hook remover is more on advanced level. It is not like the usual or standard hook-removing tools, but it has ease of use. According to many past customers, they are satisfied with their investment in this hook remover.
The design is also pretty sleek yet different, taking it into some advanced tools category. It looks pretty nice and holds the form of a gun.
Features:
Ergonomic carbine design ensures that the user does not feel uncomfortable and that the grip is not compromised.
It is corrosion resistant, and the look is fashionable and comes in attractive colors. The premium color ensures that it does not fade with time, ensuring you have the same look for a long time.
It is sleek and easy to handle. The removal tool's look and functioning are pretty simple yet advanced.
It is made up of Selected aerospace-grade aluminum tubing and stainless steel hooks, making it pretty light in weight and allowing you to work efficiently.
Pros
The design is good, and it is highly advanced looking.
The handle is pretty firm and ensures that there is a good grip.
The floor won't fade even if the colors are bright, yet they stay the same with time if stored with care.
5. Jazar Fishhook Detacher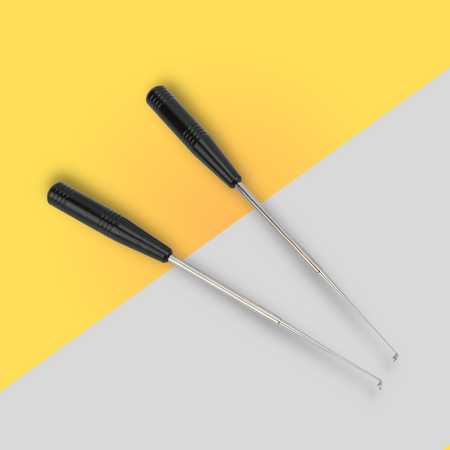 This simple-looking fish hook removal tool is one of the best-reviewed book detachers in the market. It has a pretty simple application and allows the user to understand the way of functioning at one glance. It does not ask you to concentrate a lot to understand its usage, making it one of the most recommended. It is a simple rod that comes with a round nozzle along with other features too.
Features:
A nozzle that can handle different thicknesses of the fishing line makes it highly versatile.
For durability, it consists of an anodized and non-slip aluminum handle.
For storing purposes, it comes with a protective plastic tube which is not easy to break and avoids the tool's rust.
Easy to enter the nozzle and unite quickly so that the fish also does not get damaged in the process
Spiral design that can be stored in pockets or tackle boxes doesn't harm fishing lines.
Pros
Highly suitable for those people who have a habit of using primitive hook-removing tools.
It comes with a protective plastic tube.
Buying Guide For Fish Hook Remover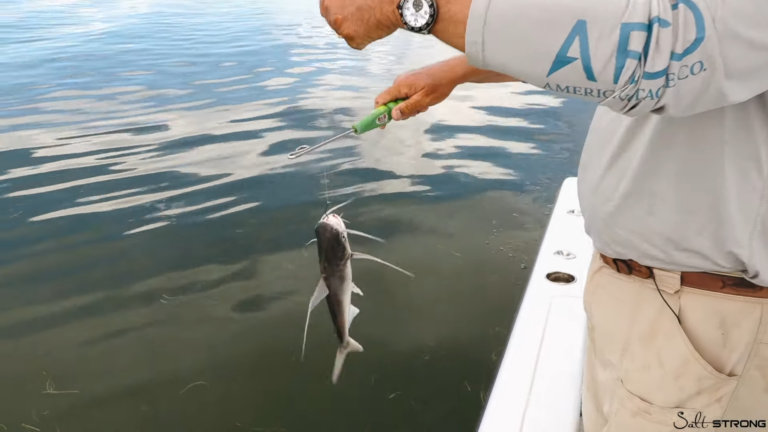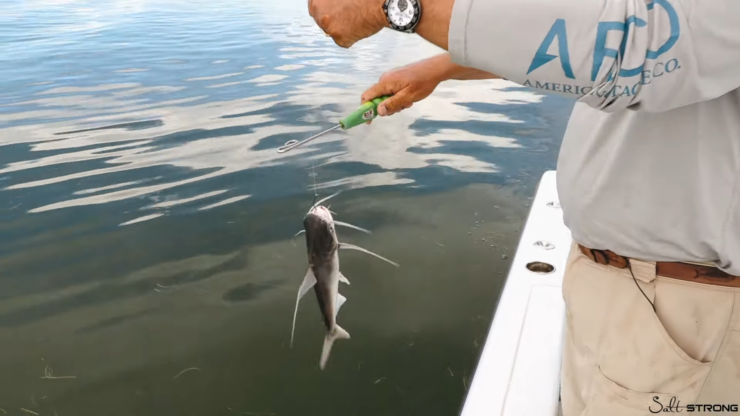 Hook removal tools are only good for one thing. They have an extremely long shaft that allows you to reach and remove a tough hook from fish like pike, shark, and gar without putting your fingers in places where you could lose them. It is highly crucial you use the most suitable hook remover so that you don't miss out on the hook while you are dealing with fish. Further, we will discuss some essential factors you must consider before buying the removal tool for your work.
Resistance To Corrosion:
One of the most important factors to consider while buying the tool is corrosion resistance. This instrument will spend a significant portion of its life in salt water or exposed to the weather, so choose one made of corrosion-resistant materials that will not rust and will last longer.
While freshwater may be corrosive to metal, salt water is highly corrosive; this is the reason you should only consider those tools that give you the guarantee of corrosion resistance. Prefer to see anodized aluminum and stainless steel, and if you want to check by yourself then you can put the rod in the freshwater to check the corrosivity.
A Firm Grip:
Grip plays a considerable role in making your task much easier, and this is why you must know that the market is dominated by two grip styles: the traditional T-grip and the modern pistol grip. It depends upon which kind of hook remover will suit you.
T-grips are small and easy to store in tackle boxes, but they can be challenging to use correctly. They are simple yet a bit hard for beginners; while the pistol grips are easy to use with one hand, they take up a little more space.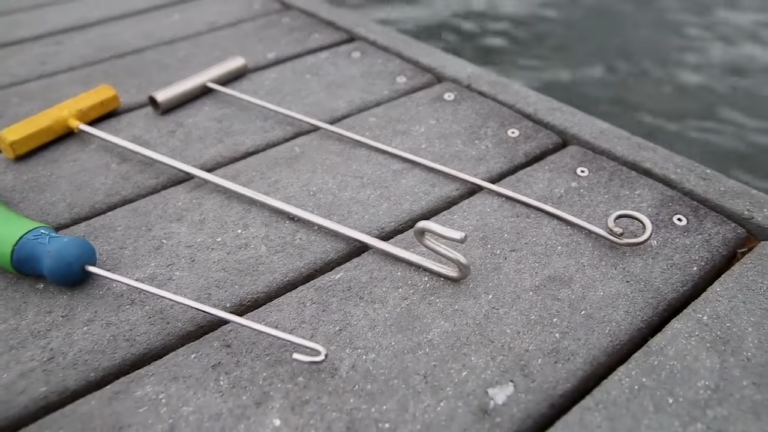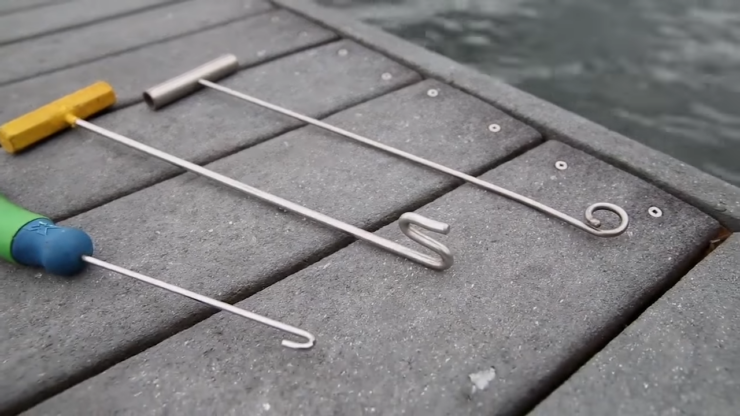 Length Of The Tool:
There is a range of length tools available, and the one you use depends on the sort of fish you're after and whether they're more likely to bite or swallow the bait. You must know the appropriate length and which one you must go for.
The most popular fish removal tools range from 8 to 13 inches. This is the standard size, but sometimes it can vary from brand to brand. You can get away with lower shaft lengths if you're after smaller freshwater species like bass or walleye.
Hook Design
A hook remover is usually reserved for large-size hooks. It should be designed with precision and must have sharp claws. This is why you must check the specifications while deciding on buying the tool. Also, if a shark or tuna has a strong hook embedded in its jaw, it will take considerable force to remove it, so try to buy the tool that can fulfill all the needs and work in most conditions.
Conclusion
If you've ever had a hard time unhooking a hook, got stuck in a hook that was too deep to reach, or got stuck, you know how valuable the right tool for the job is. Make sure you have this handy tool with you when you go on a fishing trip. That way, you can enjoy fishing without damaging the fish. It enhances your fishing experience. The buying guide and the reviews will help you choose the right one for your work.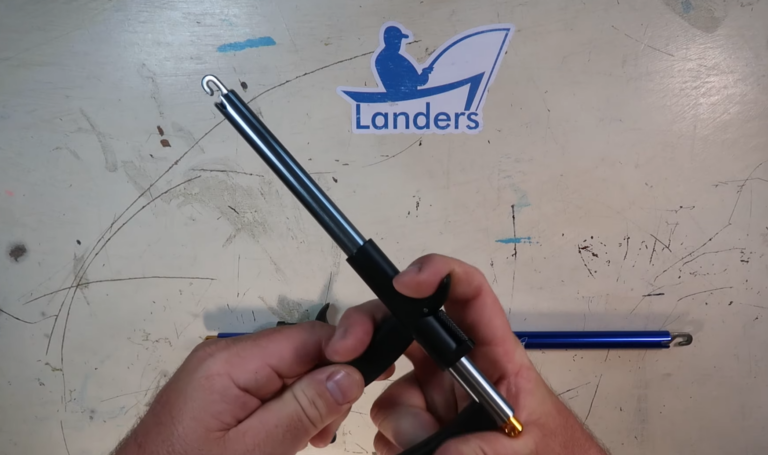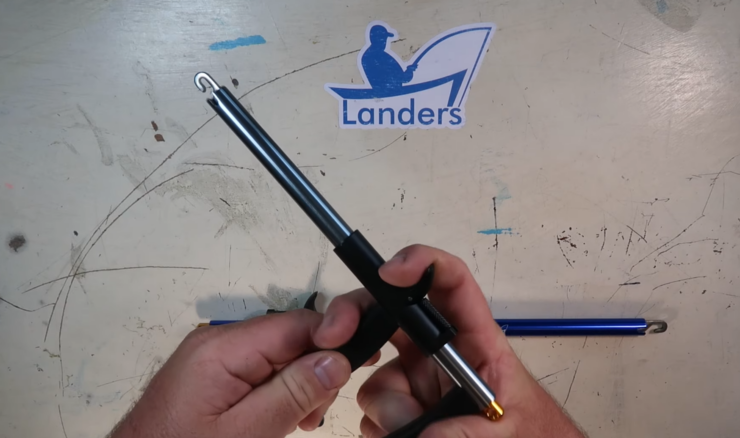 Frequently Asked Questions ( FAQs)
Do all the fish hook removers come with a protective cover?
This varies from brand to brand; some of them come with plastic protective tubes but not all of them.
Where to buy the fish hook removers from?
You can buy the fish hook removers from amazon and reviews from other customers who have been satisfied with their product.
If these weren't enough, check out some other picks from Amazon also: