Are you heading out fishing or having a party with friends on a boat? In that case, a deck chair is an absolute necessity on the board. This will give you the chance of sitting comfortably and enjoy the views most.
However, because of the unpredictable climate, a deck chair has more special requirements than a regular chair. Finding the best folding boat deck chairs isn't simple with so many alternatives on the market.
As a result, it's very easy to become baffled. But don't be concerned. We're here to help you search for the best deck chairs.
That's why we've looked into more than a dozen different types of deck chairs. Finally, we've put together a list of the top ten. Any of these products can be trusted.
Would you like to learn more about it? Then just keep reading the article. So, how about we get started?
Top Folding Deck Chairs for Boats That You Shouldn't Miss
1. Wise Folding Boat Deck Chair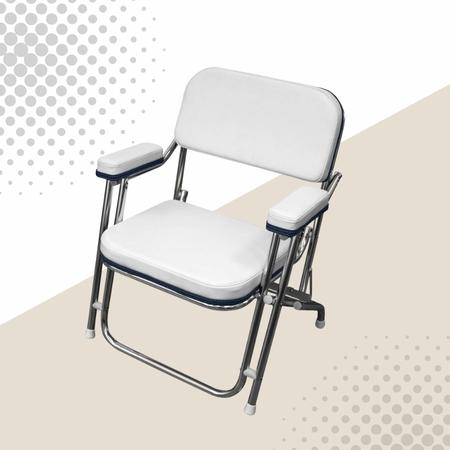 Let's start with the Wise folding boat deck chair, which is our very first product. This chair measures 31 inches tall, 25 inches wide, and 23 inches deep. Furthermore, the seat depth of the chair is 16 inches.
It's a stylish folding chair that's perfect for boat decks, docks, and even patios. When not in use, it folds up effortlessly for storage.
The chair has an aluminum frame with eight legs and an injection-molded plastic seat. It is both polished and sturdy.
It can protect furniture from natural elements such as saltwater, mold, and so on. These chairs' plastic seat frames have proven to be of great quality. That is, through overcoming all of these obstacles.
To preserve the surface, it includes a sturdy anodized aluminum frame with composite leg tips. UV-treated marine-grade vinyl was used to make these deck chairs as well.
The smooth and soft padding is made of finely compressed foam. It's available in a wide range of colors and patterns.
They have a robust frame, but this has no bearing on their movement. They are easily transportable and foldable.
Pros
Has an injection-molded plastic seat frame.
Mildew-resistant and UV treated.
Anodized aluminum chair frame.
High compression of foam padding.
Cons
Being overweight may weaken the legs.
2. Leader Accessories Folding Deck Chair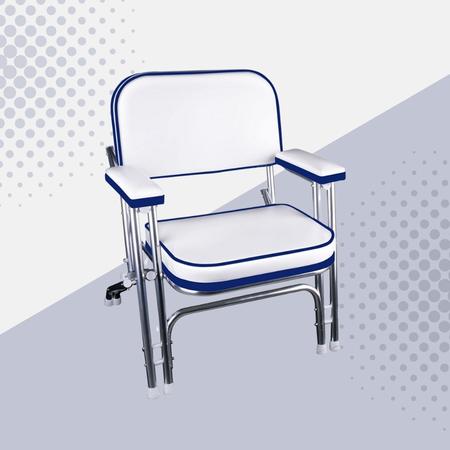 As for our next product, we have Leader Accessories folding deck chair. The product measures 31 inches long, 25.5 inches wide, and 20 inches high. It is available in blue and white to match the ocean.
A high-impact plastic frame is used in its design. As a result, it's long-lasting and adaptable to any outdoor location.
This chair is perfect for decks, picnics, and docks, among other places. It can also be used in the battling fisherman's action station.
It's simple to fold down for transport. As a result, you can bring these chairs with you wherever you go. They are really easy to carry.
The seat coverings are built of 28 ounces of UV and mildew-resistant marine-grade vinyl. That will go well with your well-designed deck.
Even after extended use, the compression foam padding retains its firmness. In addition, this chair set now has an additional safety lock bar. It will prevent the chair from collapsing by mistake.
The padded armrests and cushioned backrests are designed to make you feel more at ease.
It has an 8-leg design for added stability. In the back, there is a locking bracket to offer more stability. It has a strong anodized aluminum frame with composite leg tips.
So you can say it is stable, stylish, and easy to store.
They've been designed with rubber characteristics to provide you with the best possible protection. As a result, it will stay placed on the surface without causing any damage.
Pros
Easy to fold and transport.
Durable plastic injection-molded seat frame.
UV & Mildew treated marine-grade vinyl.
Safety Lock Bar prevents folding accidentally.
Cons
The armsets are a little short.
3. Seachoice High-Back Folding Deck Chair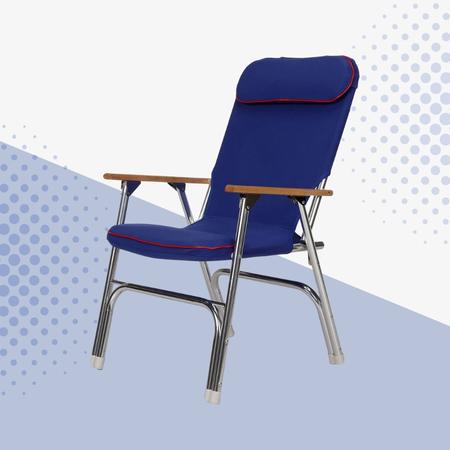 Moving to our next product which is Seachoice High-Back folding deck chair. It's a foldable deck chair available in blue and red. The product has a height of 23 inches, a weight of 4.5 inches, and a height of 35 inches.
This canvas chair with a high back is exceptionally comfy. A storage pouch is included in the canvas back. As a result, you can conveniently keep your magazines and books within reach.
The armrests are varnished. For increased support, this chair is built with two legs. This improves the chair's stability.
Its smooth and soft padding is made of finely compressed foam. It's available in a wide range of colors and patterns.
The chair's frame is made of a 1-inch anodized aluminum tube. It's tough yet not too heavy. It also has non-scratching feet. It keeps the deck surface from being frightened.
This chair is simple to fold. As a result, you'll be able to transport these seats wherever you go. They're quite simple to move.
Pros
High-back canvas chair.
Have a storage pouch.
Double-legged for stability.
Lightweight yet strong framed.
Cons
Need rubber protectors for the legs.
4. FORMA MARINE High Back Boat Deck Chair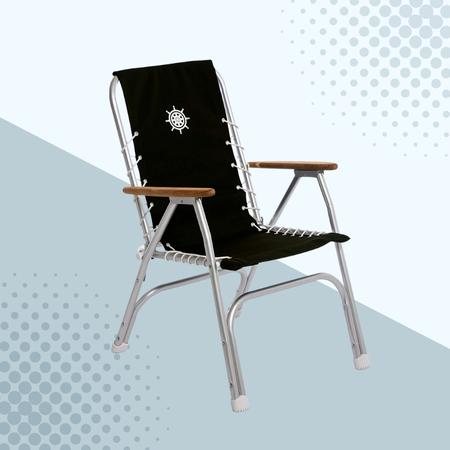 Next we have FORMA MARINE high back boat deck chair. This boat chair is the most comfortable on the market. Because of its 23-inch-high back. As a result, you can relax and unwind.
Elastic cables in the chair reduce engine vibrations as well as harsh sea waves. It also has circular armrests that are silky and warm.
Another plus is that the textiles are machine washable and simple to maintain. New color replacement textiles can also be provided.
The chair is lightweight and can be folded flat to 4.7 inches. As a result, it's simple to transport and store.
Its non-marking anti-skid leg tips do not leave a mark on boat decks. As a result, your deck will be protected from scratches.
Boat seats are subjected to extreme weather conditions that degrade their overall quality. The frame of these boat chairs is made of unique anodized aluminum alloy tubes.
They are rust-free and can tolerate harsh environmental conditions. Its solid and durable construction makes it an excellent choice for folks suffering from back problems.
Pros
Elegant rounded teak or Iroko armrests.
Rust-free hardware and special aluminum alloy frame.
Easy to fold and carry.
5. FORMA MARINE Boat Deck Chair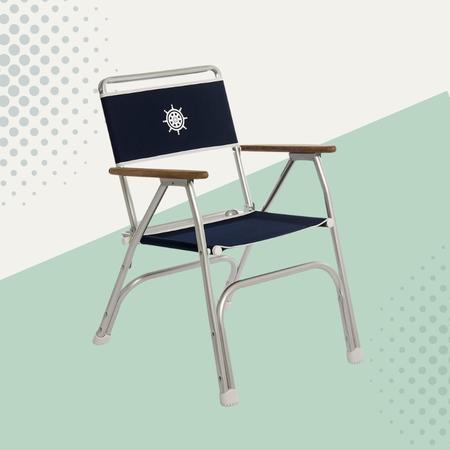 We've arrived at our final product, the FORMA MARINE boat deck chair. Another FORMA MARINE product has been added to the list.
The back of this chair is 18.9 inches high. As a result, it's really relaxing to sit back and relax.
To the sides have been placed a set of well-made and polished wood armrests. So that you can fully relax and rest your arms.
Its legs have been fitted with anti-skid rubber tips. It improves their stability. Furthermore, your deck will be protected from scratches.
The chair folds up neatly and can be readily stored. As a result, it's not a big deal.
That's not all, though. The elegant navy blue seat covers will add charm and refinement to your outdoor space.
Polyflor is a mold-resistant fabric that is used all over the world. It's used in the chair's construction.
Its corrosive-resistant design can survive the severe conditions of the sea.
Extreme and severe weather conditions have shown to be no match for the product. Whether it's the sweltering sun or the sea's dampness.
The frame is made of high-grade aluminum. It adds to the overall structure's strength and durability.
Pros
Withstands harsh seawater environments.
Sturdy and durable.
Corrosive-resistant construction.
The fabrics are washable and easy to clean.
Buying guide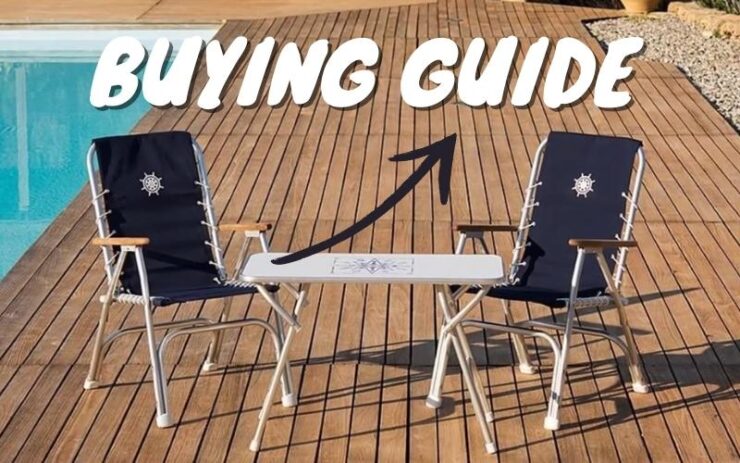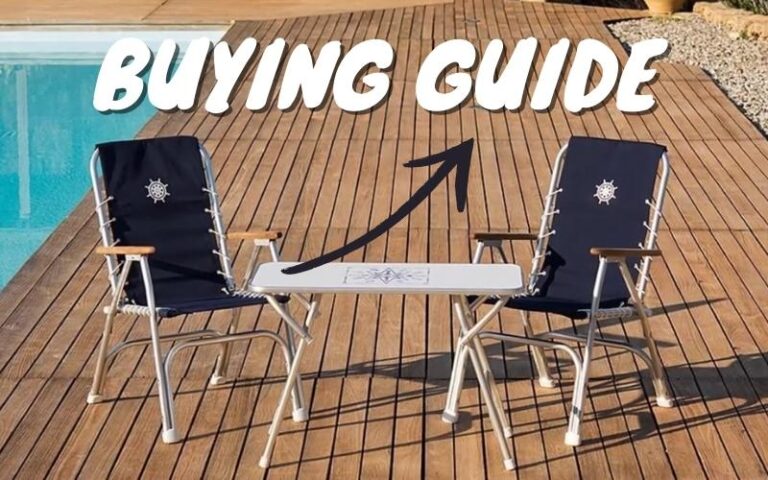 We have a basic idea of the best items available at this point. Knowing about a thing, on the other hand, is never enough. When it comes to making a decision, you'll need both data and detailed insights.
So that you may choose the best product for your needs. As a result, we've created a list of the most important buying factors to assist you.
Material
Anything on a boat is likely to be subjected to difficult circumstances. Weakening due to exposure to the elements and ocean. For these reasons, the materials must be durable, corrosion-resistant, and UV-resistant.
Rust-Proof Steel
Steel is prone to rust. It is a part of what distinguishes regular chairs from marine quality. Make sure the deck chair you choose is rust-proof. Steel is also hefty. But if you won't be moving them much, this won't be an issue.
Maintenance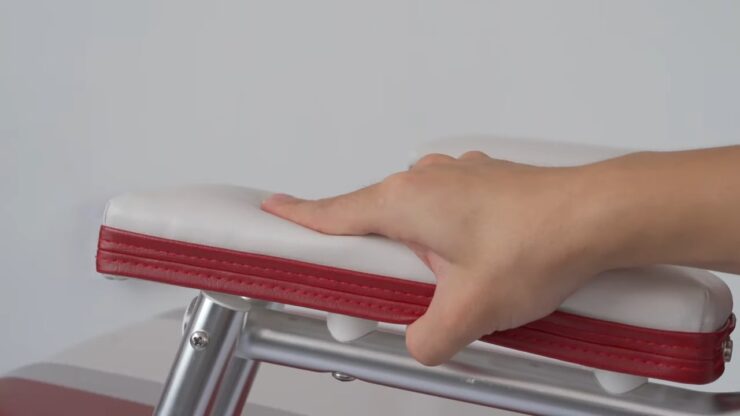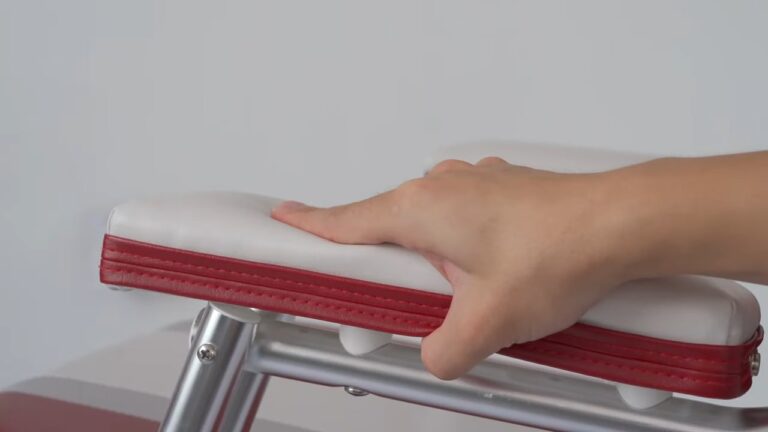 No matter what material your deck chair is constructed of, it needs to be maintained. You don't want wetness on cloth and saltwater on metal.
Cleaning and storing your chairs is the least you can do to prolong their life.
Design
Deck chairs clearly have a unique design feature. The choice between a conventional chair and a foldable chair is a major design element.
Standard chairs are more durable and comfy, but they must remain outside. Folding chairs, on the other hand, are not as sturdy but can be stored easily.
Comfort
All of the deck chairs we tested here are comfortable. But they do so in different ways. Some have well-designed wooden seats that support your back. While others are constructed of fabric that supports your body weight comfortably.
Cushioned seats, armrests, and backs are the most comfortable. But also the bulkiest and most difficult to clean.
Weight
The weight isn't an issue if you're ordering regular chairs.  It will be left out because you'll just move them once anyhow. You can store your chairs after each usage. But then check the weight of the goods before buying.
Quality Check
You should carefully consider the qualities of a boat deck chair before purchasing one.  When deciding on folding or non-folding, you can add extras like a beverage tray.
Drying Time
On a boat, drying time is a significant factor. Wooden chairs dry the fastest, followed by fabric chairs.  Although padded chairs should be resistant to water and mildew.
Stain Resistance
Chairs must be stain-resistant since accidents happen. Thankfully, the best boat deck seats repel stains well. It's still necessary to clean the chair and not let stains dry.
Hopefully, this buying guide will help you to find a suitable boat deck chair.
Portability
When it comes to choosing the right folding boat deck chair, portability is an important factor to consider. After all, you'll want to be able to easily transport your chair from the car to the dock and back again. Look for a chair that is lightweight and easy to carry.
Additionally, make sure that the chair folds up compactly so that it takes up minimal space in your vehicle.
Read also: How to Replace Boat Floor?
FAQs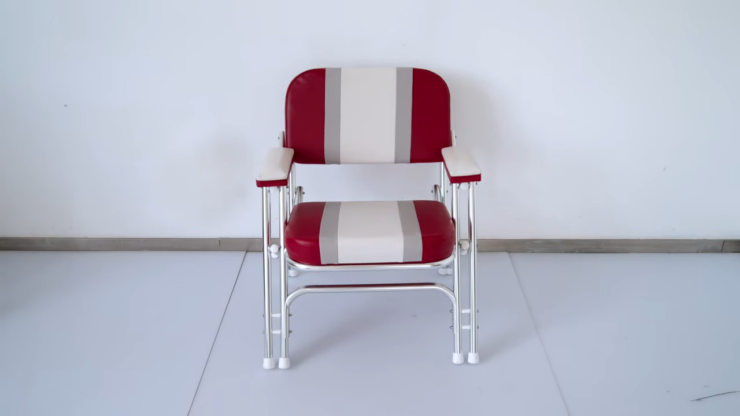 Why does one need a deck chair?
A boat deck chair differs from a regular chair. It is resistant to the sea environment and has characteristics such as non-slip legs. When you're out on the water, a deck chair will provide you with a comfortable spot to sit.
How stable is a boat chair?
A boat chair is quite stable since it is well-made, and has many added features. Such as double-tubed legs to keep it stable. All of these are composed of high-quality materials that will last a long time. And also provide your chair with the strength it requires to support your weight.
Is stainless steel used for all of the screws and nuts?
All of the screws and nuts are stainless steel. Aluminum tubes and locks are used. We adore the seats. So they're stylish, comfortable, and appear to be well-made.
Does the fabric fade in the sun?
No, the fabric doesn't fade in the sun. Fabrics that are blended with acrylic, and polyester are also less likely to fade.
How to clean deck chair canvas?
Assuming your deck chair is made of canvas, you can clean it with a mild soap and water solution. You can also use a soft brush to scrub away any dirt or debris. If the fabric is heavily soiled, you may need to use a stronger cleaning solution.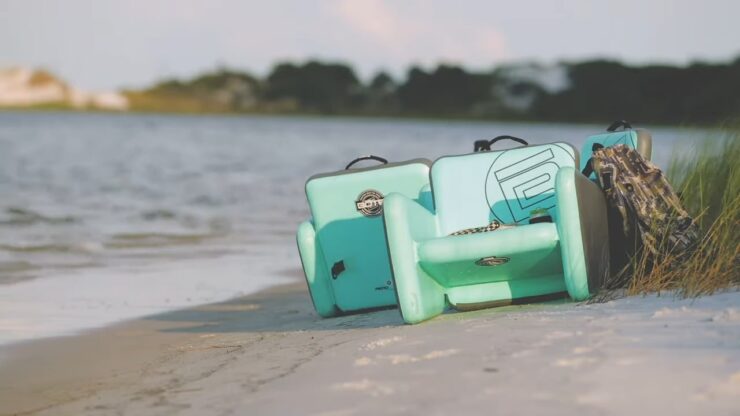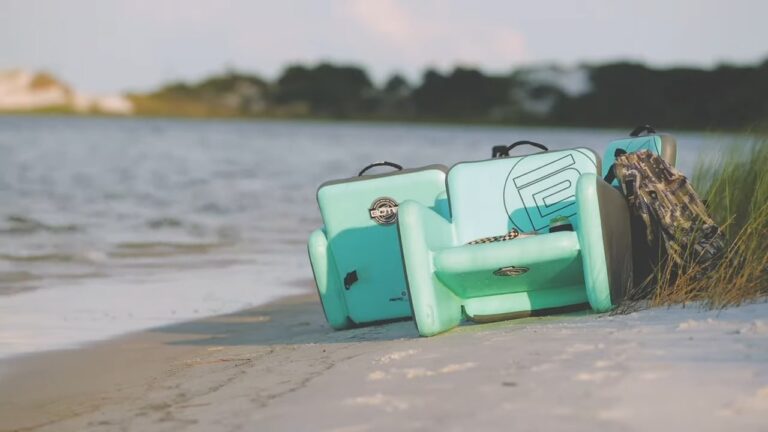 Conclusion
Our conversation has finally come to an end. We trust our reviews will assist you in making decisions.
It's safe to expect that you will not be disappointed. We've put up a list of the best folding boat deck chairs. However, the decision is totally yours.
If you're still puzzled or have any concerns, please leave a comment.
We hope you found this information to be helpful. Take care and best wishes.

I'm Liam Jackson, the proud owner and driving force behind KayakPaddling.net. Born somewhere in the expansive beauty of the United States, I've nurtured a lifelong passion for kayaking and fishing that has led me to explore the far corners of our nation's waterways.