So you have been thinking about kayaking as your next hobby, an activity to fill out your free time in the best way possible.
Well, you will be happy to know that you have made a great decision and that you are about to spend days upon days enjoying the great outdoors.
Paddling in a kayak is amazing because it gives us the opportunity to do many different things.
Touring and relaxing are vastly different from fishing, and both can be done in an equally optimal way from a kayak.
Kayaking is the real deal for anyone who enjoys spending time outside and escaping the hustle and bustle of the city.
If you already like to hike or camp, even better. A kayak will allow you to do it in a brand new way where bodies of water you come across as you explore the wilderness no longer being a problem.
Speaking of the areas in which you do your outdoor fun, how well do you really know it? Certainly not well enough to go kayaking, right?
Well, if you live in or close to Colorado Springs, you should know that it makes for a prime kayaking destination.
It is a vast area with many choices, the best of which we are discussing right here and now in this article. Read on to learn about the best places to kayak in Colorado Springs and beyond to better plan out your next trip.
About Colorado Springs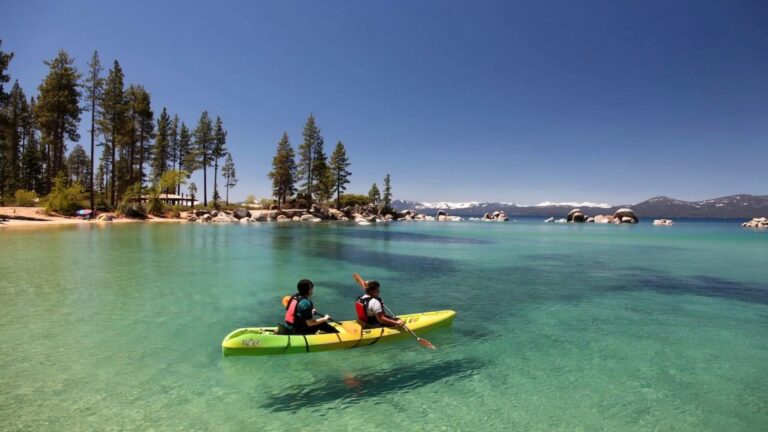 The country seat of El Paso county of Colorado and one of the home rule municipalities of this State, Colorado Springs is the largest city in the area.
It has a population of just under half a million people, a number constantly on the rise as more and more people flood it due to the amazing nature that surrounds it.
It is actually the second-most populous city in Colorado and the 40th in the US.
Its position allows it to have some of the most amazing nature views and breathtaking surroundings in the whole of the US.
Sitting at 6,035 feet, it is over a mile above sea, and the base of Pikes Peak. With its hills, mountains, forests, and deserts, it has a lot to offer for any kind of outdoor-loving adventurer.
Of course, it is riddled with rivers and lakes and as such a prime kayaking environment regardless of why one may want to take out their kayak.
Where to Go Kayaking?
Anything that has the word springs in its name is bound to have a lot of water, right?
Right. The same is of course true for Colorado Springs as it has a number of top-tier kayaking spots for both experienced kayakers and newbies.
Consider the following when you decide to come here and paddle for a day or two.
Apart from the following four, honorable mentions go to Eleven Mile Reservoir, North Slope Recreation Area, Bear Creek Lake, and Lake Pueblo.
1. Manitou Lake Recreation Area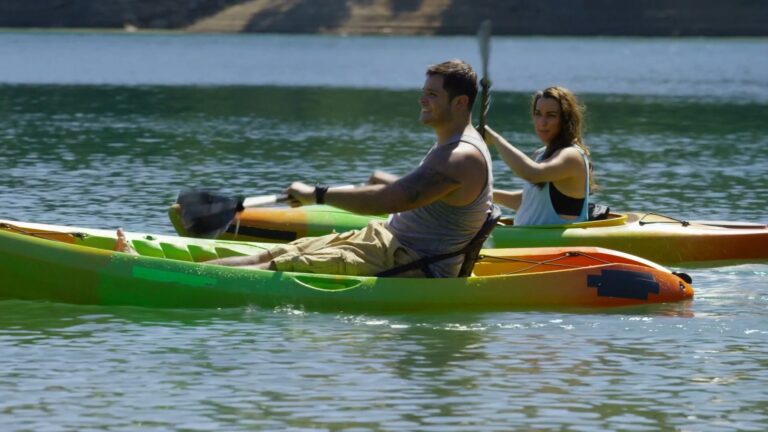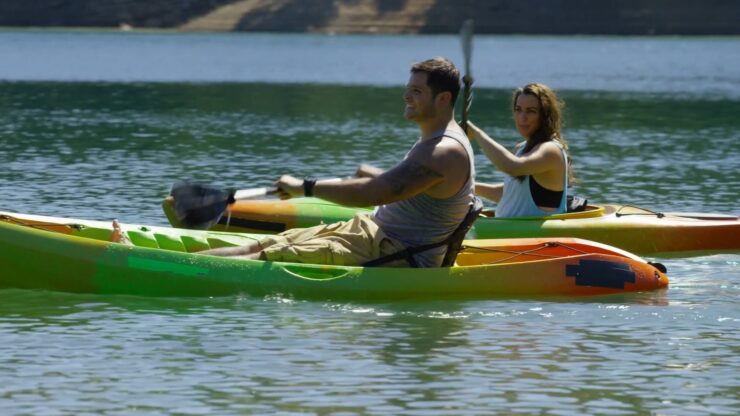 Starting off, the Manitou Lake Recreation Area is the perfect place for kayakers, as if somebody has made it specifically with paddlers in mind.
The reservoir stretches across 5 acres and it is best in summer. While relaxing on the water you can take in the mountains in the background for a spectacular view.
Many beginners come here to get the hang of things, but experienced kayakers also like it as it has something in store for everyone.
During the peak months in summer, it does get crowded, so make sure to go there in the middle of the week for a more peaceful, relaxing experience.
The lake is closed for motorboats, it is easy to navigate and small enough not to get intimidating. It is filled to the brim with trout and the winds are mild. All in all, the perfect choice for a kayaking afternoon.
2. Quail Lake
Without any doubt, Quail Lake is among the very best places to kayak in the whole of Colorado Springs and beyond.
It is located in a small town and it is very easily accessible for paddlers. Small and easy enough for absolute beginners, there is no better palace to get one's feet wet in a kayak for the first time.
Nothing beats the views you get from here, there is plenty of room to park your truck and kayak trailer, and fishing locations are plentiful. Do not worry if you are not an angler as there are also relaxation zones all around.
The near-town location means it is a preferred destination for chill paddling sessions after work, especially in the summer when days get longer. Again, just like the reservoir mentioned earlier, Quail Lake is closed to motorboats.
3. Rampart Reservoir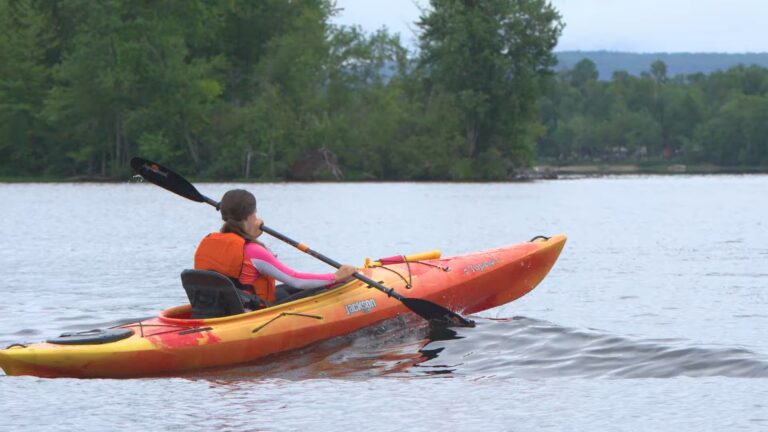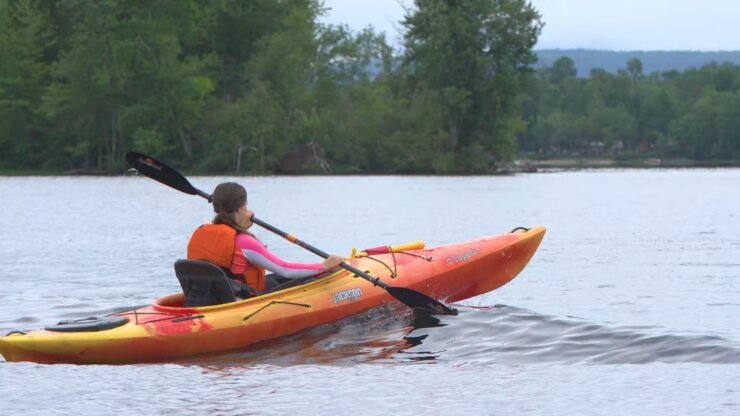 Here is another reservoir lake for you to explore in Colorado Springs, this being a much larger area and therefore an opportunity for longer sessions.
With beautiful views from any side, it is only an hour away from the city but feels so much further. Do not let the dirt roads it takes to get there fool you, it is well worth the trip.
Large and serene, it has a lot of caves to go in and explore. In fact, there is so much to explore, 500 acres to be precise, that it can take the whole day and still not be enough.
As it is bigger, motorboats are allowed but they will hardly bother you. There is enough room for everyone. The best time to paddle here is also the only time to do it, as it is only open from May to October.
The location itself is quiet and beginners are more than welcome. Camping and fishing are done best when combined with some kayaking here.
4. Arkansas River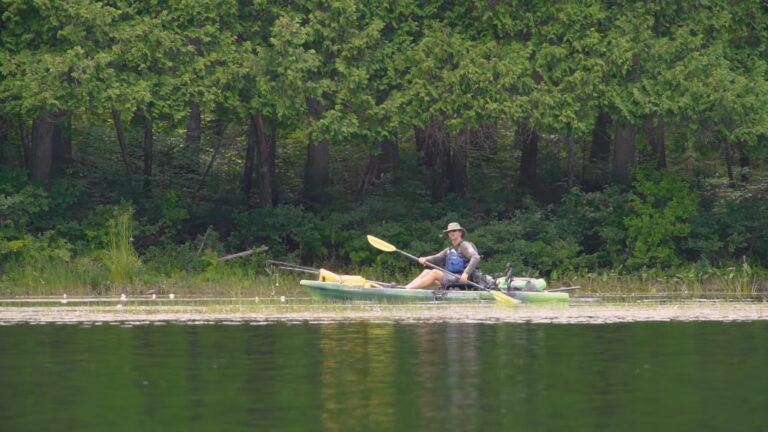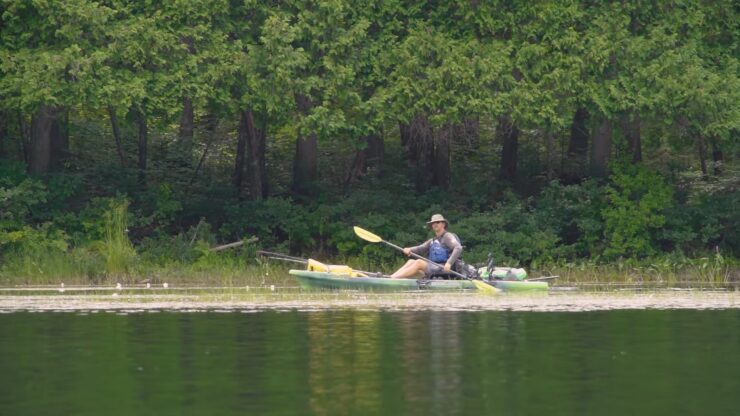 If lakes and reservoirs are too still and calm for you, how about a river? Colorado Springs has many but The Arkansas River takes the cake. A beautiful and serene body of water, it has everything for newbies and pros to enjoy.
There are man condition types, from class I rapids to class VI whitewater. Such variety is hardly found anywhere else in the Springs.
The number of rapids and whitewater spots is also staggering, while the scenery alongside the river is simply gorgeous. You cane easily spot deer, elks, and bighorn sheep, while the river is ripe with fish.
Summer is the best time to hit the river but some scouting is needed as the conditions can get too rough for a relaxing day. With vivid scenery and so much variety, it does not get much better than this.