Ahoy there, kayakers! Are you an adventurer at heart, yearning to conquer the waterways but unsure if a motorized kayak is the right choice for your thrilling escapades? Fear not, for I am here to guide you on this exhilarating journey and ensure that your next purchase sets sail smoothly!
In today's vast and competitive market, finding the perfect motorized kayak can be a daunting task. While you may be presented with numerous options, not all of them live up to the standards of impeccable design, construction, reliability, and the endorsement of renowned companies.
Rest assured, my fellow adventurer, as I will steer you towards the exceptional choices that offer both a remarkable driving experience and uncompromising quality. Together, we'll navigate the waves of uncertainty and set a course towards an unforgettable aquatic expedition.
As the world of motorized kayaks continues to evolve, companies that produce them keep on looking for ways to improve upon their older models and grant you better quality and more reliability.
We did a bit of research and came up with some of the best-reviewed models you can find on Amazon. The list we made is quite balanced in terms of quality, price, and performance, so there will be something for different needs and budget limitations. We have a lot to cover, so without any delay, let us get right into it.
List of Best Motorized Kayaks:
Classic Accessories Colorado Pontoon Boat – Best  Storage Capacity Kayak
Reel Yaks Fishing Pedal Paddle or Effortless Foot Drive Motor Kayak for Anglers
Sevylor Coleman Colorado™ 2-Person Fishing Kayak – Best 2-Person Kayak
Perception Pescador Pilot 12 – Best Kayak for Lakes
Wilderness Systems Radar 115 Motorized Kayak – Best Kayak for Standing
Old Town Sportsman 106 Motorized Fishing Kayak – Best Fishing Motorized Kayak
BKC TK122U 12′ 6″ Tandem 2 or 3-Person Sit-On-Top Fishing Kayak
Lifetime Tamarack Angler 100 Fishing Kayak – Best Budget Motorized Kayak
Pelican Sit-on-Top Kayak – Sentinel 100X – 9.5 Feet – Best Plastic Motorized Kayak
Top-Rated Motorized Kayaks Available Online
1. Classic Accessories Colorado Pontoon Boat – Best  Storage Capacity Kayak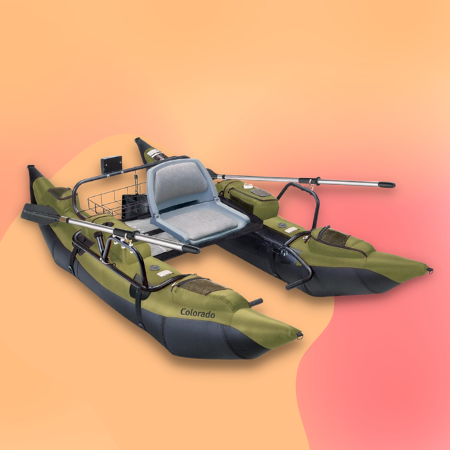 Although this powerful unit may not look like a kayak, it checks all the important boxes in terms of performance, reliability, and solidly made motor. It is a product that comes from the Classic Accessories store, and it is made to operate more like a rowboat than a kayak with two paddles that go along with the motor mount.
The trolling motor mount is pretty good, but bear in mind that the storage area for the battery pack is placed right behind the seat, so in case the battery is a bit heavier, you might feel slight disbalance in the boat. The steering feels very precise and easy, so you will have a great time maneuvering it.
The design of this motorized kayak also means that you will have plenty of storage space, so it is also suitable for longer kayaking sessions. The construction is truly on point, and the boat itself feels strong enough to handle various environmental conditions, including open ocean paddling. In addition, it is very easy to assemble and take down.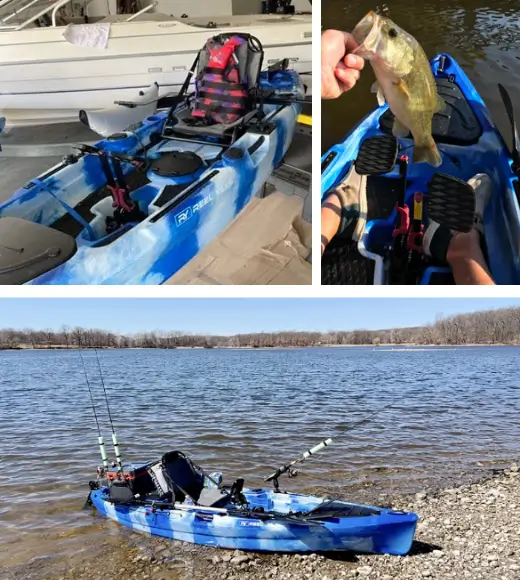 2. Reel Yaks Fishing Pedal Paddle or Effortless Foot Drive Motor Kayak for Anglers – Best Sit-on-Top Kayak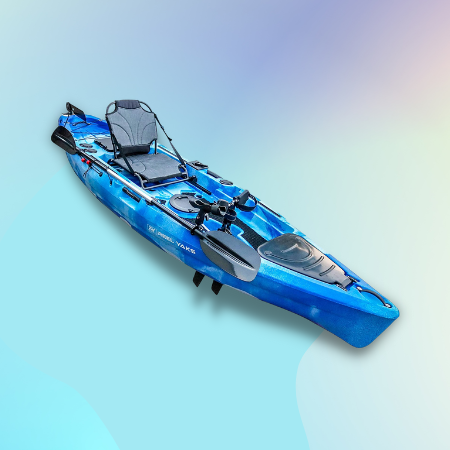 Coming from the Reel Yaks store, this motorized kayak offers a wide variety of features that are not easy to come across at this price range. This unit looks and performs just as it is stated on the Amazon page; functional, great compartments and tie-downs, a comfy seat, fishing rod holders, and much more.
This kayak is extremely stable on choppy water even if you do not use a motor and decide to paddle. Trolling motor mount system is very easy to install and works on a very high level. It is highly recommended to use lightweight trolling motors, such as Watersnake, and you can easily store such motors in the storage area behind the seat.
This unit weighs only 62 lbs (unloaded), so it is very easy to lift it on the roof or tailgate and head down to your favorite fishing spot in no time. A wide variety of cool features make this kayak very much worth your money, and it holds the value of twice as many expensive kayaks on the market.
3. Sevylor Coleman Colorado™ 2-Person Fishing Kayak – Best 2-Person Kayak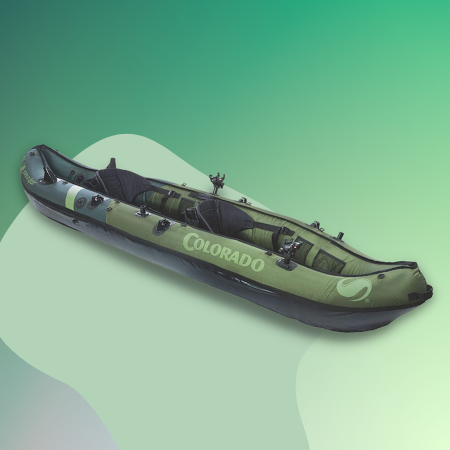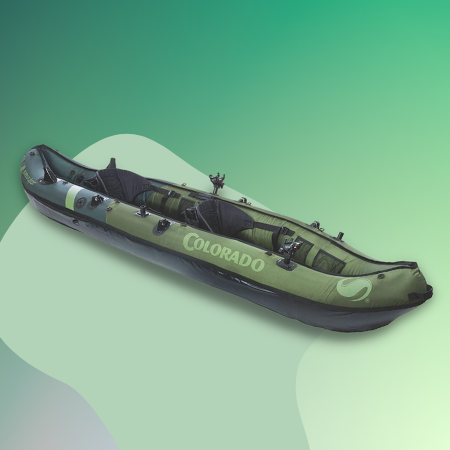 If you are low on the budget but in need of a motorized kayak, worry not because this unit will provide you with everything you require at a more than a fair price, especially considering the cool features that come along with it. It is a product from the Sevylor store and provides everything that adventurers or anglers would require.
In terms of portability, this unit checks all the important boxes you can think of. It is very easy to inflate and deflate, and it is easy to carry or store in the back of your trunk. There is also an included bag which adds even more to the value and convenience of this product.
It is a very stable unit made of PVC material, suitable mostly for lake use and steady waters. There is also a 1000D tarpaulin bottom and 840D nylon cover, which provides durable protection from punctures and unstable environments. It is great for fishing and various adventures, and in terms of price/value ratio, nothing can quite beat this kayak.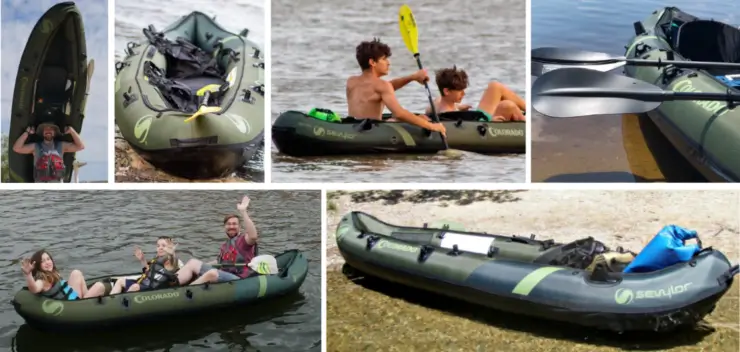 4. Perception Pescador Pilot 12 – Best Kayak for Lakes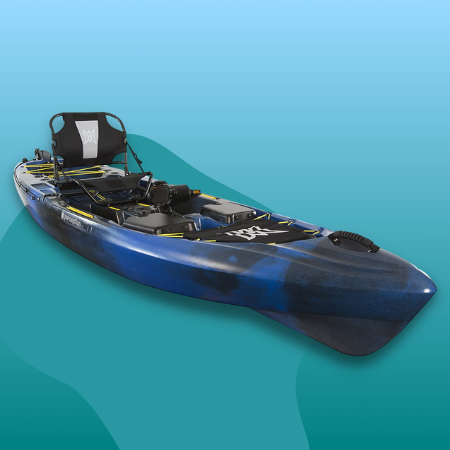 Perception Pescador Pilot 12 is a motorized kayak well-known for its stability, reliability, and exceptional performance. It is a unit that is suitable for both beginner and professional kayakers alike due to its ease of assembly and uses, which draws so many buyers on a daily basis.
This is a highly customizable kayak that comes with lots of storage space to accommodate all the fishing gear you are required to carry. You will quickly notice that the sit-on-top design is a perfect solution for this unit as it makes your whole journey much more comfortable and relaxing.
Perception Pescador Pilot 12 is powered by its Pilot Propeller System, allowing you to propel the boat in reverse as well, and all of that with absolutely no effort. This system is powerful and lightweight, and it allows you to control the rudder system with one hand, which adds even more convenience.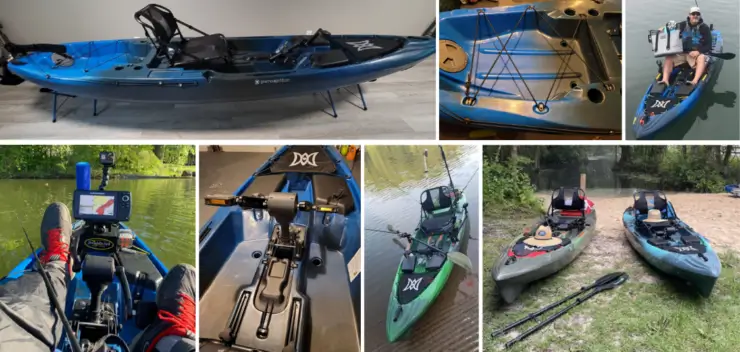 5. Wilderness Systems Radar 115 Motorized Kayak – Best Kayak for Standing
Radar 115 motorized kayak is an excellent mixture of strength, durability, and performance that comes at an average cost. It has integrated S.M.A.R.T. Hull Technology which largely contributes to the overall stability of this kayak.
This unit is well-known for its superior responsiveness and acceleration, but even more so for extra storage space that every angler will appreciate. It boasts a very comfortable and adjustable AirPro Max Seat that offers three adjustability options that will enable you to set it up to your convenience.
With this kayak, side-scanning and down-imaging are also possible, and navigation was never easier thanks to the inclusion of a built-in steering control system. Comfy for shorter and longer journeys, this kayak offers everything you require for more than a fair price, especially when you consider all the important features that come with it.
6. Old Town Sportsman 106 Motorized Fishing Kayak – Best Fishing Motorized Kayak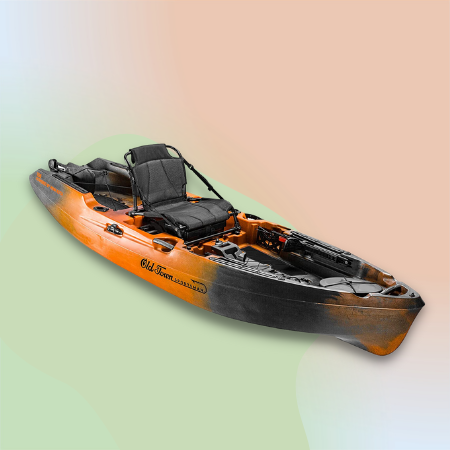 The Old Town store is one of the oldest manufacturers of canoes and kayaks in the world and, as such, is highly respected for the attention to detail they devote to their products. The craftsmanship of this motorized unit is spot-on and offers exceptional performance and high levels of comfort.
The Sportsman 106 is powered by a Minn Kota motor that comes as standard and offers excellent performance and reliability. It is saltwater ready and provides 45 lbs of thrust, and it is more than enough for an energetic trip up the river.
Even if you do not want to use the motor, this kayak has various features, such as a stable deck with cushioned floor pads, a premium dual-layer Textilene mesh seat, adjustable foot braces, and ample storage space to make your kayaking trip enjoyable and comfortable.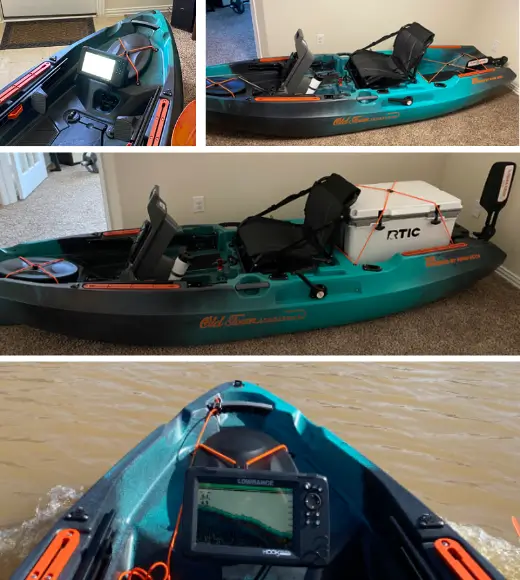 7. BKC TK122U 12′ 6″ Tandem 2 or 3 Person Sit On Top Fishing Kayak – Best for Paddling With Kids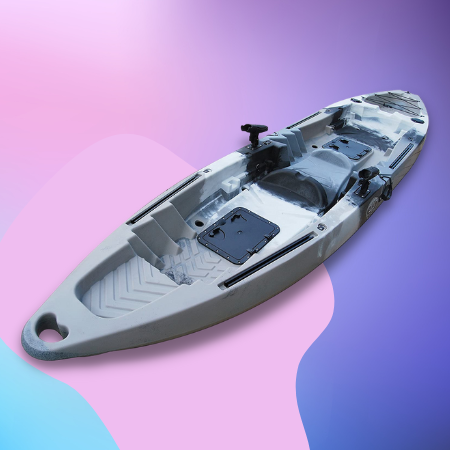 This fishing kayak is an excellent choice for tandem fishing trips, solo adventures, and other leisure activities. You can mount up the thrust trolling motor that weighs up to 36 lbs using a TM315 motor mount. However, it is not recommended to mount a combustion-style motor to this kayak as it would be too heavy for the whole unit and cause disbalance.
This unit is very stable, easy to paddle when not using a motor, and can move along pretty well, especially when two persons are paddling. It is also light enough to lift it and move it from place to place, and store it. This is a kayak made of top-notch materials and has lots of extra features that you generally find in higher-priced units.
In addition, this is a great-looking boat. The hull is a slight trimaran shape with several ribs and seems very sturdy and stable. The interior is much deeper than you are accustomed to seeing in similar products, and when you consider all of these cool features, the price is an afterthought.
8. Lifetime Tamarack Angler 100 Fishing Kayak – Best Budget Motorized Kayak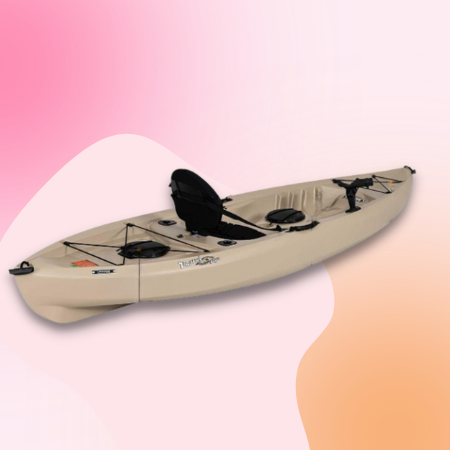 The great thing about motorized kayaks is that you do not have to spend a lot of money to buy one, and this unit is a nice example of how a lower price can be paired with exceptional quality. It perfectly embodies stability, versatility, and cost-efficiency.
Even though Tamarack Angler 100 does not have a dedicated mount for a motor, the shape of the stern shows that you can upgrade if you wish so. All you need to do is purchase a quality universal trolling mount, attach it to the stern, install the motor, and you are ready for aquatic adventure.
What separates this product from the rest (apart from the price) is how light it is. It is pretty light, which is a piece of great news since you will be able to get away with installing a small or mid-sized electric motor if you plan to bring lots of gear with you. You also get three-rod holders, several molded-in footrests, an adjustable backrest, and much more.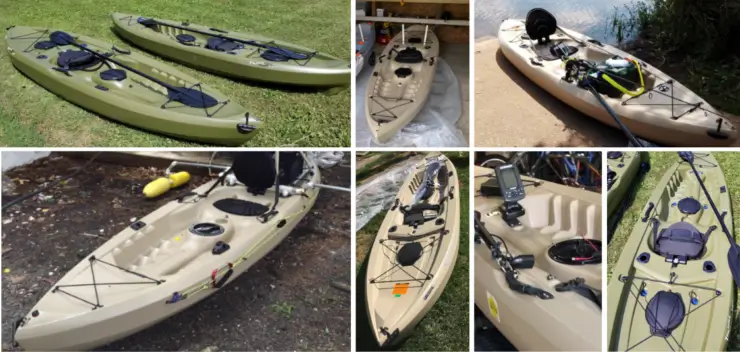 9. Pelican Sit-on-Top Kayak – Sentinel 100X – 9.5 Feet – Best Plastic Motorized Kayak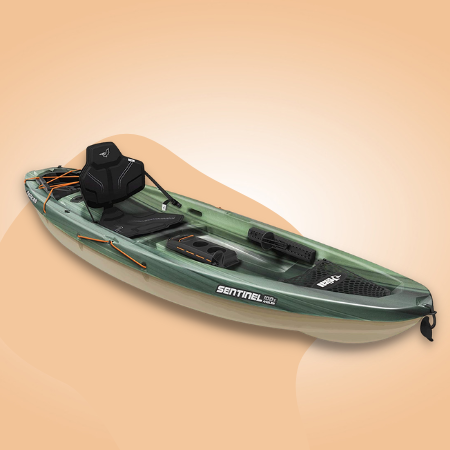 Coming from the Pelican store, this sit-on-top kayak offers a wide variety of cool features for more than a fair price. Although fishing kayaks are getting bigger over the course of years, smaller and compact ones are still high in demand, and the Pelican Sentinel 100X is a shiny example of what such units can do.
This unit stands at 10 feet in length and weighs 45 lbs, and it is a fantastic combination of functionality, versatility, performance, and low price. It is a kayak that can comfortably handle up to 300 lbs of weight while still keeping its stability at a very high level.
Another great thing about this particular unit is its shape, which allows you to add a universal trolling motor unit and make your fishing sessions and adventures completely effortless. You are able to install a small to mid-sized motor that will provide the thrust needed to propel the boat exceptionally.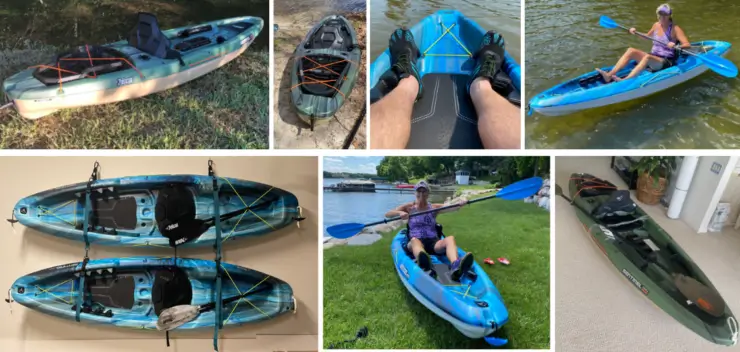 ---
Types of Motorized Kayaks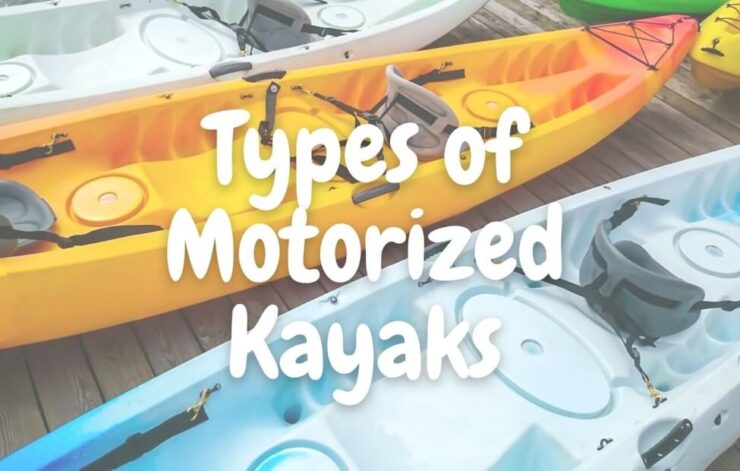 When looking for a motorized kayak, your first choice is usually between outboard motors and electric motorized kayaks.
Outboard motors are typically gasoline powered and use a propeller to push your boat through the water. They provide a very efficient propulsion system and can generally move your kayak quickly over long distances.
However, they require more upkeep than electric motors and add additional weight to the vessel. You may need to purchase an additional fuel container if the space allotted within the deck well is not sufficient.
Electric-powered motors are gaining in popularity due to their lighter weight and lessened environmental impact which makes them perfect for lakes or rivers with shallow waters or heavy boat traffic.
They usually sit above the transom of the vessel, meaning that they don't absorb as much water as outboard units and can also mobilize your vessel without any additional noise pollution.
However, the range is often limited by battery size so they tend to be used mostly in areas with minimal chances of mechanical malfunction or when taking short trips where the range is only important if getting lost becomes an issue.
Things to Consider Before Purchasing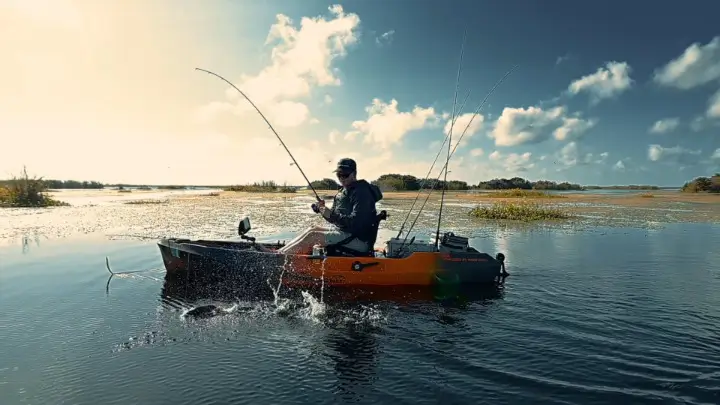 Motorized kayaks are absolute beasts, not just in terms of performance, but for their comfort levels and convenient features that bring exceptional value. In order to pick the unit that will serve your purposes best, you need to know about what the features that make a great motorized kayak are. We want to help you with this, so we have put together a brief buying guide to follow when browsing for such units.
Storage Space
Motorized kayaks are generally used for fishing and other purposes that require you to have lots of storage space for your gear. It is also important that the storage space is adequate, so you do not cause an disbalance of the kayak and make it flip over and cause unnecessary inconvenience.
Make sure that the kayak you want to buy (especially if you are an angler) has enough storage space in which you can place all of your fishing gear without overloading and creating a disbalance.
Battery
Since you want to paddle on a motorized kayak, you need to have a high-quality trolling motor battery. You should also consider using an outboard motor cover to keep your trolling motor battery protected from dust and water when you are not using the kayak.
Seat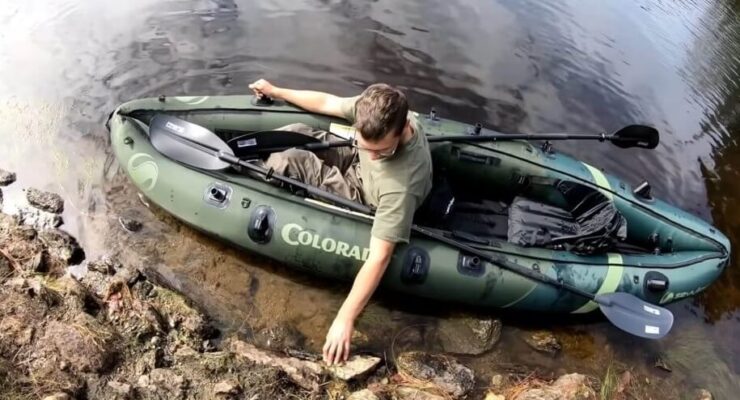 The seat in the kayak absolutely must be comfortable, especially if you plan to use the kayak for fishing since you will be sitting in it for quite a while. Make sure that the seat has multiple adjustability options so that you can set it up to your liking.
Size
In case the kayak you want to purchase does not have a built-in trolling motor, but you want to install it after the purchase, make sure that it is big enough and that it has sufficient room to install one.
Larger kayaks are also much more stable than smaller ones and can handle heavier motors without causing a disbalance in weight.
Horsepower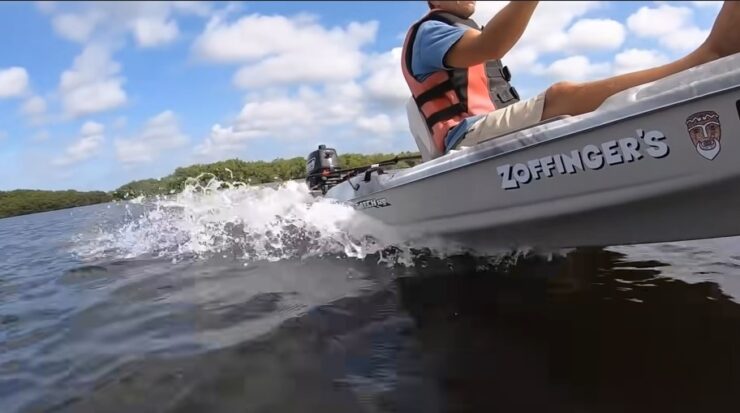 The bigger the horsepower of the motor of your kayak is, the more powerful the thrust will be. The thrust of kayak motors is measured in pounds, and generally, it is best to maintain two pounds of thrust per 100 pounds of weight.
Factors such as wattage, weight capacity, propulsion type (electric or gas), and speed should all be taken into account when looking at motor specifications and design. Also, if endurance and/or touring are expected to be part of your use case – such as longer trips on open water – look for models with a higher wattage in order to ensure you have ample power.
It's also advisable to pay attention to performance details such as varying speeds (i.e., forward-reverse throttle control) and material construction that affect durability in tough water conditions so that you get maximum benefits from the model you choose.
Considering things like noise level – both audible from external sources such as other vessels/fishermen nearby or audible noise emitted from within your kayak during operation – is another aspect worth researching before purchasing a motorized kayak.
Lastly, when it comes to electronics like mapping units or tracking devices (if you plan on using them), be sure that they are compatible with your specific model before committing to purchase.
Durability and Maintenance
Kayaks made from polyethylene and composite materials offer excellent strength and are often less expensive than those made with fiberglass or other types of traditional boat-building materials.
It is also important to consider maintenance when evaluating motorized kayaks; check for ease of cleaning and removing motors as well as how easy it is to add a protective coating to the hull. Additionally, look for models that allow for a range of customization options like outfitting it with additional seats or hardware such as rod holders or bait wells.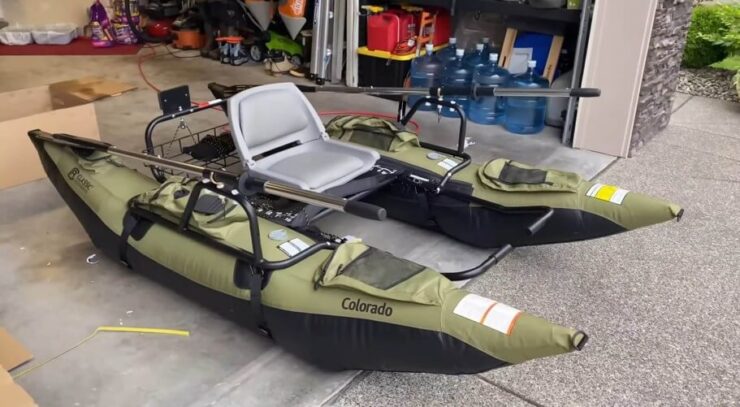 Accessories and Add-Ons
When outfitting your motorized kayak, it helps to have an idea of what accessories and add-ons are available that can enhance your experience. Many features can be useful, even essential, depending on the type of activity and environment you're looking to explore. Consider basic features in your decision to purchase such as:
1. Steering system; Some kayaks include a rudder or foot-controlled steering system. If yours does not, you'll either have to purchase one or opt for the paddle power alternative
2. Fastener systems; Look for secure fastening points such as tie-down loops or anchor systems that can help hold items in place if used for fishing purposes
3. Seats and backrests; Comfort is key when paddling for extended periods so select seats that provide adequate support and adjustability options if available
4. Bullwinkle handles and rod holders; Handles and rod holders allow you to easily move the vessel around and securely store poles while fishing respectively
5. Extras like cup holders, coolers, tackle boxes, smart fish finders etc; all customizable depending on how you intend use the boat.
FAQu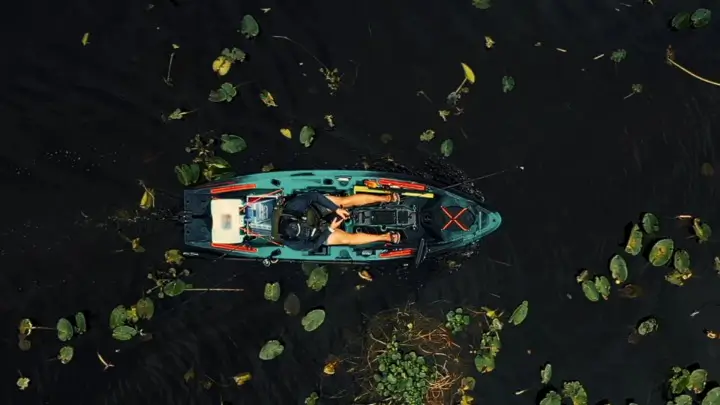 Is it possible to install a motor on a regular kayak?
Absolutely! It is possible to install a motor on a regular kayak, but the motor needs to match the kayak. This is due to the fact that not all kayaks have the ability to support batteries and motor, so make sure that the kayak is compatible with the add-on motor you want to purchase.
How long can the battery on an electric motor last?
Electric motors can averagely last between six and eight hours of paddling time, but all of this depends on the battery life. Kayak motors that possess a higher amount of power require batteries of higher voltage as they consume more electricity. Charge your battery after each use to maintain longer battery life.
How does a motorized kayak work?
A motorized kayak is powered by an electric engine that moves the propellers and gives strength to the unit to move through the water. The motor comes with a controller which determines the speed of rotation according to your choice.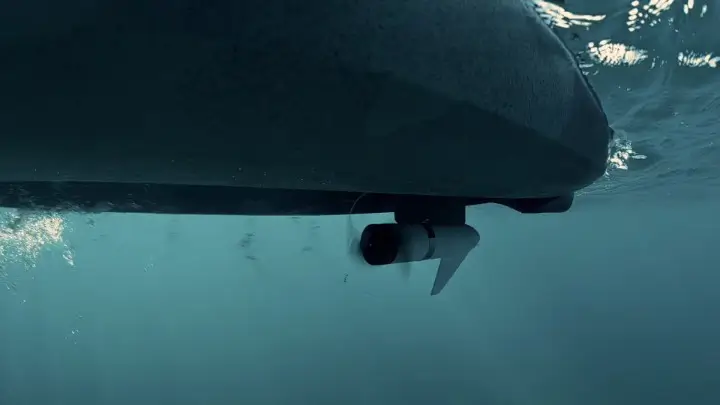 How fast does a motorized kayak go?
The average speed of a motorized kayak is between 2 and 4 mph. Some electric motors can even go up to 25 mph, but they are much more expensive.
Final Words
This concludes our buying guide for the best-motorized kayaks you can find in today's market. They are very practical, convenient, and fun solutions for anglers and adventurers alike. Our list covered the products that will suit different budgets and needs, so there is plenty to choose from.
We hope you liked our list and that you will find your favorite among these products. If you are still uncertain of which kayak to choose, we recommend you revisit our list and look for second opinions and customer ratings, as they will certainly ease your choice and help you get the best value possible.

Adelaide Gentry, a seasoned kayaking enthusiast and expert, is the driving force behind KayakPaddling.net. With over a decade of experience navigating the world's most challenging waterways, Adelaide combines her passion for adventure with a deep knowledge of kayaking to provide insightful and practical guidance for paddlers of all levels.