For most of us, our pet dogs are a crucial part of our lives. We want to experience all the thrilling activities with our canines. Kayaking with dogs seems an intimidating offer but the journey is a bit perilous if you are inexperienced. It is quite limpid that if you are reading this article you want to encounter this adventure with your dogs. So, now is the time to realize your dream you have about taking your mutt into the water.
In this article, I will prepare you for all case scenarios from how you can train your dog beforehand to the instructions you have to follow if your dog falls in the water.
This guide has all sorts of information that you need for your kayaking adventure with your furry canine.
Prepare beforehand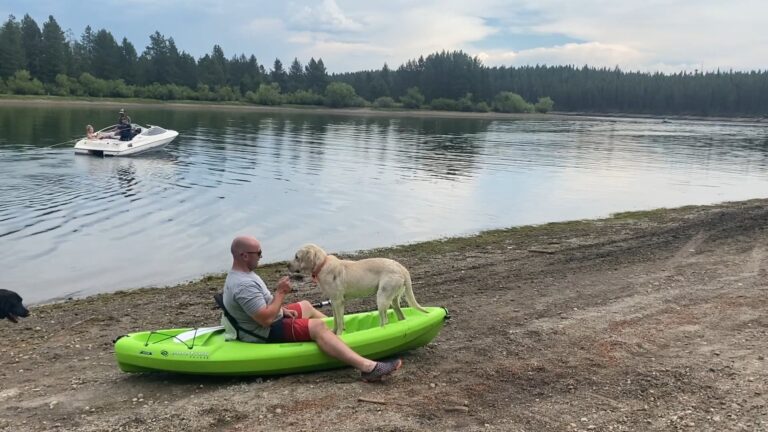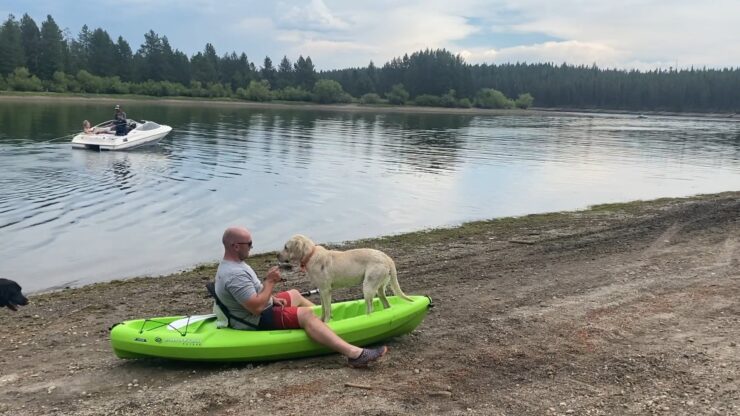 Before the actual experience, you should make sure that your dog can bear that kayaking experience in the water. For precautionary measures, you should practice with your dog. This will give you a prolepsis of what you should expect from the adventure. Here I have described a few pieces of advice regarding how you have to prepare your pooch for kayaking.
First of all, you have to make sure that your dog is trained enough to follow your commands. Try to give small commands to your dogs like sit, stand or run, etc. you have to be certain about your dog's command listening and obeying capabilities. In order to avoid any capsizing event, it is quite important that your dog shows appropriate behavior in water.
Try to accustom your dog to the kayak. Make the furry beast sit in your kayak on dry land. In this way, you can make your dog comfortable with your kayak before going into the water.
The most important step for ensuring your kayak trip safety is to know the swimming abilities of your dog. Go for a swim with your canine. Check out the enthusiasm of your dog about being in the water. You have to be assured that your dog can swim back to the shore or kayak if it falls from your kayak.
Opt for a canine-friendly kayak
Kayaking with dogs is a challenging task whether you are an amateur or experienced paddler. The choice of kayak should be diligent as it is supposed to be suitable for your furry canine. Tiny white water or the one with a small cockpit can never serve the purpose.
You should go for a wide boat that is accompanied by a flat bottom along with a large cockpit. This way it will have enormous space for your mutt also it will be more facile to keep the balance, thus minimizing the threat of capsizing.
With the choice of a tandem kayak, you can provide your bitzer with a seat also it can paddle in its unique way.
Equip yourself with supplies
While kayaking you have to be concerned about your gear as well as your pet's. You have to care about the merriment of your dog irrespective of how much time it stays in the water. Here are a few ideas you can adopt for your mutt's fun.
You can never know what kind of situation you have to face in the water. So, get a life jacket for your dog even if your mutt is adept in swimming. Keeping a life vest for your bitzer is a thoughtful idea as it ensures safety.
You can bring in some water-friendly toys that can float so your pet will be delighted. You don't have to be extravagant or buy some new toys; a simple floating ball or chew toy can be a great choice. Also if you want to let your pet swim then you can play in the water then these toys are the best options.
Take a waterproof backpack and keep a canine-friendly towel in it. You can also keep the towel in your car if you are going to return to the same place after kayaking.
Plan your starting
Kayaking with the pooch is somehow a big deal for you and your mutt. As you are entirely unaware of the reaction your dog might have for the first time for your kayak in the water. The best way is to start with small steps.
For a starter, you should go with ponds or lake water as the water is calm and flat there. You can also go for a wide smooth-going river. For your pet to have the gentlest intro to kayaking keep your kayak in the shallow water with minimum waves. The first trip should be of a small duration like 10 to 20 minutes. Paddle through the shallow water slowly and also keep a watchful eye on your dog, remember not to overwhelm the mong with kayaking. If the canine works well then you can extend the kayaking time for other attempts.
What if your dog got overwhelmed?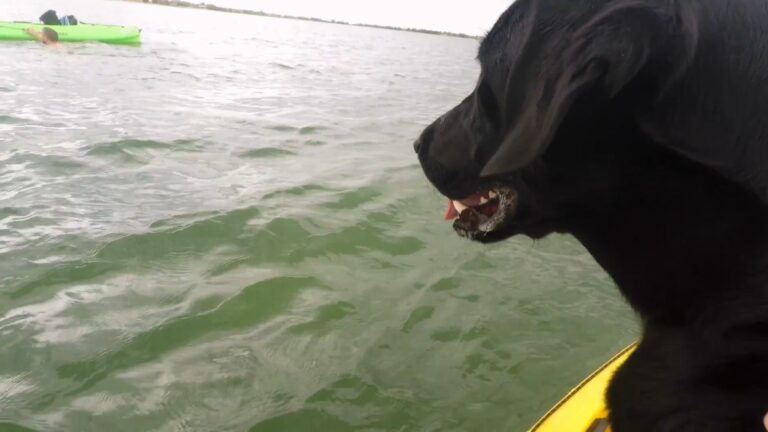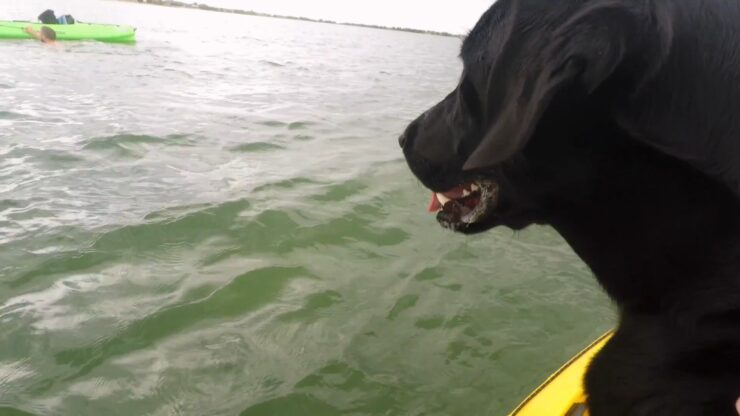 If your mutt is not comfortable with the first experience don't panic as it's normal.  Try to repeat our mutt's exposure after small intervals. In this way eventually, the dog will be familiarized with kayaking.
Train your dog and know what is the real issue. If your dog is uncomfortable with water then focus on swimming training and if the dog is afraid of the kayak then let him sit on a kayak daily in your house garage.
How to handle your dog's fall?
There are plenty of reasons for a fall. Maybe your dog is not liking the kayak space, or it is craving for a little swimming exposure, there are also chances that your dog got overwhelmed. Whatever the reason is you have to cope with it now. Pulling a dog back from the water is not an appropriate thing to do as it may cause capsizing. So, just paddle to the shore and repeat your experience after some time.
In the end, I would say that kayaking with your dog is not as dreadful experience as you may have anticipated. All you need is good training and recurring practice. After that, you can just go for a ride with your furry friend.