If there's one thing I've learned after all of these years of experience, it's that kayaking is more than just a sport; it's a way to find a bit of adventure and peace, all rolled into one.
I still remember my first time in a kayak; it was more of a zigzagging, water-splashing affair than the smooth sailing I had imagined. But that's the beauty of it – every misstep in the water taught me something new.
This guide is a collection of all those lessons and a few tricks I've picked up along the way. Whether you're just starting to dip your paddles in the water or you've been at it for years, I hope my experiences can help you navigate these waters a bit more smoothly.
The Basics of Paddle Strokes
Forward Stroke
The forward stroke is the fundamental technique in kayaking, used primarily to propel the kayak forward. To execute it effectively, you must focus on using your torso rather than just your arms.
This involves a coordinated effort where the paddle enters the water near the kayak's front and is pushed through the water in a straight line parallel to the kayak, finishing near the hip. The key here is to maintain a rhythm and ensure that each stroke is as efficient as possible, minimizing wasted energy.
Reverse Stroke
The reverse stroke, as the name suggests, is used to move the kayak backward. It is the exact opposite of the forward stroke, involving pushing the paddle forward from the hip towards the bow.
This stroke is crucial for maneuvering in tight spaces or when you need to quickly stop or slow down. It requires a good sense of balance and control, as moving backward can feel less intuitive and stable than moving forward.
Sweep Stroke
The sweep stroke is all about turning the kayak. It's a wider, more sweeping motion compared to the forward and reverse strokes. When you need to turn your kayak, you extend the paddle out to the side and sweep it in a broad arc. The wider the arc, the sharper your turn will be.
This stroke is essential for navigating turns in rivers or changing direction quickly to avoid obstacles.
Additional Tricks and Skills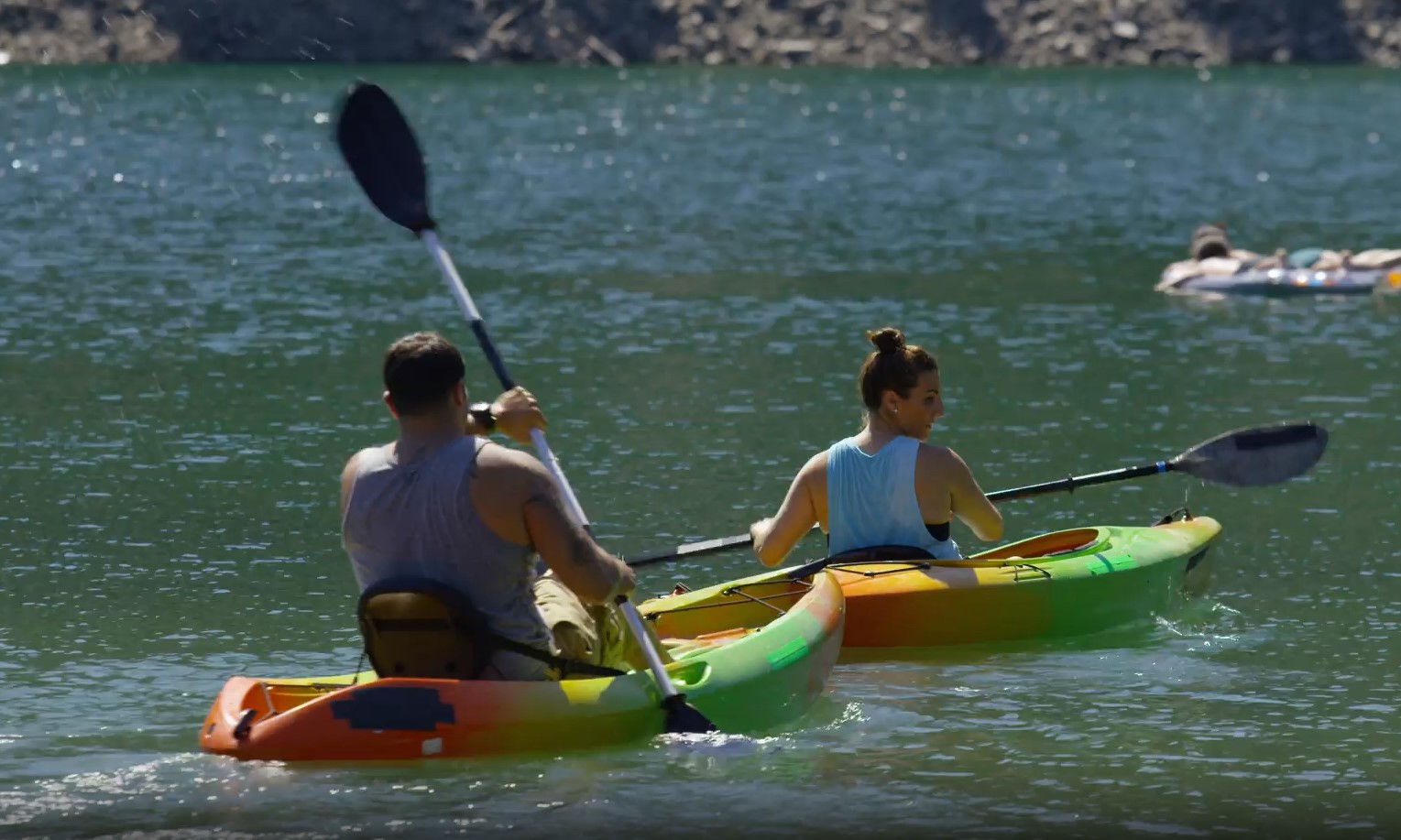 The Eskimo Roll
The Eskimo roll is a vital self-rescue technique that allows a kayaker to right themselves after capsizing without exiting the kayak. This technique is crucial for paddling in challenging conditions where the risk of capsizing is high.
It involves a series of coordinated movements including setup, snap, and recovery. Each step is crucial and requires significant practice to ensure a smooth and efficient roll.
Surfing and Playboating
Kayaking isn't just about navigating calm waters; it also offers the thrill of surfing and playboating. River surfing involves riding standing waves in a river, which requires precise control, timing, and balance.
Playboating, on the other hand, is about performing various tricks in specially designed kayaks. These activities add an adrenaline-pumping dimension to kayaking, appealing to those who love a bit more adventure and challenge.
Enhancing Paddling Efficiency
Efficient paddling is key to reducing fatigue and covering longer distances. Paddle feathering, where the paddle blades are set at different angles, can reduce wind resistance and improve stroke efficiency.
Proper torso rotation, involving the use of core muscles instead of just the arms, results in more powerful strokes. Additionally, maintaining consistent pacing and taking regular breaks is important to avoid exhaustion and enjoy a longer time on the water.
Tips for a Better Kayaking Experience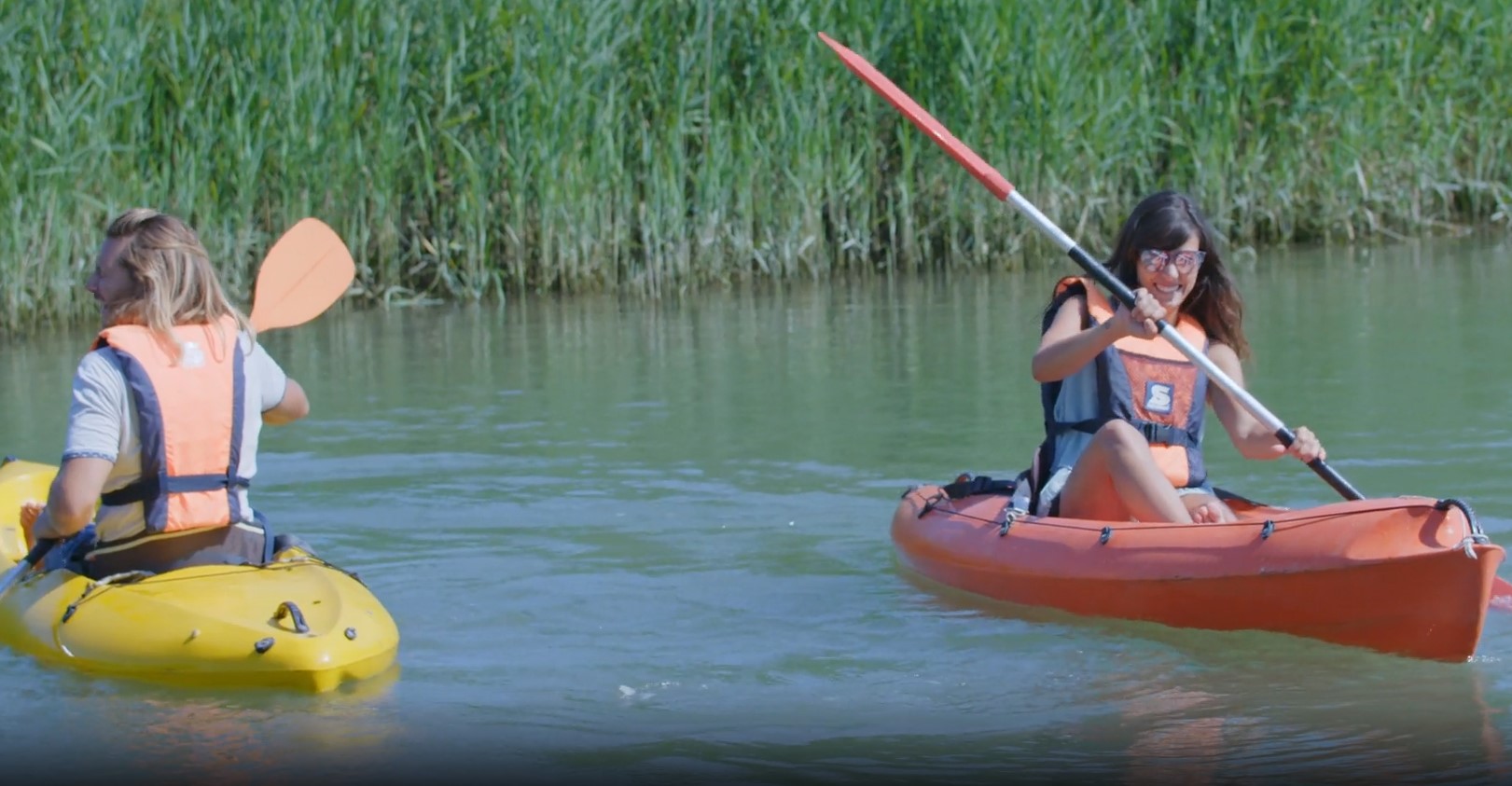 Be Prepared for the Water!
Safety is paramount in kayaking. Always check the weather and water conditions before setting out. Being prepared for sudden changes in weather is crucial. Regularly inspect your kayak, paddle, and safety gear, and never forget to wear a life jacket, regardless of your swimming skills or experience.
Building Strength and Stamina
Kayaking is physically demanding, and building core strength and flexibility can significantly enhance your paddling technique and endurance. Engaging in specific exercises off the water can help you build the necessary muscle groups.
Regular kayaking itself is a great way to build strength, and practicing in different conditions helps refine techniques and build confidence.
Join a Kayaking Community
Joining a kayaking community can be immensely beneficial. It provides opportunities to learn from experienced paddlers, share tips, and make new friends. Participating in events like races, workshops, and group trips offers chances to challenge yourself, learn new skills, and experience different aspects of kayaking.
Here is a good instructional video for you to check out and find out more about kayak paddling techniques and tricks:
FAQs
The Bottom Line
Kayaking, for me, has always been about the simple joy of being on the water, paddle in hand, with a new view around every bend. It's amazing how a bit of water and a piece of plastic can teach you so much about yourself and the world around you.
This guide is my way of sharing what I've learned – not just the techniques, but the little moments of joy, like the time I finally managed a perfect Eskimo roll after weeks of tumbling into the water.
So, here's to more of those victorious moments for you! Grab your kayak, hit the water, and remember that every splash, every stroke, and every flip (intentional or not) is part of the adventure.

Adelaide Gentry, a seasoned kayaking enthusiast and expert, is the driving force behind KayakPaddling.net. With over a decade of experience navigating the world's most challenging waterways, Adelaide combines her passion for adventure with a deep knowledge of kayaking to provide insightful and practical guidance for paddlers of all levels.