Your watercraft needs a solid outboard motor. If you're on the market, it doesn't get much better than Tohatsu and Yamaha. Many buyers have been left confused while making this choice.
So, which one is superior: Tohatsu vs Yamaha?
For starters, Yamaha consumes less fuel. But, it's more expensive than Tohatsu.
If your speed is your main concern, Yamaha would be your pick. When it comes to appearance, Tohatsu looks better. In terms of warranty, you'll get more with Tohatsu.
This was just a quick glance at the main discussion. So, why not read along?
Tohatsu vs Yamaha: Main Differences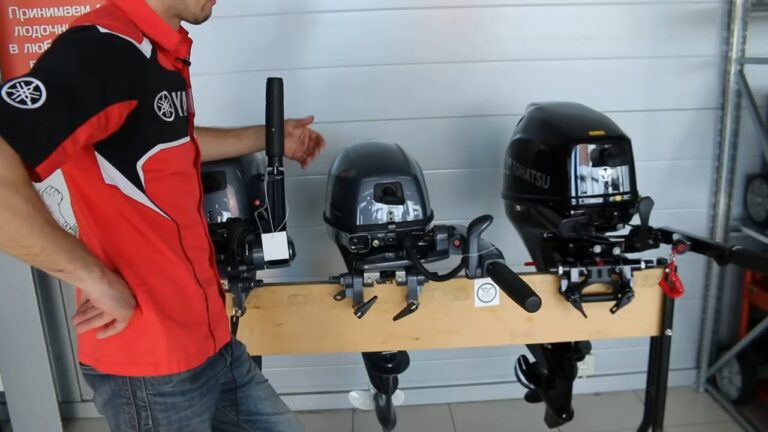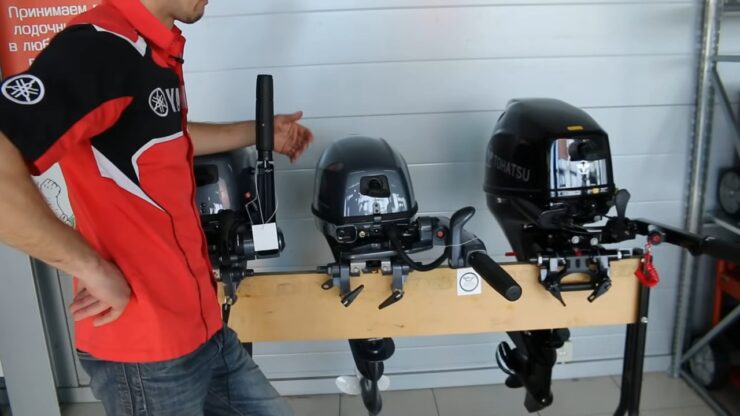 The outboard motor you buy will have a huge say on how your watercraft operates. Hence, you'll need to buy the best one.
On that thought, are you confused about which kind of motor to buy? Then, you could look at the inboard vs outboard motor comparison.
Maybe that'll help make your mind up.
We've created a table to help you understand the key differences between Tohatsu and Yamaha. That'll come in handy if you are in a time crunch:
| | | |
| --- | --- | --- |
| Feature: | Yamaha: | Tohatsu: |
| Engine Type | 4-Stroke 8 valve | 2-stroke 8 valve |
| Cylinders | In-line 3-cyl | In-line 2-cyl |
| Weight | 119kg | 99kg |
| Displacement | 995c | 866c |
| Fuel Delivery | Multipoint EFI | EFI |
| Warranty | 4 years | 5 years |
Are you still confused about your decision? Don't worry. We have a detailed discussion coming up.
Tohatsu Vs Yamaha: Head-to-Head Comparison
It's perfectly fine if you haven't made a decision yet. The differences between Tohatsu and Yamaha are primarily technical and nothing more. At the end of the day, you should choose according to your preference.
Engine Type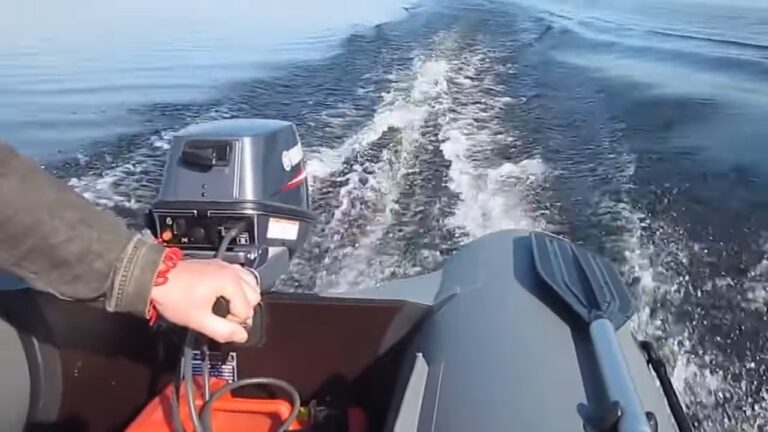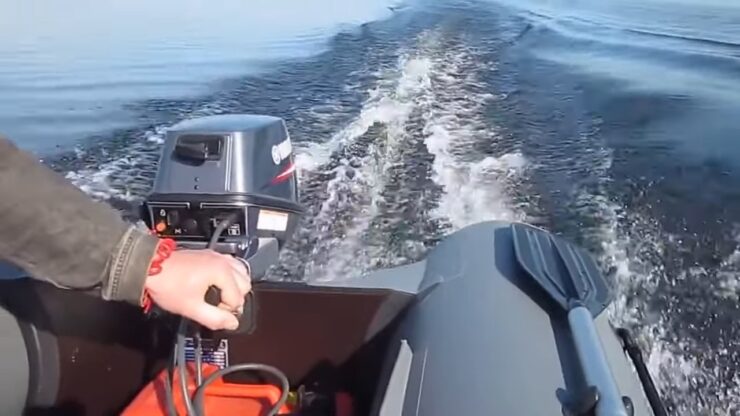 When it comes to outboard motors, they have two types of engines. They're two-stroke and four-stroke engines. Let's take a look at which one's better.
Tohatsu comes with a two-stroke engine. They typically need a higher RPM to generate higher torque. But, the upside is they're 15% lighter.
In reverse, Yamaha is equipped with a four-stroke engine. In terms of efficiency, 4-stroke surely wins. Moreover, they require less RPM to generate more torque. They're also much quieter than its counterpart.
The only downsides of 4-stroke engines are they're 15% heavier and more expensive. So, if you come across Yamaha sx210 issues, it'll cost you more money to repair.
Speed
One factor that excites most users is speed. You're going to want to own a motor that will make your watercraft the fastest.
If you equip Yamaha outboard, you're going to get a top speed of 38mph. That's a very decent speed considering the fact that they're heavier than Tohatsu.
Going with Tohatsu will give you a top speed of 25mph. That's not too shabby. Despite being lighter, they have a lower speed because Yamaha has a more powerful engine.
Fuel Consumption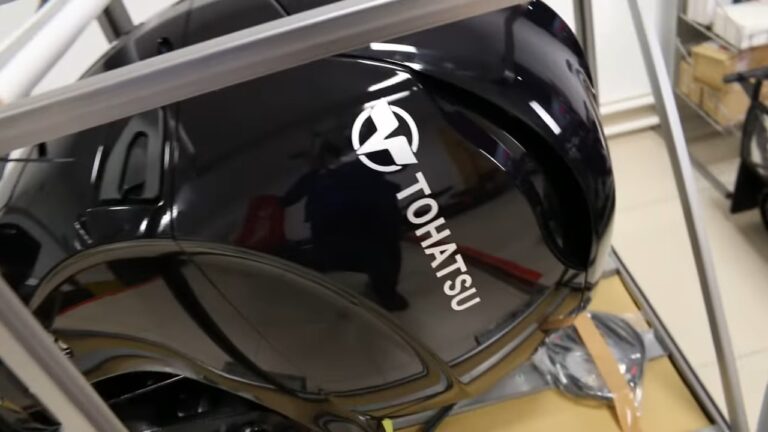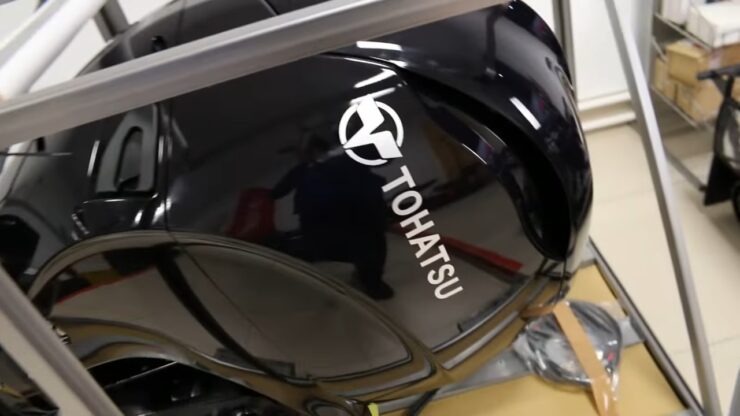 Fuel consumption is another very important factor to consider. The less fuel an outboard motor consumes, the better it is.
Yamaha outboards will consume 18.9 liters of fuel per hour at 5500 r/min. Meanwhile, at the same rate, Tohatsu consumes 20.9 liters of fuel.
The difference is due to the multipoint EFI fuel delivery system Yamaha possesses. However, sometimes you may run into issues with the Yamaha outboard fuel pump. If that happens, consult a mechanic since it's risky to fix these on your own.
Features
In this segment, we'll look at some of the features offered by Tohatsu and Yamaha.
Tohatsu has a built-in freshwater flushing port, a 21-amp high-output alternator, and a canister oil filter. You can even mount the oil filter on the side of the watercraft. They also come in two colors. One is their traditional aquamarine blue and the other one is beluga white.
Yamaha, on the other hand, includes a five-stage anti-corrosion paint system. They mostly come in black color.
Also included is a variable trolling control that allows adjusting the idle speed at 50 rpm. Moreover, you'll also get a one-piece compact cowling, as well as a freshwater flushing system.
This is similar to Volvo Penta and Mercruiser.
Tohatsu Vs Yamaha: Final Verdict
As you can see, it's neck and neck between Tohatsu and Yamaha. You won't go wrong with either of the two outboards.
If the warranty is something that sways you, you can go with Tohatsu. However, if you intend to race your watercraft, Yamaha is the better option.
FAQs
What's the price of Tohatsu and Yamaha outboards?
Yamaha's prices will range from $3,620 to $4,465 depending on the configuration. Tohatsu will cost around $2500 to $2989.
Additional charges will apply if you are looking to upgrade the outboard. The price will also depend on where you are buying the outboard from.
What maintenance do Tohatsu and Yamaha need?
Check the fuel line for cracks and worn spots regularly. See if the fuel primer bulb is not cracked and is still pliable.
Moreover, make sure that the fuel-line fittings are properly seated and do not leak. And, examine the fuel line clamps for rust or corrosion.
How long will Tohatsu and Yamaha outboards last?
Durability comes down to how well you maintain the outboards. If you maintain Tohatsu properly, it should give you 1000-1300 hours of life.
On the flip side, Yamama will provide you with 8000-12000 hours. Remember Tohatsu and Yamaha comes with 5 years and 4 years of warranty respectively.
Is Tohatsu made in China?
Tohatsu made all of its outboard engines in Japan up until 2015. In late 2015, they began to produce some engines in China.
According to their website, "The move to Chinese production is designed to optimize the engine's quality and speed while also helping Tohatsu keep pace with growing global demand"
Some people are concerned about this change because it may mean that Tohatsu isn't as committed to producing high-quality engines as it used to be.
Others argue that the move to China will actually help the company because now they can produce more engines faster and at a lower cost.
Overall, it's unclear whether this change will have a big impact on the company's overall performance or not.
Conclusion
And that's all we've for today on Tohatsu vs Yamaha.
Did we clear up any doubts you had about which one to buy? Whatever you choose, we hope you are pleased with your purchase.
Have a great time. Until next time. Take care.