Stand-up paddleboarding dates back hundreds of years, but, for a lot of people, it's a bucket list activity – something they want to do but have yet to take the plunge. In many cases, this hesitation is because standing up on a paddleboard looks so darn hard!
The reality is that paddleboarding is one of the most accessible watersports around.
It's suitable for people of all ages and abilities, and almost anyone can learn to do it.
Are you still on the fence about SUP? Do you need a little convincing that it's the right watersport for you? Here are seven compelling reasons to try it yourself!
1. It's easier than it looks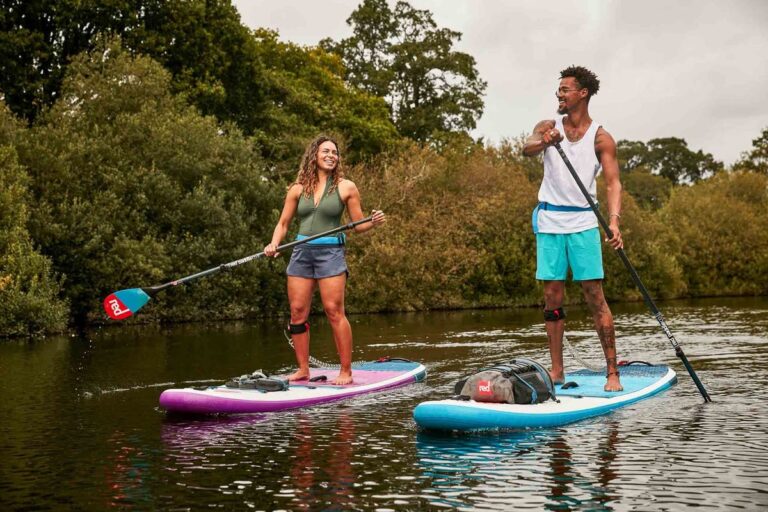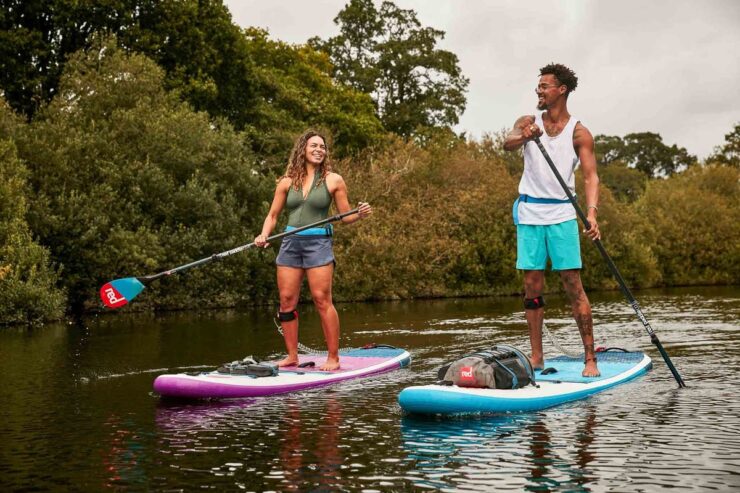 Contrary to first impressions, stand-up paddleboarding is actually quite easy. With the right water and weather conditions, combined with a stable beginner's board, you should be able to stand up almost immediately.
You will probably fall in on your first attempt to paddleboard; that's all part of the fun. But, after a few outings, you should find that you fall in much less often. In time, you'll go entire paddling outings without getting more than your feet wet.
You can learn to paddleboard all by yourself by watching YouTube videos or reading articles. However, to avoid picking up bad habits that could hold back your future progress, it may be useful to get a couple of lessons from a qualified SUP instructor.
They will equip you with the skills you need for a lifetime of enjoyable stand-up paddling.
2. You'll get a great workout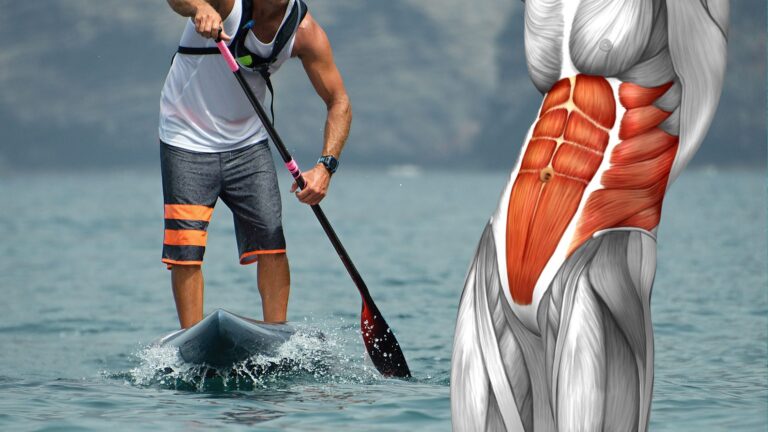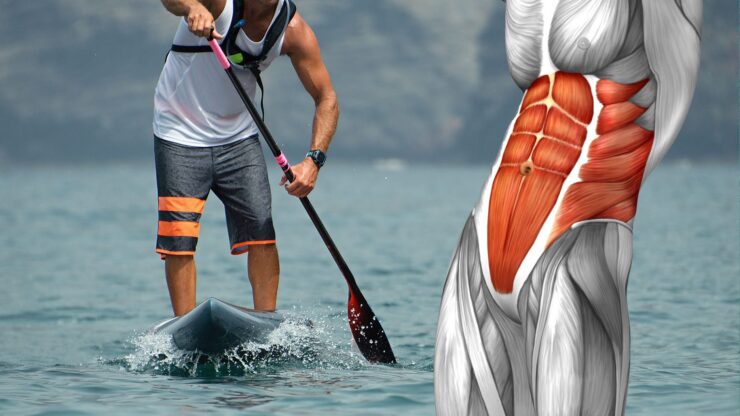 Stand-up paddleboarding is one of the best workouts around. It can burn just as many calories per hour as running but involves much less impact, making it easier on your joints. This means SUP is especially good for people who are older, overweight or have pre-existing knee, hip, or lower back issues.
It is also a full-body activity. It works virtually every muscle in your body, from those in your feet to your shoulders and arms.
It's especially good for your core or midsection muscles.
As have probably guessed, SUP also develops your balance. That's why you fall in less as you gain experience. Balance is an important fitness component and is something that tends to decline with age. Poor balance can lead to falls in elderly people, which can result in serious injury. Paddleboarding is a very effective way to improve and preserve your balance.
Not much of an exerciser? Don't worry! It's entirely up to you how hard, fast, and far you paddle. It does not have to be an intense workout. It can also be a gentle pastime. However fast you go, it will still help improve your fitness and health.
3. It's a wonderful way to unwind and decompress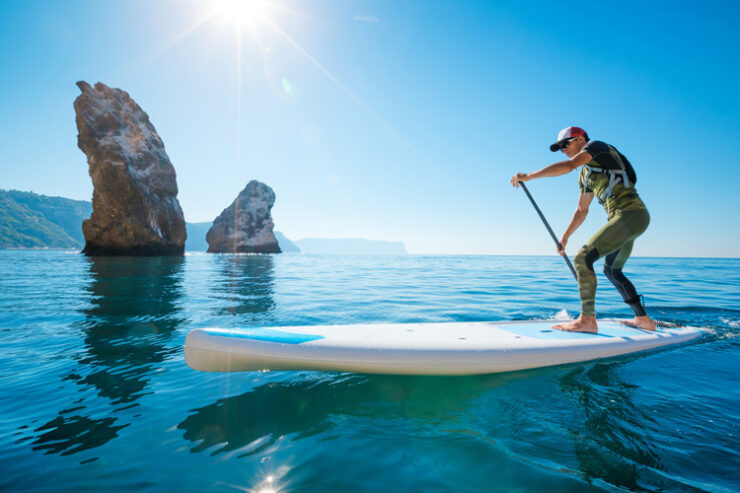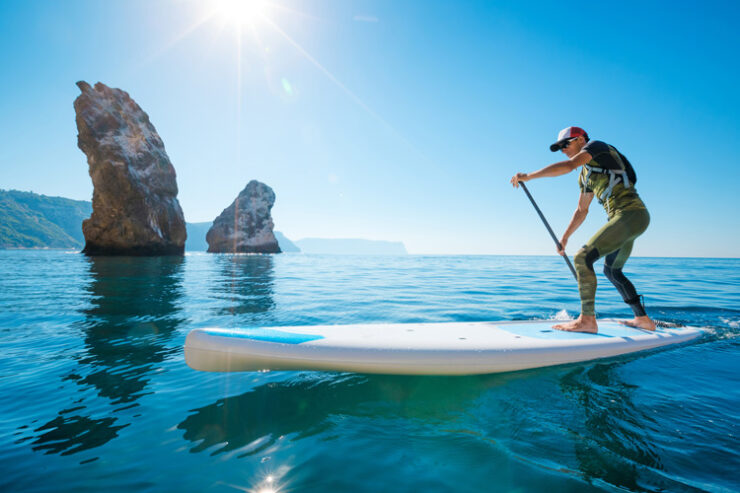 Gliding across the surface of the water on your paddleboard is a great way to alleviate stress. The sound of the water beneath your board, being out in nature, and the rhythmical action of paddling will all help you to unwind and decompress. You'll also have to focus on what you are doing, and that stops thoughts of work and other sources of stress from entering your mind.
Best of all, you'll have to leave your phone behind when you go out. Or, at least, put it out of reach in a waterproof case. Disconnecting from technology, even for just an hour or two, can have a big impact on your stress levels.
3. You'll see your surroundings from a whole new perspective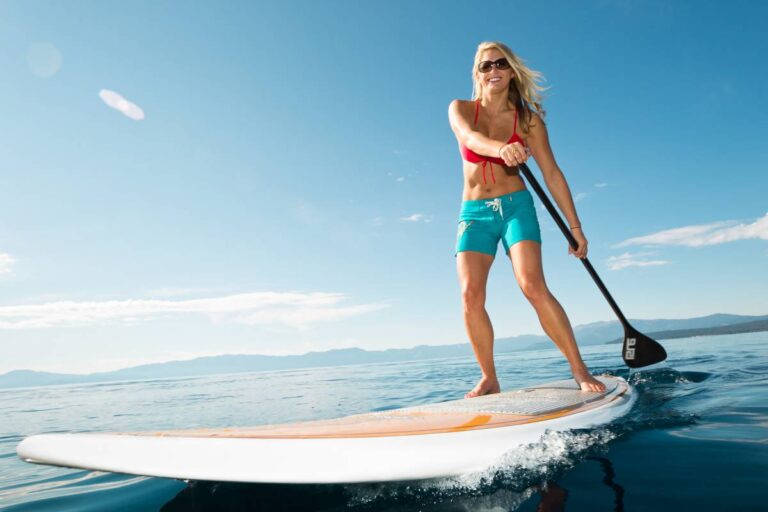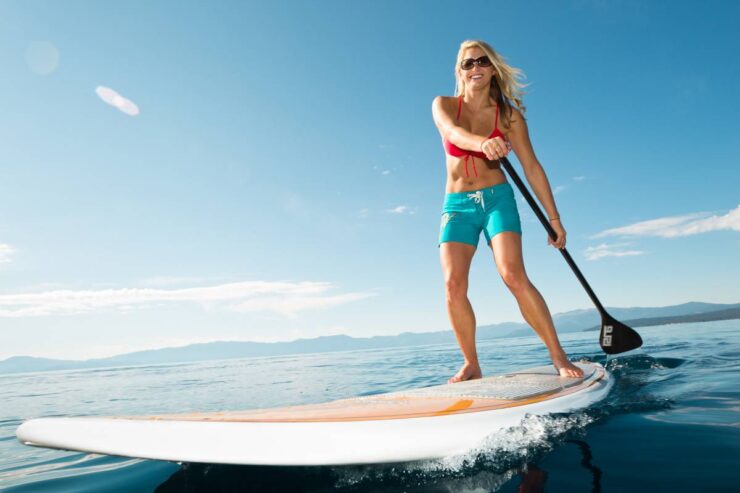 Most of us are used to looking at the sea, rivers, and lakes from the land. But, when you paddleboard, this point of view is reversed. The world looks very different when viewed from the water.
It's hard not to enjoy seeing familiar sights from an entirely different perspective. You'll undoubtedly see things you have never seen before, like the underside of bridges, hidden bays, sea cliffs and riverbanks, small inlets and tributaries, and even water-facing buildings that you could not see any other way.
This often means that you don't have to go far to explore on a paddleboard. Even familiar places look brand new.
4. SUP is a great way to spend time with family and friends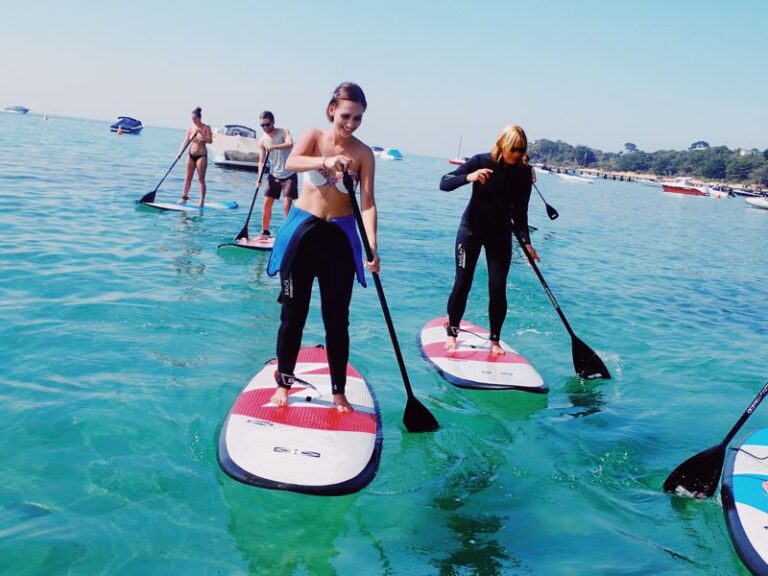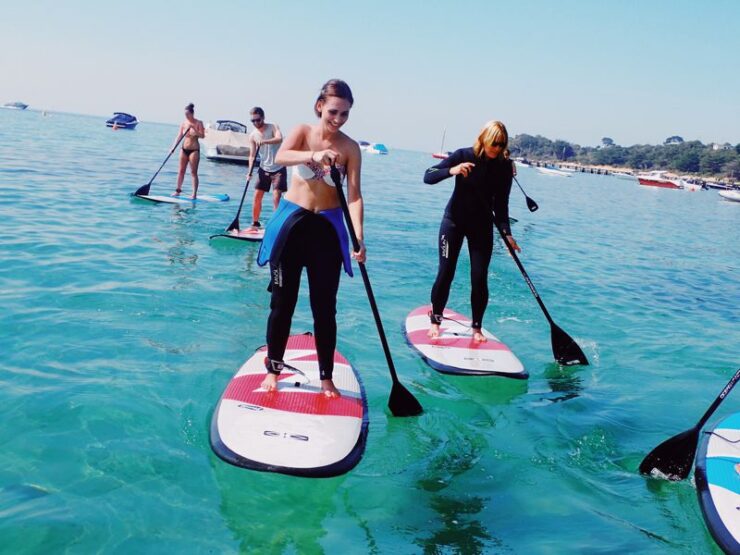 SUP can be very sociable. Of course, there is nothing to stop you from enjoying paddleboarding on your own, but it's also a great way to spend quality time with your family and friends.
Going out for a paddle with a few other people adds a whole new dimension to your outing.
You can take it in turns to plan your route, bring drinks and snacks for a picnic, or simply enjoy the company of your like-minded companions.
If you have a large enough board, you can take your kids out for a ride with you, and some paddleboarders take their dogs! Some boards are even built especially for groups and can comfortably hold four people, making them ideal for family outings.
There are also a growing number of SUP groups and clubs that organize mass paddling events, informal races, tours, camps, and other SUP activities.
5. There are lots of great places to explore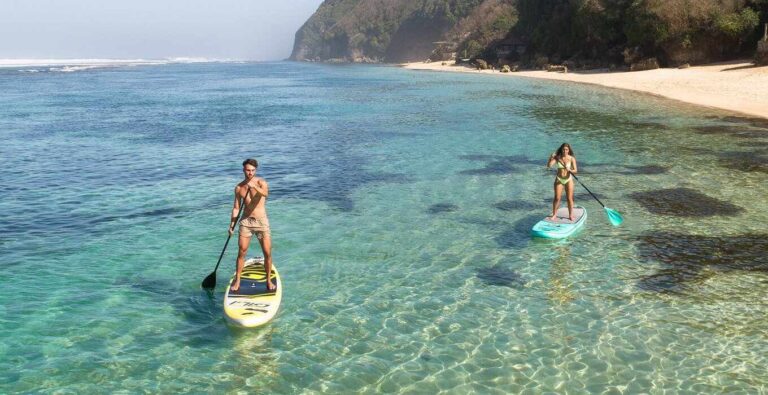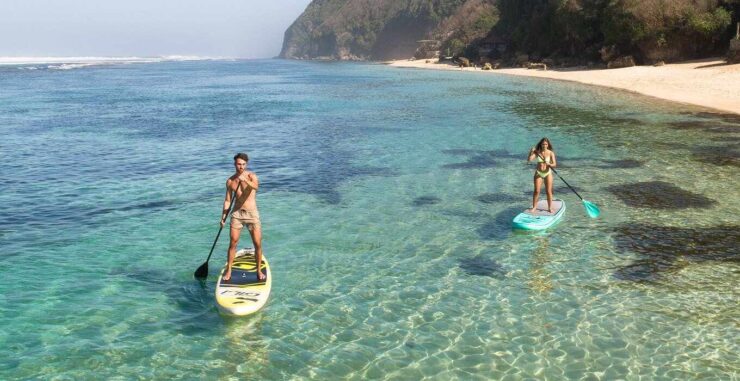 Paddleboarding is one of the best ways to explore the coast and waterways. Paddleboards are easy to transport, can be used in even very shallow water, and can be launched from almost anywhere. They give you access to all navigable water so you can head out and discover new places to see. Because paddling is all-but silent, you'll also see marine and wildlife that would otherwise be scared away. Paddleboarding is an excellent way to connect with nature.
A lot of people try paddleboarding on vacation, and then, once they are hooked, start planning their trips around their new passion. The good news is there are lots of exciting places to explore on your paddleboard. Some of the world's best stand-up paddleboarding destinations include:
Venice
Thailand
Australia
Hawaii
Antarctica
Costa Rica
Mauritius
6. There is a type of paddleboarding for everyone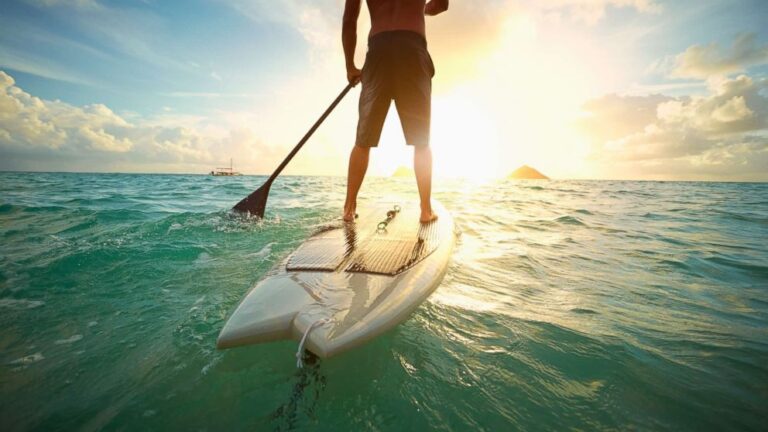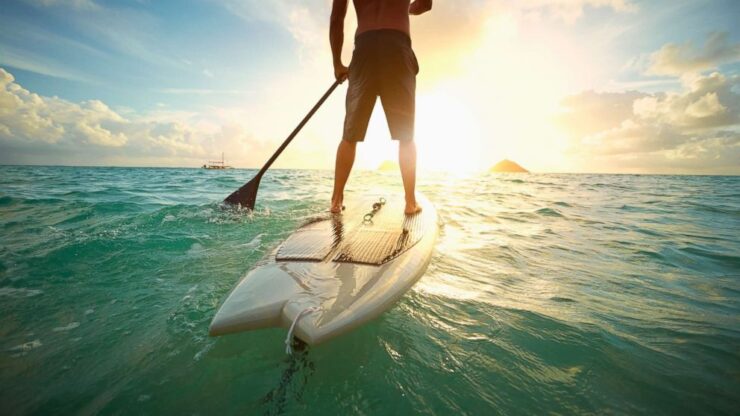 Just because you have mastered the basics of paddleboarding doesn't mean you are going to lose interest. In fact, there are lots of different types of paddleboarding so that you'll never outgrow this wonderful pastime.
The different types of paddleboarding include:
Touring
Camping
Fishing
Racing
Surfing
Down winding
White water
Yoga
Cruising
Different types of paddleboarding usually require different boards. For example, a super-stable board that's perfect for yoga and cruising will be too slow for racing. In contrast, a long, sleek touring board won't be stable enough for fishing.
However, if you get a good all-rounder, you should be able to at least have a go at most of the types of paddleboarding on this list. You may need to buy a more specialist board if you get really hooked on one particular paddle boarding discipline as the wrong type of board could hold you back.
Enjoy SUP!
It's time to stop thinking about stand-up paddleboarding and give it a try for yourself. It's the fastest growing water sport in the world for a good reason – it's fantastic fun! Whether you want to get fit, lose weight, unwind, spend quality time with friends or family, or just take up a rewarding hobby, paddleboarding is one of the best ways to do it.