Water sports and water-based activities are becoming more and more popular as time goes on. The reasons for this development are many but it all mostly has to do with the sheer number of different vessels that now exist. On top of it all, there are also hybrid crafts that combine the best parts of two separate boats or boards, creating a brand-new option for an entirely different group of consumers.
Everyone likes to spend time in the water or on the water. However, not everyone wants or likes to do it in the same way. To cater to various customers, enjoyers, and hobbyists, those in charge of designing and manufacturing paddling solutions have to think long and hard about the commodities they want to sell.
For example, kayaking is very popular and there are many ways to utilize a kayak. Similar to this is paddleboarding where the paddle board is the ultimate solution and the only viable option for numerous paddlers.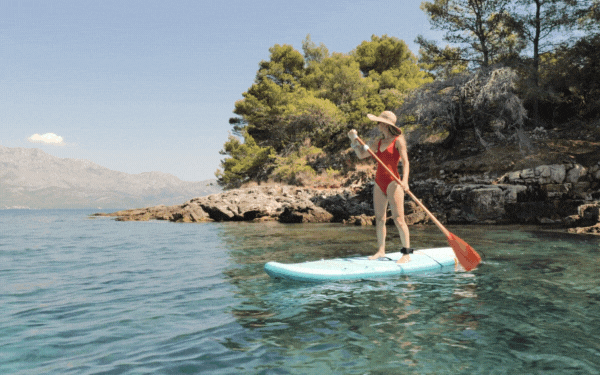 Best of Both Worlds
Both kayaks and paddle boards, of course, have their shortcomings and they are not interchangeable. This is why hybrids of the two also exist. Paddleboard and kayak combos are the next big thing and they are already taking the paddling industry by storm.
In this review, we talk about the best hybrids out there that combine kayaks and paddle boards for a new take on enjoying a great day of water fun. If neither kayaking nor paddleboarding is for you, this may be exactly what you need.
Product Reviews / Our Picks
1. Bluefin Cruise Inflatable SUP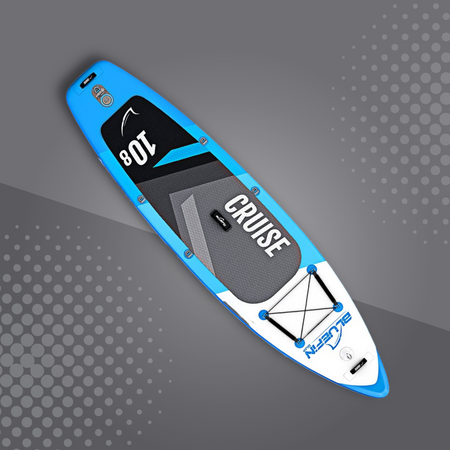 The term SUP refers to "stand-up paddleboard" and it describes the most optimal way in which the craft is operated. Measuring 10 feet 8 inches in length and 30.3 inches in width, this is a great hybrid and certainly one of the most complete packages available right now.
Made from PVC and with weave stitching, it will last you a long time and offer years of water-based recreation. The board weighs 37 pounds.
Bluefin is a great brand and this SUP confirms it. In the package, besides the board, you also get a kayak seat to truly turn it into a hybrid as well as two 2-piece paddles. There is a dual-action hand pump included, a leg leash, three different fins, a waterproof case, a repair kit, and a neat storage bag to keep everything in. You get everything you need with a single purchase which is always great.
The entire length of the board has D-rings, small metal rings that serve to attach the seat, leashes, and other accessories. This means that you can fit it with different things based on what you need.
When it comes to the seat position, you are not limited to a single place. Once you turn it into a kayak, it is very comfortable to sit and paddle. There is a bungee cord for some extra storage in the front, a fixed mount for an action camera, and a kick pad.
Pros
Loads of accessories in the package
Multiple seat positions thanks to D-rings
Stability, sturdiness, longevity
Paddle stay + bungee cord
Cons
Pricey
Only one color choice
2. Soopotay Inflatable SUP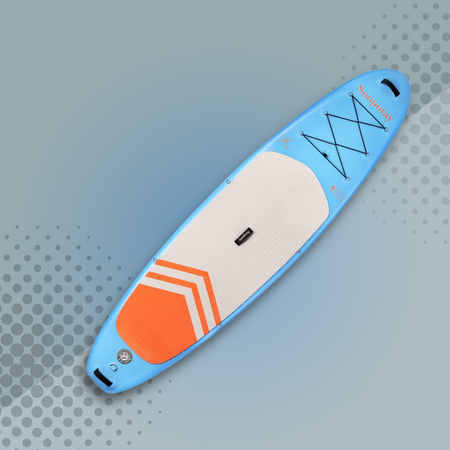 Soopotay is another well-known brand choice in the market of water recreation and their paddle board kayak hybrid is a great example of how well they are doing it. It is available in many colors, the three blue varieties being the most distinct: Navy Blue Navigator, Light Blue Cruiser, and Light Blue.
It is a bigger board than the previous one as it stands 11 feet 6 inches long and 32 inches wide. The extra length means it is quicker and that there is more space for you and your gear. The board weighs 20 pounds.
Alongside the edges of the entire board, there are plenty of D-rings that allow the kayak seat to be attached to multiple locations. This is always important because versatility means more options and solutions while paddling.
The board is robust,  stable, resistant, and durable, and it inflates and deflates quickly. Two adults can comfortably use it at once, which means you can bring your partner with you. It is also great for kids and pets.
Purchasing this board means getting everything you need to be included in the package. There is a paddle, a hand pump, a leash, a dry phone case, a fin, and a patch kit. You even get a 10-liter dry bag for your important belongings that are not waterproof.
Everything can be packed in a storage backpack great for transportation. Apart from the removable main fin, there are two built-in fins on the board too as well as a bungee cord.
Pros
Affordable
Numerous color choices
Lots of accessories in the package
D-rings, bungee cord
Cons
The paddle board is only for stand-up paddling
Extra length means less stability
3. BOTE Deus Aero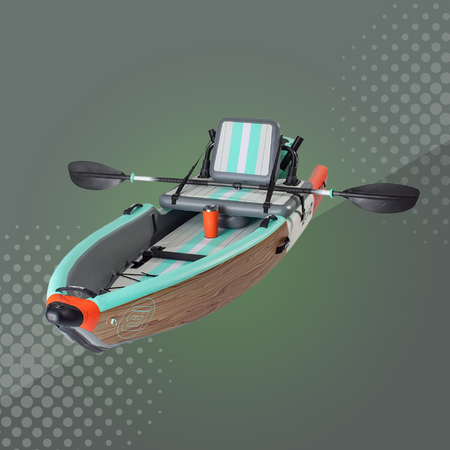 Here is a paddling craft design that you certainly do not see every day. From the initial look, it may seem that this is just another inflatable kayak, but that changes quickly as you start to notice its features. Definitely the most striking design on the list, it also has features and accessories to back up its looks.
Being 11 feet long and 33 inches wide, it is among the bigger hybrids on the market. The fact that it is so unique is its main selling point because the total depth it has is 10.5 inches, something other boards lack entirely. This offers ample room and plenty of storage as it is more like a kayak than a paddling board.
Thanks to the design, the seat is much higher which is great for fishing. You also stay drier, great for those who do not want to go in the water at all during their session, or in cooler and windier climates.
The platform is stern and the whole kayak is very stable, which comes from its sit-on-top kayak design. In the package, you get a paddle, a removable center fin, a removable foot bar, a repair kit, a hand pump, and a travel bag.
Pros
Amazing, unique design
Attractive color choices
Quality accessories
Plenty of Storage
Very Stable
Cons
Very expensive
Certain parts feel cheap
Slower than average
4. FunWater Ultralight Inflatable SUP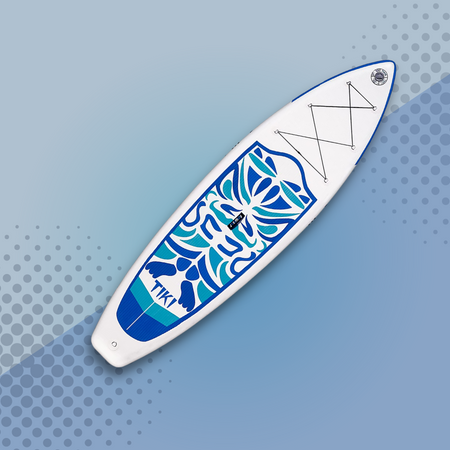 If you are all about the portability and transportability of your paddling craft, how about this ultralightweight model by the FunWater brand? Weighing only 17 pounds or 7 kg, it is the best possible option for anyone who does not want to struggle with storing and carrying their paddling board kayak hybrid. Three colors are available, white with orange details, orange with white details, and blue with white details.
The kayak utilizes a lower-than-average size at 10 feet in length and 31 inches in width. This makes it somewhat less stable, but it is still stable enough to comfortably stand up and paddle. Once you are ready to sit down, simply attach the kayak seat. There are two D-rings on the EVA deck pad where you do this. Despite its lightweight, its load capacity is 300 pounds.
Alongside the seat, the package also includes an adjustable paddle, 3 fins, a hand pump, a backpack, a waterproof phone bag, and a leg leash. As is customary with hybrid boards, there is a central carry handle that can also act as a paddle holder. There is a small bungee rope in the front for some additional storage.
Pros
Affordable
Lots of useful accessories in the package
Very lightweight
Fast paddling
Cons
Average stability due to size
The seat could be more comfortable
Single place for the seat
5. Tidal King Miami SUP


Great value for an average price usually equals the most attractive choice and this is exactly what Tidal King has done with their Miami stand-up paddle board. There is no mucking about whit this kayak hybrid: it knows what it is supposed to do and it does it perfectly well. For an all-around, above-average solution, look no further than this one.
The board is 10 feet 6 inches long and 31 inches wide. Like most other options, it is around 6 inches thick and has no cockpit. It comes in one color option, a very attractive combination of several blues, and an attractive EVA pad with lots of grip and control. Stable, sturdy, durable, and robust, it has everything you can possibly want especially as a beginner.
The package is rich in features and it leaves nothing to be desired. Apart from the obligatory breakdown aluminum paddle and dual-action hand pump, there are many other things included in the box.
For starters, there is a kayak seat, a center fin, a safety coil leash, a shoulder strap, a microfiber towel, a repair kit, a waterproof phone case, a bottle holder, two paddle clips, and a spacious backpack to fit it all in. It is truly an all-in-one solution for anyone who wants to start paddling and needs everything.
Pros
Great price for value balance
Perfect for beginners
Good quality
Plenty of accessories
Cons
Only one color choice
The seat could be more comfortable
Buyer's Guide
Buying a paddleboard kayak hybrid may seem like a straightforward solution but it really is not. There are many parameters that are important in deciding between the two. In order to pick the right one, you have to know what to look for. Here is what to pay attention to the most.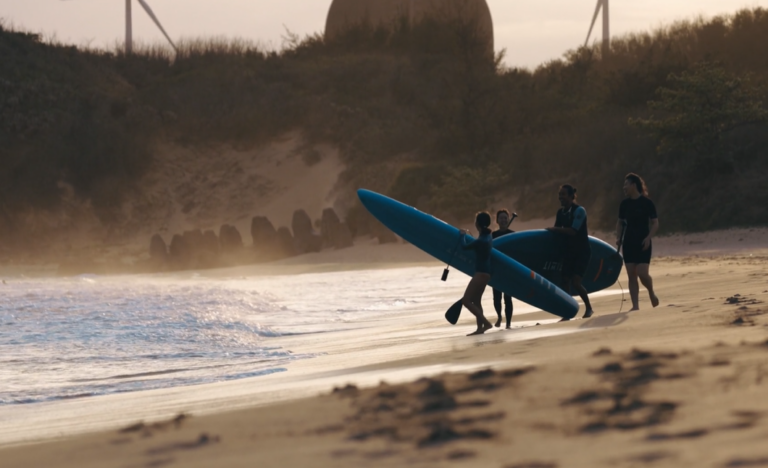 Accessories and Features
One of the big things about the hybrids is that they usually come with many accessories in the box as well as additional features. As someone who is buying it for the first time, you will indeed need all the extra stuff you can get.
Therefore, mind that the one you are planning to get at least has a paddle, a seat, a pump, a fin, and a few extra goodies. Not only is it good for your finances but it is a smarter and more logical choice too.
Intended Use
The fact that these are hybrids means that they can be used in many different situations. If you need a kayak, you can use the seat and sit down comfortably. If you want to paddle while standing up, you can do that too.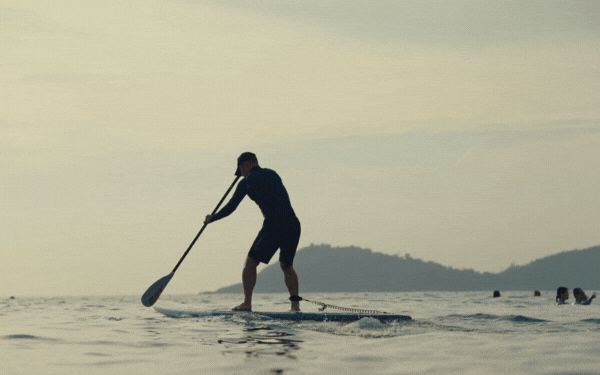 However, some of the hybrids are better at one thing than the other. The BOTE for example is by far the best option for a river and for fishing. The FunWater is so lightweight that it is barely noticeable when you carry it. Get the one that will help you achieve the wanted results and maximize the intended use.
Versatility
The versatility is usually present with hybrid paddle board kayaks anyway, but some are more versatile than others. The D-rings, for example, are not equally present. Those with multiple rings allow more than one seat position. With extra large bungee cords, you can have more gear with you.
Longer hybrids are faster, wider ones are more stable. Not all of them can hold multiple people at once which is a dealbreaker for many shoppers. Maximum versatility allows for many different scenarios and situations.
Frequently Asked Questions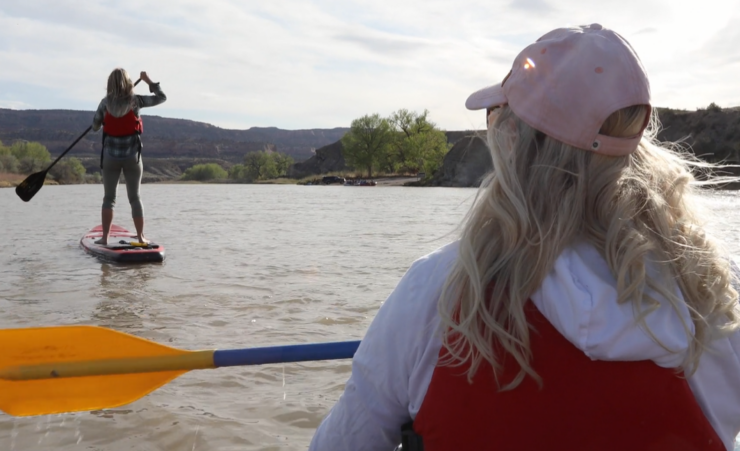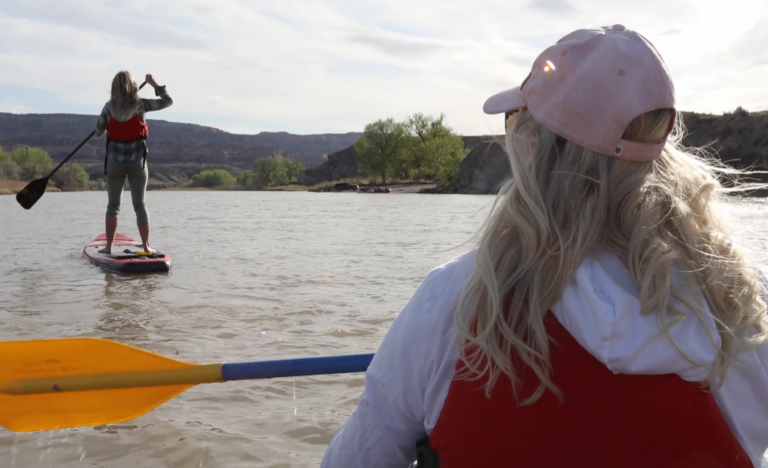 1. Are they really a combination of the two?
Yes, really. These combo paddling vessels really do take the best features of kayaks and paddle boards and offer it all in one package. You can comfortably sit and relax or stand up and be more active. The choice is yours.
2. Can I bring gear in a hybrid?
There are fewer room and storage options than on a regular kayak, but more than on a paddle board (which is usually none). Most hybrids maximize their potential with the bungee cord and the paddle holder, while those with some depth are basically just like kayaks and have a lot of storage in front of the paddler.
3. Will it flip over?
Capsizing is much more common with narrower kayaks, canoes, and boats than it is with paddling boards and hybrids. Since there is not a lot of turning and maneuvering, there is no reason to expect it will flip over. When you figure out how to properly balance it there will be no fear of capsizing.
Check out some other picks from Amazon also:

Mariyam Wilde has been kayaking since before it was cool. With a decade of navigating everything from tranquil lakes to white-water rapids, she's got more stories than there are fish in the sea.