Owning a kayak is very fun and it allows you to do so much. As long as you have a body of water to navigate and enjoy, the kayak can help you do it in a more fun and engaging way. Investing in one is a big deal and a big life change, but not everything about it is that easy. There are potential problems that can arise when owning a kayak, most of which revolve around handling it in terms of storage.
Kayaks can be heavy and awkward to lift and transport, especially if you do not have a roof rack or trailer. This can make it difficult to get your kayak to the water. Regular cleaning and maintenance are required to keep them in good shape. However, storage (storing) is the biggest challenge because you do not use the kayak much more than you actually do. When not inside of it, you need somewhere to place it where it will be safe and sound. This is an issue for a lot of paddlers.
Kayak Storing Struggles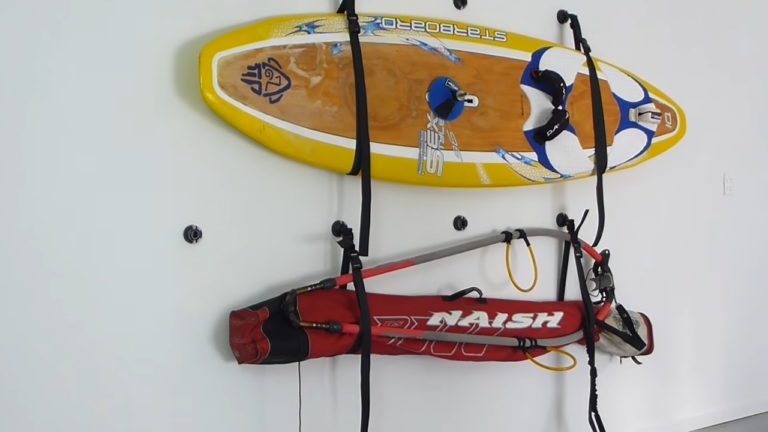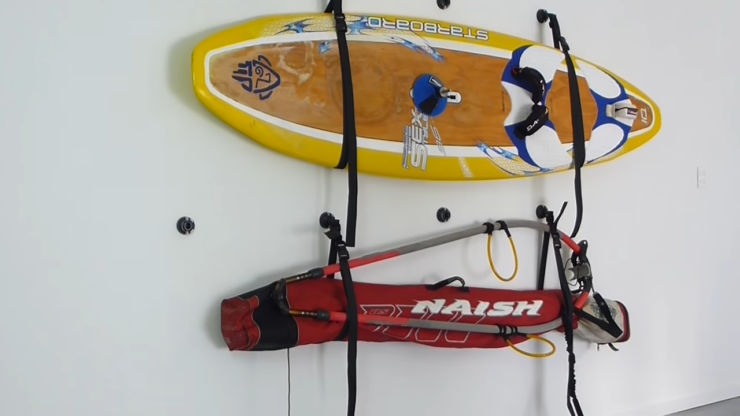 Storing a kayak can be a challenge, especially if you have limited space at your home or apartment, and for more reasons than one:
Limited indoor storage space is the worst situation to find yourself in. A garage or basement means you can store your kayak by hanging it from the ceiling or wall using straps or pulleys. Alternatively, you can invest in a kayak storage rack, which can be mounted to a wall or ceiling and can hold one or more kayaks.
Lack of outdoor space is a problem as well. Not having a yard or driveway to store your kayak, you can try storing it on a patio, balcony, or deck. Just be sure to use a protective cover to keep it from getting damaged by the elements.
In case you do not have a way to store your kayak inside, you will want to invest in a good quality kayak cover to protect it from the sun, rain, and other weather conditions and elements. Still, doing it inside is the best course of action, particularly with a wall mount.
Kayak Wall Mounts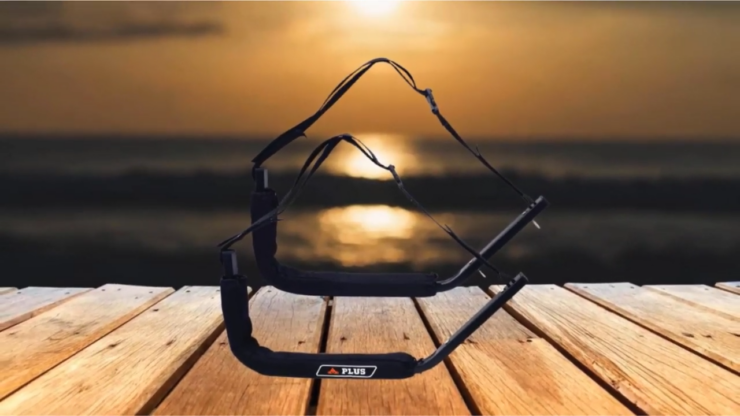 A kayak wall mount is a great way to store your kayak off the ground and out of the way. It can also be a convenient way to display your kayak as a decorative piece. When shopping for a kayak wall mount, there are a few key things to consider.
Weight capacity: Make sure the wall mount can handle the weight of your kayak. It is always better to err on the side of caution and choose a mount with a higher weight capacity than you need.
Compatibility: Some wall mounts are designed to fit specific types of kayaks, while others are more universal. Be sure to check that the mount you are considering is compatible with your kayak.
Material: Wall mounts can be made of a variety of materials, including wood, metal, and plastic. Choose a mount that is durable and will hold up over time.
Ease of use: Consider how easy the wall mount is to install and how secure it is once it is in place. You don't want your kayak to come crashing down because the mount wasn't installed correctly.
Price: Wall mounts can range in price from under $20 to over $100. Determine your budget and look for a mount that fits within it, while still offering the features and quality you need.
Different Types and Reviews
Straps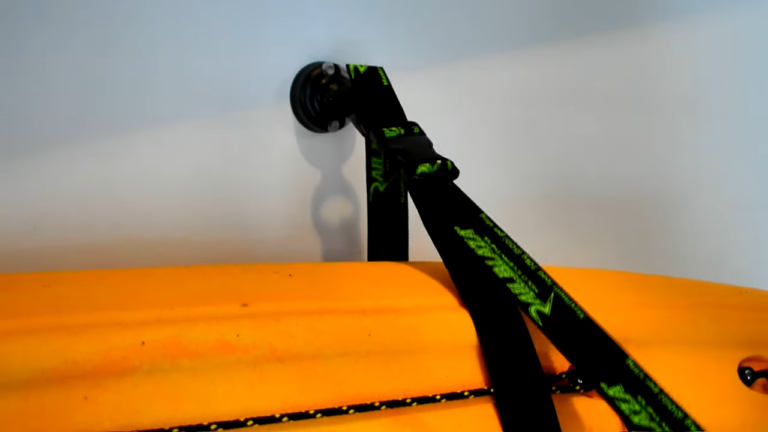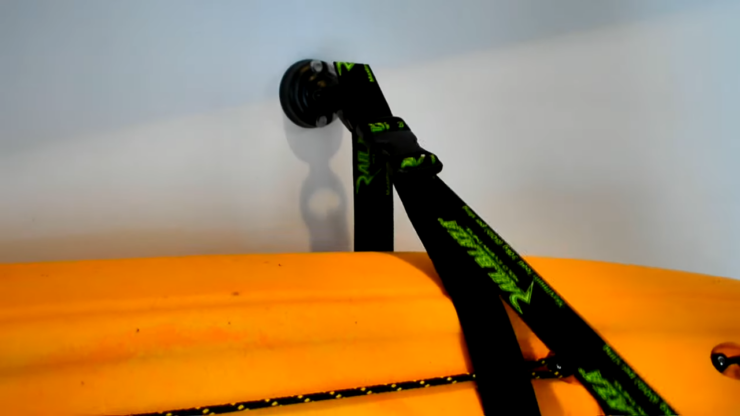 Kayak straps are simple, adjustable devices that can be used to hang your kayak from a wall or ceiling. The straps are typically inexpensive and easy to install, but they may not be as secure as other types of wall mounts.
Pulleys
Kayak pulleys are similar to straps, but they use a system of ropes and pulleys to lift and lower your kayak. These can be more secure than straps, but they may be more expensive and more difficult to install.
Cradles
Kayak cradles are typically made of metal or plastic and are designed to hold your kayak in place on a wall or ceiling. They are more stable and secure than straps or pulleys, but they may be more expensive and may require more installation work.
Racks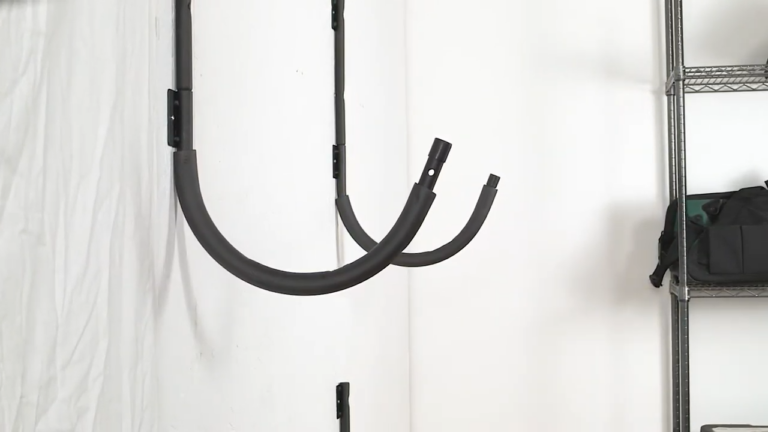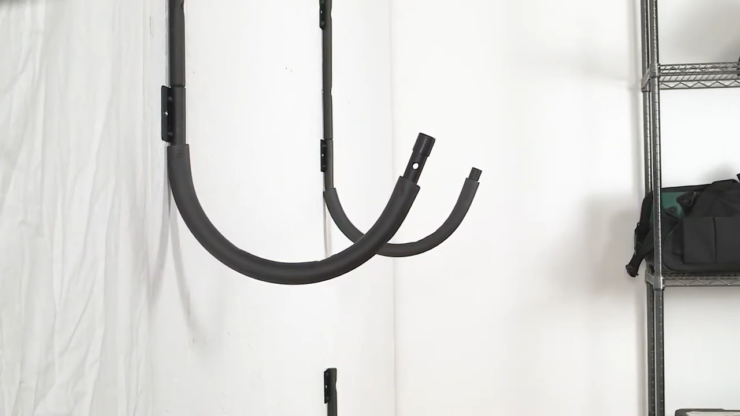 Kayak racks are large, freestanding structures that can hold one or more kayaks on a wall or ceiling. They are very stable and secure, but they may be more expensive and take up more space than other types of wall mounts.
12 Top Kayak Wall Mounts for Every Space
1. Seattle Sports Wall Cradle Hooks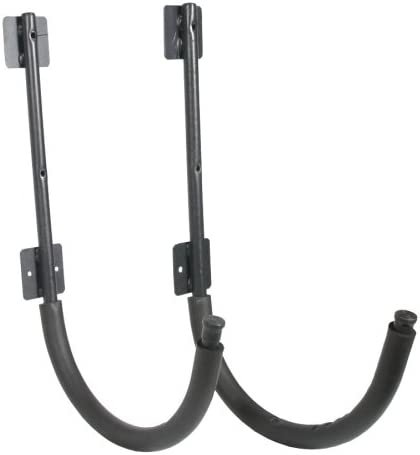 One of the best options on the market is this storing, lightweight, powder-coated set of two J hooks. They can hold up to 200 pounds and are quick and easy to mount. They come with bolts and can be used outside as well. Their measurements are 24.75″ H x 12.75″ D and can support the biggest and heaviest of kayaks.
2. Suspenz EZ Kayak Rack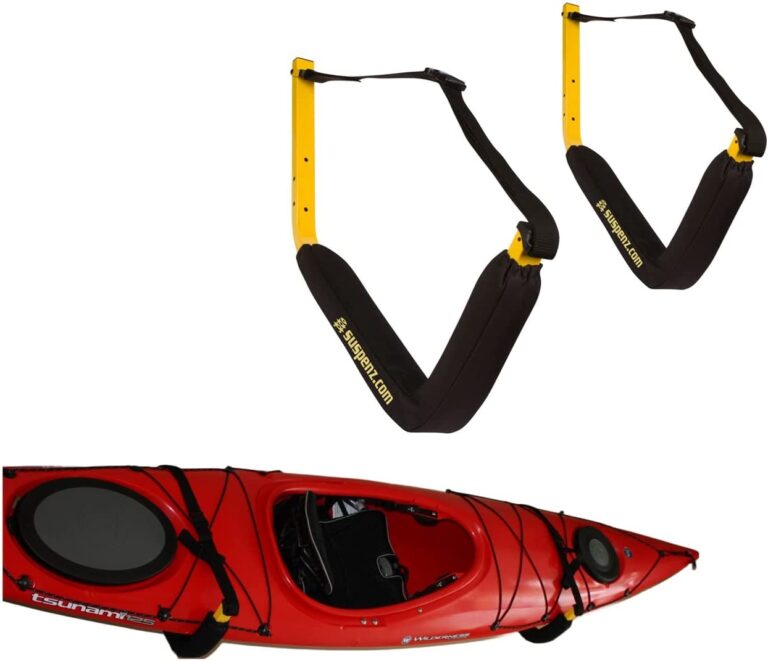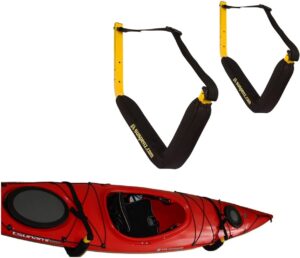 If regular J hooks are too simple for you, here is a black and yellow pair with straps. The steel is powder-coated and can be used outdoors. The straps hold the boat tightly in place and there is a foam-padded area for more protection. It stores up to 125 pounds and extends 20 inches from the wall.
3. Extreme Max 3005.3474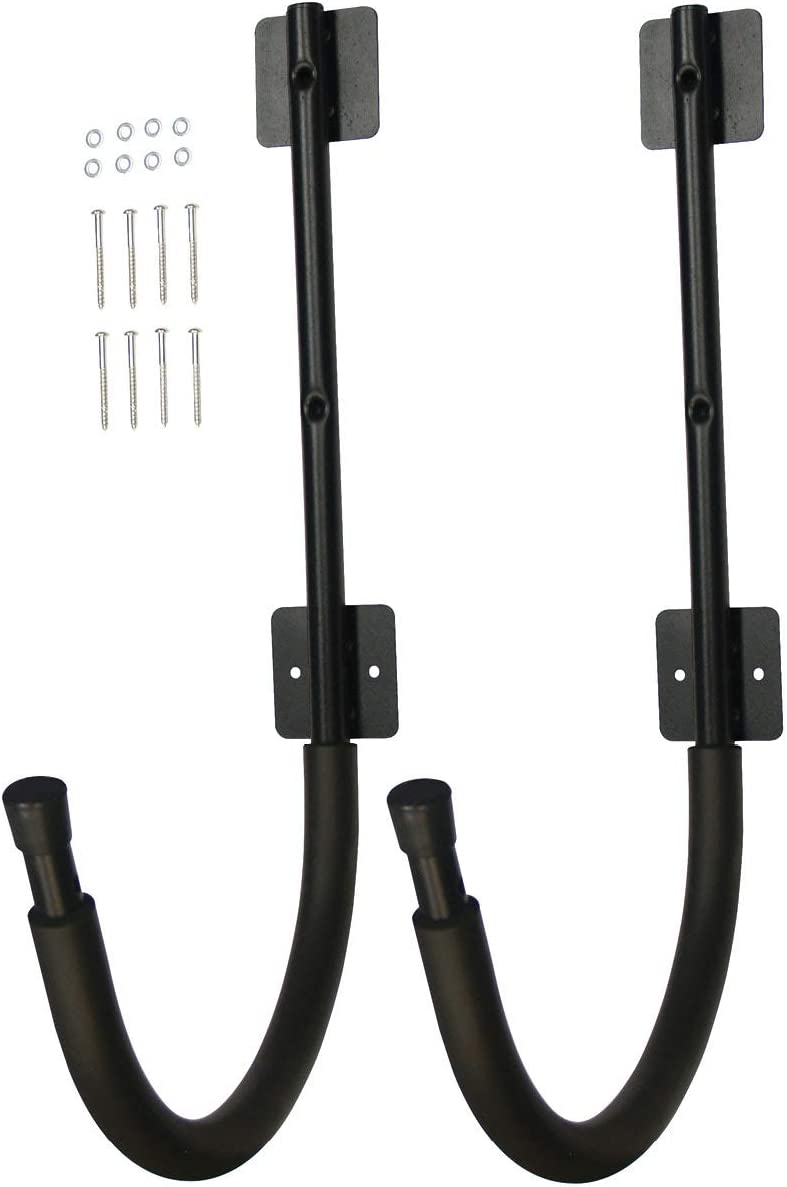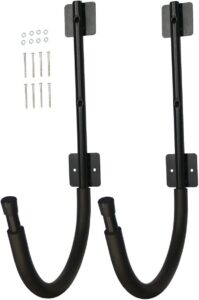 Able to withstand up to 200 pounds of load, this set of black J hooks weighs 5.51 pounds and it is made of alloy steel. It is a super strong choice with protective foam that safeguards the kayak. They are very easy to install and can be used outdoors too. You can use it with any kayak regardless of type or size.
4. Sea to Summit AquaRacks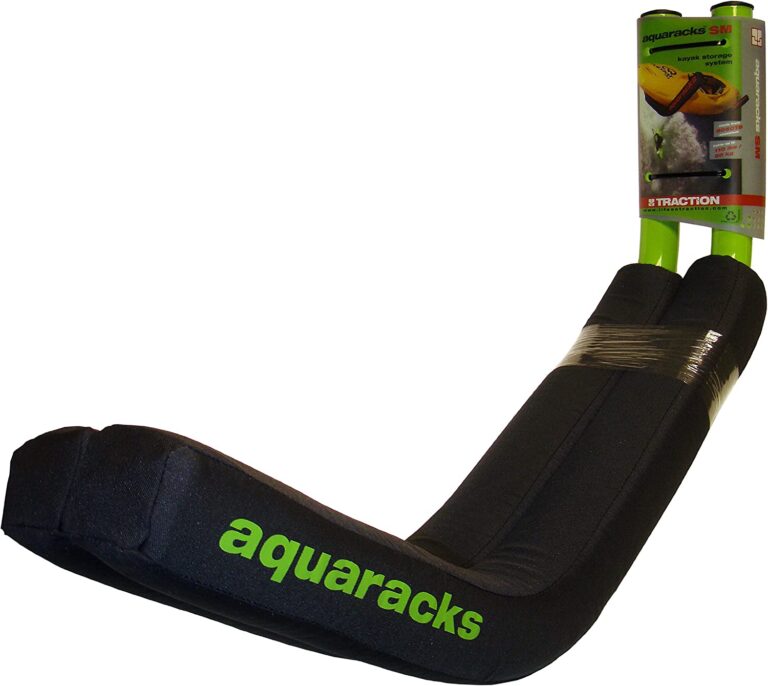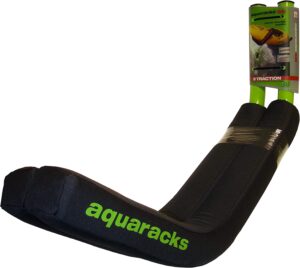 Measuring 24 x 26 inches, this rack holds up to 175 pounds. It mixes green steel with black foam pads for an attractive design as it protects the kayak and holds it in place. There are also nylon sleeves for the arms that further protect the hull.
A complete mounting kit is included in the box. A smaller variety also exists, 20 x 13 inches with a load capacity of 110 pounds, if you own a smaller and lighter vessel.
5. Malone Auto Racks SlingTwo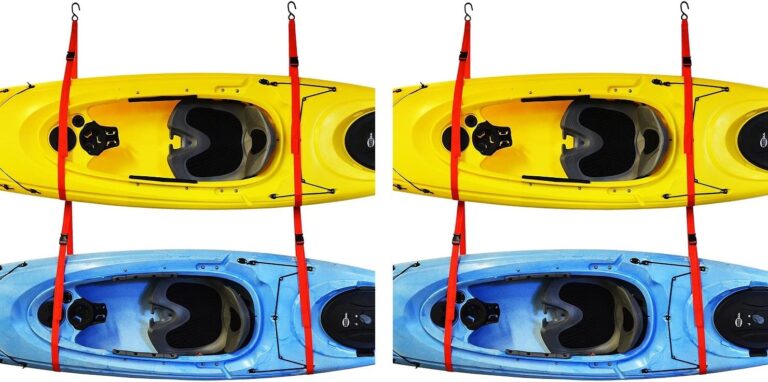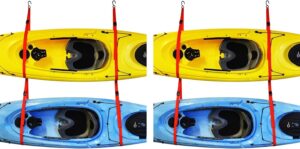 Last but not least is this set of two red slings that can be attached to the wall but also the ceiling. They can carry 135 pounds and have stainless steel hardware with coated S hooks.
The straps make use of the fan-favorite quick-release mechanism for easier handling. If you have two kayaks, this set is a great option as it holds two kayaks at once. Mind that they need to be quite light for both to fit at once.