Buying new stuff is fun especially when it literally changes the way you do something important in your life. Saving up, browsing, driving to the store, and getting it… is there anything better?
Finally, it is in your possession and you can start using it to enhance the experience and joy of a favorite activity.
This is true for small things and especially for the bigger items that you only get once or perhaps twice in your life.
It is certainly true for something as special and exciting as a kayak, a single-person small boat that allows you to go to any body of water and do all sorts of activities.
From fishing and hunting to just exploring and relaxing, a kayak is a vessel that is by far the most popular choice of modern outdoor enthusiasts.
However, buying new stuff does not change your life in that one way where you can now do something better and more optimally.
Now that you have something new and so big, there must also be a dedicated space in your home for it.
Since kayaks are quite big and cumbersome, not to mention heavy, they tend to be rather difficult to store.
Most kayakers struggle with space even before they buy a kayak and only think about where to put it once it gets there. It should really be the other way around.
Kayak Storage and Maintenance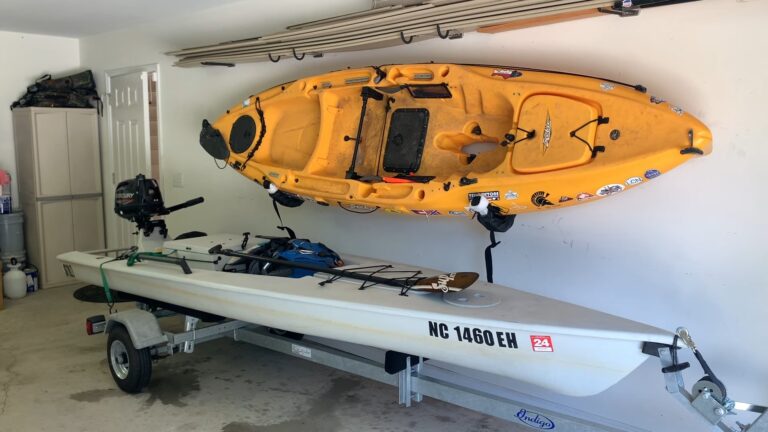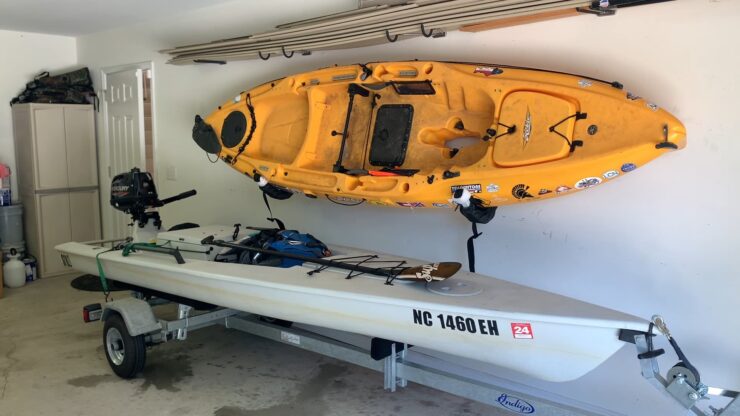 Before talking about the best ways to place it in your home, we must first discuss what a kayak needs while it is out of the water.
This may help you find the right spot for it, the best corner, and the most accessible and clear area of your home. It is important to easily get to it especially if you will be using it frequently.
Modern kayaks are made of polyethylene plastic, a very hard and resilient material that does not break, crack, or even scratch easily.
Kayaks can survive direct hits with rocks and timber and since the hull is a single piece of material, there are no weak points to break or come apart. This is good for storage too because it means kayaks do not need much care.
While maintenance is important for any item in your possession, certain things have to be pampered much more than others.
Not your kayak though as all it requires is something to cover it with. After each use, you should clean it a bit and remove any debris from the water.
Washing it and perhaps waxing it is more than enough, after which you can wrap it in a cover until you need it again.
Best Ways to Store a Kayak
As you guessed, it is usually the garage where kayakers keep their vessel.
It is easily accessible and already full of similarly used commodities like sports gear, bicycles, skateboards, and general outdoor equipment.
Also, it is not technically part of your home but rather a supporting facility that stores things that would not be optimal inside.
Another reason to store the kayak in the garage is due to its proximity to your vehicle since you will be using your car or truck to transport the kayak to and from the water.
Doing it all in the garage or at least in front of it is easier than moving from another part of the property and always having to carry it for long. Straight from its spot to the car and then later from the car to its sport. Easy.
But where exactly in the garage do you put something as big as a kayak?
Well, since it is one of the most versatile spaces on any property the garage can act as the home for your kayak in more than one way.
Depending on the size of your kayak as well as the organization of the garage itself, there are plenty of ways to do it.
On the Wall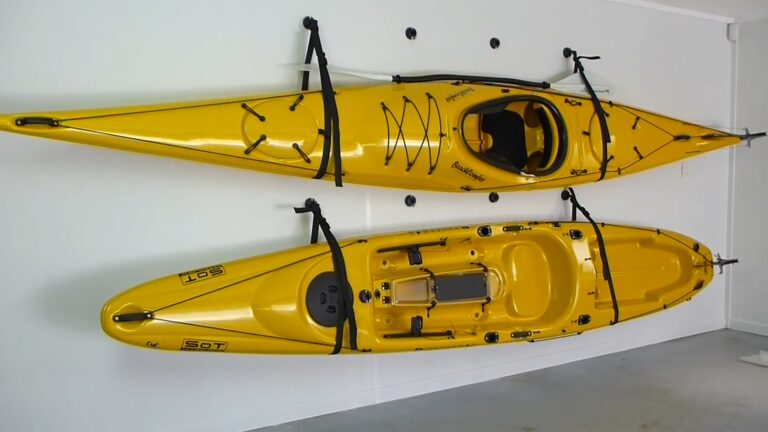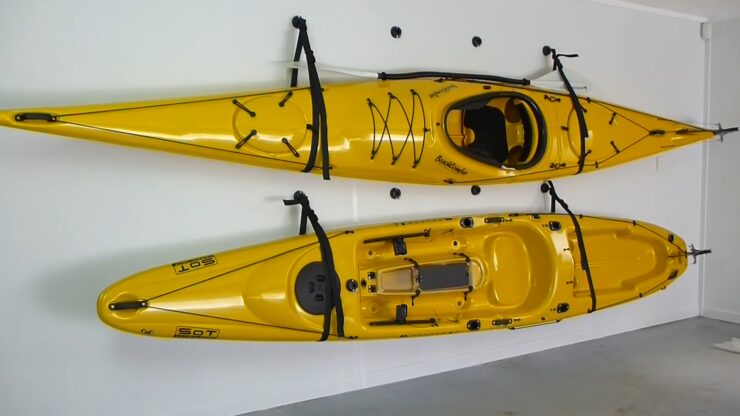 The easiest and most common way people store their kayak is on one of the walls.
For this, you will need some strong hooks of course or a dedicated kayak rack that attaches to the wall. It can be done with the boat sideways, diagonally, or upwards.
Garage walls are typically filled with various items hanging from them as it is the easiest and most straightforward solution.
The best part about it is that it is easy to make happen.
A few cords or bungee straps could also be all you need if you manage to do it. Hooks and special racks are not the only choices here.
Overhead Storage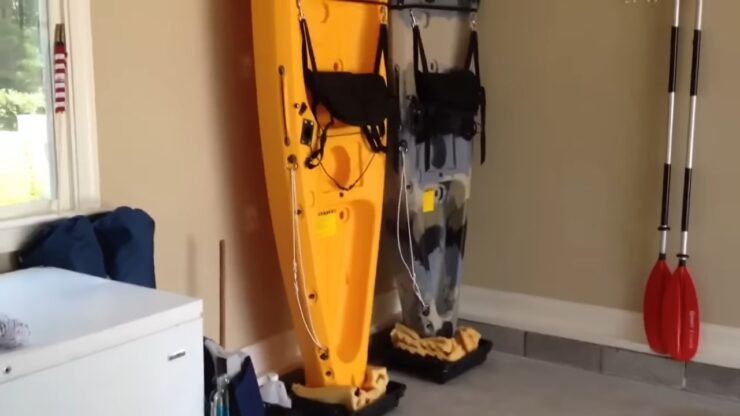 If your walls are already packed and there is no clear area on them to hold a kayak that can range from 8 feet to 14 feet, longer even, why not do it overhead?
There are hanging rails and various types of storage solutions that attach to the ceilings of garages.
Many of them pull out which would be perfect for something as long and narrow as a kayak.
Just remember to watch your head! It would be best to do it above your car for easier roof carrying.
You also spend the least amount of time there since the vehicle is always parked.
It can also be the cheapest way to make a dedicated kayak holder as it can be done with rope and strings too.
On the Floor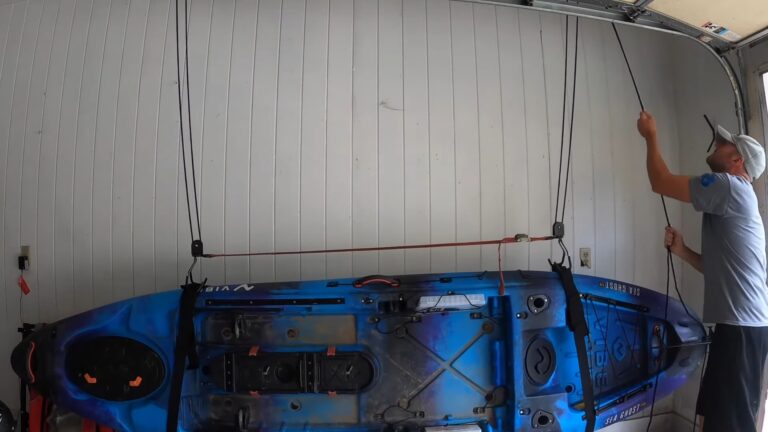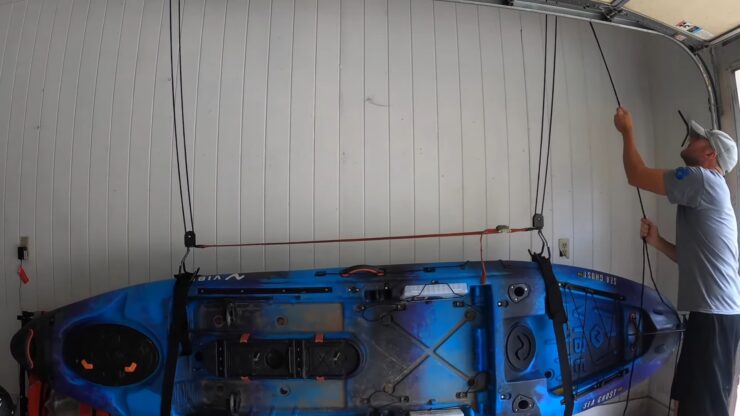 If you can spare a side of the garage, or better yet a corner, you may not even need any extra hooks, racks, or storage solutions.
All you need to do is safely and securely place a kayak in a stable position and lean it against the wall.
You can do it sideways or in an upward position, with the inside facing the walls in both cases.
This is not the ideal solution because the kayak can flip over or slip, but if you find a way to secure it, you could use that garage corner or area that is not suitable for anything else.
The best way to do this would be to buy a special kayak holder which can hold the vessel upwards without any possibility for it to fall over.