If you're looking for the best kids' life jacket for 2023, you're in the right place! We can help you avoid wasting time looking through a deluge of options online and provide you with the top 5 best options in a jiffy!
Finding the best life jacket for your child is an important and serious task, and making sure the product is safe and easy to use is essential. That is why we also provide you with a short buying guide that will help you pick the best life jacket whenever you need to if you don't find exactly what you need from our list. Let's dive right into it!
Before we continue with this guide, first be sure to read our article on the best PFDs for kayaking.
 Comparison Table:
Top Picks Best Kids' Life Jackets
1. Stohlquist Life Jacket – Provides Maximum Mobility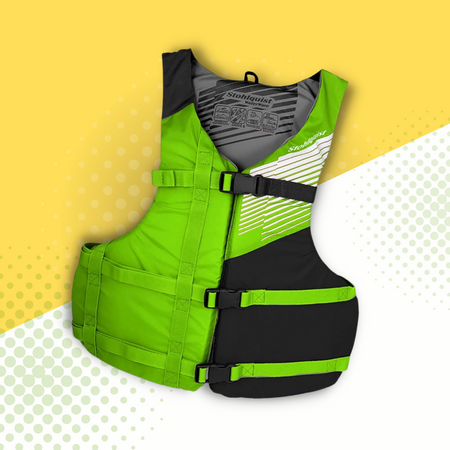 The first life jacket on our list is the Stohlquist one which is designed for maximum comfort and mobility! This life jacket is made to let your kid enjoy the water and have fun while also being safe.
The sculpted foam paneling designed with a non-restrictive cut allows for maximum mobility, while the thinner back panel assists in eliminating interference with high-seat backs. Since safety is the number one priority of any parent out there, you should know that this life jacket is made to put your mind at ease.
No matter if your kid goes paddling, boating, or joining another water activity, they will be completely safe with this life jacket. All foam corners of this jacket are rounded and sculpted, and the box-stitched webbing is highly durable.
The jacket is also super easy to put on since it features a simple three-buckle front entry design. Your kid will be able to put the life jacket on and take it off in a jiffy and with minimum effort. Note that the jacket is also very lightweight and available in universal unisex size fitting.
That means that you don't have to worry about knowing the exact measurements—the jacket is made to fit almost any child!
Pros
Comfortable
Maximum mobility
Durable
2. HeySplash Life Jacket – With Whistle Pocket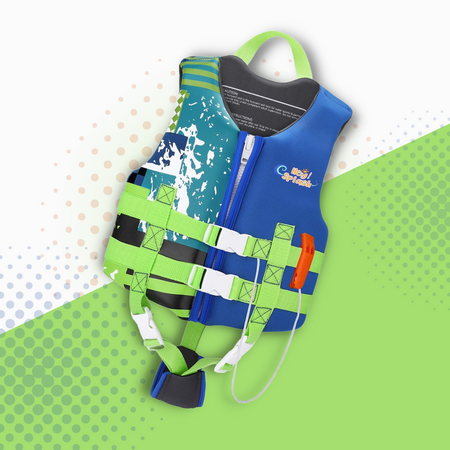 The next life jacket on our list is the HeySplash life jacket which comes in a wide range of cool designs, colors, and patterns your kid will love! If you don't want a dull, one-colored life jacket for your child, this is your perfect option.
The HeySplash life jacket features a highly durable heavy-duty zipper and double-safety protection that will guard your children's safety like no other. The materials used in the making of this product are also very high in quality, which means you won't have to worry about it tearing any time soon.
It also boasts safety buoyancy up to 55lbs, as well as a reinforced safety buckle and adjustable high-density nylon webbing. The built-in survival whistle and whistle pocket are included in the package, and the whistle range is able to reach up to 10m.
What's excellent about this life jacket is that the large armhole will allow your child maximum movement and be quite comfortable. The leg straps will keep the jacket from riding up too. You should note that the life jacket shouldn't be exposed to the sun for a long period of time and that it has to be dried before you put it away.
Pros
Cool design
High-quality
Whistle pocket
Cons
The flap between the legs poses an inconvenience
3. Boglia Life Jacket – Dries Quickly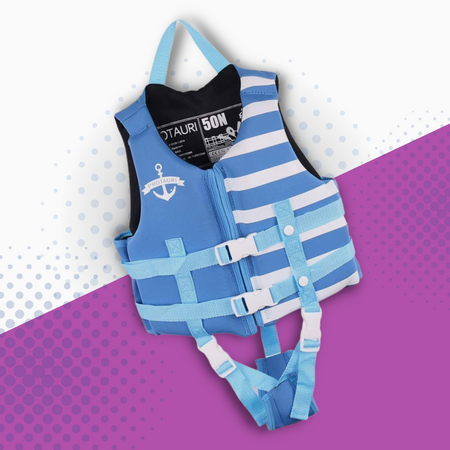 We'll continue with the Boglia life jacket that your kid can use for a variety of different activities. If you're looking for a cool life jacket that can be worn in many different scenes, this is an ideal option!
The Boglia life jacket features adjustable safety straps under the crotch so that it can keep in place and stick to your kid's body perfectly. You can also look forward to the extra strong release buckles that this vest boasts, which will ensure there is no easy damage done to it.
The materials used to make this life vest are neoprene and EPE foam, so the vest will dry quite quickly and be super easy to pack and store away. The vest is also lightweight, compact, and high in durability, which makes it ideal for packing with you and bringing it on your next trip with ease. It won't take up too much space in your bag or suitcase.
Your child will be able to wear this life jacket for a wide range of activities, including going to the beach, visiting a swimming pool, going to a water park, having a boat trip, and so much more. However, you should always make sure that this swim vest is used under a parent's supervision.
Pros
Can be used for numerous activities
Durable
Dries quickly
Cons
Shouldn't be used without supervision
4. Stearns Life Jacket – Colorful Designs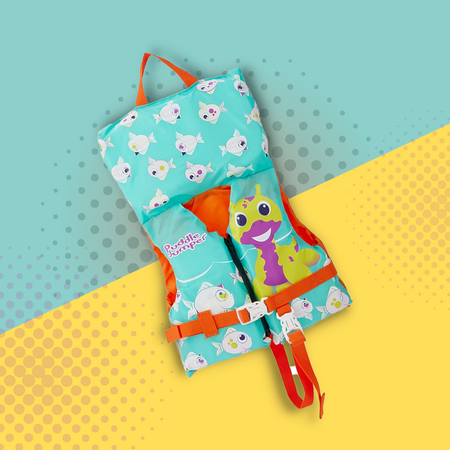 If you're in need of a life jacket for an infant, this Stearns one is an excellent option! You won't have to worry about your baby at all once you get this high-quality and flexible life jacket.
The first thing we're going to mention is that this Stearns life jacket has been tested, and it's U.S. Coast Guard-approved. It is safe for infants under 30 pounds, so you don't have to worry when having your baby on a boat or near/in the water—put this jacket on them and have fun enjoying your outdoor activities together!
This life jacket features a colorful design that will change color when it's wet, which is super cool and will be quite fun and appealing to kids. It's designed and fitted to be super flexible and allow easy movements for your child, no matter if they are in or out of water.
If you want a super safe life jacket that boasts a cool and colorful design your kids will adore, you can't go wrong with this one!
Pros
Colorful design
Safe
Excellent quality
Cons
The leg straps don't always stay tightened
5. Gogokids Life Jacket – High Quality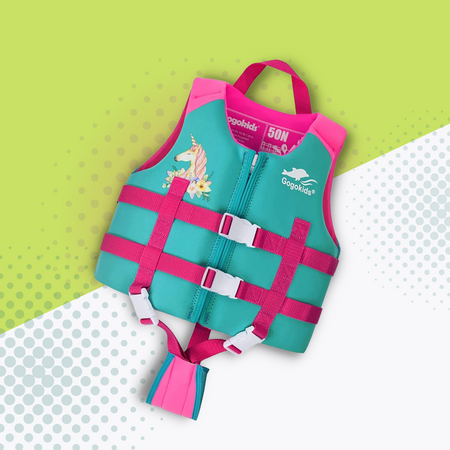 The last life jacket on our list is the Gogokids one which is not only super comfortable but also features added safety to keep your mind at ease!
The Gogokids life jacket is made with super soft and high-quality polyester, as well as cotton-filled material, which makes it a lot more comfortable, soft, and well as light. If you're planning on bringing the life jacket with you on your next trip, you'll be happy to know it won't take up a ton of space or make your luggage too heavy.
It also features breathable and skin-friendly functions to make your kid the happiest. You can let your kid enjoy a happy and carefree summer once you put this jacket on them as a safe guarantee!
This life jacket is designed to conform to the human body structure perfectly and it provides excellent buoyancy. There will be no need to use additional products to enhance buoyancy when you have this life jacket. With the three safety buckle designs that this life vest features, you won't have to worry about a thing when you let your kid play in the water.
What increases the safety even further is the adjustable buckle at the bottom that will not loosen even if it floats up and down in the water. The life jacket will help your child learn how to swim, keep balance in the water, and allow them to have more freedom and confidence when it comes to swimming and playing. You can have them use it in swimming pools, beaches, boats, or lakes.
Pros
Soft
High in quality
Safe
Buying Guide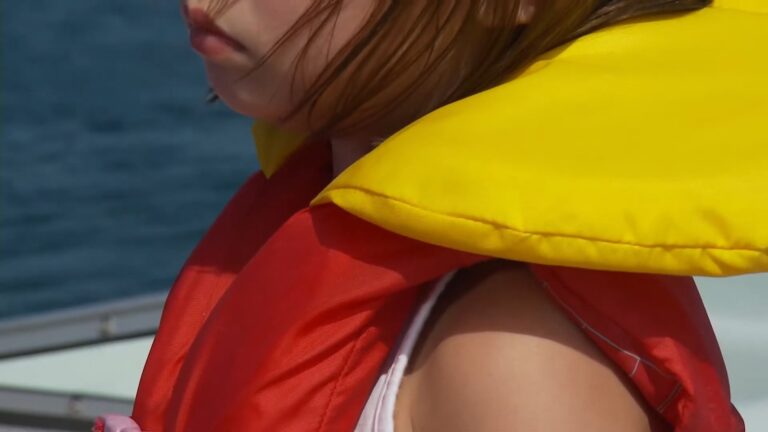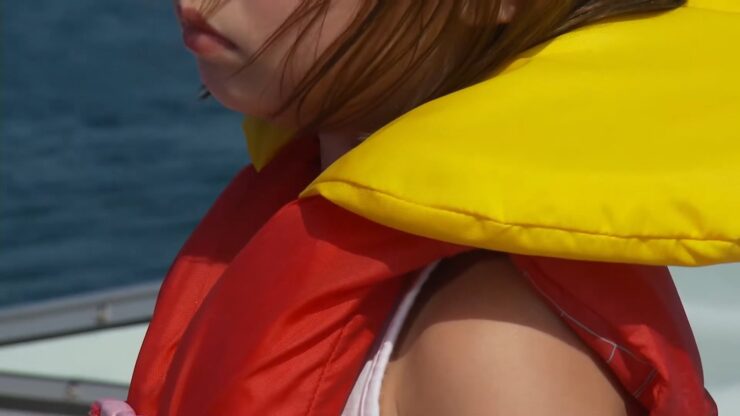 Buying the best kids' life jacket for 2023 can take a lot of time if you don't know exactly what to look for. You can't choose a good and quality product when you don't know what to consider during your purchase, so learning as much as possible before you embark on your shopping journey is very important.
However, if you're on a tight schedule and don't have time to waste doing research, we can help! We'll provide you with a summarized list of all the crucial factors you should consider when purchasing the best kids' life jacket so that you can avoid wasting time and complete your shopping task in minutes!
Take a look at the list below to find out all there is to know about how to choose the best kids' life jacket for 2023:
1. Consider the Quality
The first thing you need to do when purchasing a life jacket is to make sure that the quality of it is high. Quality is very important when it comes to this product because it will not only dictate how long your life jacket will last but also how well it will serve you (and your kid).
Moreover, having a life jacket that is safe and guarantees no issues will occur while wearing it is crucial. High-quality life jackets are typically made with materials that won't tear or malfunction in any way, so you need to make sure the one you want to buy is made of these materials. You can check for this info by looking through product descriptions.
2. Check the Features
The next thing you'll want to do is check whether the life jacket you want to purchase boasts all the features you want/need from it. For example, if you want the life jacket to block harmful UV rays and similar, you will have to check to see whether the one you want to get provides you with that protection.
You should think about what you want from the product before buying it, and then make sure that the one you have your eye on meets your requirements and fits all your needs perfectly. If not, you can proceed to look for other products until you find the one that meets the criteria you set.
3. Make Sure It's the Right Size
If you're purchasing a life jacket for your child, you need to make sure it fits. There is no shortage of options to choose from, and these life jackets come in a variety of sizes. That is why making a mistake and purchasing the wrong size is easily done. You can, however, prevent this, by knowing what size your child needs and purchasing that exact one.
If you aren't 100% sure, you can try to find a life jacket in a universal size that would fit most of the kids that are your child's age. Product descriptions and customer reviews should provide you with this info, so make sure to check it before checking out.
FAQ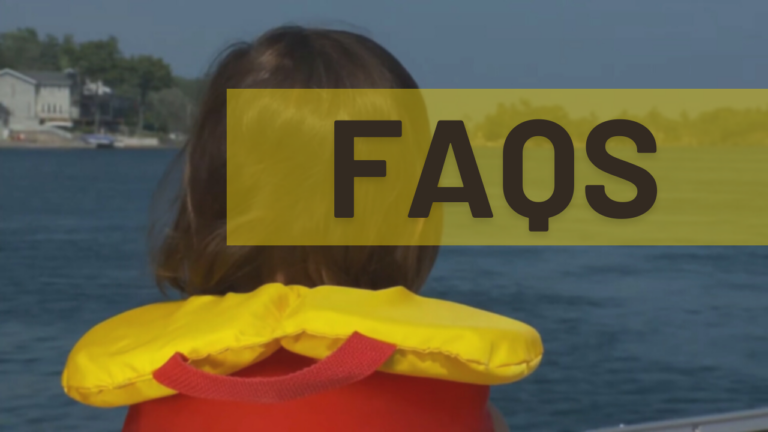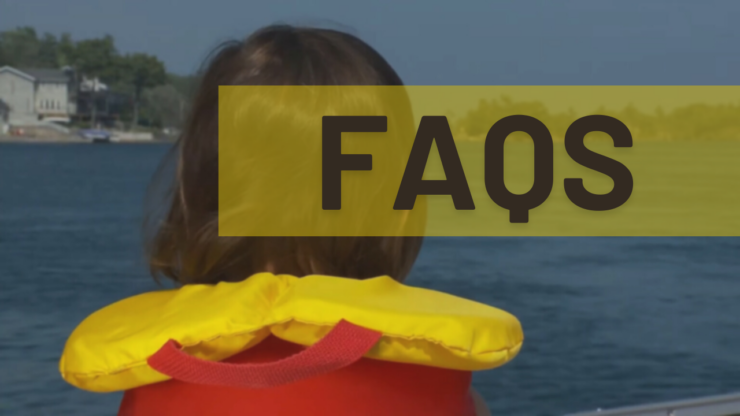 1. How Much Buyouncy Is Needed in a Life Jacket?
When it comes to life jackets for adults, from 7 to 12 pounds are needed. As for a kids' life jacket, it would need a minimum of 22 lbs of buoyancy.
2. How Much Weight Should My Life Jacket Hold?
Wondering how much weight is your life jacket supposed to hold? This depends on many factors, including the brand, quality, and more. However, adult life jackets should generally be able to hold from 15.5 pounds to 22 pounds.
3. What Is the Best Life Jacket Out There?
There is no shortage of popular brands that provide high-quality life jackets, such as Stohlquist, Onyx, and more. However, you should always check whether the life jacket you're interested in meets the criteria from our buying guide, if you want it to last for a long time and provide excellent service.
Conclusion
You don't have to struggle with purchasing the best kids' life jacket. Although it's true that this task takes a lot of time and effort when doing it on your own, you can go for an easier option.
Our article provides you with not only the best options to choose from but also a neat buying guide that makes your shopping journey a piece of cake. Use it, and forget about wasting time, money, and effort on a task that shouldn't take more than 10 minutes!
Take a quick look at these products, as you might find something that suits you more: