Picking the right tool for a job or activity is never easy, let alone when it is a large one that can change a lot about how you live. When people are passionate about something, they want nothing but the best for it in terms of equipment.
The same is true for water-based activities, especially those where paddling boats like kayaks are used. Unless a kayaker gets a good enough model, they will never be happy with their paddling sessions. Buying a new kayak is not easy, but it is also not impossible. Keep reading to find out how to do it right.
Different Kayak Varieties
Traditional, regular kayaks are small, narrow boats that are propelled by double-bladed paddles. They are typically used for recreational and sporting purposes which come in many different varieties, from leisurely paddling to intense water sports.
Therefore, various types of kayaks exist including recreational kayaks, fishing kayaks, whitewater kayaks, and touring kayaks, each designed for specific activities and environments. With such a variety of types available, there is a kayak for everyone, whether you are a beginner or an experienced paddler.
Recreational kayaks are the most common type of kayak and are designed for calm waters such as lakes and rivers. They are often wider, more stable, and more comfortable than other types of kayaks, making them ideal for beginners and casual users who want comfort and leisure.
Whitewater kayaks are the polar opposite. They are designed for rapids and other challenging water conditions and are typically shorter, wider, and more maneuverable than other types. They are often made of more durable materials and have features such as reinforced hulls and spray skirts to keep the kayaker dry. These models are reserved for experienced thrill seekers who know what they are doing.
Fishing kayaks are designed specifically for anglers and have features such as rod holders, bait wells, and ample storage space. They are often wider and more stable than other types of kayaks to provide a stable platform for standup fishing. Oftentimes, fishing kayaks also double as hunting kayaks.
Last but not least, the star of our article here, is the touring kayak. Touring kayaks are designed for longer trips on open water and are often much longer, faster, and more efficient than recreational kayaks. Very lean and sharp, they are much narrower than other types, meaning less stability and far wider turns. They have additional storage space allowing for longer excursions and greater distance coverage.
Touring Kayaks: An In-Depth Guide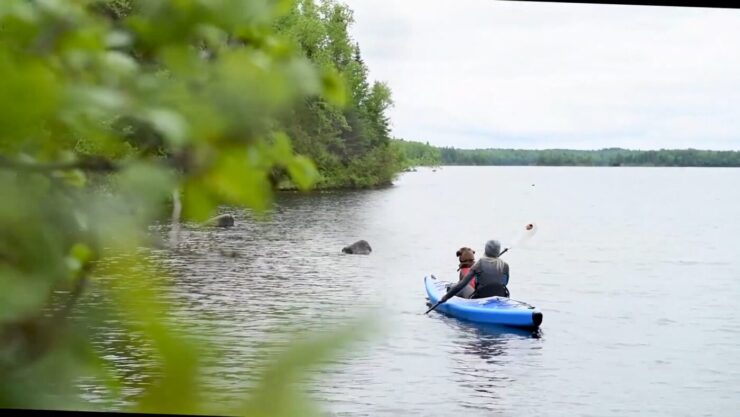 Touring kayaks are designed for long trips on open water, usually wide open lakes, bays, and coastal waters. They are typically much longer, faster, and more efficient than other types of kayaks, making them ideal for covering greater distances at once with limited to no stopping.
What makes touring kayaks special is their combination of speed, stability, and storage capacity. They have a longer and sleeker design which allows for more efficient and faster paddling. Additionally, they are often equipped with touring-specific features such as adjustable footrests, comfortable seats, and hatches that provide ample storage space for gear and supplies.
While they are less stable and maneuverable than other models, they are far from unreliable. A touring kayak is still very balanced and it makes good turns for what it does and how it should behave.
They allow the kayaker to navigate through choppy waters and currents with greater ease due to the long and narrow design that cuts through waves efficiently. They are made of lightweight materials making them easy to transport and store.
In terms of main features other than the long and sleek design for efficient and faster paddling, they are also equipped with comfortable seats, adjustable footrests, ample closed (hatches) and open (bungee cords) storage space, paddles, and carry handles. Overall, touring kayaks are a great choice for those looking for a comfortable and efficient way to explore the open waters far away from the coast, cover greater distances, and carry plenty of gear and supplies.
Best Choice of Touring Kayaks
1. Old Town Castine 140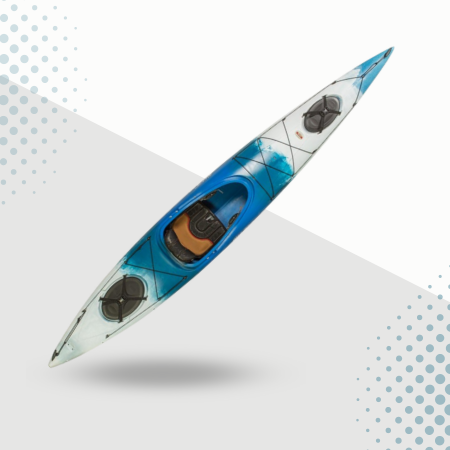 First and foremost, there is the Castine 140 touring kayak by non-other than Old Town, one of the most popular and commonly referred kayak brands. This one is made with comfort and performance being the driving factors and it is a good option for amateurs and veterans alike. At 14 feet in length, it is an example of a longer touring model. It is also only 24.75 inches wide, meaning speedy tracking and a bit less balance than what is average. Its weight is 53 pounds, which is above average, and it can carry up to 375 pounds of load.
The hull is rotomodeled and made of strong and durable polyethylene plastic. It is robust and can therefore survive all the dragging up and down the beach while being fully loaded like it is nothing.
When it comes to features, it has adjustable thigh braces and footrests for prolonged comfort. The seat is also adjustable and padded with good back support. Storage-wise, it has two watertight seals for dry storage, a larger one in the stern and a smaller one in the bow.
Two bungee cords are also present, the larger being in front of the sit-inside cockpit. A perimeter line is there too.
Pros
Strong, robust build
Great storage potential
Good for different kayaker builds
Cons
Heavier than average
No paddle (or other accessories) included
2. Eddyline Samba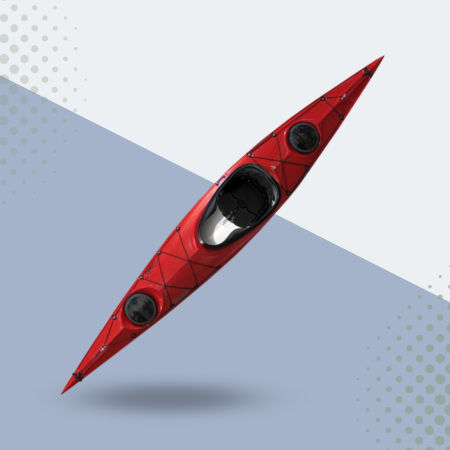 At 13 feet 10 inches in length and 22.5 inches in width, this touring kayak is an arrow. Such length and narrowness mean that it speeds through the water with ultimate ease leaving nothing to be desired.
It is also very lightweight at only 43 pounds, but it can still carry as much as 300 pounds of load. This is a true ocean-touring kayak with superb tracking and excellent performance. It is easy to carry, transport, and store due to its weight and will not be a nuisance.
When it comes to features, there is a built-in skeg that improves tracking and keeps the kayak straight in windier weather and choppier water. The seat is comfortable and adjustable with a backband. Adding to the overall comfort are footrests and thigh braces.
Bulkheads are there as well as watertight hatches, perimeter lines, and 2 bungee tie-downs that basically cover the entire kayak. Carry handles make it easy to handle. The dominant material used on the hull is co-extruded ABS laminate dubbed Carbonite 2000.
Pros
UV-resistant exterior
Good storage capacity
Very lightweight
Cons
No paddle
Not for beginners
3. Riot Kayaks Edge
Riot is another popular name in the kayaking business, a company that has numerous different models in its lineup. The Edge is a prime example of what a touring model should look and feel like as well as what features it should offer.
It is the second-longest kayak on our list at 14 feet 5 inches which of course means superb speeds and very fast tracking. It is also very narrow at 22.5 inches which adds to the performance, but also lowers balance. To round up the numbers, it weighs 60 pounds and it can carry a load capacity of 325 pounds.
This is a kayak with ample storage solutions. It has two watertight seals, one in the bow and the other behind the seat in the stern. There are also two bungee cords, the bigger one being in front of the kayaker.
Reflective perimeter lines extend from each bungee all the way to the bow/stern where rubber carry handles await. This slender kayak is equipped with a pilot rudder system and custom seating complete with sliding foot braces and thigh braces. It also has a drain plug. Robust and sturdy, it is made of polyethylene plastic, a standard with top-of-the-line paddling crafts.
Pros
Very quick
Comfortable custom seating
Good value for the money
Cons
Narrow design not for amateurs
No paddle
Heavy
4. Dagger Stratos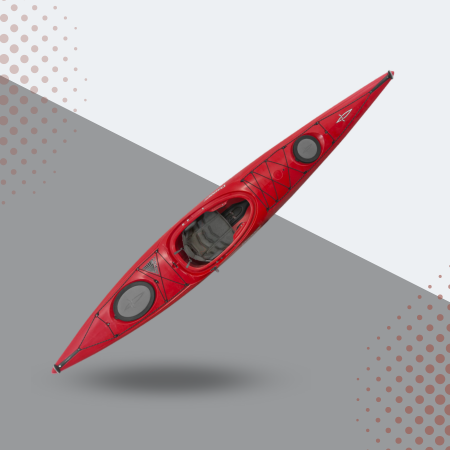 Remember how we said that Riot Kayaks Edge is the second-longest kayak section? Well, here is its fellow colleague and the length champion that barely took the crown at 14 feet 6 inches long. It is somewhat wider however at 24.5 inches, and just a little bit lighter at 57 pounds.
It can carry less load though at 315 pounds though. Very speedy but also stable due to the extra width, it offers a good enough balance to be used by veterans and newcomers. This is a very sporty-looking touring kayak which is of course a plus.
Perfect for longer destinations and equipped with good comfort and storage, it has everything a kayaker needs for an unforgettable touring session every time. The seat is ergonomic with built-in leg lifters and adjustable sliding footrests with a lock mechanism. It has quite a roomy cockpit, too.
Two storage hatches are in charge of keeping things dry, while two bungee tie-downs allow for open storage on the hull. There is a gully-adjustable skeg for more control and straight tracking. Last but not least, two carry handles are present (bow + stern), and a deck line for easier handling.
Pros
Very comfortable
Great stability
Both speedy and maneuverable
Cons
Heavier than average
No paddle
Buyer's Guide
It is definitely not so easy to pick the best touring kayak from the many available models. The market is rich and there are numerous brands and types to browse. Worry not though as we have you covered.
When choosing a touring kayak, it is important to consider several factors to ensure you select a kayak that meets your needs and preferences and nobody else's. You will be the one to use it so it should agree with your wishes and requirements.
Choosing the right touring kayak requires careful consideration of your paddling goals, your physical characteristics, and your budget. By considering the right factors, you can select a touring kayak that will provide you with the comfort, stability, and efficiency you need for an enjoyable paddling experience. Here are the most important factors to consider when choosing the right touring kayak for yourself:
Purpose
Determine the type of touring you plan to do. Are you planning to always cover long distances with unpredictable conditions, or explore closer and calmer waters? Will you be paddling in open water, bays, or coastal waters? Knowing your paddling goals will help you determine the type of touring kayak that is right for you.
Size
Consider your height and weight, as well as the type of water you will be paddling in when selecting the size of your touring kayak. Longer kayaks are faster and more efficient, while shorter kayaks are more maneuverable.
Stability
Think of the stability of the kayak and how good you are at balancing paddling crafts. Are you a beginner, or do you have experience paddling in open water? More stable kayaks are a good choice for beginners, while less stable kayaks that demand more skill are better suited for veterans.
Capacity
The amount of gear and supplies kayakers carry greatly varies between them. Touring kayaks often have ample storage space, but some have more than others. Make sure to choose a kayak with enough storage space for your needs. It should be enough to still have empty space when survival gear, food and beverages, and a change of clothing are loaded.
Comfort
Look for a model with a dedicated, comfortable seat with good back support and adjustable footrests. A good seat and footrests are crucial for extended sessions and will make a long day of paddling more comfortable and enjoyable.
Material
Consider the materials used to build the kayak you are browsing. Kayaks are often made of polyethylene plastic, fiberglass, or composites, each with its own advantages and disadvantages. Research the materials used in the kayaks you are considering to determine which is best for your needs.
Budget
In the typical fashion of buying anything that is bigger and more valuable, you simply must consider your budget. A touring kayak is definitely an investment that should last you for years, and the purchase should be approached strategically. Higher-end models will often have more features, but they can also be more expensive. Determine what features are most important to you and look for a kayak that fits your budget. Do not settle for a model that is too basic for you or you will always lack something.

Say hello to Sandra Kilamovska, our resident water sports aficionado and the spirited voice behind KayakPaddling.net. Sandra's mission? To inspire you to dive headfirst into the world of water sports, one paddle stroke at a time.