Equipping one's kayak with all the right mods and gear does not come easy. Not every kayak is equally customizable nor is there a need to tinker with every single paddling boat. However, there are a select few things that are welcome on every single kayak, customizations that simply have no downsides whatsoever.
This is particularly true with modern-day gadgets and one of the most popular and useful in the kayaking world has to be the GPS. A definite fan-favorite, it has an important place in the loadout of a large number of adventurous kayakers, but an increasing number of beginners and amateurs too.
Origins of GPS
The acronym-turned-well-recognized-term "GPS" stands for Global Positioning System. It is a wide network of satellites, ground stations, and user devices that work together to determine the precise locations, speeds, and directions of billions of users on the surface of our planet.
It was first developed by the United States. Department of Defense (DoD) during the 1970s and 1980s. As is the case with most technology that is public nowadays, it was first used as a military navigation tool but has since become widely available for civilians.
A GPS receiver calculates its own position by precisely timing the signals sent by satellites high above the Earth's surface. It uses this info to triangulate a position, determine the time, and provide location-based services crucial for important systems and activities like navigation and mapping.
GPS is based on a constellation of 24 satellites that orbit the Earth twice a day in a precise, predetermined formation. These satellites continuously transmit signals to back down to Earth making them detectable for the GPS receivers to pick up.
Top Precise GPS devices
In this section, we bring to you the best kayak GPS currently available on the market. Whichever you pick from this list will surely be more than enough for all of your needs.
1. Garmin GPSMAP 64st
If you want something that has been described as the best overall numerous times, as well as a model from the best brand in the business, look no further than this model by Garmin. It is a handheld gadget small and lightweight enough to never be a nuisance. Due to its small antenna, it does look like a walkie-talkie, but do not let this classic design fool you.
The quad-helix antenna allows for superb accuracy and reception even in the most remote, unexplored areas. It has preloaded maps as well as satellite imagery. The screen is 2.6 inches, small but very easy to read in the lightest of conditions. There is no touchscreen, but you do not really need it. AA batteries power it and it offers good battery life of 16 hours. Its waterproof rating is IPX7.
Pros
Compact and lightweight
Daylight-friendly screen
Preloaded maps
Cons
Small screen
Interface not very modern
2. Magellan eXplorist 510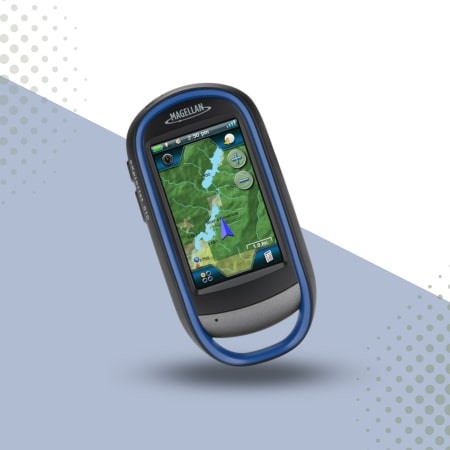 Baring the name of the famous explorer is bound to help you do the same. If you are a fisherman you will really enjoy its performance and features. Although on the expensive side, it is high-end and rich in options. It is another handheld model and fully waterproof (IPX7). The touchscreen is 3 inches and there are two hard buttons that can be programmed.
An amazing thing about this model is that it has a 3.2 MP camera, a microphone, and a speaker. This is great for geo-tagging. There is an immense collection of preloaded maps, with 12,000 lakes only in the US. The battery is good for 15 hours and two AAs are included.
Pros
Very high-end
Camera, mic, speaker, buttons
Touchscreen 3-inch display
Amazing preloaded topography
Cons
Most expensive on our list
Not the best in direct sunlight
Consumes batteries quickly
3. Garmin GPSMAP 78sc Marine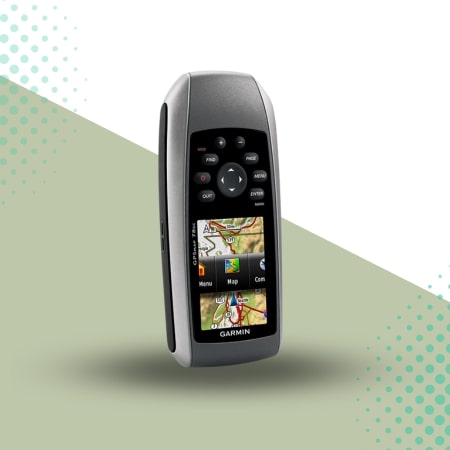 For specific sea and ocean use, kayakers need something a bit more capable. This is why Garmin has a wide selection of models. Handheld and made with different watersports in mind, it has IPX7 water resistance and is very buoyant. It floats in water so no worries if you drop it. System-wise, it has HotFix prediction that quickly and precisely navigates and course-corrects. You get coastal charts and worldwide maps preinstalled and can load additional ones on the SD card (micro).
The screen, again, is only 2.6 inches, but it is very colorful and optimal. It shows depth contours, marinas, harbors, and shorelines. The battery life is amazing at 20 hours, much higher than average. Unlike the aforementioned Garmin model, this one is not GLONASS compatible and instead uses WAAS.
Pros
 Long battery life
Floats in water
Micro SD card
4. Simrad Cruise-5 Chart Plotter Sonar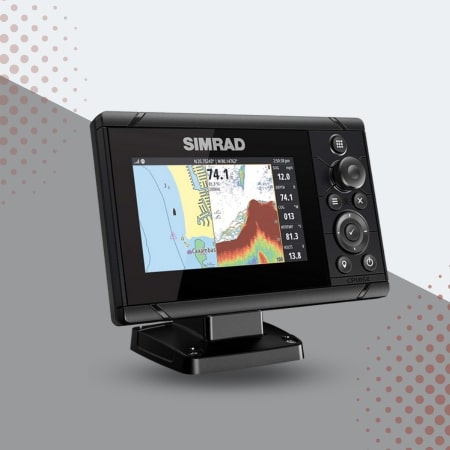 Finally, a GPS gadget that mounts to the kayak console, for those of you who want your hands available at all times. Apart from being a GPS, it is also a chart plotter and sonar. There is a built-in CHIRP sonar transducer for depth-tracking, perfect for fishermen kayakers. Base worldwide maps and US coastal charts come preloaded with additional mapping cards uploadable.
This GPS unit is bigger than the three previous, evident by its quality 5-inch display. It has a rotary dial and control buttons, which is always a welcome addition. Bulkier does not mean bad in kayak GPS terms. Since it mounts, there is no need to hold it and the oversized design hardly matters. It is IPX7 waterproof and requires an external power source. This is a great combo gadget for anyone who likes 2- and 3-in-1 options.
Pros
Consol-mounted design
CHIRP sonar transducer and chart plotter
Large 5-inch screen with controls/buttons
Cons
Many additional maps need to be purchased
Needs an external battery
5. Garmin eTrex 10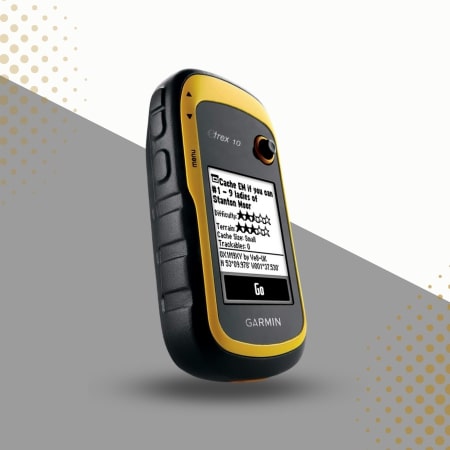 For a budget-friendly option, look no further than the third and final Garmin GPS unit on the list. It is a very basic, cheap option with amazing accuracy. It is meant for kayakers who do not require or like fancy gadgetry and extra features. It supports both WAAS and GLONASS, not a very common sight in this price range. It even has HotFix tech, but it only has base maps.
It is of course a handheld model. The battery life is one of the main selling points as it is 25 hours. Water resistance is the standard IPX7 and the screen is 2.2 inches. It is low-res and monochrome, but hey, that is how things are with budget options. It does have a built-in 3-axis compass as well as a barometric altimeter.
Pros
Budget-friendly, cheap even
Incredible battery life of 25 hours
WASS and GLONASS support
Cons
Very small screen
Monochrome and low-res screen
Downloading additional maps is impossible
6. Humminbird Helix 5 CHIRP GPS G2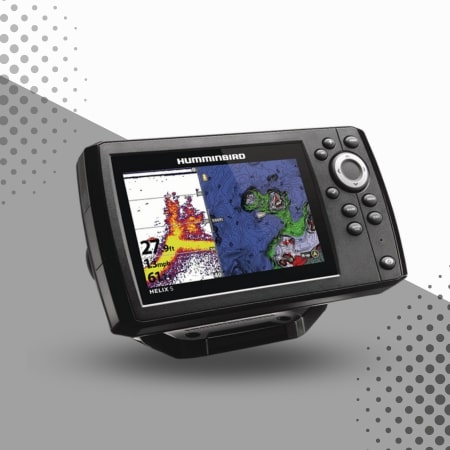 Here is another big name in the GPS industry and therefore a welcome addition to any kayak. With a large, 5-inch display that features color-wide video graphics, it is compatible with the brand's Lakemaster Maps and Navionics cartography. The CHIRP digital sonar with a transducer displays visuals of individual fish as well as underwater environments up to 1500 feet. It has a micro SD card slot for additional maps and waypoints.
The device has two modes, Max and Clear, which allow returning info to be displayed in two ways. As it is a mounted model, it is among the best GPS for kayaking for fishermen but also for any other paddling enthusiasts because of the real-time map creation. Of course, it also has built-in base maps.
Pros
Large 800×480 high-res 5-inch display
CHIRP digital sonar + transducer
Real-time map contouring
7. Rand McNally Foris 850
Last but not least, here is a handheld/bar-mounted hybrid option with enough overall features and quality is worthy of this list. With a screen size of 3 inches, it is right there in the middle between the smaller Garmins and the other brands. Its battery life is not great at 13 hours, but it does have a large storage memory of 8 GB good for over 7000 waypoints and 1000 tracks.
It only weighs 9 ounces and is convenient for packing and storing. The display is perfectly visible and readable in direct sunlight and is anti-glare. There is a 3-axis compass and an altimeter, but no GLONASS support. The design is rugged and durable with IPX7 water resistance. There are 5 million trails and roads in its preloaded maps and it comes with a strap handlebar mount.
Pros
Good built-in memory of 8 GB
Touchscreen display
Handlebar mount included
Cons
Low battery life
No GLONASS support
Main Uses of GPS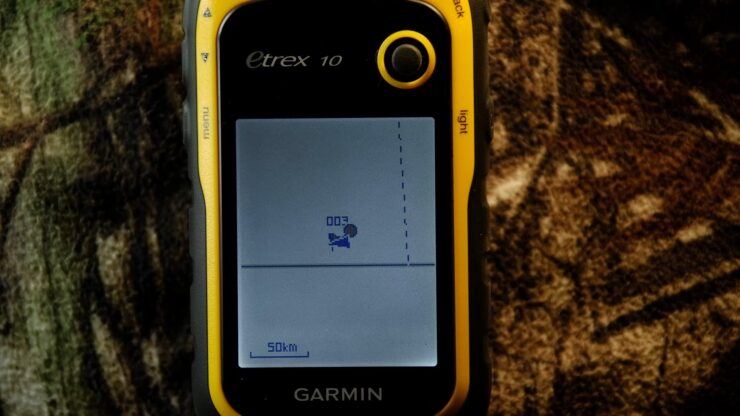 GPS has revolutionized navigation and has become an integral part of our daily lives. It is used in a wide range of applications and an average human being uses it almost every day.
Transportation: GPS is widely used in all sorts of vehicles including cars, trucks, ships, and airplanes to provide navigation and routing information. Numerous companies and services depend on it.
Mapping and Surveying: GPS is continuously being used to survey and map the land, create accurate and up-to-date maps, and reach far corners of the globe previously poorly explored or entirely undocumented. Mapping rivers, coasts, and lakes are done much more efficiently with good GPS units, something that kayaking can help with.
Agriculture: It is also used in precision agriculture to guide tractors and other farm equipment. This improves overall efficiency and reduces waste, making the farmers' efforts more profitable.
Asset Tracking: Tracking the location of important vehicles, containers, and other valuable assets is another way in which we now rely on GPS. It is a way to improve efficiency and reduce potential loss.
Science and Research: Of course, GPS has its place in many scientific studies that often include earth sciences, atmospheric sciences, geodesy, and flora and fauna research. It would be impossible to predict the weather without it and to understand a lot about the planet.
Emergency Response and Rescue: This use hardly needs any explanation. GPS is critical in emergency responses and disaster relief efforts as it allows first responders to quickly locate and assist those in need. This is applicable in kayaking scenarios too.
Outdoor Recreation: Last but not least, and the most important for our article guide here, GPS is also widely used for outdoor activities. From hiking and camping to exploring and kayaking, it allows people to navigate the outdoors with greater ease and less worry.
GPS in Kayaking / Reasoning for Purchase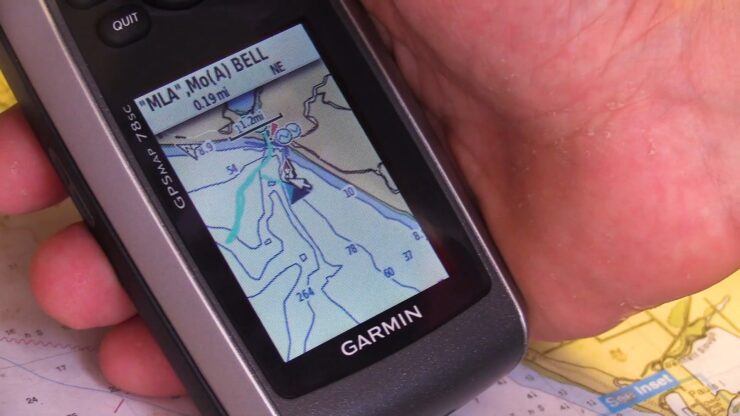 GPS is used in kayaking to enhance navigation, safety, and overall enjoyment of this sport/hobby/leisure activity. With such a device, paddlers can more confidently explore new waters and plan their trips with greater precision. It is the type of help kayakers need to track their progress while on the water. There are several main features to know about:
Navigation
First and foremost, a GPS device shows kayakers their current location and the direction they are traveling. Also, they get data about the remaining distance to their destination. This can be especially useful in unfamiliar or remote waterways where traditional navigation methods like paper maps and compasses are not enough, useless even.
Route Planning
Before the trip can officially start, a kayaker can use their GPS to plan the route in advance taking into account crucial factors like the water flow, currents, and potential hazards. They can then save this information to the GPS device and use it as a guide during their trip. Very handy!
Safety
In case of an emergency, a GPS device can be used to send a distress signal to the authorities and provide them with the kayaker's exact location. This is usually the Coast Guard or some equivalent of this service. It can help speed up the response time of rescue teams and potentially save lives or prevent further injury/suffering.
Tracking Progress
Kayakers can use their GPS units to track their progress and log important information like speed, distance, and elevation. This data is useful for personal training purposes, sharing with others to showcase the trip and accomplishments, or to simply get a better idea of how well one is doing.
Features of Kayak GPS Units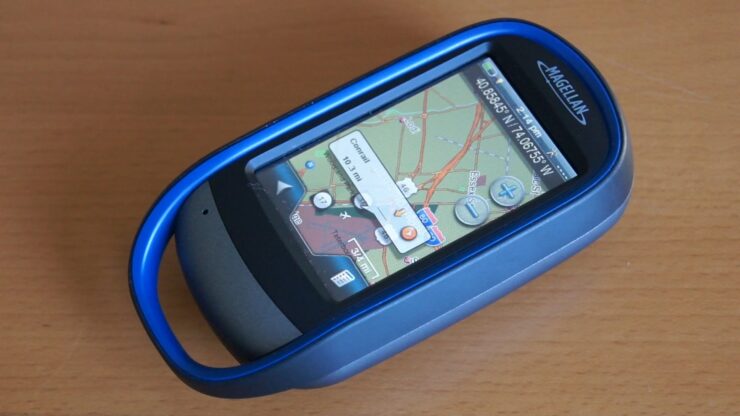 Things that are specifically designed for kayaking have features and designs that cater to the unique needs of water surroundings and paddling. Whatever you may need to improve your kayaking experience, it has a set of features other things does not. Some common features and specifications of kayak GPS devices include the following:
Compact Waterproof Design: Small, easy to carry and store, waterproof, and floatable. These traits make it ideal for use on and near the water.
Rugged Build: Designed for durability and resistance, they can withstand rough and unpredictable conditions often encountered in kayaking.
Large Displays: Most GPS units for kayaks feature large, bright displays that are easy to read even in direct sunlight.
Mounting Options: Unless they can be mounted on the kayak, they are hard to deal with and take care of. Either with suction cups, RAM mounts, or custom mounting brackets, GPS for kayaks is always attached to the hull.
Long Battery Life: A long battery life is a must because of extended trips on the water. Stopping and going offshore all the time is out of the question, so strong batteries are important. Some units can be charged using solar panels or USB cables.
Additional Features: Other fancy features like barometric altimeters, electronic compasses, and preloaded maps and charts can also be present. There are also GPS/fish finder hybrids and other gadgets with GPS properties.
Types of Kayak GPS Gadgets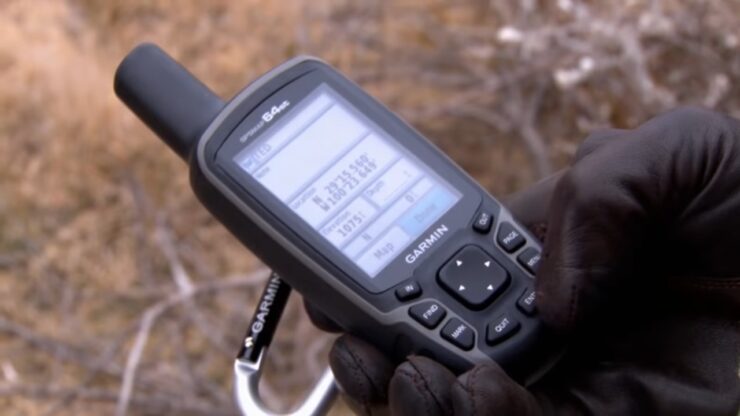 There are also different types of kayak GPS, each with specific features and advantages:
Handheld:
As their name suggests, handheld GPS models are meant to be held most of the time when in use. They are among the most popular types because they are compact, lightweight, and easy to carry. They have a high-resolution display and a durable waterproof design.
Fixed-Mount:
Fixed-mount GPS units are permanently mounted on the kayak's hull. They have large, high-resolution displays and are powered by kayak batteries. Fixed-mount GPS units are ideal for kayakers who want permanent solutions and their hands free for other activities.
Multifunction:
Multifunction GPS units are combinations of handheld and fixed-mount varieties. They can be mounted on the kayak or used as a handheld device. These also have high-res displays and a wide range of additional features like barometric altimeters, electronic compasses, and preloaded data. Oftentimes, they double as fish finders too.
Smartphone:
Some kayakers prefer their smartphones as GPS devices to having separate gadgets. With a waterproof case and a proper mounting system, it can a good solution. While this is a less expensive option, the battery life is very limited, and so are the features. You require a quality app and an almost constant internet connection. The display may not be as bright or easy to read as a dedicated GPS unit either.
Buyers Guide
So how does one choose the right model for their needs? Well, choosing the right GPS unit for kayaking is a challenge as there are many factors to consider. Here is what every paddler needs to think about before making a purchase.
Waterproof and Durability: Look for a model that is fully waterproof with a rugged, durable design. This is especially important if you want to use it in rough conditions and potentially hazardous areas.
Display: The size and the resolution of the display matter a lot. A larger display is easier to read, but also makes the device bulkier. A high-resolution display is a must as it provides more detail and clarity, but also consumes more battery.
Mounting Solutions: Decide how you want to mount your GPS on your kayak or whether you want to mount it in the first place. Some kayakers prefer suction cups, others like mounts, and some are okay with handheld. Make sure the one you pick is compatible with your preferred method.
Battery Life: Think about how long you plan to be on the water at once and choose a model according to its battery life. Some GPS units are rechargeable with solar panels, most are with USB cables.
Price: Finally, the gadget needs to fit within your budget while still meeting all of your needs and requirements. The more high-end features a GPS unit has, the more expensive it will be.
Frequently Asked Questions (FAQ)
1. Do I Need a GPS on My Kayak?
Of course, a GPS unit on a paddling boat is far from a necessity. One can paddle perfectly fine without it on their kayak. However, in certain scenarios like fishing, hunting, or exploring, it is much more optimal to have it. The things it can show you are of great help especially if it is your first time in that environment and if you do not know the lay of the land.
There is a reason why smartphones have GPS and maps. It is because of their ingenuity and versatility. Nobody wants to get lost and with this gadget by your side, you never will be. So no, you do not need it, but it is a great idea to have it.
2. Are Kayak GPS Expensive?
As is the case with most other technology, there is a wide range of prices when it comes to GPS made for kayaking. There are cheap models and there are very expensive ones. However, most fall in the average, in-between class of good value for the price. Affordability is important and it does not always mean that cheaper models are extremely bad. No, not all GPS for kayaks are expensive. They are actually more affordable now than ever because of the high supply and demand.
3. Are Kayak GPS Difficult to Set Up and Use?
Not at all, especially if you are at least somewhat tech-savvy. Most people nowadays know their way around gadgets due to how important computers and smartphones have become. A GPS unit is a very simple device to use and set up. All it takes is a few clicks and setting choices and you are done. It does its job automatically and will always have the right data displayed. There is no need to worry about whether or not you will be able to handle it.
Conclusion and Takeaways
As you can see, kayaking is a very fun and relaxing activity that has a lot to offer. It can always be improved with the right tools and gear and one of the best is certainly a GPS device. It can be done without it, but there is no reason to do it as they are very common and affordable. They offer a lot of helpful data and information, can be attached anywhere, and are literal lifesavers in rough situations. Every kayaker should have a GPS lying around, especially if they like to explore and spend entire days paddling.

Meet Maria Alexander, the fearless adventurer steering the ship at KayakPaddling.net. Her mission? To convince you that life's too short for dry land and that the best stories always start with "So there I was in my kayak…"