Also known as king mackerel, is a popular game fish found in the Atlantic Ocean and Gulf of Mexico. They are known for their fast and powerful swimming abilities, making them a popular target for sport fishing.
Kingfish are typically found in warm waters between 68 and 86 degrees Fahrenheit, and they tend to stay close to the shore in the winter and move offshore in the summer.
They are often found in large schools and can be caught using a variety of fishing techniques, including trolling, drift fishing, heavy duty fishing, and live bait fishing.
They are typically a silver or grayish color with a streamlined body and a prominent lateral line. They can grow up to 6 feet in length and weigh up to 100 pounds, although the average size caught by recreational fishermen is around 10-20 pounds.
In addition to being a popular game fish, they are also a commercially important species. They are often caught using large nets and are sold fresh or frozen in markets and restaurants.
I know there are a ton of options to choose from. But don't worry, we've cut your work short. We shuffled through 20 different fishing reels and picked the top 13 best kingfish reels.
Okay, let's talk about fishing reels. And not just any fishing reels. We're talking kingfish fishing reels today. And you're specifically looking for reels that can fight them off.
Well, you might not know this, but they are some of the hardest to catch fishes on the planet. They will give you a fight whether you like it or not. So you need stronger reels to reel them in.
If you're on the hunt for the finest reels, we've got you covered. We've even added a neat buying guide towards the end of the page. So be sure to check that out too.
Our Top Recomandations
1. Penn Fishing SQL30LW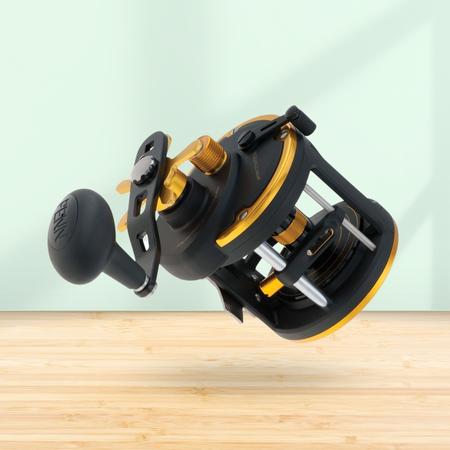 The first one on the list is this one from Penn. We took a lot of time before deciding whether this one deserved the top spot or not.
A lot of us were divided on the issue. But everyone came together in the end. So let's talk about how this one managed to come out on top.
Options! You get a lot of them. We had the 370 yards/30 lbs version for our fishing rod. But you can pick the 280 yd, 315yd, or the 320 yd versions too.
If you're a left-hander, don't walk away from this one just yet. It offers some options for you left-handed guys too.
But you can only get two versions of the left-handed reels. So I'm definitely deducting points for that.
They market it as a great reel for big game fish. But we had to test it out in the ocean to truly find out whether it's good or not. It turns out that it's decent.
Also, there's no use hiding the truth from you. This has its flaws. But all of them did. So this won it anyway.
The reel takes a braided line. If you're not new to this, you should know how costly that tends to get. So filling this reel to the brim is going to cost you.
You get the reel and the instructions manual in the box. A neat little parts list is also added along with a tool. If you're not used to conventional fishing reels, this seemed to be a decent choice.
The fact that you can use this as a step-ladder and move onto conventional reels, later on, seemed cool. We tried to find kingfish and succeeded. But they weren't coming in easy.
It took a lot of strength to pull off the job with this one. But I would still say that it was comparatively easier. If you're taking inexperienced people fishing with you, they might consider themselves professionals.
Okay, that was a bit too much. But you get the point, right? The level wide was useful. If your kids don't know how to level it manually, this is going to do wonders.
There's another thing we liked, although it may be standard. You get tactile clicks for the free spoon tensions and the star drag. So, when you're adjusting them, you will hear clicks.
Although it's a decent buy, we don't think this is going to last for over a year. So this isn't a long-term buy at all.
Pros
Great for beginners
Level wide makes it easy to level the line
It doesn't add much weight to the rod
Provides tactile response to adjustments
It decent for reeling in Salmon, Ling, and halibut too
Cons
Limited options for left-handers
Might not last a long time
2. Penn Fathom Lever Drag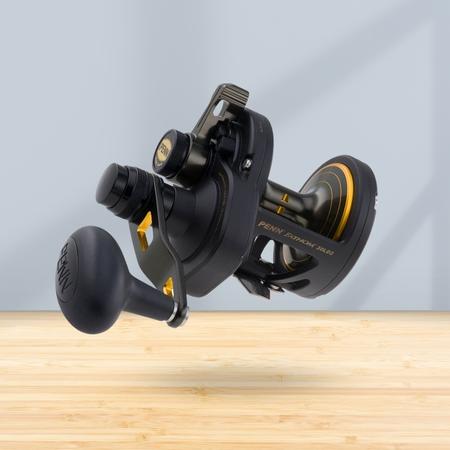 Coming in at second place is another reel from Penn. This one almost caught up to the winner on the list but failed to do so. And we'll tell you why.
At first glance, you either like the appearance or hate it. But we think a fishing reel is better judged through its practicality. This does not give you as many options as the first one. So this is the first step at which this comes short.
Every company boasts about powerful levers and awesome cranking power. But we really had to see it to believe it.
And it seemed like a basic functioning fishing reel to us.
We took this on a trip to try and catch some kingfish, and we succeeded. But we wouldn't go on and say that it was easy. It wasn't. But we did manage to do it.
When it comes to the build of the reel, we had no complaints. It's heavy, but not too much. You should get the perfect balance with this one on your rod.
Funny story, we dropped ours on concrete mistakenly. We thought that was the last time we would be able to use this. Turns out, it escaped without a dent. I'm not saying you should try and drop-test this reel every chance you get.
The thing that didn't impress us is the lack of level wind. I mean, if you're a seasoned pro this isn't a big deal.
But if you're a beginner trying to get into the big game fishing, this might have a steeper learning curve. You'll get the hang of it, though.
We did try to give this one to one of our rookie members. He didn't have a great time trying to guide the line manually. So if you're like him, it's normal to have second thoughts.
Pros
Easy to adjust the drag
Good for heavier lines
Decent for larger fish
Can handle the drag well
Durable build quality
Cons
Lacks a level wind
It might be hard to switch gears
3. Shimano Torium SW Stardrag Multiplier Reel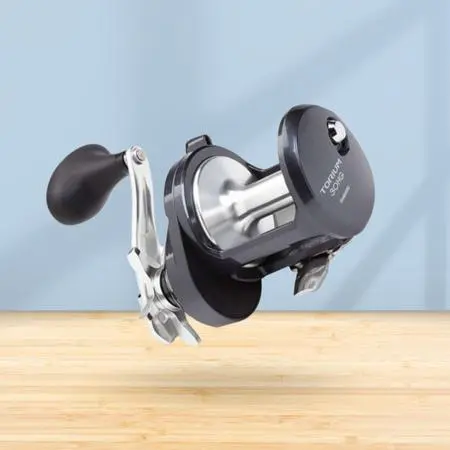 Here's the third one on the list. It's from Shimano. You might have heard about them. So, remove all the previous experiences you've had with them and check out what we thought about this.
Let's get this out of the way first. It's a tad on the heavier side. There's another heavyweight on the list, but we'll get to that later.
They boast a lot about high-efficiency gears and all, but we had to put it to the test. The description even says that you'll get multiple years when it comes to reliable fishing. Well, companies will keep on making these claims.
It's our job to show you whether they can live up to them.
Now, we didn't get to use this for years. So we can't say for sure that it will last years. Maybe your unit might.
Anyway, this felt like a decently built kingfish reel.
The heavier weight might come in handy when you're trying to bring in that huge kingfish stuck on the hook.
In our two months testing time with this one, the ride was smooth. They might boast highly of their" anti-corrosion" coatings. Well, we saw a few spots after our couple of months of testing.
So we can't say for sure whether this was a defect in our unit or not. But if we don't give the benefit of the doubt to Shimano, we can say that the anti-corrosion thing is a hoax.
It's not all bad news, though. We thought that the reel was compact. Not that this makes a huge difference since you'll only be able to hold the handle. But we're still putting this in there.
Some of the members tended to agree that the higher weight helped while reeling in the bigger fish. We had a healthy debate and concluded that this might be true.
But that doesn't change the fact that your hands will eventually get sore from palming this heavy reel.
Pros
Good for Deepwater fishing
Durable build
Easy to install reel clamp
Faster when retrieving the catch
Works decently with braided line
Cons
On the heavier side
Prone to rust
4. Daiwa Saltist Star Drag Conventional Reel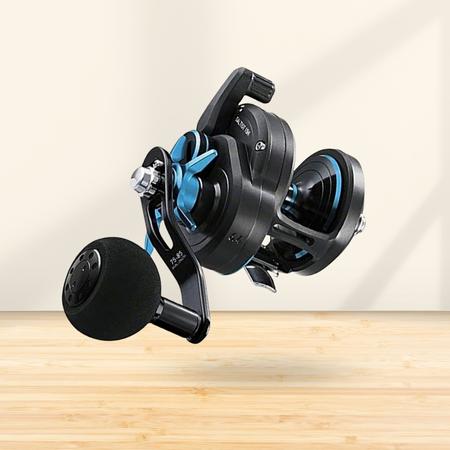 We're towards the end here. Just one more to go after this one from Daiwa. If you're shocked to see this one so far down, our explanation might do justice.
You might even confuse this with something other than a reel when you see it first. It's the first on the list with an aluminum body. So you might think that it's not built as well as the steel ones. Well, you might be wrong.
We didn't appreciate the fact that you don't get any options with this one. But it wasn't probably meant to offer you options.
You might say that it was meant to be a simple conventional reel. And I think it ticks enough boxes in that regard.
It's also only available for right-handed people. So you lefties should definitely get mad at this company. The others can try this out with your favorite braided lines.
We headed out with this one attached to our rod. If you're wondering what kind of line we used, it was braided. We were only able to get our hands on one kingfish. Fighting them is a real pain.
Since there aren't any auto-level winds, you need to guide them manually. You might actually appreciate this if you're used to using conventional reels.
Pros
Great for tuna and kingfishes
Soft grip on the handle
Use less resistance for more power
Durable build quality
Capable of retrieving faster
Cons
It might feel heavy to some of you
Not many options to choose from
5. Shimano TLD 2-Speed Conventional Reel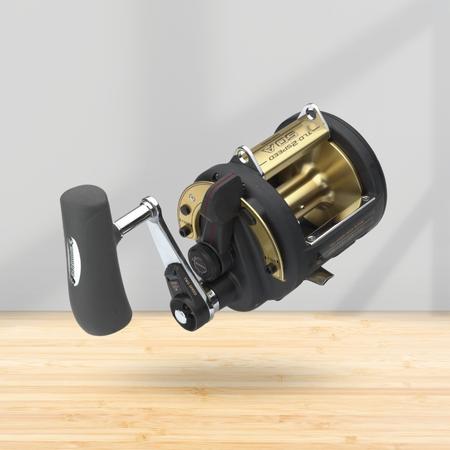 Here's the final one on the list. And it's another one from Shimano. Don't underestimate it just because it comes last.
It's got a couple of neat tricks up its sleeve.
They come with a lot of words to make this look good. There's this one where they claimed that it's light and durable.
Well, it might be durable, but it's far from light.
It's actually the heaviest on this list. So if you're really not willing to spend money on something this heavy, go right ahead.
Another interesting thing about this one is that this is the only one on the list that incorporates graphite into the reel's body.
When we used this one with our rod, we stuck to the braided line.
You get the 2-speed gears as standard. So you can turn down to the lower gear to turn faster.
Another cool thing about this is the handle. We found out that the handle fits in our palms almost perfectly. That said, we didn't drop this or anything, but the thing felt solid. We're not saying that this will last you for years to come.
But it's safe to say that this might be able to withstand some harder drops.
If you're looking for the 80lbs/440yd version, well, you're in for a treat, and I was being sarcastic. This version is the most expensive one on the list. So, you get the gist, right?
This is far from the best fishing reel on the planet. But it gets the job done more efficiently than you think. And, hey, we were able to catch a couple of kingfish with this too.
You might even try to get this for your kids or someone inexperienced. This could be a viable first reel for some people.
Pros
Good for tuna too
Sturdy build quality
The grip of the handle fits well
Quick to retrieve
Decent drag force
Cons
A bit on the pricier side
Heaviest on the list
Best Drag Systems for Catching Kingfish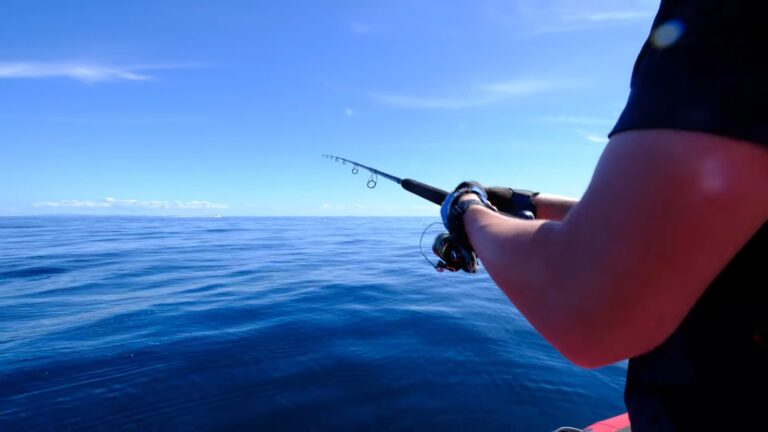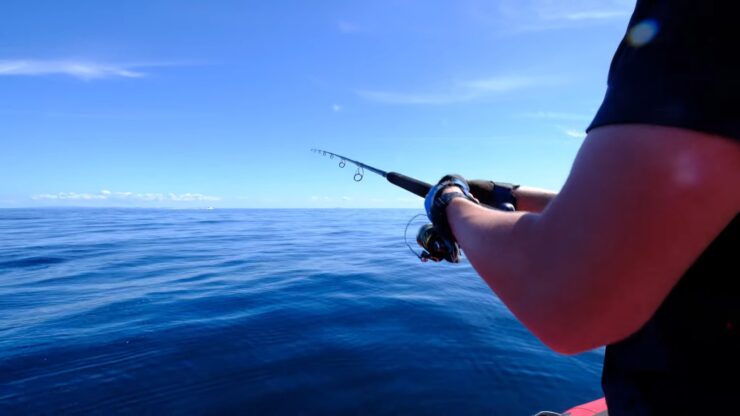 A key component of successfully catching kingfish is having the right drag system on your fishing reel. Here are some of the best drag systems for catching kingfish:
Lever drag
This system provides precise and adjustable drag pressure, making it a popular choice for catching kingfish.
The lever can be easily adjusted while fighting the fish, allowing the angler to maintain the optimal amount of drag pressure throughout the fight.
Dual drag
AIt uses two drag systems that work in tandem to provide a powerful and smooth drag.
This type of drag is particularly effective for catching large kingfish, as it can handle the high levels of pressure and force that these fish generate.
Carbon fiber drag
A carbon fiber drag system is lightweight, durable, and provides consistent drag pressure. It's a popular choice for catching kingfish because it can handle the high levels of pressure and heat that are generated during a long fight.
Magnetic drag
It uses magnets to provide drag pressure, offering a smooth and consistent drag that is easy to adjust. It's a good option for anglers who want a drag system that is easy to use and maintain.
Buying Guide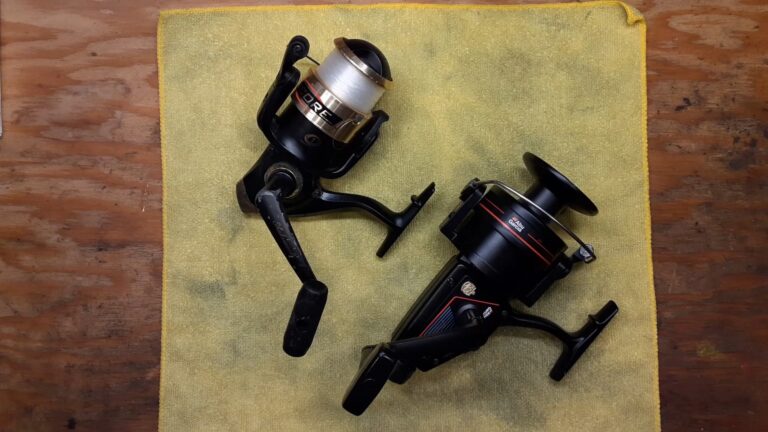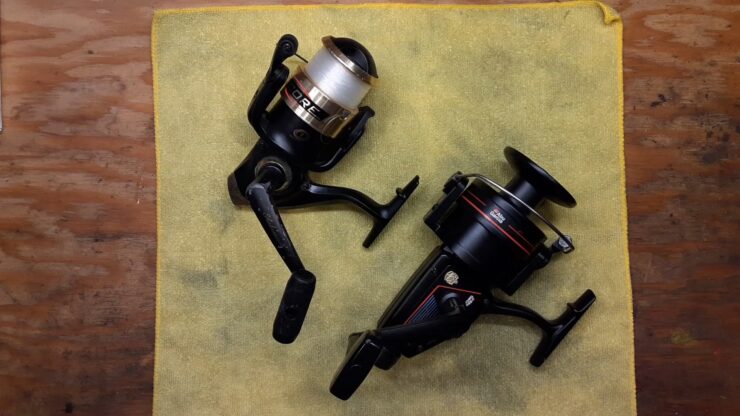 These reels let you take control of the fishing lines. You can pressure the kingfish when they're resisting with the help of reels. But before you pick just any one of these, take a look at the couple of factors that you should consider.
Levelwind or Lack Thereof
This is a pretty nifty feature for modern fishing reels. It's more of a beginner-focused feature, to say the least.
If your reel has this mechanism, you get a couple of benefits. But you won't suffer a lot if you need to level the line manually.
I mean, that's what you've been doing for your whole life, right? Regardless, if you really want a feature like this, aim for a reel that has it. But we don't think that it's a necessity if you're a professional.
Do Gears Matter?
Some reals offer you multiple speed options while others don't. Although all of them have gear ratios, it depends on a few nifty things. So how is the availability of gears good?
You can switch between power and a faster take-up when you're struggling to reel in a kingfish.
So it does have its benefits. Since multiple versions have multiple gear ratios, we can't list them all.
Just remember that if the ratio is lower, you can crank it easily. But you need to do it more times.
You can say that it's similar to bicycle gears if you will.
Adjustable Drags Make It Easier
You can adjust the resistance that you need when you're pulling the line from a reel. If you have the capability of adjustment, you'll be able to use multiple line weights.
Most companies come up with their own ways to set drag adjustment. But all of them do the same job. You will see knobs, levers, or a start gear depending on the reel you choose.
FAQs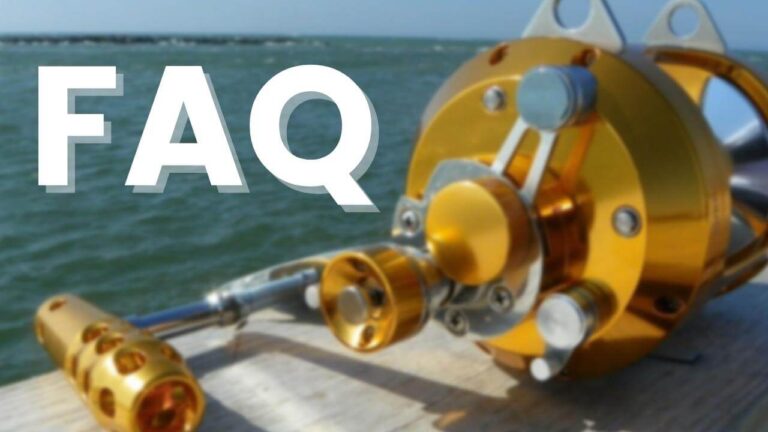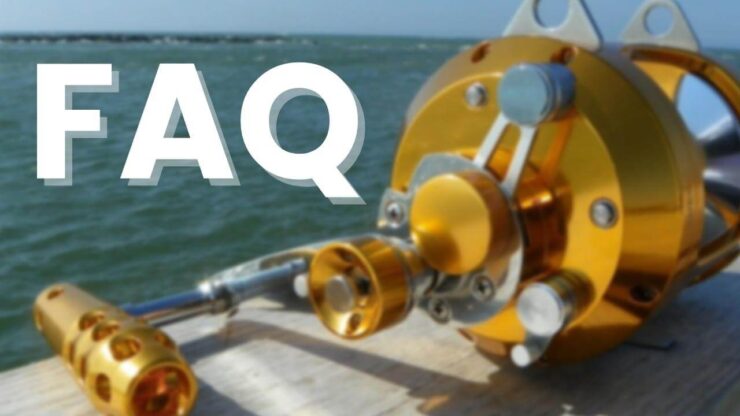 Are the more expensive reels worth my money?
Some of them have useful features. So it's subjective. You might want to invest more in a reel that's bound to give you a couple of years of service.
The more beginner-friendly reels tend to be on the expensive side since they have all the crazy mechanisms. If you're fully invested in the hobby, this shouldn't be a waste of money.
Should I buy a heavy reel?
A heavier reel is sure to affect your fishing experience. Since you'll be fighting with kingfish, you would want something a bit more lightweight.
But you shouldn't opt for something that wouldn't be able to withstand the pressure.
What should I do with my old fishing reel?
If you're looking to make a couple of quick hundred bucks, sell it. You can get some prominent amounts of money for antique kingship reels.
And if you're not willing to sell, just keep it on display and have a little fun with your new reel.
Conclusion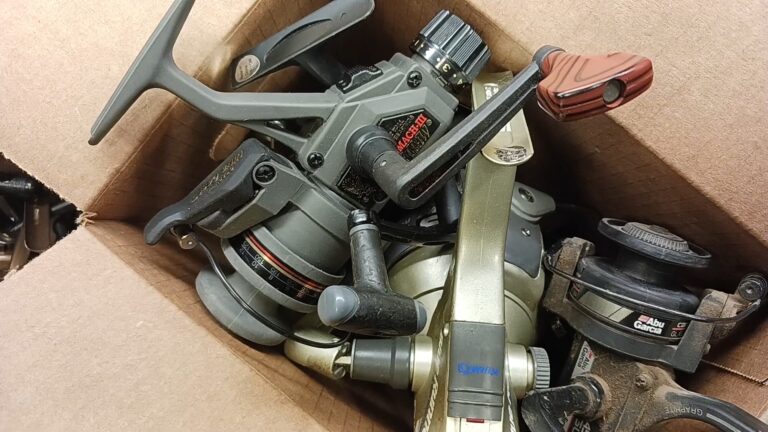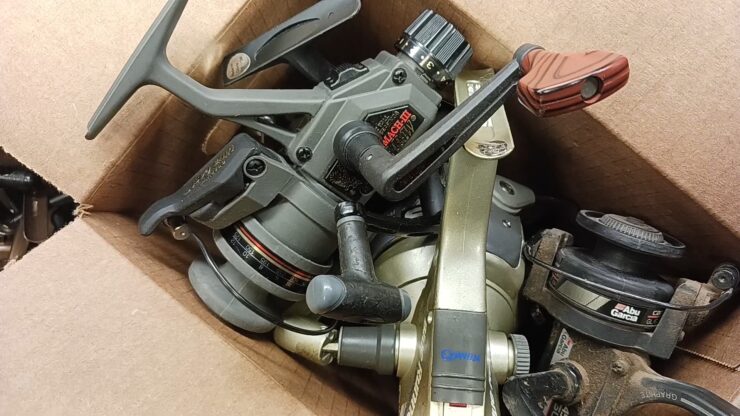 That's it from us. No matter which reel you're getting, you should know that you aren't getting a bad one. All of these are unique in their own ways.
We tried to showcase the rights and the wrongs of these kingfish reels. Although they are the best kingfish reels, they do come with flaws. So we had to show you the bad sides too.
Don't forget to check out all the features and compare them side by side. Only pick the one that suits your budget.
You shouldn't blow your budget if you don't want to overspend. Good luck catching those feisty kingfish!