If you're looking for the best waterproof and underwater metal detectors in 2023, but aren't sure how to choose the right one, we're here to help! You don't have to struggle and waste hours or days doing research on your own. We offer you a much simpler and quicker way to finish your shopping journey hassle-free—our summarized guide.
Not only did we compile a short list of the best waterproof metal detectors currently on the market, but we also provided you with a buying guide that will make your shopping journey feel like a breeze! Let's not waste any time and start right away.
Best Waterproof & Underwater Metal Detectors in 2023 – Top Picks
1. Skycruiser Metal Detector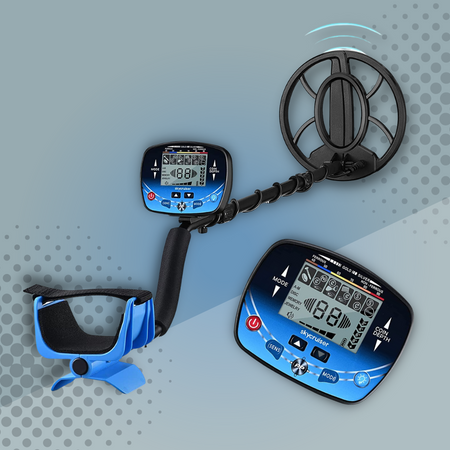 We'll begin our list with the Skycruiser metal detector which provides you with higher accuracy and deeper detection than the other ones on the market! This one has five different search modes that help you find exactly what you want with ease. Take a look at the list below to see what modes you can look forward to:
AM mode—Searches for all metals
DISC mode—Ignores unwanted metals in a sequence
Memory mode—Reacts for the last type of metal you've searched for only
Jewelry mode—Ignores iron
PP mode—Pinpoints your target with high accuracy
An advanced smart chip is featured to process all detection, as well as help you find exactly what you need quickly and accurately. This detector has the ability to scan up to 8.2'' into the ground, so you can dig beyond the surface.
It is very easy to assemble, which makes it a perfect choice if you're a beginner and this is your first time using a metal detector. The large panel will make it super easy to identify each key feature, and the fact that it can be adjusted anywhere from 39.5 to 51.1'' makes it convenient for people of all heights.
The LCD screen with adjustable brightness will help you distinguish the type and location of detected metal in almost any environment. Since this metal detector is waterproof, you'll be able to use it anywhere, including the beach, without worrying about it getting wet. The handle features an ergonomic design, which makes the detector perfect for all-day use.
You won't have to worry about your hands getting sore or having blisters—the detector will be super comfortable in your hands. You can use it when diving, hiking, climbing, and more. In the package, you will get one metal detector, one shovel, one carrying bag, one pair of earphones, and a user manual.
Pros
5 search modes
Waterproof
Ergonomic design
2. Towallmark Metal Detector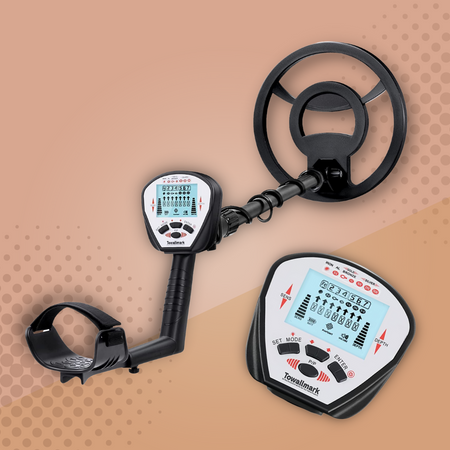 The next metal detector on our list is the Towallmark one which is equipped with an upgraded DSP chip that provides higher sensitivity and detection depth. It also features 8 levels of adjustable sensitivity, which will prove quite handy and useful.
The depth of this detector is 10'', so you don't have to worry about missing any treasures while searching. With 7 distinct detection modes, you'll be able to search for your desired metals quickly and effortlessly.
You can use it for a number of outdoor activities, including climbing, hiking, and much more. The waterproof function will allow you to use it underwater as well, so you don't have to worry about it malfunctioning if you bring it to the beach.
The design of this detector is ergonomic, and the handle is non-slip. This will provide you with a super comfortable grip, and using it won't make you tired quickly. It is also quite lightweight, so you will be able to bring it with you everywhere you want without experiencing any issues.
A big LCD display will show you all the settings clearly and allow you to get the detection dynamics, including the target, sensitivity level, depth, operating mode, and more. It's equipped with an LED backlight, so you can use it in the dark with ease.
You can look forward to 3 different tones as well, including low tone, medium tone, and high tone. These tones will alert you to different types of metal and make it easier to identify the one that's been detected.
What you will get in the package is a metal detector, a pair of earphones, two batteries, a digger shovel with a compass, and a carrying bag. This detector is a perfect choice for many activities, such as camping, vacations, and random adventures.
Pros
Non-slip
Waterproof
A variety of features
3. RM RICOMAX Metal Detector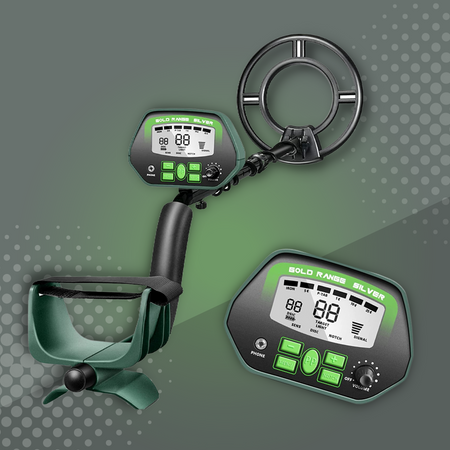 If you're looking for a metal detector that you can use to search in a variety of conditions with ease, this RM RICOMAX is an ideal choice! It has everything you need to search both on the shore and underwater.
This metal detector features the most advanced chip that has an enhanced automatic balanced technology of the coil. It can detect underground depths up to ten inches! No matter if you're a beginner or a professional when it comes to metal detecting, you'll be able to use this detector with ease.
Since it is waterproof, you can also use it to search for metal underwater without worrying about it malfunctioning or having any issues. The shaft that the coil is connected to is very durable since it is made of aluminum. You can use it to explore the hidden treasures on the beach or take it to a river, the choice is yours.
You can also look forward to an LCD display that will allow you to see everything you need, including the detection mode, battery condition, sensitivity level, volume level, and more. There are 9 brightness settings that will allow you to use it in a variety of different situations, including during the night. The adjustable design that this detector features will fit people of all ages, and the fact that it weighs around 2lbs will make it super comfortable to use.
Not only that, but you'll also be able to carry it with you wherever you want effortlessly. No matter if you want to go hiking, diving, or climbing, this detector will prove super convenient and useful. You will receive a carrying bag, a shovel, a headset jack, and two batteries with it as well.
If you're looking for a metal detector to give someone as a gift, this one can also prove an excellent option! It's high in quality and easy enough to use, so every metal-detecting enthusiast will be thrilled to have it!
Pros
Durable
Easy to use
High in quality
4. SAKOBS Metal Detector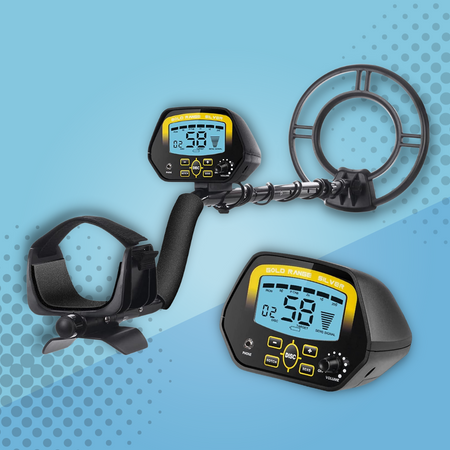 We'll conclude our list of the best metal detectors with the SAKOBS one, which is not only high in quality and durability but also adjustable and convenient. It is an excellent metal detecting tool for amateurs and beginners alike.
This metal detector is so powerful and strong that it is able to detect a quarter coin up to 10'' in depth. The waterproof technology that this metal detector boasts allows you to embark on your treasure hunt on the beach, in shallow waters, underwater, and on land.
The options are endless! There are three modes of operation that you can choose from, including All-Metal mode, DISC mode, and North mode. You can use them to identify 6 types of metals with ease.
An upgraded DSP chip and scan recognition are featured, and they can help you find your treasure with more ease and quicker. When the coil moves at a slower speed, it is capable of accurately distinguishing between a variety of metals, and that will help you avoid missing any treasures on your hunt.
With a large LCD display, you won't have to worry about getting the type, identification, sensitivity level, depth, low battery indicator, and operating mode, no matter the conditions.
You will be able to see it clearly even during the night and in low-light areas. Since there is an adjustable retractable stem, this metal detector can be used by people of all ages with ease. Even if your child wants to give it a go, you can easily adjust it so that he or she is able to use it effortlessly. It would make a great choice for vacations and holidays but also birthday gifts.
Pros
Adjustable
3 operating modes
Easy to use
Buying Guide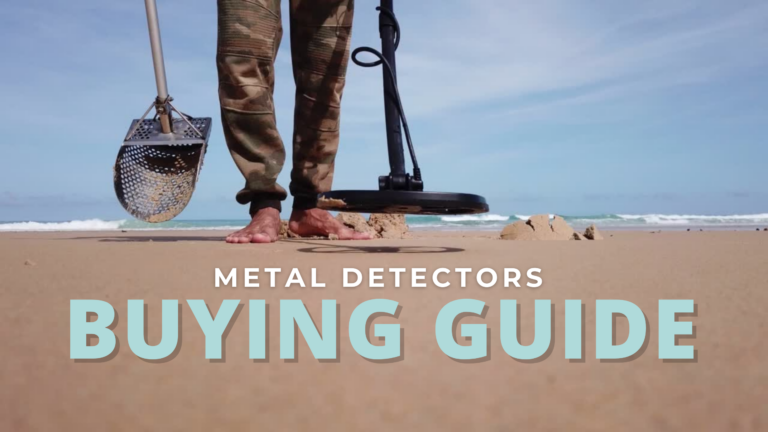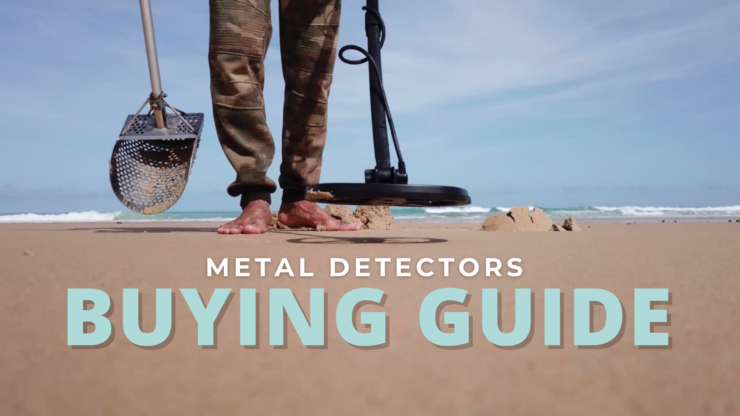 If you're still unsure about how to pick the best waterproof metal detector out of the bunch, don't worry! We're here to help. You can take a look at the list below to find out what factors you should take into consideration when choosing your perfect metal detector.
That way, you will avoid the hassle of getting the wrong product only to return it and go through your shopping journey all over again. Here's what you should pay attention to:
1. Quality
Checking what type of quality the metal detector you're purchasing features is essential. You don't want to get a product that won't serve you well and that will break or malfunction as soon as you start using it.
That is why you need to make sure that the one you're buying is made of high-quality and durable materials that will not only provide you with excellent performance but also long service life. You can find this information by checking product descriptions, so definitely do that before making your final decision.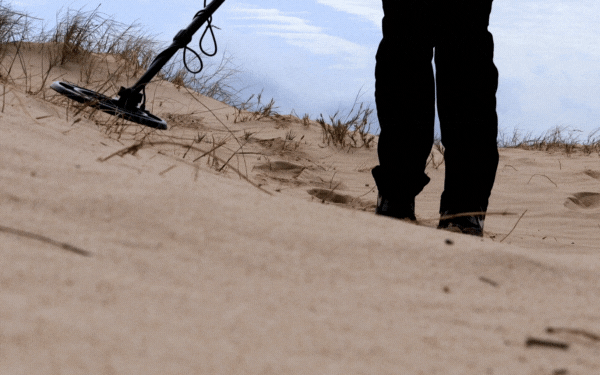 2. Features
The next thing you want to consider is the type of features the product you want to get boasts. If you're purchasing an underwater metal detector, you will need to look for features like water resistance, adjustability, recognition technology, LCD display, etc.
You have to think about what you want and need from your metal detector, and then make sure that the one you're interested in purchasing offers that. Checking product descriptions and customer reviews will give you an idea of what the product is like, and you can see how satisfied people who already bought and used it are.
3. Design
Design is the last thing you should factor in when choosing the best metal detector. Making sure that the design of the product you want to get is aesthetically pleasing and appealing is one thing, but you need to go a step further when it comes to this.
You want to make sure that the design is also convenient, useful, and easy to comprehend and navigate. You should also go for ergonomic design since this guarantees that the metal detector you're getting will be comfortable in your hands and well crafted. Product descriptions and customer reviews are what you need to look through to find this info.
FAQ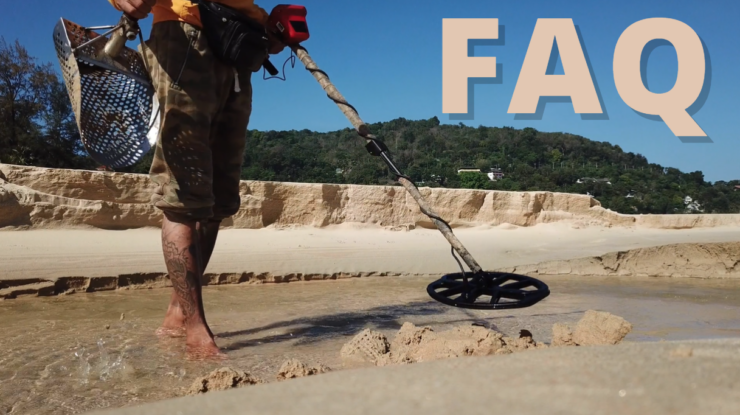 1. Do I Have To Get a License To Go Metal Detecting?
The short answer to this question is no. You don't have to get a license in order to go metal detecting.
2. Can I Go Metal Detecting When It's Raining?
Yes, you can go metal detecting when it's raining outside. However, the experience will probably not be as fun and enjoyable, so we advise you to wait it out and go when it's sunny and clear out.
3. What Can a Metal Detector Find?
A metal detector can typically find all electrically conductive and magnetic objects. Certain metals like iron, nickel, copper, aluminum, brass, and cobalt can also be detected, but this depends on what kind of metal detector you use.
Conclusion
Buying the best waterproof and underwater metal detectors in 2023 can be done with ease if you follow our guide. You can forget about spending an eternity trying to comb through a deluge of online results and follow our article to complete this shopping task in only a few minutes. Why work harder, when you can work smarter?
Check out some other picks from Amazon also: