If you enjoy fishing it is impossible to have only one rod. And how long have you been fishing? Of course, it would be many years because this is not something that you do once in your life. If you love this hobby of yours, you would also like to have everything related to it. Whether it's a fishing rod or the stuff related to it, you will have it in your place. But the problem is how to keep all such things safe. How can you make sure that your rods remain safe?
For that, obviously, you cannot simply lean them against the wall. This would not be a practical solution. That is why there are racks available in the market. These racks provide you with a place to keep your poles safely.
And we have shortlisted some of the best rods. Let's have a look at them.
1 – Plusinno fishing rod holder – Wall rack for home
The first product that we have is a Plusinno rod holder that can be a safe place for rods with 0.12" to 0.75" diameter, or we can say that the rods are 3 to 19 mm thick. This is a wide range that will let you keep your different rods safely in one place. Surprisingly, you will not get this wide range anywhere else because most of the racks have a limited holding diameter.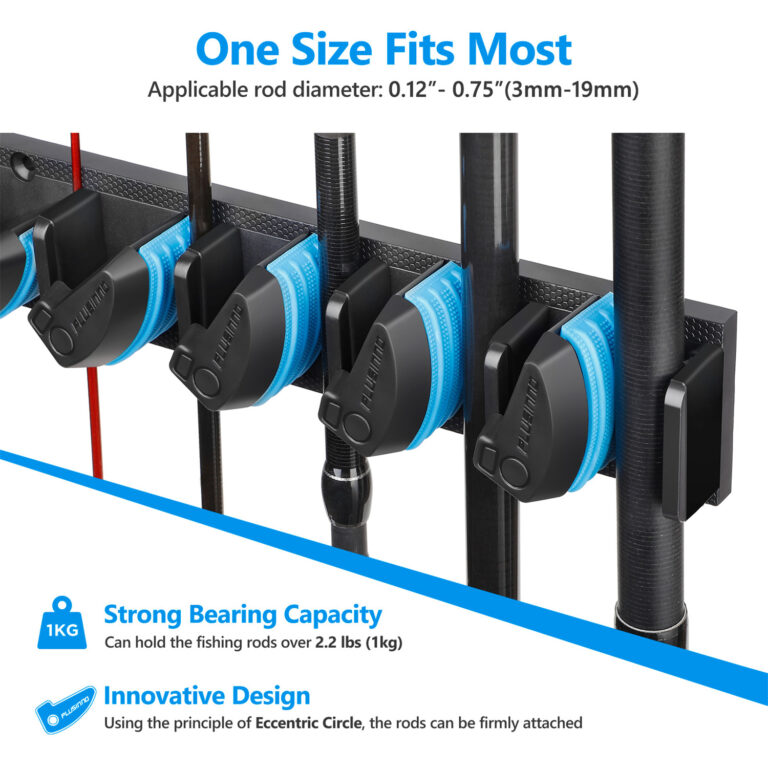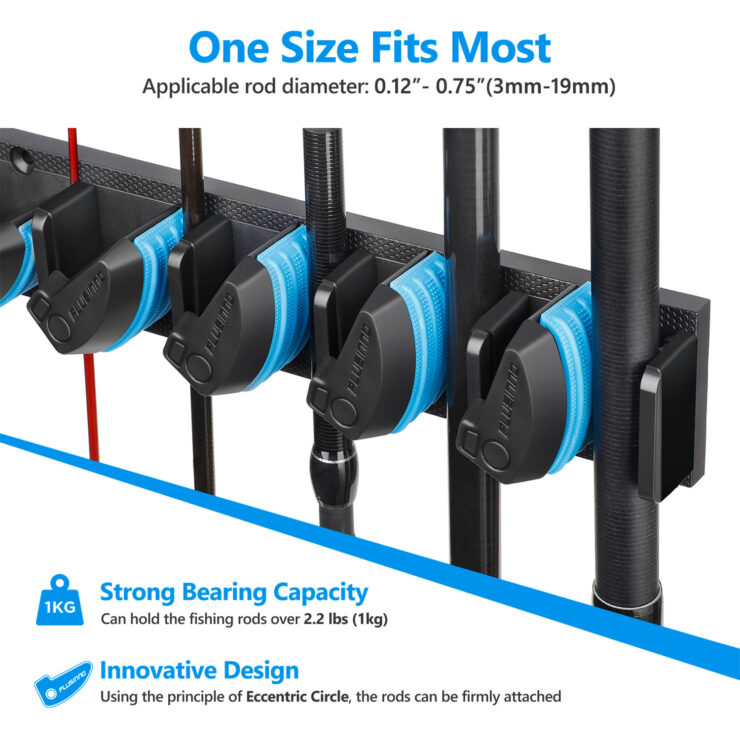 Additionally, it has a unique grip design that you won't find easily anywhere else. The most important thing about this innovative design is that it will prevent the distribution of uneven force. So your rod will have an equal force that will keep it safe while it is hanging in the rack. Furthermore, this grip will also keep the rod secure so it won't slip away. Also, the arc-shaped design will let you adjust the rods of different diameters without any extra effort.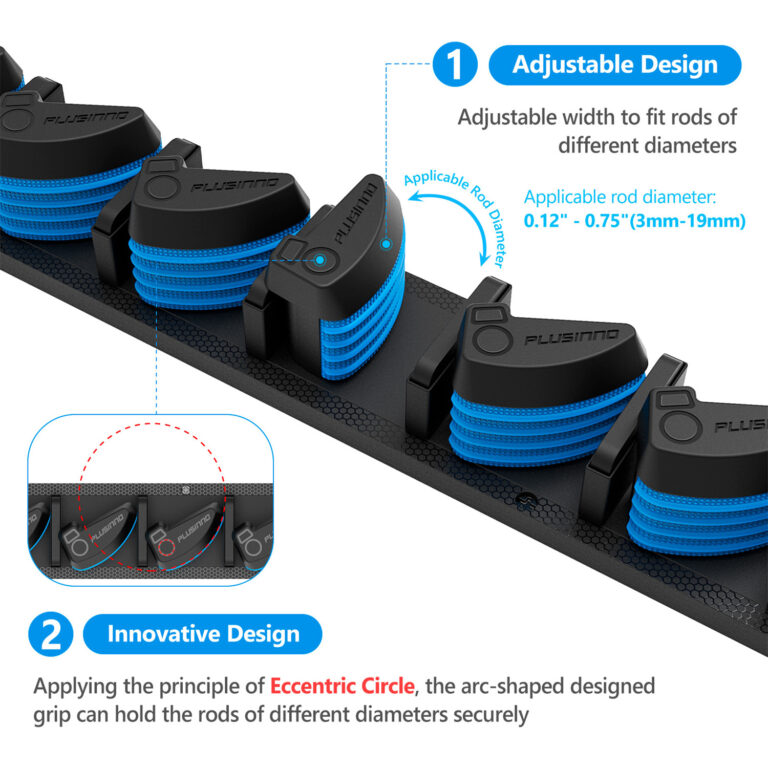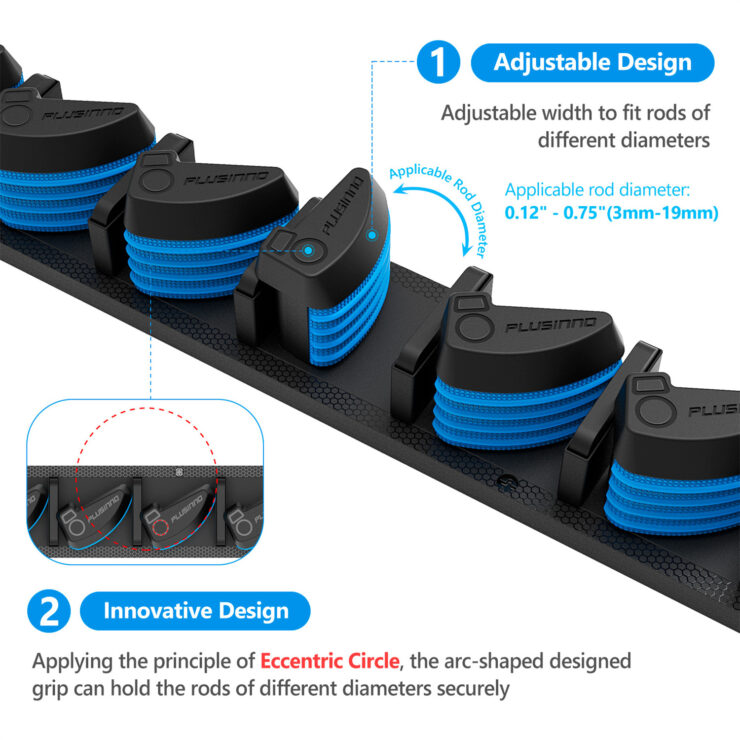 And you must be wondering how many rods it can hold. So the number is 9~36. Actually, there are 3 packing .1 pack to store 9 rods and reel combos 2 Packs can store 9 rods and combos horizontally or store 18 fishing rods and reel combos in vertical installation .They also have 4 pack packing to store 36 rods and reel combos .that's amazing and suitable for anglers who have a lot of fishing rods .That's quite a number, isn't it? Moreover, the material is soft so it won't leave marks. But the softness of silicone is equally durable and long-lasting. That is why you will be able to use it for a long time.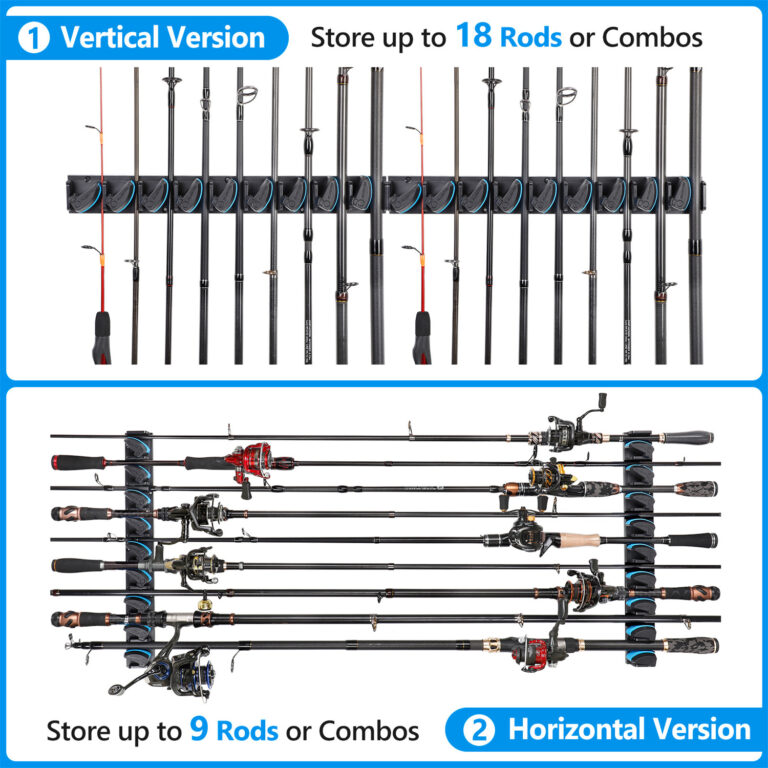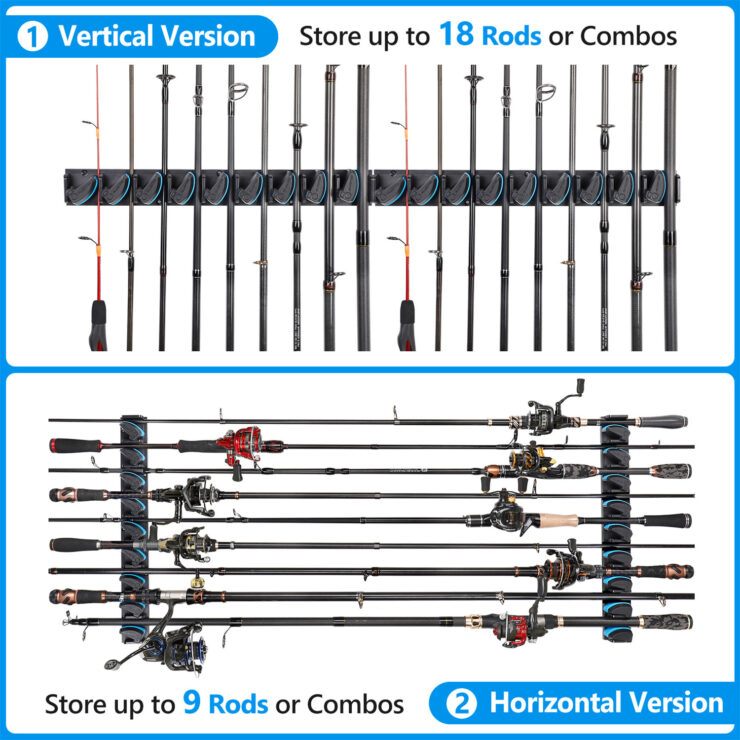 While choosing a fishing pole holder. We also need to consider the space occupied by it. Plusinno fishing rod rack is the most compact one on the market.It can store up to 9 rods or combos in less than 16 inches of the wall with just 4 step installation. You can Check the Plusinno rod holder.
2 – Rush creek creations – 11 fishing rod storage rack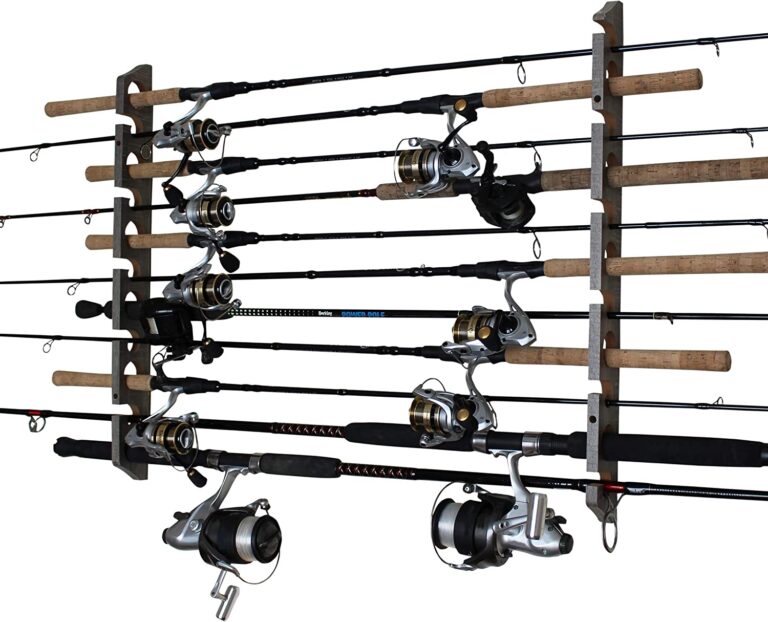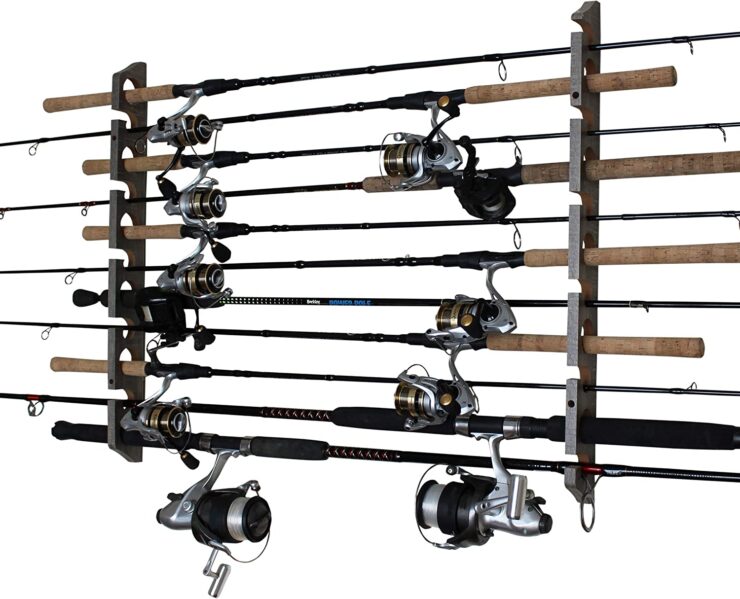 This rack is made of engineered quality wood therefore, it will last for a really long time. The wood will bring durability and also, a decent look. So if you prefer a style that will look nice against your wall, you will love this one. The wooden rack will look nice even if you do not place any rods in it. And this has a wall-hanging style. So you won't feel any problem with it.
Additionally, it can hold 11 rods at the same time. So you will have plenty of space here. However, if you do have 11 rods, you need to make sure that when you put it against the wall, there is enough space for the last rod. If the rack is too close to the ground, the last rod will rub against the floor.
The assembly of this rack is quite easy and stress-free. Thus, you will be able to adjust it easily and seamlessly. Furthermore, you can easily place your rods after fishing. No need to spend your time making adjustments or anything like that. The vertical storage will let you place the rod in the rack without spending any effort.
3 – Rush Creek Creations – 8 fishing rod storage rack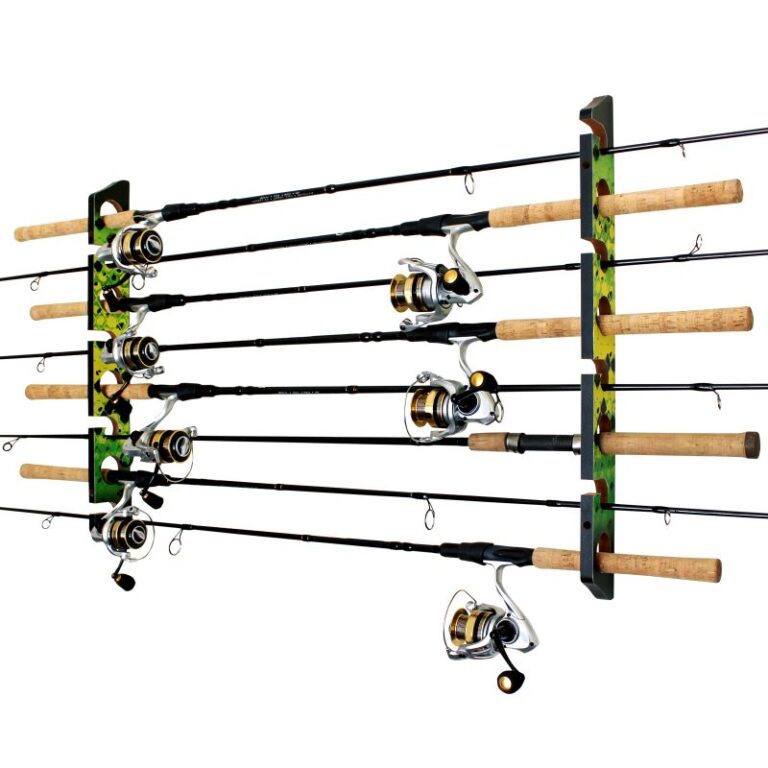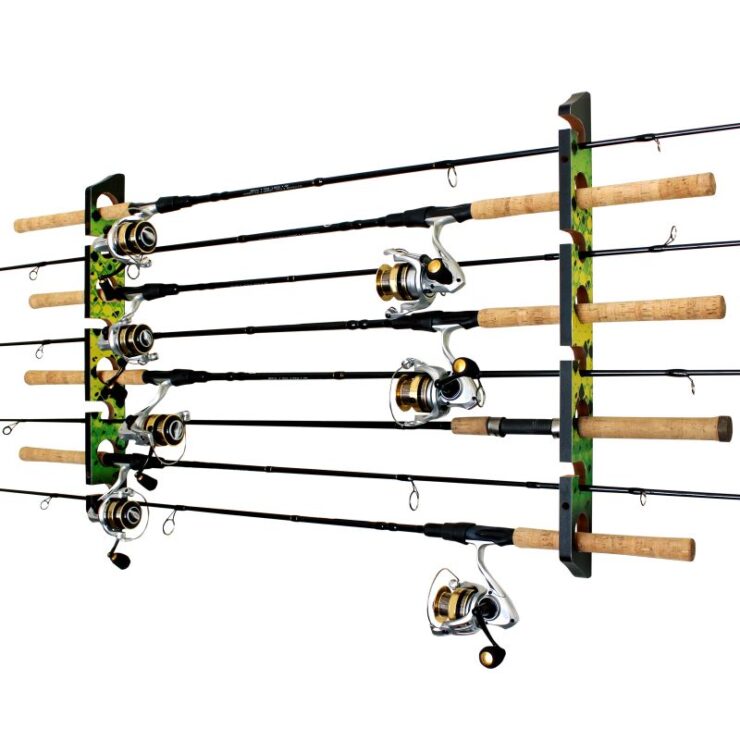 The next product that we have for you is allowing you enough space to store 8 fishing poles. It also has engineered quality wood that will live for a long time. In addition to this, you will have the option to select the colour of your choice. No need to stick to an old style if you do not want that. This rack offers you different colour options. So you can choose the classic wooden style or any other colour that you like.
Furthermore, it has a versatile style. You can mount it on the wall and place the rods there. However, if you do not have that much space in your garage or room, you can also keep it hanging on the ceiling. This will give you more space and maximum storage. You will be able to keep the rods safely even if there is very little space left.
The size of the rack measures 23.23" in length, 2.76" in width and 0.59" in height. Thus, it will offer premium storage without taking up so much space in your storage room.
4 – Horizontal fishing rod holders wall mounted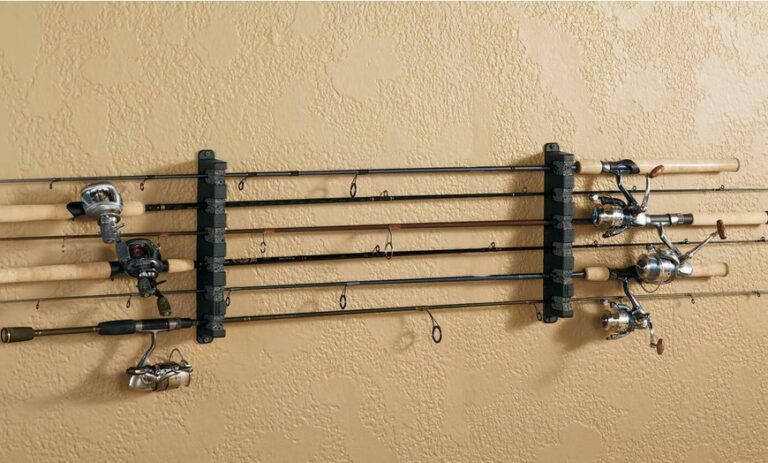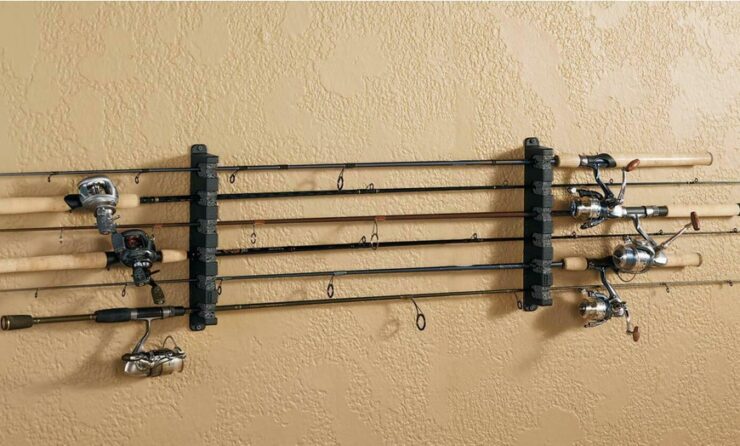 This is a minimalistic design that you can get to hold your rods. This is not a rack but a simple deluxe fishing pole holder with padded foam. The padding is of high-quality EVA foam which is quite a durable and tough material. Furthermore, the foam padding will keep the rods safe and will not leave any holding marks or scratches on them.
And these holders are designed especially for ships. So if you are going out fishing and you have to keep your rods safely there, this will be the best gadget to have. Furthermore, it is convenient to install. Whether you are installing it or disassembling the holder, you can do so easily. You will need installation screws (6) and also the drywall inserts. And then you will be able to assemble it by yourself, with no need to call for professional help.
This one pole holder will be able to keep 6 of your poles safe. And it will need only 13.6 inches of horizontal wall space. Thus, you will have sufficient storage even on the ship. This will let you go on fishing whenever you want as everything will be safe on the ship.