Starting a new activity and making it your number one hobby is a very exciting time. It means having a brand new thing to look forward to each and every time you are free like for the weekends and holidays. Developing a passion for something happens quickly when you have enough time and the right tools to do it. When it comes to kayaking, this is very true as most first-time paddlers get hooked pretty quickly.
There is a lot that paddling in a kayak can do for you as an activity, but before you can start reaping the benefits and enjoying yourself, you must first buy your very first vessel. Picking the correct kayak is not as easy as it may seem.
There are numerous brands out there and countless models to browse through. If you want to escapve this and focus on some of the best choices out there, we have you covered. In this article we examine two models from a very trusty and commonly purchased Intex brand, the Explorer and the Challenger.
How to Choose the Right Kayak For You
Before talking about the Explorer and the Challenger models by Intex, there needs to be a few words about how to pick a kayak and what to pay attention to. Choosing the right kayak for your needs depends on several factors, including your intended use, skill level, and personal preferences. Here are some things to consider when picking a kayak:
Intended use
What do you plan on using the kayak for? Do you want to kayak on calm lakes and rivers, or do you want a kayak that can handle rough ocean conditions? Are you passionate about fishing? Finding questions to these answers will help you determine what type of kayak is the best option for your needs.
Skill level
Are you a complete beginner or an experienced kayaker? Different kayaks are designed for different skill levels, so it is important to choose one that is appropriate for your experience level.
Personal preferences
Consider your personal preferences, such as the type of seating you prefer (sitting or standing), how much storage space you need, and whether you want a kayak that is easy to transport and store. All of this makes things more fun and optimal later.
Budget
This is a no-brainer and a very usual factor with any purchase. Determine how much you are willing to spend on a kayak. There are options at a variety of price points, so you should be able to find one that fits your budget.
Size and weight capacity
Make sure the kayak you choose is the right size for your height and weight. It is also important to consider the weight capacity of the kayak to ensure it can safely hold you and any gear you plan on bringing. The size also relates to what type of kayak it is.
Materials
Kayaks are typically made of either polyethylene plastic, fiberglass, or composite materials. Each type has its own advantages and disadvantages, so consider which material is best for your needs. There are also inflatable models, as well as those that fold.
By considering these factors, you should be able to find a kayak that meets your needs and preferences. It may also be helpful to talk to a knowledgeable salesperson at a sporting goods store or to seek advice from experienced kayakers.
Explorer Versys Challenger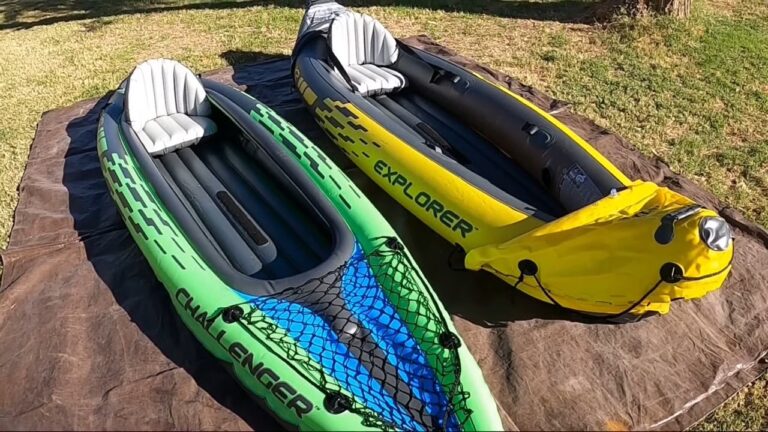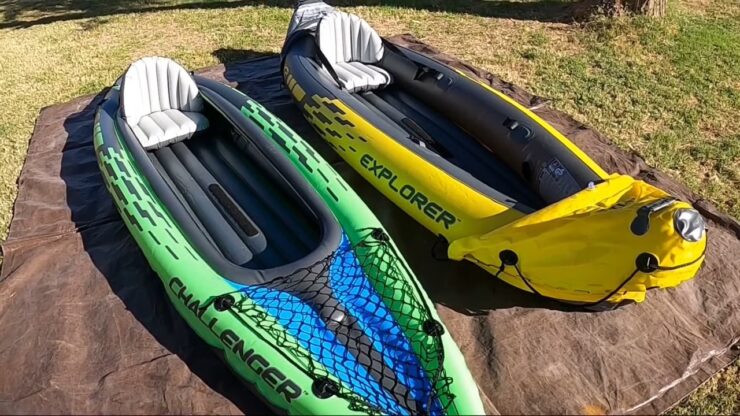 Now it is finally time to talk about these two great options. First of all, both of these kayaks are inflatable meaning that you must use a pump to get them operational. This make sit easy to carry them, transport them, and store them when not in use.
Both models are very dependable and durable. When it comes to size and comfort, the Explorer is a bit comfier and roomier, but also lighter. The price is on the side of the Challenger as it is the more budget-friendly option.
With the Explorer you have a larger cockpit that is more comfortable and spacious. It has 3 separate air chambers to inflate, compared to the Challenger's 2, and an inflatable floor that increases support and stability. It is 2.2 pounds lighter than the Challenger as well as 6 inches wider. It is however shorter by 1 foot and 3 inches. It comes with two carrying handles, one at the stern and the other at the bow.
On the other hand, the Challenger is the more adorable option. Since it is somewhat longer and narrower, it is faster and offers better tracking. This balance of length and width usually means the kayak is easier to paddle, which is the case with the Challenger when compared to the Explorer. Both kayaks can carry 400 pounds of weight and both seat two paddlers at once.
Basic Specification Overview
| | | |
| --- | --- | --- |
| | Explorer | Challenger |
| Kayak Lenght | 10 feet 3 inches | 11 feet 6 inches |
| Kayak Width | 36 inches | 30 inches |
| Hull Depth | 1 foot 8 inches | 1 foot 3 inches |
| Load Capacity | 400 pounds | 400 pounds |
| Kayak Weight | 31 pounds | 33 pounds |
| Number of Paddlers | 2 | 2 |
| Carrying Handles | Yes | No |
| Catch Netting | No | Yes |
| Paddles Included | Yes | Yes |
Sometimes the best comparison is done with a side-by-side table. Below is a quick overview of the most basic features and specifications of the Intex Explorer and the Intex Challenger. Either of the two is an excellent choice and a well-worth investment.
Intex Explorer Main Features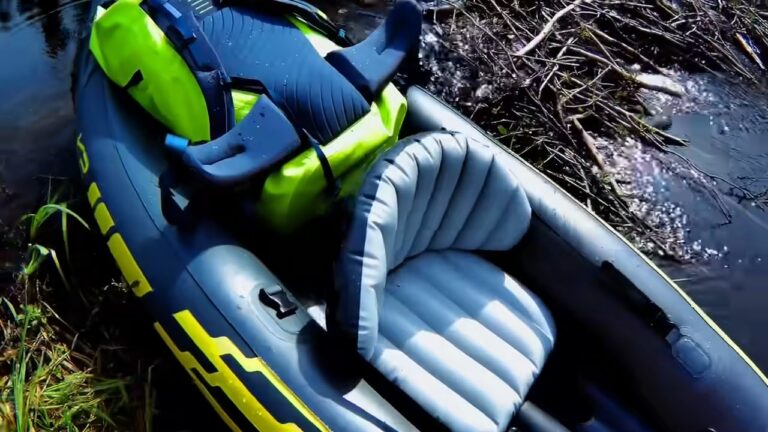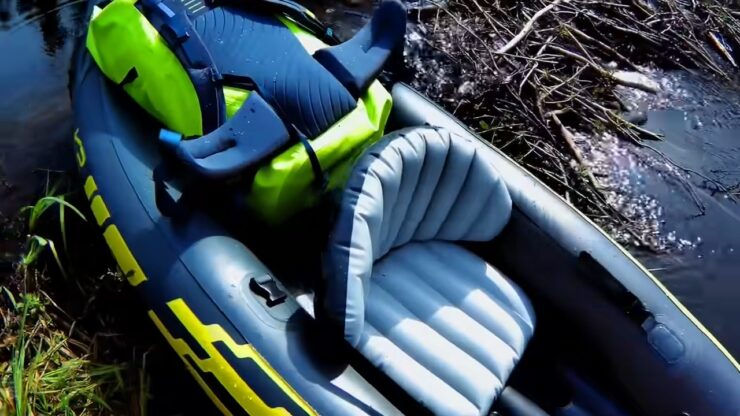 The Explorer is the winner in this battle, but it is very close and it comes down to what the paddler really needs. Optimized cockpit space offers inflatable and adjustable seats with plenty of legroom. The kayak is bright yellow with some interesting graphics, very visible which improves safety.
It is advertised as having a long service life, which is true due to the rugged construction and high-quality materials. In the package, apart from the kayak, you get two alumimun paddlers, a hand pump, a grab line, two seats, a quick-fill valve, a repair/patch kit, and a carry bag.
Challenger Main Features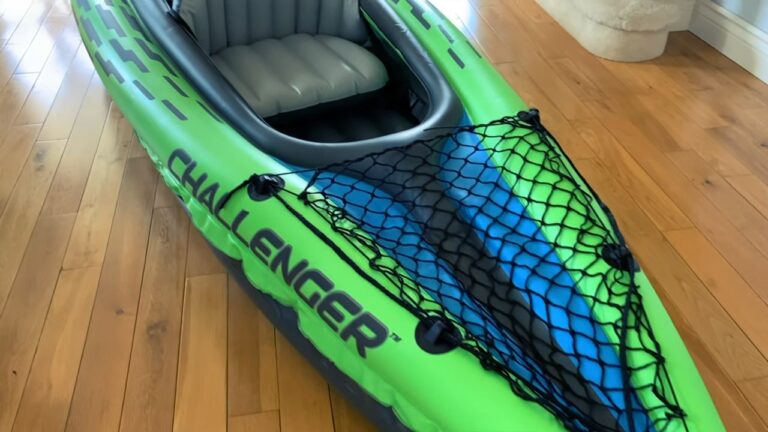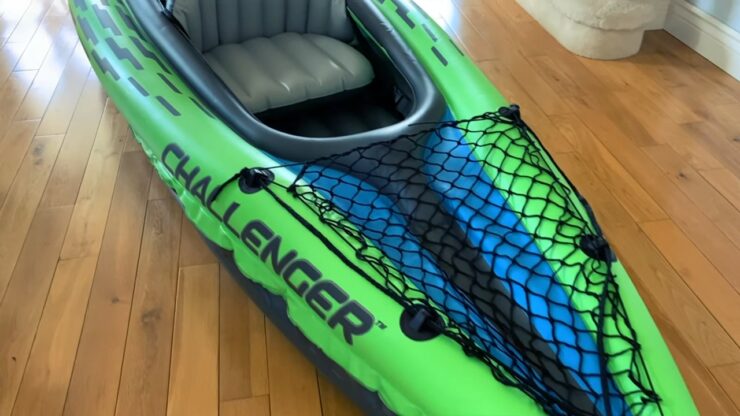 The Challenger is not as capable and equipped as the Explorer, which makes it a less favorable opponent in this head-to-head battle. It is reliably and solid and also has an inflatable floor. The materials are similar in quality and the construction similarly sturdy.
There is however a bit less space in the cockpit. The kayak is more nimble due to the streamlined design, offering easier paddling. It is light green and grey and very sporty-looking. In the box you get two paddlers, two seats, one hand pump, a removable skeg, a cargo net, a quick-fill valve, a reapir/patch kit, and a carry bag.