So you are in need of a new vessel to help you navigate your favorite bodies of water while you are doing your favorite activity. Improving our hobbies is essential because it is these exact activities that make us look forward to each free hour in the day.
Waiting for the weekend to do what you love may seem like an eternity on Monday, but around Thursday night it is already time to prepare everything and enjoy the weekend ahead.
When fishing is your preferred activity and the thing you like the most, there is a lot to prepare for. Even the most novice of anglers know that preparing the entire fishing setup takes quite some time, while the whole experience requires decent planning. If there is one thing that can make any fishing trip easier, it is owning a kayak.
Fishing the Right Way
Fishing kayaks are amazing because they allow you to leave the shore behind you and be right where most of the fish are, in the deeper waters. Sitting on a lake, river, or in the ocean is by far the most optimal way to catch the biggest fish, as well as a greater diversity of them. While staying on the coast has its advantages, a more serious and professional approach will always include leaving it and hitting the waters.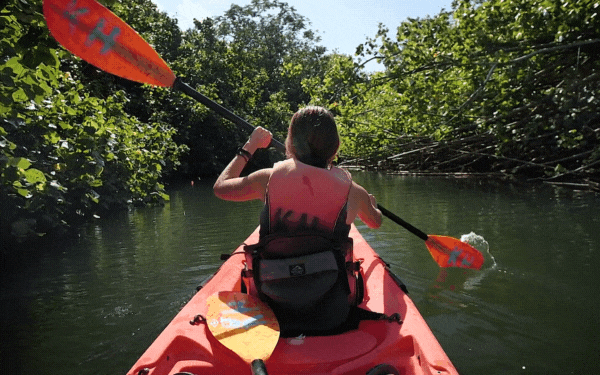 Picking the Kayak
To make your choice of the perfect kayak for your needs easier, we have a great and affordable choice that does the job well. The Sun Dolphin Journey 10 is a fishing kayak that has everything a fisherman needs, be it an experienced veteran who has caught hundreds of fish already, or a beginner who wishes to try a new method of fishing. Picking the right kayak can be tough because of the sheer amount of them available, and this one will surely narrow down your choice.
Sun Dolphin Journey 10 Sit-on-top Fishing Kayak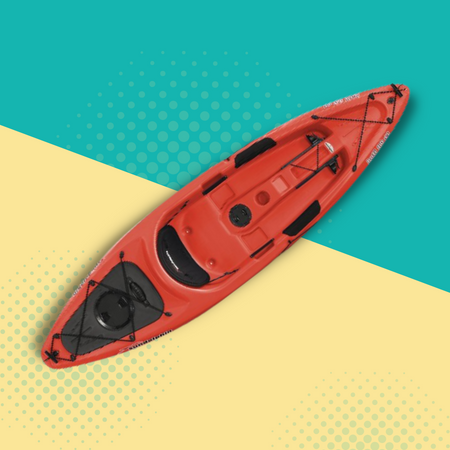 Specification and Dimension Overview
Kayak Lenght: 9 feet 6 inches
Kayak Width: 29.5 inches
Kayak Weight: 41 pounds
Max Load Capacity: 250 pounds
Right from the start we can see that this is a smaller kayak as it is under 10 feet in length. The width also points it out at just under 30 inches. As such, this is a sit-on-top model as opposed to a sit-inside.
Regarding the weight, the kayak itself is only 41 pounds and therefore easy to carry around and store. Including the paddler, its maximum load capacity is 250 pounds, which is enough for most of the gear you will need.
As an affordable model suitable for every budget, the Sun Dolphin Journey 10 is certainly among those basic models. It is evident from the first look as well as the dimensions. However, that does not mean that it does its job poorly.
On the contrary, it is quite effective in what it does and what it does is everything a fishing kayak should do. It will easily take you out onto the water, give you enough stability, and a place to safe-keep your gear as you cast from a comfortable sitting position.
This makes it a good option for those looking for a cheaper fishing kayak to start their angling career from the water. If you have only done it from the coast so far and are looking to expand on your experiences, look no further. The Journey 10 will suit all of your needs.
Pros and Cons
Let us now focus on the pros versus cons of this model by the interestingly named Sun Dolphin brand. As is customary, we focus on the good sides of things first and talk about the positives. Then there is an overview of the negatives in the form of a cons list.
Pros
One of the lightest kayaks out there
Also among the shortest
Great maneuverability in tight spots
Sturdy plastic hull resistant to scrapes and drops
Good storing capacity, both open and watertight
Cons
Poor tracking due to dimensions
Not great in winds, tides, currents…
No scupper plugs in the box, odd scupper holds
Lack of extra customizations (e.g. gear tracks)
Weight capacity on the lower end
While it does seem that the pros and cons are balanced at five each, there is more to be said before you can decide whether or not this kayak is the right fit for your fishing needs.
Speed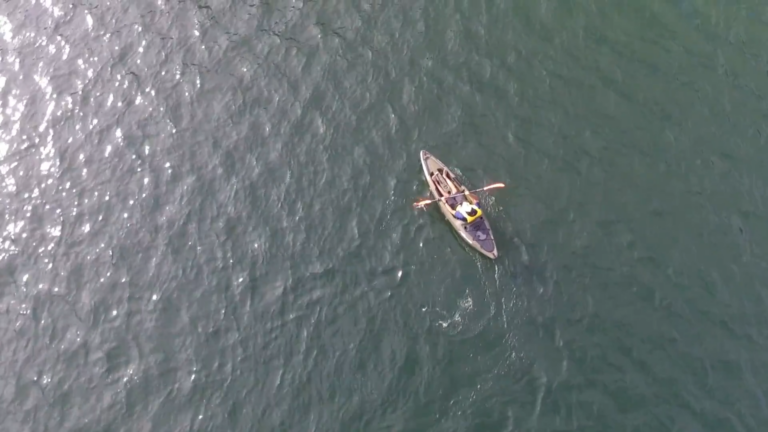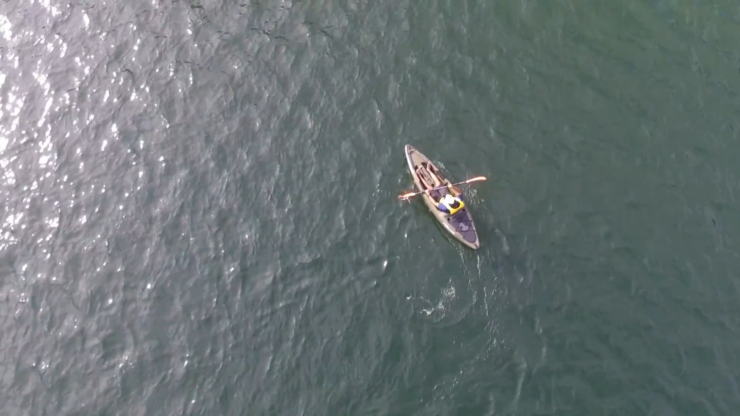 The fact that the keel of this kayak is so short tells us a lot about its speed potential. The general speed at which a kayak is capable typically comes from the length of the keel. When it is 10 feet, the kayak is considered slower. And when it is under 10 feet, which is the case here, it means the kayak is very slow.
However, the speed does not matter that much for casual fishing out in the water, especially if you are doing it in a lake. Covering more ground though and having to paddle for a while until you get where you want to fish may prove challenging in the long run. If your friends have longer and faster kayaks, you will fall behind.
Maneuverability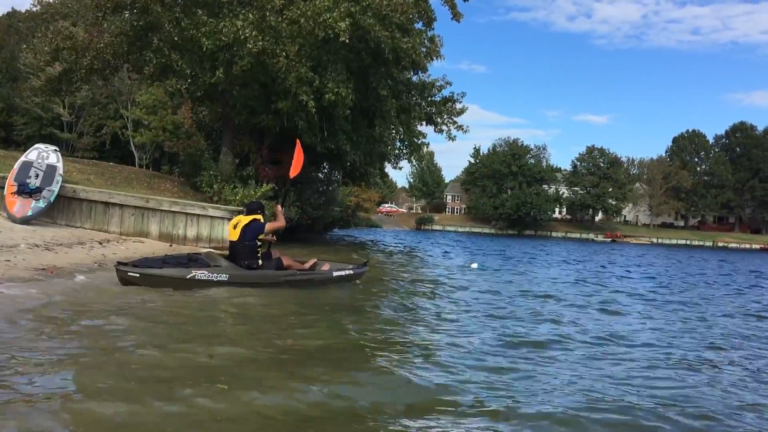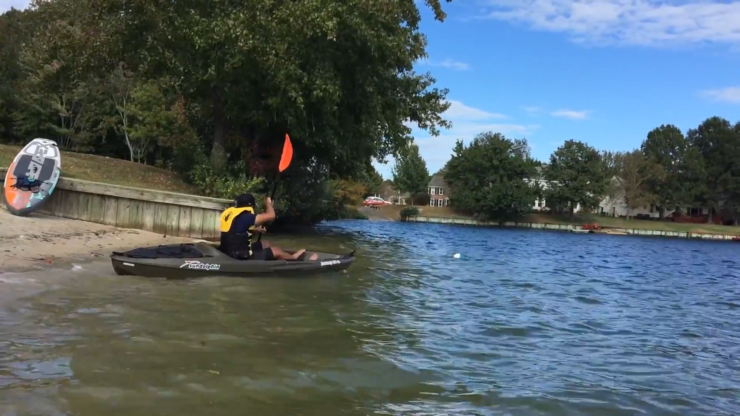 What short kayaks lose in speed, they make up for brilliantly in maneuverability. This is of course true for the Sun Dolphin Journey 10 as it uses its short keel as a big advantage. Buying this kayak will give you a very responsive little vessel that can squeeze into tight places and take you out of rough and tight spots easily.
Longer kayaks are a nightmare to maneuver and there are always issues in smaller areas where it is difficult to turn. The fact that this kayak lacks the rudder in the basic trim matters not. Tight turns can be made and the radius at which you can make them is great, both for hardened fishermen and novices.
Comfort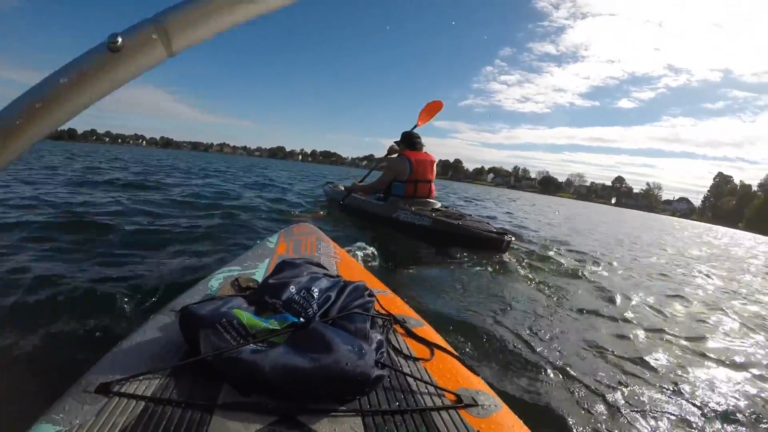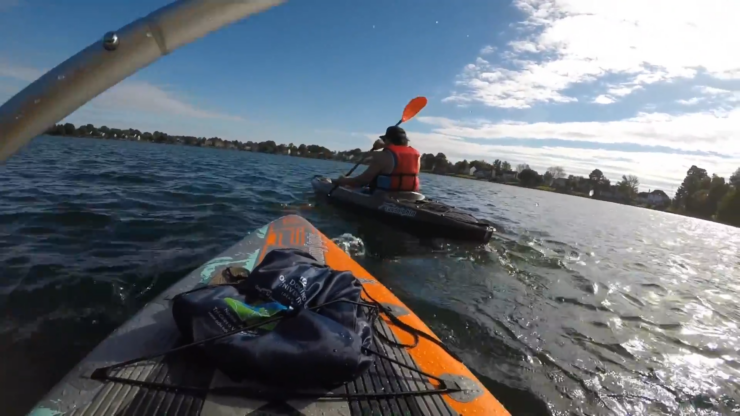 Sit-inside kayaks are infamous for their discomfort, particularly when they lack a dedicated seat. Therefore, most fishing kayak seats are padded and/or cushioned so that those long sitting stints are more bearable.
What Journey 10 has to work with is far from uncomfortable, but it can be improved. There is padding on the back of the chair for more back support, but the seat itself is not padded.
There are thigh braces for more comfort. However, for day-long paddling and fishing, additional padding or a dedicated seat may be in order. Standing in order to cast is never recommended with sit-inside kayaks, especially short ones.
Take a look at these Sit-on-top Fishing Kayaks from the same price range, that are available right now on Amazon: