If you want to take your fishing to new heights, you need to think about sit-inside fishing kayaks. Doing something you deeply care about implies having the right means to do so. Since it is a hobby of sorts and an activity that helps you relax and enjoy life, you need to be in possession of tools that will allow optimal conditions to do so. And if that particular activity just so happens to be fishing, there is a need for many accessories and items without which it would not be possible.
One thing that is often overlooked by fishermen, regardless of how experienced they may be, is getting out into the water to fish. Doing it from the shore may be fun and seem enough, but the fish do not live near the coast.
For bigger specimens and a more fun time, moving away front he shore is crucial. And what better way to do this than to get a fishing kayak and paddle away from the shore to that sweet spot where the water is calm yet deep, full of fish to be caught?
There are many kayaks to choose from but not all of them are of equal quality or for one and the same purpose. Right here and now, we are talking sit-inside fishing kayaks, small paddle boats that have all an angler may need to handle themself out on the water while fishing.
From comfort and storage to accessories and features, we cover it all. By the end of the article, you will surely have a much better idea of what to aim for and how to choose the best kayak. More optimal fishing sessions are one small boat away.
Product Reviews / Our Top Pick
1. Old Town Loon 106 Angler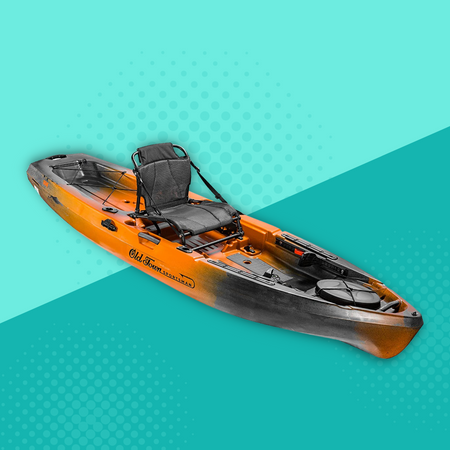 We start things off with arguably the most recognizable company that deals with angler kayaks. Old Town is the oldest manufacturer in the world so they know a thing or two about what an angler needs from their kayak.
They have many sit-inside models that allow for an easier time while fishing, one of which is their Loon 106 Angler. Both a recreational and fishing vessel, it is a beautiful model that can be utilized in many different ways. It is 10 ft 6 in long and 31 in wide and weighs 55 pounds.
A beautiful camo colorway, extra width, a zippy hull, and a comfortable seat are just some of its benefits. It is said to be one of the most pleasant kayak fishing experiences available on the market right now. Amazing features like a USB port, built-in storage, and mounted rod holders are just bonuses, as is its amazing anchor system.
Pros
A reputable brand and a company worth your trust
Paddle clips and a drain plug
Thigh pads for extra comfort
Storage bungees at the bow and the stern
Click seal hatch
Cons
On the pricier side, but it is well worth it
Only two color options, both camo
2. Bonafide EX123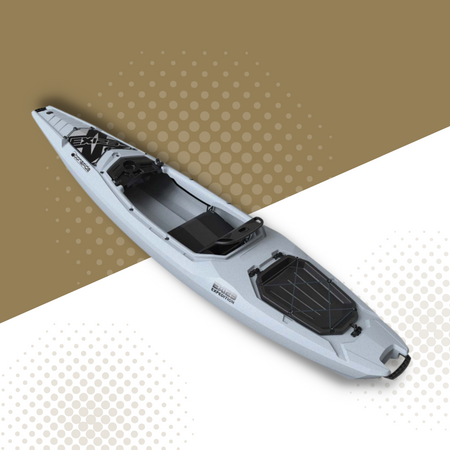 The second sit-inside kayak we have for you on this list is from another reputable company and a heavy hitter in the fishing kayak sector. Bonafide, as their name would suggest, is certainly at the top with the best of them.
Their EX123 model is a monster. It is bigger than many of the other models in its class and type meaning plenty of storage, perhaps more than you will ever need. It has a deck dashboard, a stern hatch with a bungee, and molded cup holders for your drinks. There are also storage trays.
It is a versatile kayak that works equally well on recreational journeys as it does while fishing. Taking it out for a paddle or some light kayak camping is a breeze.
The seat is elevated and positioned noticeably higher than on many other models. This is important for increased field of view and better visuals of your surroundings. The hull takes the cake with its sleek design, great stability, and good speed while paddling.
Pros
Two mounted rod holders
Skid plates
Deck pads for traction
A wide variety of beautiful, attractive colors
Aesthetically attractive and pleasing to the eye
Increased stability due to greeted width
A sit-on-top hybrid
Cons
Much more expensive than an average model
Very heavy, heaviest on the list
3. Perception Sound 10.5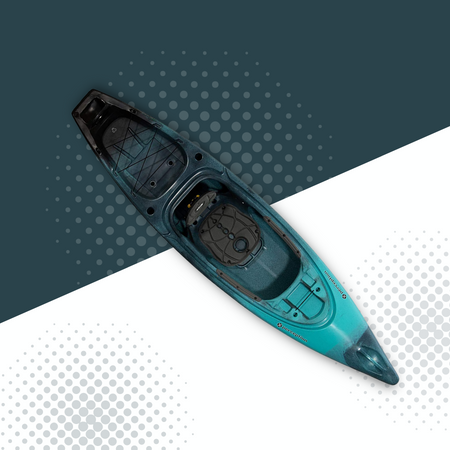 We are continuing the trend of top-tier kayak manufacturers out there. Perception is widely renowned for its great selection of entry-level kayaks that can be used both for recreational purposes and for fishing.
The one we are discussing here, the Sound 10.5, is perfect for beginner kayak fishermen as well as those who just now want to try fishing from the water. It would even be a good choice for intermediate anglers who want a versatile craft that checks all the boxes.
Affordable and reliable, it comes with a compatible dashboard and accessory mounts. The center console is customizable. The seat is ergonomic and comfortable and it will support you all day long. Footrests are great for more comfort. It is smooth sailing and easy to steer with this one as it accommodates all shapes and sizes.
Pros
Very affordable, good quality for the price
Two fishing rod holders
Lightweight yet durable
Handles in the front and rear
Large rear tank + bungee
Cons
No dashboard accessories in the box
Limited color choice
Somewhat basic and simple design
4. Wilderness Systems Pungo 120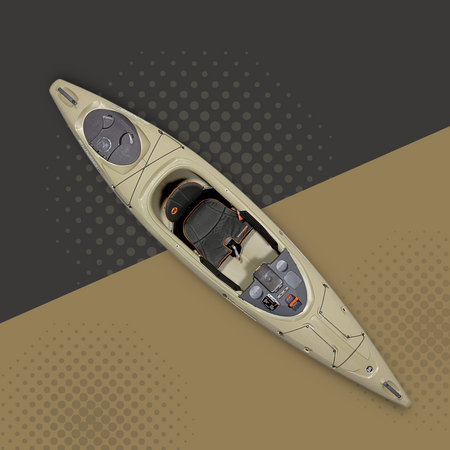 Available in very attractive colors including Breeze Blue, Galaxy, Mango, and Fossil Tan, this 49-pounds sit-in kayak is longer than the previous three. At 12 ft 2 in, it is noticeably longer and therefore faster and sleeker.
Both recreational and fishing, it has a lot of features and accessories. On top of that, it is customizable and can be kitted in different ways, especially in the dashboard section.
You can add different tech and gear, including GPS, cameras, additional rod holders, fish finders, and more. All of that is powered by a dedicated, waterproof hatch that holds a battery pack and runs the electronics.
The seat is dubbed Phase 3 AirPro and it is extremely comfy, completely adjustable, and ergonomic. The kayak is stable, sleek, and offers good performance in the water.
Pros
Lightweight despite the length
Rear hatch, sealed bulkhead
Footrests (adjustable) and thigh braces for more comfort
Cup holders (2)
Accessory rails
5. Pelican Argo 100XR Cosmos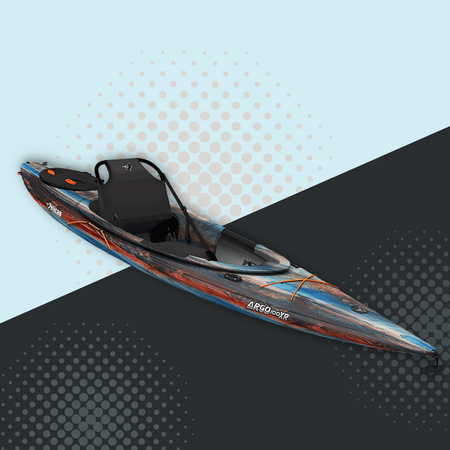 The Pelican brand knows its way around both fishing and recreational kayaks, and Argo 100XR Cosmos is both. A single look will tell you all you need to know about it.
The thin, sleek design makes it look like it was made with speed in mind, and the colorway certainly matches that feeling. It is certainly a thing of beauty and the most stylish model on this list. There is none other like it.
With a layer of advanced resin on top and high molecular weight, this is a sturdy, strong, and durable kayak that will last you for a very long time. You may never need another one actually.
The cockpit has a lot of space and the seat is actually a dedicated chair, something that is very rare on sit-inside kayaks. It combines the best elements of stand-on-top and sit-inside models with its super comfy chair. The backrest is quite high and at a nice incline for a comfortable posture while paddling and fishing.
Pros
Very portable
A comfortable chair that can be removed
Stylish design, sleek finish, sporty look
Storage hatch in the rear
Paddle parks, drain plug, cup holders
Cons
Lack of dedicated fishing features
More oriented towards recreation than serious fishing
6. Lifetime Payette Angler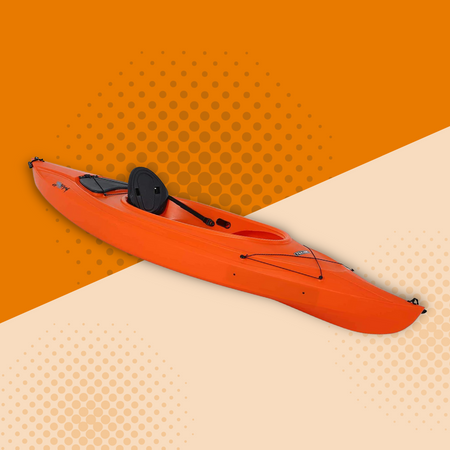 Now here is a manufacturer that is famous for their budget-friendly kayaks that lack nothing in terms of quality and endurance. Despite a lower price, the Payette Angler is quite good.
It is on the smaller side as it is just under 10 feet. It weighs only 44 pounds too, which makes it very portable. You will have no problem cleaning it, carrying it, and storing it. Transportation is an often-overlooked problem with kayaks, but not with this model.
It is as strong and durable as the rest of them, has two-rod holders, and one more articulated on the center console. Footrests are there for extra comfort, the cockpit is large and easy to get in and out of, and the seat offers good back support thanks to the higher rest.
Pros
Budget-friendly price
Storage hatch and bungees
Paddle holder straps
Extra rod holder
UV-protected plastic
Portable
Cons
Bleak, with very basic design
Not the most interesting option
Lack of extra storage space
7. Old Town Vapor 10 Angler First Light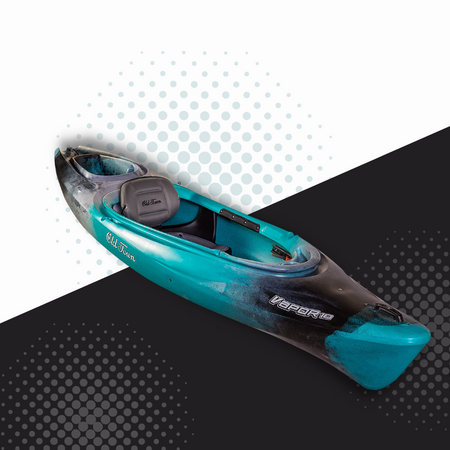 Last but not least, here is another Old Town model. Finishing the list with the same brand as the one that started it, this is a kayak without any obvious cons. This is not to say that it is the best, just that it covers the most bases.
It is durable, stable, and offers a good combo of maneuverability and speed. There is a spray skirt in the cockpit, two mounted rod holders and an anchor trolley system.
The seat is arguably one of the best-padded models out there, thick and very comfortable. It is fully adjustable and ergonomic.
There is also a paddle rest as well as a large tank well where you can put all of the gear and accessories you need for your trip onto the water.
Pros
A more budget-friendly option that the first Old Town model
Carry handles
Good choice for beginners
Drain plug, bungee webbing
Good brand you can trust
Cons
This kayak has no real cons, a rarity amongst sit-inside kayaks of its class
Buyer's Guide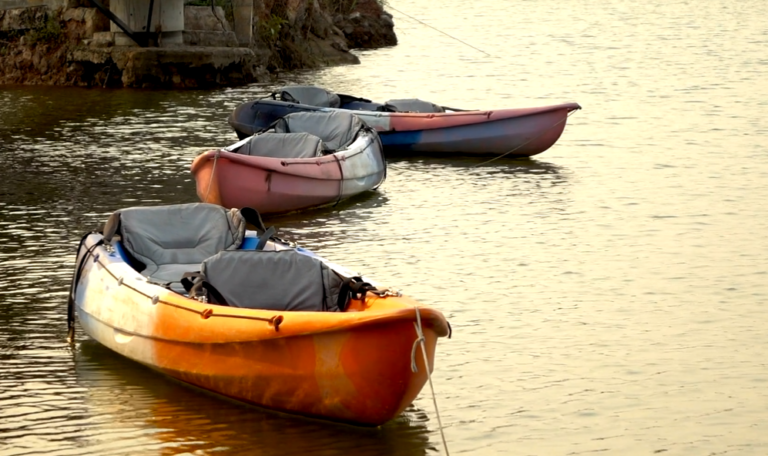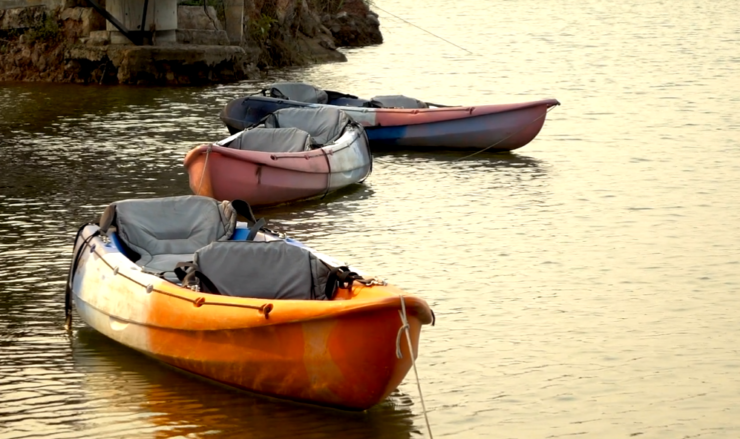 As you can see, there are many differences between the two kayaks. So how does one choose between so many options? Which one is the best one for a specific customer? What should you look for in your new sit-in kayak? Well, it is all about your own needs combined with key factors.
Consider Your Own Needs
First of all, you have to know what you expect from the new kayak and what you need from it. Ask yourself how you plan to conduct your fishing sessions from now on, where you will go, how often, and with whom.
These basic things can mean so much because you may need a certain type of kayak that offers more of something and less of another thing. You need to be happy with what you get, meaning all of your gear, accessories, and rods should be compatible with the kayak.
Do you bring a lot of snacks and drinks? What is the weather like in your country? You may need to pack additional clothes. Do you plan to go into the water? You will need more stuff if these are all things you typically do.
Size and Weight
Two main factors in deciding between the many potential kayaks you can get are their sizes and their weights. What every angler needs is a good combination of both depending on what they require from their new vessel.
Firstly, you will be the one carrying around, storing it at home, and bringing it with your vehicle for your fishing time. The bigger and heavier the kayak, the more trouble you will have.
Sit-in kayaks are generally slimmer than sit-on-top models, but the length is not always greater. Longer and thinner kayaks go faster and track better.
With that being said, they are not as maneuverable as wider and shorter models. Perhaps a golden middle is a way to go where both speed and maneuvering are optimal. Those would be models between 10 and 12 feet, and between 40 and 50 pounds.
Smaller and less bulky models are also capable of carrying less weight, meaning less storage, bait, rods, and extra equipment. If you are a larger or taller person, you will need a bigger model anyway, one with enough weight capacity beyond that of the angler.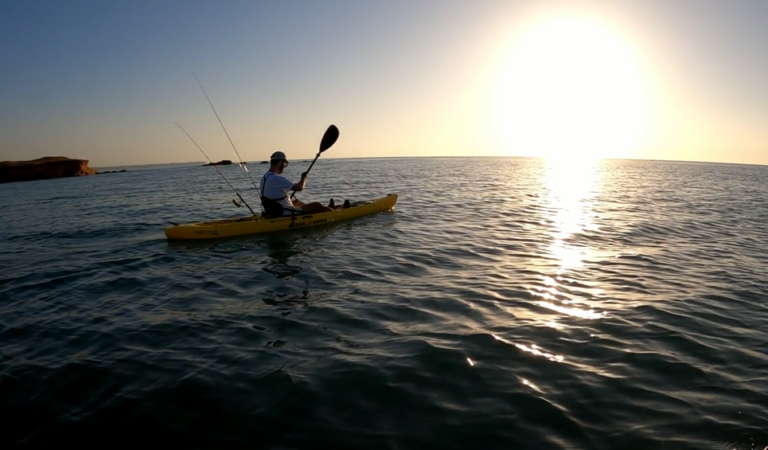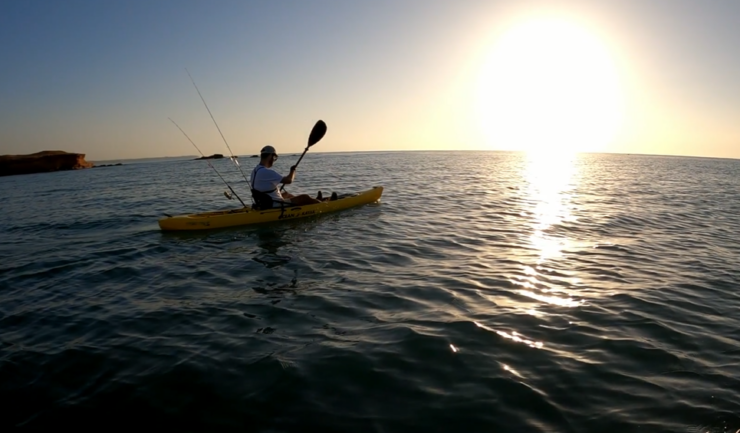 Seating and Comfort
The final big factor in determining which kayak you buy for your fishing needs is the seat inside of it. First and foremost, you should not even be considering a kayak without a dedicated seat that has some increased comfort features.
Even if there is a seat, many entry-level models lack any sort of cushioning, ergonomic alignments, or adjustment options. This means that you will not be able to customize the way you sit during the many hours you spend on the water.
A padded seat is an absolute must with a sit-in kayak. With sit-on-top varieties, there is enough space for chairs of all sorts and superb comfort while fishing. When you are inside a kayak though, with your legs stretched or bent, you need all the comfort you can get.
If you care about comfort and want your back, particularly the lower part, to be free of pain, make sure the kayaks you browse have comfortable chairs. It should have enough back support and at least some ergonomic features.
Kayaks can be upgraded and customized with different seats installed. Doing this aftermarket can be pricey and it will be the only way to get the comfort levels you deserve if your kayak lacks a proper seat. The last thing you want is a numb backside and lower back pain in the middle of a lake.
Fishing Accessories
While this does not really count as a big factor because you bring all you need anyways, your kayak should have enough fishing features and accessories on its own. Again, sit-on-top models are more angler friendly, but that does not mean that sit-inside ones are insufficient.
A thing you absolutely need is a flush-mounted rod holder, two of them preferably. Tracks and railings are handy for additional gear, as well as enough space for extra rod holders. Regarding high-end tech, the kayak should have a way to attach GPS, fish finders, and cameras.
If you live in a colder area, a kayak with a spray skirt will allow more warmth and coziness. It also helps to stay dry if the conditions are super wet.
Finally, a kayak is not a kayak without paddle holders. Most of them do not come with free paddles, but they should have dedicated holders. Ropes on the sides can do the trick but you will absolutely need a proper holder for your paddles.
Storage and Extra Space
It is becoming a trend to start different sections like this, but sit-in kayaks have less storage than their big cousins the stand-on-tops.
If you always pack your crate or cooler, extra rods, bags, and other gear, you will definitely need a kayak with extra storage all around. This would mean a larger and longer model with multiple ways to attach different stuff.
Space-saving nets can be of use if the storage is low, but they are not the ultimate solution for an angler who is used to having all they need right beside them.
While not much is needed for regular fishing, certain fishermen enjoy it more with extra stuff around. If storage is always an issue, you should aim for models that offer more of it.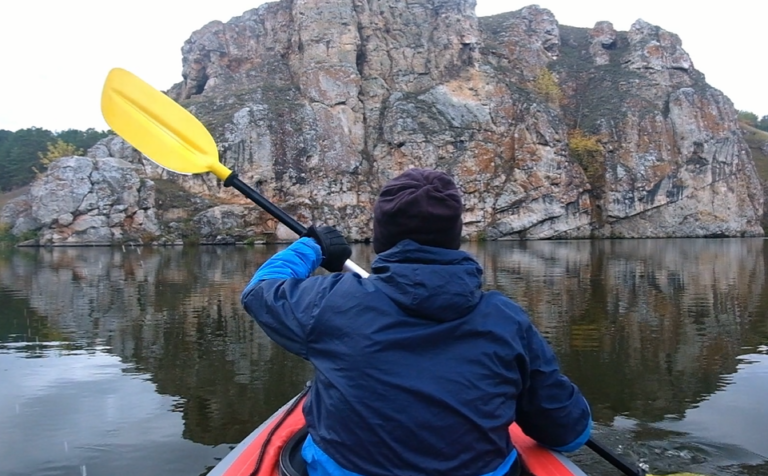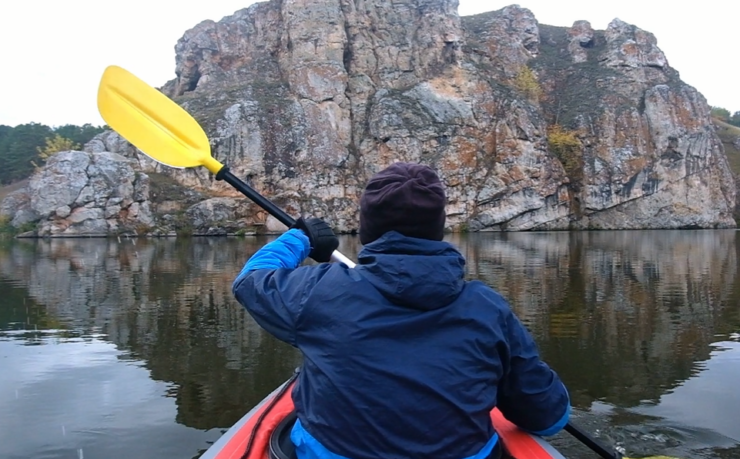 Frequently Asked Questions
1. Do I Really Need a Kayak for Fishing?
Anglers do not need kayaks, but they also do not need extra rods, more bait, and special gear. It is not about the absolute need but the fact that fishing is more exciting and fun when you do it from a kayak.
2. How Far Can I Paddle?
It is important to stay safe while fishing in a kayak, just like it is whenever you are in a boat that requires paddling. Prior to taking it out, you should have enough information about the body of water you are fishing in. Waters can be treacherous and you should definitely not hit the open waters that kayaks cannot handle.
3. Is It Difficult to Fish Outside of It?
Fishing from a stand-on-top kayak is easy since you have all of the water around you and a good position to throw and reel in the bait. It is the worry of many that fishing from a sit-in vessel is difficult or even impossible, but it is not so.
These kayaks are made to be fished out of and they have enough room and features for any angler to operate with. A kayak will actually make things easier for you, not more difficult.
4. Can I Stand In It?
This is a legitimate question because people assume they can stand in any sort of vessel. However, it is not advised to stand up while on the water because sit-inside kayaks are not meant for it. They will start tilting and you will fall over, capsizing the kayak. Stay safe and never stand up in it while in the water.
5. What are they Made Of?
Most fishing and recreational kayaks are made of a strong and durable, almost indestructible plastic called polyethylene. It is easy to maintain, it can survive the elements, and it has no problem hitting rocks and debris while paddling.
Conclusion
Getting something new for your favorite hobby is always exciting because it means you will enjoy it more and do it more optimally.
This is certainly the case with sit-inside fishing kayaks, as they are the ultimate thing every serious angler needs if they mean to catch bigger fish.
Old Town, Bonafide, Perception, Wilderness Systems, or any of the other ones… all of them are great options for any fisherman looking to take it to the water and make their fishing sections more personal.
Remember to take into account your needs and your overall approach to fishing and you will never again feel like something is missing from those long fishing days. If you buy a proper kayak the first time around, you will never need a second.
If these weren't enough, check out some other picks from Amazon also: