Maintaining trailered boats can be difficult. But, choosing the best bottom paint for trailered boats is way harder.
If you have a trailered boat, you have to pick your bottom paint carefully. Because choosing the wrong paint will cost you both time and money.  We have all been there looking at the confusing reviews of bottom paints.
But don't panic as we are here to help you. We have a detailed comparison and review of ten bottom paints. Here we have described which paint is better for what kind of use. So, stay with us and READ! Also, decide which one is best for your boat.
What paint should I use for the bottom of my boat?
Bottom painting can seem like a difficult task for individuals who are new to boat ownership. As there are so many different goods available, choosing the best one for your boat can be challenging. Bottom paint is intended to shield your boat's bottom from algae, barnacles, and other marine development. Also, it makes cleaning the boat's bottom easier and helps prevent rust.
When choosing a bottom paint, it is important to consider the type of boat you have, the water conditions in your area, and the level of maintenance you are willing to perform.
It can be challenging to choose the best product for you with so many options available. You can locate the ideal bottom paint for your boat, though, if you put in the time to conduct your research.
Ablative, hard, and semi-hard bottom paint are the three main varieties. The most common variety is abrasive bottom paint; as it ages, it deteriorates, allowing it to regenerate continuously.
Ablative bottom paint is therefore perfect for boats that are used regularly. Contrarily, ablative bottom paint wears off more quickly than hard bottom paint, which is intended to last longer but offers less protection.
A hybrid of the two, semi-hard bottom paint is more resilient than ablative bottom paint but less durable than hard bottom paint.
Comprehensive Buyer's Guide of  Bottom Paints for Trailered Boats – Best Choice
1.TotalBoat JD Select Ablative Antifouling Bottom Paint
Product Overview
The first item on today's list is TotalBoat JD Select bottom paint.
When you are sailing in the sea, the boat comes in contact with seawater. The saltwater slowly fades off the bottom paint of your boat. We all know that saltwater fades the bottom paint of boats faster than freshwater.
With TotalBoat JD Select bottom paint, it is good for both salt and fresh water. Often barnacles, algae, and slimes get attached to the bottom of the boats. However, it keeps them away from your boat. That too, for an entire season.
Also, this paint is best suited for wood and steel surfaces. Besides, it reduces bottom paint buildup so you don't have to sand in every season. It can be easily cleaned up with mild soap and water.
TotalBoat JD Select is a water-based bottom paint. It has a low level of VOCs, which is good for the environment. Moreover, it helps in reducing overall air pollution. In addition, this paint is a low odour and has a durable finish. It can be easily burnished for smoothness and efficiency of fuel and speed.
One gallon of TotalBoat JD Select covers 500 sq. It can be applied with rollers, brushes, or spray. 1-2 thin coats need to be applied.
One advantage of it is that it does not require sanding in between coats. Lastly, this paint is more suitable for previously applied paints. This is why it has to be applied with previously used paint or old and harsh paint.
Pros
Prevents algae, barnacles, and slime from attaching for an entire season
Reduces bottom paint buildup for less sanding
Low odour and VOCs
Easy to clean
Simple to apply by roller, brush, or spray
Carries no harsh fumes or elements
Cons
The self-polishing coating fades away with more frequent contact with water
It only gives protection for a single season
2. TotalBoat Underdog Marine Antifouling Bottom Paint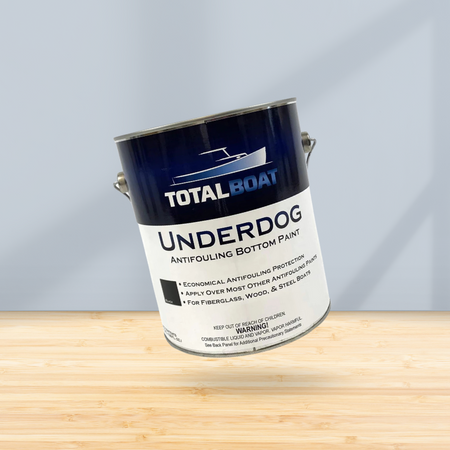 Product Overview
On the second spot the TotalBoat Underdog Marine Bottom Paint has made it's place. This quality bottom paint claims to protect the boats from barnacles and other marine organisms.
It mainly keeps marine organisms away from clinging to the hull bottom. Marine organisms such as algae, barnacles, and tubeworms.
The liquid glue, which turns into strong cement, can affect the bottom of boats. This paint particularly releases biocides continuously for freshness, and it helps to fight marine organisms. Besides, the biocode also helps to reduce the paint buildup.
The Antifouling Paint also indicates in its name that it prevents marine fouling organisms. Mussels are one of the main marine fouling organisms to negatively affect boats.
Once they are attached, they can be very difficult to remove. However, TotalBoat Underdog Antifouling paint prevents it from attaching itself to the bottom of the boat.
In addition, it gives protection for one season only. This paint is best suited for sailboats, work and fishing boats, and powerboats. It has to be used on well-conditioned fibreglass, steel, wood, and iron surfaces.
Also, it can be easily applied to previously painted surfaces. However, the surfaces need to be in good condition. Because the coating fades away during the season. And this makes it hard to paint in the next season as there is no paint buildup.
The paint is good for a variety of types of saltwater conditions. It also has a durable finish. This helps to endure the harsh trailering and beaching.
In addition, it is easy to apply by brushing, rolling, or spraying. One gallon of this paint covers 500 sq. The main purpose of this product is for antifouling use on the bottom of boats. It has to be coated twice.
Pros
Best suited for antifouling purposes
A durable finish helps to endure trailering and beaching
It stays well in all types of saltwater conditions
It can be applied to a range of surfaces
It's simple to apply with a roller, brush, and spray
It prevents paint buildup
Cons
It requires a well-conditioned surface
The coating fades away during the season
3. Pettit Paint Hydrocoat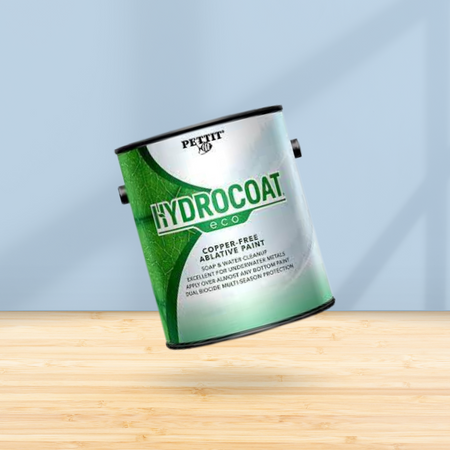 Product Overview
Here we are in the middle of the list. This time it is the Hydrocoat Antifouling Paint.
The company claims this product is environment-friendly and has a unique water-based formula. This formula gives protection against all types of marine organisms.
As it is said in their name, it is anti-fouling paint. Harmful or strong solvents are very common in bottom paints. However, this paint has no harmful solvents.
It does not harm the person applying it or the boat. Even the most severe air pollution guidelines for VOCs are exceeded by the water-based solution. Also, it does not have a heavy smell of solvents.
Hydrocoat Antifouling paint is very easy to clean. It has to be cleaned with mild soap and a brush. The surface gradually fades away depending on the usage of the boat. It releases continuous fresh biocides for freshness.
Moreover, this continuous release of biocides combats marine organisms. They stick to the bottom of the boats and are difficult to remove. This is where the biocides dive in.
In addition, Hydrocoat gets rid of paint buildup. This is the reason that it does not require sanding much before the next painting.
Again, the company says it can withstand very frequent trailering and beaching with launching. The paint can also go through harsh trailering and saltwater of all types.
It is also known to have a formula that has an unlimited dry time. This means that even if you paint in the fall and do not use it. Then you can still use it in the next season.
One gallon of this paint covers 430 sq. Also, you have to coat it twice for a perfect matte finish. However, you need an additional coating at the waterline for good use. The paint contains PTFE which reduces drag. Also, to reduce it, the finish can be burnished.
Pros
Eliminates the need for sanding.
Good for frequent trailering and beaching.
Easy to clean with mild soap and a brush.
Releases continuous fresh biocides to eliminate marine organisms.
No harmful substances.
It has unlimited dry time
Cons
It needs 2 coatings at a minimum and additional coatings at the waterline.
It covers 430 sq per gallon, which is less than the previous paint
4. Pettit Paint Vivid, White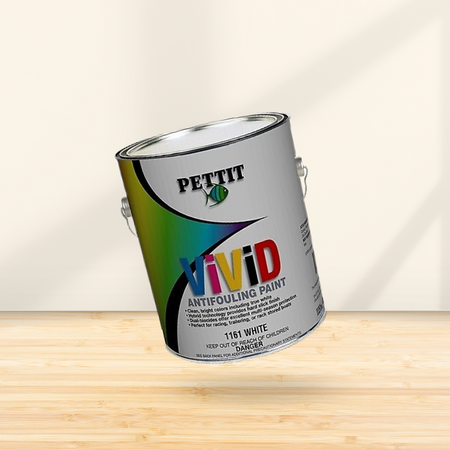 Product Overview
Pettit Vivid Antifouling Paint is a multi-season paint. That means you can use it for more than one season. Also, the boat does not need to be painted every season.
As the colour is vivid, it is brighter than other paints. The bright look gives the boat a unique look for the summer. Here, the vivid colour is the mixture of other bright colours provided by pettit paint.
The company also promises to provide protection from marine organisms throughout the seasons. Other hard epoxy paints show that the hulls cannot be hauled or relaunched.
However, the hulls, which are protected with vivid paint, can be hauled. They can also be launched again. That too, without the reduction of effectiveness.
Another feature is the attractive colour and the endurance of saltwater. The paint wears off more slowly than other antifouling paints.
Besides, it can withstand salt water, harsh trailering and beaching. Trailered bunks sometimes fade or rub off the bottom paint of the boats. This is why owners of trailered boats need strong and attractive paint.
Pettit Vivid Antifouling Paint offers both sharp and attractive looks and strong, enduring paint.
Sailboat racers often look for boats that can be burnished extra smoothly. Vivid paint also provides it with a smooth burnishing. Users will need to prime the boat first. After priming, the vivid paint has to be applied to the aluminium hulls and outdrives. Users can rest assured that galvanic corrosion will not occur.
In addition, the paint also releases 2 different types of biocides to prevent marine organisms. Here, the primary biocide is cuprous thiocyanate. On the other hand, zinc pyrithione is also used to get rid of slimes. Both biocides help to get rid of hard and soft marine growth.
Moreover, it is easy to apply with a roller, brush, or spray. The paint is best suited for wooden and steel surfaces. A gallon of Pettit Vivid Antifouling Paint covers 440 sq.
Pros
It consists of two biocides to prevent both smooth and hard marine growth.
It prevents paint buildup for less sanding.
Stays for multiple seasons.
Enduring enough to resist trailering and abrasion.
Easy to apply.
It works well on wooden and steel surfaces.
Cons
It needs priming first.
It covers 440 sq/per gallon only.
5. INTERLUX / INTERNATIONAL PAINT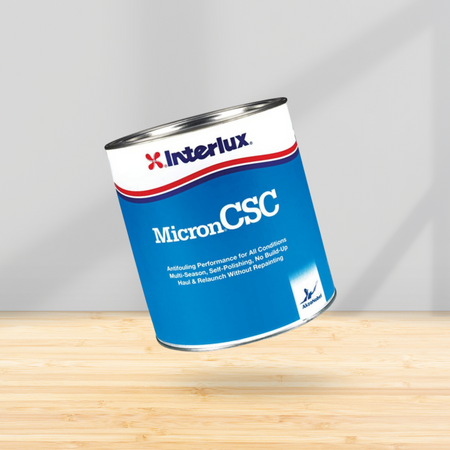 Product Overview
The last product on the list is Micron CSC Antifouling Paint. It is one of the best antifouling paints of the INTERLUX brand. It is a multi-season antifouling paint. That means it gives antifouling protection for more than one season.
The antifouling paint gives protection against all kinds of marine organisms. Here, the coating or paint fades away depending on the usage of the boat.
If the boat is quite frequently and roughly used, the coating will wear off gradually. It has a controlled polishing system. This system reduces the old coating and paint buildup. In addition, it helps in minimizing sanding in the haulout.
If we compare Micron CSC paint with other hard antifouling paints, it uses their copper efficiently. It has less copper, but it uses it more efficiently than others. With this paint, the boats can be stored, hauled, and relaunched. That too, without loss of effectiveness.
In addition, it is easy to clean and apply. The paint can be applied with a roller, brush or spray. The paint is most suitable for fibreglass and aluminium surfaces. It is also good for powerboats and sailboats. The boat will need 2-3 coats, and one gallon covers 440 sq.
Pros
Multi seasoned paint.
Reduces paint buildup.
Lessens the need for sanding before painting again.
Provides protection against all kinds of marine growth.
It has fast drying formula.
Good for power and sailboats.
Cons
 The coating wears away with frequent use of saltwater.
 It needs 2-4 coats. It can coat more for additional services.
 One gallon covers 440 sq.
Buying Guide
Now, we have provided you with the details of the five bottom paints for trailered boats. However, you can still be confused about what kinds of aspects you should see before buying.
Well, we are here to help you get the most suitable bottom paint for you. This is why here are some factors you should look into before buying.
Is It Easy to Apply?
This is very important for you, as time is money. If it has a difficult application process, then it will become a hassle for you. It will also be time-consuming. So, go for the easy application of bottom paint.
Does It Contain and Release Biocide?
Providing protection from marine growth is one of the main uses of the paint. Marine growth can be both hard and smooth. They also turn into cement-like growth, and then it becomes hard to remove them. This is why biocide is used to prevent these marine growths.
What Surface Is Best for the Paint?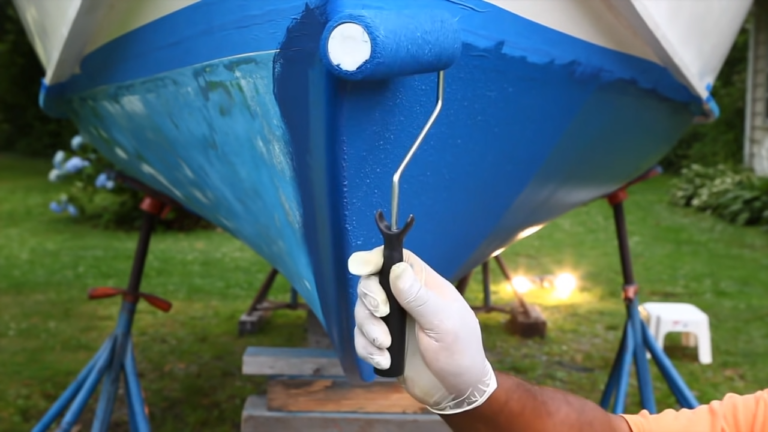 Before buying the bottom paint, know what the surface of your trailered boat is. According to that, go for the paint. If you have a wooden surface, you have to get a bottom paint that is suitable for wooden surfaces.
Is It Durable?
Durability is very important in the case of bottom paints. If the bottom paint cannot withstand saltwater, or trailering and beaching, it won't be efficient. You have to go for a paint that can endure trailering and saltwater.
Is It Single Or Multi-Seasoned?
Do look at this feature if the paint is single or multi seasoned. The multi seasoned paint will lessen the pain of painting every season. However, single seasoned bottom paints also work great. Both have their benefits.
FAQs
Should I Prime My Fibreglass Boat Before Painting?
Priming is not really necessary for a fiberglass boat. However, you can use it. Check if the primer you are using will work with the paint you have selected. After you have finished with one coat of primer, then lightly sand the boat. Use 300-grit sandpaper for sanding before adding the next coat.
How Often Should I Wax My Boat?
As experts say, you should wax your boat every three to four months. This is typically for folks who use their boats more frequently and store them outside. In this way, the sun could damage them. However, in your case, you should always go with your judgment. It depends on its usage.
How Many Coats of Wax Should Be Put on a Boat?
Your boat will need two coats of wax to maintain its glossy look throughout the year. Dark-colored hulls require more maintenance than white fiberglass hulls. Dark hulls may need 2-4 coats of wax every year to stay in good condition. But if you want your boat to stay in good shape, apply two coats.
How long does bottom paint last on a boat?
Generally, bottom paint on an unused boat can last up to 10 years on a dry surface. Regular use of a boat and storage in the water will activate the anti-fouling properties of the paint, which will start to break down and need to be re-applied after a few years.
Professional estimates range from 12 months to 2 years, depending on the type of paint and the local water conditions. To get the best results, you should consult a professional marine painter to determine the best type of paint for your boat and the local water conditions.
Do I have to sand before bottom paint?
Yes, it is generally recommended to sand the bottom of the boat before applying a new layer of bottom paint. Sanding the bottom will remove any contaminants, old paint, or wax, and will also help to create a rough surface that will provide better adhesion for the paint.
It is also important to use the right type of sandpaper and grit, as this will affect the performance and durability of the paint. Generally, a 60-80 grit sandpaper is recommended for most boat bottoms.
Does boat bottom paint need a primer?
Generally, boat bottom paint does not need a primer. However, if you are switching from one type of paint to another, or if you are painting over old paint, a primer can help to improve adhesion and ensure that the new paint job lasts longer.
Additionally, some boat bottom paints, such as Tuff Stuff Marine Epoxy Primer, may require a primer for better adhesion. It is always best to consult with a professional marine painter to determine the best primer and paint for your boat.
Can you put bottom paint over gelcoat?
Yes, you can put bottom paint over gelcoat. However, it is important to properly prepare the surface before applying the paint. You should first clean the surface with wax remover, then lightly sand it with a Scotchbrite pad. You should use a primer intended for the specific bottom paint you are using to ensure better adhesion and a longer-lasting paint job.
Endnote
Finally, we are done reviewing the five bottom paints. We hope to clear up your confusion about the best bottom paint for trailered boats. Also, give you a clear idea of the bottom paint. We hope you find one suitable paint for you!
All the best!