Rarely do we get something and only use it for a single thing. Commodities and items that people purchase should and often are used in more than one way and for more than one purpose. Of course, some things are not very versatile, but the modern way of life dictates the use of solutions that can help on multiple different sides. This is the case with areas of life typically thought of as important, like work or education, but also those more relaxed like hobbies and recreation.
The latter is important for us here in the article as we talk kayaks, but not just for their obvious use when kayaking. These versatile paddling boats are able to give us so much more than a means to traverse a body of water with relative ease. It is not just about kayaking itself when you step foot in one. As a matter of fact, these crafts are actually being used for various other reasons to enhance different activities that can be done without them but not as excitingly or efficiently.
It is a popular trend nowadays to use kayaks for fishing and hunting. While their usual uses revolve around relaxation, exploration, recreation, and whitewater rapids, they can elevate hunting and fishing to new heights and allow hunters and anglers to do their thing better. Well, one more activity is much more optimal when you have access to a kayak and that is camping.
Already a thing that can be done in more than one way, it is the use of a paddling boat that takes spending multiple nights in nature to a whole new, more enjoyable, and exciting level. In the remainder of this article, you will learn what it means to camp with a kayak by your side, how it is done, and most importantly, what kind of kayak you need. Read on to find out more.
Kayaks and Camping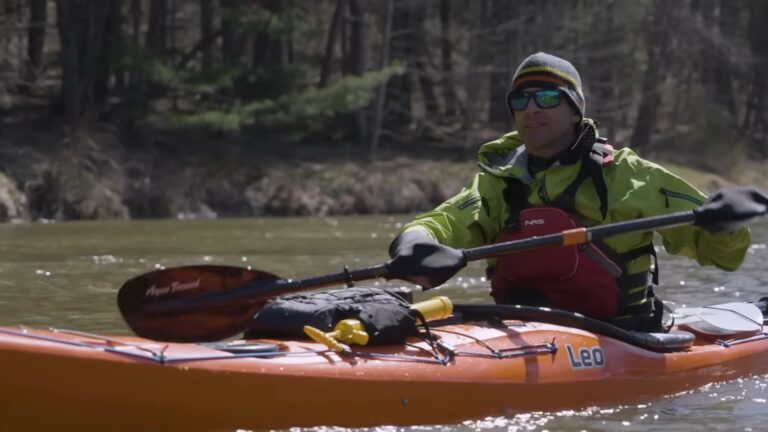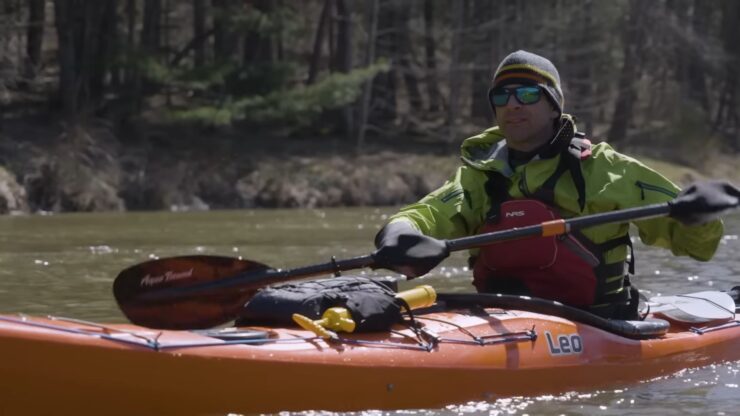 Although it may be strange to think of kayaks as tools to make camping better, they actually have everything it takes for a camper to be more equipped and better prepared for what nature has in store. This is especially true if you are camping somewhere for the first time and lack knowledge of the area.
Kayaks can be used for a variety of activities while camping, such as further exploring the waterways around the campsite, some fishing perhaps, or simply enjoying the scenery from the water instead of just on the land. Before doing all of this and trying it for the first time, it is a good idea to plan everything and prepare for the trip.
Plan Your Route
If you are planning on using your kayak for longer excursions, be sure to plan your route in advance, taking into account any potential hazards or obstacles you may encounter. This includes the camping stage itself but also traveling to and from the area. Remember, you have a kayak to carry now as well.
Pack Properly
Speaking of things that need to be carried, when packing your kayak for a camping trip, be sure to bring all the necessary gear that kayaking implies. This includes a personal flotation device (PDF) also known as a life jacket/vest, a first aid kit, a helmet, and any other safety equipment you may need. You will also want to bring along enough food and water to sustain you for the duration of your trip, more than you would without the kayaking part.
Knowing Your Limits
It is important to understand your own skill level and limitations when using a kayak, especially if you are in unfamiliar territory and are a novice kayaker. Be sure to listen to your body and take breaks as needed to avoid fatigue. If you are unsure of doing it properly and feel worried, it is better to leave it for the time being just until you get the hang of it more.
Respect the Environment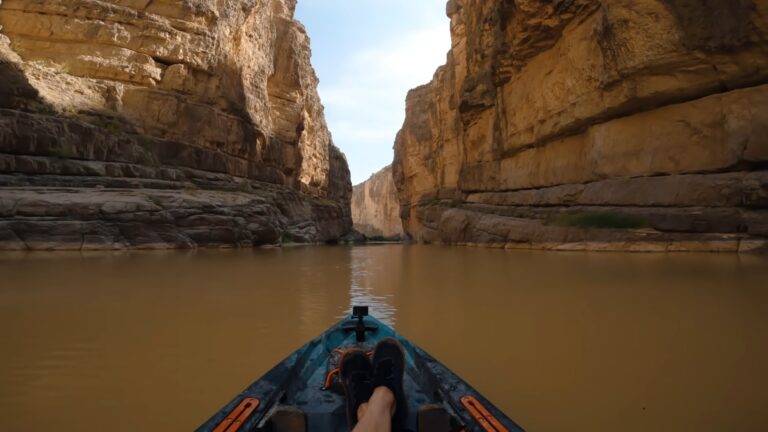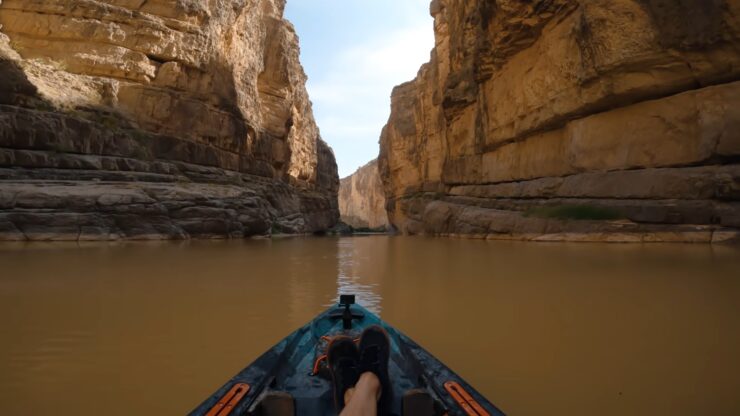 When using a kayak in a natural setting, it is of paramount importance to respect the environment and leave no trace of your being there. This means no disturbing wildlife, no littering, and following any local regulations or guidelines. Respect nature and it will respect you back. Preserving it is how you make sure it is unchanged and waiting for you to return.
Reasoning for Purchase
Overall, kayaks can be a great way to add an extra element of adventure to your camping trip and allow you to explore the waterways around your campsite in a fun and unique way. You do not need it to have a memorable camping experience, but bringing one will hardly hurt. Besides, the best camping trips are those that take place by lakes and rivers, so why not bring a paddling vessel and enjoy it for what it truly is? A kayak can be a great tool for camping for a variety of reasons. These are just some of them:
1. Exploration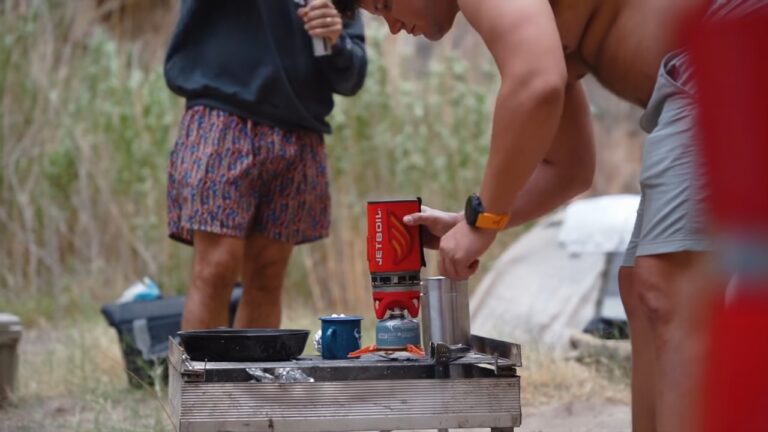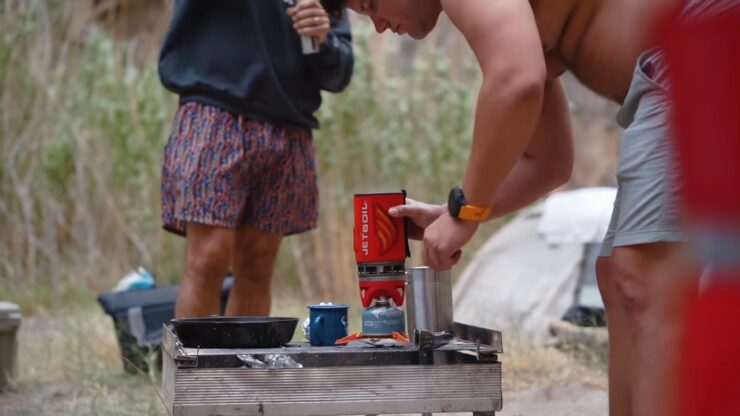 One of the biggest benefits of using a kayak while camping is the ability to explore the waterways around your campsite and not just the land. Whether you are paddling down a peaceful river, navigating through a network of lakes, or simply enjoying the scenery from the water, a kayak can provide a unique and exciting way to see the area. It offers a new element to the well-known, usual formula of setting up tents and sitting around a bonfire.
2. Exercise
Kayaking is a great form of exercise and using it while camping can be a fun way to stay active and healthy during your trip. Paddling through the water can provide a full-body workout and can be a great way to enjoy the outdoors. It is enough to bring some variety to the usual activity of walking and hiking that are common for traditional, kayak-less camping. They are physically demanding, but not nearly as engaging as paddling.
3. Relaxation
In addition to being a great form of exercise, kayaking can also be a very relaxing and meditative activity. Paddling through the water can provide a sense of calm and allow you to unwind and escape the stresses of everyday life. This is why people usually go camping, to recharge and forget about their problems. Doing it under a tree is one way to do it, but floating carelessly on the water in a kayak is a whole other experience.
4. Fishing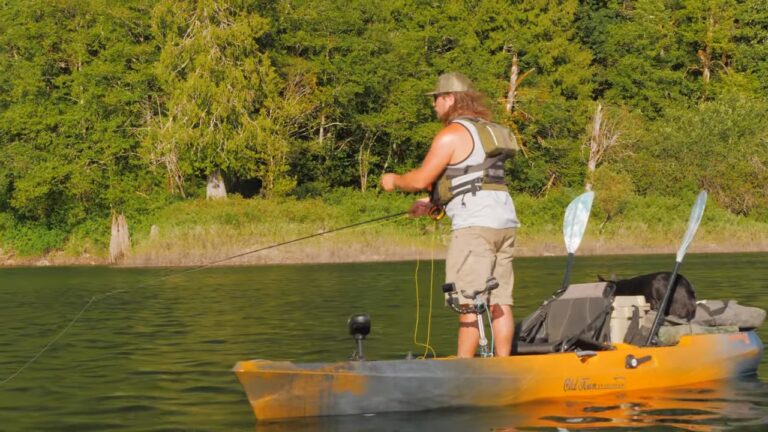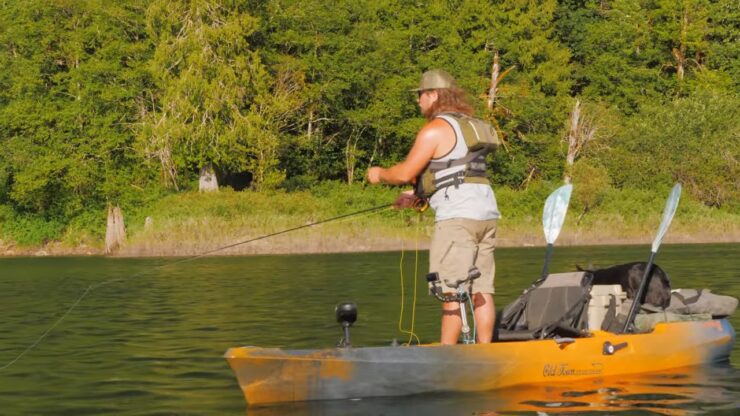 Kayaks and fishing go hand in hand, which you have probably realized by now as we have been mentioning throughout the article. For those who enjoy fishing, a kayak can be a great tool for camping. If you are used to fishing when camping but are usually casting a line from the shore, know that you were missing out. A kayak can provide access to some of the best fishing spots around as you are simply closer to where the fish is.
5. Environmentally Friendly
Since you are fond of camping, you have to like nature and care about it deeply. Well, you will enjoy knowing that kayaks are a relatively low-impact mode of transportation, and using one while camping can be a more environmentally friendly way to explore the area. Since kayaks are powered by human muscle, they do not produce any emissions and have a minimal impact on the environment. Paired with proper behavior and not disturbing wildlife or leaving trash behind, it is the best thing you can do for the environment while enjoying what it has to offer.
Buying Guide
We are finally at the stage where kayaks take over from the activity of camping as the dominant theme, because how can you get the right kayak if you do not know what to pay attention to when browsing? There are thousands of available models out there and dozens of brands. There are also different kayak models and designs to choose from, so how do you make the pick? Well, in this buyer's guide, we tackle what every kayak meant for camping needs to have if it is to enhance the whole experience.
1. Storage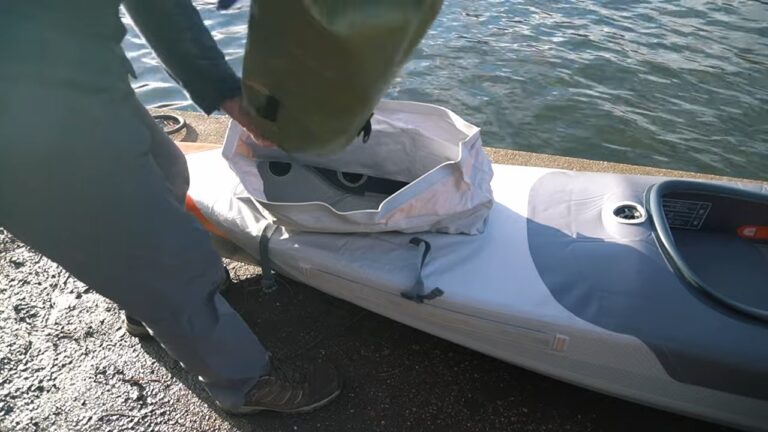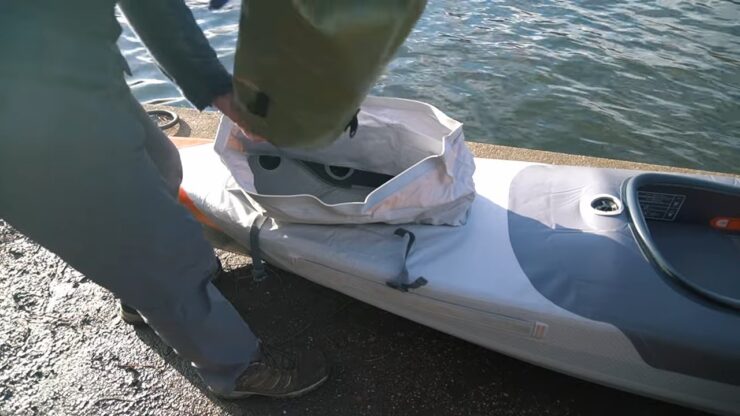 One of the most important features of any kayak is its storage, which becomes even more important when camping enters the mix. At its core, the activity of camping implies bringing a lot of gear, most of which relates to survival and warmth. Other than the basics like the tent, first aid kit, blankets, and additional clothing, there are many other items that need to fit inside a large backpack and help you along the way. A rolled sleeping bag can be a lot to deal with, and so can the food and drinks you bring.
In order to have enough room, the kayak needs to have plenty of storage options. Most kayaks have an open area on the deck for storing equipment and gear but that is hardly enough. You need more than that, and additional storage comes as bungee cords and hatches. Hatches act as watertight compartments that keep the stuff dry, while bungees hold down the items rightly. When picking a kayak, make sure it has plenty of storage options because camping demands it.
2. Load Capacity
Plenty of storage solutions are useless unless the craft can carry a lot of weight. This is known as the kayak's load capacity and it is measured in pounds. The higher the number of pounds, the more the kayak can carry without compromising its optimality, speed, and maneuverability. Everything you put inside the kayak, including your own body's weight, counts towards the maximum load capacity.
The general rule of thumb dictates that you should never actually meet this number, but be well under it if you want the kayak to be easy to paddle and turn. For camping, you will need at least a few hundred pounds of load capacity on your kayak to be safe and not sacrifice certain gear that you absolutely need out there.
3. Comfort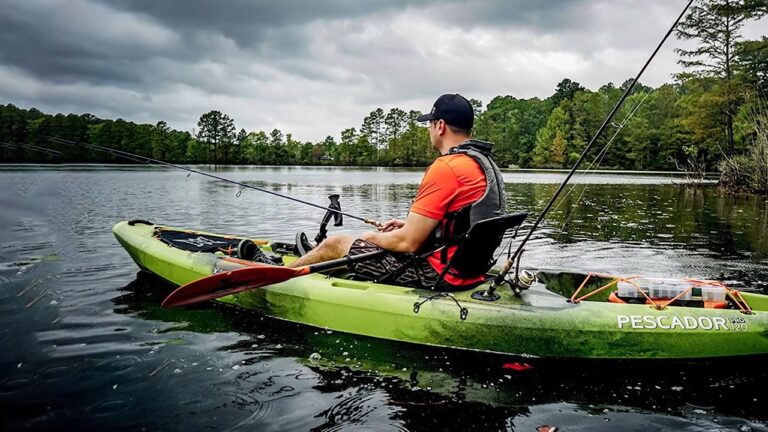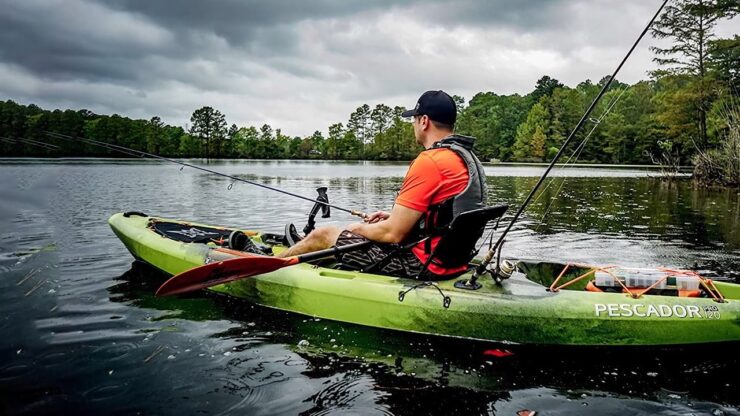 In kayak terms, comfort usually comes strictly from the seat, or lack thereof. Since you will be kayaking for hours and be in nature for days, the vessel needs to have a dedicated seat. Not all kayaks have it and some only have molded plastic without any sort of padding. For maximum comfort and long stretches of pleasure paddling, make sure your kayak has an adjustable, comfortable, padded seat with enough back support.
Another thing to keep in mind deals with leg and foot comfort. Knee pads and footrests should also be comfortable and adjustable so that you do not have friction and stress on your lower body while paddling. Kayaking is fun and in camping terms, it can be of great help to find the next good place to set up the tent. Do not underestimate the comfort of the kayak because you could be in it for longer than you plan.
4. Weight and Handling
Last but certainly not least, there is the question of how much the kayak weighs as well as how easy it is to handle. While camping, you will not really have access to a motor vehicle. It beats the purpose of spending time away from modern spoils and instead getting in touch with nature. This means you will have to carry the kayak yourself. For this reason, it needs to be light and easy to carry. Handling is usually the biggest problem for kayak owners, and it becomes an even bigger issue when camping. You may have to portage every once in a while or pack up to leave in a hurry. Having a kayak that allows this is prevalent.
Our Picks of Best Camping Kayaks
Now that you know more about kayaks and camping as well as what to look for when buying one for this use, here is a list of the best camping kayaks available right now.
1. Oru Kayak Foldable Beach LT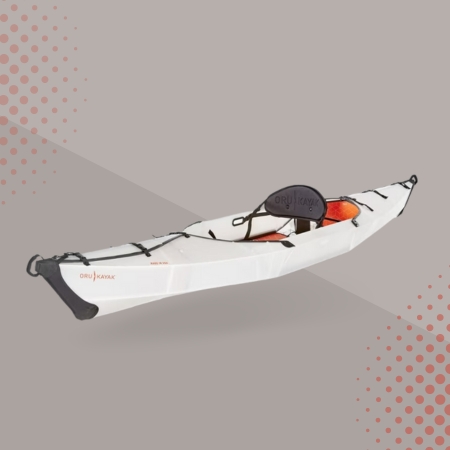 Starting off the list strong, here is a foldable and very accessible kayak that seems to be made with campers in mind. If you like origami, you will love this kayak as it folds down into a backpack that is only 29 x 33 x 12 inches. When it is stretched out though, it is 12 feet long, 28 inches wide, and weighs 26 pounds. Make no mistake, it is still capable and can carry 300 pounds of load.
For camping, this is exactly what you want, a lightweight kayak that will not be a big strain on your back even if you have a lot of other gear. Transportation and portaging are easy when your vessel folds into a backpack in under three minutes. Great for beginners, it is perfect for a light daily trip. It can even accommodate two people. The kayak is made from polyethylene and it has plenty of storage. The backrest is adjustable and there are two carry handles.
Pros
Foldable
Lightweight
Wide and roomy
Stable
Cons
Expensive
No paddles included
2. Ocean Kayak Zest Two Expedition Tandem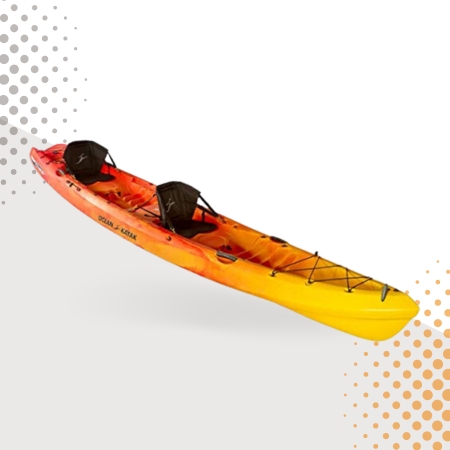 A camping kayak does not have to be foldable or very lightweight to be useful and applicable in this activity. If it can comfortably accommodate two paddlers at once, as a tandem kayak, it will be a breeze to carry it together with your camping buddy. With a length of 16 feet 4.5 inches and a width of 30.5 inches, it is a big one. It is also quite heavy at 75 pounds, but it holds an incredible 600 pounds of load. Like most others, it is made of polyethylene.
This is a true tandem kayak, a long and heavy model with an excellent load capacity. It has plenty of storage capacity for all of the camping gear two people may need. There are bungee cords in the back and the front with a lot of open storage. Such length means excellent tracking and great paddling speed. There are cup holders, carry handles and paddle holders. Both seats are adjustable and the rear one can be removed should you ever pale alone.
Pros
Tons of room
Amazing load capacity
Holds two paddlers
Great speed and tracking
Cons
Very heavy
Less balance and stability
Not for smaller waterways
3. Riot Kayaks Edge 14.5 LV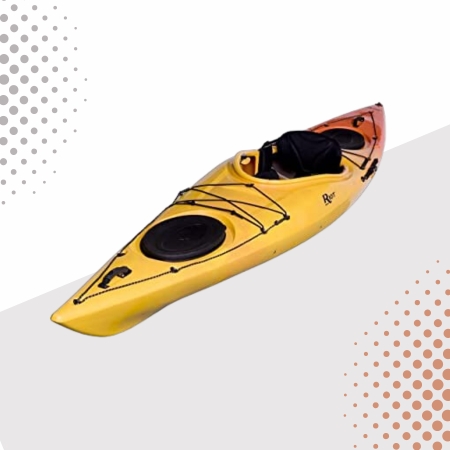 The third kayak on our list is great for lone, solo campers who do not mind a little extra work and carry the load if it means excellent features and performance. Weighing 60 pounds and able to carry 325 pounds of load, this polyethylene touring kayak is 14.5 feet long and 22.5 inches wide. Such a combination of measurements means a long and narrow body, excellent for speedy tracking. You will easily traverse miles and miles of waterways in record time.
When it comes to storage, the kayak has two watertight sealed hatches, one in the front and one in the back, as well as two bungee cord strings. Open storage is virtually non-existent, but you will not really need it. The kayak has a rope lining all around the hull that can be used for paddle holding. It has a rudder system too for easier maneuvering and turning. The seating is next level, adjustable, and very comfortable with a custom fit. There are also sliding foot braces and thigh braces.
Pros
Durable and strong
 Very fast
Good closed storage solutions
Rudder system
Cons
Too dependent on nice weather and flat water
Maneuverability
4. Sundolphin Aruba SS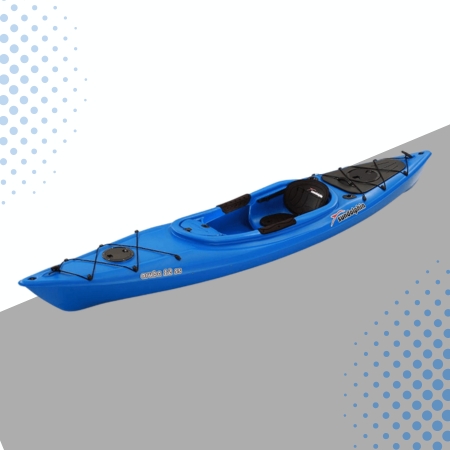 This brand is a well-known name in the kayak business and for a very good reason. They have models for any use and this may be the best one for campers. It is a light, capable sit-inside kayak with good overall features and specifications. With a strong polyethylene hull, it is a good choice for an avid camper who wants to try something more and start paddling every once in a while. The seat is comfy, there are thigh pads, and the stability is great.
This craft is 12 feet long, and 29.5 inches wide, and it weighs 47 pounds. It can carry 395 pounds of weight which is quite good. The balance of length and width is good for all sorts of waterways and offers a nice combo of speed and maneuverability. There are two watertight storage compartments as well as a portable accessory carrier (PAC). The PAC is removable and can be towed behind the boat, allowing this space to be used for extra storage. It even has two flush-mounted rod holders if you want to have a camping/fishing trip.
Pros
PAC storage
Fishing rod holders
Good stability
Lightweight and maneuverable
Cons
Not very speedy
Poor tracking on open waters
5. Ocean Kayak Venus 10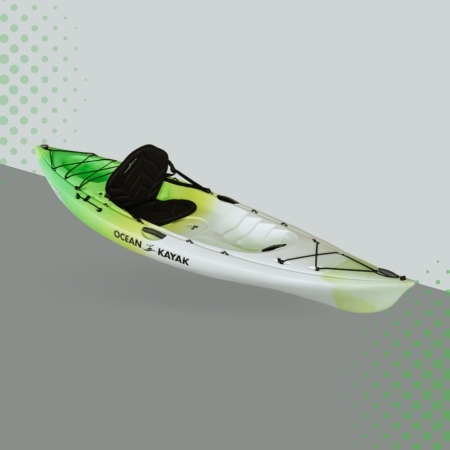 We finish off the list with another big name in the kayak game and their Venus 10 model. If you want a basic kayak that is light, short, and easy to use, look no further. At only 9 feet 10 inches in length, 28 inches in width, and weighing 37 pounds, it is the smallest and lightest robust kayak on the list and very easy to use.
It does not have a high load capacity as it is only 175 pounds, but this classic kayak is not meant for long or heavy-duty camping use. If all you need is a few short hours on the water as you camp, this right here is what you want. It is easy to maneuver and turn, stable, and perfect for beginners. The seat is padded, tracking is good, and it has two bungee cord areas, plenty of carry handles, and a cup holder.
Pros
Lightweight and handy
Easy to use and transport
Affordable
Cons
Low storage space
Poor load capacity
Very light-duty
Frequently Asked Questions (FAQs)
1. Is camping better with a kayak?
It is not really about it being better or worse but offering more options and a more complete experience. You can do more if you bring a kayak to your camping trip as it opens up more ways to enjoy the great outdoors.
2. Where to keep it during the night?
Kayak safety is an important thing to keep in mind. It would be best to get the kayak out of the water and place it next to the tent during the night. It is a good idea to bring a chan or a bike lock and tie it around a tree next to your campsite just in case.
3. Can I do it alone?
Camping is usually more interesting and enjoyable when you share it with friends. The same goes for kayak camping because it is more engaging and you have some help along the way to rely on. However, it can be done solo if you manage to get a lightweight kayak and pack up optimally.