Certain activities can only be enjoyed when you make sure to bring all of the necessities with you. While it can be done with barely anything by your side, it is much more enjoyable, fun, and optimal when you make an effort and equip yourself with something a bit more specific.
When kayaking is concerned, there are many things that the paddling boat can be fitted with and it is almost a rule at this point that you should bring certain items.
Kayaking is a very interesting and versatile activity because it is multiple things at once. It can be considered a sport, but also a recreational activity that can help you relax. On top of this, kayaking also increases the potential of other things like fishing, camping, or hunting.
Sure, you can do it perfectly well and catch a lot of fish without a kayak. You can have an unforgettable camping experience without setting off on the water. It is customary to walk in the woods and hunt. But with a kayak, there are many more possibilities and ways to make these usual activities better.
This can however only be done if you make sure that your kayak rig has everything it needs to help you enjoy the moment and to be more effective at it. Skills are fine and you should be able to do a lot of things on your own.
But why struggle and rely on your wits when modern technology and tools allow us so much? In this article, we talk about one of the lesser-mentioned survival items that every kayaker needs regardless of why they want to go paddling. Right here and now, we talk about the best hydration packs to bring with you.
1. Vibrelli Hydration Pack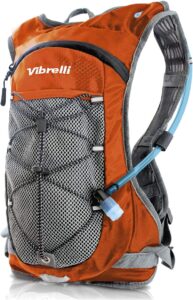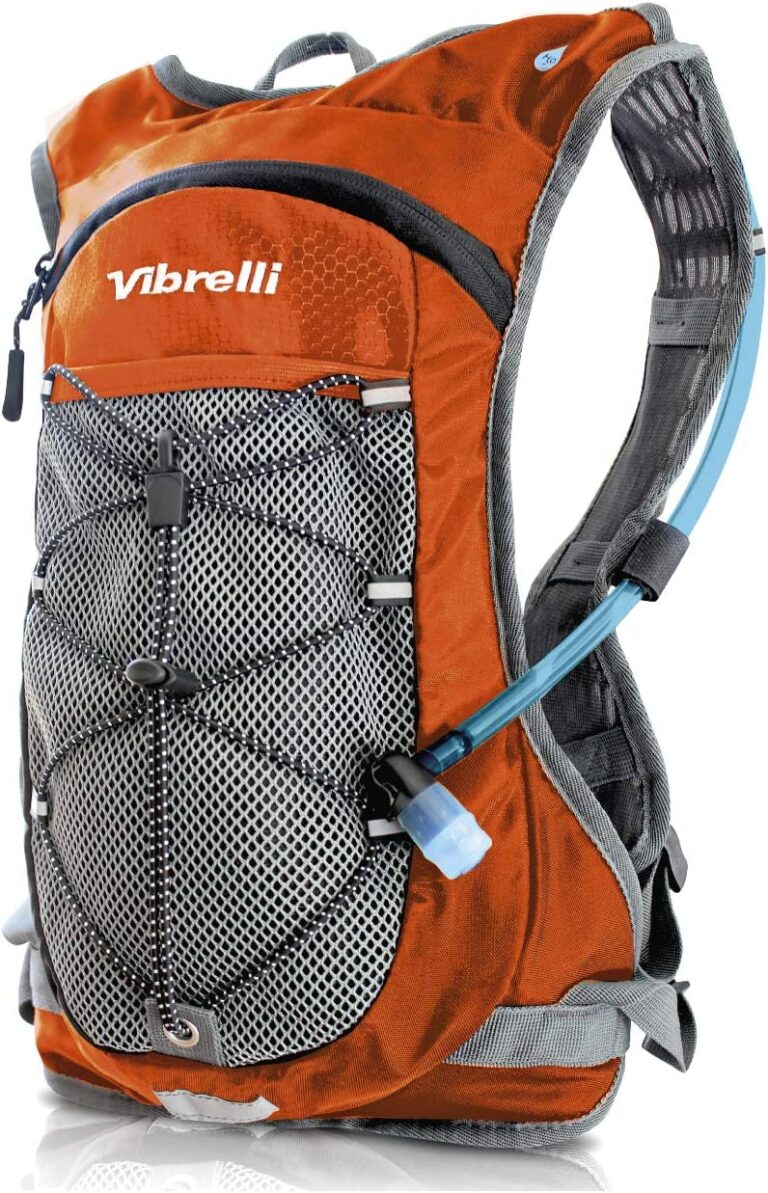 Starting off the list with one of the most positively reviewed and widely purchased packs, this item by Vibrelli is arguably the best overall option currently available. It is available in four attractive colors, orange, green, blue, and black, meaning it will fit well with most life vests and kayaks for the ultimate style on the water.
Made of nylon, this pack resembles a backpack and has a lot of storage compartments for your stuff. There is a separate pocket for the bladder (hydration pack), and a real backpack-like internal storage pocket.
Its dimensions are 16 x 12 x 3 inches, and it is both streamlined and ergonomic. On its own, it only weighs 415 grams. Carrying straps and the waistband is comfortable and adjustable, and there is also a chest strap with a whistle.
The shoulder straps are fully breathable, the bite-valve offers high flow, and there are adjustable hose clips. Speaking of the hose, it is medical grade and therefore durable, sturdy, and high-quality.
It is attached to the bladder that has a large top cap that unscrews easily but is also tight. The capacity of this hydration packet is 2 liters, which is the optimal amount of water for a grownup to stay fully hydrated during the day.
2. KUREIDA Hydration Bladder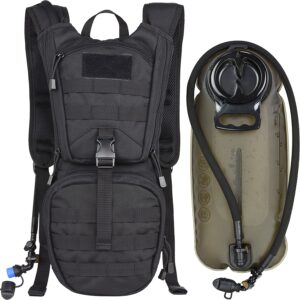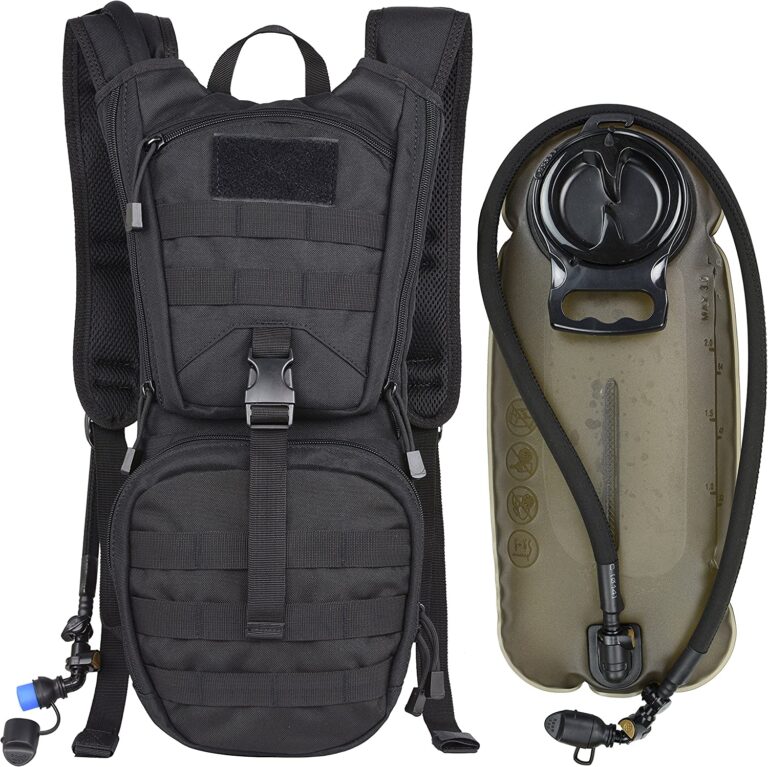 If you only need the bladder and not a full backpack hydration pack, look no further than this high-quality option from a well-known brand. It holds 2 liters and fits in any backpack, leaving plenty of room for the rest of your survival gear. It is available in two color varieties, white and blue. The bladder has a screw cap with a large, wide opening for easy pouring and convenient cleaning. It is very easy to use and refill no matter the situation.
Alongside the bladder, you also get a quick-release, insulated tube complete with a shutoff valve, as well as a sport cool towel. The towel is gray with the white bladder and blue with the blue bladder. It is great for a quick and effective cool-off and it is great at absorbing sweat. The bladder is advertised as military grade, meaning it can be used in the roughest conditions and toughest terrains.
The best thing about this choice is its affordability. Since there is no backpack, you only pay for what you get and that is a high-tier hydration bladder perfect for kayaking but also any other activity. Its measurements are 14.2 x 6.8 x 0.4 inches and it withstands temperatures from -20 to +50 degrees Celsius.
3. CamelBak Repack Low Rider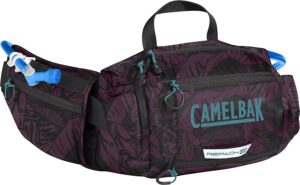 Here is something unorthodox in the world of hydration packs. In case you want to bring another backpack that is completely full and has no more room, or if you do not need a backpack at all, how about this waistline bag/fanny pack that holds 1.5 liters? Do not let the design or the size fool you. It still has a great reservoir with a fast flow and magnetic tube traps to keep the tube secure in place.
There are many style options with this pack, plum/black palms, gunmetal/black, fired brick/white, camelflage (green camo), and black. The bag is ideal for kayaking because you are constantly sitting, meaning the waist bag will be easily accessible at any time. There is a wide belt that is adjustable and comfortable, as well as durable and breathable.
An amazing thing about this fanny pack hydration pack is its storage potential. It is fitted with numerous carry pockets, both on the sides and in the front. The main pocket has plenty of room for your valuables, or additional survival gear like the first aid kit. Its dimensions are 11.03 x 7.29 x 6.12 inches, and it weighs 1.15 pounds.
4. MARCHWAY Tactical Molle Hydration Pack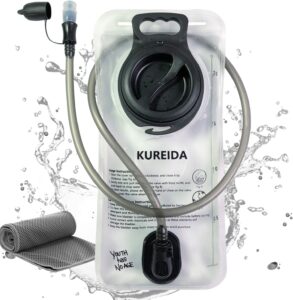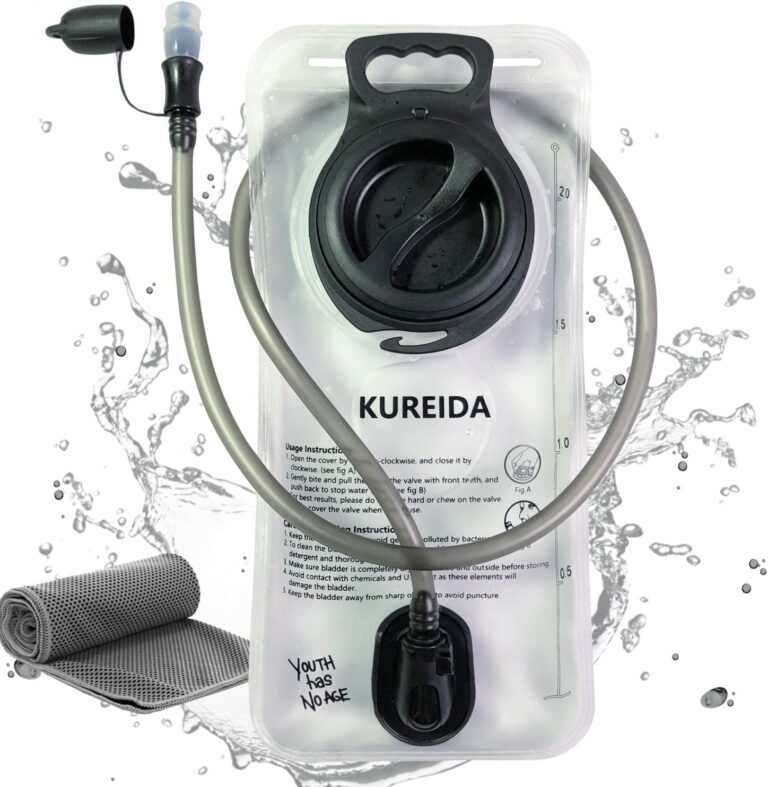 Here is something you do not see every day, at least when it comes to capacity. If 2 liters are not enough for you and you need a bigger backpack to go with your hydration pack, how about this 3-liter solution ideal for kayaking? It comes in black, tan, green, and three camo varieties, all easily combined with your kayak style.
The size of the backpack says it all as it is the largest on the list at 19 x 9 x 2 inches. Shoulder pads, an adjustable waist strap, and an emergency chest strap with a whistle will hold it firmly on your back. The water hose clip is 360 degrees rotatable and removable. For extra comfort, there are three foam pads that also increase breathability.
There is no question about it. This hydration backpack was made by professionals for professionals and it will be the first and only choice for every serious kayaker and adventurer. There is plenty of room for other gear including 1 main pocket, 2 external pockets, and a few other places to carry, attach, and strap your equipment.
5. BYLEEDUR Hydration Backpack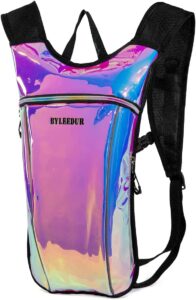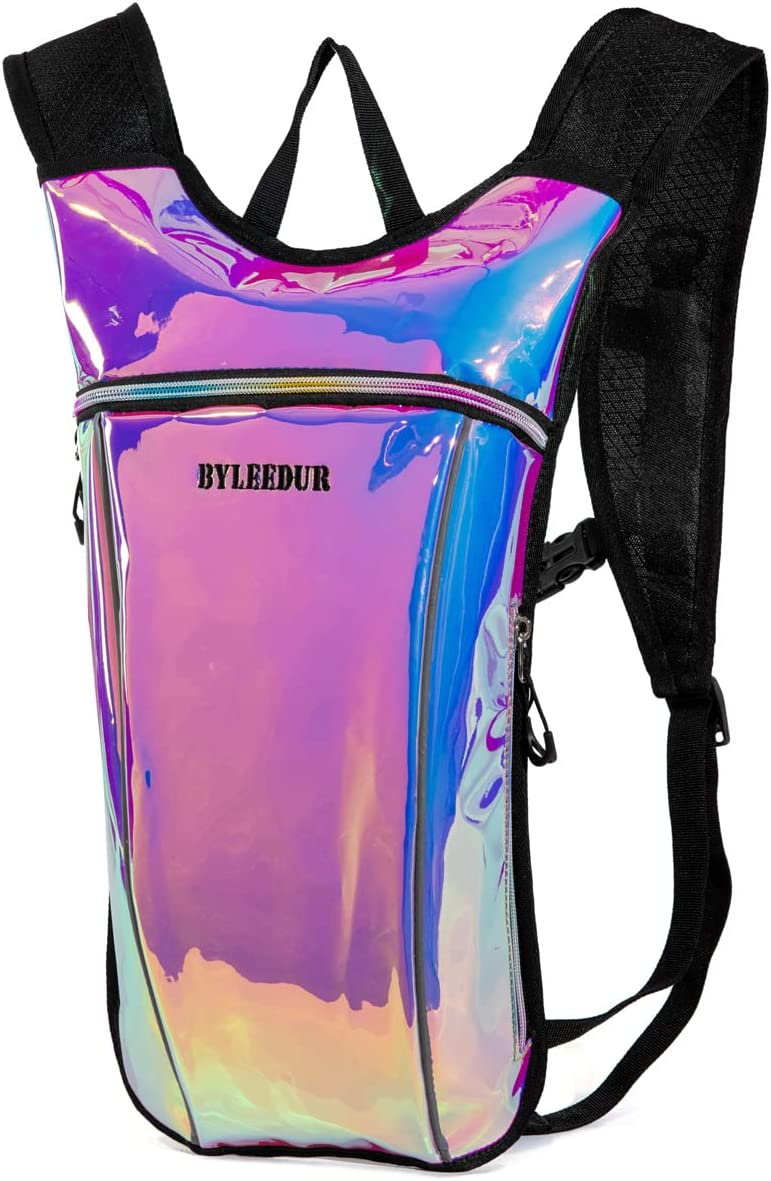 The fifth and final hydration pack on our review list is a very shiny and attractive one. It is a reflective, holographic backpack with a 2-liter bladder inside of it. Due to its appealing design, it has been a very popular choice for festival goers but also kayakers and other adventurers who do not mind a little bit of pizzazz alongside their paddling. It is available in no less than 12 different colors, all holographic and very pretty.
For extra safety and more visibility, the backpack and the shoulder straps have reflective areas that shine when exposed to light. The bag is waterproof just like the rest of them, and it has a large compartment that can bit a lot of gear. There is a side zip pocket too. Regarding its dimensions, they are 16.9 x 7.5 x 3.1 inches. The whole setup only weighs 530 grams and it is a breeze to wear and use.
There is a special, separate waterproof pocket for the bladder. The bladder has a wide tip for easy pouring and cleaning as well as to put a lot of ice inside. It is leakproof and it easily screws. The back of the backpack is padded for extra comfort and breathability.
What are Hydration Packs?
As their name suggests, hydration packs are devices that help the person wearing them stay hydrated. Going thirsty is not the best time to reach for water as it is the body's cry for help. People who drink enough water know that the feeling of thirst is already too late as the body needed water a while ago.
For this reason, it is prevalent to keep yourself hydrated while outside and in the wild, especially during hot summer days when most kayaking is done anyway.
Hydration Pack Overview
These packs are lightweight, body-hugging kits that you wear. It is a functional bag that has a water reservoir and a straw to drink the water. It is easy to wear, very useful and versatile, and most of them come with other features as well.
There are usually straps, pockets, zippers, etc. to make camping, kayaking, hiking, or any other outdoor activity more pleasant and fun. It is much better and more practical than carrying water bottles and the weight of the water is equally distributed around the torso.
If you are an adventurer, you need a hydration pack whenever you leave your home. It is a no-brainer during hot stretches of the year but also any other time when you will spend hours upon hours away from home. For kayaking, they are perfect because they also save space.
Water bottles and cans of your favorite beverage are much heavier and they take up a lot of storage. Plus, you are left with trash to bring back. With a hydration pack strapped on, you will stay hydrated and be more practical overall and therefore more productive.
Our Picks / Product Reviews
Here are some of the best hydration packs currently available on the market that are perfect for kayaking use. They can of course be used outside of the kayak too as they are quite versatile and widely applicable.
Frequently Asked Questions
It is not always easy to figure out what you need from a hydration pack so here are some of the most asked questions about choosing one.
Why Do I Need a Hydration Pack?
There is no going around it: you must stay hydrated if you mean to have a good time while out and about. Being on the water for the entire day makes you feel more thirsty than on land. You are more exposed to the elements because of the lack of any cover.
The sun will shine directly at you and it is a long way to the coast. Making sure you have enough fluids to go around in a kayak usually means carrying a cooler filled with water and beverages. You can save a lot of space if you wear 2 or 3 water on your person.
What Features Should It Have?
Since many of them come with their own little backpack, it is a good idea to look for a backpack/bladder set that balances comfort and storage well. It should have at least 2 or 3 pockets to put your valuables and belongings, as well as a few hooks and straps to attach more.
Comfort comes with padded surfaces and extra straps, while other useful features usually include whistles and extra items in the box. Think about the size of the backpack and whether you need one at all. You may benefit more from the aforementioned fanny pack variety or get just the bladder without a whole package.
What Size Do I Need?
The optimal amount of water for an adult to drink during the day is 2 liters. For some, this is too much, especially for shorter and petite individuals. Those of larger physiques and greater weight or height need more. There is also the preference factor and how much you enjoy the water.
It is the healthiest thing to drink but there is also a limit, after which it becomes too much. Think of how much you usually drink during a regular day and how much when you are active. The usual, 2-liter capacity should be enough for most kayakers.
Check out some other picks from Amazon also:

Mariyam Wilde has been kayaking since before it was cool. With a decade of navigating everything from tranquil lakes to white-water rapids, she's got more stories than there are fish in the sea.