Kayaking is for everyone and each and every one of us should have the same opportunity to enjoy this amazing activity. Just like other things in life, the fact that someone is heavier or bigger does not mean they cannot enjoy a particular sport or physical activity.
This is particularly true in the modern age where inclusion and acceptance are at the forefront of society and when everyone is encouraged to be who they are. The fact that someone is far, heavy, or plus size, however you want to call it, should not exclude them from entering a paddling boat and hitting the waters.
The only difference that needs to happen when the paddler is heavier deals with the type of kayak they are using. Of course, there are many different kayaks out there, big and small, long and short, wide and narrow. Some are meant for smaller paddlers, others are aimed at the plus-size community.
All it takes is finding the one that will be comfortable and big enough for you, as well as safe and stable. There should be enough room for storage and the kayak should support your preferences and the way you want to paddle.
In this article, we talk about the best kayaks for fat and heavy people and bring them closer to you. If you want to start kayaking but need one, or if you have a loved one who would like to start, make sure to read until the end.
Top Products / Our Review
There are certain features that a kayak has to have if it is to support the additional weight. It needs to have the right combination of weight, width, and load capacity, and be of a certain design choice and style. All of the kayaks reviewed below check the boxes and are great options for those who are heavier.
1. Wilderness Systems A.T.A.K. 120


We start the list with a popular brand name in the kayak industry and one of their most commonly used models. Wilderness Systems is a name you can trust and their kayak are a frequent option no matter the situation. The A.T.A.K. 120 model is a great and capable single-person, a sit-on-top kayak that is suitable for heavier people who do not plan to bring a lot of gear with them.
The maximum load capacity, which means including the paddler, is 400 pounds. If you weigh around 300 pounds, or even closer to 350, there is enough room for basic kayak necessities including refreshments and survival gear.
The kayak itself is 86 pounds and it is 12 feet 3 inches long and 35 inches wide. Since it is a kayak where you sit on the top, it means it has some extra width to work with. This gives it more stability which is important for heavier paddlers.
The dedicated seat is high and comfortable, offering a great vision of the water and also the coastline. It has an aluminum frame and it is elevated, which allows the knees enough space and does not curl you up as you paddle. The back area of the seat is mesh, breathable enough to offer great cooling on hotter days. In the front, plenty of legroom is there for you to stretch out and get comfy.
Rounding up the feature lists are adjustable foot braces that you can pinpoint to your height. There is a tankwell in the back for storing crates, coolers, or bags. The kayak is available in four attractive colors, has carry handles, and a seal hatch storage. All in all, this is a great solution for recreation but also something more specific like fishing.
Pros
Good brand
Strong, durable, sturdy
Great stability
Comfortable seat
Cons
The weight capacity may be low for some
No dedicated special features
2. Sea Eagle 370 Pro Inflatable Kayak


The fact that this is an inflatable kayak means that you will hardly ever struggle to carry it, store it, or transport it. When folded and deflated, it easily packs into the all-purpose bag that you get. The vessel only weighs 32 pounds and it is a breeze to carry around. When it is fully open and inflated, you get a very capable and roomy kayak that is 12 feet 6 inches long and 34 inches wide.
Another neat feature is the fact that this is actually a kayak for two people, evident by multiple seats and a spacious cockpit where three people easily fit. This also means that it needs a higher maximum load capacity, and it does have it at 650 pounds.
Of course, it can also be paddled by a single paddler, which is why it is on this list. Heavier kayakers will enjoy the roominess of this boat and have no trouble paddling in it alone even if they fill it up to the brim with gear and equipment.
Speaking of paddling it, you get two four-piece paddles alongside the kayak and the carry bag. This is not all as there is also the foot-operated pump in the box for easy inflation. The seats themselves are inflatable too and they offer extra back support for longer paddling and fishing.
They are easily removable and they only weigh 3.5 pounds each. On the bottom, there are two molded skegs for better tracking and along the bow and the stern, there is a long system of bungee ropes.
Pros
Affordable
Seats two paddlers
Inflatable, lightweight
Good load capacity
Extra equipment included
Cons
Lack of features
Limited storage solutions
Usable space is narrow
3. Oru Kayak Haven TT Folding


If inflatable kayaks are not your thing but you still want a compact, accessible, easy-to-transport and store vessel, why not go with a foldable kayak? This model by the Oru Kayak brand is a great option for anyone who wants a kayak that is easy to set up and use but also capable and strong enough for a heavier paddler. It is capable of carrying two paddlers at once as well.
Despite only weighing 40 pounds, it has a maximum weight capacity of 500 pounds. When fully opened and ready for the water, which happens in minutes, it extends an incredible 16 feet and is 26 inches wide. This amazing length means that it is the longest kayak on our list. The narrowness combined with the lean and sharp hull design means that it is quite fast and great at tracking, something that ocean kayakers will appreciate.
When folded down, it fits into a backpack case that measures 34 x 17 x 29 inches, a dream to transport and store. The kayak can actually be used by two paddlers at once and is equally good for beginners and veterans. Casual and recreational paddling in calm lakes, wide and slow rivers, and the ocean is where it shines the most. The attractive white, black, and orange design will surely make you stand out in the crowd.
There are handles in the front and back for easier handling as well as an adjustable footrest for a comfortable leg position. Add-on additional accessories can be attached like fishing rods and cup holders. The seat is padded and comfortable for hours on the water and the backrest is fully adjustable with extra padding.
Pros
Folds inside a backpack in minutes
Strong and capable
Fast (great tracking)
Lightweight
Cons
Expensive
No extra accessories
Average stability
4. Elkton Outdoors Steelhead Inflatable Fishing Kayak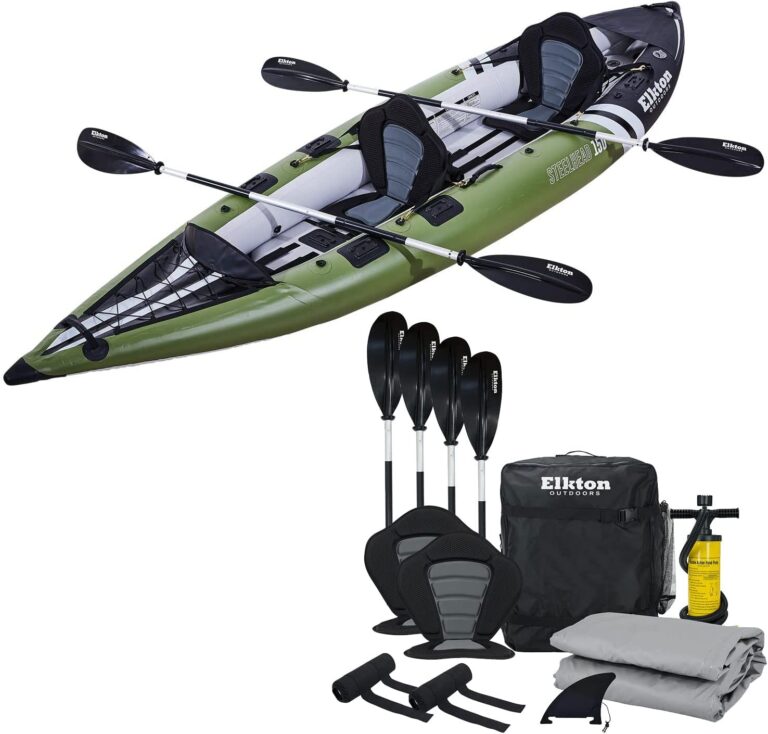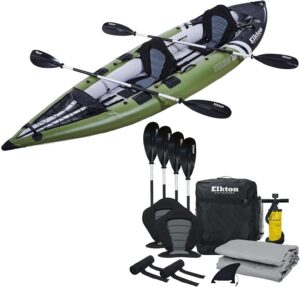 The previous three entries on the list were all mainly recreational kayaks that can be used in various situations and by different types of kayakers. All are great for heavier users, but none of them are specifically made for, say, fishing. Well, the Steelhead by Elkton Outdoors is a fishing kayak, an inflatable one at that, and it is more than capable of supporting a heavier paddler.
With a maximum weight capacity of 600 pounds, it is up there with the best of them. And since it inflates, it is also quite lightweight on its own and only weighs 44 pounds. To round up the measurement chart, it is 12 feet 6 inches long and 39 inches wide. The extra width means stability, but not all of it is open space due to its inflated edges. Still, it is among the widest in its class making it perfect for a heavy kayaker.
The floor is rigid and drop-stitched, which gives the feeling of it being a regular, sturdy, and rigid kayak with a hard hull.  The front has a covered storage area with bungee straps on top. This is the main storage compartment where you will place most of your gear.
Worry not, as there is more covered space in the back should you need it. This fishing paddling boat seats two paddlers and comes with two adjustable, folding seats with adjustable footrests.
In the box, you also get two breakdown paddles, a dual-action hand pump that inflates and deflates in minutes, a removable skeg, and a travel backpack to put the deflated and folded kayak in. Convenient and easy to carry, you will never need to worry about where to place it or how to transport it to the water and back. Fishermen will love the numerous fishing rod mounts as well as the carry handles.
Pros
Fishing rod mounts
Ample (covered) storage
Great stability
Extra accessories (paddles, bag, pump, etc.)
Cons
Very slow
Narrow cockpit despite being wide
5. Brooklyn Kayak Company (BKC) PK13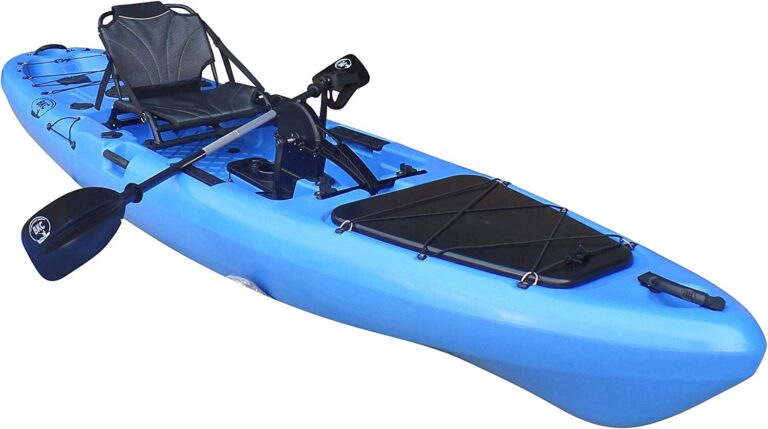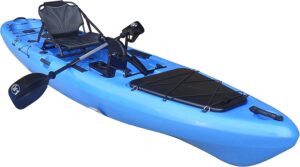 Going back to the basics, here is a classic modern kayak design that is available in 6 attractive colors. The PK13 by BKC comes in blue, blue camo, green camo, grey camo, red, and yellow. With a maximum weight capacity of 550 pounds, it is all you can ask for from a sit-on-top kayak developed for a single paddler. The kayak weighs 80 pounds.
Considering it is a model on which you sit on the top, it allows standing which is great for fishermen. Anglers like to cast from a standing position and this kayak remains well-balanced on the water while you do so. It is wide enough to offer good stability throughout, and although not very fast, it is still among the longer models at 13 feet long and 33.25 inches wide.
The unique feature of this kayak that makes it stand out on this list is the pedal drive propulsion. Of course, you can still use a regular paddle (included in the package) but doing it with your legs frees up the arms for other activities, like fishing, birdwatching, or photography. The pedals are right in front of the dedicated, ergonomic seat that is comfortable and supported enough for longer stretches.
When features are concerned, it has three fishing rod holders, two watertight hatches for storage, bungee ropes in the front and back, and plenty of carry handles throughout. There is also a place for an electric motor if you ever want to upgrade it.
There is a neat rod holder on the side and plenty of room in the back and front for your equipment and gear. All in all, a very stable and capable classic modern kayak that ticks all the boxes.
Pros
Pedal propulsion system
Fishing rod holders
Paddle included
Great stability
Cons
The materials feel a bit cheap
Reports of parts that break easily
Not the most durable or sturdy
Buying Guide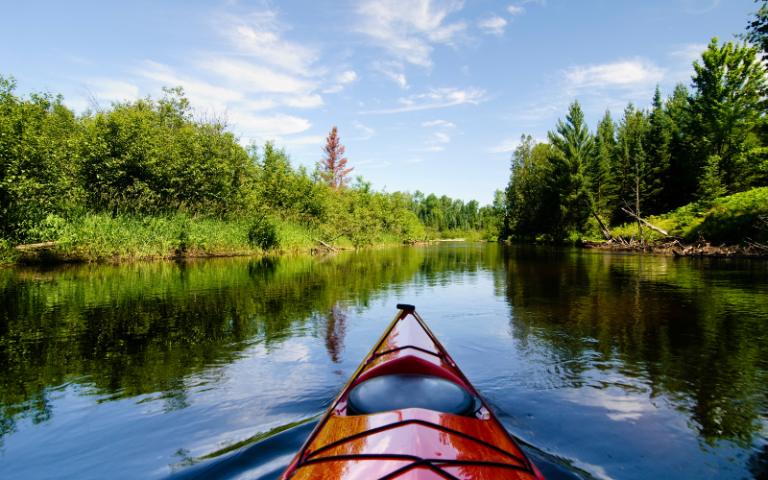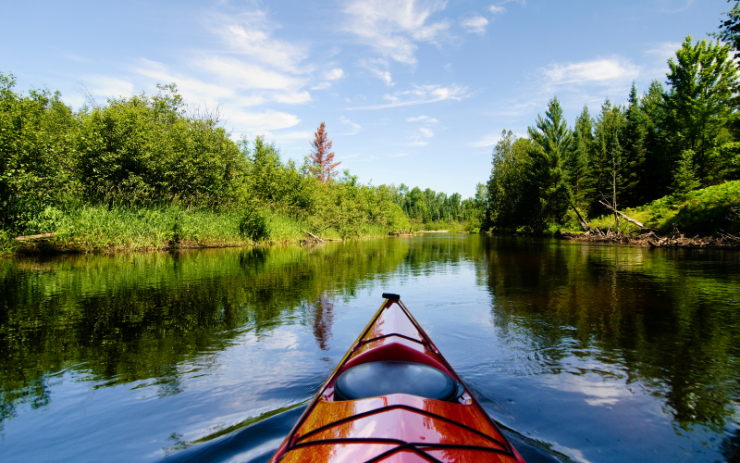 So what does a fat person require from a kayak the most? There are many features among kayaks, even among the aforementioned models that we reviewed. What should the heavier kayakers aim at and when browsing the market? Some specs are more important than the rest so make sure to pay attention to these.
Weight Capacity
First and foremost, it is the maximum weight capacity of the kayak, also called weight capacity. This refers to the maximum amount of weight the kayak can carry without compromising the floatability and overall performance.
Mind that a kayak will not sink if you go over it by some 10 or 15 pounds, but do not risk it. It is always best to pick a kayak that has at least 150 pounds left when you calculate in your own weight.
So if you weigh 300 pounds, the kayak should have a load capacity of at least 450. However, go above that and look for 500 or so. There should be some free load weight too if you want the optimal performance of your vessel. Most experts agree that only about 80% of the kayak should be loaded.
For a kayak that can carry 600 pounds, that means around 12 should be free. In other words, 480 pounds. The usual gear that kayakers bring weighs between 50 and 100 pounds so you should not have a lot of trouble picking.
Storage Capacity
Next up is the storage capability of the kayak. When you are heavier, most of your items are bigger as well. Clothes, for example, which you should always have a spare set of, will be more cumbersome and therefore heavier.
You need more water and beverages. And then there are the essentials like first aid, survival gear, sleeping gear, and fishing supplies. All of this is packed in coolers, bags, and crates which ask for a lot of space.
Since you will need more space to sit, the kayak requires extended room for storage in the front, back, and to sides. Waterproof hatches are arguably the best solution, but they do not exist on foldable and inflatable kayaks. Depending on what you want to bring you should examine the best kayak based on the amount and type of storage. Do not underestimate the importance of storage.
Stability
Lastly, you have to make sure that the kayak is stable. All of the models from the review section offer better-than-average stability, but there can always be more time devoted to picking the right one. Wider kayaks are more stable than narrow ones.
Sit-on-top types are stabler than the sit-inside varieties. What is more, hulls that utilize the U shape are much more stable and easier to balance than those with V-shaped hulls. Then there is the primary and secondary stability.
Primary stability deals with how stable the kayak is in optimal water and weather conditions. It is measured in calm waters and nice weather when there is nothing to go wrong. This is where most kayaking is done and what most people want.
On the other hand, secondary stability comes into play when the kayak is shaking, wiggling from side to side. Will it capsize or not? How much can it take in rough waters and stronger winds defines its secondary stability? If you want recreation and relaxation, primary stability should be your concern. If you also want a bit of adrenaline, make sure the secondary is good too.
Frequently Asked Questions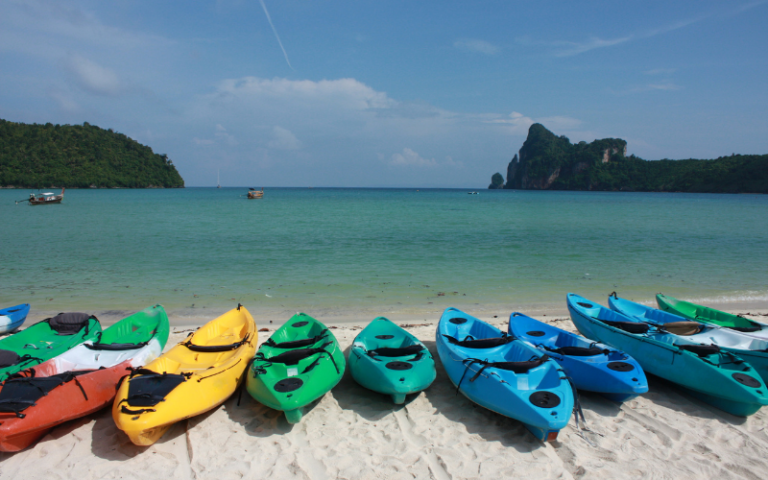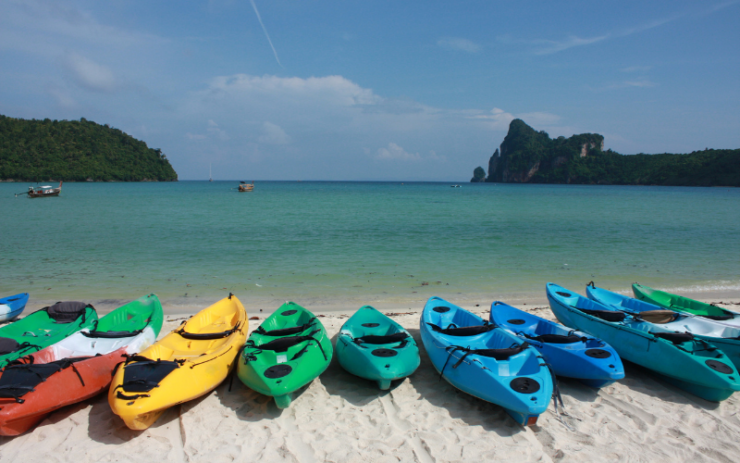 1. Can fat people use kayaks?
Of course, they can, anyone can be a kayaker. It is only a matter of how determined they are and how well they pick a kayak. There is nothing that prevents a heavier person from paddling and using a kayak as intended.
Whether it is fishing, touring, or whitewater rapids, fat people are not excluded from making kayaking their number one hobby. Just like any other water-based activity, your weight does not matter.
2. Are there special kayaks for fat people?
No, there are not. There are however kayaks that are more optimal for bigger and heavier paddlers. They need to be bigger themselves but in the right way. The length is not really that important, but it is still a good indicator. Aim for kayaks that are over 12 feet long, somewhere between 13 and 16+ feet in length.
What is important is the width, the hull shape, and how stable they are. Usually, sit-on-top kayaks are the best solution because that is exactly what they utilize. On the other end of the spectrum are fast, long, narrow, and sleek kayaks that offer much less stability. These are definitely not meant for heavier and bigger individuals.
3. Can fat people paddle quickly?
Paddling does not have to do a lot with how much the paddler weighs. Kayaks have their load capacity and as long as you do not get near it there will be no problem with the paddling speed. They will glide through the water equally well if you paddle correctly and do not overload them with equipment.
If you manage to get a vessel that has enough load capacity left when you get inside it, the speed at which you move will be more than satisfactory.
Conclusion and Takeaways
It should be more than clear now that fat and heavy people can freely become kayakers. There are some great kayaks out there that should make it easy for them to take full advantage of rivers, lakes, and the ocean. No matter if they want to fish from a kayak, relax during recreational stints, or have some adrenaline-filled moments, there is a kayak to allow them to do so.
No brand makes separate kayaks depending on the body physique, just more capable and sturdy kayaks that can do more and carry more equipment. A great thing about this is that heavier paddlers can use this to their advantage and enjoy the activity just like everyone else.
Inflatable, foldable, or rigid, anything goes as long as the load capacity is satisfactory and the stability is above average. Beginners will find it a bit challenging at first, but so do other kayakers who are not considered heavier.
It is the same for everyone, the water and the weather conditions need to be taken into account just the same, and the paddling form and strokes are exactly the same for everyone. All that is left now is to get out there, find a kayak that can support your weight well, and hit the waters.