As most kayak anglers are aware, getting a live fish into a kayak is not easy by any stretch. Keeping balance and maintaining control throughout the whole process can be quite a drag, which is why you need some help. This is where the best kayak fishing net comes into play, and today we will discuss some of the best on the market.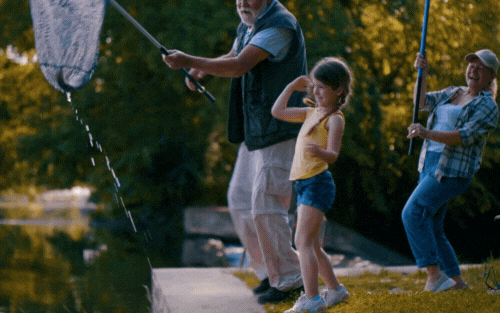 With this product at your disposal, you will be able to secure a good catch every time you decide to fish in your kayak. It is a handy unit that every experienced kayak fisherman knows the importance of. In this guide, we have listed some of the best-reviewed kayak fishing nets that will help you get more success on your fishing trips. We have a lot to cover, so let us begin without a further redo.
List of Best Kayak Fishing Nets for Anglers
1. Goture Magnetic Clip Fly Fishing Landing Net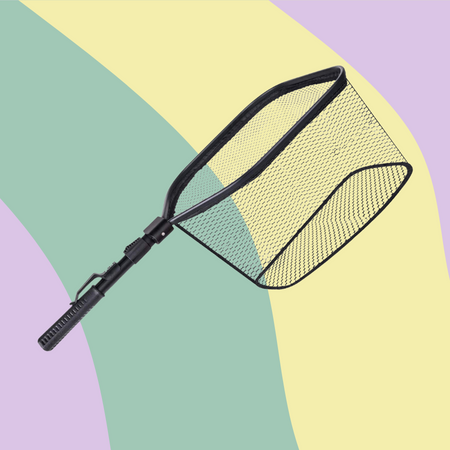 The Goture fishing net is a great all-around net that can handle a wide range of fish types and sizes. It is very convenient, compact, and effective, which is what every kayak angler looks for and is the main reason why it found itself first on our list.
This net is equipped with a foldable and flexible pole design. The pole's length can be easily adjusted, making it very convenient in terms of carrying and storage options. It is made from natural rubber on a wooden frame that will not damage your catch, making it ideal for easy catch and release.
The hook points are crafted with a lot of attention, ensuring that the net is harmless for both fish and the fisherman. The net's handle is made from a magnetic clip head and completed with a stretchable spring cord which adds even more convenience. Given the fact that the product can extend to a length of 32 inches, you will be able to do pretty much anything from shore fishing to fly fishing.
2. Fiblink Folding Aluminum Fishing Landing Net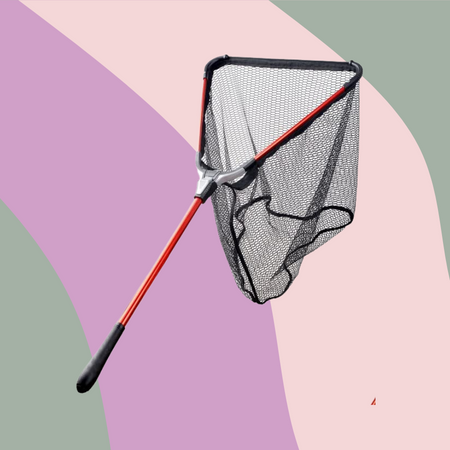 In case you are looking for a longer fishing net that will allow you to catch fish at a bigger distance from your kayak, the Fiblink folding aluminum fishing net might be the perfect choice for you. It is a product coming from the Fiblink store, and it is available in different varieties; however, we will focus on the one with an extended length of 23 – 37 inches.
This fishing net is made from corrosion-resistant anodized aluminum alloy, which was used for both handle and the hoop. The product can extend to a lengthy 37 inches, while it can collapse to a very portable 23 inches. The net itself can also fold down onto the rod for very convenient storage.
The microfine mesh is constructed using durable nylon, and it is completely knot-free, which makes it kinder for fish and ideal for catch and release fishing. If there is one downside we could point out, it is the fact that mesh is non-rubberized. So if you are looking to be kind to the fish you catch, you might want to look for something else.
3. SF Fly Fishing Landing Net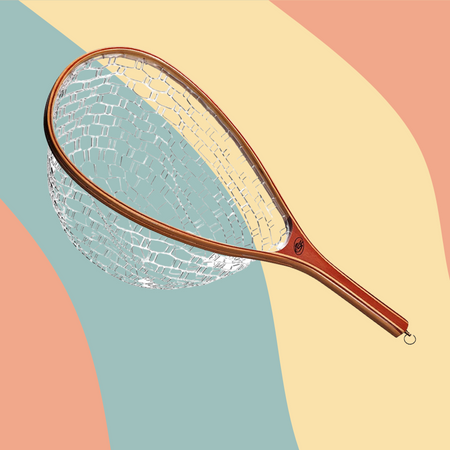 SF Fly fishing net is one of the best choices for catch and release anglers that are looking to cause as little damage as they can to their catch. It is made from soft rubberized material and is specifically designed to avoid harming fish's gill, scales, and fins.
The frame of this net is constructed using durable laminated bamboo and hardwood, and it is available in square head, round head, and teardrop designs. The only drawback worth mentioning is that this net uses a paddle design rather than a telescopic pole, which may be a deal-breaker for some anglers.
Although this means you will have a limited reach, it might be a positive for kayakers who are limited with space. The manufacturers wanted to keep this net securely in your hands, so they designed a magnetic clip that is attached to a safety cable that connects you to the copper swivel at the end of the handle. It is an excellent product that will not break the bank.
4. YakAttack Leverage Landing Net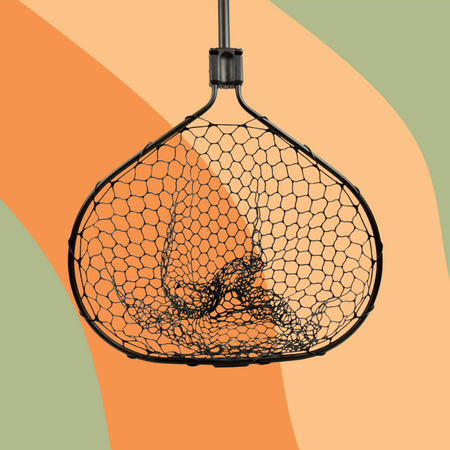 YakAttack leverage landing net is an excellent fishing net, ideal for catching fish up to 30 inches, which is quite impressive. This net will allow you to work the rod with one hand while extending the net and scooping up the fish with the other hand, making it very practical and convenient.
This folding net stretches to 54 inches in length, so you will be able to reach the water from a large kayak with a high seat. Moreover, this net is equipped with a rubberized webbing that keeps it from snagging hooks and fins and harming the fish you catch.
One of the best things about this unit is that despite its length, it is very easy to store. Once you collapse it, a few inches of the handle stick below the hoop so that it can get really short or long, depending on your needs. Although it is a bit more expensive than the rest of the products on our list, this net is a worthy investment.
5. EGO S2 Slider Fishing Net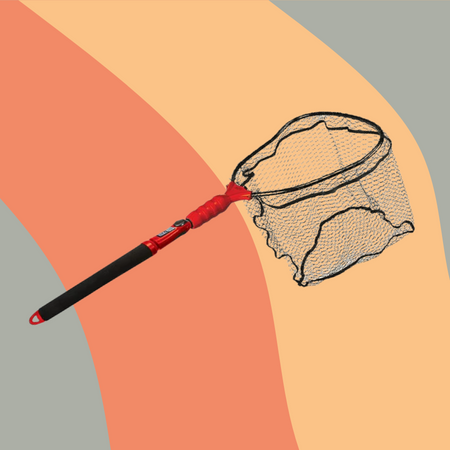 The Ego S2 slider is one of the most versatile fishing nets you can find in today's very competitive market. It is a highly effective and compact net, and with it, you never have to worry about losing your haul ever again. It is a one-dimensional net that comes with an inventive modular platform which adds even more to overall convenience.
This is the perfect net for landing a wide variety of fish, especially if you extend the net and grab them before the boat side starts moving. Even if you opt for a smaller net, you can afterward purchase the larger net attachment if your plan is to catch even bigger fish.
It is a fantastic net for both shore and boat fishing. Moreover, it floats if you lose it over the side, so it is extremely convenient as well. Being extendable makes it especially functional when fishing from a high bank or boat since you will have plenty of reach. Even though it is a bit pricier, this net is worth every penny, and we highly recommend it.
6. KUFA Telescope Aluminum Landing Net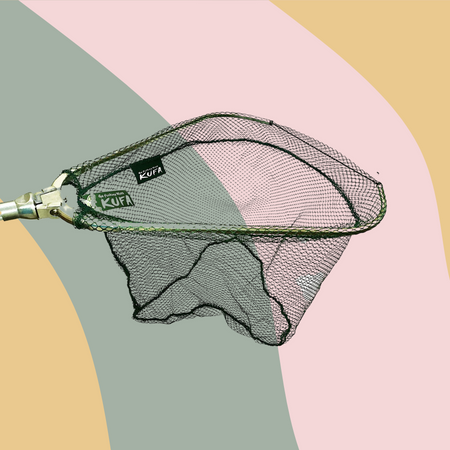 KUFA telescope aluminum landing net is one of the simplest and easiest to use fishing nets on our list. It is very convenient and pretty lengthy once it is fully stretched, but it is also very easy to store when you collapse it to the smallest size, which is another testament to its convenience.
It is made of strong yet very lightweight aluminum, and it telescopes from portable 27 inches to a whopping 47 inches. This net blends a solid knotless mesh net with a lengthy telescopic pole made from lightweight aluminum that prevents any type of rust or corrosion that might occur.
The one downside of this net is that it is not rubberized, which is not very kind to fish's gill, fins, and scales. Other than that, it is a very simple and convenient fish net that comes at a more than reasonable price, and considering the quality you are getting with it, it is a really good bargain.
7. RESTCLOUD Fishing Landing Net with Telescoping Pole Handle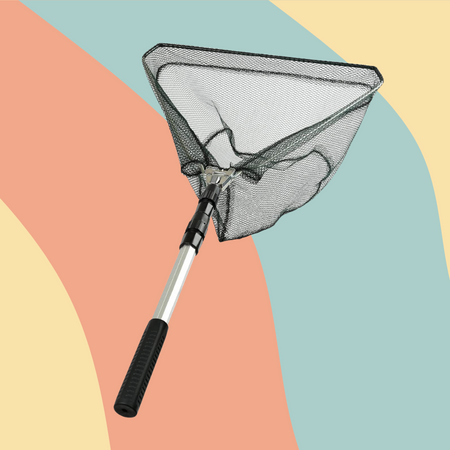 Restcloud fishing landing net is one of the most reliable and long-lasting products on our list that is, at the same time, one of the cheapest. It is designed with durable netting, complete with a corrosion-resistant aluminum handle for super fishing sessions and an enjoyable experience.
Another great thing about this unit is that it can be used in both freshwater and saltwater effectively. It is particularly good for kayak fishing since it boasts a telescopic handle that can be extended from 18 to 36 inches, which will allow you to fish from far and wide.
This net is also fish-friendly with its soft and lightweight mesh that will not hurt your catch, making it suitable for both beginners and professionals. Moreover, the handle is collapsable and, as such, enjoys great portability as well. Overall it is an amazing net that comes at a very low price range and has incredible value that comes with more expensive nets.
8. PLUSINNO Fishing Net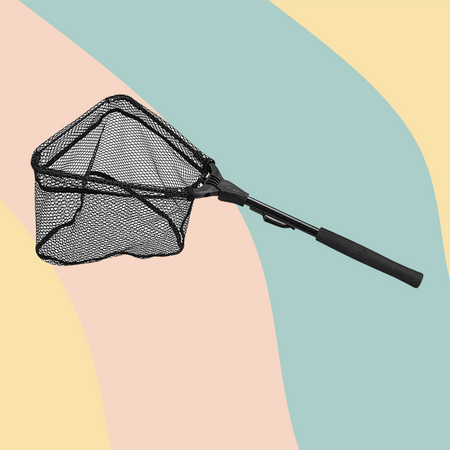 This fishing net is a product coming from the Plusinno store, and it is available in four sizes to choose from, depending on the needs you have. It surpasses the traditional trout net in almost every way, and it is highly convenient for both shore and kayak fishing. Moreover, it folds and is compact, which is a great piece of news for kayak fishermen.
This product is made from high-density carbon fiber blended with fiberglass, which adds more to its sturdiness and overall durability. In addition, this net is non-absorbent, so it will not get heavier in the water. Moreover, the coating prevents bacteria and odor absorption, which is another cool feature.
The net boasts a knotless design, which is fish-friendly and prevents both the net and fish hooks from getting tangled. Usually, this design is reserved for very small fishing nets or long-handled landing nets, but this product is highly versatile and offers much more than its price dictates.
9. Wakeman Fishing Net with Telescoping Handle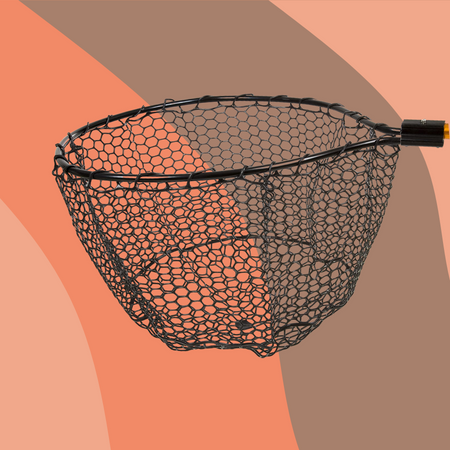 Wakeman fishing net with telescoping handle is a highly versatile fishing net that is designed to handle a wide variety of fishes of different sizes. It is made from high-quality thermal plastic rubber, which is very kind to fish and prevents any damage to it, making it a great pick for catch and release anglers.
This product is equipped with a retractable and corrosion-resistant aluminum handle that can extend from 35 inches up to a whopping 56 inches, making it ideal for kayak fishing since you can pull the fish from longer distances. The net itself is made of tangle-free nylon netting, great for fishing in both saltwater and freshwater.
This unit folds up with a simple push of the button that retracts it back to the original state and can be stored pretty much anywhere without occupying too much space. If you are looking for a lightweight net that is very convenient and cost-efficient, then this Wakeman's product might be exactly what you need.
10. ODDSPRO Fly Fishing Landing Net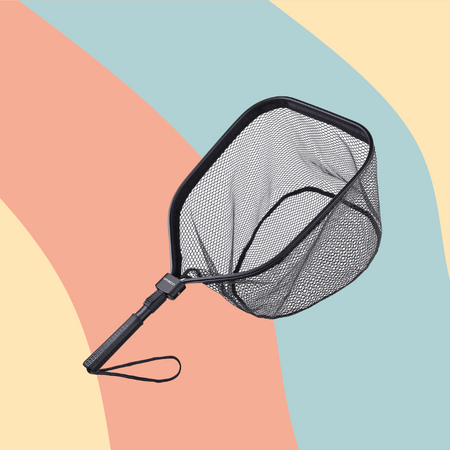 This fly fishing landing net is one of the best choices you can go for if you are tight on the budget but require decent gear for kayak fishing. It is a fishing net that provides an enjoyable fishing experience and packs the punch of a much more expensive product.
For starters, this net boasts a loop and handle that is made from premium-quality carbon fiber blended with fiberglass. This build makes the net very sturdy, impact-resistant, and what is probably the best thing in the whole combination, very light. You will also find a non-slip coating on the handle that grants you a comfortable and secure grip.
In addition, the waterproof rubber coating on the nylon mesh helps prevent both odor and waterlogging, which is a nice little touch. Another thing that you will surely like is that the mesh's knotless design avoids fishhooks from getting tangled, which is also effective in preventing the slime coating of the fish from getting impacted.
Things to Consider Before Purchasing Kayak Fishing Net
Buying a kayak fishing net is much more than just getting a product with a net on a pole. There are a lot of things you need to keep in mind and consider before spending any money in order to get the best possible value. In order to assist you in this endeavor, we have put together a list of guidelines you should follow in the section below.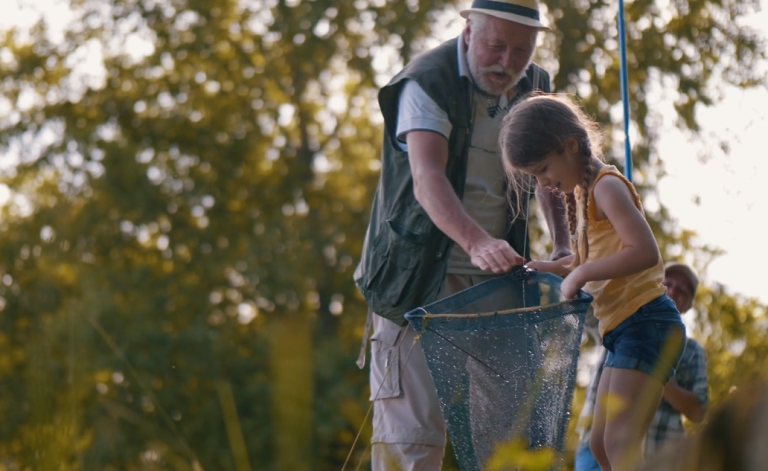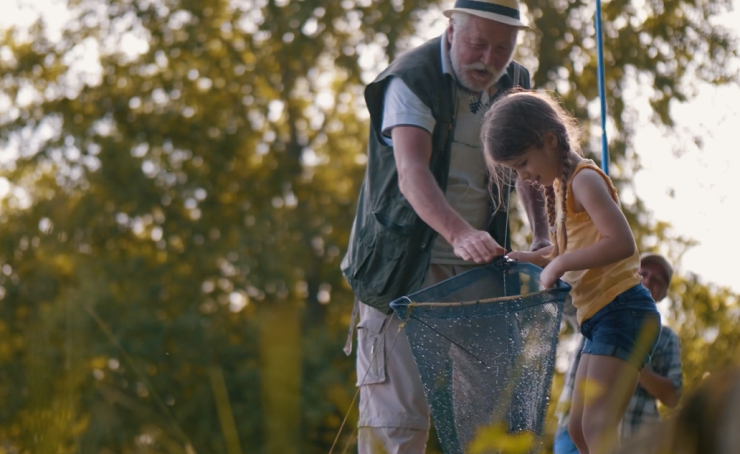 Folding Handle
If you are going to kayak fishing, you need to get a fishing net that will not take much of your space since you are very limited with it. Opting for a folding or telescoping handle will make it a lot easier to fit the net into a kayak and will take only a small portion of the space you need.
Collapsable Hoop
The collapsable is yet another great way to reduce the net's size. This hoop has hinges at the top and the bottom, and with a simple push of a button, it will fold in half. It reduces the size of the hoop drastically and prevents the netting from snagging everything in the kayak.
Net Material
Catch and release anglers generally opt for nets with rubber-coated, knot-free webbing to reduce any damage or harm to the fish. The non-abrasive materials protect fish's scales which gives them a better chance of surviving release. The rubber coating and smooth connections will likely not snag with fins or hooks.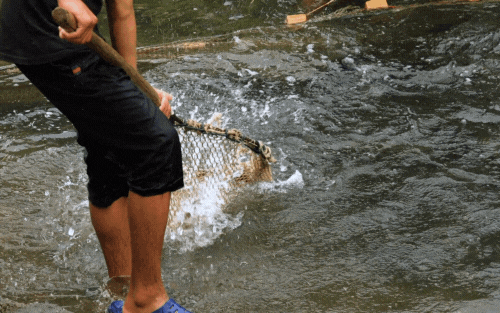 Size
The size of the net is a very important consideration to make before spending any money. You need to determine what size and type of fish you want to catch and if you will store the net on the kayak. Bigger fish requires a larger hoop and deeper net, so choose accordingly.
Floating
Since you have to reach out to land a big fish, the net will likely end up in the water, which is why you should opt for the one that floats. Look for a buoyant net without attaching a buoy or extra floatation. It is also wise to pick the one with bright colors to spot it easier in the water.
Frequently Asked Questions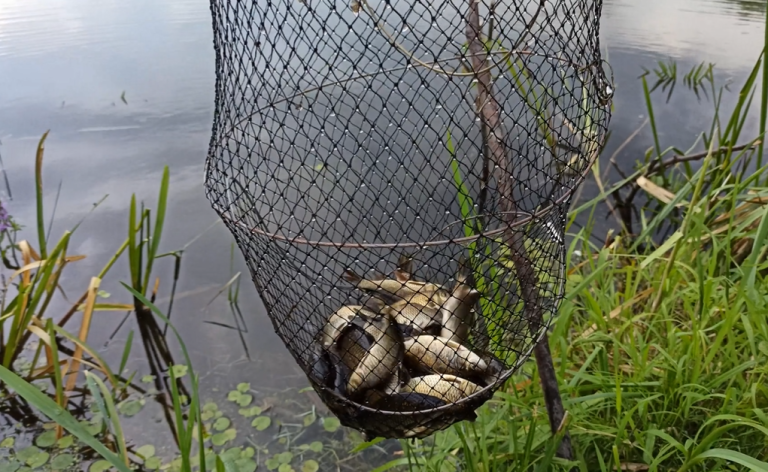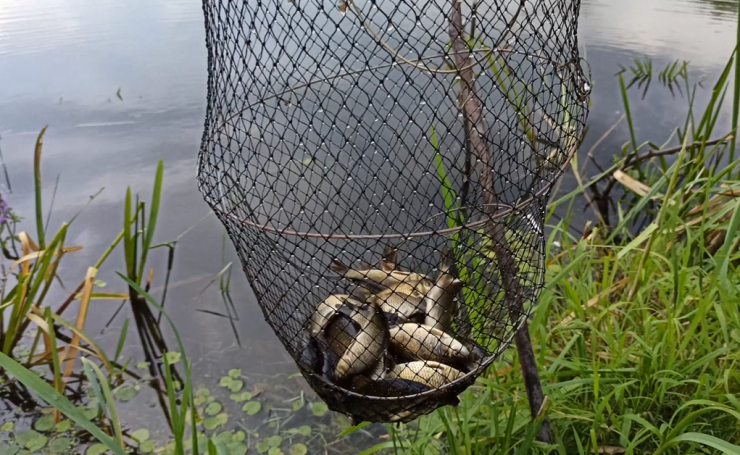 1. Do I require a net for kayak fishing?
If the fish you want to catch have teeth, spines, or a weak jaw, you will certainly require a net. Tournament anglers also prefer to bring along the net, so they do not lose a winning fish. The nets are also useful when you catch the fish and put it on the boat since they will prevent it from jumping from the kayak.
2. What size fishing net do I need?
This entirely depends on the type and size of the fish you want to catch. For delicate and small fish like stream trout, look for small, micro-mesh nets. For bigger and stronger fish, opt for a 1.5 to 2-inch mesh.
3. How do you keep fish alive in a kayak?
One of the best ways to do so is to get a diver goodie bag, which some people know as a mesh bag, and hang it next to the kayak and place the fish inside and close it tightly. You can also bring the foldable bucket and put the fish inside along with some water from the river, lake, or sea from which you are fishing.
Final Words
The best kayak fishing net will take up a small portion of space in your kayak and help you catch the fish in a way it is safe for both you and them. Remember that it is the most important thing to determine what type and size of fish you want to catch before investing any money.
We hope you enjoyed our guide and that it will help you get a quality and efficient fishing net. If you are still uncertain and cannot decide which one to go for, we recommend you to go for one of our top three picks, as all of them deliver exceptional fishing experiences and are very convenient and safe.
Also, if you need some extra advice on how to use and throw a cast net you can find detailed guide on our site.
Take a look at these products from the same price range, that are available right now on Amazon: