Most anglers will agree that there are many lures that just about revolutionized fishing, and are still top lures today. These are my picks for the all-time greatest fishing lures ever made. They are not in any particular order.
I used various criteria, such as longevity, popularity, success rate, and availability. You may not agree with my choices, but you are certainly free to comment and add your own picks.
So, here they are The fishing lures That REVOLUTIONIZED fishing! (in my opinion)
Top Picks Lure Kits Ever
1. The Strike King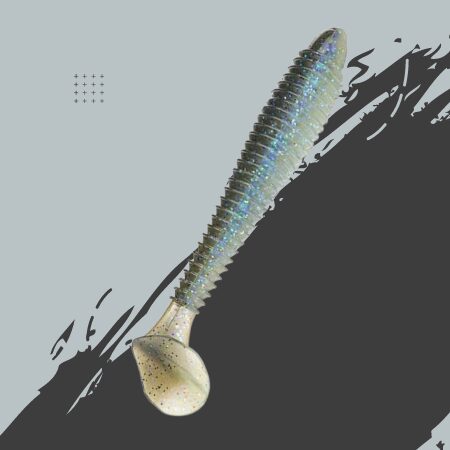 Started in 1966 by Charles Spence, in Collierville, Tennessee, Strike King quickly gained a reputation for making tournament-winning spinnerbaits.
The spinnerbait has been around since the late 1800s, but the design has been greatly refined over the years, and Strike King seems to have brought it to its ultimate expression, so much so that even though the company now makes many types of lures, their name has become synonymous with 'spinnerbait'.
They make many different models, but they mainly just differ in size, type of blades, and colors. The blades (or buzzers in some models) work flawlessly, and they can be fished shallow, deep, or anywhere in between. They can be reeled in straight, jigged, fished vertically, trolled, or any combination. Strike King spinnerbaits consistently place in the Top 10 in most bass tournaments.
2. The Lazy Ike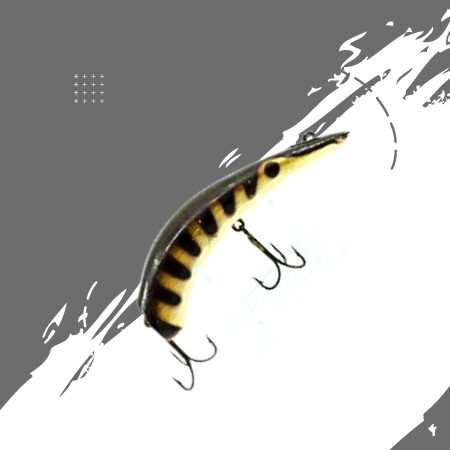 There have been many 'flatfish'-type lures made over the years, but none have matched the success and legendary status of the venerable Lazy Ike. Hand carved by Newel Daniels of Fort Dodge, Iowa in the 1930s, it is still catching fish over 80 years later.
The secret to this lures success is its wild, insane 'X' pattern retrieve, weaving violently from side to side, first one way, then another, like a terrified baitfish. Bass, walleye, crappie, and even trout are unable to resist the urge to attack this lure. Everyone who fishes needs to have a few of these in their tackle box.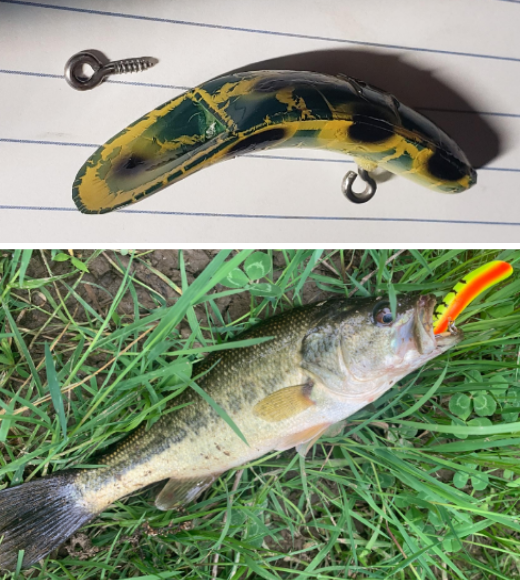 3. The Dardevle Spoon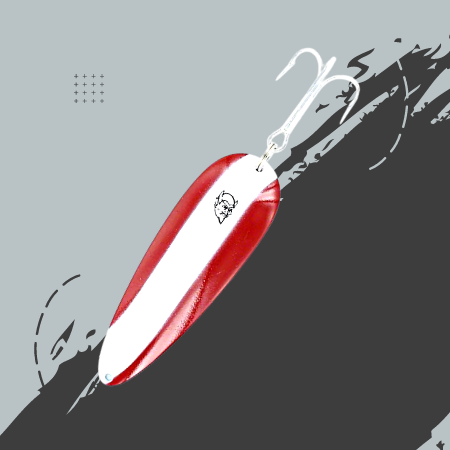 There are hundreds of types, sizes and colors of spoons, but there is only one Dardevle. Lou Eppinger probably had no idea he was making fishing history when he hammered out the first Dardevle by hand in 1906.
The secret to the Dardevle is that it is thinner in the middle, and thicker on the edges, causing it to twirl back and forth on the retrieve, but always coming back level between each cycle. In addition, it has an insane side-to-side wobble that drives fish crazy.
The Dardevle catches every species of fish that swims, anywhere in the world. Salmon, trout, grayling, lake trout, large and smallmouth bass, striped bass, white bass, crappie, pike, musky, walleyes, and large sunfish….Heck, I've even caught carp and catfish on them. The Dardevle has caught more World-Record fish than any other bait in history. If you could only have one lure, this would be it.
The Dardevle is available in a myriad of color combinations, but it's been my experience that any color is good as long as it is the original red with the white center stripe.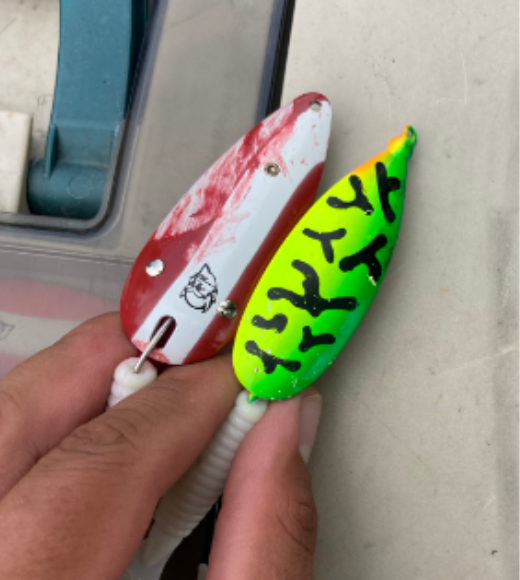 4. The Heddon Crazy Crawler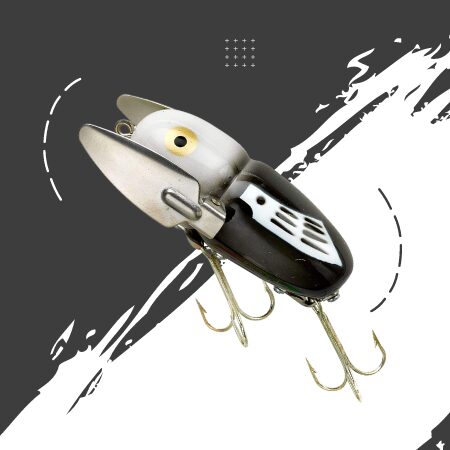 Heddon introduced the Crazy Crawler in 1940, after acquiring the patent rights from the Donaly Lure Company, which in turn had developed this lure from a much older design. The exact origin of the lure may be lost to history, but one thing that isn't a mystery is how good this lure works.
The tiny side wings make it do the Australian Crawl like Johnny Weissmuller ( one of the best Tarzans, for those too young to remember…) being chased by a crocodile.
Some say it imitates the struggles of a bird that has accidentally tried to be a seaplane, but I have never seen any bird move like the Crazy Crawler. It raises a commotion on the water than can be heard for yards, especially at night. It is also one of the most idiot-proof lures ever made.
Just cast it out and reel it in, just fast enough for it to swim. Bass attack this lure with murderous abandon. After 70 years, this lure is still a top producer.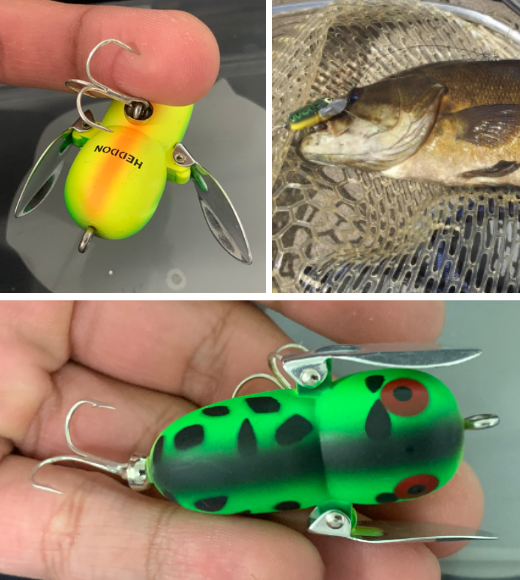 5. The Jig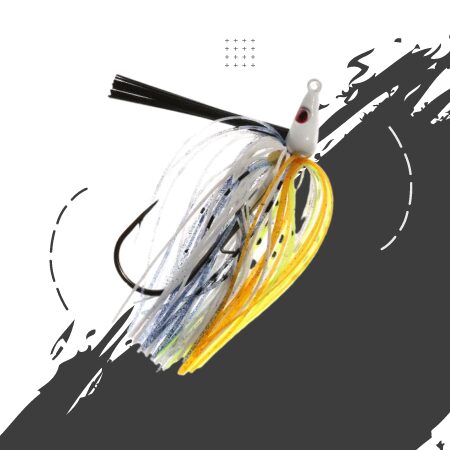 No discussion of fishing lures would be complete without discussing the most versatile, and one of the oldest lures ever made. Although the jig may be scoffed at by some, it is still one of the most consistent fish catchers you can use. A jig is basically just a weight molded to the front of a hook…that's it.
Since the weight is all forward when pulled, the head will rise and the tail will drop. When pressure on the line is relaxed, the head falls and the tail rises, giving it a seductive swish. The secret to jigs is that they can be 'tipped' with all kinds of tails; soft plastic grubs, minnow bodies, bucktail, rubber skirts, marabou, or even a dead minnow or worm. In fact, a spinnerbait is basically just a jig with an added blade.
They can be reeled straight in for a swimming motion, or hopped in with raises of the rod tip. They can be fished vertically, on a drop-shot rig, singly, in tandem, under a bobber, in fast water, or slow water, and are very weedless. They can be made even more weedless by the simple addition of a weed-guard.
They catch just about any fish there is in both fresh and saltwater. Best of all, they are about as cheap as lures can get. We don't know the exact origin of jigs, but copper and bronze versions have been found dating back as far as 2000 years ago. One thing is for certain; they are still one of the best ways to fill a creel.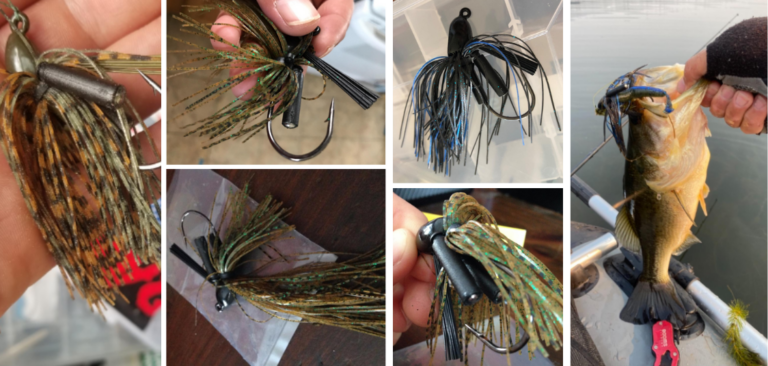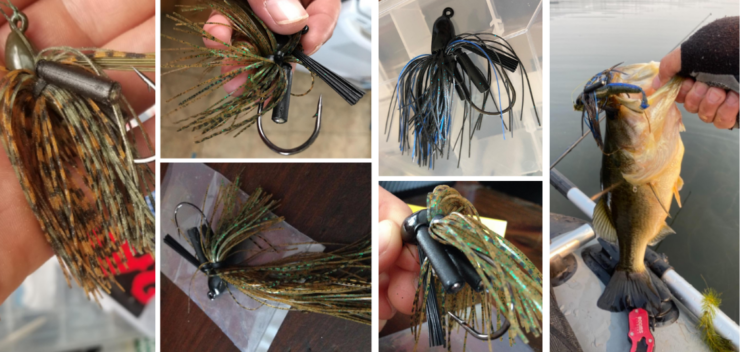 6. The Smithwick Devil's Horse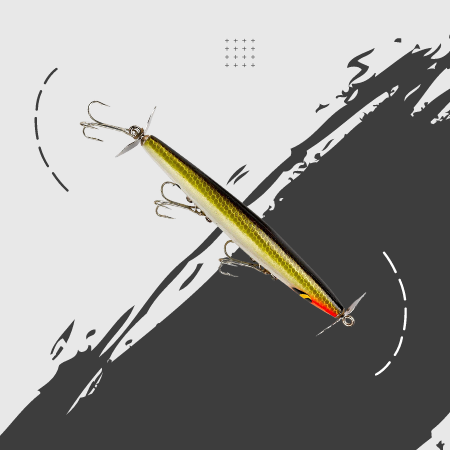 In 1947, Jack Smithwick was a business machine salesman. He also made fishing lures as a hobby. Jack began whittling long minnow-shaped floating lures from old broom handles, then attached propellers to the front and rear so they would make more noise.
He gave the new lures to his regular customers as gifts. By 1949, his lure had proved so successful that he went into lure-making full-time. He called the new lure the Devil's Horse, most likely due to the holding ability of the three (count em-3) treble hooks.
Devil's Horse is a nickname for the praying mantis, and, like its arachnid namesake, once anything is trapped in its clutches, there is no escape. Still in production, even after all these years, the Devil's Horse it still a top-seller, and a top fish-catcher. It catches smallmouth and largemouth bass, white bass, striped bass, pike, musky, and it's not unheard of for an occasional large Brown Trout to attack them.
7. The Mepps Agilia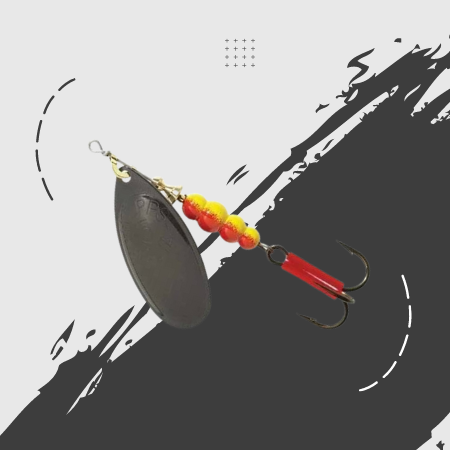 When French Engineer Andre Meulnart, designed the first French Spinner in 1938, he knew he was on to something different. He knew fish were attracted to vibrations and flash, and this lure was like nothing that had been previously designed.
He thought it looked like a butterfly, so he called it the Aglia, (Latin for "Butterfly"). Meulnart formed a company to mass produce his creation, Manufacturier D'Engins De Precision Pour Peches Sportives (English: Precision Equipment for Sport Fishing), and later shortened it to the mnemonic MEPPS. The lure enjoyed some success locally, but it would take a weird series of events to bring it onto the world stage.
Europe in 1938 had other concerns besides fishing. Hitler's NAZIs were becoming a real threat, and the next year, the situation imploded when the NAZIs overran Poland. Most of the rest of Europe soon followed.
It required hundreds of thousands of troops from Great Britain, the United States, Canada, and other countries to defeat the German War Machine, at a terrible cost in lives and property on all sides. Many of these foreign troops ran across MEPPS lures while in France, and brought them home after the war.
In 1951, Todd Sheldon had a very successful fishing tackle store in Antigo, Wisconsin. One day, he was having a rough time fishing on the Wolf River, but was not about to give up and go home empty-handed. He tied on a MEPPS Aglia that a friend, Frank Velek had brought back with him from Europe years earlier.
In 2 hours, with the Aglia, Todd had caught 4 trout, weighing a total of over 12 pounds…good in anyone's book. He was sold on the new lure, and soon looked for ways to get it into his store.
The demand was always greater than the supply, and Sheldon tried all kinds of ways to keep them in stock, even bribing a French woman with stockings to get her to send the lures to him. Unfortunately, the lures sold much faster than she could wear out her stockings. Eventually, Todd was able to work out a deal with MEPPS to get them directly from the manufacturer.
Demand skyrocketed, and after 1960, Todd broke the 3 million mark for annual sales, something no other fishing lure had ever done before. Sheldon closed his store and created Sheldon's Inc., specifically to import MEPPS lures into the US.
Today, you can find MEPPS lures just about anywhere tackle is sold. The Aglia is the standard by which all other spinners are judged. It catches most species of fish in freshwater, and it is almost fool-proof. Just cast it out, let it sink a bit, and reel in. It can be fished, deep, shallow, and in tandem behind a topwater. It works in fast water, slow water, and everything in-between. Lakes, streams, ponds…it doesn't matter. The Aglia just works.
8. Rapala Floating/Diving Minnow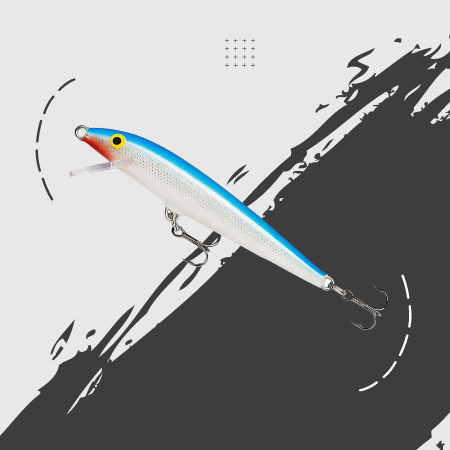 In the 1930s, Lauri Rapala was a poor Finnish fishermen trying to eke out a living on Lake Paijanne. But he had a keen sense of observation, and as he sat in his modest rowboat, noticed that predator fish would zoom through a school and single out the fish that were swimming erratically, with a side wobble. He reasoned that if he could craft a lure that did this, he could quit wasting time baiting all those hooks.
He whittled, sanded, and eventually came up with a cork design that swam like he wanted. The addition of a 'lip' to the front made the lure both wiggle, and dive. When the retrieve was stopped, it floated slowly back up, guaranteed to drive fish crazy. He covered it with foil from a candy wrapper to give it some flash, and protected the foil by melting photographic negatives and coating the entire lure with it.
The lure was a wild success, and he soon gave up fishing to make lures for others full time. By 1936, Rapala lures had gained a loyal following. Lauri hand-tuned each lure to make sure it ran true right out of the box. It wasn't the fastest way to make lures, but Rapala quickly gained the trust of fellow anglers all over the world, and to this day, every Rapala lure is still hand-tuned so that it runs perfectly right from the start.
The Rapala Floating minnow is the industry standard for catching really big fish, in fresh or saltwater. For striped bass, white bass, largemouth bass, walleyes, and other large freshwater fish, the Rapala is the lure to use. In fact, any lure used for these fish is often referred to simply as a "Rapala". In salt water, the Rapala accounts for more trophy fish than any other lure. You can hardly argue with over 80 years of success.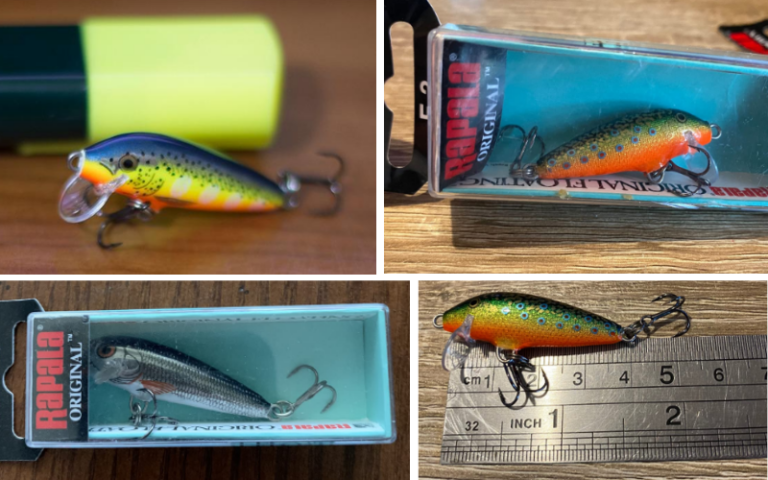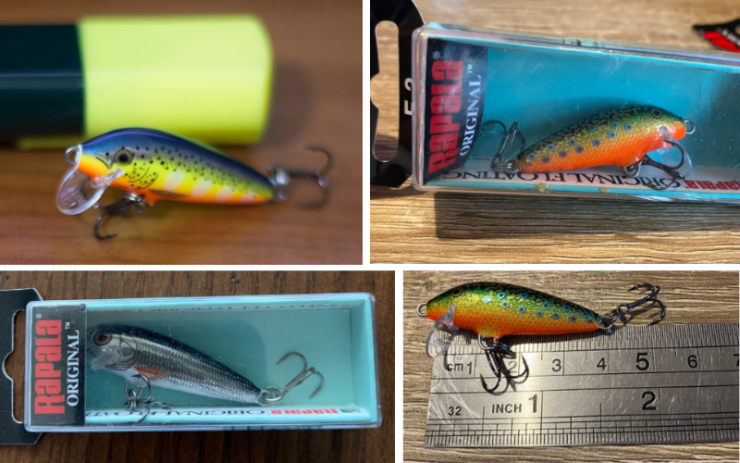 9. The Arbogast Jitterbug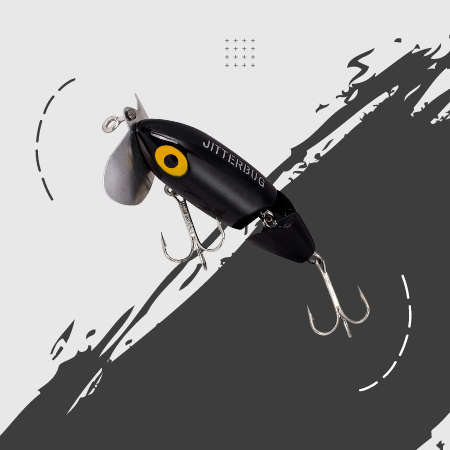 In 1928, Fred Arbogast worked for the Goodyear Tire and Rubber company. He whittled lures on the side. Some of his creations became so popular that he quit Goodyear, and made lures for tackle shops full-time. They were all highly successful. He soon outgrew the local market and formed a company to mass produce his lures.
In 1938, he introduced a new design that mimicked the frantic actions of a large bug that had fallen into the water. It quickly became (and still is) the #1 night-time lure for large bass. It works great in daylight as well. The large lip makes a huge commotion in the water, as well as supplying enticing action to the lure.
There are few lure anglers over the age of 30 who have never fished with a jitterbug. It remains one of the top lures of all time.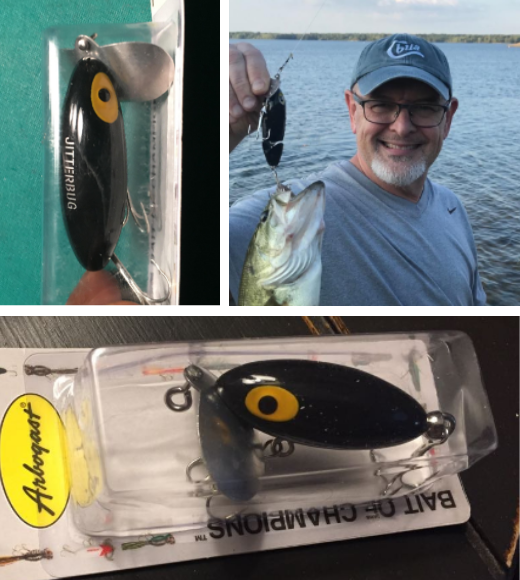 10. The Plastic Worm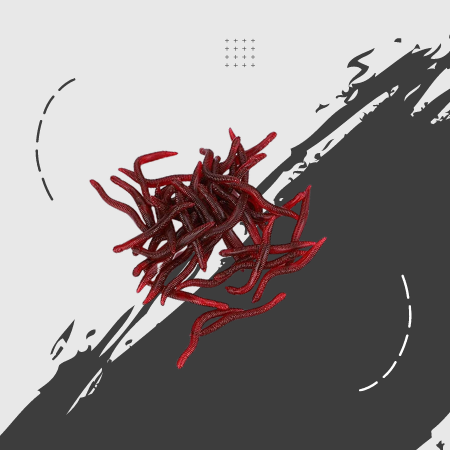 No other lure in the entire world works as good for largemouth and smallmouth bass as a purple plastic worm. It has accounted for more bass than any other bait there is including live bait. It catches bass in any kind of water, at any depth, any time of the year.
It can be rigged to be totally weedless, and cast directly into the deepest cover, where bass live. It can be rigged Texas-Style, Carolina-Style, Drop-Shotted, jigged vertically, flipped, tossed, rigged 'Wacky'-style (which causes some particularly violent strikes), and in smaller sizes, works for smallmouth bass, walleyes, trout, and even sunfish.
No other lure even closely approaches the success rate of the purple worm. They come in all colors and combinations you can think of, and they are all good…as long as they are purple (did I mention that purple is the best color?)
The plastic worm was born in the basement of an Akron, Ohio home in the late 1940s. Nick and Cosma Creme experimented with various polymers, pigments, and oils in an attempt to mimic the feel, taste, and smell of a live nightcrawler, one of the top live baits ever.
Nightcrawlers are a little delicate and hard to keep alive on the water, and can be a little pricey at times. Catching your own takes time, and a considerable effort. The Cremes thought that if a lure could be designed that would approximate the attributes of a live nightcrawler, it would revolutionize bass fishing forever….and they were right.
They started selling the Creme Wiggle Worm by mail-order for $1.00 for a pack of 5 worms. They took some to the Cleveland Sports Show in 1951, and a distributor sold over 9000 packages in just a few days. The demand far outstripped their ability to produce from their kitchen and basement, so they opened a small factory.
By the late 1950s, even that factory was unable to keep up with the demand, and the worms popularity exploded in Texas, where the lakes were often full of structure, weed-beds, and other obstacles that made it difficult to target bass where they lived. But a Texas-Rigged Creme Worm could be cast directly into the bass's lairs, without fear of hang-ups.
The Cremes opened a manufacturing plant in Tyler, Texas, where they remain to this day. Although several other companies now produce plastic worms and other soft-baits, Zoom, in particular, the Creme Worm is still in the hearts of dedicated bass anglers the world over.
Knight Manufacturing had invented a revolutionary soft bait called the Tube Worm, another staple in any bass anglers arsenal, and in 1989, the 2 companies merged. Now, the Creme Lure Company offers some of the best lures you can use for all species of bass, walleye, and many others.
Their stable includes the original worm, now called the Scoundrel, the Lil Fishie, the Tube Worm, and many other top-producing lures. You'd have a hard time finding any bass fisherman, or fisherwoman that doesn't have an assortment of plastic worms in their tackle box…with good reason. They work, and work well.
Extra: Quick History of Fishing Lures
Fishing has been around even longer than humans. There is evidence that Neanderthals speared fish, and Homo Erectus caught them by hand.
Hooks were made from bone and shell as early as 23,000 years ago, and the Bronze Age was the birth of bronze hooks, still used today. It didn't take long for early humans to figure out that luring a fish to bite a hook was a lot easier than clubbing or spearing them. Live bait was the obvious way to trick a fish into biting the hook. And it was very successful.
Sometime around 2000 BC, some Asians reasoned that live bait had to be caught, kept alive, or preserved, and really didn't look all that 'live' when impaled on a hook. They experimented with making some artificial lures, most likely from wood, shell, and bone. These ancient lures worked much like modern spoons.
Heddon made history in the fishing world.
Strangely enough, fishing lures were not produced commercially until the early 1900s. Before that, most fishermen simply made their own, much like modern fly anglers often tie their own flies. It was considered a part of fishing.
Anglers shared their favorite designs with each other, and the first commercially available lures were copies of these patterns. The first commercial lure was designed and sold by beekeeper James Heddon of Dowagiac, Mi, in 1902. James had been whittling lures from wood for quite some time and decided to market them.
His first lure and the very first commercial lure was a wooden topwater lure similar to a Chugger and was called the Dowagiac Casting Bait. Since that time, there has been thousands of lures marketed to the public, some successful, others….well, let's just say that they catch anglers better than they catch fish….
Factors to Consider When Choosing Fishing Lures
Types of Lures
Fishing lures come in a variety of styles, shapes, sizes and colors. While choosing the right lure can sometimes seem daunting, by understanding the different types of lures you'll be able to better assess which one will work best in a specific situation.
The three most common types of lure used by fishermen are spinnerbaits, crankbaits and jigs.
Spinnerbaits are designed to resemble small baitfish such as shad or minnows with their bright colors and fluttering motion. They contain 1-3 blades with barbed hooks on both ends that cause the lure to spin when retrieved, thus attracting the attention of hungry fish.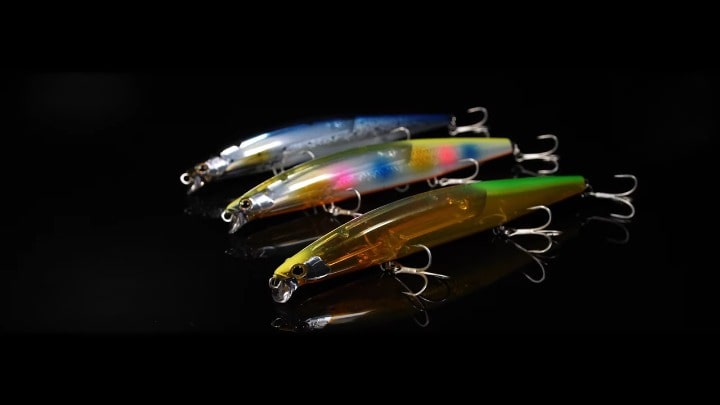 Crankbaits cast farther than other lures because they have long thin bodies which help them cut through water quickly and efficiently—something that is especially important for deepwater fishing. When retrieved, crankbaits move at various depths depending on the shape and size of the lure.
Jigs are specifically designed for targeting bass as they have a springy feel when manipulated beneath the surface. The springiness of jigs along with their large single hook makes them great for casting and retrieving near bottom structures where targets like bass might be hiding out from predators. Additionally, most jigs come with either feathers or rubber skirts to add motion while moving through water which helps make them even more irresistible to hungry fish.
Color Selection
Choosing the right color for your fishing lure is key to success. Fish can be quite particular when it comes to choosing a lure and in some cases, color makes all the difference between a catch and nothing. When selecting a color for your bait, consider the lure's purpose, season, and water conditions.
Lures come in multiple colors to simulate certain baitfish or attract bass and other predatory species. For example, silver lures are effective in retrieving bass from open-water areas with plenty of sunlight whereas orange is ideal for shallow water where visibility is impaired.
Various natural factors can also affect fish behavior and should be taken into consideration when choosing a color pattern. Weather climates like rain or fog can increase light absorption in the water which makes lighter-colored lures more appealing to fish.
Similarly, bright or flashy lures work well on cloudy or rainy days since they contrast with the dark environment of fish spawning areas.
Ultimately there is no right or wrong choice when it comes to fishing lure colors – all that matters is what works best under specific conditions. The more you practice with different combinations of factors like weather, season, water type and light availability – the more prepared you will be on your next excursion!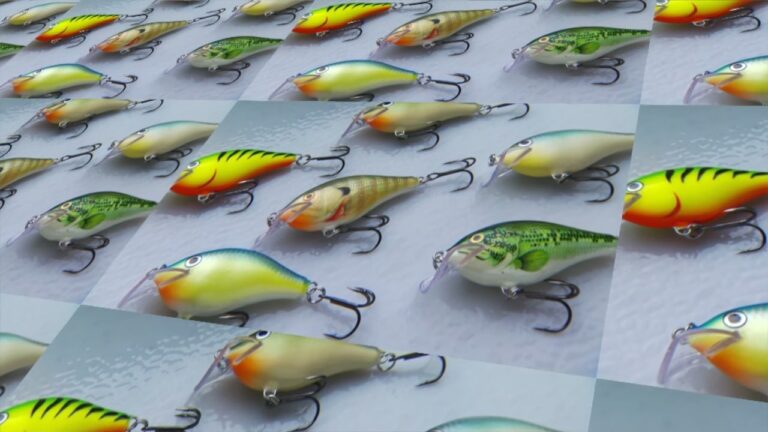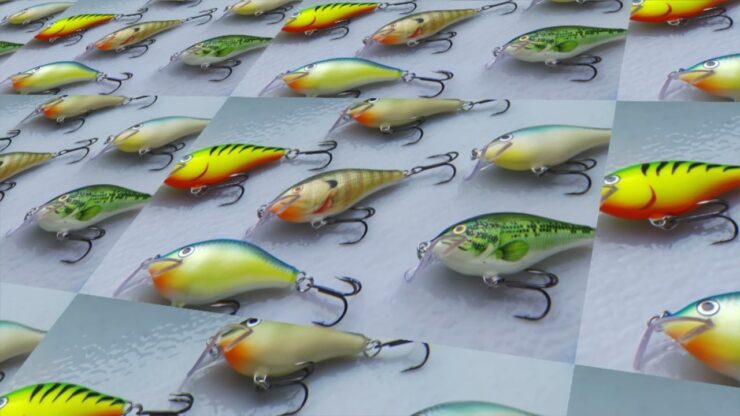 Size and Weight
Different body sizes and weights can influence the action, depth and range of a lure, which is essential when targeting different types of fish.
Lightweight lures are best for shallow water, with less resistance against the water current. They can be used in ponds or streams with little riffles or rapids where there's shallow water along the shoreline. Small-sized options such as spinners and surface poppers are also popular for targeting panfish.
Medium- to heavy-weight lures work well when fishing from a boat in deep waters since the sinking action helps them reach greater depths quickly. Medium-sized crankbaits often produce good catch rates for bass and trout in midlevel depths, while heavy spoons are commonly used to attract larger game fish closer to the surface due to their wide and forceful swimming motion.
Weightier offerings like jigs, wobblers or sinkers work best in deep rivers or still lakes where they reach underwater obstructions quickly and attract deeper species more effectively.
Action and Movement
The movement that imitates prey drives predators wild, and different kinds of lures rely on different methods to activate these predatory instincts.
The most common way for a lure to trick a fish is by spinning. Spinning lures, like spinnerbaits and buzz baits, feature metal blades below their bodies that cause them to spin or shimmer in the water, which resembles the look of a wounded prey item swimming in distress at the surface. This kind of bait works great when targeting pike and bass on topwater spots.
Other lures use either mechanical or electrical action to move through the water with realism. Poppers are one example — these hard plastic lures feature an arched head design that causes them to dive underwater when given a twitching jerk while retrieving them. This kind of quick, darting motion makes poppers great lures for shallow waters, where they can be easily heard by nearby fish.
Still, other lure designs incorporate components like internal rattles or magnets that won't be visible in the water but will create noise vibration as they float along just below the surface. These types of baits are especially effective when summoned in deep waters because that's where fish hearing is especially acute — so if you're looking for species like walleye, this is definitely something you'll want to consider when shopping around for your equipment!
Scent and Flavor
Many successful anglers employ scents and flavors in order to attract fish. This is due to the fact that many fish have a highly developed sense of taste and smell, enabling them to easily detect lure characteristics underwater. These scents and flavors can range from commercial-grade scented baits, to natural baitfish oils, or even dipping artificial lures in syrups or jellies.
The best baits for attracting fish are those that have a strong smell or flavor associated with them. The most commonly used scent compounds are anise oils, garlic extracts, molasses blends, shrimp extracts, and even coffee grounds soaked in oil.
Flavoring agents such as liver extract, clam extract, honey extract, crab flavoring agents as well as cheese flavors can also be used on artificial lures to create a greater appeal for the fish.
It is important for anglers to experiment with different combinations of scents and flavors when fishing so that they can determine which works best for any given body of water.
Of course, the type of lure being used will also dictate what type of scent or flavor works best since different types of lures are designed for different purposes such as surface or subsurface applications.
Some anglers prefer scented or flavored lures while others enjoy "going au naturel" with their artificial lures – it all depends on personal preferences as every angler has their own unique ideas about what will work best in terms of attracting fish!
Depth and Water Conditions
The depth and water conditions you are fishing in can significantly impact the type of lure needed. For example, if you are fishing in shallow water, a lightweight lure is usually recommended since it won't sink down too deep or sink too fast. On the other hand, if you're fishing in deep water, a weightier lure may be more suitable.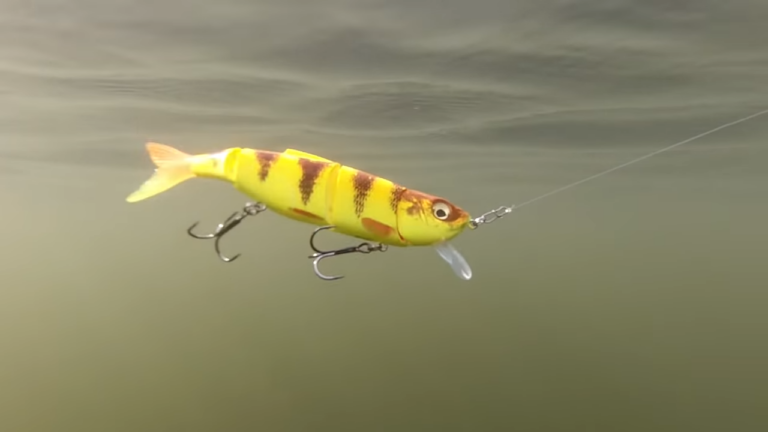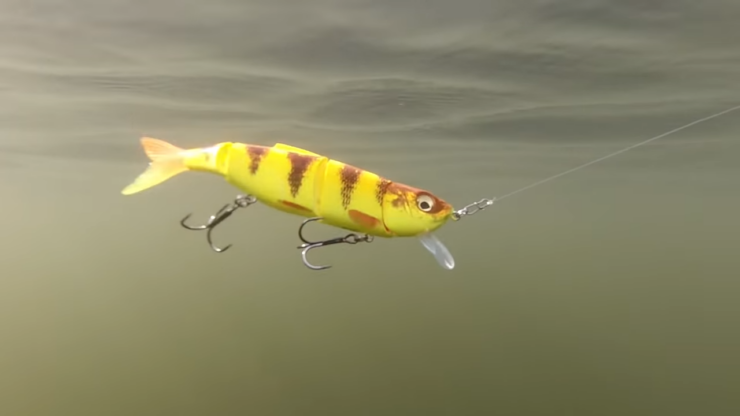 Furthermore, if you're fishing in rocky waters, lures with VMC stainless steel hooks are suggested as they won't get snagged as easily unlike other types of hooks.
Similarly, rainbow trout can be tricky to catch due to their excellent eyesight, so darker colors and muted colors should be used on spinning lures or crankbaits; whereas brightly colored plastic worms and spinnerbaits tend to work best for bass.
In all cases, it's important to pay attention to local waters for clues about which type of lure will be productive – colors that match natural prey fishes, types of baitfish movement that works well at certain times of the year are key elements when selecting the right lures.
Seasonal Considerations
The type of baitfish and aquatic life that inhabit the water can vary significantly from season to season, so it's important to take this into account when picking out a lure. In the spring and summer, lures with bright colors — like yellow, orange and pink — may be more attractive to fish because these months usually have more daylight hours.
As the days get shorter, you might want to switch up your color selection and go with dark lures like black or purple. Additionally, warmer months usually bring different varieties of baitfish into certain areas, which can dramatically affect what kind of lures you should use.
It's best to do some research on the seasons in your local area before stocking up on lures.
FAQ
What color lures are fish most attracted to?
In general, fish are most attracted to lures that are brightly colored and patterns that resemble their natural environment.
Fish also tend to be more aggressive when they're hunting prey, so lures designed with sharp spikes or spurs can really get them going. As a rule of thumb, colorful lures generally produce better results than monochrome lures in terms of catches and strikes.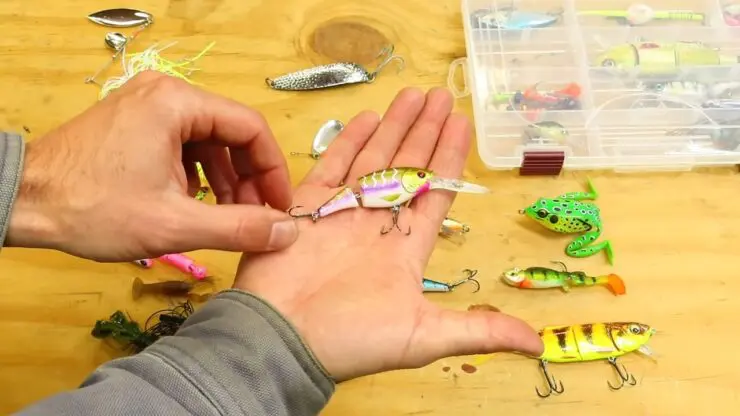 What color is hardest for fish to see?
Their eyes are adapted to detect the different colors of light reflected off of objects in their environment. This means that blue and green colors are seen as more intense than other colors, which can make them hard for fish to see.
What scent attracts fish?
There are many scents that can attract fish, but some of the most popular are garlic, citrus, and ammonia. Garlic is known to be a strong scent that can repel other animals and fish find it unpleasant. Citrus is another scent that can be appealing to fish as it has a sweet smell. Ammonia is a chemical that is found in the water and smells like fish food.
Do bigger lures catch bigger fish?
The size of a fish's lure will depend on its species, weight and age. That being said, larger lures tend to catch bigger fish in general. Larger baits like jigs and minnows are often favored by bass fishermen because they imitate prey items that are commonly consumed by these fish. Largemouth bass, for example, prefer bait that measures between 1/2 and 3/4 of an inch in size. In contrast, largemouth trout tend to favor lures that are 4 inches or more in length.
Conclusion
Those are my choices for the best fishing lures ever made. Of course, there are many others that have also stood the test of time, but space limits how many we can include here. It was a very tough choice to decide which 10 to use.
The many Honorable Mentions go to lures like the Lucky 13, the Billy Bass, the Heddon Popper, the Hula Popper, the Big O, the Sassy Shad, the Beetle Spin, the Heddon Chugger, the Johnson Silver Minnow, the River Runt, the Hellbender, the Little Suzy, the Tiny Torpedo, the Roostertail, the Panther-Martin, etc…. Now you can see what a tough job it was.
Feel free to comment and add your own nominations for all-time best lures, and I'll try to do some pieces on them later. We love hearing from you. Check back with us often, and thanks for visiting us.