Wanting to try something new in your life does not always feel possible especially if you are used to doing certain things in a particular way. Why change something if it has been nothing but good to you? Well, new experiences are exciting and liberating and even the most enjoyable hobbies can be better. Also, things that are used to improve something else can often be taken a step further and utilized in new ways.
When kayaking is concerned, it is already versatile enough to be done in more than a few ways. While it is a legitimate physical and/or recreational activity completely on its own, kayaking can do so much to elevate other popular activities. For example, fishing benefits greatly from having a kayak and casting directly from it. More and more anglers rely on their paddling boats for better daily fishing sessions. Exploration and hunting are also improved upon when a kayak enters the mix.
However, one more recreational activity is way more fun if you also have a kayak to bring alongside you and that is camping. Spending a few days outside in nature and unwinding from the busy schedules and responsibilities is great as it is, but having a boat to also be able to go on the water is a whole new level of camping. In order to do this, however, you cannot simply add a kayak to your usual camping gear. There need to be a few changes before you do it, one of the most important being the type of tent you bring.
How Does a Kayak Improve Camping?
Before talking about specific tents for kayak camping, let us talk about how kayaks improve this fun outdoor activity. A kayak can bring a whole new dimension to your camping experience, allowing you to explore waterways and see the natural world from a different perspective. Here are some ways in which a kayak can enhance your camping trip:
Accessing New Areas
A kayak can take you to places that are inaccessible by foot or by car, allowing you to discover hidden coves, rivers, and lakes. You can paddle through wetlands and marshes, or along the coast, giving you a chance to see wildlife up close and personal. There is no saying what you can find and what beautiful camping sports you can access from the water.
Exercise and Relaxation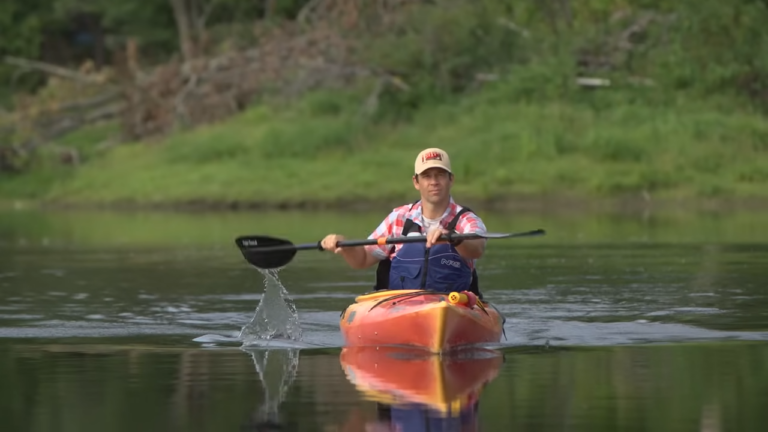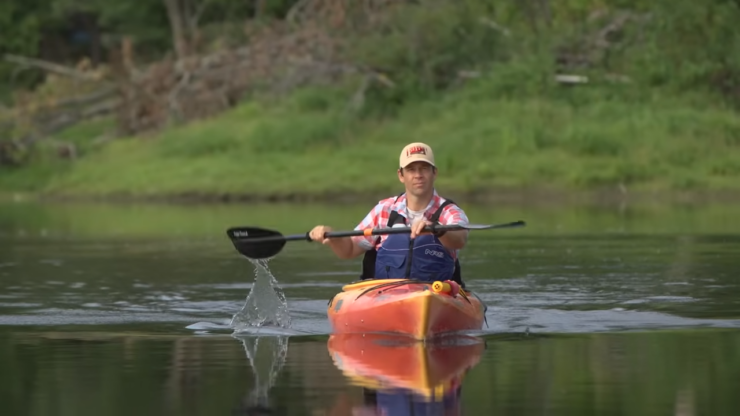 Paddling a kayak is a great way to get some exercise while also relaxing in nature. The gentle rocking of the boat and the soothing sound of the water can help you de-stress and find your inner peace. It is usually enough to just be outside and take in the peace and quiet of traditional camping, and the exercise comes naturally through walking/hiking. Still, a kayak takes this a step further.
Bonding with Loved Ones
Kayaking can be a great activity to do with friends and family, as it allows you to spend quality time together while also enjoying the beauty of the outdoors. Whether you are chatting with your loved ones or simply taking in the scenery, a kayak can bring people closer together. Paddling is best experienced with a party of friends or family, and so is camping. Bringing the two together makes perfect sense.
Campsite Accessibility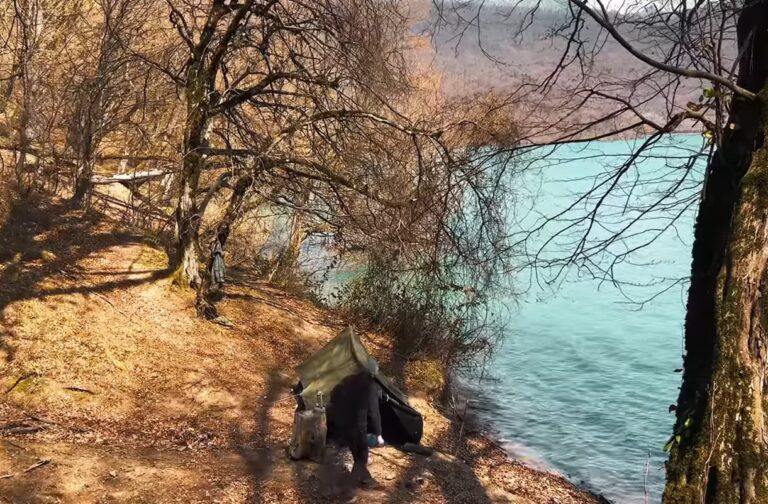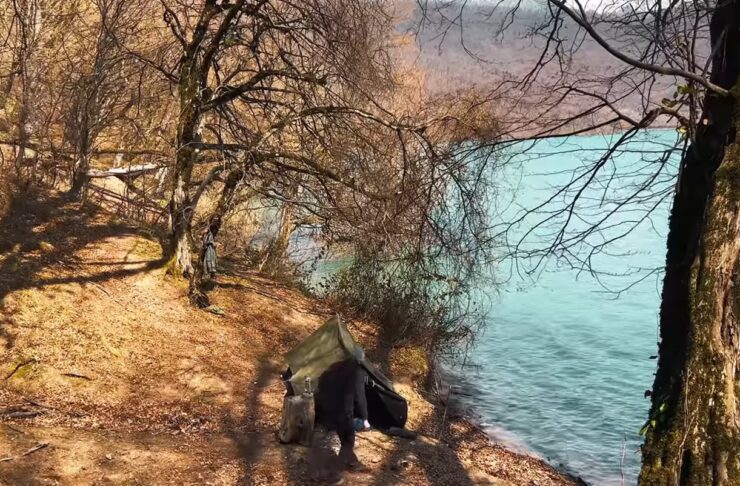 If you are camping at a site that is only accessible by water, a kayak can be a convenient and fun way to get there. This can be especially enjoyable if you are able to pack all of your gear in the kayak and set up camp on a secluded island or beach. Kayaks are great because of their storage potential and they favor the exact type of equipment campers (and fishermen, hunters, etc.) typically need.
All in all, a kayak can bring a whole host of benefits to your camping experience, from access to new areas and exercise to bonding with friends and family, and even convenience in reaching your campsite. Whether you are an experienced paddler or a beginner, there is something for everyone to enjoy about kayaking. The most important thing to bring will still be the tent though, as it allows cover, comfort, and safety. Speaking of tents…
Different Types of Tents
There are many different types of tents to choose from, and the best one for you will depend on your needs and preferences like where you plan to go, with whom, and how. Some of the main categories of tents include backpacking, family, ultralight tents, and car camping tents.
Backpacking tents are designed for lightweight, compact travel and are typically made from lightweight materials such as nylon or polyester. They have a minimalist design, with a single or double-wall construction and a simple, streamlined shape. Backpacking tents are easy to carry and set up and are ideal for solo or multi-day trips. These features make them very useful in kayak camping.
Family tents are designed to accommodate a larger group of people and are typically much larger and more spacious than backpacking tents. They may have multiple rooms, awnings, and other features to provide ample space and comfort for all campers. Family tents are the most logical solution if you plan to go with your loved ones. Since they can be quite heavy and bulky, you will probably need a bigger kayak, like a tandem model or a sit-on-top variety with a greater load capacity.
As their name suggests, ultralight tents are designed to be as light as possible as well as very compact, making them ideal for backpacking and other outdoor activities where weight and space are of great concern. They are usually made from high-tech materials such as silicone-coated nylon or cuben fiber and have a minimal design with few frills. Ultralight tents are great for those who want to travel light, but they may not offer as much space or protection as other types of tents. If you plan to frequently go kayak camping on your own and prefer the lightest and most convenient option, this is the one to look for.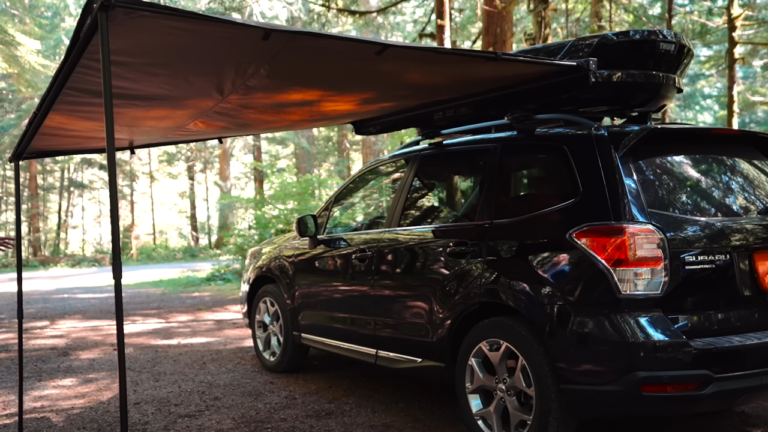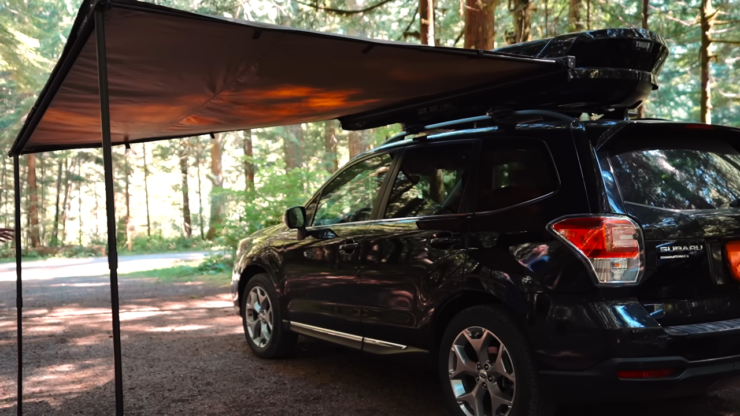 Car camping tents are made for the activity known as car camping, where you drive to the campsite and bring everything you need with you. It is a more elaborate and less independent type of camping and so are the tents. They are typically larger and more luxurious than other types with plenty of room for all of your gear and comfortable amenities such as padded floors and built-in electric outlets.
Car camping tents are not as portable as backpacking tents, but they offer a more comfortable and convenient camping experience. Since kayak camping may require the use of cars due to the kayak's weight and cumbersome nature, a car camping tent could be the exact thing you need.
There are many other types of tents available for purchase, including three-season, four-season, and instant tents. Three-season tents can be used in spring, summer, and fall, and are usually lightweight and breathable. Four-season tents add winter and extreme cold and snow to the mix and are typically made from heavier-duty materials such as canvas or nylon. Instant tents are pre-assembled tents that can be set up in just a few minutes, making them a convenient choice for car camping or base camping. Either of these is good for kayak camping, depending on what you expect from the trip and when you plan to take it.
Top Picks Tents  to Improve Kayak Camping
1. Camel Crown Tent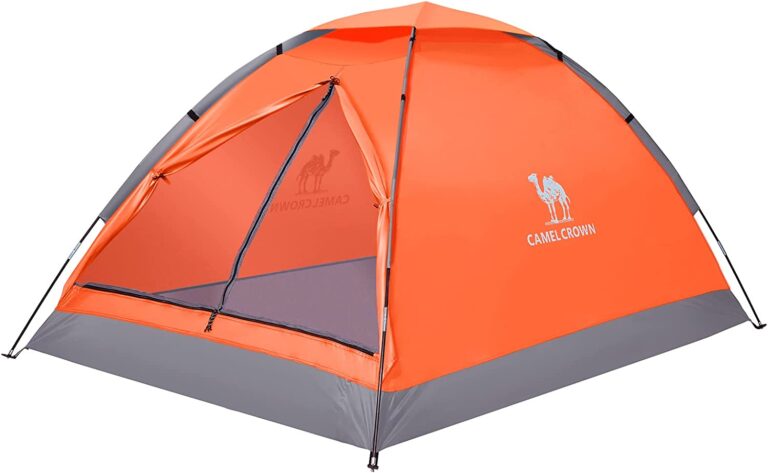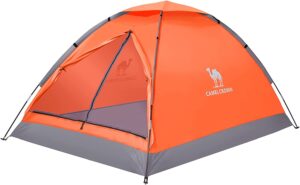 When fully assembled and ready for use, this tent is 86.61 inches long, 59.05 inches wide, and 43.31 inches high. When packed, it is only 18.11 by 5.51 inches. It weighs just 4.9 pounds which is very light. Regarding the type, it is a three-season tent and it has a sleeping capacity of 2 people. It features great ventilation and it is very durable and stable.
The outer shell is made of polyester and it has aluminum poles. On the inside, there is oxford cloth. Iron ground stakes are included to hold the tent down in windy conditions that are common by the water, which is important for kayak camping. There are four guy lines on the corners and the tent can be set up in minutes. It is available in 9 attractive colors.
2. GEERTOP Ultralight Tent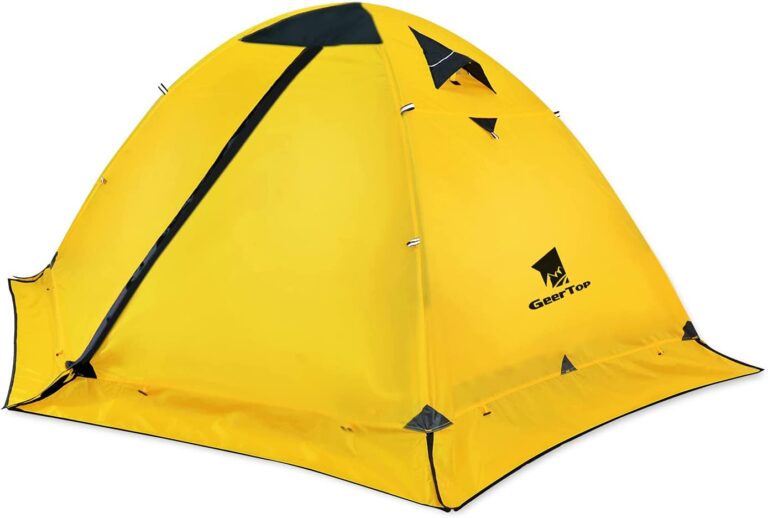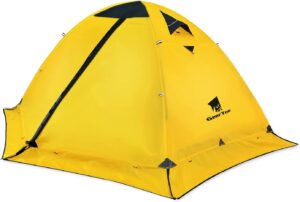 While it is advertised as an ultralight model, it is a bit heavier than the previous one as it weighs 6.8 pounds. However, this is a four-season tent meaning it can be comfortably used in cold and snowy winter conditions. When packed, it is 17.3 by 6.7 inches. When open and assembled, it is somewhat smaller than the previous one at 82.6 x 55 x 45 inches (L x W x H). The tent accommodates 2 people, it is available in yellow, green, and beige, and it is breathable and durable.
There are two doors on this tent as two sides open almost entirely. There are double mesh windows to allow fresh air in but keep the insects out. The high-quality fabrics used here are polyester and nylon which, are waterproof and resistant to tears. The tent can be set up in about 7 minutes on average and is a great option for beginners and veteran campers alike.
3. ALPS Mountaineering Tasmanian Tent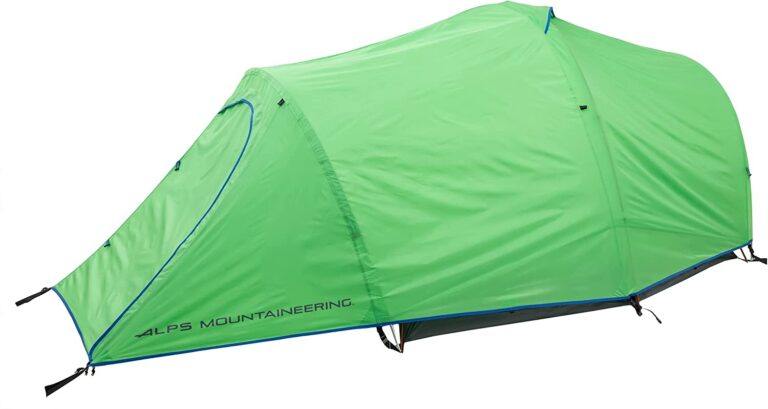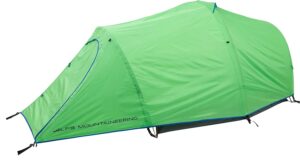 Here is another three-season tent, albeit a heavier and bigger one that still accommodates three people. It measures 92 x 62 x 46 inches and is therefore noticeably bigger than the previous two. When packed, it is 19 by 6.5 inches. One bad side about this tent is that it is the heaviest on this list at 7.9 pounds, making it somewhat of a nuisance to carry but still light.
If you enjoy long tents more than round or square ones, this is the best one out there. For kayakers, this is quite neat as they can park their kayak alongside it neatly and even tie the boat to the tent.  There are two doors on this tent, so it is easy to break down. It is available in copper/rust and gray/navy colors, it is made of polyester, and is actually an entirely mesh tent that is covered with a polyester layer. There are storage pockets, aluminum stakes, and guy ropes.
4. ALPS Mountaineering Lynx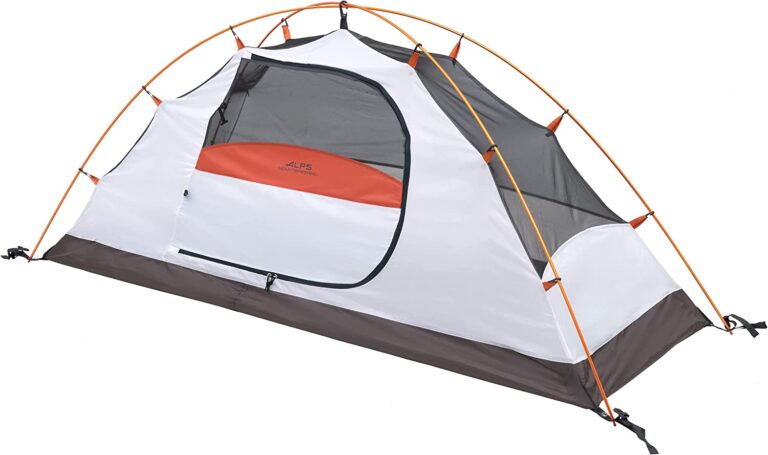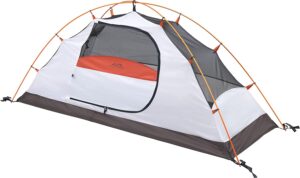 Here is one more model by the famous ALPS Mountaineering brand, this one is another three-season tent but only for a single camper. If you usually go kayaking alone, this is the right one for you. The previous model was the heaviest on the list while this one is the lightest at only 3.9 pounds. Its packed dimensions are 17 by 6 inches, while it is 90 x 32 x 36 when opened. This means it is again a long tent and one that favors an extended sleeping position.
It has a single entry door, internal gear loft and storage pockets, and heavy-duty zippers just like its two-person model. It comes in clay/rust, blue/green, and gray/navy color schemes, and it has aluminum poles. It also comes with stakes and guy ropes. A bestseller in its class, it is a very good purchase and a durable, quality tent for solo kayak campers.
5. NEMO Aurora Tent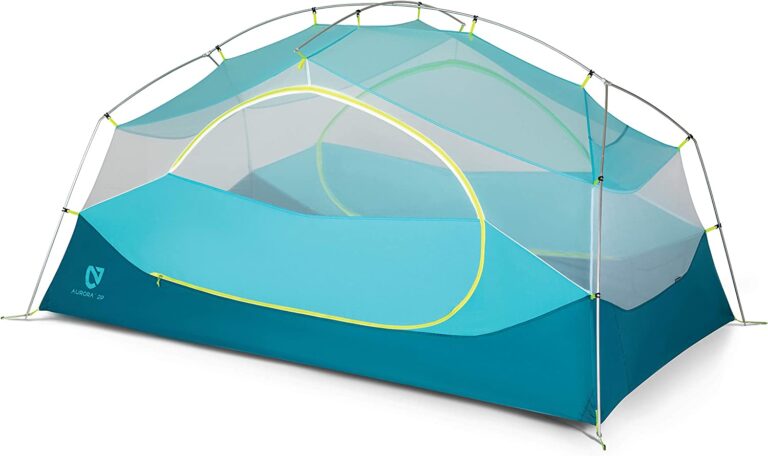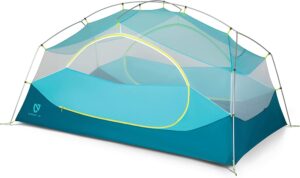 Nova Green and Surge Blue colorways of this two-person tent are both very beautiful and will make you stand out, should you want to. A lightweight option at 4.5 pounds, it is a three-season tent that is roomy and stable. It is 88 inches long, 52 inches wide, and 44 inches high, but packs down to 23 by 7 inches. Best of all? It is the most affordable out of all the two-person kayak camping tents we talked about before.
There are vertical sidewalls on this tent at the head and the foot for better moisture wicking. The rainfly has added ventilation and the roof is entirely screened for great airflow and amazing stargazing experiences. There are two entry doors, each with a vestibule for more storage and privacy. In case you like camping alongside your pooch, you should know that the floor is resistant to sharp pet claws and will stay protected.
Conclusion and TakeawaysWhile both kayaking and camping are great on their own, combining them is the ultimate outdoor experience that will allow you to make amazing memories. It is simply more fun, better, and more exciting than doing either of these without the other. For proper kayak camping, you will need the right tent and the aforementioned models are certainly some of the best on the market. Whichever you choose, relaxing recreational times are ahead for you and whomever you bring along.