The best truck bed hitch extenders for kayak are products that secure long cargo that cannot fit in a standard truck bed. It is a very helpful unit when you need to move bulky and heavy objects, and it makes the whole process less stressful and much more straightforward.
This product is a must-have for anyone that is on the move frequently and has to bring lots of luggage, including some rather bulky objects. It is also a great pickup for outdoor adventurers that enjoy kayaking and love to bring their vessels along on a camping or hiking trip.
For this purpose, we did research and came up with a list of some powerhouse products suitable for this use, and we would like to share it with you. We have a lot to cover, so let us start without any delay.
List of Truck Bed Extenders for Your Kayak
1. MaxxHaul 70231 Hitch Mount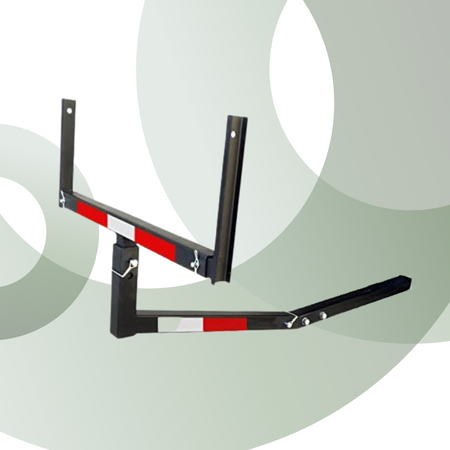 MaxxHaul truck bed extender is one of the safest ways to secure a heavy load on your truck and will help you transfer your kayak with ease. The import part is adjustable and allows you to carry a wide variety of heavier items such as ladders, racks, canoes, kayaks, lumber, and many more.
This unit is made of heavy-duty steel material and is equipped with reflective material on the front and the sides, which largely contributes to the overall safety and visibility of the product. Moreover, the whole truck bed extender is covered with top-of-the-line rust-resistant paint, which adds even more to the overall durability.
It is a really important feature because even if your extender gets completely wet with the seawater, it will not get affected. For extra support, you can also fold the side arms of the extender. The load capacity of this unit is 350 pounds, which is more than sufficient for kayak transportation.
Pros
Excellent adjustability in both width and length
Superb visibility due to reflective tapes
Quick release of clevis pins for easy assembly and disassembly
Covered in rust-resistant paint
Foldable side arms for more support
Cons
It can cause overloading if you do not use it correctly
2. Darby Industries 944 Extend-A-Truck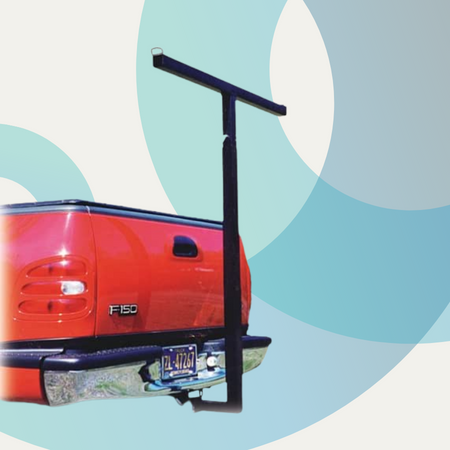 The Darby company is a well-known manufacturer of durable and functional products, and 944 Extend-A-Truck also checks all the important boxes for safe transportation of bulky goods. This is a highly versatile tool that does an excellent job of securing items behind or above your truck.
Every outdoor adventurer that often goes on kayaking trips will certainly appreciate the cool features and capabilities of this extender. It comes with an adjustable height for rooftop hauling, which largely contributes to versatility. This unit also boasts 4-inch wide support that ensures your cargo stays safely positioned.
You will also get a red flag that is very important in promoting road safety, and there are also included pins and clips for better stability. Overall it is a very sturdy and stable product that will help you transport your kayak safely, and when you consider the reasonable price it comes with, you get yourself a really good bargain.
Pros
4-inch support
Adjustable and can fit most vehicles
Easy to install and remove
Made of tubular powder-coated steel
Cons
The extender is attached to a vehicle via a pin that can easily be removed
3. X-Terrain Bed Extender for Trucks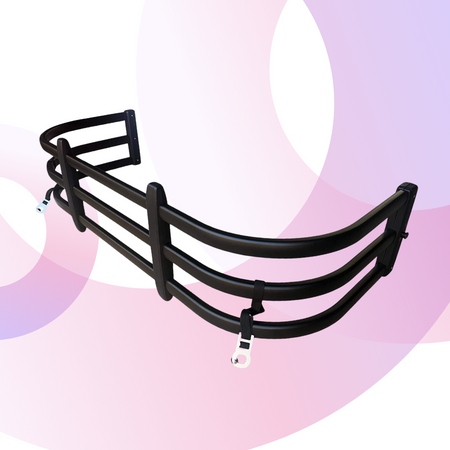 Designed with a lot of care and attention to detail, the X-Terrain truck bed extender is widely praised for its exceptional functionality and ease of installation. As is the case with most truck extenders, this one has the ability to prevent the cargo from shuffling around and provides excellent security.
This is a very convenient extender, and it removes and flips around easily. It is made using premium materials such as lightweight aluminum alloy tubes, and it has a long-lasting metallic black powder coating. This is a custom-engineered product and tested to provide functions that are easy to use and release.
As far as the installation process goes, you need only to drill holes in the 3 dimples on each side and screw the bracket in afterward. The whole operation is pretty straightforward, and it should not take you more than 40 minutes to complete it. Overall it is a very good product that is also reasonably priced on top of everything.
Pros
Straightforward installation
Made of high-quality materials
Safe and secure
Removes and flips around easily
Cons
The instruction manual could be more specific about certain installation steps
4. ECOTRIC Truck Bed Extender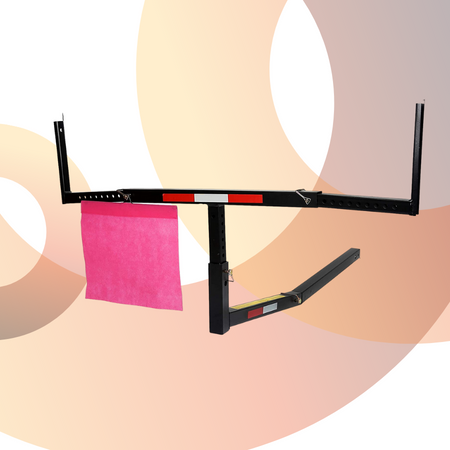 The Ecotric truck bed extender is a well-constructed unit made to provide you with lots of space for your kayak. It works really well in taking an extra weight that otherwise would not be possible with your standard truck bed. It has an excellent weight capacity that stands at 750 lbs and is made to accommodate heavier and lengthier cargo.
Ecotric extender brings a lot to the table, and one of its biggest strengths is in height benefits it provides. Yes, it can accommodate a lot of weight, but it also has projectors that can secure elevated cargo. Since it is a highly versatile unit, the width can be set up from 28.25 inches to 48.75 inches which grants you even more storage space.
Generally speaking, this truck bed extender is one of the best options on the market when it comes to hauling loads of different sizes and is designed with suitable leverage to hold it all together. It is a great option for packing your kayak and some extra bulky gear as well.
Pros
Adjustable width and length
Heavy-duty steel tubing
Can handle large loads in lengthy size
750 lbs weight capacity
Very easy to install
Cons
It does not come with a pin to lock into the receiver
5. Goplus Pick up Truck Bed Hitch Extender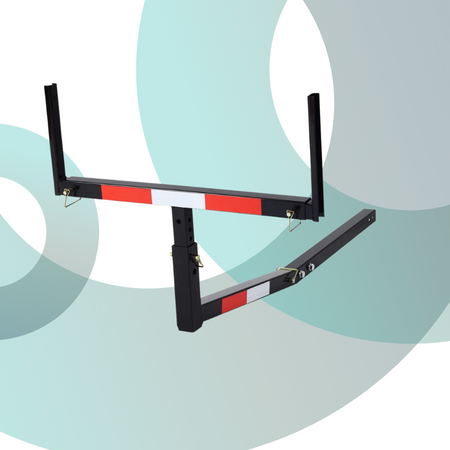 Goplus truck bed hitch extender is a strong and reliable unit constructed with a heavy-duty steel tube that right out of the box testifies about the product's durability and long-lasting capabilities. It is an excellent choice for transferring kayaks, and its black-coated finish ensures that you will not have any issues with rust, even if you expose the product to saltwater.
This is a great pickup for long-distance loading due to this extender's capability to handle oversized cargo safely. It has a large load capacity that stands at 750 lbs which is more than suitable for kayaks, and some extra cargo for good measure. This is also a rather adjustable unit and can be extended both horizontally and vertically.
It also has reflective tape on the front and sides to ensure suitable visibility and safety. There is also a safety rosy red flag included at the end of the load for extra security of the cargo. Overall, this unit has a very elegant and sleek design with stainless looks, and when it comes to loading capacity, it does not get much better than this.
Pros
Simple and elegant look
Stainless steel construction
Ideal for transporting heavy and long kayaks
Highly adjustable
Reflective tapes for extra safety
Cons
Loading this extender with heavy equipment may cause a wobble in the vehicle
6. Erickson 07605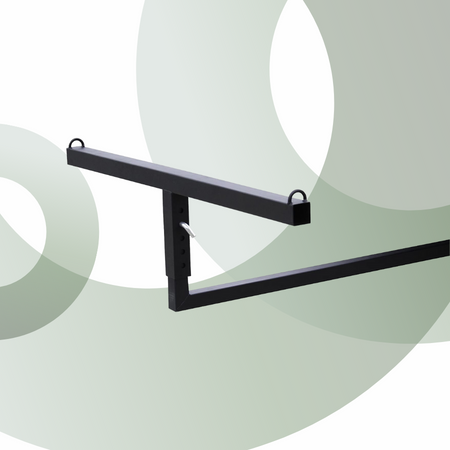 Erickson pick-up bed extender has an adjustable length of up to four feet, which is a great option for transportation of lengthy kayaks. It is a highly versatile unit that can extend the length of your cargo bed on vehicles significantly and keep it safe and securely locked as well.
This product is available in two varieties – 350 lbs and 400lbs, and you can choose according to your needs. There are many different ways in which you can use this cargo extender, and it can handle more than a decent capacity. There are also welded loops to ensure the load is neatly tied down.
Another great thing about the Erickson extender is its high-mount option. With this, you can keep your truck bed empty while using your big bed to haul long loads on top of the truck cab. Once your cargo is secured on this extender, and you use some rope bracing from the ends of the brace for stabilization, you can also reduce wobbling, which helps a lot during longer trips.
Pros
Available in 350 lbs and 400lbs variations
Expands your vehicle's loading length up to four feet
High-mount bed
Adjustable
Made of heavy-duty steel
Cons
Overloading may cause some wobbling on the road
7. Lund 601021 Hitch Mounted Truck Bed Extender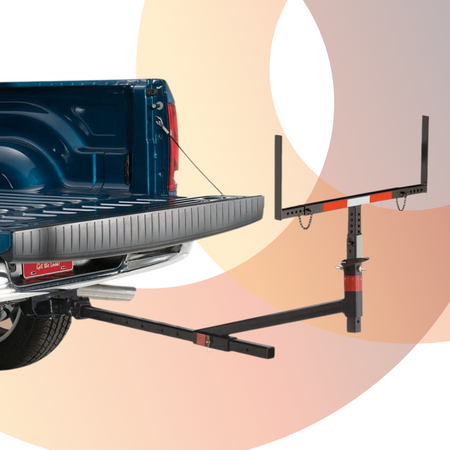 The Lund hitch-mounted truck bed extender is another great pick for users that want to extend their cargo capacity. Apart from being a great pickup for anyone that wants to transport his kayak, it is also suitable for transporting various types of loads such as planks, long pipes, timber, etc.
This unit boasts 7 inches of ground clearance, so it does a very good job of keeping the cargo at a good height off the ground level. Regardless of the haul you plan to place in the truck bed, it will stay safely above ground level, unlike some other products with which it can be dangerously close to the ground.
In addition, this unit features a 750 lbs loading capacity, which is suitable for the transportation of various types of cargo. It also has foldable side support that holds the weight flawlessly. With an extender like this, you can forget about hassles that come with huge cargo transportation as it keeps your vehicle stable and holds your loads safely and securely.
Pros
750 lbs load capacity
Seven inches of ground clearance
DOT Approved
It fits a 2-inch standard
Flag and reflective tape are included for better road safety
Cons
Hitch pin is not included
Heavy
8. AMP Research 74815-01A Black BedXTender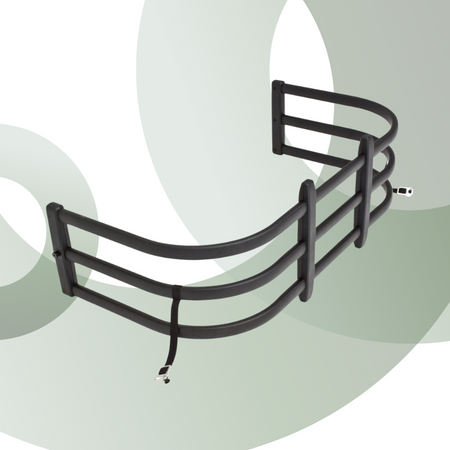 The AMP Research Bed X-Tender is a product designed to carry extra cargo and to do it in the safest way possible. It makes use of the tailgate as a floor and extends the truck bed space for even more cargo. This type of setup increases the storage length by 2 feet.
AMP Research bed hitch extender is made from aluminum bars, which provides easier handling and a surface that is highly resistant to rust, which is a pretty good feature if you are transporting a kayak that just got out of salt water. It is available in both black and silver powder coat finish, and both work very well design-wise.
Speaking of design, the U-shape of this product allows for maximum storage space, and it is quite effective. The extender can be easily flipped in and out of the bed when necessary and is generally very convenient and easy to use. Even with a closed tailgate, this extender provides much space that prevents items from sliding away. Although a bit expensive, it is an excellent product well worth the investment.
Pros
U-shaped design for maximum capacity
Increases storage length by 2 feet
Aluminum construction for extra corrosion resistance
3-year warranty
Easy to use, mount, and remove
9. Dodge Ram Black Aluminum Tailgate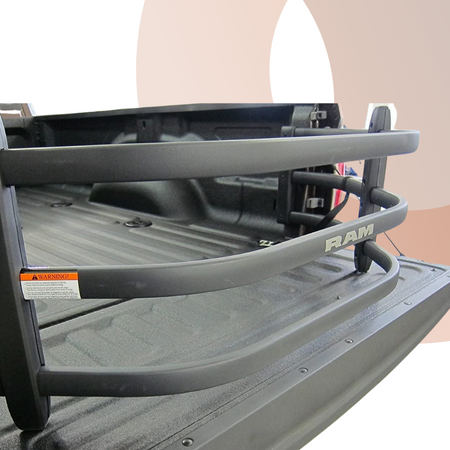 The Dodge Ram tailgate bed extender is a compact, corrosion-resistant, and sturdy unit that creates lots of storage space. It is a product that is also pretty straightforward for installation, and the whole process can be done fairly quickly. For its size, this item is pretty lightweight and made to stand the test of time.
Since it is light, it makes it a lot easier for users to lift it up, detach and install it completely hassle-free. Due to the fact that this product is almost entirely made from aluminum, you do not have to worry about rust, even if you are transporting a kayak that just got out of salt water.
You can easily attach this extender to the interior edges of your vehicle's trunk and can also position it to your liking. This type of versatility translates to the product's storage as well and takes out the stress of the frequent need to detach and reattach it. Moreover, you can flip this product inward to keep your cargo firmly in place.
Pros
U-shaped design that can accommodate various items
Every piece of hardware for installation is included
Heavy-duty aluminum construction
Easy to install
Sleek design
Cons
The instruction manual could be more comprehensive
10. Boonedox T-Bone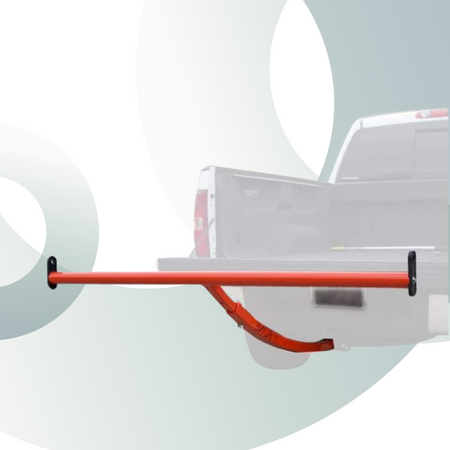 Aside from being an aesthetically appealing and lightweight product, the Boonedox T-Bone bed extender is also built to accommodate a wide variety of cargo. Its construction is very sturdy, and it is made using aircraft-grade aluminum tubing that adds multiple positives to the product, including strength and rigidity.
The great thing about this unit is that it has an elevated design which will enable you to drive on elevated surfaces without any issues while also protecting your cargo from any damage effectively. Moreover, it can be adjusted to work for various heights and vehicles flawlessly.
Boonedox T-Bone extender is an excellent way to transport kayaks, lumber, pipes, ladders, canoes, and various cargo that is long and bulky. It fits on a standard 2-inch receiver and has a curve that grants excellent ground clearance. In addition, it can fit up to 300 load capacity, more than enough for the kayak transporting process.
Pros
Made from lightweight aluminum tubes
Durable and corrosion resistant
Easy to assemble and disassemble
Designed to support a wide cargo
Cons
Instructions could be clearer
11. Koxuyim Hitch Mount Truck Bed Extender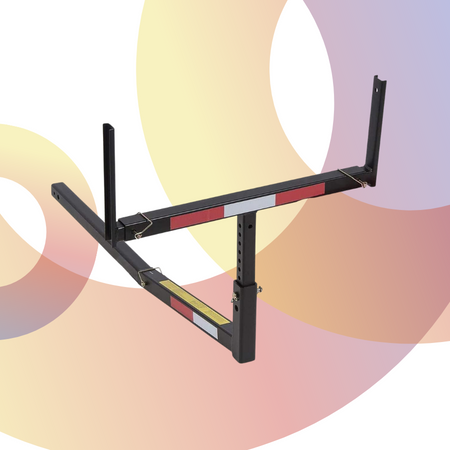 Koxuyim hitch extender is an amazing solution for carrying very long cargo and does an excellent job in securing it firmly in place. Unlike most similar products in the class, this one does not require additional tools for installation, and you can complete the whole process in a mere 15 minutes.
This unit is designed to fit any truck bed with a 2-inch hitch receiver, and it comes with four pins and a flag. It sports a smooth design and durability since it is made from alloy steel with a powder-coated finish. Moreover, this unit has adjustable height and width, so you are going to be able to store a wide variety of products of different sizes.
The steel material in the construction is also impact resistant and can take quite a lot of beating and stand the test of time effectively. It is a high-quality item and is one of the cheapest available on the market. However, do not let the price fool you because this product is definitely up to the task and is designed with a lot of attention to detail.
Pros
Highly adjustable
Made of durable impact-resistant steel
Easy to install
Cost-efficient
1-year warranty
Cons
The paint comes off quickly
12. TKMAUTO Black Aluminum Truck Bed Extender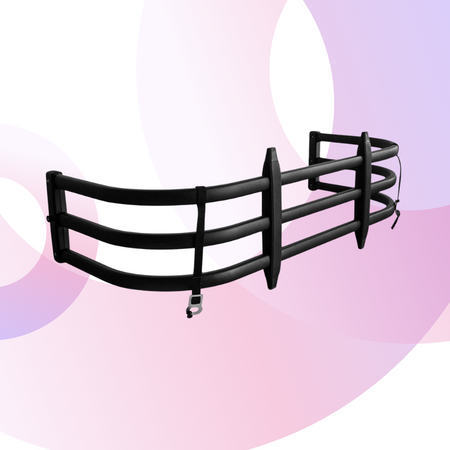 The TKMAuto truck bed extender is designed to be a universal solution for full-size pickups, with its neat features and durable construction. The width is adjustable for beds between 59 and 69 inches, which adds a lot of positives in terms of versatility and storage space.
Due to the fact that the tailgate is up, this product can also serve as a bed divider. On the other hand, you can lower the tailgate and flip the extender, and it will form fences around the edges of the tailgate and grant you extra 2 feet of storage space, which can be very useful, depending on the cargo you want to carry.
In addition, this truck bed extender is made of powder-coated aluminum, which is a highly effective material in terms of rust resistance. The only downside of this product is the installation part, as numerous users reported that they had issues with the instruction manual that was vague on certain points. Other than that, the product does an excellent job in terms of safe and dependable load carrying.
Pros
Reasonable price
Corrosion-resistant
Expendable width suits most full-size truck beds
Excellent height and depth
Cons
Vague installation instructions
Things to Consider Before Purchasing Truck Bed Hitch Extenders for Kayak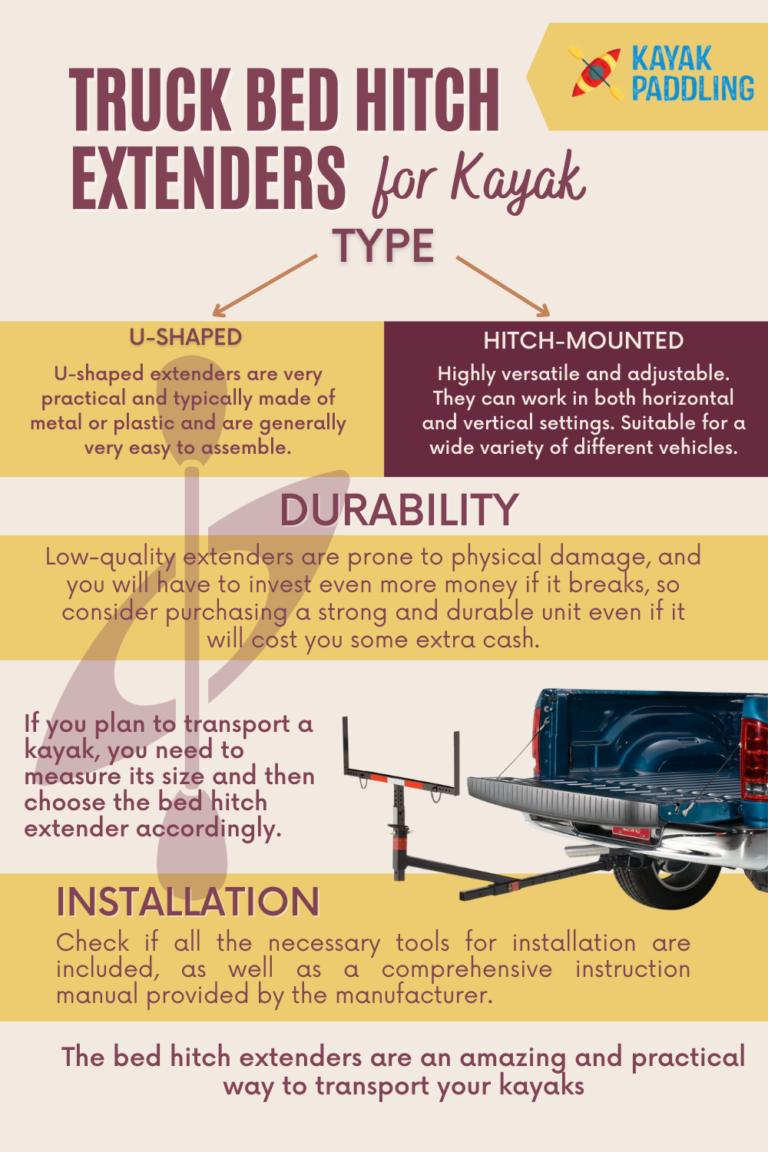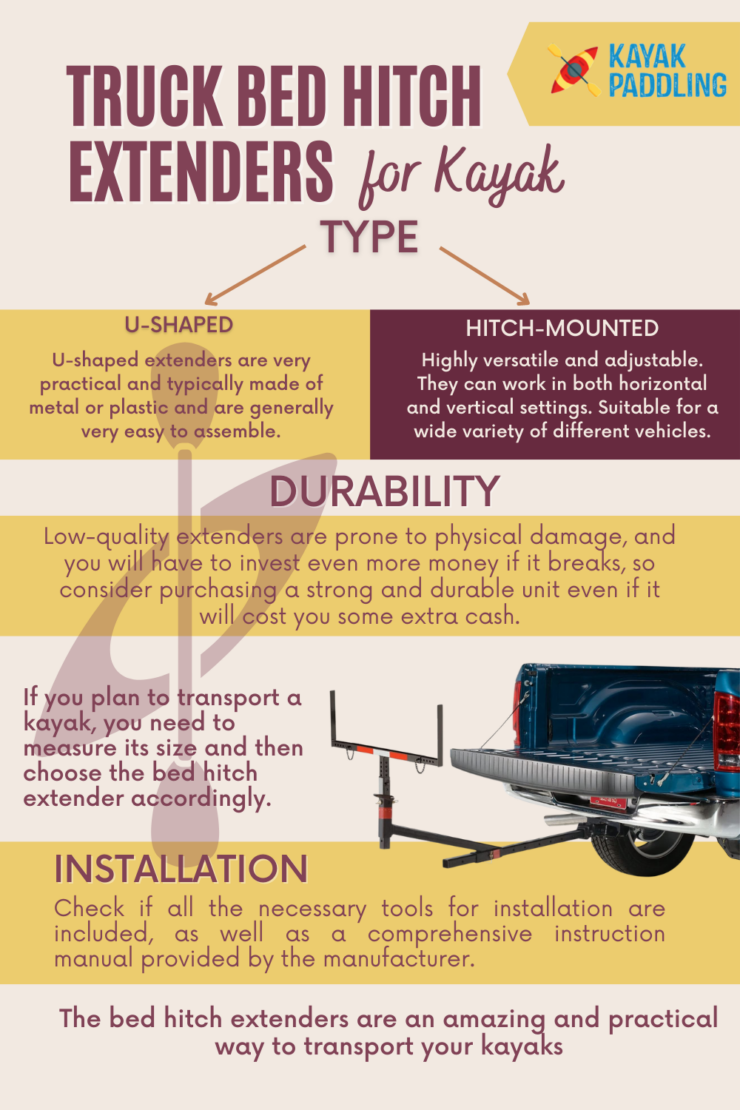 There are a few ways to maximize the space in your vehicle's bed, but few are effective as a truck bad hitch extender. These products can be used for long, and large items such as kayaks and are irreplaceable in this category. In order to help you get the best possible value for your money's worth, we have put together a brief list of guidelines you should follow in the section below.
Type
There are two main types of truck bed extenders – U-shaped and hitch-mounted. U-shaped extenders are very practical and typically made of metal or plastic and are generally very easy to assemble. These can be flipped out onto the tailgate to carry larger items as well.
On the other hand, we have hitch-mounted extenders that are highly versatile and adjustable. They can also work in both horizontal and vertical settings, which makes them suitable for a wide variety of different vehicles. These units have supportive arms that do an excellent job of securing longer cargo.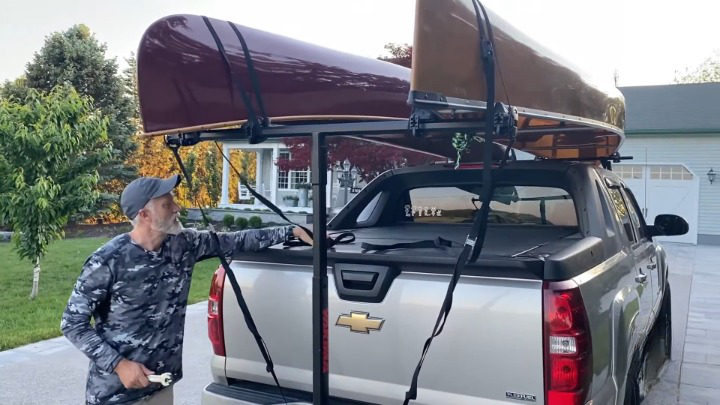 Durability
The durability of the truck bed hitch extender is one of the most important things you should have in mind before spending any money. Although you might need to pay some extra cash for a durable extender, it will certainly be well worth it.
Low-quality extenders are prone to physical damage, and you will have to invest even more money if it breaks, so consider purchasing a strong and durable unit even if it will cost you some extra cash.
Purpose
The intended purpose for bed hitch extenders is very important since when you know what you are going to transport, it is much easier to pick the right size and load capacity. For example, if you plan to transport a kayak, you need to measure its size and then choose the bed hitch extender accordingly.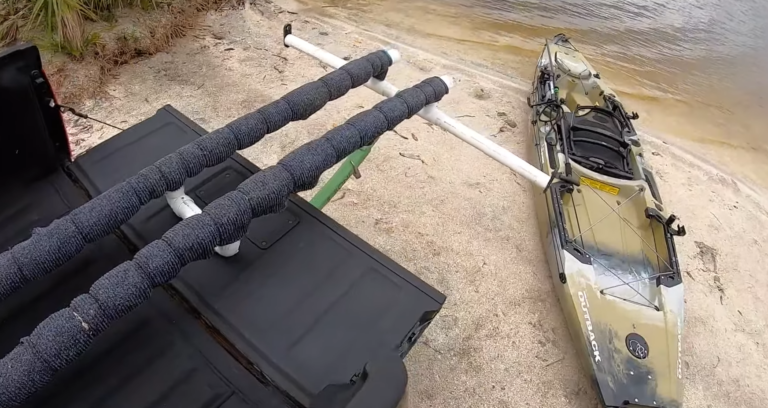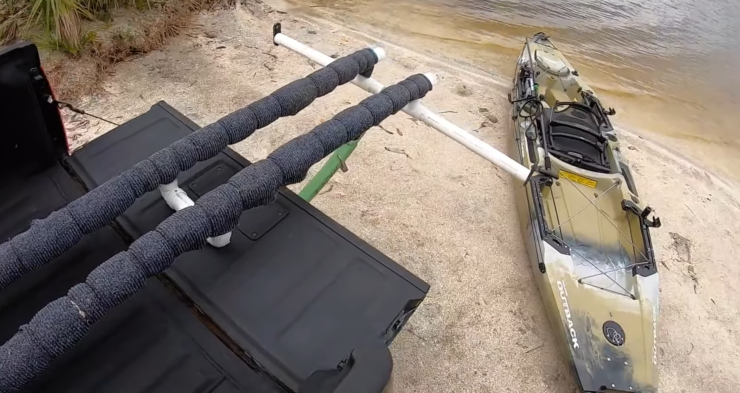 Compatibility
The compatibility of the bed hitch extender with your truck is the most important thing to consider before making the purchase. All bed extenders have precise size and load specifications that are made for specific vehicle brands and types. Before you decide to make the purchase, make sure that you know your vehicle specifications, as well as the specifications of the extender you want to purchase.
Installation
The installation of bed hitch extenders can be quite a drag, especially if you do not possess the necessary know-how about it. This is why it is crucial to check if all the necessary tools for installation are included, as well as a comprehensive instruction manual provided by the manufacturer.
Frequently Asked Questions
1. Can I remove a bed hitch extender after it has served its purpose?
Absolutely. These units are removable, and the whole process is not complicated, especially if you have the necessary tools and knowledge. In addition, you can easily fold and store this product without occupying too much space.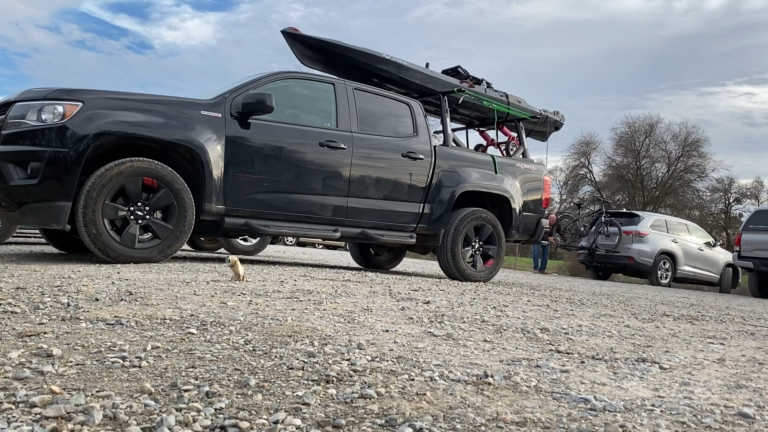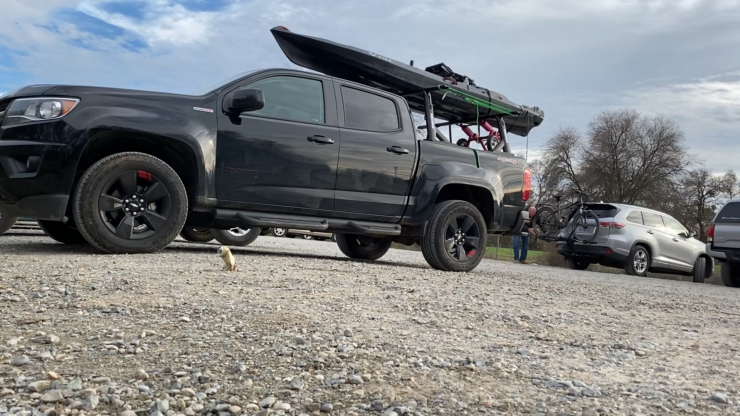 2. Is installing bed hitch extenders difficult?
The process of installing bed hitch extenders is generally a straightforward operation. All you have to do is hook them to the edges and tighten them with screws. Afterward, fix the rods at the holes and enclose the brackets. The rest of the installation is usually very easy and is explained in instruction manuals.
3. Which materials are best for bed hitch extenders?
It depends on the cargo you plan to transport. If you want to transport a heavy load, it is wise to go for the extender made of heavy-duty metal material. It is also wise to go for metal that is resistant to corrosion, such as aluminum or stainless steel.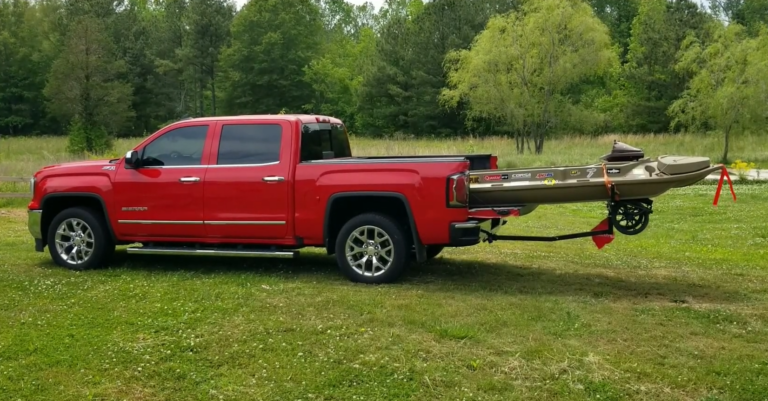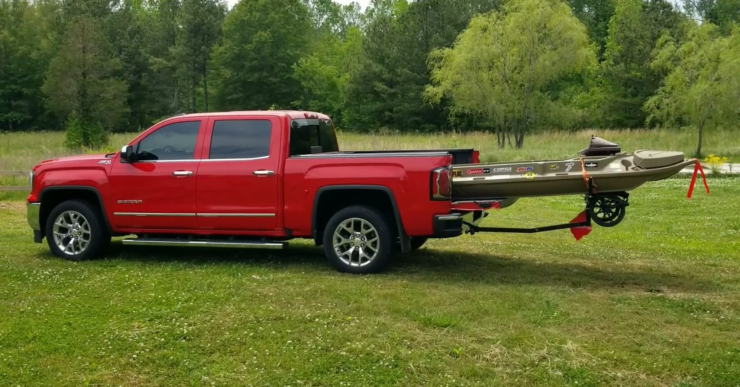 4. Are there any bed hitch extenders made specifically for kayaks?
Absolutely, all extenders we have listed are suitable for kayak transportation. These units are specifically made to withstand the length and weight of kayak units and are also constructed to hold the cargo tightly in the fixated place.
5. Can you carry two kayaks on the same extender?
Most truck bed hitch extenders are not designed to carry two kayaks on them. However, if you do decide to try and carry two kayaks on the same extender, make sure to check the weight and size of your kayaks. If they are too heavy or too big, it may not be possible to carry them on a single hitch extender.
Final Words
The bed hitch extenders are an amazing and practical way to transport your kayaks. It is an effective solution for adventurers who enjoy taking their kayaking sessions on different locations and water. Moreover, it is a perfectly safe and easy-to-install product that can be bought for a fair price.
We hope you enjoyed our guide and that you will find the perfect solution for your vehicle among our picks. If you are still uncertain about which one to buy, remember that you need to take the measurements correctly and do thorough research before spending any money. Do this properly, and you will find the extender that will suit you easily on our list.
Take a look at these products that are available right now on Amazon: