People like convenience and ease of use no matter what the task, job, project, or activity is. Why suffer in any sort of way if there is a way to do it easier, better, and more optimally? In the kayaking world, there are many things that paddlers have to deal with that are not that suitable for everyone.
Kayaks are very versatile, they are the perfect tool for the job, and can handle all sorts of conditions. They can store a lot of stuff, support multiple paddlers, and spend days on the water. However, there are also problems that are hard to overlook.
The biggest of them all surround the very nature of kayaks, or rather how difficult they are to handle in most situations. They are cumbersome, often heavy, and therefore difficult to transport, store, and carry. Of course, none of this is ideal when you have to take it out of the garage, load it into or onto your vehicle, take it down, and then carry it to the water.
When you are finally done, all of this needs to happen again but in reverse order before you can get home. To make things easier, the kayak needs to be shorter and lighter, which is why we explore the market for the best short and lightweight kayaks in 2023.
Product Reviews – Our 12 Picks for Great Kayak Experience
1. Advanced Elements Lagoon 1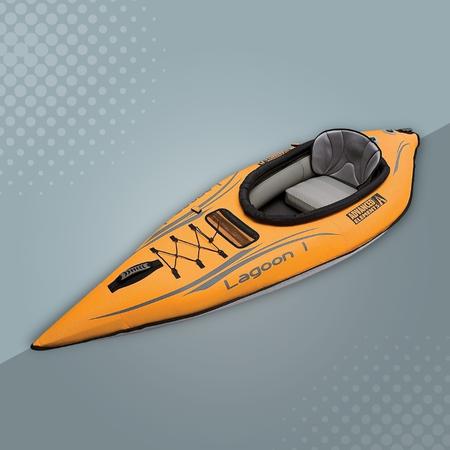 The first entry on this list of the best short and lightweight kayaks comes from Advanced Elements, a well-known brand in the kayak market. This inflatable, sit-inside model is made from rigid aluminum ribs and is therefore strong despite being lightweight. It is 8 feet 4 inches long and it only weighs 23 pounds. The load capacity it offers is 250 pounds.
These numbers make it a prime example of what an above-average kayak should be in the short and lightweight category. It is not meant for whitewater and rapids and does far better in calmer, more controlled situations. Tricky for long distances like all other short models, it handles shorter trips in wider rivers and lakes.
The integrated seat is padded and comfortable for longer sitting. There is a storage compartment in the bow as well as a bungee cord on the top. Two carry handles are present for easier handling.
Alongside the kayak, you also get a carry bag, a repair kit, and a manual.
Pros
Inflatable
 Stable
 Comfortable seat
Cons
No paddle or hand pump
Limited storage
2. Outdoor Tuff Stinger 3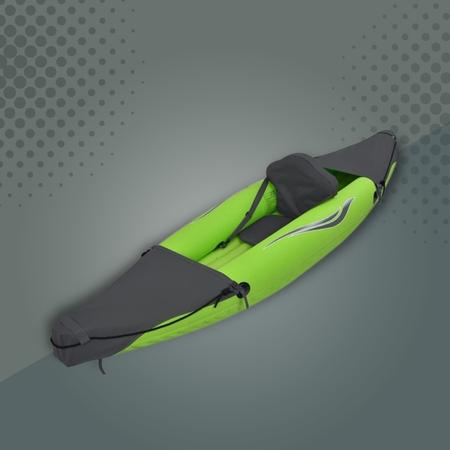 Continuing the list with top-of-the-line brands, the Stinger 3 by Outdoor Tuff is a peculiar inflatable model. It is very simple, perhaps too simple, but that is not a bad thing. It is also among the longest of the short kayak category as it stands 9 feet 1 inch long. It weighs 25 pounds so it is quite light, and can carry up to 275 pounds of weight.
This kayak comes with a foot pump which is always neat. There are multiple air chambers to inflate. It is a durable kayak with three layers of PVC tarpaulin. Regarding comfort, the actual cockpit is somewhat narrow despite the kayak being 30.32 inches wide. The seat is comfortable and adjustable with a footrest for extra pleasure.
Apart from the foot-operated pump, you also get a backpack to fold the kayak in and a rotatable paddle. In addition, two fins are also included. There are large enough storage areas in the bow and stern, both covered. All in all, a complete package, albeit a simple and unexciting vessel that could have issues accommodating bigger kayakers.
Pros
Lightweight
 Accessories included
 Adjustable seat
Cons
Too narrow
Very simple and plain
 No bungee straps
3. Lifetime Lotus 8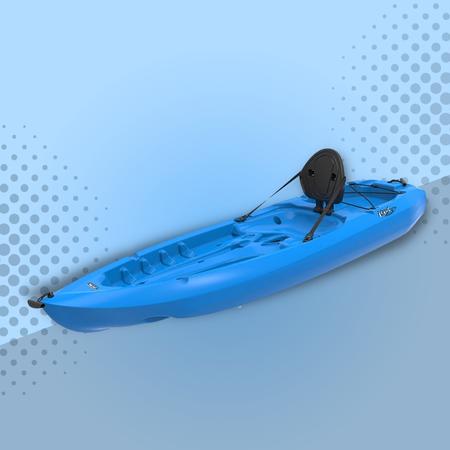 If you are not a fan of inflatable kayaks and want a robust craft for your paddling needs, worry not. Lifetime has you covered with their Lotus 8 model. This sit-on-top kayak is the definition of what it represents. At 8 feet in length, it is perfect for this list. It does weigh 38 pounds which does seem like too much when compared to the previous two. However, it is not inflatable so it makes sense.
It only comes in a single color, blue, and it has a good load capacity of 250 pounds. Since it is a sit-on-top model, it is very stable and allows standing up. This impacts its speed as it is quite slow, but it is great at turning and maneuvering. It turns so well actually that it is a struggle to keep it straight for long, obviously bad for tracking.
There is no dedicated seat, but there is a backrest. There is plenty of storage thanks to the open deck nature of this kayak model. In the back, you will find a bungee strip to tie down your stuff.
Carry handles exist at both ends. There is a paddle included in the box, something that is not always a thing with kayaks that are not inflatable.
Pros
Very stable
 Strong, durable, sturdy
Handles, paddle
Cons
No dedicated seat
Very plain design
 Bad tracking
4. Perception High Five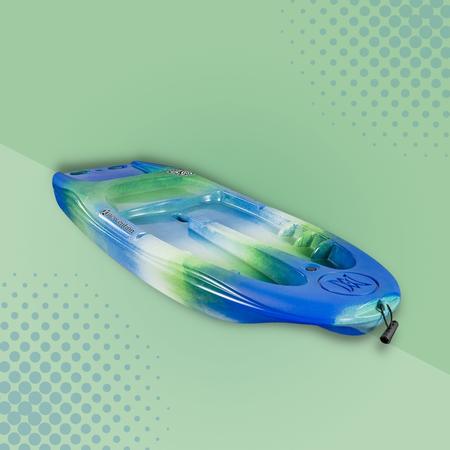 If you thought that all of the kayaks on our list were going to be at least 8 feet long, here is a surprise for you. This simple kayak is among the smallest out there only 6 feet long. It weighs 21 pounds despite being robust and made of polyethylene and can hold up to 120 pounds. This is quite low when compared to other load capacities, but it does what it can with the measurements.
This is a sit-on-top model and therefore very stable. However, it is not very comfortable and is only meant for shorter trips. There is no seat, no backrest, and no bungee cord. The only storage options are what you can make out of the open deck. There is a single carry handle at the bow. Molded footrests do not do much for comfort.
This kayak is very plain and simple and that much is easy to see from the very first glance. It is not interesting or exciting, but it is good at what it is supposed to do. It is perfect for beginners and for kids, as well as for some slow, lighthearted fun on the water. One paddle is included and the kayak comes in three interestingly named colors: Deja Vu, Funkadelic, and Sunset.
Pros
Small and maneuverable
 Lightweight
Cons
Very uncomfortable
 Plain, simple
 Limited load capacity
5. Advanced Elements Packlite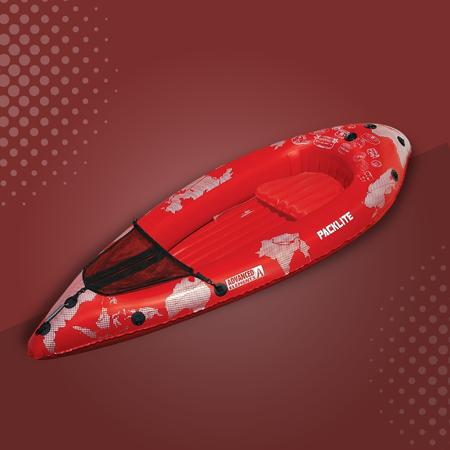 Next up is another single-person short kayak under 8 feet in length. At 7 feet 10 inches in length and 35 inches in width, it is the second-shortest on the list. However, this kayak takes the cake when weight is concerned, or lack thereof. As unbelievable as it may sound, the Packlite by Advanced Elements only weighs 4 pounds! How is this possible you may ask? Well, it is because it is a super light pack raft model made to be carried in a backpack.
Despite this amazingly low weight, it can still carry a very respectable 250 pounds. There is a mesh-covered area in the back for some cargo, but that is pretty much it for storage. There are no paddles or a pump to inflate it. Features are not really there, but the kayak is still very useful and applicable in many situations. No dedicated seat exists, but the seat cushion does inflate separately for some additional comfort.
Mobility and ease of use are two sides where this kayak dominates the market. It is all about carrying it easily in any backpack and storing it at home without issues. If you want minimal weight, this is it right here. It literally packs down to the size of a lunchbox, easily fitting in the bag you get. It is very stable and reliable and quick enough. This amazing red kayak is a truly underrated start of the list.
Pros
Super lightweight
 Compact, packs very tiny
 Very stable
Affordable
Cons
Virtually no storage
No pump or paddle in the box
6. BKC FK 184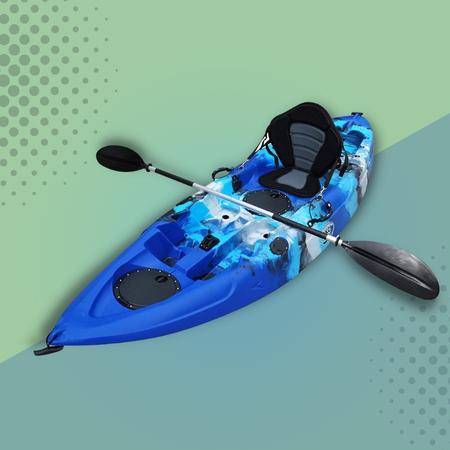 Last but not least, we have a very capable, robust, sturdy, and lasting kayak that is the best option for any fisherman out there. It is quite lightweight for a fishing craft at 44 pounds, and its dimensions are 9 feet in length and 32 inches in width. Weight capacity is 220 pounds, more than enough for the paddler to bring all of their fishing equipment.
Features are crucial for an angler kayak and this one delivers. There is a paddle holder, a cooler platform, fishing rod holders, and a bungee cargo hold. Storage-wise, there are two waterproof storage seals. The dedicated seat is padded and ergonomic and there is a paddle included in the package.
Three colors are available for the customers to choose from, blue camo, gray camo, and red/yellow. The kayak is very stable, another important thing for the fishermen kayakers. Maneuverability and turning are more than satisfactory, it offers good speed, and it tracks well. There are four carry handles, one at the bow, one at the stern, and one on each side.
Pros
Watertight storage compartments
 Five fishing rod holders
 Stability
 Sturdy, strong, durable
Cons
Expensive
 Can be too tough for beginners
Buyer's Guide
So what is a short kayak exactly, and what qualifies as lightweight in this particular context? When it comes to length, shorter kayaks are usually between 8 and 10 feet. Most of them are exactly 8 feet long, just above, or around 9. These are the smallest on average but there are also smaller models that take the word "short" to a whole new level without losing much of their features or capability.
When it comes to weight, lightweight kayaks typically a few dozen pounds at the most, between 20 and 40 pounds. This makes them easy to carry and transport, but also a breeze to store at home because they can be raised, hung, leaned, etc.
The combination of shortness and weight is, however, quite limiting in other fields, meaning every customer needs to remember what to take into account before shaking on it and taking one home.
Storage
There is no going around it, short kayaks have very limited space for the gear typical of what kayaking demands. Usually, it is a small area in the bow and/or the stern, with a single, small bungee tie-down rope. There is usually no place for water-tight hatches because there is simply no space for them.
It can be quite a challenge and it is worth taking into consideration when looking for the right kayak for your needs. Evaluate how much equipment you can bring before buying. Load capacity is a good indicator of this as it shows how much the kayak can carry in total.
Stability
The golden rule of kayak stability lies in the balance between length and width. The longer and narrower the kayak, the faster it is but also the less stability it has. This means that shorter and wider varieties are also the most stable, albeit a bit slower on average.
With short and lightweight kayaks you do not have to worry about stability. They are stable enough since most of them are made for whitewater and rapids where balance is crucial. This also means they maneuver better and are easier to turn. If you spot a very narrow model, it would be better to think again and look for something wider in the cockpit.
Frequently Asked Questions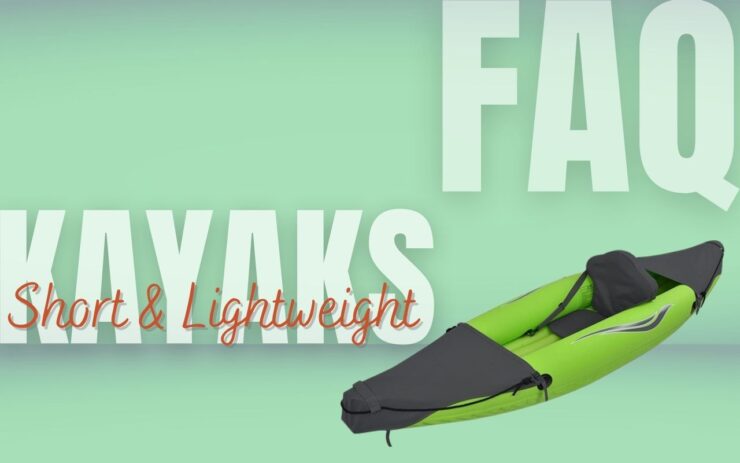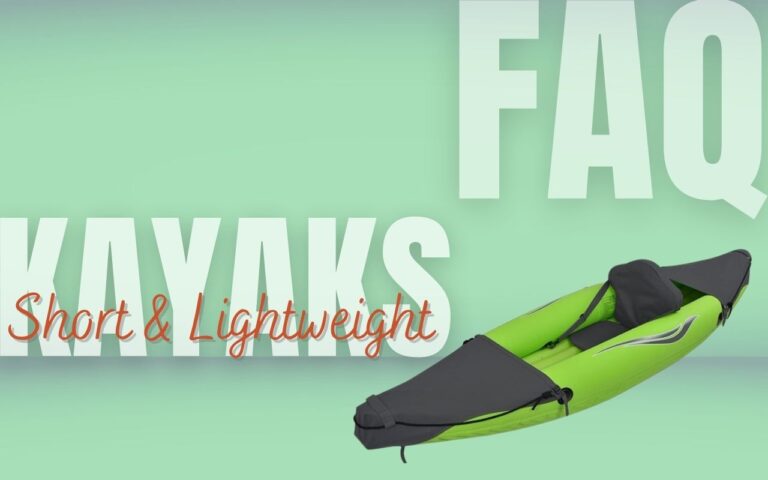 1. Where should I use it?
Short and lightweight kayaks are best used in calmer lakes and slow rivers. While many short models are good for whitewater and rapids, you need to be experienced and have a slightly more resistant and sturdy craft to be safe around all the rocks and timber.
2. Do I need a bigger kayak?
This depends on what you expect from your kayaking sessions and experiences. There is no need for anything bigger if you want some basic recreation, easy turning and maneuvering, and simple mobility. All of these are more than capable of helping you do anything you can possibly want from a paddling trip.
Also, you can check these products and find a kayak that is more suitable for your need:

Meet Maria Alexander, the fearless adventurer steering the ship at KayakPaddling.net. Her mission? To convince you that life's too short for dry land and that the best stories always start with "So there I was in my kayak…"