There are many choices out there when it comes to choosing a kayak. Many people will simply walk into a store and pick one off the shelf, but in reality, you will be much better off if you take a bit of time and check some things before making your purchase.
The best whitewater kayaks are going to be durable, easy to control during rapids, stable when holding them at rest, and comfortable enough that you can row longer without getting tired from having no support for your back or seat area.
You also need to figure in how well built the boat is even if you never plan on using it for whitewater purposes. If your boat has not been made well then chances are it will have problems after only a couple of seasons.
When you choose a boat it is important to take into consideration what kind of kayaking you plan on doing. The best whitewater kayaks are going to be different from the best river running kayaks, which will differ from the best freestyle or playboat kayaks. Some people like to interchange their boats for all types of water activities but go with one type if they know they only want to do certain things with their boat.
 Whitewater Kayaks – Top Picks & Reviews
Let's do some of our favorites before we delve deeper into how to choose one and what types there are:
Driftsun Rover 120/220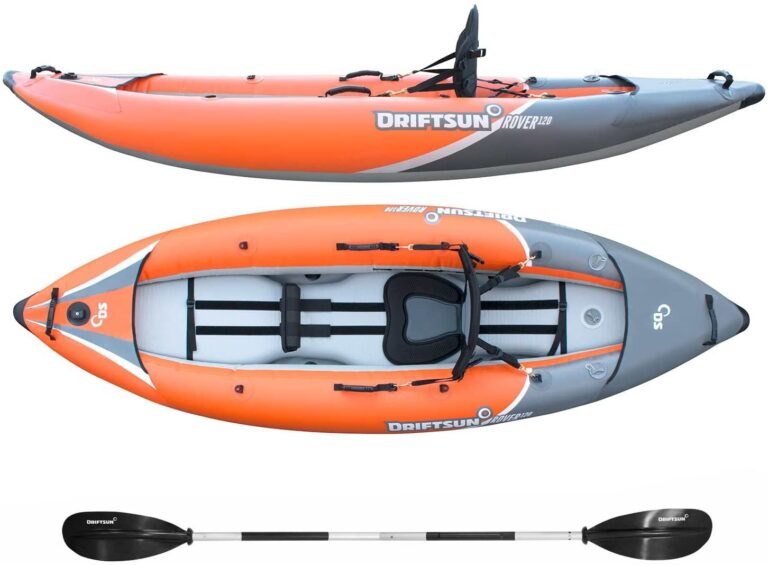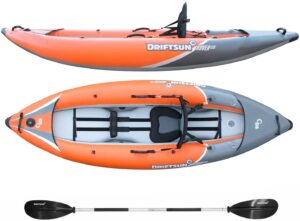 The Drifstun Rover is a durable and lightweight inflatable kayak ideal for any whitewater. With reinforced PVC tubes and a heavy-duty tarpaulin bottom, it will endure any boulders and rocks.
Inflated in less than 5 minutes, it is stable and offers a high level of maneuverability that will be great for any water adventure. You can choose between the solo or the two-person kayak. It even features an action camera mount and great pressure valves to release any water.
Other things we like about it:
A 300-pound capacity
Super durable floor with dropstichign
The chamber construction makes it rigid and stable
Adjustable footrests and seat
Great handles and anti-corrosion hardware
Aquaglide McKenzie


The Aquaglide McKenzie is another great inflatable kayak that is ideal for whitewater. This is a crossover type of kayak that is designed with fast waters in mind. It features EvoBeam tech with Duratex construction.
It also has 4 special mesh drains that will give you the time to react and empty your vessel in a pinch. It features a 300-pound capacity and it has an adjustable seat and foot straps. All in all a versatile boat. It's important to note that you need to buy a pump and the paddles separately.
Some good features:
Good durable construction
Portable and lightweight
EvoBeam technology
The velcro seat is nice and comfortable
Pelican Sprint XR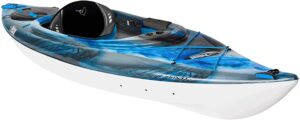 The Pelican Sprint XR is a great vessel for those who are looking for stability and more maneuverability in white waters. It features a Deep V Chine Hull with keel extensions that will provide great tracking and control.
The multilayer material is durable and is made out of HMWPE, which is a molecular weight polyethylene. In gist, the least amount of material and parts are used, so the boat is in one solid form that won't break and chip easily.
Other things we like about it:
Designed with hydrodynamics in mind
RAM-X is a super durable material
Super stable with the Deep V Chine Hull
Perfect for intermediate kayakers
Types of Whitewater Kayaks
There are 3 types of whitewater kayaks:
Creaking
River Running
Freestyle or Playboats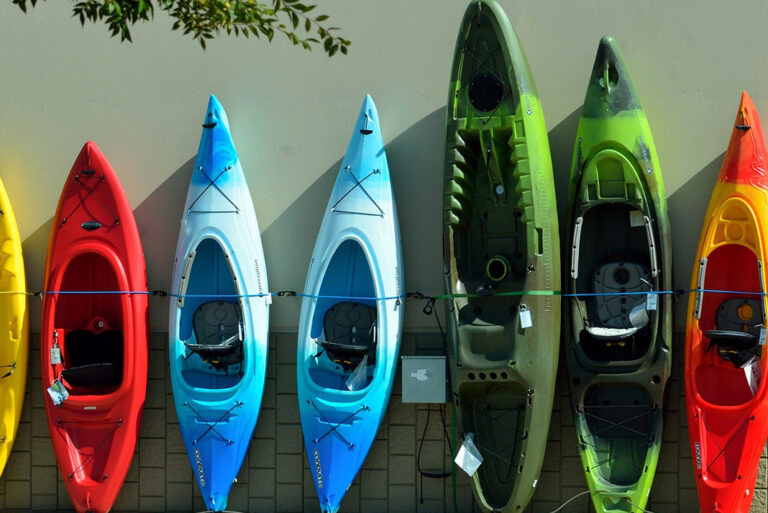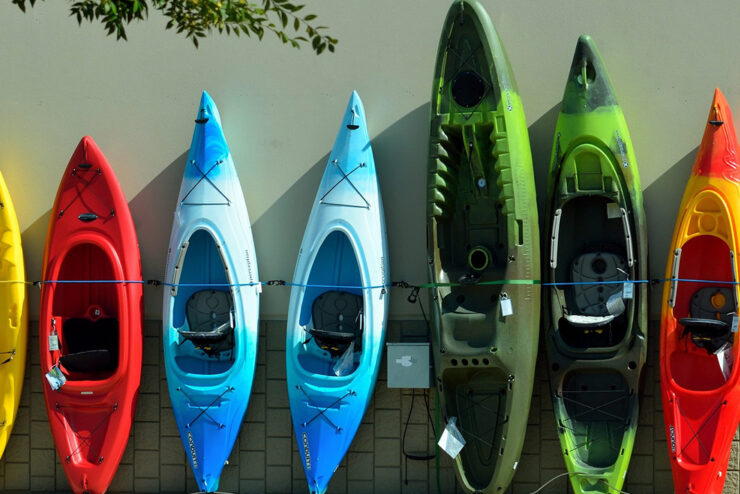 Creaking Kayaks
A vessel you mostly use for creeks and fast waters. This boat was designed for large, fast water that has steep drops. The volume is high and the decks that are crowned help it to resurface quickly. It's also rocked for speedier booking and spins.
The lines are rounded, and the ends are filled, which means that the current won't be able to easily climb on top of you, then grasp an edge, and then turn yours. The volume is spread throughout the boat. The lack of sharp edges means that they can't cut or ferry particularly effectively. The rocker is a speed breaker.
River Running Kayaks
River runners also have volume in the ends and feature an edge and a rocker. They are good all-around vessels but they do not feature a slice for really fast waters and extreme creeks. These are great for poll drop rivers where you need to get to the bottom safely.
These types of boats are usually designed for rivers with higher flows or moderate to easy rivers, but they are also utilized on challenging whitewater by proficient aggressive paddlers. A lot of experienced paddlers prefer river runners over creek boats to paddle big waters due to their increased ability to control and velocity. These are also great boats to start learning in.
Freestyle/Playstyle Kayaks
These are shorter than most and most of their volume goes around the cockpit. Their ends are flat and spicy so you can easily go into hard sports such as squirts and cartwheels. The fun is enhanced by either reducing the length or flattening the hull in order to make it easier to surf, or decreasing the volume of the stern, to make room for some downriver-style play movements such as stern squirts or splats.
This is a broad variety of boat designs that do various things well, however, they all share the length or volume to be predominantly downriver boats, which can let you have the freedom to do some great moves.
Whitewater Kayak Guide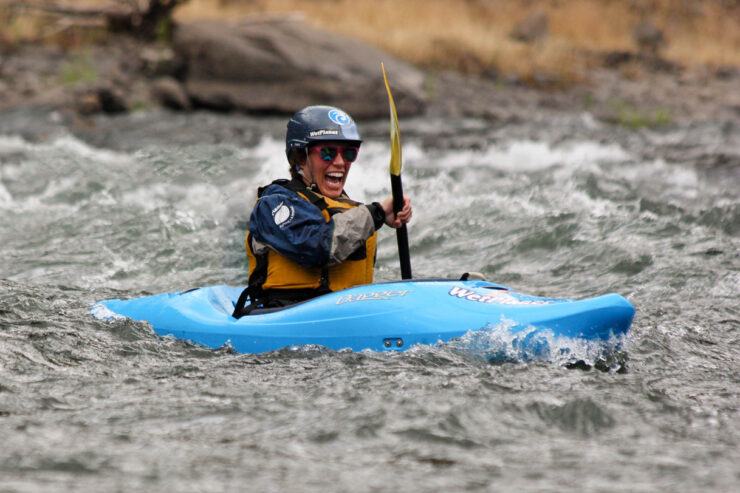 Before buying your first whitewater kayak there are several things you should consider taking with you so that you can make an educated decision about what boat is right for you and your needs. You need to bring along another person who is familiar with various types of kayaks.
You will also want to bring a tape measure and have paper and pencil on hand so that you can get measurements of the boat before buying it. It is important to know what size of person the kayak is made for; in case you plan on taking family members with you, make sure they can fit properly in their own boat without feeling cramped or uncomfortable.
Material
If possible it is best to know the benefits and problems associated with various types of materials used in making kayaks. Polyethylene (plastic) and fiberglass are two types of materials commonly used in boat construction today; knowing which one your money goes towards help when deciding between brands. Carbon fiber, Kevlar, and plastic/fiberglass combinations account for most of today's whitewater kayaks on the market.
Size
Kayak size is also another important aspect to consider before purchasing a boat. A 12-foot longboat is not going to be as fast or maneuverable as one that is 14 feet long; it might even be too big for you to control properly in some rapids.
On the other hand, if you are male and weigh about 220 pounds then getting anything smaller than an 18-foot boat is probably not your best bet unless you can afford more than one kayak.
Women will want something closer to 13 feet in length while children should use boats around 10 feet long; however, you should always try out different boats with people riding in them everyone knows they are comfortable regardless of what the length of the boat is.
Types of Hulls
There are two types of hulls: Planing Hull vs. Displacement Hull. They are two of the most common types of kayak hulls however, there are some kayaks that exhibit features of both areas on their hulls. The hulls of planing have an even surface from edge to end, and displacement hulls have the appearance of a curve that curves further below the waterline and "displaces' ' water.
The general rule is that hulls with a rounder shape are more stable and are more tolerant, often because the hull's shape is more round, which results in the chine becoming more supple. If all else is equal the displacement hulls can be a bit quicker than those that plan in flat waters, and planed hulls could be more efficient in whitewater due to their easier turning.
Planing hulls are able to rotate more quickly and are more maneuverable without much effort since they are able to plane over the water, and don't require pushing by the current to spin.
Conclusion
When buying a new kayak make sure you go slowly and carefully over all possible options before making your purchase. In most cases, people will want something they can use year-round since they can never know what type of water they might encounter during their next adventure.
Before buying any kayak research is necessary to ensure you get what you want. Getting the best whitewater kayak should be your goal; doing this could open up many opportunities for future adventures that would not have been possible before investing in a boat of your own.
Check out the following list and find more kayaks that you might like: