Foldable kayaks are also known as the most portable kayaks. A foldable kayak is a type of kayak that can be collapsed into a smaller size for storage or transport.
The hinge mechanism in a folding kayak reduces to just inches the required length for transportation and storage. Some designs collapse so small they fit within two suitcases.
These advantages make many models very popular for use on camping trips and other forms of outdoor recreation where access to water is not far from the site of one's home or campsite.
So let's do a quick overview of foldable kayaks and let's start with the best options currently on the market. Here are the two best folding kayaks in 2023:
1. Oru Kayak Foldable Kayak


This Oru Kayak is made for lakes, rivers, and oceans. Easy to paddle in all kinds of weather. It's the perfect boat for camping, fishing, or just paddling around with your family. Folds down into a suitcase so it's easy to transport by car or even on most airlines as carry-on luggage. Super stable and super lightweight.
The Oru Kayak is made of super durable plastic that can take a beating – Designed and built in California – Has won the "Gear of the Year" award from National Geographic Adventure Magazine – Used by outfitters and outdoor professionals worldwide. Construct your kayak in under 5 minutes – Backed by a Lifetime Warranty and US Patented Design.
Pros
You can build it in just 5 minutes
Fits anywhere when folded
30 days money guarantee warranty
Rated at 20,000 folds so you can be sure it will last
2. TERRAVENT Foldable Lightweight Kayak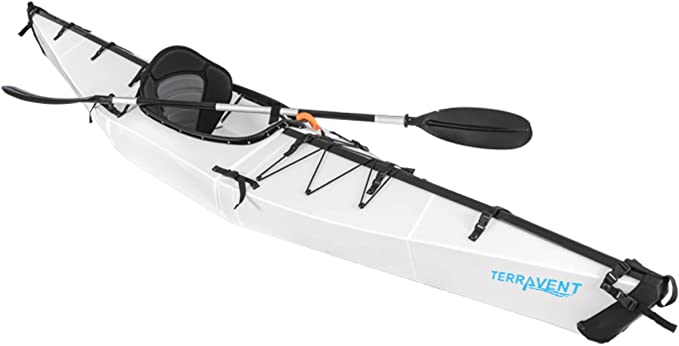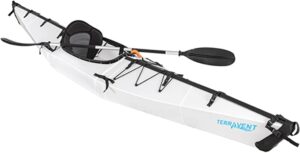 This Travvent kayak is the perfect combination of sporty and stable for folding kayak. This single-person inflatable kayak is great for fishing or other watersports. It's lightweight and easy to carry from car to beach and beyond.
The folding kayak is made of 5mm double-layered, custom-extruded polypropylene, and 800 D.P.I PVC, so the kayak is tough and durable and can handle everything Mother Nature throws at it.
A comfortable high-back seat with a height of 28 inches allows for hours of paddling without discomfort. The boat weighs just 40 pounds which makes it super easy to carry around on long trips or even to take up in your backpack when hiking to remote rivers and lakes. Great anti-corrosive material and effective speed.
Pros
Long warranty of six months
Max load of 330lbs
Great build quality
About Foldable Kayaks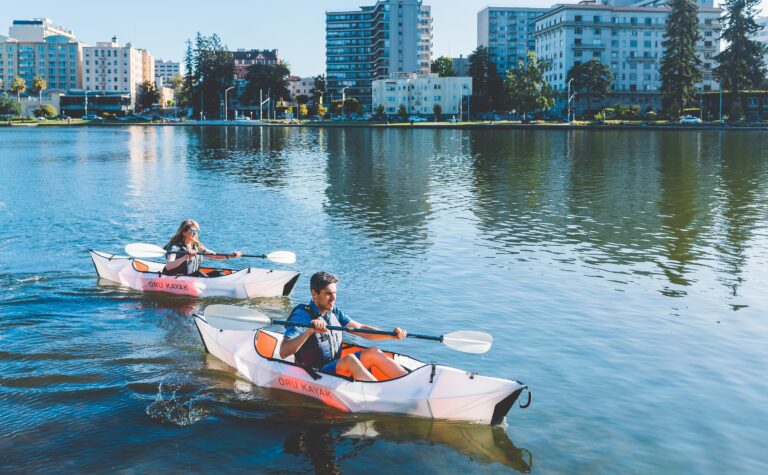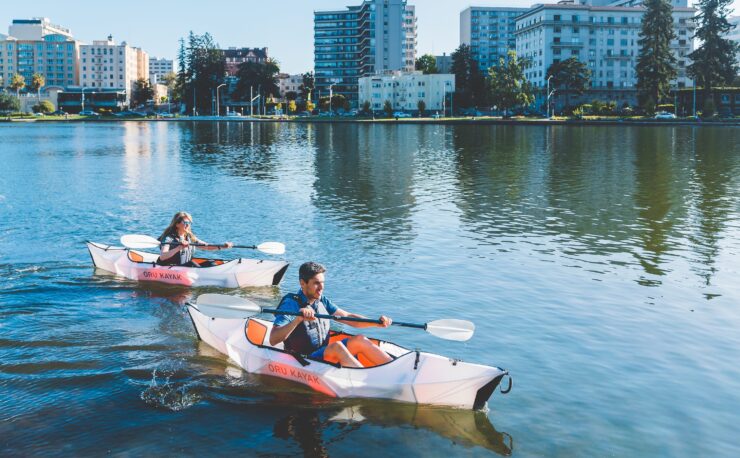 Foldable kayaks are typically made from a sturdy fabric such as vinyl or rubber, and the sides of the kayak may be banded with nylon webbing. The design ensures that even if there is a hole/inspection cut in the outer shell (to allow for inflation), once it is deflated, it will never fill up with water that can not run out since it will always be completely open at all times.
There are hinges on some models, while others have no hinges but use interlocking lugs to fold. Many older designs used D-rings connected by short lengths of webbing to hold the kayak together while folded; more recent designs often include straps or other more effective means of securing the boat together.
Early kayaks of this type lacked skirts, which are now standard on many folding kayaks in order to protect the seams from sharp rocks when dragged up onto a rocky shore. Some models have several air compartments within the boat for further protection against deflation or puncture.
Using foldable kayaks
Folding kayaks are sometimes used in countries where regulations require a canoe or kayak to be carried on a vehicle in a certain way. In the USA, most states have these laws in some form or another.
As with any boat that is stored folded up (including hardshell boats) it's important that you store them outside of your car if at all possible when transporting them! Do not leave the kayak inside your car for extended periods of time; this can damage the material and/or cause scratches/dinging to paint/windows.
Any model may also be shipped using parcel delivery services like UPS, FedEx, USPS, etc. Some folding models can even fit into small planes (campers for example).
Larger-sized models suitable for one or more persons are normally preferred. There are 2-person collapsible kayaks that can be deflated and rolled up to be transported easily. Some of the small inflatable kayaks may also fit into this category, but they are typically unsuitable for rough waters.
Foldable kayaks can come at a more affordable price than some hardshell boats; however, they tend to cost more than an average inflatable boat due to their gadgetry (latches, etc.). Smaller models tend to be cheaper than larger ones.
Be sure to always read reviews before buying your first kayak; it will help you make better decisions on which watercraft is right for you. Reviews are very helpful!
More information about kayaks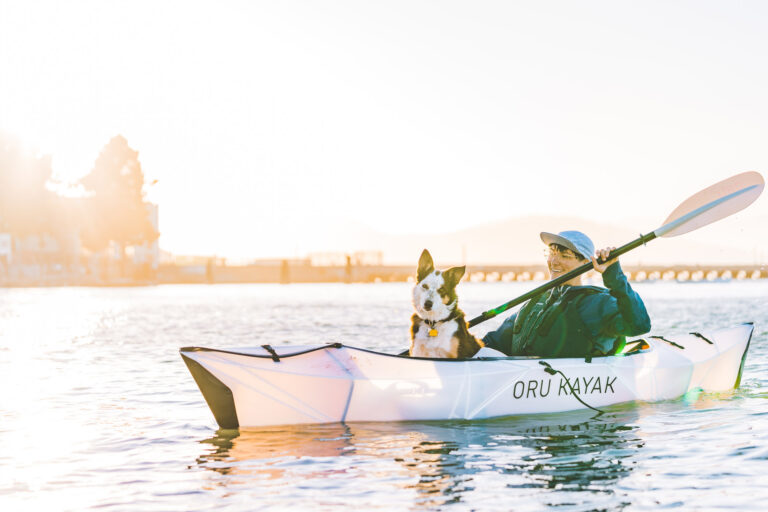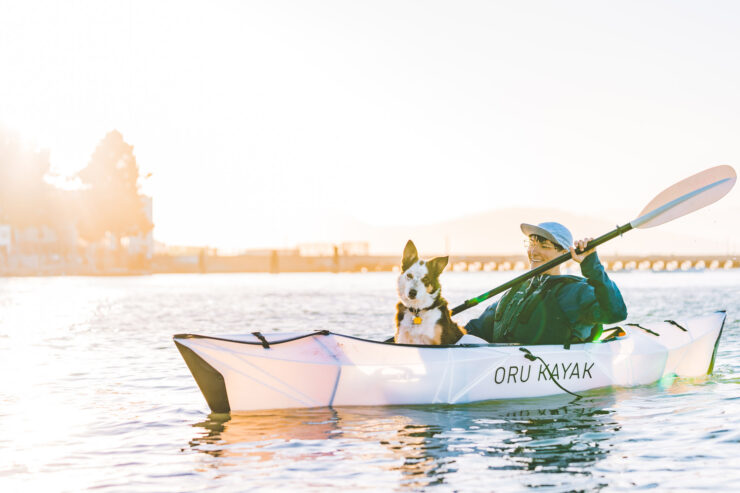 Kayaks are typically sold in various colors, each with its own advantages. The most common color for kayaks is blue due to the fact that this particular shade allows the best visibility at sea.
Underwater cameras may not be able to pick up on other shades of color as easily as blue which creates an advantage for people trying to find someone lost at sea since it will make them easier to spot.
For example, if a kayak was white then rescue personnel would have difficulty seeing this person unless they had some sort of distinguishing marker on their person (bright orange etc.). Be sure to research all these factors before you buy your first kayak so that you are fully prepared!
Foldable kayaks are a great investment for those who want to use them every once in a while, especially if there is enough space available to store them at all times (garage etc.) and you do not need to use them daily. It can be used on all sorts of water bodies like rivers, lakes and even the sea!
Depending on the model, your kayak will either come with many accessories or none at all; this is something you must keep in mind when looking for a certain type. Some people prefer lots of storage spaces whereas others simply want mobility so they don't care whether their kayak has any compartments or not.
Check the list below to discover more interesting kayaks: