If you are a kayaking enthusiast, it is only natural that you want to pass on this outdoor adventuring passion to your kids. However, you might be wondering if that is a safe endeavor. The answer is yes, and today we will share with you some tips on how to kayak with a toddler and how to create perfectly safe conditions for such an activity.
Although safety is a primary concern, you also need to prepare and make the whole trip entertaining for small kids that usually have a low attention span. While kayaking can be very entertaining for adults, toddlers can get bored quickly, so it is very important to figure out a way to keep them engaged. In this article, we will provide a guide for parents to prepare for a kayaking trip with their little ones. So, let us start.
How to Kayak With a Toddler – Figure Out the Where and When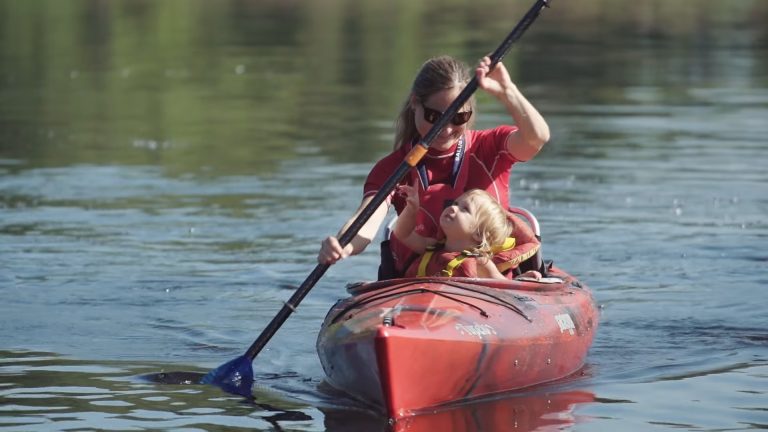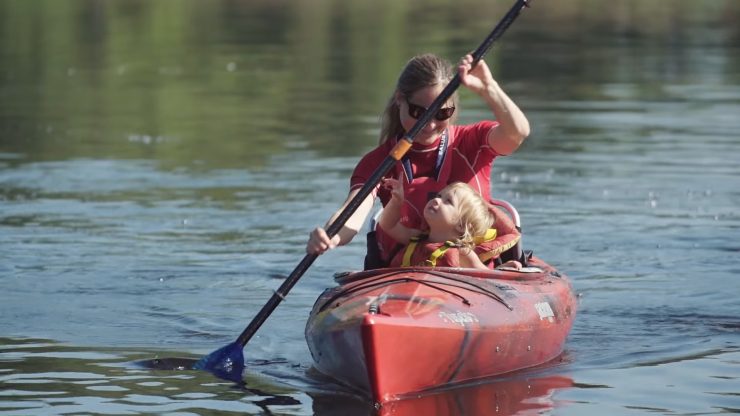 The planning part is crucial when kayaking with toddlers. You must be prepared for different scenarios and expect the unexpected. It is important to start somewhere, so check the weather, locations, and alternative routes first. Prepare your first aid kit and have emergency contacts on hand, and phase one is almost complete.
It is also important to find a suitable place to have lunch and know where and when you will be able to take bathroom breaks. You should also pack your kid's favorite toys as they will serve as a good diversion when they get bored a bit.
Location
Even if you are an experienced paddler, it is wise to stick to calm waters. It is best to opt for small lakes, slow-moving rivers, and bays, and all of that with little to no waves or wind. This is primarily an intelligent decision if you are taking your child kayaking for the first time.
Make sure to follow your child's behavior regularly, and you will figure out when it is the right time to take your trip on some more adventurous waters. All kids are different and react differently to such activities, so it is wise to monitor their behavior closely and see if they are enjoying themselves.
Duration
Kids' attention span is a ticking time bomb, so it is rather important to determine how long your kayaking trip will last. The older the kid is, the more time you will be able to spend kayaking since younger kids, although dynamic and energetic, can get bored in the nick of time.
Do not overdo it with long trips, especially if your child is a first-timer. Start with shorter trips, between 15 and 30 minutes of paddling with a quick break. The biggest advantage of short kayak trips is that there is less chance for your child to get bored or nervous.
Careful and Thorough Planning of Routes Is the Key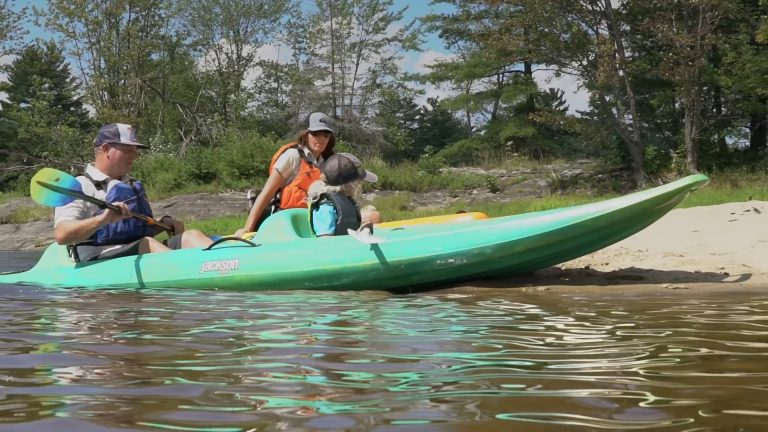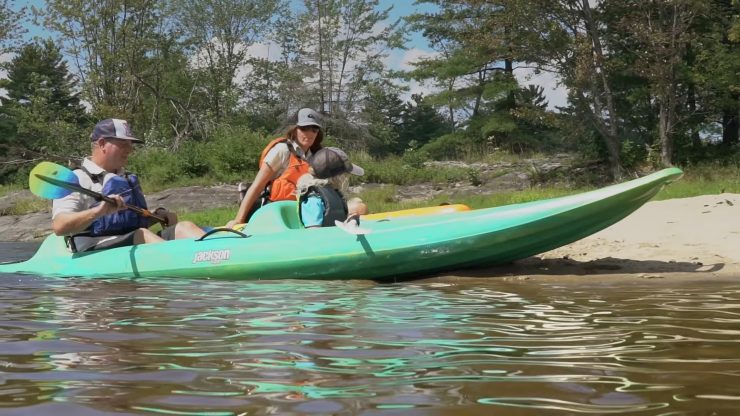 Planning your route is essential for adult-only kayaking trips, so it is even more important when you are going with toddlers. It is vital to do thorough research and figure out the floating plan, as you might run into unexpected circumstances when going with a small child.
Some of the important boxes to check in your schedule include:
1. Previous experience with the area you are about to visit
2. Locations for bathroom breaks
3. Opportunities for some beautiful landscape scenarios and sight-seeing opportunities
4. Chances to introduce your child to wildlife
5. Means to resolve unforeseen circumstances and emergencies
It is also crucial to inform all the adults that are participating about your trip plans and involve kids in it, as it may help them develop some sense of responsibility. If you are going to brief your kids about the trip, stick to age-appropriate summaries and general descriptions, as you do not want to burden them with unnecessary pieces of information.
How to Kayak With a Toddler – Weather and Water Conditions
Check and double-check the weather forecast before you go on the trip, and do so again the day before you go. If there is even a small chance of rain or harsh winds, it is wisest to postpone the trip since kids will have much more fun on a warm and sunny day.
Essential Safety Gear You Should Pack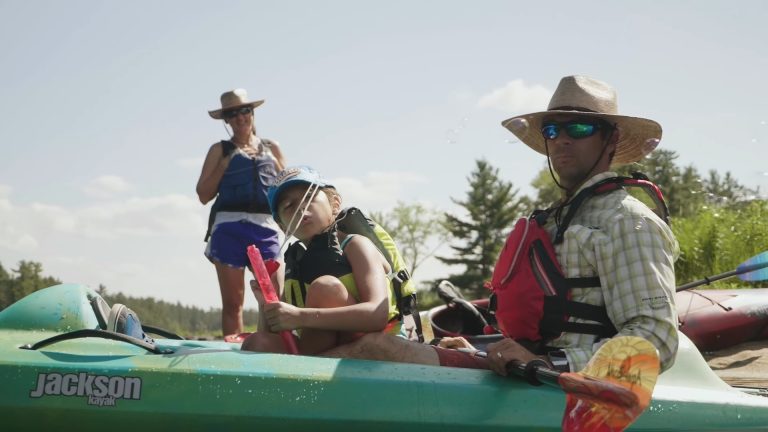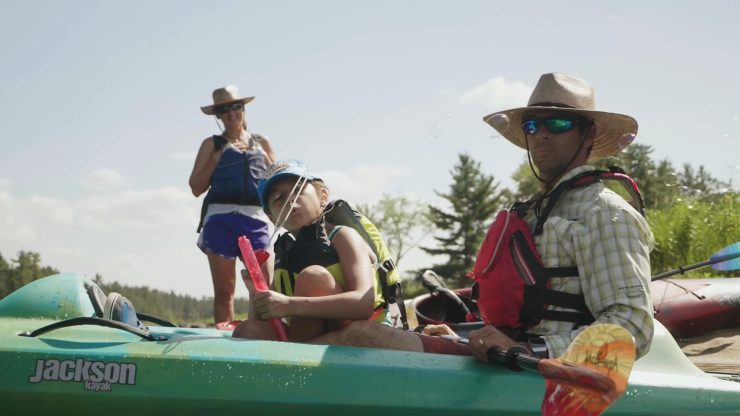 Kayaking can be very dangerous if you are not prepared, so it is crucial to bring the appropriate safety gear. You should also talk to your child about the safety during paddling, set some ground rules that are essential when you are on the kayak, and make sure they understand what kayaking requires in terms of responsibility.
It is crucial to have this talk with your child before you go on the trip. Make sure that the rules you have established are respected and followed, and lead by example. This is something that will keep everyone safe and be a cornerstone of developing good kayaking habits in the future. Here are some of the most important pieces of gear you should bring.
1. Personal Floatation Device (PFD)
Wearing a personal floatation device or PFD is an absolute must for everyone participating in a kayaking trip or any other water activity. Both kids and adults have to wear them – no exceptions, as the law requires it.
It is essential to grab the U.S. Coast Guard-approved PFD designed for kids as it is the safest and most reliable one. Make sure that the sizing is just right because if the PFD does not fit your child right, it defeats the purpose of wearing one at all. Same as it is for their clothes, PFDs for kids are categorized based on the child's size and weight.
There is a total of three variations, including PFD for infants (less than 33 pounds), children (33 to 55 pounds), and youth (55 to 88 pounds).
2. Lines and Float Bags
It is wise to include line and float bags in your supplies bag. For example, a plain rope will enable you to tow a younger paddler's kayak when they are too tired to continue, and lines with flotation devices attached are an irreplaceable tool in rescue situations.
3. Extra Safety Gear
Aside from PFDs, lines, and floats, there are several must-have accessories you should always bring in your bag for a kayaking trip. These essentials include a first aid kit, clip-on light, an emergency whistle attached to the PFD, and a charged phone stored in a dry bag.
How to Kayak With a Toddler – Additional Essentials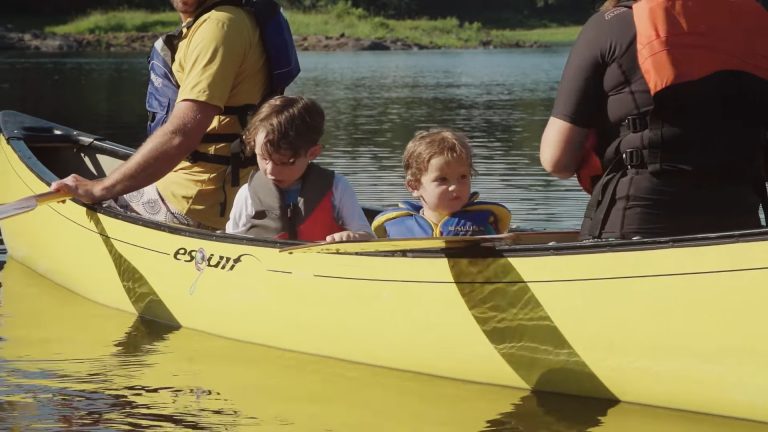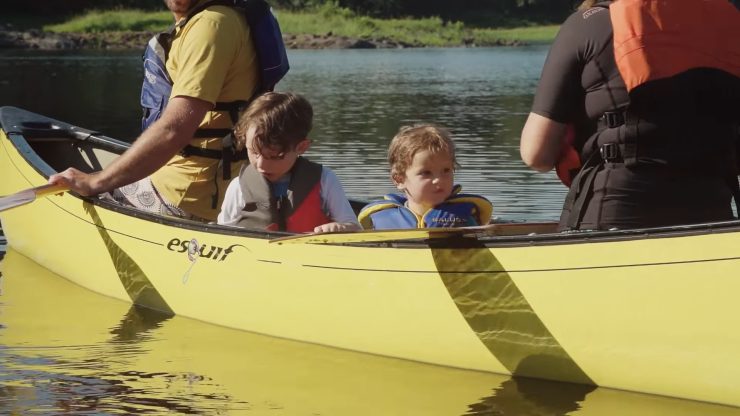 Packing for a kayaking adventure with kids is quite similar to preparing for a regular adults-only trip. Outdoor conditions may bring various unplanned complications, so the clever approach is to come prepared. To avoid any inconveniences, make sure to pack the following:
1. Your child's favorite snacks, something with lots of protein like nuts or dried fruits
2. Water bottles so that everyone can stay sufficiently hydrated
3. Spare clothes and towels
4. Sunscreen, glasses, a wide-brimmed hat, long-sleeved shirts, and other sun protection products
5. Raincoat, boots, or waterproof poncho in case it rains
For additional gear and supplies necessary for care-free kayaking trips, check our kayak camping gear checklist article, and study it thoroughly to ensure you do not forget anything crucial.
Prepare Your Kids and Inform Them About the Responsibilities They Have
As much as it is important to keep everyone engaged, entertained, and happy, it is even more vital to let everyone know what their responsibilities are. Make sure to explain to your kids the dangers of kayaking without scaring them. It is essential that they know and understand the rules and consequences of their actions.
Take some time to practice safety drills with your kids so that they know the drill if something unexpected happens. Explain to them everything in a simple and age-appropriate way and see how responsive they are to instructions. Every child has a different learning curve and needs different amounts of time to figure out some things, so be patient.
How to Make Kayaking More Interesting to a Toddler?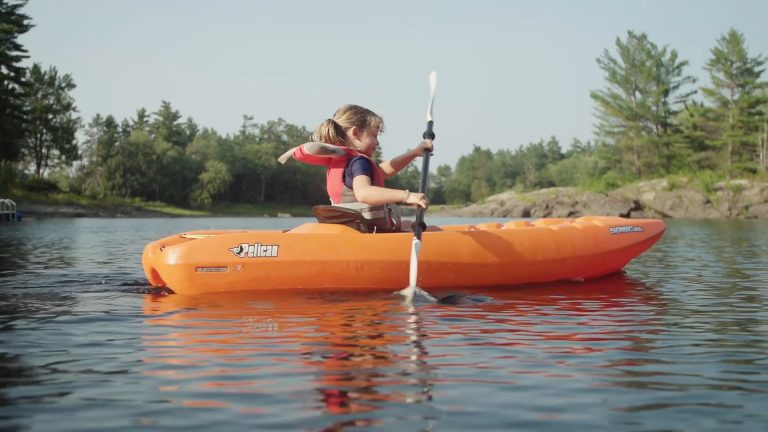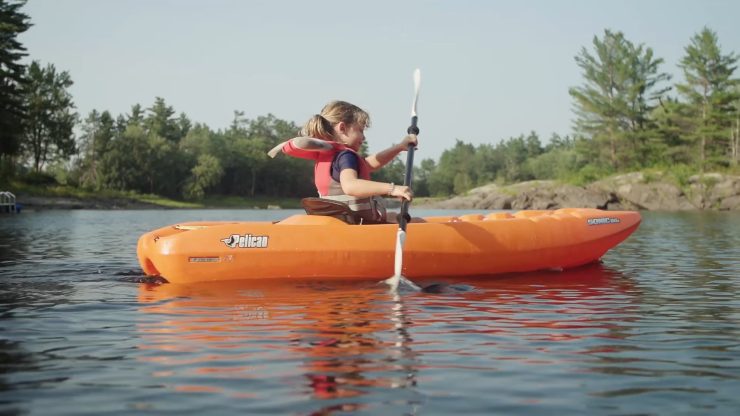 Keeping a toddler entertained is a challenge regardless of the situation. Kayaking trips are not different in that regard, so we will share with you some tips to keep their attention and make it more fun for them.
Challenge Your Child to Paddle a Bit
Many kayak paddles can be broken in half, which would be an ideal size for a young child to paddle. This, of course, entirely depends on their age, so if they are too young, do not let them paddle. However, if they are able to do so, it will last for short stretches of time but will keep their attention.
Play Games
Kayaking can occasionally get boring and monotonous, even for adults, which is why you should plan some fun kayak games. You can go as simple as the "I spy" game, or if you are kayaking with multiple participants, you can organize some races.
There are numerous games you could go for, but the point is that you must get creative a bit to keep your toddler engaged and entertained and have some fun while you are at it.
Humor Your Kids
Toddlers are very observant and curious, and it is likely that they will spot something in the water or on the shore you would never think of. They will, of course, be curious and question you about it, and let them do it and humor them. It will keep them engaged and entertained.
Check out this video for more tips on how to kayak with your child:
Final Words
This concludes our guide on kayaking with toddlers. The most important thing to remember is that the whole experience should be fun for you and your child, so relax and go with the flow. However, do not be too loose; set the ground rules and make sure your kid is disciplined enough to follow them.
Give your best to plan the trip thoroughly without rushing it. Take enough breaks, go swimming, take some photos, and have as much fun as you can. Who knows, your toddler might just fall in love with this kind of adventure, and it might become a family tradition you would all enjoy.
References: