If you are looking for a solid kayak for all your fishing trips but want to ensure it comes under your tight budget but still doesn't compromise on high quality then you should check out Lifetime tamarack 120 Angler Kayak.
Lifetime is a brand that is known for manufacturing some of the best sports goods in the market. Their basketball hoops and tennis ball machines are spoken for. The company provides very reasonable price ranges to all its consumers. If you are looking for sports equipment that not only comes under your price range but also provides epic performance then you won't find anything better than the Lifetime Tamarack 120 Angler Kayak.
The best part about this fishing kayak is that it allows the paddler to access all the fishing spots that one cannot easily access with other yaks. But is it really worth the money? Let's take a look at all its features.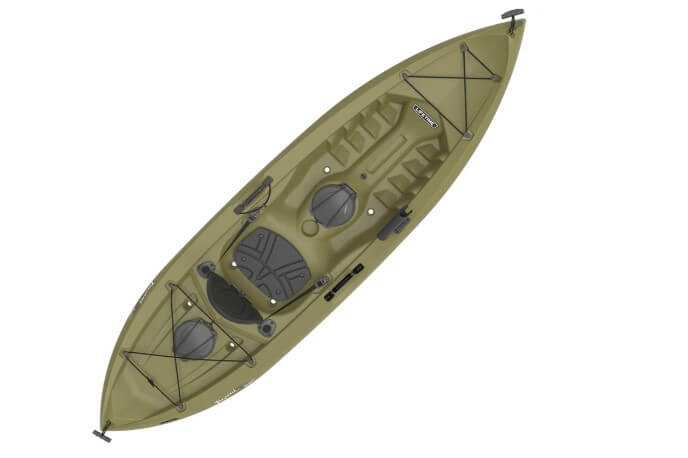 Features: Lifetime Tamarack 120 Angler Kayak Review
Before we indulge in the details of this kayak, let's take a look at its basic specifications,
Length – 10ft
Width – 31inches
Weight – 52lbs
Weight capacity – 275lbs
As you can see, the yak is pretty lightweight and offers enough weight capacity that it can even keep it pretty stable with heavier paddlers. It is very easy to use and comes in real handy for beginners and intermediate paddlers.
Basic Design
The very first thing that comes to our mind when we look for a yak is its design and whether it is suited for all your needs or not? The Lifetime Tamarack 120 Angler Kayak is basically designed while keeping anglers in perspective. It comes with a whole lot of features and benefits if you love going on a fishing spree on the water.
You will have to sit on top of the vessel which means there are chances of you getting wet while paddling either through the splashes of scupper holes. Most of the people who love fishing in warm weather are going to like it. However, we have found so many consumers who prefer sit-on-top kayaks to a sit-inside kayaks when it comes to fishing. That is mainly because a sit-on-top kayak provides more open space, spacious area to sit on, and free space to move around which makes it worth it.
As far as the length is concerned, it is just 10ft so it will be a very well-suited yak if you're looking for a more compact design. Because it is lightweight, the user can easily load it onto the back of his vehicle, whether a car or a jeep with utmost convenience.
The hull length in this yak is also pretty short which makes it easier to paddle. Easy to maneuver and you will be able to pass through those rocks with a lot of safety and without having to fear damage coming to your yak.
Highly Stable
The Lifetime Tamarack 120 Angler Kayak was designed to be reliable and highly stable. It offers you all the fishing features you may need when on water. Lifetime has included a paddle in the package so you can go have fun on the water as soon as it arrives at your door.
It comes integrated with a solid hull. It offers great stability when paddling and it features deep channels in the center and a skeg to provide a highly stable platform for fishing. The skeg also ensures that you keep straight when moving on water. It ensures you don't go sideways or end up rocking yourself.
Another thing that is worth mentioning here is that because of this solid hull, the yak allows you to stand up on it to catch more fish and or increase your sight.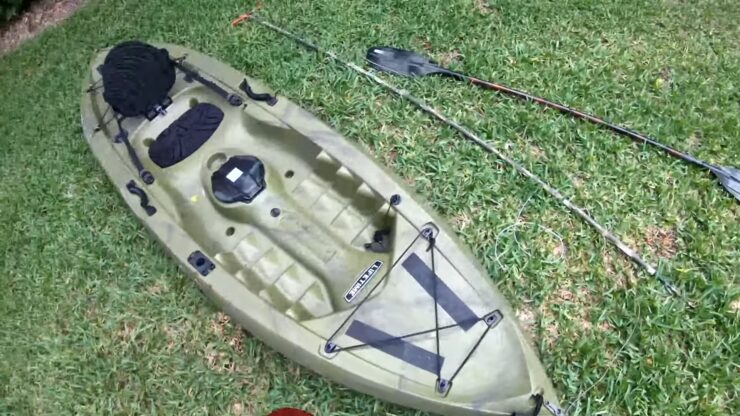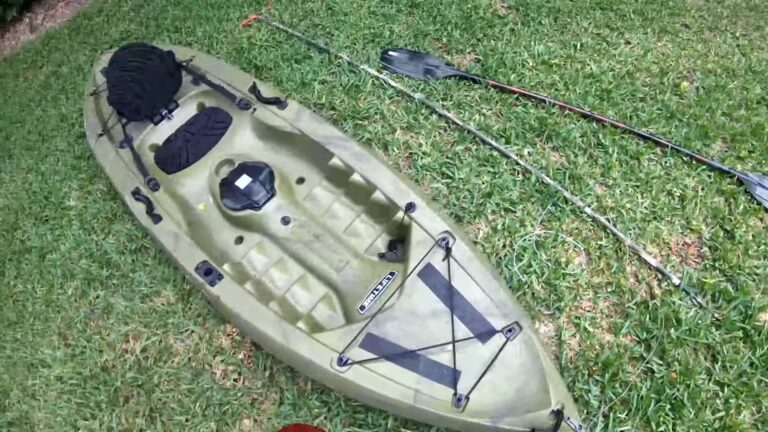 Very Spacious
Even though it is only 10ft long, it still comes with a lot of unexpected space. You get huge storage space not just at the stern but also at the deck. It also possesses bungee rigging so you can easily tie up loose products. You will also find a wide area at the back of the seats where you can either keep a cooler or a crate for your convenience.
Another very handy feature Lifetime came up with are the two storage hatches. It allows you to keep small items in it that you may need while fishing. We also loved how thoughtfully both these hatches were positioned. One is located right across the seat at the front while the other is at the back.
It has a 275lbs weight capacity so don't worry about loading it up with a bunch of gear.
Very Comfortable
We all are well aware that how a one-hour fishing trip can turn into a whole day spent on the water. For that very purpose, this kayak is very comfortable to use. It features a padded seat that comes with a padded seat back so you can just lay back and enjoy a beautiful sunny day.
Although, we would suggest that if you plan on spending several hours on the water, you might want to take an extra cushion with yourself for extra padding on the seat.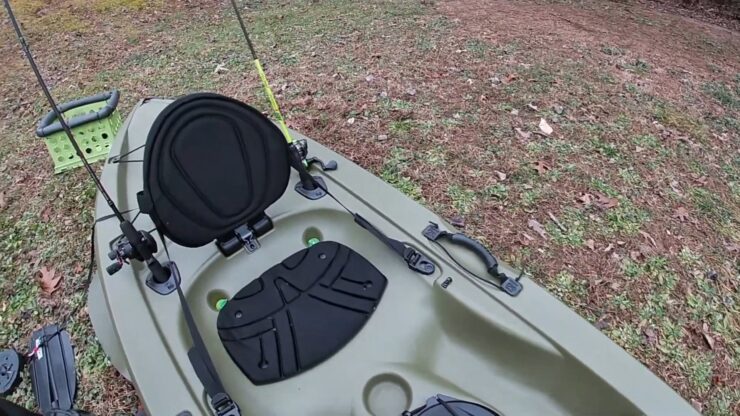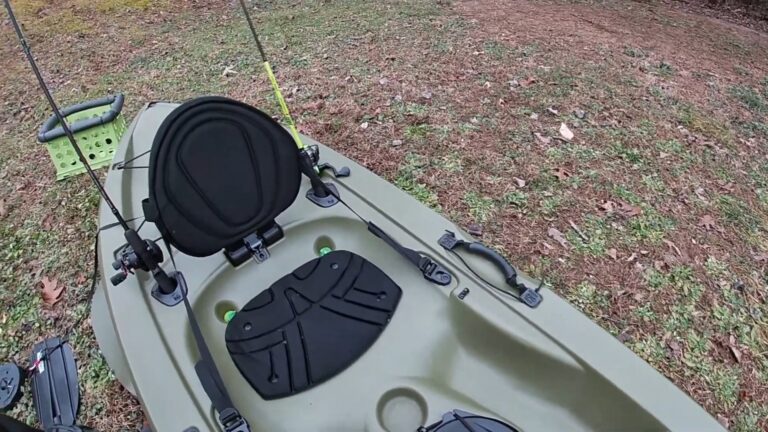 Bottom line:
For all the lovers of fishing and paddling, the Lifetime Tamarack 120 Angler Kayak would be a very wise choice. It is highly comfortable if you love spending hours on the water and is also easy to maneuver.
Given the price point it comes on and all the features it has, we have to say that you won't find anything better than this yak.

Hey there! I'm Oliver Adler, the kayak-paddling, fish-catching enthusiast. My love for the water started with a childhood spent by the sea, and it's grown into a lifelong passion for everything from kayaking to kite surfing, and yes, even fishing.