Have you been searching for a stable and durable fishing yak? If so, then we might have something in store for you that might be worth your attention!
Well, honestly speaking, with so many options now available in the market, it has honestly become very difficult to choose a single fishing yak that will stay with you for the longest time. Most people don't even know what to expect from an inflatable boat and every time they make a purchase, they end up regretting their choice and spending their hard-earned money.
So we did our research and found the Perception Pescador Pro 12 to be one of the best yaks to invest in. While you will see fishing kayaks in a number of styles and colors and on various price tags, we found this one to be the most accommodating, colorful, and stylish to be among them all. The best part about this fishing yak is that it comes at a budget-friendly price point which makes it worth buying.
The Pescador Pro 12 offers unparalleled performance on the water and can be used for various recreational purposes. Whether you want to spend a bright sunny day on the water and just fish or want to go on a long relaxing roaming around a journey through the lake, this boat has got you covered.
With its durable material and off-the-charts performance, you are going to be in luck for as long as you have this fishing boat with you. We got this vessel last December and in just a few months, it became one of our favorite boats and we don't really travel anywhere without it.
But like a wise buyer, you must be looking for all the information you can get before making a final decision. That is where we come in! We have enlisted all the necessary details you may need in order to make a choice so continue reading and figure out if this boat is worth spending your money on or not.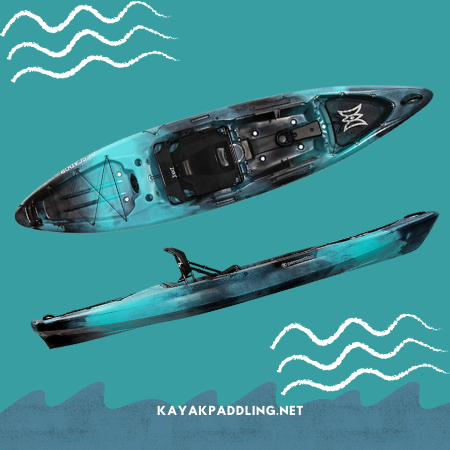 Features of Perception Pescador Pro 12 – Sit on Top Kayak
Length – 12 ft
Width – 32.5 inches
Weight – 57 lbs
Weight capacity – 375 lbs
1. Highly Versatile
For those who live in water surrounding areas, the Perception Pescador Pro 12 is going to prove to be a life-saver. It works amazingly well on lakes and small rivers so don't really worry about if it is going to work on a variety of waters or not.
You can easily use this yak for fishing and for recreational purposes but we have to say, it will be the most worth to anglers as they can easily use it just the way they want.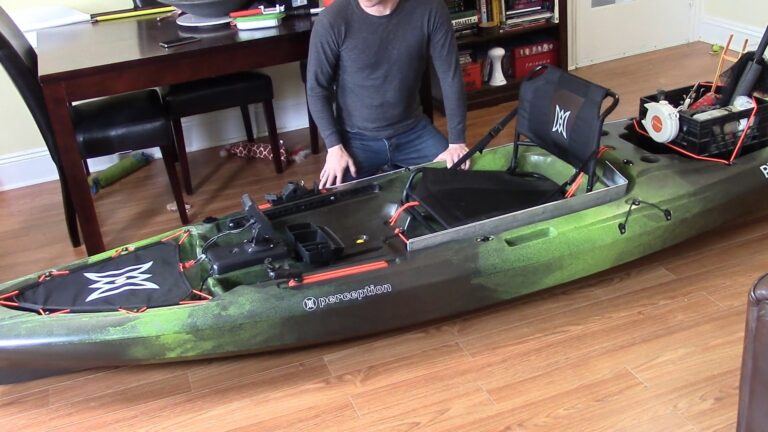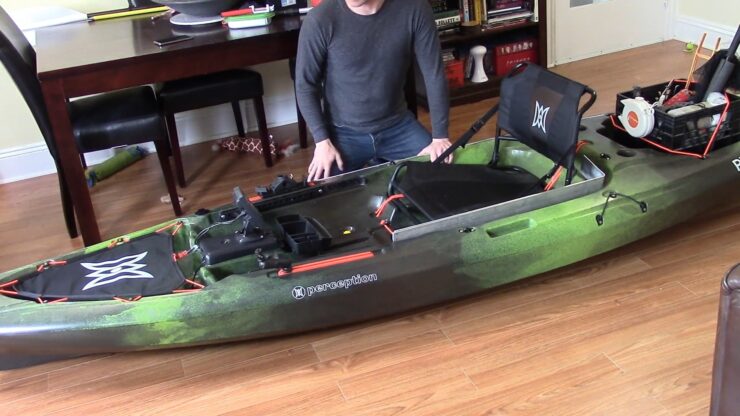 2. Construction
The yak is constructed out of premium quality polyethylene. This material keeps the kayak protected from all kinds of abrasions and collisions. The Pescador Pro 12 is constructed in a single piece. The brand is known for manufacturing some of the most top-quality plastic kayaks so rest assured, it is worth buying.
It has a maximum width of 32inches and it offers excellent stability. It can carry up to 375lbs and the best part is, you can take all your essential gadgets along if you're going on a serious fishing trip. The kayak also contains varying thicknesses on each part. This difference in thickness provides the yak with the stability it needs to stay afloat while keeping all the seats completely safe.
3. Easy to Setup
It is a lightweight model while the weight capacity was very surprising. Since it comes at a reasonable rather very cheap price point, you cannot honestly expect it to have a large weight capacity yet it does. It isn't very large in size which is also in favor of the user as it gets really difficult for a large vessel to maneuver especially on water.
If you happen to be someone who loves going fishing all by yourself then you're really going to enjoy this boat. Because of the lightweight construction and small size, you can inflate and deflate it all by yourself. The company has included a carry bag in the package. Once deflated, you can put it inside the bag, carry it on your shoulder and throw it in the back of your car seat.
It doesn't take a lot of hassle and even alone, you can set it up and get it going on the water conveniently.
Video: Perception Pescador Pro
Highly Stable
Last but not least, one thing that everyone looks for when searching for an inflatable kayak is whether it provides added stability or not when on water. Well, the Perception Pescador Pro 12 does!
The yak is capable of handling calm and flowing water very well. It can even handle uneven water and is very easy to maneuver through rocks to keep it from getting damaged. It has a very thought-out construction that distributes the weight very evenly on the boat so that you don't face any trouble regarding its strength and stability.
Final Thoughts
So, this is all the information we could gather on the Perception Pescador Pro 12. In our point of view, this yak provides a high level of versatility to the user which also happens to be one of its selling points. Even though the boat was exclusively designed for fishing but you can also use it to serve all your recreational desires.
The kayak will work perfectly well on various kinds of water from calm to flowy. It also comes integrated with a tank where you can store all your findings. The affordable price and the bunch of features surely make this boat a total steal.