You will be surprised to know that choosing the right recreational kayak isn't hard! The trick is knowing what you're willing to sacrifice in exchange for a price. Cheaper recreational kayaks are often shorter, slower, and less stable.
In the recreational kayak world, you usually get what you pay for. However, there is a fair share of inexpensive kayaks that will allow you to be on the water and have a good time without spending a small fortune.
For our purposes, we define "recreational" kayaks as generally being between 8'6″ and 12'6″ in length and designed for mellower water conditions such as lakes, slow-moving rivers, and coastal areas.
If you're looking for a quality recreational kayak that is still affordable, the following list provides some great options.
Benefits of kayaking include a low-impact workout, a chance to get out on the water, and an opportunity to spend time outside. kayaking can greatly improve your cardiovascular health, and it is a great way to get some fresh air and sunshine. Being in such a way with nature can also be a calming and peaceful experience. So choose kayaking for your next summer outdoor activity!
For our list of the best recreational kayaks under $500, we focused on boats that are durable, easy to use, and have a variety of features. We also looked for kayaks that are comfortable and provide a good user experience. But let's talk a bit more about kayaks and what to consider when choosing one.
Kayaks can be classified into two main categories: recreational and touring. Touring kayaks are designed for longer trips and typically have a higher price tag. They're also faster and more stable than recreational kayaks. Recreational kayaks, on the other hand, are shorter, slower, and less stable. They're perfect for mellower water conditions and shorter trips.
Intex Challenger K1 – Best Kayak under $500 Perfect for Beginners

100X – Best Kayak under $500 with Good Stability and Maneuverability

Perception Flash 9.5 – Best Kayak under $500 with Large Cockpit
Best Kayaks Under $500 – Top Picks
The following list of inexpensive kayaks will allow you to get out on the water without breaking the bank. They are priced under $500 but keep in mind that they may go up or down slightly depending on your location and any applicable discounts.
They all come highly recommended by previous buyers, so feel free to check out our selection below. You may find the perfect recreational kayak for you!
1. Intex Challenger K1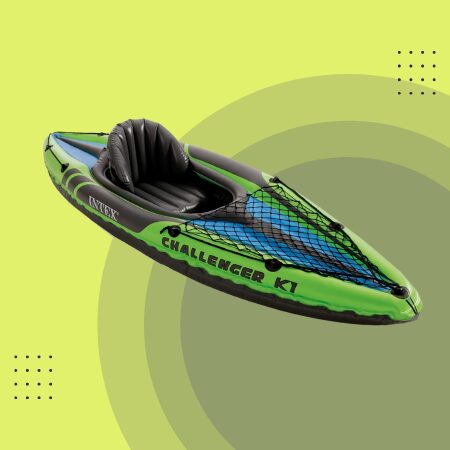 This budget-friendly inflatable kayak is perfect for beginners or those who don't want to worry about damaging their kayak. It's sturdy, easy to set up and transport, and can hold up to 220 lbs. One of the most basic models and for that reason, one of the most affordable.
The Intex Challenger K1 is a low-profile inflatable boat that's great for lakes and slow-moving rivers. The streamlined design makes it easy to paddle while the I beam floor provides extra stability.
The wide-open cockpit offers plenty of room to move around in and a comfortable padded seat with a backrest will keep you from getting sore on long trips.
Pros
Inexpensive
Lightweight and easy to transport
Stable
Comfortable seat
2. Pelican Maxi
m
100X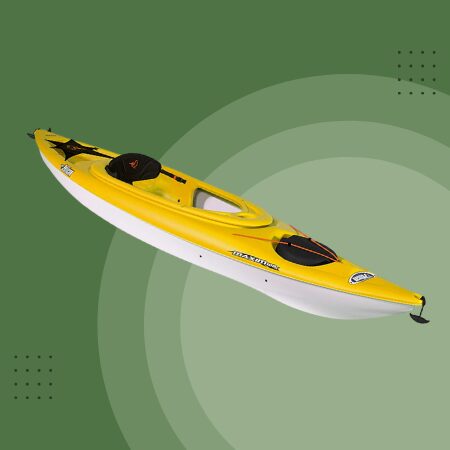 Pelican kayaks are a great choice for both beginners and experienced paddlers. The Pelican Maxim 100X Sit-In Kayak is one of the best models in their fleet with its shallow v chine hull design, which provides good stability and maneuverability while providing very good performance.
The boat also has molded footrests for comfort and secure foot bracing. This sit-in kayak by Pelican has a maximum capacity of 275 lb / 125 kg and includes a storage hatch with a bungee cord, as well as a storage platform with a mesh deck cover to secure your things.
Pros
Enough storage space
Stable and easy to paddle in both calm and rough glasses of water
Comes with all the accessories needed to get started
3. Intex Excursion Pro Kayak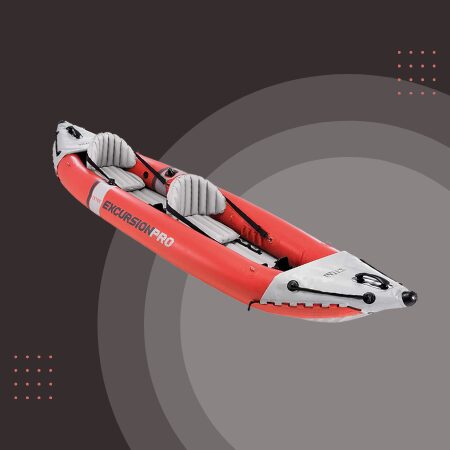 Intex Excursion Pro Kayak is a two-person inflatable kayak that allows you to enjoy the water with your friends and family. It has been made from high-quality material, which makes it highly resistant to damage from abrasion, impact, and sunlight.
The super tough laminate PVC with a polyester core of this kayak is lightweight, making it easy for you to move around. Its high-pressure inflation provides extra rigidity and stability with high-pressure spring-loaded valves for easy inflation and fast deflation.
It comes with 2 removable skegs for deep and shallow water, 2 footrests, and two fishing rod holders.
Pros
A lot of extra features

Two people can fit easily

Tough construction, it can withstand a lot
4. Sevylor Quikpak K1 1 Person Kayak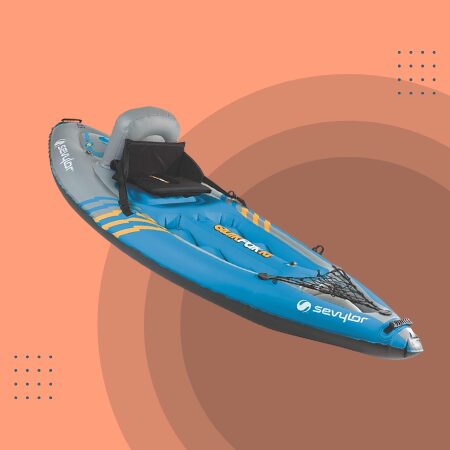 The Sevylor Quikpak K1 1-Person Kayak is the perfect option for a fun day on the lake with friends and family. The 5-minute setup lets you spend more time on the water, while the 21-gauge PVC construction is rugged enough to handle lakes, ponds, and rivers.
A tarpaulin bottom provides durable protection from punctures, multiple air chambers allow another chamber to stay inflated if one is punctured, and double lock valves use two locking points for easy inflation/deflation. This inflatable kayak features a backpack system that can be a seat if needed. Great nifty design.
Pros
Easy setup and takedown
Can be used as a bench seat
Good for lakes, ponds, and slow rivers
5. Pelican Sit-on-Top Kayak – Sentinel 100X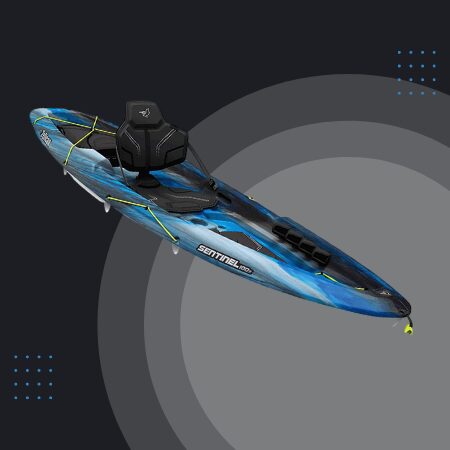 The Pelican™ Exo-Skel is a compact 9'6" sit-on-top kayak built for the recreational paddler looking for an easy-to-store kayak with reassuring stability and a comfortable seating system. The Exo-Skel comes with the new ExoShell 13L removable storage compartment.
Made with a special patented RAM-X material, an exceptionally durable triple-layer high molecular weight polyethylene, which creates a strong yet conveniently lightweight kayak that comes with a Limited Lifetime on both the deck and hull.
Weighing only 42 lbs is a truly small and portable option for those who want a fast one man kayak.
Pros
Lightweight and easy to transport
Stable
Comfortable seat
Easy entry and exit from the water
6. Perception Flash 9.5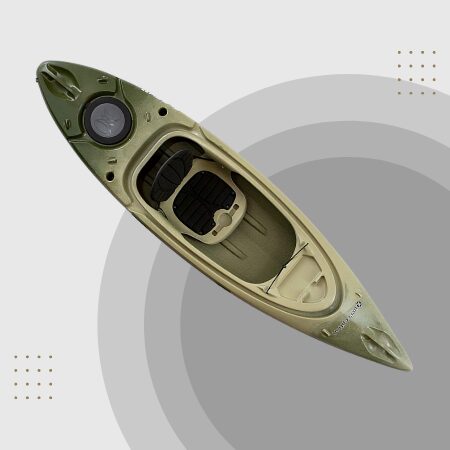 The Perception Flash 9.5 is a great all-around recreational kayak that's perfect for paddlers of all skill levels and experiences. The easy-to-paddle design provides ample stability, making it an ideal choice for beginners or those with limited mobility.
The large cockpit makes it easy to get in and out, while the high seatback offers ergonomic support. This kayak has plenty of room for gear storage with its easy access dashboard. You can even bring along your fishing pole thanks to the molded rod holders conveniently located on each side of the cockpit area.
Pros
Super quick
Adjustable and can accommodate bigger people
Super easy access
7. Pelican Sit-in Kayak Argo 100x


Pelican has been a leader in the design and manufacturing of kayaks for over 30 years. The new Pelican ARGO 100X Sit-in Kayak is ideal for paddlers looking for an affordable entry-level sit-on-top kayak that is easy to transport and store.
The Pelican ARGO 100X features the Twin Arched Multi Chine Hull which provides excellent stability while paddling. The spacious cockpit allows you to get in and out of your kayak with ease. At only 36 lb this sit-on-top kayak is incredibly portable making it an ideal kayak for beginners, paddlers of all sizes, and lifestyles.
Pros
Super comfortable seat
Lightweight and portable
Easy access entry
Great Ergo Seat
Types of Recreational Kayaks
Recreational kayaks are available in two main types: Sit-in kayaks and sit-on-top kayaks.
Sit-in kayaks often require slightly more maintenance due to their sealed cockpits, but they do offer higher weight capacity (up to 350 lbs). They may also be warmer in colder climates since the entire cockpit is enclosed.
Sit-on-top kayaks are less expensive, lighter in weight, and often easier to transport due to their large openings. However, they generally have a lower weight capacity (around 250 lbs), allow more water into the cockpit when submerged, and aren't as warm in colder climates.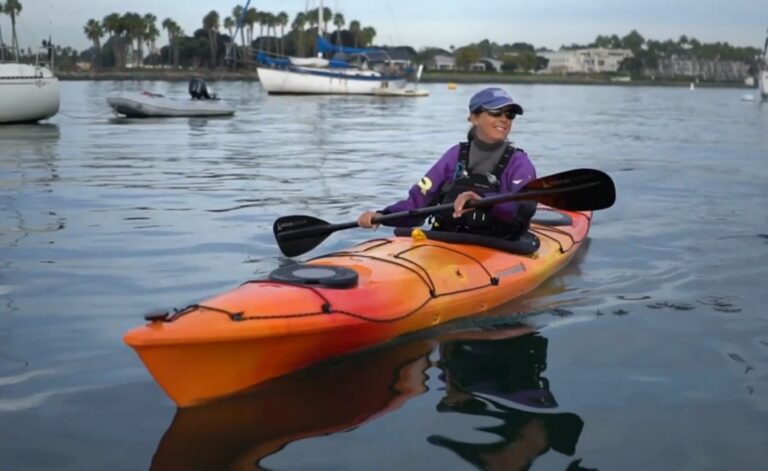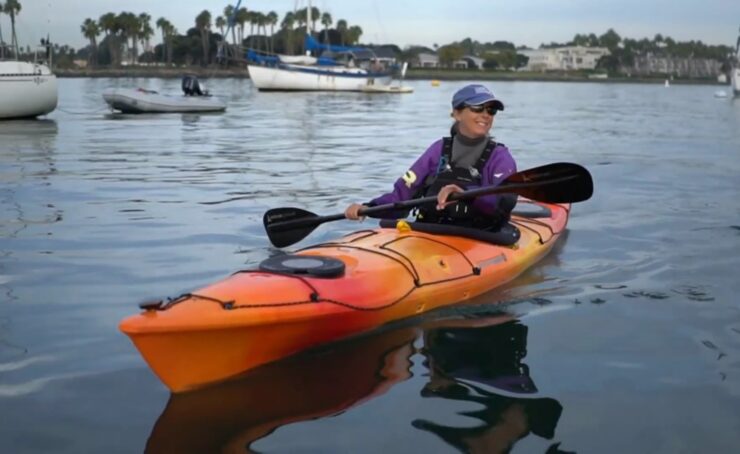 Inflatable Kayaks
Inflatable kayaks are a great option for those who have limited storage space, need to transport their kayak frequently, or like the idea of having a backup on hand in case something happens beyond their control.
However, keep in mind that more expensive inflatable kayaks also tend to be more durable and puncture-resistant than cheaper models. It's always best to do your research before making an investment since many inflatable recreational kayaks can cost as much as regular sit-in models.
Kayak Construction and Materials
The most common materials used in the construction of recreational kayaks are:
Fiberglass – Glass is lightweight but less flexible than other choices. It's usually the best choice for anyone who wants a durable and rigid frame for enhanced performance on the water.
Polyethylene plastic – Plastic boats are by far the most affordable option, but they can also be heavy and slow in comparison to fiberglass models. They're great choices when durability isn't a top priority.
Kevlar / Carbon Fiber – These ultra-lightweight options offer increased strength and rigidity at a slightly higher price point. This makes them a good pick for those with discerning tastes or who want high-performance kay without sacrificing durability.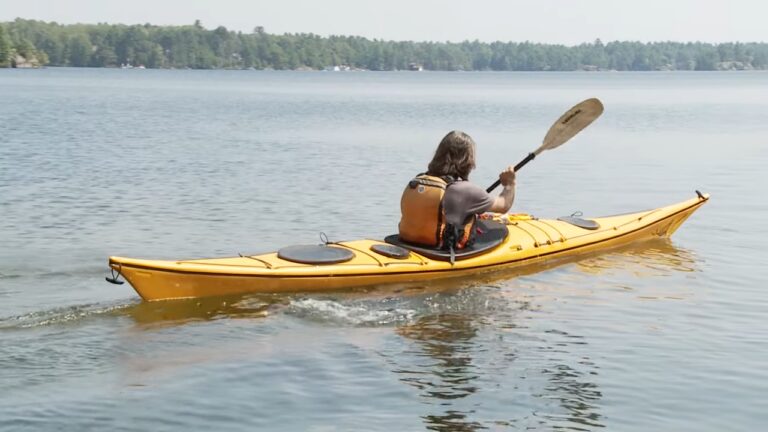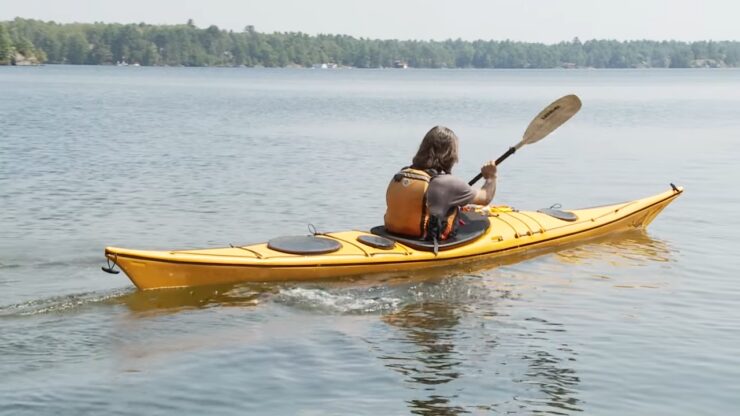 Storage and Transport Options
When you're done with your kayak, it's pretty much inevitable to want to store it in some way. Hardshell kayaks will naturally take up more room than inflatable or folding models, but every recreational kayak model comes with its own unique set of storage and transport options.
Some common storage features include:
Self-bailing drains
Keeps water from pooling at the lowest point inside the boat for easier draining when on dry land. These are especially useful if you need to store your boat outside during certain seasons when there is a risk of rain or moisture exposure.
Drain plugs 
Prevents water from filling up inside your yak so you can drain it when not in use without getting your hands wet.
Bow and stern hatches 
Provides a dry storage area for your camping gear, food, electronics, or other items you want to keep safe and dry while on the go.
Rod holders
Keeps your fishing rods handy and organized while you're out on the water.
Molded-in handles 
Make it easy to carry your kayak by yourself when it's not in the water.
Wheeled transport cart – A must-have if you don't want to be carrying your kayak any significant distance. This option makes it easy to move your yak around without putting strain on your back or arms.
How to Choose a Kayak
Now that you know a little bit about the different types of kayaks on the market, how do you choose the right one for you? First, consider your experience level and what type of water you will be paddling in.
If you are a beginner, stability is key; so look for a kayak with a wide base. If you are an experienced paddler and are looking for a fast and nimble kayak to tackle rapids or ocean waves, then a narrower kayak with less stability may be better suited for you.
Next, think about how much gear you will need to bring with you. Some kayaks have built-in storage compartments while others have smaller cockpit areas that make it difficult to bring along a lot of gear.
If you plan to spend a lot of time fishing, make sure the kayak you choose has rod holders and other accessories that will make your fishing experience more enjoyable.
Finally, consider your budget and what type of materials the kayak is made from. Higher-priced kayaks are typically made from more durable materials like fiberglass or carbon fiber, while lower-priced kayaks are often made from cheaper materials like plastic or PVC.
No matter what your budget is, there is a kayak out there that is perfect for you. So get out on the water and have some fun!
Kayaking can be a great way to get some exercise and enjoy nature at the same time. And with so many different types of kayaks available on the market, there is sure to be one that suits your needs.
Before you purchase a kayak, think about how much gear you will need to bring along with you, how much money you want to spend, and what type of kayaking experience you are looking for.
And if brand new isn't in your budget right now another great option would be purchasing used recreational kayaks which can sell at very affordable prices if purchased online like on eBay.
Good luck finding your next kayak!
Check this also: