The best salmon landing net has one particular job – to land salmon efficiently without causing any damage to the fish. The market is swamped with such products, but picking the right one for your needs can be quite a challenge, especially because there are off-brand nets that can break quickly or damage your catch.
For this reason, we did a bit of research and came up with the list of some powerhouse products we would like to share with you and ensure you get the best value in return for your money.
We picked the products based on the brand value, materials quality, overall performance, and customer satisfaction. There will be something for various budget limitations and needs, so you will surely find something that you would like. We have a lot of ground to cover, so let us start without further delay.
List of Best Salmon Landing Nets
1. FishPond Nomad Emerger Net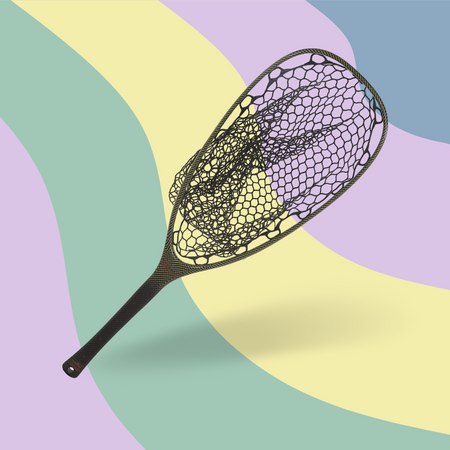 FishPond Nomad Emerger is a strong and reliable net constructed using carbon fiber and fiberglass for the frame. It is a very durable unit that can also float and is waterproof and lightweight at just under 1 lb so that it can be transported and stored with ease.
The handle is 32 inches long, which is an ideal length to catch some feisty salmon with little to no effort. The net itself features a larger rubber net bag with small holes that can handle smaller and larger fish, and it is also clear, so it does not spook any potential catch you might encounter.
The great thing about this net is that even if you encounter some very large fish, the depth of the net will capture them easily. Even though this net comes for a bit higher price than you would expect, it is worth every penny you invest and sees that you have an enjoyable fishing session every time.
Pros
Lightweight and easy to carry
Durable
UV protected
Firm grip
Waterproof, weatherproof, and floatable
2. Frabill Conservation Series Landing Net with Camlock Reinforced Handle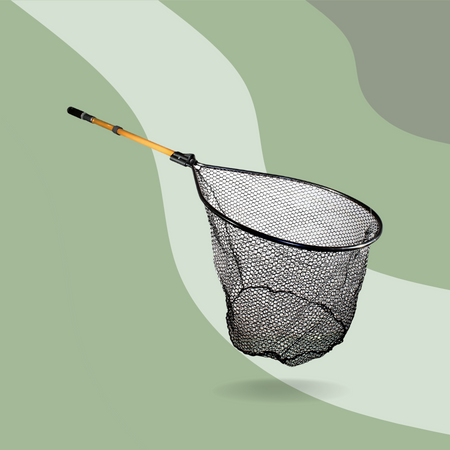 Coming from the Frabill store, this salmon landing net is constructed with CAM-LOK reinforced handle that is designed with safe catch and release in mind. This landing net is made to ensure you can catch some pretty big fishes, including average to big salmons.
Frabill Conservation Series net features knotless mesh netting, which is a great piece of news since this material will not injure or damage your catch in any way. The bottom is flat and linear, which is really important since it reduces fish rolling and supports its weight efficiently.
Another great thing about this product is that it can collapse to a very small size and enables you to transport it and store pretty much anywhere with ease. The rubber on the net preserves fish's coating while the flat bottom allows them to sit comfortably in the net, which is what every angler needs from such a product.
Pros
The rubber on the net prevents any damage to your catch
The flat bottom of the net allows fish to sit comfortably inside
Solid aluminum handle
Durable rubberized netting
Smooth extending mechanism
Cons
The pad on the bottom of the handle has weak adhesive and comes off when twisting to extend
3. Aventik Fly Floating Fishing Net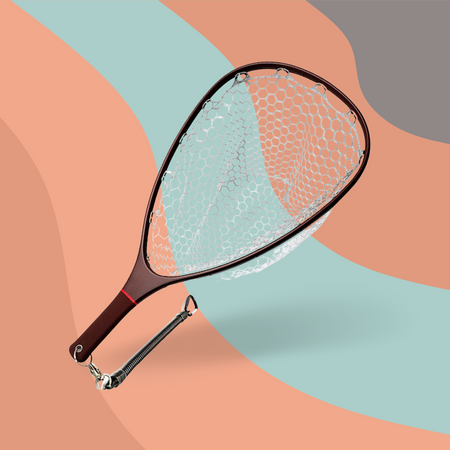 Aventik fly floating fishing net is a strong and reliable unit made from carbon fiber and suitable for catching fishes of different sizes, including salmon. It is pretty easy to handle, lightweight, and compact, so you will be able to handle transportation and storage with ease.
This product is designed with both anglers and fish in mind. It is very friendly to your catches and will not harm any of them due to the quality materials from which the net is made. The net is great, the frame is pretty much the same as a fishpond hand net, and there is a metal insert in the leash hole.
This unit is pretty deep, and the opening is really large, which allows you to catch bigger fish. The net quality is pretty good, and while the stitching does not look like the highest quality, it actually performs really well and does not create any issues. In any case, it is cheap to replace if you ever experience any problem.
Pros
Durable frame
Lightweight
Large opening
Compact
Cons
The paint is not of the highest quality and can start chipping off fast
4. PLUSINNO Fish Landing Net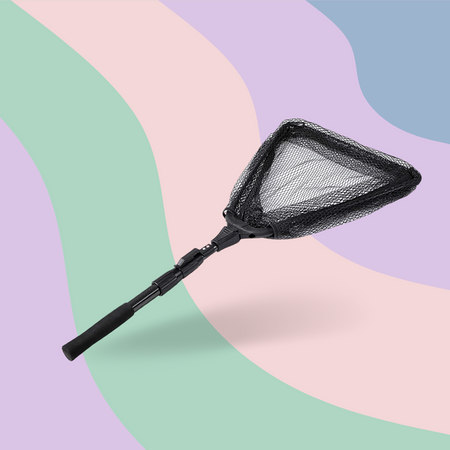 Plusinno fish landing net is an excellent mixture of portability and ease of use with a weight of a mere 14.5 ounces and folded length of 17 inches. It is a rubber-coated net that is fish-friendly and will not harm it, making it perfect for catch and release anglers.
The net has a decent depth, so you can rest assured that it will keep your catch inside. If you add an extendable pole, you will get extra 7 inches of reach which will ensure that you can get far enough to land the fish before it even shakes the hook. Another important thing to mention is that this net floats, so even if you lose the grip, you will quickly get it back.
One of the few drawbacks we found is that the mechanism that extends the pole is sometimes difficult to turn or loosen, and this might take some of your precious time. Other than that, this is a solid fish landing net that will make your fishing trips much more enjoyable.
Pros
Portable and light
Hook for belt
The extended handle gets you extra 7 inches of reach
Decent depth
Cons
Pole extending mechanism is difficult to turn or loosen
5. SAN LIKE Collapsible Telescopic Pole Fishing Net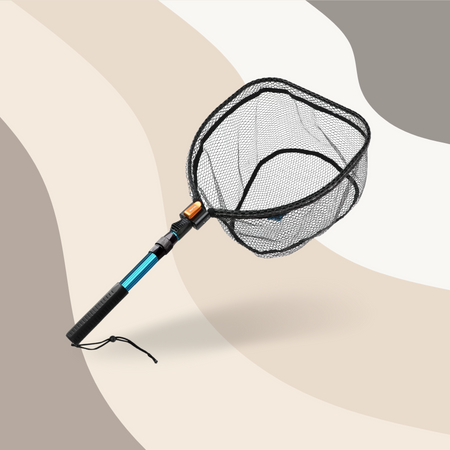 San Like collapsible pole fishing net is a perfect tool for any angler that is looking to catch some big fish, including salmon or steelhead. It is very convenient, compact, and light, while you can collapse it to a mere 16.9 inches, which is small enough to store it pretty much anywhere.
Same as is the case with most nets we have listed so far; it is rubber coated, which keeps the fish's natural slime coating intact and prevents any damage or harm to it. The bottom of the net is flat, which means that the fish you catch is unlikely to injure itself, and this is great news for catch and release anglers.
It is a compact, strong, and durable net and possesses all the necessary qualities you would want from a salmon landing net. It is also adjustable, so you can make it longer or shorter depending on your needs. There is a minor downside since it would be nice if it could extend a bit longer, but this is just nitpicking.
Pros
Strong, durable, and compact
It can collapse to a very small size for easy storage and transportation
Flat bottom
Cost-efficient
6. Portable Carbon Fiber Fishing Net for Salmon and Steelhead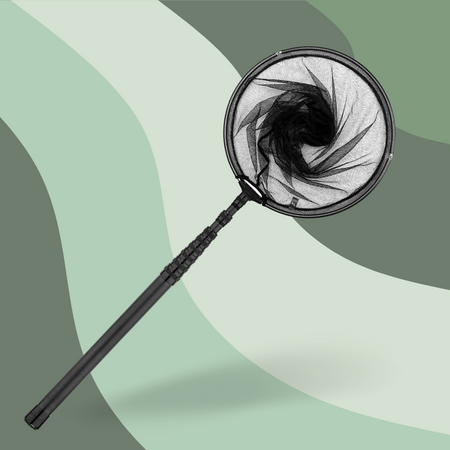 This highly portable fishing net is an exceptional choice for various applications, and it comes with an eight-section retraction handle allowing you to adjust the length easily. The net hoop can also be folded, so you will have an easy time transporting and storing this product.
This unit checks all the important boxes when it comes to salmon fishing. It is strong, durable, lightweight, and can be extended so that you can fish from different positions. The carbon fiber handle is rather strong and suitable for catching bigger fish completely hassle-free.
The foldable net hoop is made of magnesium aluminum alloy, making it very strong and light. The net is quick-drying and is designed in a way it will not hurt your catch. In addition, it has a great load-bearing capacity and is pretty wide and spacious. Another great thing is that it comes for more than a fair price, and when you consider all the qualities it has, it is a very good bargain.
Pros
Sturdy and durable
8-section retractable handle
The maximum length stands at 133.8 inches
Excellent load-bearing capacity
Cons
It might be difficult to retract the pole once it is in full-out position
7. Magreel Fishing Net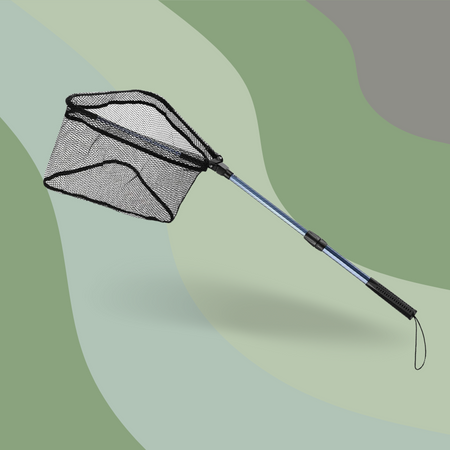 Magreel fishing net is a strong and reliable product suitable for various fishing applications. It is big enough to catch larger fish and lightweight enough to ensure you can transport and store it with ease. The fact that this net is more of rubber than rope makes it much more durable, and the fact it does not stay wet and dries quickly is another bonus.
The net has a large capacity, and it snaps in quite easily. The downside is that it does not come with any type of instructions on how to unfold it and use it, which is bad news for beginners since they will have to figure it out on their own. However, it is a minor drawback since the net is packed with cool features and all that for a fairly low price.
It is also fish-friendly and does not damage it. The net folds up small, and every angler will appreciate the fact that it is knotless, which reduces hooks getting tangled in the net. Apart from fishing salmon, it is also great for hiking trips due to its compact size. It is a truly versatile and affordable unit that you should definitely check out.
Pros
Versatile
Knotless
Easy to use and carry
Large capacity
Cons
It does not come with instructions on how to unfold and use the net
8. Freestone Outfitters Fly Fishing Set: Rubber Mesh Net, Magnetic Release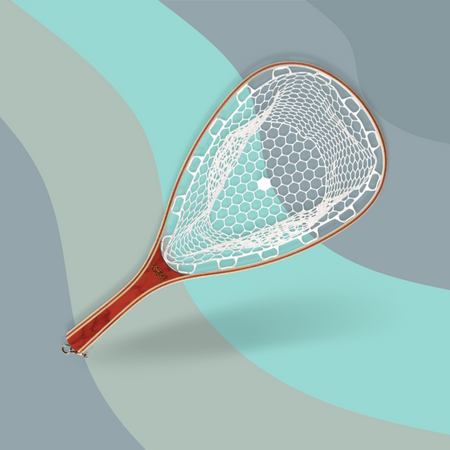 If you are an angler looking for an effective and sturdy fishing net on a budget, then this Freestone Outfitters product might be an ideal solution. It is made with a hardwood frame, and not only that this product looks the part, but it is also very efficient and compact too.
It is a strong, hardy, and long-lasting net, but it is not that floatable, so you should be careful not to drop it if it is not connected to the free magnetic release it comes with. The basket itself is a clear rubber mesh and made from top-notch nylon materials. The holes are very small, making it a great choice for catch and release anglers.
This net is a lightweight, well-made, attractive, and easily manageable product that will drastically enhance your fishing experience. The fact that it is light ensures the net does not become a burden when you spend the whole day fishing. Last but not least, it is quite affordable, so you will not have to break the bank to get it.
Pros
Excellent price/quality ratio
Free magnetic release
Clear netting
Budget-friendly
Things to Consider Before Purchasing Salmon Landing Net
Salmon is a feisty fish that puts a lot of fight, which is why it is crucial to purchase a high-quality net when going for this type of catch. In order to help you find an ideal net, we have put together a brief buying guide you should follow to get the best possible value for your money's worth.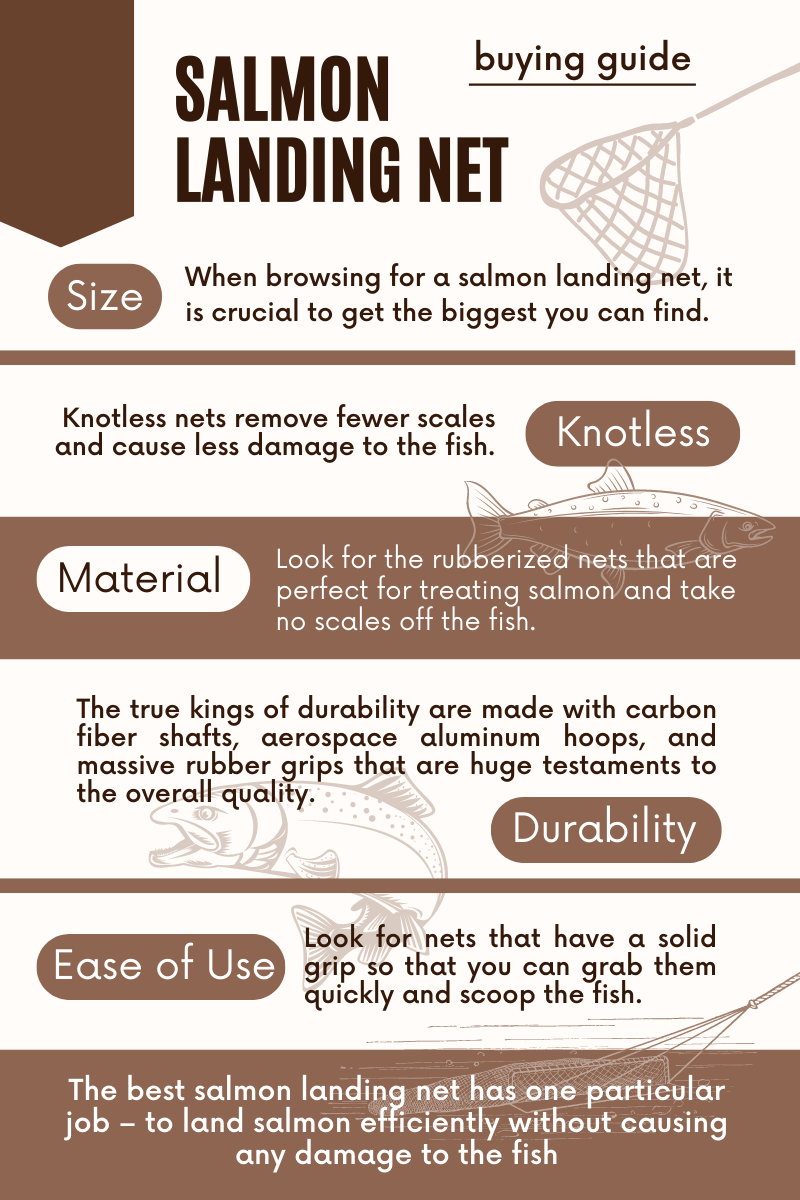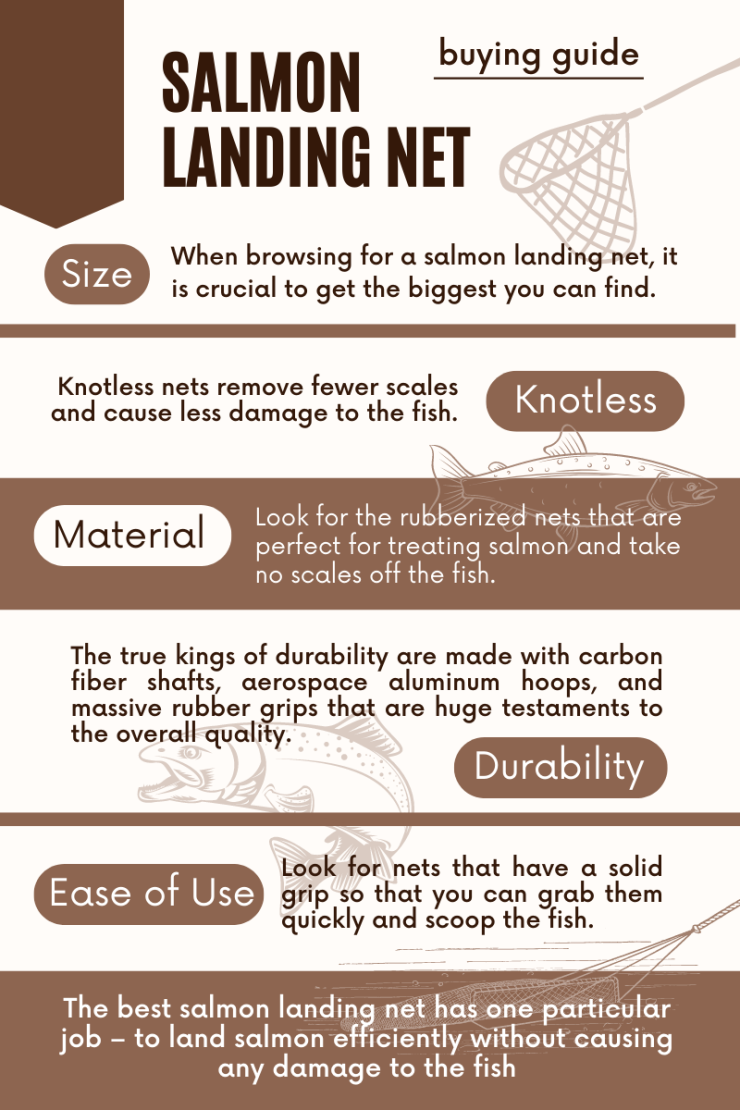 Size
When browsing for a salmon landing net, it is crucial to get the biggest you can find. Although average salmon can be around 25 inches in length, it is wise to plan in advance and consider what would happen if you manage to catch a larger one. You can get pretty big landing nets even on the budget.
Knotless
Picking the knotless net is another essential thing to keep in mind when making this purchase. Knotless nets remove fewer scales and cause less damage to the fish, which is a crucial feature to have if you are a catch and release angler and plan to return the fish back to the water after you made a catch.
Material
The material of the net also plays a huge role. Look for the rubberized nets that are perfect for treating salmon and take no scales off the fish. Although knotless is a great pick for salmon landing nets, rubber is an even better pick, as it does the least damage to the fish's scales.
Durability
Durability is likely the hardest metric to determine in a short time span. However, hands-on feel, visual stress on the handle, and materials used in the design are often big enough signs to see how well the net will hold. The true kings of durability are made with carbon fiber shafts, aerospace aluminum hoops, and massive rubber grips that are huge testaments to the overall quality.
Ease of Use
This might be one of the most significant metrics that determine whether the net you are buying is good or bad. Look for nets that have a solid grip so that you can grab them quickly and scoop the fish. The ones that can float are highly useful if you accidentally drop them during your fishing sessions.
Frequently Asked Questions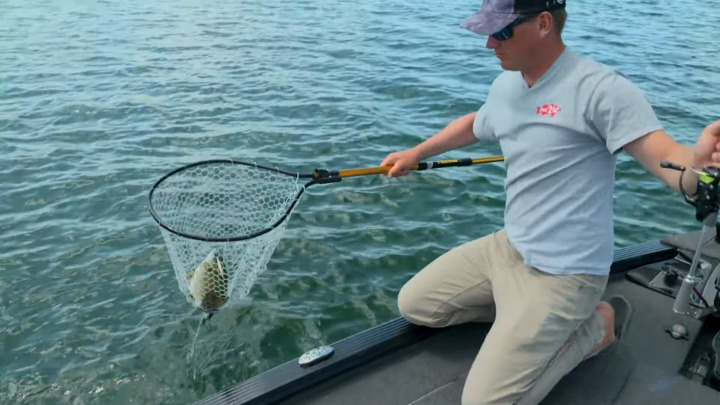 1. What size of the net is best for salmon fishing?
Typically the bigger the net, the better the salmon fishing experience. Salmon can be very heavy and large, so it is best to think ahead and get the biggest net you can find with a high burden capacity.
2. What should I look for in the salmon landing net?
Look for a net that has a wooden, aluminum, or fiberglass frame. Handle grip is also very important because you will often have to react quickly and grab the handle fast to secure the catch. Weight capacity of the net and size is also crucial since salmon can be pretty large.
Last but not least is the mesh material. Look for the rubberized or knotless net, especially if you are a catch and release angler that looks to return the fish back in the water after you made a catch.
3. How many types of fishing nets exist?
There is a total of four main types of fishing gear that use netting. These include gillnets and entanglement nets, surrounding nets, seine nets, and trawls.
4. Why is it recommended for the salmon landing net to be floatable?
This is a very important feature since you will likely drop the net in the water often. If the net floats, you can easily spot it and scoop it after it falls into the water. You can also find nets with a magnetic release, and you can connect the net to it to ensure it does not float away from your grasp.
Final Words
Salmon fishing can be a tricky endeavor if you do not have appropriate equipment by your side. The need for a quality fish landing net is about old as fishing itself, and a quality net is especially needed when you fish for salmon as it is a very strong fish that puts a lot of fight.
Luckily, this product category has numerous units, so the right pick for you comes down to quality analysis of the salmon you want to fish. We hope you liked our picks and that you will find the right one for you among them. If you still do not know which one to go for, revisit the top of our list, and you will certainly find your favorite there.
Check also these products that are available right now on Amazon: