As a leisure recreational activity, kayaking has a lot to offer to those who want to make it a part of their life. Spending time outside in nature is always a positive, but it is even better when there is a fun and engaging physical activity to do.
And what is the best way to be active and have fun in the great outdoors? Well, water-based activities of course! Out of all of them, kayaking is the most popular one right now. It is not even close really, considering just how everpresent it is.
The recent popularity of this form of paddling has a lot to do with the fact that it is easy enough for anyone to try out, but also because it can be done anywhere. No matter what kind of body of water you have near where you live, you can take a kayak and explore it.
Be it a river, a lake, or the coastline of the sea or an ocean, kayaking is more than possible. Of course, you still need the right type of vessel for a specific body of water as well as the different varieties of kayaking. As it turns out, this is exactly why we are here today.
What are Pedal Kayaks?
Before talking about specific models and how to choose one, we have to mention a few things about what they are. A pedal kayak is a type of kayak that is powered by a pedal-drive system instead of a traditional paddle.
The pedals are connected to a propeller which moves the craft through the water. This allows the kayaker to use their legs to power the kayak, leaving their hands free to hold fishing equipment, take photographs, or perform other tasks. It is undoubtedly an easier and more convenient way to operate the boat.
Pedal kayaks also tend to have certain features that are not always present in traditional paddling varieties. For example, they always have adjustable seating that allows the kayaker to find a comfortable position and helps to distribute their weight evenly.
In addition to this, they have extra storage compartments that offer convenient places to store gear like fishing equipment or snacks. Rudders and skegs are there to help with steering and tracking, while the lightweight construction allows for easy transportation to and from the water.
Top Pocket-Friendly Pedal Kayaks
In the following section, we explore the cheapest pedal kayaks currently available. Despite being cheaper than their competition, they still offer enough quality and features to elevate your favorite water-based activity experience to the next level.
1. Pelican Getaway 110 HDII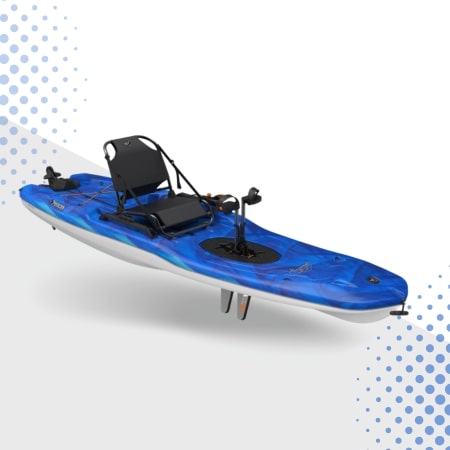 There are not many brands as famous and recognizable as Pelican. Their kayaks are known far and wide and they have an extensive range of boats to choose from. When their line of pedal kayaks are concerned, the Getaway 110 HDII is among the cheapest. Still, it comes packed with features, and nothing that needs to be there is lacking.
This model is 10 feet 5 inches long and 33 inches wide. It weighs 59 pounds and its load capacity is 300 pounds. This is more than enough for the basic gear as well as some extra stuff you do not often need.
The drive system in charge of pedaling is HyDryve II. This vessel is simple and clean. It has a small bungee strap in the back and a very comfortable, adjustable chair with plenty of back support.
The entire deck is blue and everything else on it is black. It offers great stability, but despite the fact that it handles well in rougher conditions, it feels most at home in calmer waters and pleasant weather.
The fins that the pedals propel are efficient enough, especially in shallow areas and bodies of water with rich and diverse plant life. It is low profile, which means extra proximity to the water and frequent waves that climb over the edges.
Pros
Easy storage and handling
Lightweight
Top brand
Cons
Limited storage and load capacity
Too low-profile
2. Perception Crank 10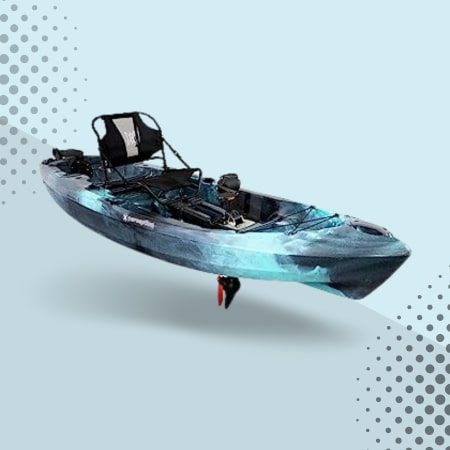 Another good and trusty brand of kayaks, Perception is a company you can trust with your money. They make superb kayaks in all classes and this pedal model could be all you need no matter what you expect from your kayaking experiences.
It is somewhat shorter than the Pelican at 10 feet, meaning less speed. It is however wider at 35 inches, which brings more stability. It is much heavier at 87 pounds, but it can carry as much as 350 pounds of load.
This is not a low-profile kayak as it has a hollow deck that allows for plenty of storage. There are bungee straps in the bow and the stern, as well as plenty of open deck space all around the seat.
A rigid carry handle is present at the bow and there is a cup holder near the comfortable, removable, adjustable seat. This kayak also has a retractable rudder. It is available in several attractive designs like red/orange, bright yellow, and green/blue.
The Perception Pedal drive is easy to use and it can be stowed away when not needed. The crank is made for speed and maneuverability and it is very fun to operate. This kayak can be of great use to anglers due to the space it has which is perfect for kayak crates, coolers, and dry bags. It can also be rigged with rod holders and other gear fishermen typically need.
Pros
Very versatile
Stable and easy to paddle
Great storage capacity
Cons
Not very quick
Very heavy
3. Old Town Sportsman PDL 106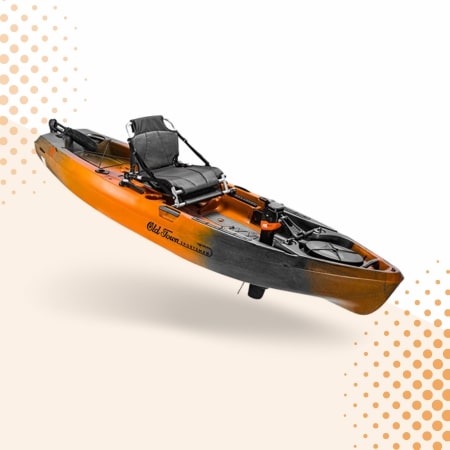 Just how lucky are we to have too many great kayak brands to choose from? If Pelican and Perception ever need strong contended and some healthy competition, they will always find it in Old Town.
Similar to them, this company has it all including quality yet very affordable pedal kayaks. At 10 feet 6 inches in length and 36 inches in width, it strikes the perfect balance between speed and stability making it good for veterans and beginners alike.
The kayak is very heavy however at 104 pounds, but it can carry an amazing 450 pounds. Most of all, the Sportsman PDL 106 is an angling kayak and a quality one at that. Their drive pedal system is easy to use and it raises and lowers instantly.
Of course, it goes both forward and reverse, and the propellor is very efficient at moving it. This kayak has a double U-shape hull with a stable casting platform and plenty of open storage deck space.
There is a non-slip EVA area and the seat is fully adjustable with strong lumbar support for prolonged, all-day fishing trips. At the bow, there is a sealed storage unit with a small bungee strap over it.
In the back, there is a much larger bungee cord over an equally roomy stern area. A total of 4 carry handles can be found on the kayak, there is a cup holder, and 4 fishing rod holders. Additional mounts and holders can be added too.
Pros
Superb load capacity
Perfect length/width balance
 A ton of fishing features
Cons
Extremely heavy
Most expensive on the list
4. BKC PK11 Angler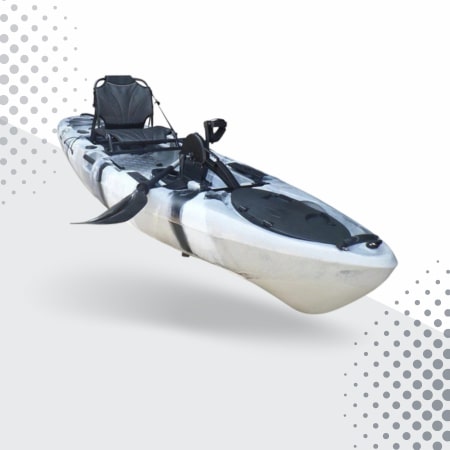 The BKC brand may not be as popular or common as the previous three on the list, but it still makes amazing vessels. This pedal kayak is enough proof of that as it is capable, unique, and packed with features.
Yet another model aimed at fishermen as the dominant customer base, this model is 10 feet 6 inches long and 34 inches wide. It weighs 68 pounds and is able to carry 420 pounds of load. It is available in 4 attractive color choices, Blue Camo, Green Camo, Grey Camo, and Red. Alongside the kayak, you also get a paddle.
This kayak absolutely shines when stability is concerned. Its hull makes use of the catamaran style as it has a very sharp V bow that cuts through the water amazingly well. This also translates to plenty of speed despite its wider shape and extra stability features.
Standup casting is easy since the sides act like outriggers and deal with choppy waters like it is nothing. Reversing is easy with the bicycle-inspired pedals, a fan-favorite solution among pedal kayaks.
When comfort is in question, the ergonomic seat does its job well and keeps your back strongly supported. Three flush-mounted rod holders are there, an accessory mount placed at the bow, and a sizeable storage area in the stern is covered with a long bungee strapping.
Right behind the seat is a watertight storage hatch, but the main storage area is a large watertight storage unit in the bow. Rounding up the features are 4 carry handles and a hand-operated rudder system.
Pros
Amazing storage potential
Stability
Rich in features
Cons
Too reliant on rudder control
Under-average tracking
Different Types and Uses of Kayaks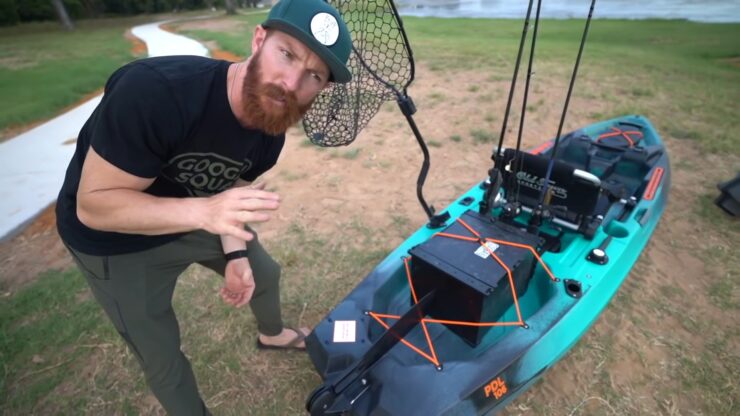 Another reason why kayaking is so big at the moment is the sheer amount of different types of these paddling boats. There is basically a different model for every different type of kayaking.
What is more, a kayak can do so much for certain activities like fishing and camping that they become so much better and more optimal. This led to specialized fishing kayaks being developed, tandem kayaks for two people, whitewater models, tracking types, etc.
In addition to the wide variety of uses, kayaks now also come with different ways to propel them through the water. Of course, using paddles still remains the most widespread and popular, but one other way to move it through the water is on the rise.
Have you ever heard of pedal kayaks? If you want your arms to be free, if you like exercising your legs, or if you simply want to sit back and relax as you move around the water, pedal kayaks are exactly what you need.
Buyer's Guide
Picking the right pedal kayak for your needs is a big decision, which is why the purchase should never be approached lightly. Pedal kayaks offer an efficient and versatile way to navigate the water, and are a great choice for kayakers looking for a hands-free paddling experience.
Most are designed for a variety of uses such as fishing, recreational paddling, and touring, but that hardly means you can pick just about any model and expect to be happy with it. The main specifications should always be considered when looking for a pedal kayak.
Length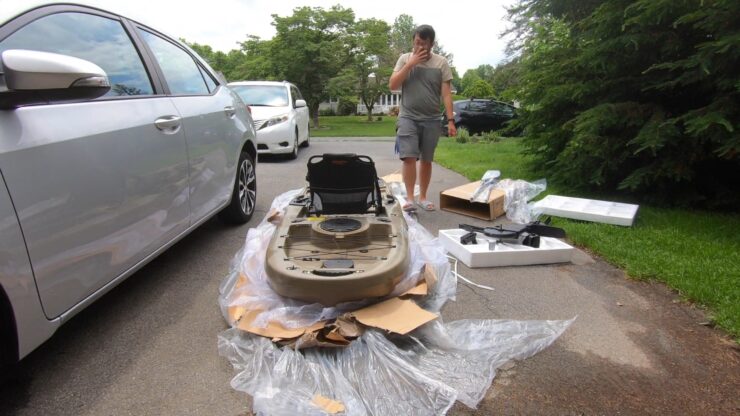 The longer the kayak, the faster it will be, but it will also be harder to maneuver. If you are a beginner, this is not always the best decision. For veterans though, it makes sense to go longer.
Width
The wider the kayak is, the more stable it will be across the board. Wider kayaks are also easier to maneuver and turn but are also slower. They are good for beginners and amateurs as well as for light pedaling.
Weight Capacity
The amount of weight the kayak can safely carry varies greatly between different models. If you plan to frequently fish or camp with the help of your pedal kayak, you need a lot of gear and therefore more load capacity.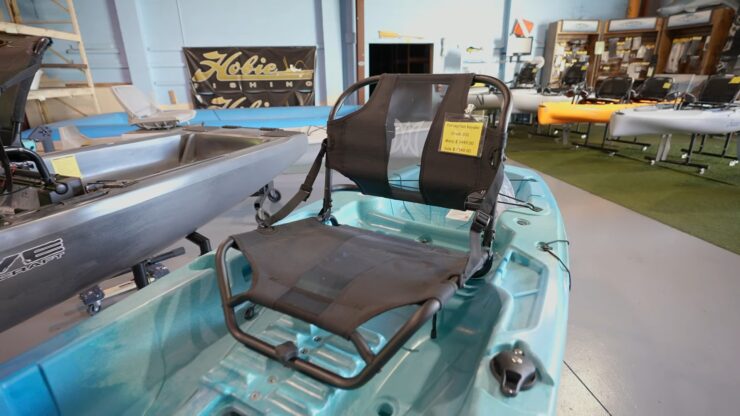 Pedal Drive System
Some kayaks have a forward and reverse pedal drive system, which can be useful for anglers or for navigating tight spots. It makes sense to pick a model that has this dual function instead of those that can only go forward. It is easier and more optimal.
Pricing
After all, this guide is all about the pricing of pedal kayaks, particularly the cheapest available models. Overall, they can be more expensive than traditional kayaks due to the complexity and cost of the pedal-drive system.
The price of a pedal kayak can range from a few hundred dollars to several thousand dollars, depending on the brand, model, accessories, and features. High-end models will typically have more advanced pedal systems, better materials, and more features than lower-end models, but they will also be more expensive.
Additionally, some brands of pedal kayaks may have a higher cost than others and some specialized models like fishing kayaks or touring kayaks are usually more expensive than recreational kayaks.
This has to do with the extra capabilities they must possess in order to perform their duty. While their prices may be steeper, pedal kayaks offer a unique and efficient way to navigate the water, and for some people, the convenience and versatility they provide may be worth the extra cost.

Meet Maria Alexander, the fearless adventurer steering the ship at KayakPaddling.net. Her mission? To convince you that life's too short for dry land and that the best stories always start with "So there I was in my kayak…"