Smart Connect outdoor Bluetooth fishing reel is an innovation that will change your fishing experience.
The reel gets connected to Bluetooth and pairs with your mobile device to notify you whenever the sensor feels that the fish is biting.
Although holding a fish reel is one of the biggest parts of fishing relaxation, you often need to go and grab something from your car, take a break, or arrange your supplies.
When you do this, a smart fishing reel will keep you alert in case fish bites and prevent you from missing a big catch.
Smart fishing reel is very easy to connect via the Smart Connect application that updates you on weather and notifies you on whether or not the fish is biting.
It is an original way to enhance your fishing experience without missing anything when you need to step aside from the rod.
Best Bluetooth Fishing Reel
This reel is a creation coming from the Kansas-based fishermen, Ed Hope. The product is advertised through his company Tackbox, and it is compatible with pretty much any fishing rod. The reel has an aluminum spool, the body is lightweight and compact, and it has an anti-reverse mechanism.
It is equipped with a removable rear module that features sensors that detect vibrations every time your catch starts biting. This module has a Bluetooth unit and USB rechargeable battery that can last up to 40 hours when fully charged.
It is compatible with both Apple and Android, and it sends alarm notifications whenever it detects movement and vibration.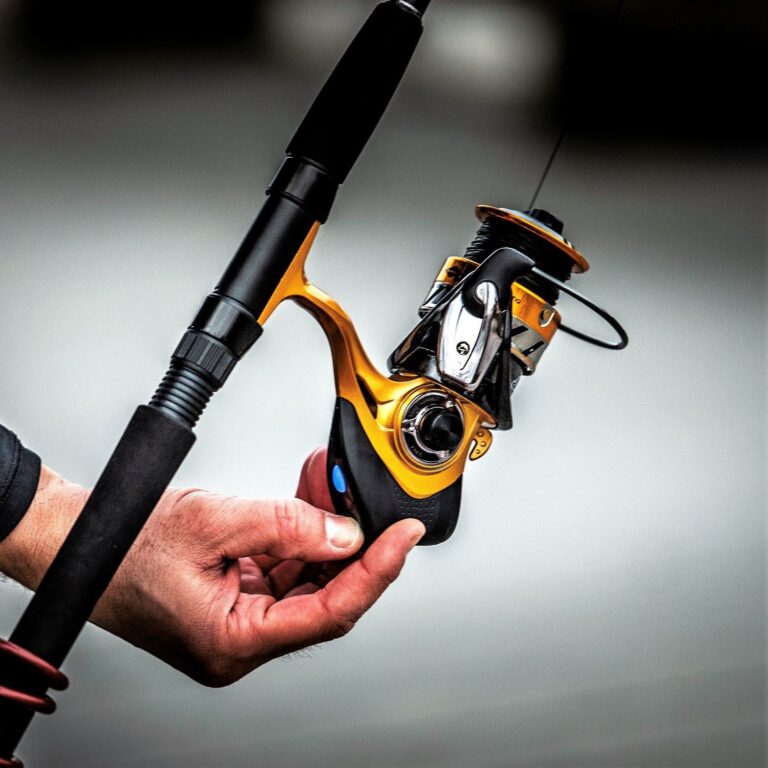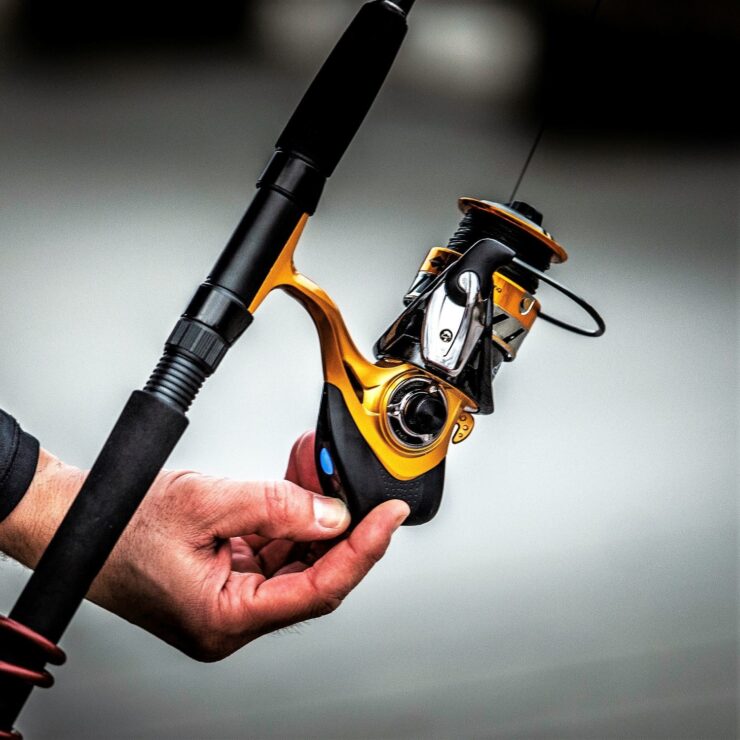 Smart Connect app enables users to capture GPS coordinates, and it can be paired with Bluetooth LED lights such as lanterns for camping. With only one smartphone, you can control up to four Smart Connect devices with ease.
The sensor will automatically turn off once your catch bites and you start using a reel to pull the fishing thread. This feature is made so that the app does not continue sending notifications and warnings that the movement of the fish can cause once you start pulling it out of the water.
Once you finish this process, simply press the button on the reel to re-activate the sensor again.
Here are some of the specifications and features of this smart fishing reel:
1-way clutch instant anti-reverse bearing 4+1 BB
Gear ratio 4.7:1
CNC machine cut collapsible handle, Left / right interchangeable
Aluminum spool
Large Rugged 6000 Series Size
Streamlined composite designed body
Easy connection to IOS and Android phones via a free downloadable application
Monitor up to 4 reels simultaneously
A perfect tool for recreational fishing
Rechargeable USB
Quick disconnect for charging
Rechargeable battery 3.7 V ~ 4.2 V (utilizes mini USB connector)
40-hour operation when fully charged
New packaging design experience for easy recognition of Bluetooth technology and free app IOS and Android
New website experience with software updates, product information
Water-resistant electronics
Local weather via Smart Connect app
Display text notifications
Easy setup with a free app downloadable from Apple Store and Google Play store
As you can see, multiple valuable features come with this innovative product. Since fishing is a leisure activity for relaxation, a smart reel will definitely contribute to it even further, and you will never miss a quality catch ever again.
Smartphone App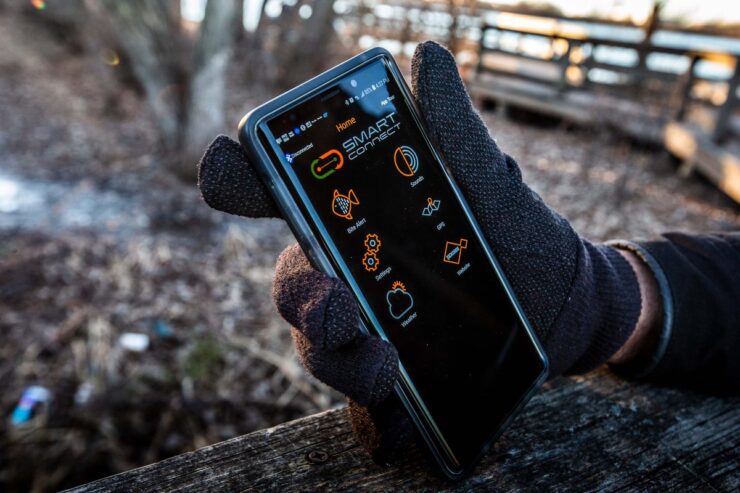 Once you open the app, you will notice several available options that will allow you to fine-tune the reel. The "Bite Alert" option enables you to tweak the sensitivity of the whole alert system, turn on and off audible and vibration alerts, or alter the lighting options.
The "Sounds" menu offers you a variety of alarm tones that you can choose to set on each of the four reels available.
The "Weather" menu gives you updates on the current weather conditions whenever you are on the water, and the "GPS" option enables you to mark your favorite fishing spots so you can find them over and over again.
Battery
The battery on this device can be easily charged via a USB cord. A fully charged battery can last up to 40 working hours. In case your battery runs out of juice, you do not have to take the reel off your rod or disassemble the whole thing in order to charge it.
Instead, you can simply disconnect the electronic component from the reel and continue fishing while it charges.
Frequently Asked Questions
How does Smart Connect outdoor Bluetooth fishing reel work?
A sensor of this fishing reel detects movement whenever the fish bites and notifies you about it via your smartphone. When you start pulling your catch out of the water, the device will shut down, so it does not send you unnecessary notifications. Once you have pulled it out, simply re-activate the reel by pressing the button.
What is the best line for this reel?
The recommended line for this reel is 18 to 22 lb monofilament or braid.
What operating systems are compatible with Bluetooth fishing reels?
You can connect Smart Connect outdoor Bluetooth fishing reel via the app on Android and IOS operating systems on your phone. You can download this app for free on Apple Store and Google Play Store.
Does the alarm constantly ring after it is triggered?
The alarm will keep ringing as long as the sensors detect vibration. However, when you start pulling your catch from the water, the device will automatically turn off, so it does not send you unnecessary alerts. Re-activation is pretty easy by simply pressing the button.
Final Words
This system is really convenient and possesses very cool features that will make your fishing experience much more enjoyable, relaxing, and carefree.
It is an excellent product, especially for anglers that love to have their smartphone with them all the time.
Once you start using it, you will really appreciate all the benefits that come with this product, especially because it comes at a very affordable price and is very easy to use.
In the end, the product serves its purpose, has satisfied users, and thanks to it, you will never miss a great catch again.