Picking out the best kayak for your fishing needs is never easy. There are so many options to choose from, many of which are quite different from each other. Fishing from a kayak is a much better way to catch bigger fish and it is considered a more professional and serious approach than staying on the coast. However, to do it right, you need a good kayak.
As mentioned, the selection is great, there are many good choices, and the ultimate decision is often far from easy. To make things easier for you, here is a review of a great fishing kayak that also has good recreational potential, the Ascend 12T sit-on-top kayak.
Owning a kayak means freedom, it allows so many more opportunities for fishing and exploring the waters. You definitely need one if you consider yourself a serious angler. The right model makes all the difference, both out on the water and when you have to handle and take care of it at home or on the road. Ascend 12T, along with its reasonable price and many accessories, could be just the one for you.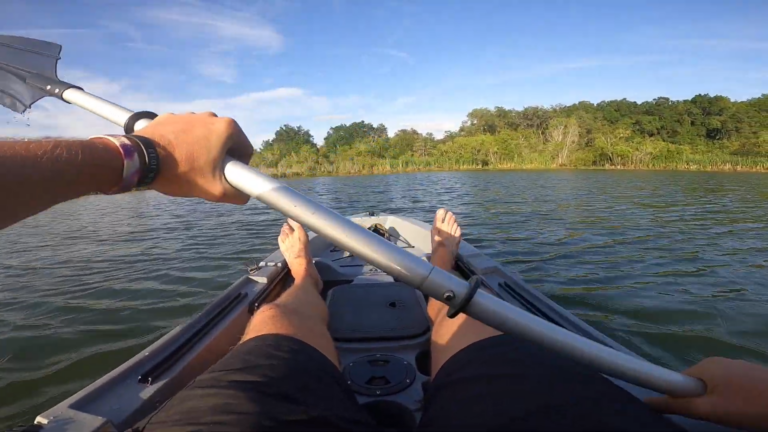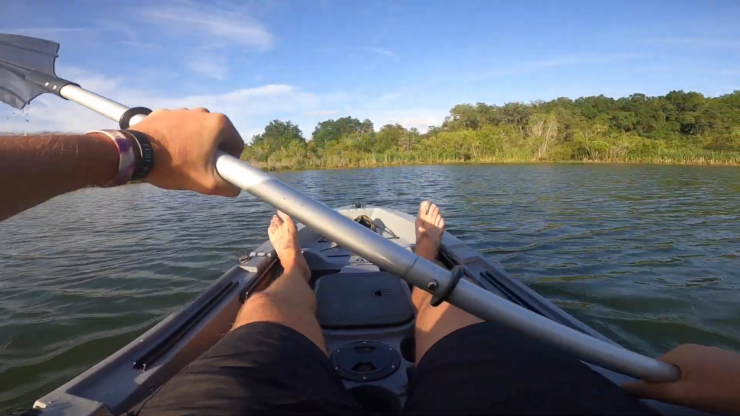 Ascend 12T Specification Summary
| | |
| --- | --- |
| Number of persons | 1 + enough room for a pet |
| Total weight capacity | 350 pounds |
| Kayak weight  | 77 pounds |
| Kayak length  | 12 feet |
| Kayak width | 31 inches |
| Construction and material | Rotomolded, polyethylene  |
| What's in the box? | Adjustable seat, accessory rails, bungee storage, and scupper plugs |
Ascend is a big name in the fishing and recreational kayaking business. They have been around for a while and they know their trade well. The 12T is their most popular model where the fisherman sits on top.
When compared to the previous versions and models, it is more comfortable, stable, and functional than its predecessors. The tunnel hull design choices give it better stability and tracking and it remains in place when you cast while sitting on it
Being 12 feet long, 31 inches wide, and 77 pounds long, it is on the bigger side of the spectrum. These measurements mean it has a good balance between speed and maneuverability. Longer and leaner kayaks are faster, and shorter and wider ones turn easier. The Ascend 12T is good at both.
When it comes to other features, this kayak has six scupper holes and plugs, it is available in several different colors including a few camo options and a sleek grey. It offers enough storage all around, enough bungee storage on the stern and bow, as well as watertight deck plate storage. For ease of access, there are rubber grip handles in the front and back.
Accessories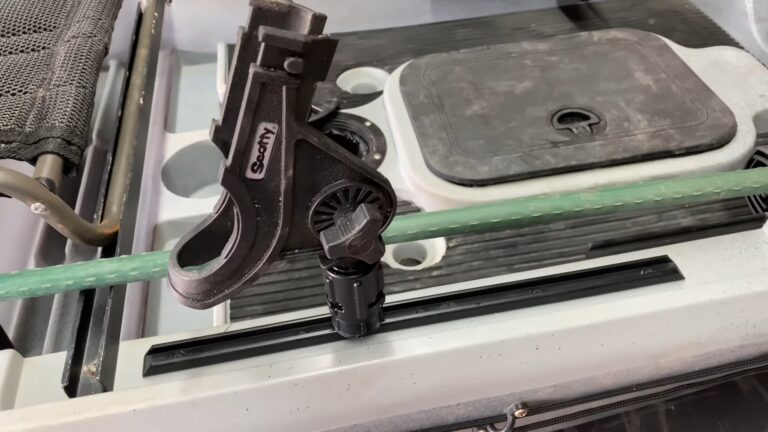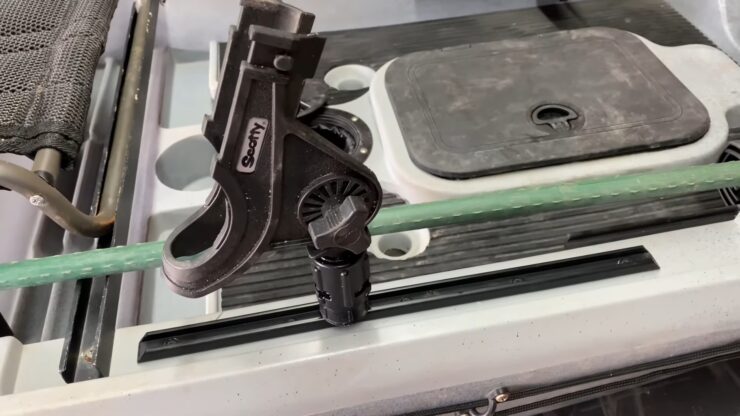 We mentioned some of the accessories already, but they need a separate section. It is always good when there is extra stuff in the box because it means there is no need to buy them separately. Even if you will not use them often, it is better to get them for free.
First off, port and starboard rails are there, ready to be used. There are holders and mounts for GPS, fish finders, extra rod holders, and basically anything else that can be attached to a kayak. There is a molded drink holder that fits water bottles and thermos. Hydration and hot beverages are crucial so this is always a neat addition.
If you regularly bring valuables or extra gadgets, the kayak needs to have a safe place to keep them. Luckily, the Ascend 12T does and it comes in the form of a weathertight storage hatch. No matter your size, you will be comfortable as the footrests are adjustable and support various sizes. Transportation is easy thanks to rubber grip handles.
Storage Space
The cockpit is quite open which gives the angler a lot of room for all of their important stuff that helps with fishing. On top of that, there is enough legroom even if you are packed to the brim. Two dedicated storage exist, one in the bow and the other in the stern. There are flush-mounted bungees too and a lot of gear can be placed inside and strapped onto the boat.
Behind the seat, there is a tank well with more than enough room for a hefty cooler to hold your drinks, food, or perhaps the fish you catch. It can also house a larger crate with fishing gear if you ever require different sets of equipment for various types of fish. A single glance at the openness of this kayak is enough to realize its great storage capacity.
The Seat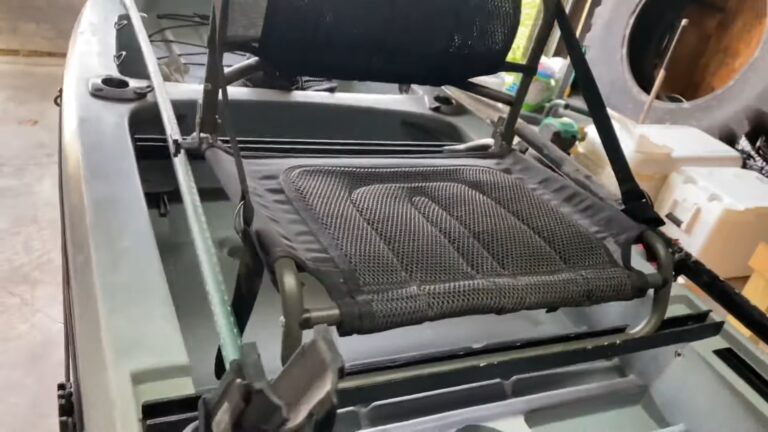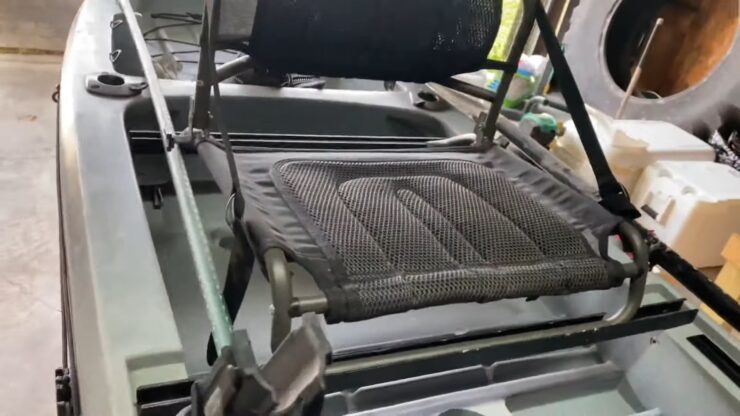 There have been a few mentions of the seat already, but now we dive a bit deeper. The kayak comes with an adjustable seat that can be completely removed. Sit-on-top kayaks can fit many different chairs, even the ones not necessarily meant for kayaks. However, a proper, dedicated model is always the best option.
Since you will be sitting on the kayak for hours, you need something comfy and cozy. Well, the seat you get in the box is both of these with great back support. The whole seating system of this kayak is superb, perfect for whole days spent on the water and cruising around looking for the best spots. There is always a possibility to swap the seat for something else if you ever need to.
Great for Other Uses Too
While it is designed with anglers in mind, fishing is not the only use of this kayak. Far from it, as it is perfect for all sorts of adventures. The spacious kayak allows for easy standing up as the floor is non-skid and cushioned. This is perfect for taking photos of nature, bird watching, or just paddling while standing.
Dry bags, coolers, extra clothes… there is ample room for all of your belongings no matter why you want to hit the waters. The angling enthusiast in your family does not have to be the only one using this great kayak. Duck hunters are known to make great use of it as it can hold hunting gear and survival kits just as well as it does fishing equipment.