Kayaking is a versatile activity and a hobby that can be done in numerous ways. While it may seem like it was meant for a single paddler to enjoy alone, over the years it has become a social activity that numerous people and larger parties can experience together.
Is there anything worse than being limited to a particular number of spots when doing something fun? Too often are families or groups of friends made to choose who to bring and who to return for. Kayaking, luckily, has a way around this. Worry not if you do not want to kayak alone or if you plan to bring important people along for the ride.
This can easily be achieved with kayaks that are made for more than one paddler, specifically those which can fit three adults. Doing it like this is immeasurably more fun and engaging as you get to share the excitement with family or friends that you typically want by your side.
However, there is a problem that many kayakers face before they ever start doing it. What is the right kayak to buy and what model should you aim for? It is an intimidating thing, that is for sure, and it does get overwhelming as you browse the market. in the remainder of the article, we talk about this so as to help you decide.
Top 12 Products of 3-Person Inflatable Kayaks that are Our Choice
The following lineup is the absolute best of the inflatable 3-person kayak market right now. Each of these vessels is a viable option that will allow you to experience some unforgettable moments while paddling away with those who you love the most.
1. Sea Eagle 370 Deluxe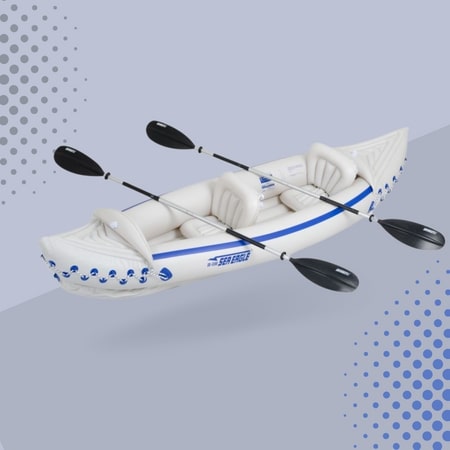 The first kayak on the list comes from a famous name in the kayaking name, instantly making it one of the best choices overall. The most important thing with kayaks designed for multiple kayakers is the weight (load) capacity as the vessel needs to support multiple adults, plus their gear. The 370 Deluxe by Sea Eagle does its job on this front as it can carry up to 650 pounds.
Despite this, it is among the lightest inflatable kayaks for three people and only weighs 26 pounds. This is very lightweight and therefore a walk-in-the-park when it comes to storage and transportation. The kayak has two inflatable seats, but three people can comfortably fit inside. The seats are comfortable with enough back support. The bow and the stern offer a lot of cover room for gear.
Inside the package, apart from the kayak and two aluminum paddles that break into four parts, there is also a dual-function foot pump. Of course, there is also a bag into which the kayak easily fits once it is deflated.
Two molded skegs on the bottom give great tracking potential. There are bungee straps in the front and back for some extra attachments and equipment. The kayak is 12 feet 10 inches long and 2 feet 10 inches wide.
Pros
Plenty of room
Strong and sturdy
Comfortable seats
Accessories
Cons
No dedicated third seat
Actually usable (interior) dimensions smaller at 10 feet 8 inches x 15 inches
2. Sevylor Big Basin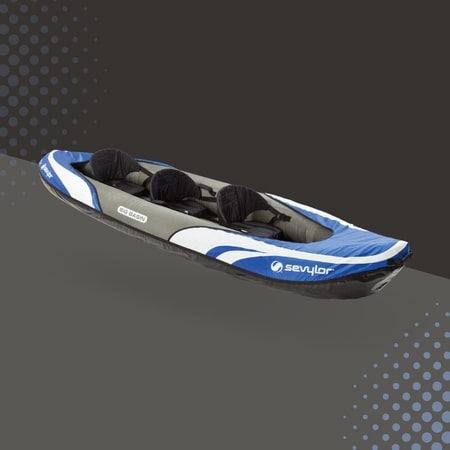 Measuring at 12 feet 3 inches and 3 feet 1 inch when inflated, it can hold up to 490 pounds which should be enough for three adults and some basic equipment. The best thing about the kayak is that all three kayakers can sit comfortably as there are three adjustable seats. The vessel weighs 44 pounds.
The body of the kayak is made of heavy-duty PVC while the bottom is reinforced tarpaulin. This protects it from punctures and scratches and therefore extends its lifespan. It is best for flat, calm water like bigger lakes and slow rivers. The spray cover is an underrated feature as it keeps the paddlers as well as the bow and stern storage areas dry.
It does leave a long to be desired in terms of accessories because you only get the kayak with the purchase and nothing else. There are no paddles, no bag, and no pump. While this may sway away many potential customers, this is still a great kayak overall that easily fits three people.
Pros
Three adjustable seats
Heavy-duty materials
Durable, strong
Spray covers
Cons
No accessories
Interior feels tight
3. Driftsun Almanor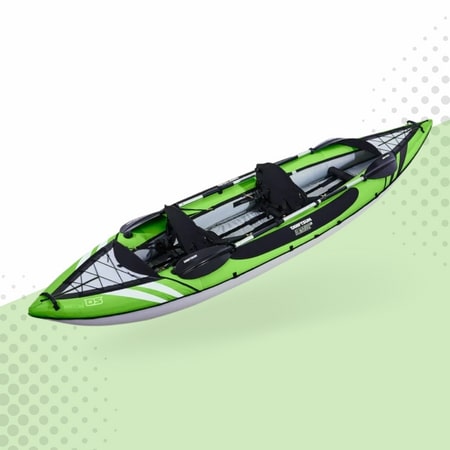 Available in a few bright colors, this sleek, modern inflatable kayak is the real deal and will be of great help for any party that wants a comfy recreational paddling experience in calm to moderate waters. It is also applicable in longer distances when you plan to spend the entire day on the water. The kayak is 13 feet long and 39 inches wide, weighs 33 pounds and can hold up to 400 pounds.
When it comes to features, it is among the richest on the list. It has Boston valves, 2 adjustable seats, a paddle guard, adjustable footrests for both seats, a removable skeg in the back, paddle holder straps, and reinforced carry handles. There are also bungee straps in the front and back on top of the covered storage compartments for dry gear. The kayak only takes 9 minutes to inflate.
The package is full of goodies. Apart from the kayak, you get 2 paddles, 2 adjustable EVA seats, 2 adjustable footrests, a removable skeg, a dual-action pump, and a travel backpack. All in all, this is everything you can possibly need from a kayak as there is nothing left for you to purchase on the side.
Pros
Rich in features
Plenty of accessories
Attractive design
Reinforced materials, durable and strong
Cons
Expensive
Smaller load capacity
No third seat
4. Driftsun Rover 220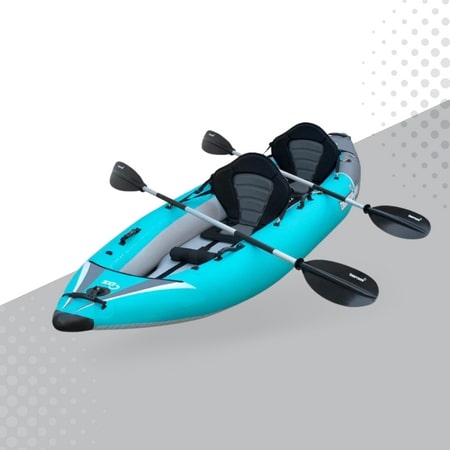 The second and final Driftsun inflatable kayak suitable for three people is similar to its cousin, yet different. It is less sleek in design but more capable of a team effort. This is evident by the increased load capacity, no less than 600 pounds. It measures 12 feet six inches in length and 38 inches in width and weighs 28 pounds, meaning it is actually a bit smaller than the Almanor. Do not let that fool you, however.
The fact that it is a true team-oriented vessel is clear since the kayak has 8 reinforced carry handles, 6 along the edges, 1 at the bow, and 1 at the stern. This makes it very easy to handle. Not that it is otherwise difficult since it deflates in minutes and easily fits in a bag. The kayak also has high-pressure valves, corrosion-resistant hardware, and an action camera mount.
Two comfortable, adjustable seats come alongside it, as well as two adjustable footrests. There is a removable skeg included too, two breakdown aluminum paddles, a double-action hand pump, and a high-quality travel bag to pack everything in. There are 8 self-bailing drain ports on the kayak if you ever want to take it to the rapids.
Capable, sturdy, and resistant to punctures and tears, it is a great option for any group looking for team kayaking.
Pros
Strong, durable, reinforced
Accessory- and feature-rich
Load capacity
8 carry handles
5. Elkton Outdoors Steelhead 150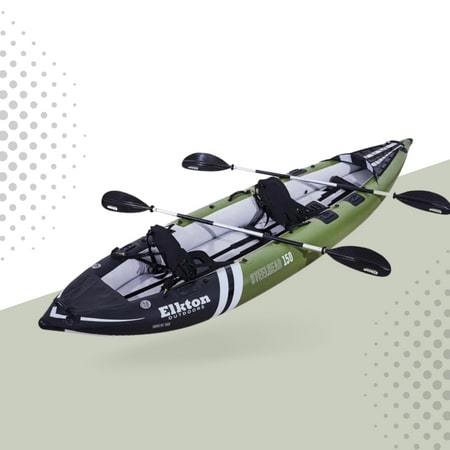 Last but not least, we have a lean and quick 2-paddler kayak that can easily fit a third person. They may not be able to comfortably paddle, something that is usually a problem with two-seaters, but they can relax without any problems. The kayak comes with 2 skegs, 2 adjustable padded seats, 2 paddles that break down, 2 footrests, a dual-action hand pump, and a bag.
This craft is 12 feet 6 inches long, 3 feet 3 inches wide, and it weighs 44 pounds. This makes it the joint-heaviest craft on the list. This is still much lighter than a regular, non-inflatable kayak though. Regarding the load capacity, the Steelhead 150 easily carries 600 pounds, more than enough for three people and all their stuff.
Speaking of storage, there are two large areas, one in the bow and one at the stern. Both are covered with mesh which keeps them safer and drier. Bungee cords are present too, as are self-bailing drain ports. The PVC material used for it is reinforced while the floor is drop-stitched. As such, the kayak is right and comfortable to stand or sit in. Plenty of attachment points are present throughout, making it great for fishing too.
Pros
Accessories
Attachment points and storage options
Reinforced, drop-stitched
Cons
Expensive
Only 2 seats
Narrower than average
Buyer's Guide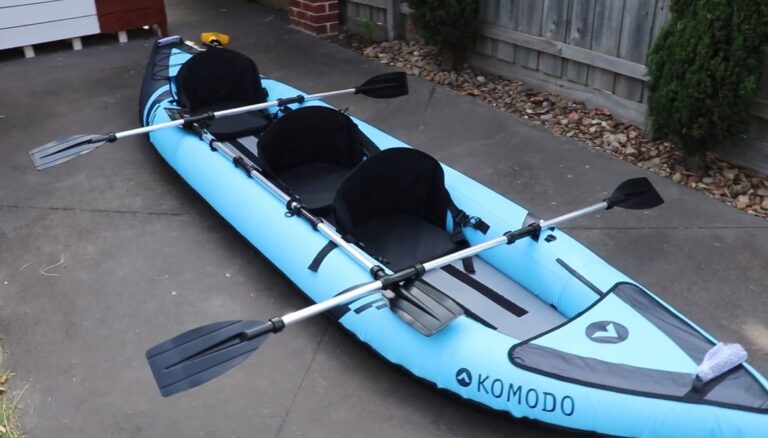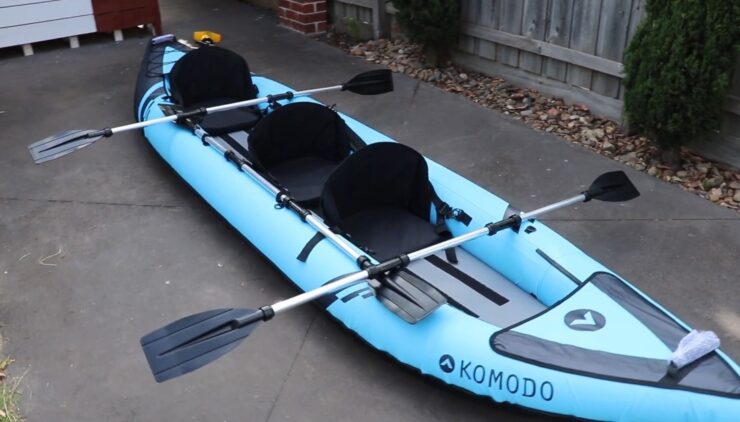 One thing about kayaks that is usually a problem for any potential paddler is the handling. The issue presents itself in more than one way. For example, there is transportation to and from the water. There is the carrying part from the vehicle and through rough terrain until you can finally place it down.
Finally, you also have to think about storage and where to keep the kayak while you are not using it. All of these things are already a lot to deal with when the kayak is small, let alone when it needs to fit three people. This, too, has a solution.
The best possible way about this entire conundrum is to focus only on the inflatable kayaks. Inflatable models are much more versatile and easier to handle. They are very light, they fit inside bags and are therefore a breeze to transport and store, and they inflate and deflate in minutes.
For these and many other reasons, the best type of kayak for 3 people to use at once is the inflatable one. The fact they are not robust does not disrupt any of their features. On the contrary, they usually come chock full of accessories and features that are not present with other options.
Frequently Asked Questions
Kayakers have a lot of questions about the kayaks themselves, their features, use, sizes, and capabilities. However, there are other, more outlandish questions that either get them more hooked on the activity or sway them away. These are some of them.
Can I paddle alone in a 3-person kayak?
There is no reason why a single person cannot propel any kayak on their lonesome. These are some of the largest kayaks out there, as well as the slowest, but they are light and can be easily moved when you are alone. The fact that it is meant or designed for multiple people does not mean it cannot be operated if you find yourself alone. There will be less weight to work around, you can take out the extra seat and footrest, and go about it.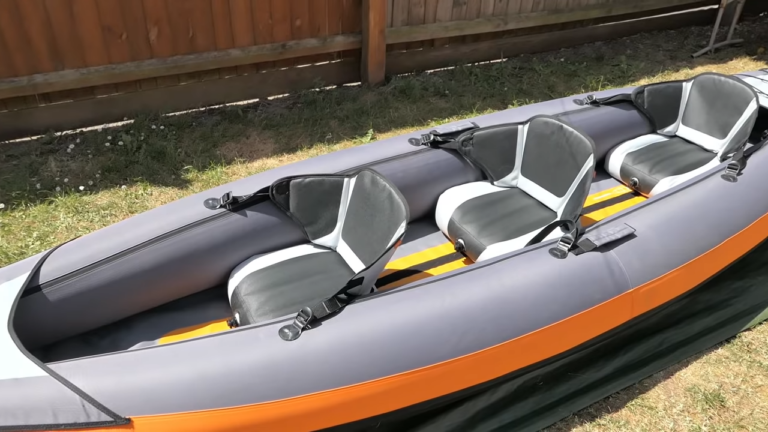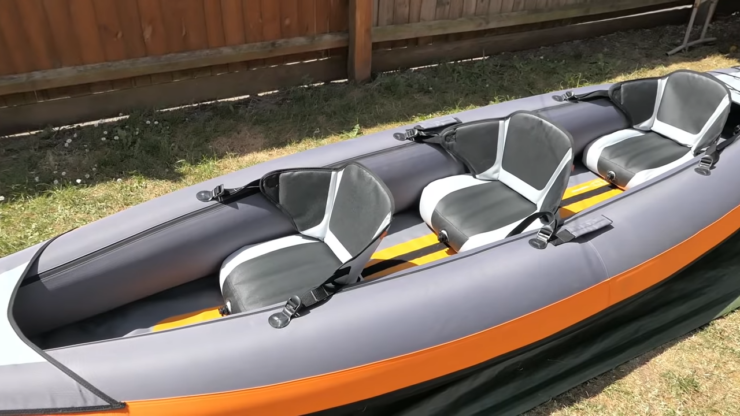 Is it possible to stand up in these kayaks?
All of the reviewed kayaks on the list are stable enough for you to comfortably stand up and enjoy the view. It is even possible to fish from a standing position. With careful movement and care, there is absolutely no reason to be scared of falling over. The kayaks have thick sides that add to balance and are much wider than regular, single-paddler vessels that do not inflate.
How much stuff can they fit?
Kayaking goes hand in hand with bringing a lot of gear and equipment, especially if you are doing something specific like camping, fishing, or hunting. This can be problematic with smaller vessels that do not have as many storage solutions, but the aforementioned 5 inflatable kayaks for 3 persons have plenty of storage. Not only that, but the load capacity favors plenty of gear too. Three average adults weigh anywhere from 300 to 500 pounds, which leaves plenty of weight and room for food, beverages, gear, extra clothes, and gear.
Final Thoughts
In conclusion, kayaking is an activity made for single use that is best experienced when shared with others. That is why 3-person kayaks now exist. To make it easier for everyone, the best of the best are inflatable, giving you a lightweight yet capable way to gather up to 2 other people and hit the local river, lake, or ocean. Worry not if you have to travel far as they easily fit in backpacks alongside the accessories that come with them. The only thing left now is to pick the right one for you and start enjoying paddling like never before.