Kayaking is a lot of fun, we can all agree on that. It is a very interesting, exciting, and engaging activity that has plenty of good sides. It can be done on its own as the main hobby, or it can enhance another activity, improve it, or make it easier. Whatever you do with a kayak and however you want to approach it, good times are basically guaranteed. This is more than evident from the increased interest in the last few years.
Despite the large amounts of fun that can be experienced while kayaking, there are also many troubles that kayakers deal with every time they want to go out. One of the main reasons for this is the cumbersome nature of the kayak.
There is no denying the fact that a regular, average kayak is quite big. Their length and width combination, as well as their weight, are not suitable for frequent transportation, storage, and carrying. All three of these are problematic when going to the water and then returning.
This is actually a big problem for many potential kayakers and the main reason why they decide not to paddle. Luckily, there is an effective solution to this issue and it comes in the form of dedicated kayak transportation solutions. These are mainly kayak carts, wheels, and trolleys. Often interchangeable and frequently used as synonyms, as long as they have wheels and are meant for kayaks, they are very helpful. But which ones are the best and how do you choose the most optimal solution for your kayak? Read on to find out as we talk best kayak carts, wheels, and trolleys for 2023.
Buyer's Guide
Before talking the best products available on the market right now, there must first be a few words about how to choose. The browsing stage tends to be overwhelming when one is buying things they know little about. Kayakers must know what to consider when buying a kayak cart.
The Type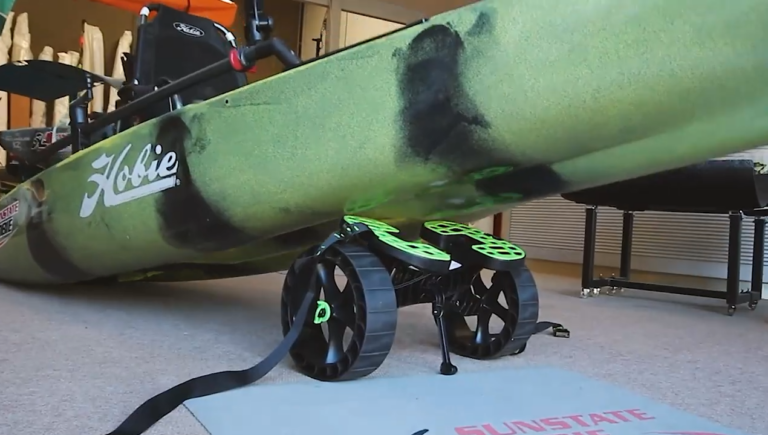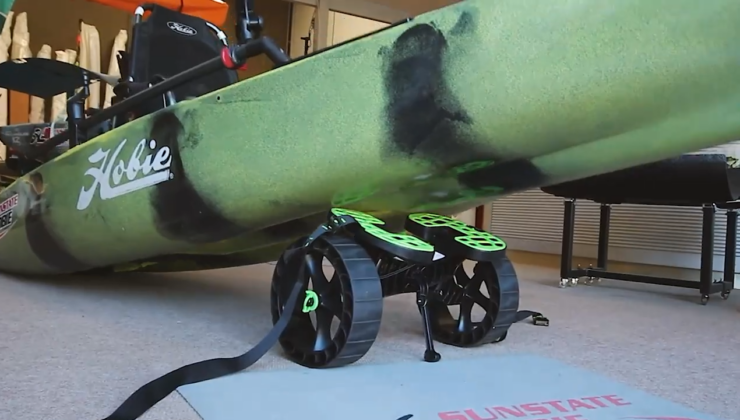 As you probably expect, there are multiple types of kayak carts (trolleys, wheels, etc.) and they are used differently. Some are more useful in particular situations than others, as well as with different kayak types. The three main types include plug-in carts, folding carts, and strap carts.
Plug-in crafts have fixed wheels and they are quite light and stable, making them a good overall option. Folding carts are the most compact because they fold (obviously). If you care about transportability and ease, go with a folding model. Lastly, strap carts utilize straps that protect the kayaks from slipping and falling out. They maximize security.
Any one cart works well and you will have an easier time overall. These are small differences and features that are supposed to make the purchase easier, not more difficult. Plug-in carts are best for rough terrain, easy storage is achievable with folding carts, and maximum kayak safety is with those that have straps.
Wheel Type
These are all trolleys and carts after all so naturally the wheels are the most important section. Without them, or if they are faulty, the overall experience can never be satisfactory. Wheel size is the absolute king. The larger and wider the weel, the better the kayak performs on sand. Taller wheels mean more stability as the trolley can be closer to the kayak.
Then there is the material. Just like with any other commodity, it is crucial. Inflatable wheels are the most common variety and they work well on all terrains. There are molded plastic wheels too and those filled with foam. The best option out of all are all-terrain tires that are puncture-proof. This is the only logical solution if you typically navigate rough off-road terrain to get to the desired body of water.
Weight and Storage
You do not wnat a heavy cart. Something that is supposed to help you carry other things should be as light as possible. Plug-in carts are the lightest. When it comes to capacity, you want a trolley that can support 150 pounds at least. To save space at home and have an easier time traveling, the cart needs to be easy to store when not in use. Certain models can be disassembled entirely. If this is important to you and you want as little hassle as possible, choose a foldable model.
10 Product Reviews / Our Picks
1. RAILBLAZA C-Tug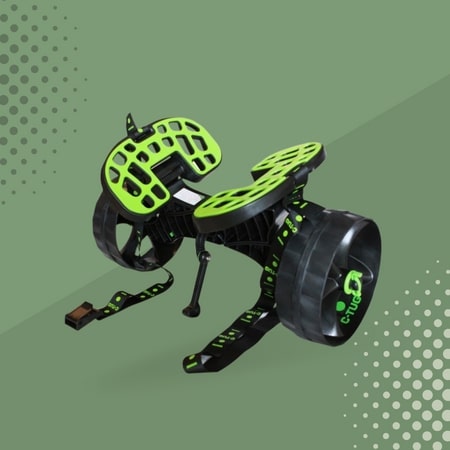 Starting off the list strong, here is an attractive and capable kayak cart that has everything you need to properly transport your craft to and from the water. The neat black and green design makes it stand out in the crowd, but that is just the start of it. As durable and sturdy as they get, this trolley is a prime example of what kayaks need.
Very easy to assemble as it requires absolutely no tools, it has plastic, rubber grip puncture-free wheels that can take on just about any surface. This is what you really want from something that needs to traverse various terrain. It only weighs 10 pounds, it is easy to store and transport, and can hold as much as 300 pounds. The hull pad has a snap and lock mechanism that holds the kayak firmly in place. The only potential downside would be the straps, as they are somewhat less durable than the competition.
2. ABN Universal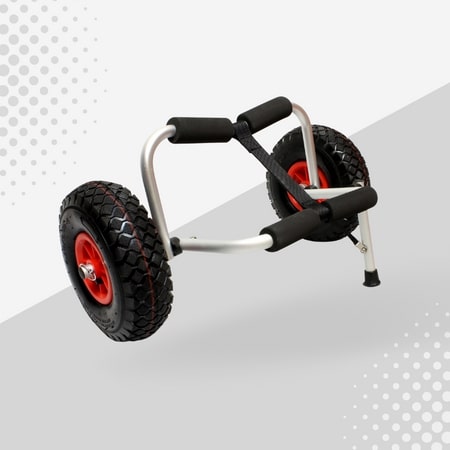 As the name suggests, this is a universal model that can be used for all sorts of kayaks as well as canoes, boards, and other boats. From the very first look, it is more than clear what its number one features is. The big rubber wheels are verys trong and capable, with steel pins that can withstand a lot of heavy-duty use and are great on grass, gravel, or sand.
Bumper pads in charge of holding the kayak in place are oversized, while the frame is anodized steel. Together, they can hold up to 200 pounds of load. In the package you also get a 12-foot tie down strap for extra security. This cart is also foldable and very easy to disassemble and assemble. As such, it fits in any large backpack for some easy transportation or storage.
3. Suspenz Smart Airless DLX
Now here is an attractive design that make suse of the ever popular construction yellow and balck combination. This airless model has 10-inch tiresthat will never go flat on you. Since there is no air in them, you can use it in all sorts of conditions without worrying they will ever get punctured. The frame is alumnum and stainless, very strong and durable.
The cart is entirely foldable and it easily fits into a mesh carry bag that comes in the package. The straps you get are very durable and the load capacity of this cart is 150 pounds. On its own, it weighs only 9 pounds. The rubber pads hold the kayak firmly and at a neat angle so there is no reason to worry. On top of that, they are adjusabtle.
4. TMS CART-CANOE
Black and white combination is always in fashion and this cart knows it full well. Holding up to 120 pounds, it is not as capable as the rest in terms of capacity, but it makes up for it in other places. It is still suitable for medium-sized kayaks as well as lightweight models that are slightly oversized. While most other trolleys have only two bars, this one has three, offering more versatility.
The stability is above average and there is a 12-foot down strap included for maximum security in transport. Its frame is made of solid metal, and the bumpers are foam. The tire design and potential is where the cart shines. They are 9.5 inches tall and 3.5 inches wide pneumatics that are ideal for gravel and sand. When you want to store it or carry it, it easily and quickly breaks down.
5. Malone Xpress Scupper Cart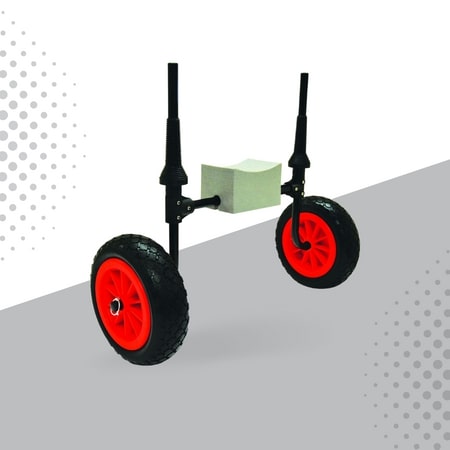 This one is obviously different from the rest and there is a good reason for it. It is a scupper style cart that is particularly made for sit-on-top kayaks. It still however fits any standard kayak that has scupper holes. While not aesthetically appealing like some of the other ones on the list, it is very capable and it does its job well. Scupper carts are always a reliable option.
The width locking control system is adjustable and it ranges from 6.5 inches all the way to 16.5 inches, giving you plenty of options for vastly different crafts. The frame is made of non-corrosion aluminum which gives it strength and durability, but also make it light. There are removable goam pads that protect the kayak. Regarding the load capacity, it is maxed out at 200 pounds.
6. Dolly Cart Carrier Transport Trolley for Kayak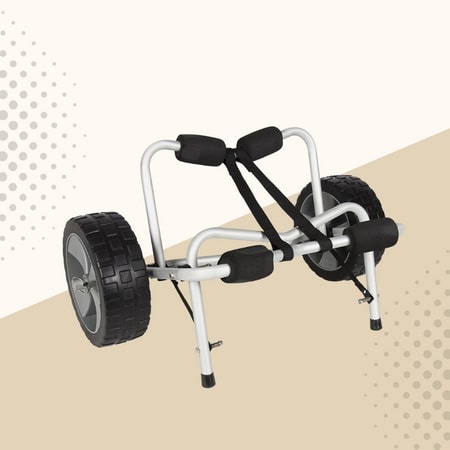 Last but not least, here is an affordable option by a good brand that always makes items with great value for the price you pay. Stable, durable, and compatible with basically any kayak, it has everything you need and leaves nothing to be desired. It is the mid-tier option that will satisfy both the beginners and veterans.
The trolley weighs only 9 pounds. Its dimensions are 29 x 14 x 7 inches, and it has a white aluminum frame with black tires, bumpers, and straps. In the package, there is a 12-foot tie-down strap that will secure the kayak further in place. Its load capacity is 150 pounds and the 10-inch plastic rubber wheels can handle any terrain.
Frequently Asked Questions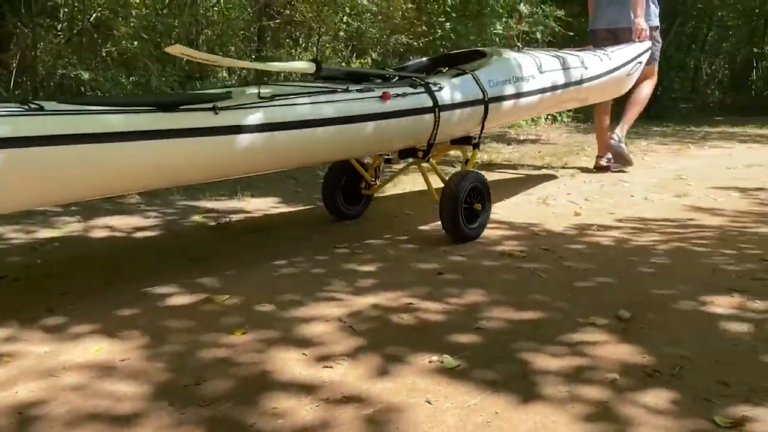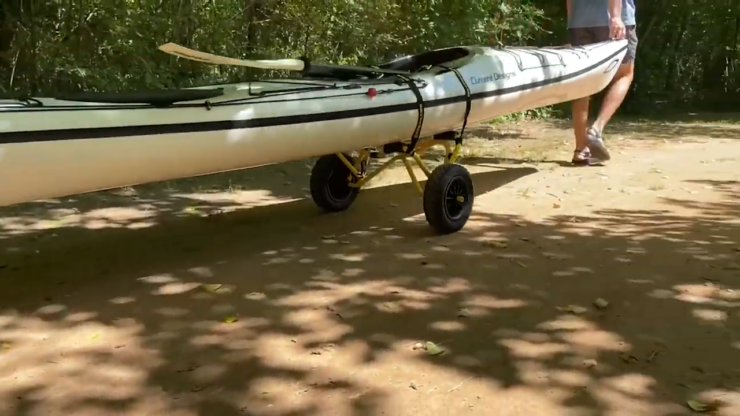 Buying a new commodity usually comes with a plethora of questions, some of which we have already answered. Still, an average kayak trolley buyer has additional misconceptions and doubts so here are some of the most frequently asked questions about purchasing the right wheels for your kayak.
1. Do I really need a kayak cart?
The need for a cart is not absolute, but neither is the kayak if you think about it. You can fish or hunt without a kayak, you can just go swimming instead of paddling. It is not about the need but how easy and optimal it is with the wheels. Once you get a kayak trolley, you will never again have to carry it in your arms nor worry about what terrain awaits you once you get there. It will also be easier to move it around your property and bring to and from your vehicle.
2. What type/size/load capacity do I need?
It will always come down to the kayak model you have as well as your personal preferences. If you care most about ease of use and transportation, make sure the cart can fold. In case you worry about safety and usually trek for longer, the strap will be of great use to you to maximize stability and safety. Regarding the load capacity, think about the weight of your kayak plus the weight of all the gear you typically bring. How much does it weight when you put everything you need in the kayak and will the cart be able to withstand it?
3. What wheels should I pick?
This again has to deal with where you kayak, how often, and what you need from the whole experience. The best wheels are always those that cannot be punctured. Usually, the bigger, sturdier, and wider they are, the better. Make sure they have good treads and patterns to handle sandy beaches, muddy shores, gravel, and rocky mountain terrain, but also soft grass dry dirt/dust. Think about where you typically go and what the surroundings there are.
4. Should I go expensive?
The price is not always the best indicator of quality. The golden rule of thumb when buying something for the first time is to never go cheapest, but also to never overpay. The aforementioned products all cost different amounts of money but all of them are of good quality and offer optimal performance. There is no reason to go expensive even though it is an important purchase of an item that should last you for many years.