Water-based activities come in many different ways. People are familiar with the most common ones like swimming and diving, as well as other more specific ones like snorkeling or surfing.
Numerous water games also exist, as do sports. And then there are activities in which you paddle in a boat or some other floating craft. Kayaks are the most popular variety here and they have taken the world by storm.
The best thing about them is the fact that simple paddling for the sake of it is not the only way to use them. Not at all, as it is actually much more fun to use the kayak to elevate another activity. Fishing and camping may be the most common ones, but hunting is also done more efficiently with a kayak. This is especially true for duck hunting.
Historical Context
Duck hunting is a traditional, recreational hunting activity that has been enjoyed by people for a long time. It has a long history, with evidence of waterfowl hunting dating back thousands of years. In ancient civilizations such as Greece and Rome, duck hunting was considered a sport for the elite, with special hunting areas and equipment. It involves hunting waterfowl, such as ducks, geese, and other species.
In North America, duck hunting became popular in the late 19th and early 20th centuries. Hunting clubs and lodges were established, and advances in hunting equipment, such as the creation of the duck decoy, made the activity more accessible to hunters. As technology improved and became more accessible, the sport changed for the better as well and became more optimal and regulated than ever before.
Modern Day
Duck hunting can be done in a variety of ways, including blind hunting, decoy hunting, jump shooting, and pass shooting. Blind hunting involves hiding in a camouflaged shelter while waiting for ducks to come into range. Decoy hunting involves using artificial decoys to attract ducks to a specific area. Jump shooting involves shooting ducks that have taken flight from the water, and pass shooting involves shooting ducks in flight.
Duck hunting is a very popular modern-day hobby and pastime activity with millions of hunters participating in the United States and Canada each year. Hunting seasons and regulations are set by government agencies and are designed to help conserve waterfowl populations. Contemporary hunters now have to follow regulations and practice ethical hunting methods to conserve waterfowl populations.
Modern duck hunting equipment has evolved significantly over the years. Hunters use specialized firearms such as shotguns, as well as decoys, calls, and other hunting gear. Duck calls, for example, can be used to imitate the sounds of different species of ducks to attract them closer.
In addition to the thrill of the hunt, duck hunting also provides an opportunity to enjoy the outdoors and engage with nature. Many hunters participate in the activity for the camaraderie and social aspect, as well as for the opportunity to experience and understand the natural world.
It is important to note that duck hunting is not without its challenges. The sport requires patience, skill, and knowledge of duck behavior and habitat. It is also important to practice ethical hunting methods and to follow all hunting regulations to ensure the sustainability of waterfowl populations. In conclusion, the sport has a rich history and continues to be a popular recreational activity in the modern day. From a survival skill to a hobby and sport, it truly came a long way.
Kayak Duck Hunting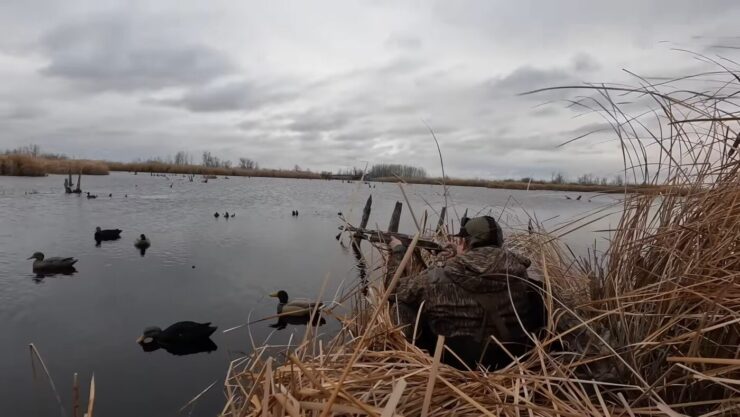 Kayak duck hunting is a type of duck hunting where the hunter uses a kayak or canoe to maneuver in shallow waters and reach areas where ducks may be present. Kayak hunting provides a unique and challenging hunting experience, as the hunters must navigate and maneuver their kayaks to get within range of the ducks.
This type of hunting requires specialized equipment, such as a waterproof and stable kayak or canoe, and a specialized duck hunting shotgun. Hunters must also have good kayaking skills, as well as an understanding of duck behavior and habitat.
Kayak duck hunting is popular in areas where traditional duck hunting from a boat may not be feasible, such as shallow marshes, swamps, and ponds. It offers hunters a way to reach areas where ducks may be present and provides a more intimate and challenging hunting experience.
However, kayak duck hunting is also subject to regulations and restrictions, just like other forms of duck hunting. Hunters must be familiar with the laws and regulations in their area and obtain the necessary permits and licenses.
Overall, kayak duck hunting provides an opportunity for a unique and challenging hunting experience, but hunters need to be knowledgeable and responsible in their practices to conserve waterfowl populations.
Our Top Picks of Duck Hunting Kayaks
1. Brooklyn Kayak Company (BKC) PK13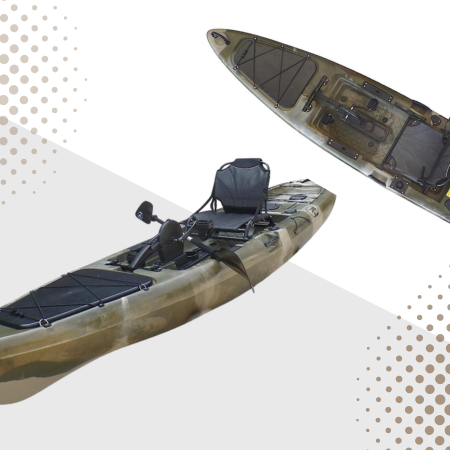 From the very first look at this model, it is clear that it is a true duck-hunting craft and not just the Green Camo color option. This is a kayak that has pedals which means that your arms will be free for the entirety of your hunting session. This is crucial because you need them free for shooting and using other gear.
This kayak is 13 feet long and 33.25 inches wide. It weighs 80 pounds and it can carry up to 550 pounds of load capacity. These are all good numbers and specs for a hunting paddle boat as they give you a good balance of speed, stability, and storage potential. It is heavier which is one of the only downsides.
When it comes to specs, the kayak has two sealed waterproof storing hatches, accessory plates that can carry a gun mount, a tank well, bungee straps, and a hand-operated rudder. There are 4 carry handles for easier handling. There is also plenty of open space on the deck for coolers and crates.
Pros
Great storage and load potential
Pedal system
Good stability and speed balance
Cons
Heavy and bulky
Not very maneuverable
2. Riot Kayaks Escape 12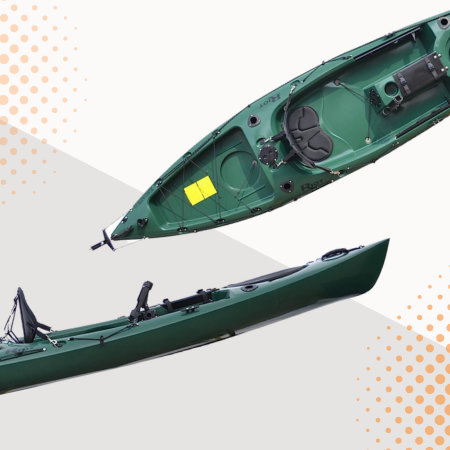 Hunting and fishing kayaks are often thought of as the same, which is why this angling kayak is on this list. Fishermen and huntsmen usually need similar features and specs and this kayak can be used by both. It is also a very affordable kayak that offers great value for the price. It is 12 feet long, 30 inches wide, and it weighs 68 pounds. Its load capacity is 300 pounds, enough for basic gear and some extra items.
Feature-wise it has a lot to offer which increases its value. There are sliding foot braces, a hand-operated rudder, an anchor system, a console for accessories, a cup holder, 2 deck plates, 2 paddle hooks, 1 adjustable rod holder, 4 flush-mounted rod holders, 2 rubber carry handles, a drainplug, and scupper plugs. In terms of storage, there is a large waterproof sealed hatch and an open area in the back covered with a bungee string.
Pros
Lightweight
Great features and specs
Good price and value
Spacious cockpit and deck
Cons
Low load capacity
Uncomfortable seat
No paddle
3. Lifetime 10 Foot Tandem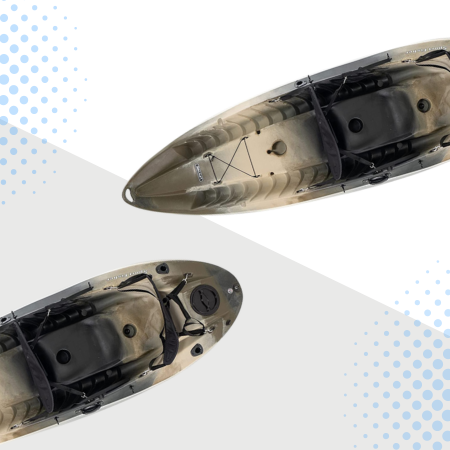 Favorite water-based activities are always done best in the company of a partner, a friend, or a family member. The same goes for kayak duck hunting. Of course, you will need a tandem kayak for it and this Lifetime model is exactly it. At 10 feet in length and 36 inches in width, it is slow but very stable. Its weight is only 73 pounds, great for a tandem boat which are usually on the heavier side. Its load capacity is also superb at 500 pounds, not the highest on the list but still amazing.
It has 2 carry handles, one molded and 1 rubber. This kayak has a rotomolded polyethylene construction that is robust and very strong. As mentioned, it is not the speediest out there but you can fit it with a motor since it has a mount for it. The wider frame allows amazing stability which is important for shooting while standing up. Storage-wise, there is a 6-inch hatch and a small bungee strap.
Included in the package are 2 paddles. The kayak has adjustable footrests and 3 fishing pole holders. The camo paint is perfect for sneaking up on your prey. Not everything is perfect with this model of course. The seats are not very comfortable though, since they are not dedicated but molded with a removable padded backrest.
Pros
Very light for a tandem kayak
Amazing stability
Good load capacity
2 paddles included
Cons
No dedicated seats
Not a lot of open deck space
Very slow
4. Pelican Sentinel 100X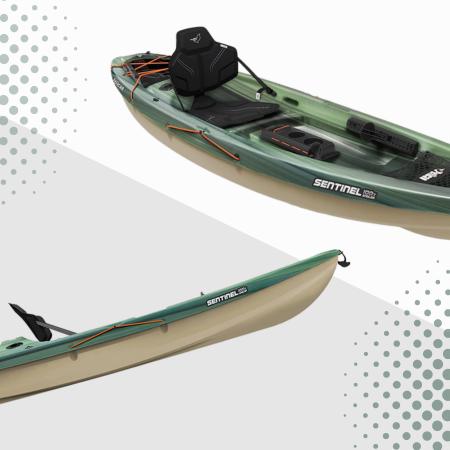 Another one made specifically for anglers but widely used by huntsmen, it is a very popular and trusty brand that knows what it is doing. Clocking at only 44 pounds, it is the lightest on our list here. It is also the shortest at 9.5 feet with a 30-inch width. Its load capacity is of course the lowest too, at only 275 pounds. However, it is a great solo hunting kayak and all of these measurements and specs make sense overall. It is quick and stable enough for its size and design.
When it comes to storage and filling up that load capacity, you can do so with bungee rigging, a removable ExoPak compartment, and deck space with a mesh cover. The lack of a watertight dry compartment is a problem because you always need somewhere to put the dry items. There are other features too, including a tank well, adjustable footrests, a center console with accessory mounts and holders, and a smartphone holder.
Two paddle tie-downs are there on the sides and molded carry handles. Also, 2 flush-mounted rod holders are present behind the comfortable padde
d seating with a backrest. The khaki camo is perfect for marshes, lakes, and rivers. The ducks will never see you coming.
Pros
Incredibly light
Easily maneuverable
Removable storage compartment
Cons
Low load capacity
No closed storage
No paddle
Buyer's Guide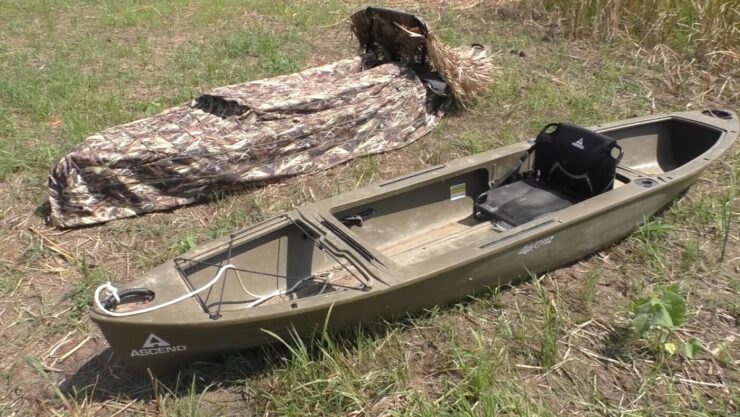 Duck hunters looking for a kayak usually need a specialized type of kayak that is designed for hunting and has specific features to accommodate hunting gear and equipment. Here are a few key factors to consider when choosing a kayak for duck hunting so that you do not have anything lacking.
1. Stability
Stability is crucial for duck hunters as they need a kayak that will remain stable in rough or choppy waters and can accommodate the weight of hunting gear and equipment. This is similar to how fishermen need a wide and stable deck they can cast from. The hunter requires the same for visibility and aiming.
2. Size and Weight
Hunters need a kayak that is lightweight and easy to transport, as well as one that is large enough to store hunting gear and equipment. Equipment is everything for the hunter and they cannot leave any of it behind.
3. Hull Design
Kayaks with a flat or slightly rounded hull are ideal for duck hunting as they offer more stability in rougher waters and provide a larger platform to store gear. Other builds can also be useful though especially if you have certain preferences and needs. It comes down to your own choices with the hull.
4. Storage
Just like passionate anglers, kayak duck hunters need a paddling boat with ample storage space to store all of their important gear. However, it is of the utmost importance that it stays dry because guns and ammunition do not go well with water. Proper storage solutions like closed compartments and watertight seals are a must.
5. Camo Pattern
To better blend in with the surrounding environment and approach the ducks without startling them, all kayak hunters should consider a kayak with a camo pattern. It should at least be easily customizable with camo decals. Ducks are smarter than many people believe and they spook easily.
6. Cost
Last but not least, of course, it is the cost that is one of the major considerations for many kayakers, including hunters. It matters how well you balance the cost with the kayak's features and performance. Make sure never to settle for less than you require or you will not be happy with your boat.
It is advisable to test a few kayaks before making a final decision and choose one that best fits the hunter's specific needs and preferences. Kayak retailers and local kayak hunting groups can also guide you in choosing the best kayak for duck hunting. Also, ask a wise, experienced hunter for their advice if you know someone like this. Their insight can make a difference even if they have never hunted from a paddling boat.

Say hello to Sandra Kilamovska, our resident water sports aficionado and the spirited voice behind KayakPaddling.net. Sandra's mission? To inspire you to dive headfirst into the world of water sports, one paddle stroke at a time.