Having free time is the ultimate goal of any working individual or student. The struggles of the daily routine filled up with hours and hours of work and/or studying is enough to break anyone and cause a lot of unhappiness, and misery even. When it is finally time to rewind and relax, a lot of people do not know what to do or how to fill out their precious free time.
To prevent this, you need to have a hobby. An activity that you cannot wait to do is how life gets better and more exciting. When people find that thing that makes them feel good and fulfilled, they always have something to look forward to no matter how rough the week has been.
The best types of hobbies are those you can do outside. This is true for multiple reasons, many of which are obvious. You get to explore, it is physically demanding and therefore healthy, and the fresh air does us good. More importantly, it is a true break from the norm and the rustle and bustle of city life.
Going outside and spending time in the great outdoors is how the best fun is had, especially when there is water nearby. Water activities are not only exciting and relaxing but also refreshing and healthy. There is a lot that can be done in the water and some of the most popular activities include special equipment.
In this article, we explore canoeing and kayaking, two paddle boat activities that can bring so much fun and joy to your life. Taking the boat out into your local body of water and spending the afternoon paddling and enjoying the views is enough to refill and recharge for the whole month. A lot of people are doing it and so can you.
If you live in or near Denver, Colorado, you are in luck because it is a place filled to the brim with kayaking and canoeing potential. Denver is the capital city of the state of Colorado, a state located in the western part of the United States.
Colorado is known for its natural beauty, outdoor recreation opportunities, and very rich history. The Centennial State is full of mountains, rivers, and lakes and as such a perfect paddling destination. Read on to learn more about the best places to visit for your next kayaking/canoeing trip.
About Denver
Before talking strictly about paddling activities and where to go, there first need to be a few words about the city and the state. Colorado and Denver are not as popular as some other American states and cities and it is somewhat of a hidden gem. It is a great place to live and raise children, but it is also an amazing area for all sorts of fun outdoor activities.
It is a popular ski destination, sure, but not a lot of people realize just how beautiful and diverse the surroundings of the city are. No matter if you want to camp, hike, cycle, climb, fish, or hunt, this region has it all. And the best thing of all? It can all be improved if you also decide to bring a kayak or a canoe since these small boats improve any other outdoor activity.
History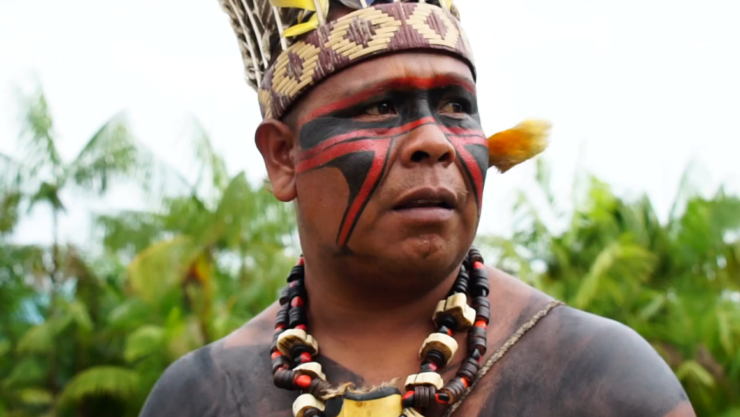 The history of Colorado can be traced back to the indigenous people who inhabited the region for thousands of years before the arrival of the Europeans. The Ute, Cheyenne, and Arapaho tribes of Native American peoples were among the most prominent groups to call this place home. They were the ones who first used canoes in their everyday life, for exploration, travel, and hunting.
It can be said that paddling has a very long history in this area, similar to most places where the Natives lived. In 1858, gold was discovered in the area which lead to a gold rush that brought thousands of settlers to the region. Denver was founded in 1858 as a mining town and quickly grew into a major city due to its location as a hub for transportation and trade. It still cherishes its mining and gold-digging tradition and the citizens are proud of their past.
Demographics
As of 2021, Denver has a population of over 700,000 people, making it the largest city in Colorado. The state of Colorado's population is just over 5.8 million people. The ethnic makeup of Denver is diverse, with a significant Hispanic population.
The state and the capital have a relatively young population, with a median age of 36.5 years old. Denver is a great place to live and most people agree on this. The elevation and the terrain make it a healthy environment, the people are welcoming, and it is much quieter and more peaceful than other similarly-sized capitals in the US.
Geography
Colorado is located in the western part of the United States and is known for its rich and diverse geography. The state is home to the famed Rocky Mountains, nicknamed The Rockies, which run through the western part of the state.
Denver is located on the eastern edge of the Rocky Mountains and it is situated at an altitude of 5,280 feet above sea level. The state is also home to several major rivers, including the Colorado River which runs through the western part of the state. The combination of hills, mountains, rivers, and forests make it an idyllic place for nature lovers, and therefore anyone who is a fan of paddling.
Attractions
Denver and Colorado offer a wide range of attractions for visitors. There is truly a lot to see and do here. For example, there is the Rocky Mountain National Park located just outside of Denver. It is home to some of the most beautiful mountain scenery in the world. Visitors can freely hike, camp, and explore the park's many trails and wildlife. Of course, there are many places for a relaxing paddle in the many lakes and streams.
Red Rocks Amphitheater is the iconic venue located just outside of Denver. It is known for its natural rock formations and breathtaking views. It is a popular spot for concerts and events and offers a unique experience of enjoying modern art while surrounded by amazing natural wonders.
The Garden of the Gods, yet another park, is located in Colorado Springs and features stunning rock formations and unique wildlife. Speaking of Colorado Springs, is one of the most popular tourist and recreational destinations in the state.
Skiing and snowboarding are huge in Denver and the city is known for its world-class ski resorts. The most popular ones are all close to Denver, including Vail, Aspen, and Breckenridge. These resorts offer some of the best skiing and snowboarding in the world.
Since the town has a rich history, there are many historic sites to explore as well like the Mesa Verde National Park, the Anasazi Heritage Center, and the Durango and Silverton Narrow Gauge Railroad.
The capital, and the entire state really, offer visitors a unique blend of history, natural beauty, and outdoor recreation opportunities. From the Rocky Mountains to the rich history and diverse culture, there is something for everyone to enjoy.
Kayaking and Canoeing
While there has been some information about it already, here is where we really take off and talk solely about the kayaking and canoeing potential of Denver. What are the best places to do it, why, and where are they exactly?
Kayakers and canoers will be happy to know that you cannot really go wrong with Denver when it comes to boating of any sort or outside water-based recreation for that matter. It truly seems that it was made for people to enjoy its natural splendor.
Kayaking and canoeing are both popular outdoor recreational activities in Denver with many opportunities to explore the state's rivers, lakes, and reservoirs. It is situated on the eastern edge of the Rocky Mountains, and while it does not offer many opportunities for kayaking and canoeing within the city limits, there are still plenty of nearby destinations to explore.
After all, who wants to stay in the city when recreation is concerned? The beauty of it is to actually go outside and explore its surroundings!
Popular Destinations
1. Clear Creek
Clear Creek is located in the foothills just west of Denver and offers a wide variety of opportunities for kayaking, especially the whitewater kind. The creek is known for its series of rapids ranging from Class II to Class V, which makes them an ideal destination for both beginners and experienced paddlers. The creek is divided into different sections, each offering a different level of difficulty. The most popular section for kayaking is the Golden section, a Class III and IV rapids combo.
The creek is surrounded by beautiful mountain scenery which is why it is a popular destination for outdoor enthusiasts of other kinds. Campers and hikers are common in this area. The nearby town of Golden also offers plenty of options for dining and lodging but also renting canoeing and kayaking gear.
2. Chatfield Reservoir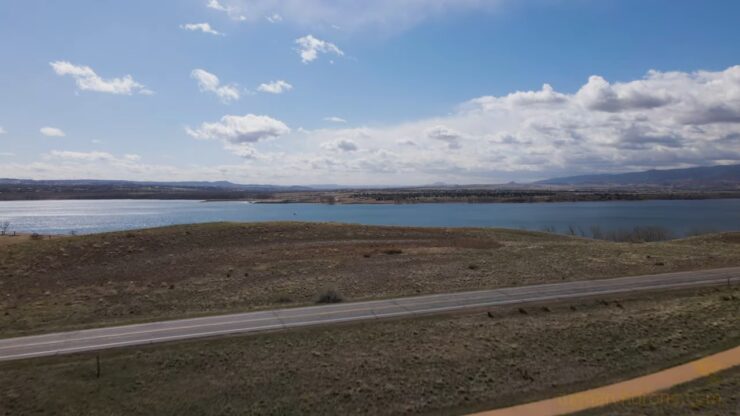 Located south of Denver, Chatfield Reservoir is a large body of water with over 1,400 acres of surface area. The reservoir is surrounded by Chatfield State Park and its wide variety of opportunities for outdoor recreation. Hiking, camping, and fishing are the favorites, but paddling is on the rise. The reservoir itself is popular for flatwater kayaking and canoeing and there are several launch points all around the park.
The water is relatively calm and steady so it is a good spot for beginners or those looking for a more relaxing paddle without breaking a sweat. There are several sandy beaches around the reservoir that are great for a picnic, a day at the beach, or a bonfire when the sun starts to set. Why not do it after some kayaking or canoeing? Remember, these boats are best when they enhance another activity!
3. Cherry Creek Reservoir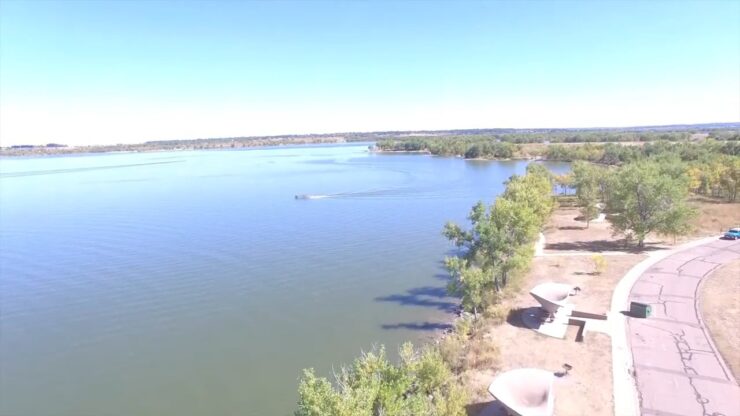 Cherry Creek Reservoir is located east of Denver and is another popular spot for flatwater kayaking and canoeing. The reservoir is relatively small, with a surface area of around 880 acres, but it offers a peaceful paddle surrounded by beautiful mountain scenery. It is best suited for shorter kayaks and canoes, between 9' and 12'.
There are several launch points around the reservoir and the water is mild and calm year-round. It is a great place for beginners. Those who want something more serious will probably be left a bit disappointed though. The scenery does make it worth it, however! The nearby Cherry Creek State Park offers opportunities for hiking, camping, and fishing, too.
4. Poudre River
The Poudre River is north of the city of Denver and has a variety of opportunities for kayaking. The river is divided into three sections, each with different difficulty levels. The Upper Poudre is Class II and III, the Middle Poudre is Class III and IV, and the Lower Poudre is Class II and III.
There may not be Class V rapids anywhere, but that does not mean that this run is not without challenges. The river is characterized by narrow canyons, steep drops, and boulder gardens, making it a challenging but rewarding destination for experienced paddlers as well as those who want to take their paddling a step further. The river is surrounded by beautiful mountain scenery with opportunities for camping and hiking in all directions.
5. Upper Colorado River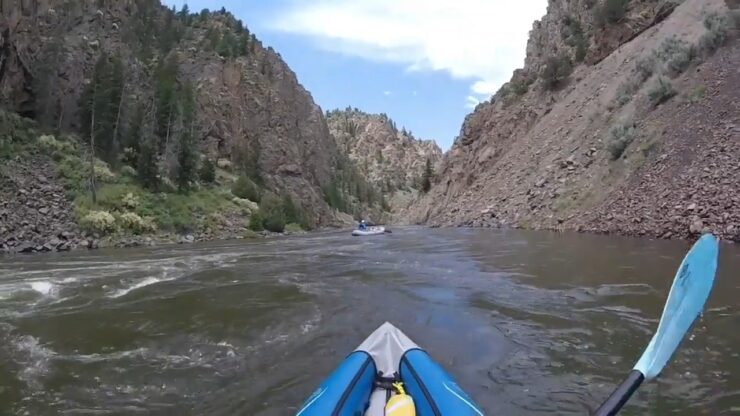 Last but definitely not least, the Colorado River itself. Well, the upper part of it. The Upper Colorado River is located west of Denver and offers a peaceful paddle through some of Colorado's most stunning mountain scenery.
The river is relatively flat, with only a few Class I and II rapids, making it an ideal destination for newbies and inexperienced paddlers or those looking for a relaxing paddle as a break from something more demanding.
The river runs through the Colorado River Headwaters Scenic Byway which has some of the best views of The Rockies. The area is also home to a variety of wildlife like the famous bald eagles, the elk, and the bighorn sheep. There are several launch points along the river while the nearby towns offer opportunities for dining and accommodation.
Conclusion and Takeaways
As you can see, while they may not yet be as popular as skiing and snowboarding in Denver, kayaking and canoeing are very well-represented in terms of destinations. The whole of Colorado, with plenty of opportunities to explore rivers, lakes, and reservoirs, is ripe for the taking if you are an avid canoer or kayaker.
Denver itself has many opportunities in its immediate surroundings with plenty of outdoors worth exploring. From the challenging rapids of Clear Creek and the Poudre River to the tranquil waters of Chatfield and Cherry Creek Reservoirs, there is something for every skill level and interest.
No matter how good or how often you paddle, coming to Denver is a must. So whether you are an experienced veteran who has seen it all or an inexperienced amateur still learning the ropes, Denver has plenty of options.

Meet Maria Alexander, the fearless adventurer steering the ship at KayakPaddling.net. Her mission? To convince you that life's too short for dry land and that the best stories always start with "So there I was in my kayak…"