These best kayak anchor systems for anglers make it easy for you to keep your kayak in place while you are fishing and enjoying it.
Kayaking is all about being in motion and exploring the waters. At times you want to move forward to a place where you can stay longer and enjoy the lake. It is something that a kayaker indulges in. However, you don't want to drift away when fishing in windy conditions, choppy water, and anywhere with just a slight current. Hence, you need these best kayak anchor systems for anglers! So that you can have a safe ride!
Choosing the best kayak anchor systems for anglers can be challenging. But this review will go over some of the famous and high-rated kayak anchors and provide you with all the dependable options. Therefore, making it easy for you to make better choices for your kayak fishing needs. All the mentioned Kayak anchor systems are readily available on Amazon! So read and pick before you find yourself slowly floating down the river!
Top Picks Kayak Anchor System For Anglers
1. Best Marine Kayak Anchor – Kayak Anchor System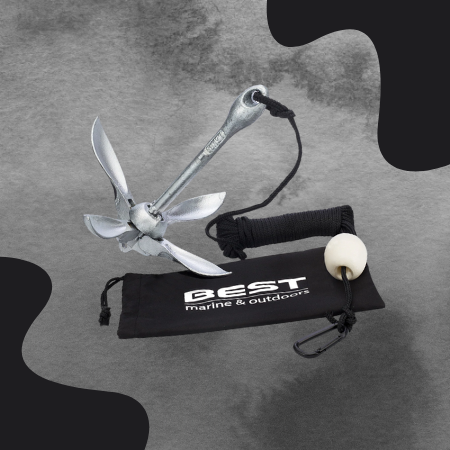 First up, we have the Best Marine and Outdoor stores kayak anchor, a compact folding anchor engineered with galvanized iron. This galvanized iron makes it rust-resistant and long-lasting since the anchor comes in continuous contact with water. Additionally, this anchor weighs 3.5 pounds, making it the best option for kayaks, paddleboats, small boats, and jet skis.
This best kayak anchor system for anglers comes with a buoy ball, stainless steel carabiner clip/steel nap hook, and a 40-foot marine-grade rope. It is a complete kit so that you can enjoy fishing on any side of the water with comfort. Along with that, the recurved scooping designs allow you to dig into the soft bottom and stay put. Moreover, it measures 12″ x 3″ and is easy to store just about anywhere.
Moreover, this kit has a collar that you can easily slide up to layout the flukes and then slide down to keep them locked, and you are also secured. This anchor also works on rocky surfaces and saltwater. With all the essential accessories with this anchor kit, you don't have to search around the crucial parts separately. I tend to like the aesthetic aspect of this anchor, which makes it more reliable and durable.
Pros
Compatible with a trolly
Works on multiple bottoms
Rust resistant
Galvanized steel
4-fluke anchor design
Durable marine-grade rope
Reliable
Cons
Expensive
The small buoy can get lost easily
This kayak anchor system can conveniently be attached to an anchor trolly. You can stay on the kayak for an extended period without the worry of rambling away. This anchor kit also includes a handy nylon storage bag padded inside. Thus, it benefits in protecting both the kayak and the anchor from damage. Remember that it fits perfectly into the system making it more robust, and you can easily switch positions without any trouble.
2. Extreme Max 3006.6548 Anchor Kit – Fishing Kayak Anchor System
This complete anchor kit is an excellent accessory for your kayak, paddleboards, and small boats. Moreover, it Includes a folding anchor, 25-inch rope with plated steel snap hook, marker buoy, and a storage bag. Similarly, the storage bag is also made up of nylon and is padded, due to which your anchor and kayak will be safe from potential damage.
The anchor's hold is secure and does not loosen from the marine-grade rope while you are fishing. It also has a collar to lock the flukes that prevent sinking and ensure that the water stays out. Moreover, after use, you can fold the anchor effortlessly. It is a great anchor, and I use it whenever I go out kayaking in the ocean. Hence, making it very reliable.
Along with that, it is small, lightweight, but big enough to hold any of your positions while you are fishing in a river with a gritty bottom. The marker buoy is made of durable marine-grade foam, which means that it has a fantastic amount of strength compared to its weight. Moreover, it has an excellent and affordable price which comes with astonishing benefits.
Pros
Reliable
Secure hold
Hold on to heavy surfaces
Easy to use
Rust-resistant
Durable
This anchor is included in the best kayak anchor systems for anglers. Moreover, the anchor Kit proudly incorporates a 25 inches high-quality hollow-braid polyethylene anchor line to keep your boat tight and firm. It has a naturally quick-drying quality that has remained structurally safe and sound for years. This brand will never disappoint you with the quality and durability of its product.
3. Gradient Fitness Marine Anchor – Kayak Shallow Water Anchor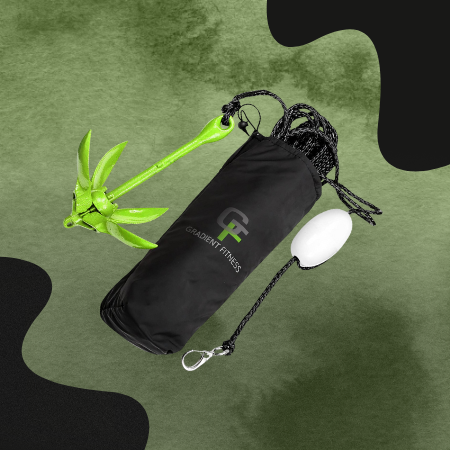 This folding anchor from Gradient Fitness is compact as well as convenient. It weighs 3.5 pounds, making it lightweight, and can be easily stored on the kayak and used when needed. It is considered one of the best kayak anchor systems for anglers designed to be rust-resistant and comes with a 25 feet rope.
In addition to that, this kit includes a flotation buoy made from PVC. Thus, making it conditioned and with excellent mechanical strength. Moreover, this anchor system holds hard on sandy and rocky surfaces. It is also easy to use and friendly for any environment. Besides that, it is designed to anchor a kayak, paddleboard, and jetski also.
The anchor kit also includes a stainless steel clip and a carry bag. This carry bag is handy and padded, which keeps the kayak and anchor guarded. The anchor is green in color, making it visible in the water. Therefore, you can easily find the anchor and make it work the way you want. It shows durability, thus, making it adjustable to any environment and location.
Pros
Lightweight
Durable
Rust-resistant
Easy to store
Easy to carry
Has a firm grip across various surfaces
Attaches quickly
Small in size
Attaches to every bottom
Cons
The rope is not long enough
Not suitable for salty water
It is considered one of the best anchor systems for anglers. Therefore, making it the highest-rated on Amazon. It has a friendly design and is suited for kayakers who paddle in rougher and rocky water. Moreover, it holds well even on windy days on the lake, river, or beach. In short, it is highly recommended for personal and professional use.
Guide To Pick The Best Anchor Systems For Anglers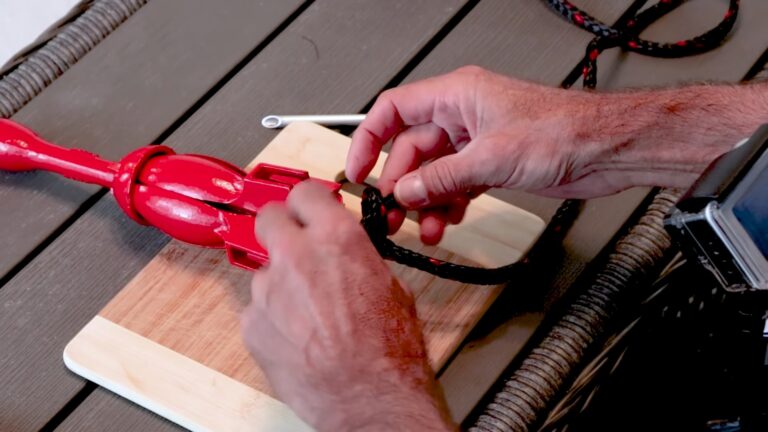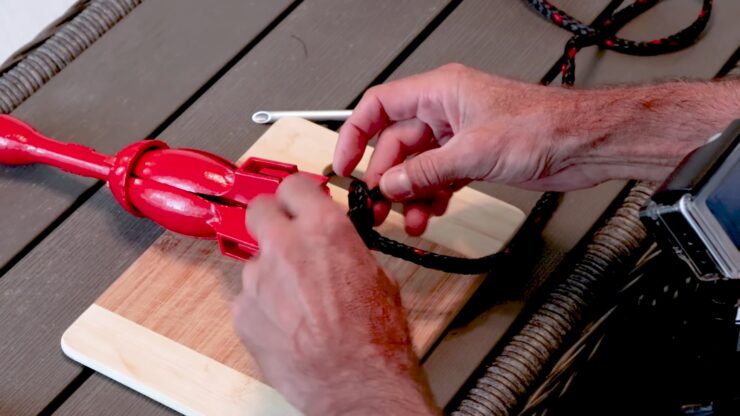 While looking for the best anchor systems for anglers, many things to keep in mind.
This buying guide will take you through everything crucial that should be considered before choosing. You will find many options available, but with the help of this guide, you will find your ideal anchor and save yourself from regrets. Let's begin!
1. Size Of The Anchor
It Is the most critical part while choosing the anchor. You must determine the size of the anchor according to your kayak before you purchase it because every kayak has a weight limit.
For example, if the kayak is small and lightweight, then you need to buy an anchor that can quickly get buried in the bottom and keep your kayak in place. On the other hand, if your kayak is more prominent in size, you need to get an anchor with more pull power.
2. Weight

The weight of the anchor system should be a concern before purchasing it. Hence it will determine how well the anchor will hold your kayak for a long time.
Therefore, a smaller kayak requires a high-weight anchor to have in place. Similarly, a heavyweight anchor requires a lot of space. So, you should make sure that there is space in your kayak to keep the anchor along with the other equipment safely.
3. Design
A kayak anchor comes in various designs such as grapnel, mushroom, and deadweight. However, the best option for you is to choose the suitable one for your kayak.
The grapnel design anchor is considered the most wanted among the three. This design allows the anchor to hold on to your preferred point while you can easily carry on with your fishing or other work.
4. Length Of The Rope

Finding an anchor with more rope than the river's depth is crucial. Sometimes a very long rope might get tangled on the bottom.
Therefore, the convenient way is to use a rope that is six times longer than the depth of the water. This way, you will be able to find the anchor with the exact size of rope for your kayak, and you won't face any problems while you are in the water.
5. Accessories
Most anchors are sold without any other accessories that are also useful. Therefore, whenever you purchase an anchor system, you should opt for the one that comes with a complete kit, including all the accessories, such as a retrieval ring, rope, and handy storage bag that is padded.
These accessories are essential, especially the padded storage bag because it protects your anchor and kayak from scratches and damage.
FAQs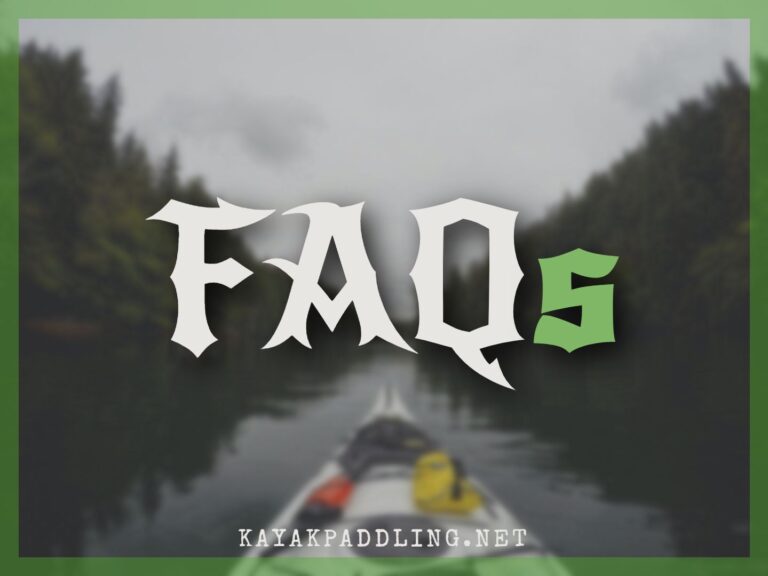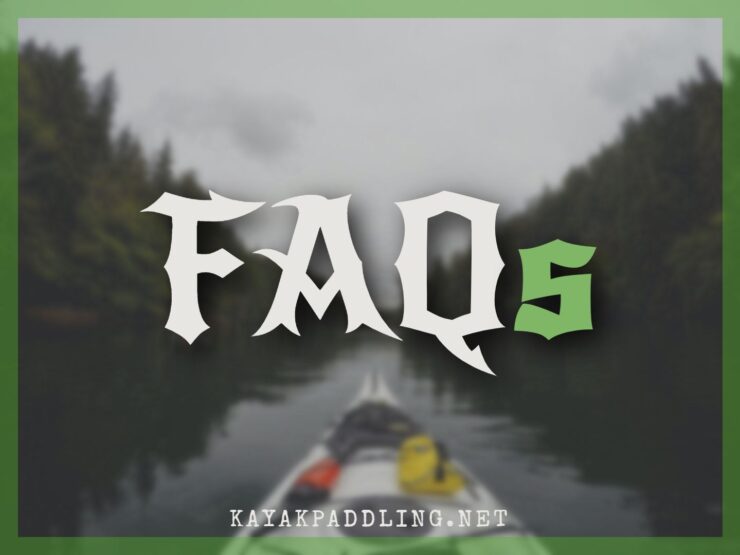 1. How do you remove a stuck kayak anchor?
Sometimes the anchor gets stuck on the rock or any other obstacle. All you have to do is point your kayak above the anchor and drag hard straight. Thus, releasing it from the bottom of the water, you can quickly go on. Another way to remove a stuck kayak anchor is to move your boat in a large circle while pulling the anchor tightly.
2. Do I need an anchor for my kayak?
It is sometimes necessary to have an anchor for your kayak. They are a good choice for those who love fishing in the deep waters. These anchors secure your kayak while you are fishing in saltwater. Moreover, wind, tides, and even current in water affect the location of your kayak but with the help of these anchors, you can position your kayak accordingly.
3. How heavy should a kayak anchor be?
A kayak anchor should be heavy enough to hold your kayak in a safe position without putting any unnecessary weight on it. For a smaller kayak, you need an anchor with a weight of approximately three pounds, and for a larger kayak, you need a five to seven pounds anchor if you are planning to paddle waterways with wind or current. Hence it will hold to the bottom properly, whether sandy, rocky, or gritty.
Final Verdict
Choosing the best kayak anchor systems will not be a problem anymore. The most important thing is to choose the one with unique features and how they will affect your fishing experience. The above-mentioned best kayak anchor systems for anglers will solve your fishing problems.
They have special features such as durability, reliability, ease to use, and most importantly, they come with a complete kit, including a storage bag. Therefore, one of the most recommended kayak anchors is,
Best Marine Kayak Anchor has a 4-fluke anchor design and works on multiple bottoms with rust-resistant capability.
Having the best kayak anchor is a necessity for any kayaker. Therefore, this guide will help you make the right decision and provide you with safety and assurance as every product is thoroughly examined personally.
Hopefully, this article has helped you find the best kayak anchor system for anglers that fits your requirements. Hence, you will be confident to leave the anchor in the water and enjoy every second while fishing or taking photos!