Deciding between many different brands is not always easy. As it turns out, it is rarely simple and straightforward. Much more often, the final decision comes after days and months of evaluation and comparisons because that is how long it takes one to choose between the many options on the market. For kayaks, all of this is more than true since there are so many brands out there, each with dozens of different models and varieties.
Kayaking is an engaging and fun activity, but it cannot be done optimally and offer the ultimate experience if the kayak does not suit your wishes and needs.
Choosing the kayak can only happen when you pinpoint the right brand that you identify with, one that speaks to you more than others. One of the most popular brands of all things that relate to kayaks is Lifetime. Lifetime kayaks are strong, durable, and long-lasting, and they come in many sizes and types. In this article, we review their full lineup in 2023.
1. Wave 60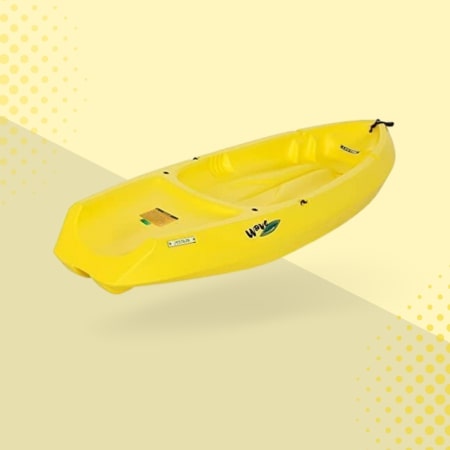 The smallest of the bunch as well as the simplest model available by Lifetime is the Wave 60. It is only 6 feet long and 24 inches wide, and it weighs 18 pounds. Its load capacity is 130 pounds.
It is perfect for kids and smaller adults who are beginners. One paddle is included, it is available in a few bright colors, and it has a carry handle. There is some space in the back for storage but not much. It does not have a seat.
2. Hydros Angler 85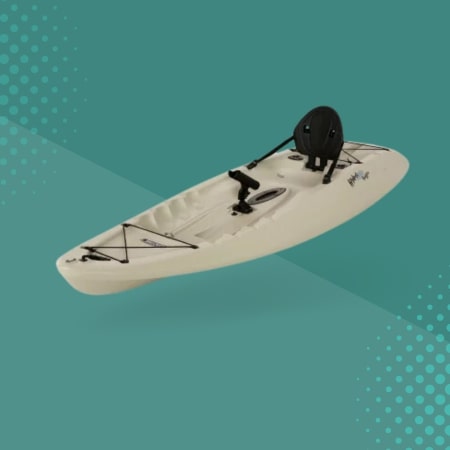 Here is the first of the actual, full-sized kayaks that look the part and have all the features. This one is 8 feet 5 inches long and 29.5 inches wide. It can carry 225 pounds of load and it weighs 38 pounds.
The Hydros 85 model has two storage sections (bow and stern) covered with bungee cords. There are two carry handles and an adjustable backrest. It even has a fishing rod holder. In the package, you also get a paddle. Affordable, simple, and convenient, it is a great entry model for those looking to learn the ropes the right way.
3. Lotus 80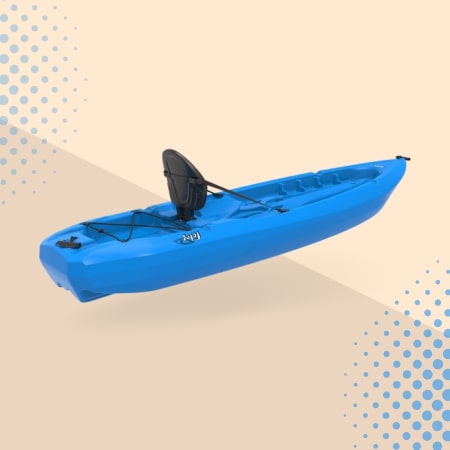 The third kayak on the list is the Lotus 80, an 8-foot long, 29-inch wide vessel that weighs 36.5 pounds. It can carry 250 pounds of load, most of which will be stored in the singular storage space covered by bungee straps, located in the back.
There is an adjustable backrest, two carry handles (bow and stern), and a paddle included in the package. This is a great option for recreation in lakes and as such the perfect option for some lighthearted, occasional paddling in the summer.
4. Spitfire 9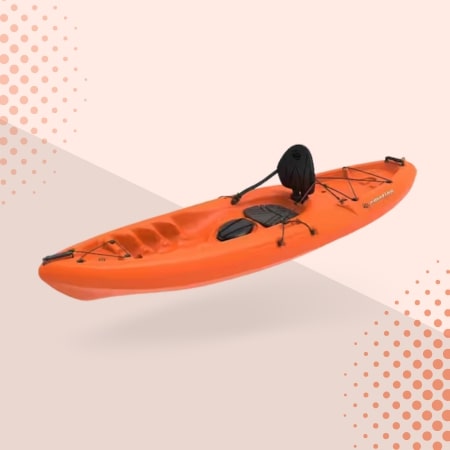 With the Spitfire 9 by Lifetime, we are now among kayaks longer than 8 feet. This one is 9 feet in length, and 31 inches in width, and it weighs 45 pounds. It can carry an amazing 350 pounds of weight. There is a large storage area in the back and a very small one in the front. Both have bungee tie-downs.
The star feature of this model is the watertight cargo seal. This is the first kayak on the list that has a dedicated seat apart from the adjustable backrest. It is not the most comfortable out there but still a good inclusion. There are two carry handles for easier handling. A paddle is not included.
5. Guster 10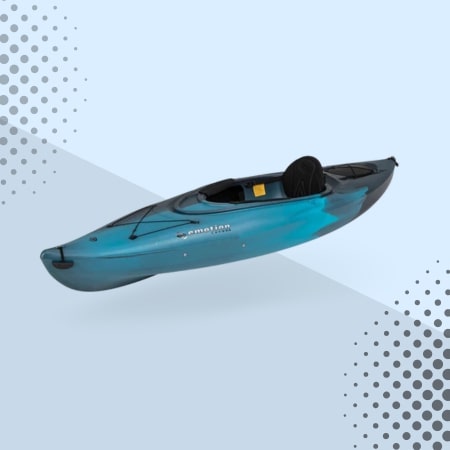 A whole foot longer than the previous model and the first sit-inside kayak on the list is the Guster 10. It is 10 feet long and only 30 inches wide, a combination that allows it more speed and better tracking, but less stability and slower turns. It is great in slow rivers and sheltered lakes. It weighs 48 pounds and it can carry 275 pounds of load. It has two bungee-covered storage units, a hatch for under-the-deck storage, two carry handles, and a dedicated, padded seat with a backrest. No paddle is included.
6. Tamarack Angler 100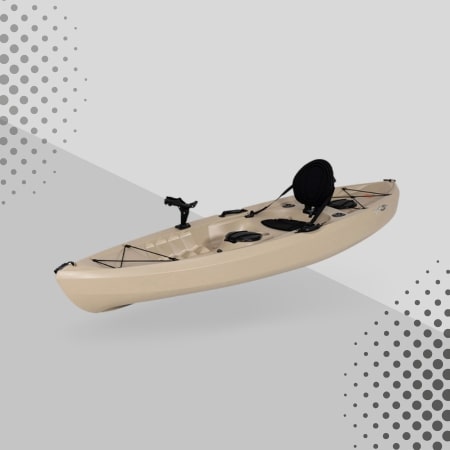 Here is one of the better-equipped Lifetime kayaks made specifically for anglers. It is 10 feet long, 31 inches wide, weighs 51 pounds, and can carry 275 pounds of load. It is another sit-on-top model with 2 bungee cords, 4 carry handles, 2 watertight hatches, and 3 fishing rod holders (2 flush-mounted, 1 top-mounted).
The seat is padded and the backrest is similar to the rest of the kayaks mentioned above. There is a pad included in the package. This is a very stable and maneuverable kayak great for an amateur kayak fisherman.
7. Payette Angler 98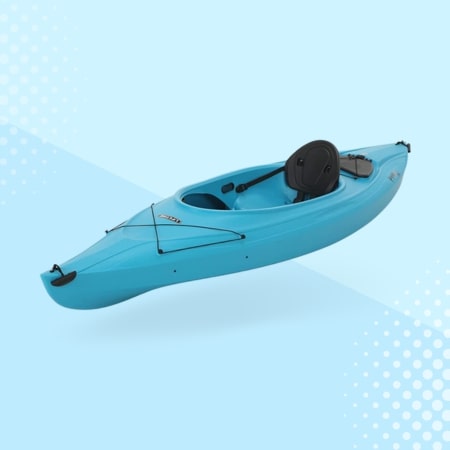 If you like fishing from a kayak but prefer doing it from a sit-inside model, this one is for you. It is 9 feet 8 inches long, 30 inches wide, weighs 44 pounds, and can carry 250 pounds.
This one does not have a paddle, and it has no padded seat, but there is a backrest, 2 flush-mounted rod holders, one top-mounted rod holder, and 2 carry handles. Bungee cords are present in the front, on the side (paddle holder), and in the back. The one in the back sits on top of a hatch that has plenty of under-the-deck storage.
8. Tamarack Pro 103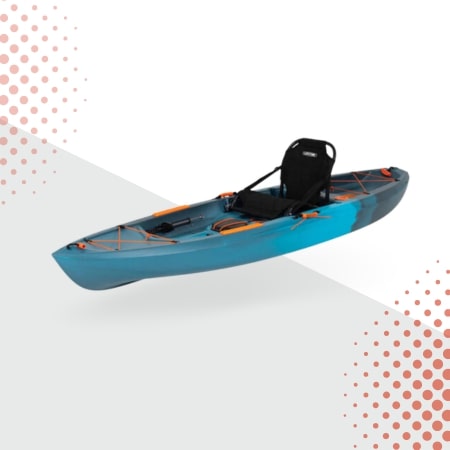 For anglers, 10-foot 3-inch long, 31-inch wide, 57.5 pounds, 300-pound load capacity, sturdy, strong.
Forr skilled anglers, comfortable seat, backrest, foot braces, paddle keeper, storage hatch, bungee cords, rod holders, very stable
9. Manta 100 Tandem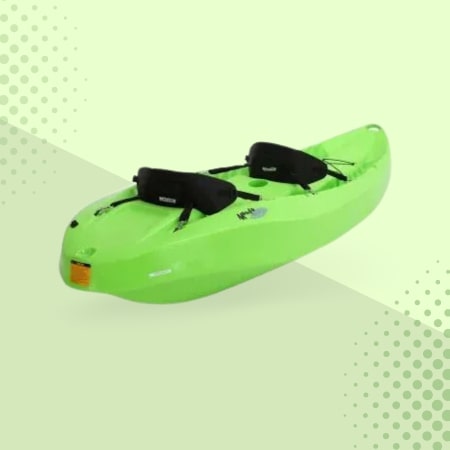 The Manta 100 Tandem kayak is designed for two paddlers seeking adventure on the water. It offers stability, maneuverability, and ample storage space for a comfortable and enjoyable paddling experience.
10-foot long, 36-inch wide, 73 pounds, 500-pound load capacity, seats two paddlers, 2 paddles.
10. Triton 100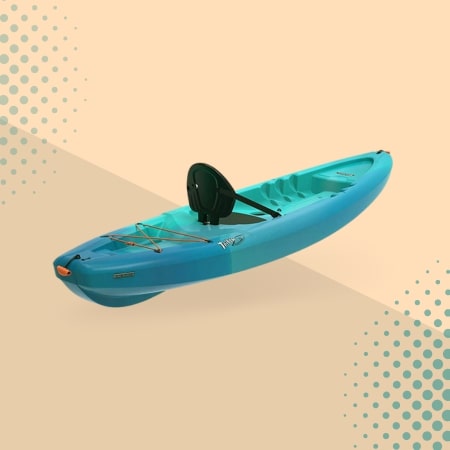 The Triton 100 kayak is a versatile and affordable option for solo paddlers. It features a lightweight design, comfortable seating, and convenient storage for a hassle-free kayaking experience.
10-foot long, 30.5-inch wide, 48 pounds, 257-pound load capacity, dedicated seat and backrest, paddle, bungee cord, carry handles
11. Stealth Angler 110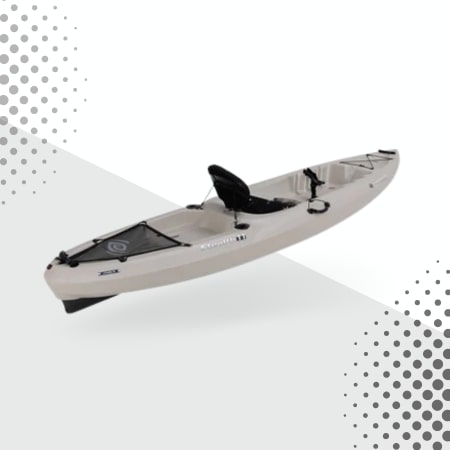 The Stealth Angler 110 kayak is the perfect choice for anglers seeking a high-performance fishing kayak. It offers stability, comfort, and ample storage space for all your fishing gear.
11-foot long, 30.5-inch wide, 59.3 pounds, 300-pound laid capacity, 3 rod holders, 2 bungee cords, plenty of room, waterproof seal hatch, 4 carry handles, seat, backrest
12. Stealth Pro Angler 118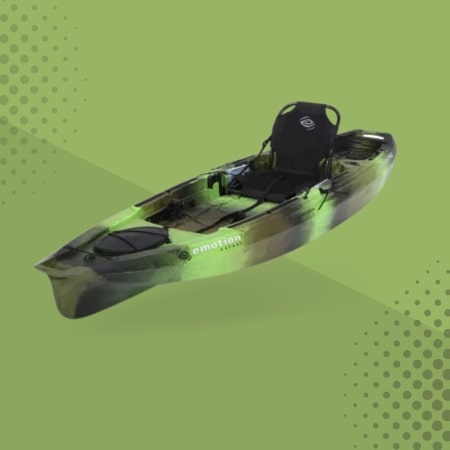 The Stealth Pro Angler 118 kayak is a top-of-the-line fishing kayak designed for serious anglers. It features advanced features such as pedal drive propulsion, premium seating, and an array of fishing accessories. 11-foot 8-inch long, 32-inch wide, 85 pounds, 375-pound load capacity, very stable, plenty of room, bungee cords, paddle, carry handles, rod holders, comfortable and adjustable seat with backrest, big sealed hatch storage