A rowing machine is a great way to build up the muscles in your legs and back, which are used for kayaking. These machines can also be very effective for cross-training purposes. It is not necessary to own the best home rowing machines for this purpose, however.
Many people who enjoy kayaking would rather go out on their paddle boat than work out on any given day. But this means that they will not be able to continue to improve their endurance or obtain new muscle tone since they do not exercise regularly.
The best solution for this problem is to find alternative workouts that include the same muscles as paddling such as cycling, swimming, hiking, and running (or rowing machines).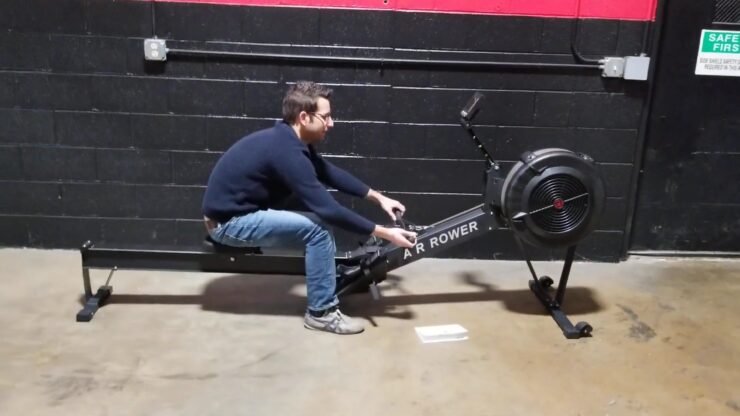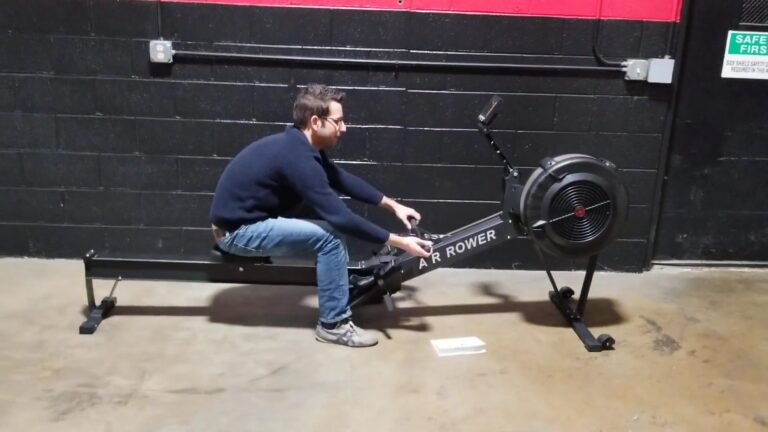 Swimming is a great way to do this, but again not everyone enjoys swimming and many people prefer other forms of exercise. The best solution for these kayakers would be to invest in a rowing machine.
Some of the benefits are:
Rowing machines can provide a low-impact workout for people with joint pain
The rowing machine offers the same type of muscle engagement as kayaking
Rowing machines are very easy to use and offer different levels of resistance
You can grow indoors or outdoors, depending on your preference
A rowing machine will help you get in shape and stay fit for this summer's adventures!
Top Picks Home Rowing Machines
1. Concept2 Model D – Export Your Workouts to a USB Flash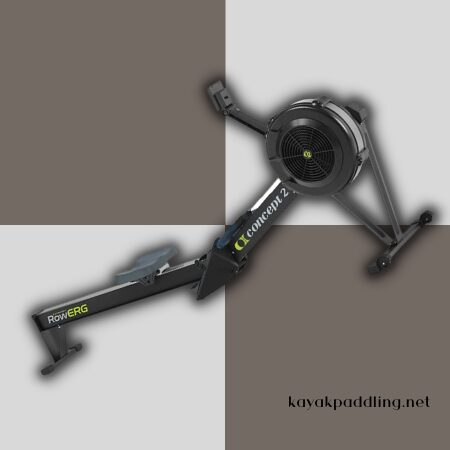 A top-of-line rowing machine and a bestseller, if you want to get this to practice and be really serious about your training the Concept D Indoor Rower is the machine for you.
With high-tech data collection that will track your progress and how you do on each pull, this machine is the best way to control your workout. Truly top of the line.
Quick assembly
Smooth with minimal noise
You can even export your workouts to a USB flash
5-year warranty
2. Sunny Health & Fitness Magnetic Rowing Machine Rower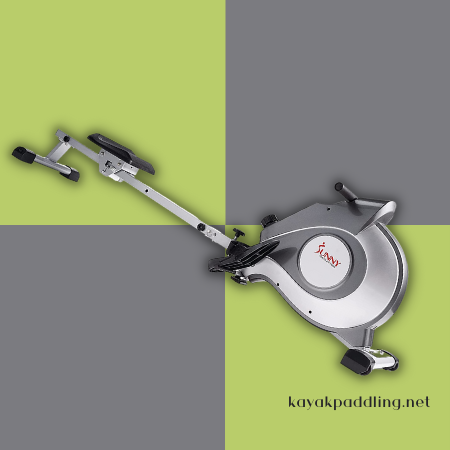 A more budget-friendly option with magnetic resistance. The price does differ from the premium model but it is important to know that even a machine like this will give you an amazing workout.
This one also has an LCD monitor that does show a bit of data, but is much simpler than the top models. Still a great machine that is durable and convenient.
Resistance levels are super easy to change
Has little transportation wheels
The slide rail fits all types of people
The nifty monitor cons calories
3. STRONGKICK Air Resistance Rowing Machine – Best LCD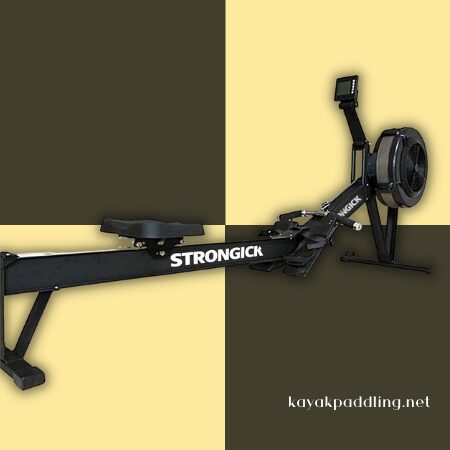 The Strongkick is an air resistance rowing machine that will track your data and keep it updated with your fitness app via Bluetooth. A bit cheaper than high-end models it still rocks a lot of features and it is made of high-quality materials. The ergonomic design is top-notch.
Has a strong frame which is actually super portable and light
Great padded seat and footrests
The LCD looks great
Can be disassembled really fast
4. SNODE WR100 – 16 Hydro Blades That Simulate Water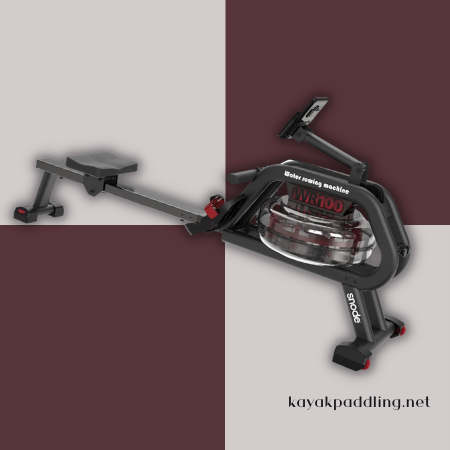 The Snode is promising a water resistance rowing experience that is perfect for any rower. The good thing is this is the best value for your buck option and you can't go wrong with this one.
The weight capacity is 331 lbs so if you're really a big guy you need to choose something stronger. It also rocks a bunch of tutorials that you can find on their site. Cool stuff.
Has 16 hydro blades that simulate water
Cool LCD screen that counts all the things you want to count on a machine like this
Will deliver a full workout experience
Has a nifty tablet or phone holder
This machine can help kayakers because it will allow them to work out any time and still maintain the ability to go kayaking every weekend or vacation that they wish.
This means that they can get into shape without having to miss opportunities to enjoy their favorite pastime as well as maintain the strength and endurance needed for paddling efficiently over long distances as well as shorter sprints such as those needed when competition arises.
Rowing machines are also very effective at building up upper body strength which is necessary for using paddles properly since most of the power and control comes from the upper body and arms.
They are easy to maintain and store. For those kayakers who want to continue exercising while on vacation, this is a great solution since many hotels have fitness centers with rowing machines included in them.
Rowing machines also provide a full-body workout which will help tone muscles that may get overlooked when just working out one portion of the body such as individual muscle groups or specific parts of the leg like running does for example.
Rowing machines are highly recommended for any person who wishes to exercise regularly while still maintaining their current lifestyle without giving up opportunities to do what they love most: kayaking!
FAQ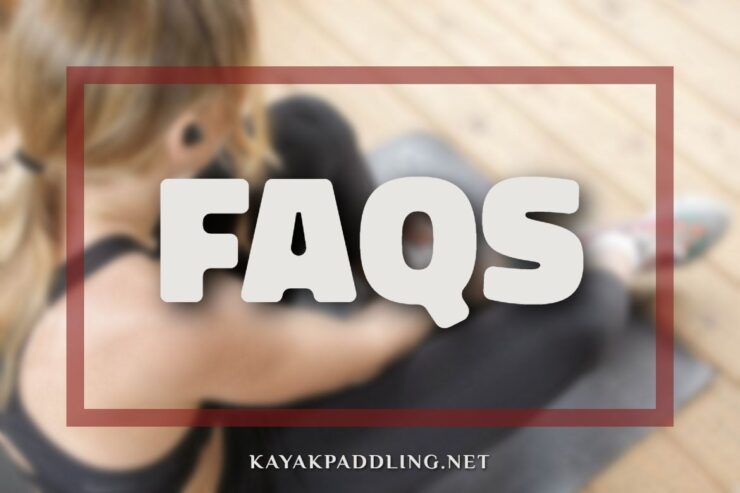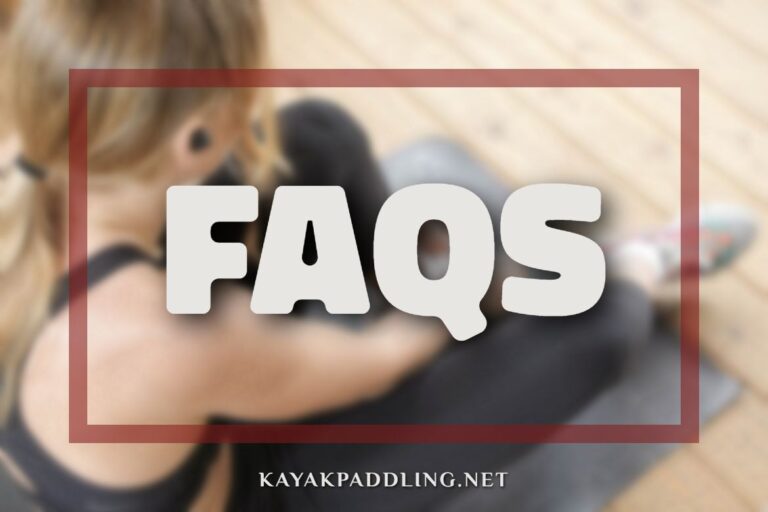 1. How much does a rowing machine cost?
Rowing machines vary in price between $100 for the simple models, up to $5000+ for the most luxurious of them. The more expensive rowers are usually equipped with more functions and features so it may be worth investing your money if you plan on using them regularly or intensively.
Lower quality rowers can break easily so think about what exactly you need before spending too much money on one single machine that won't last long.
2. What is the best type of rowing machine?
Generally speaking, there are four main types of rowers: air resistance, magnetic resistance, hydraulic resistance, and water resistance. Each has its advantages and disadvantages but all will serve you well for cardio workouts.
Air resistance rowers are usually the cheapest, they don't require electricity to work and they can be easily moved around. Their main disadvantages are noise level and slight discomfort during use. Magnetic resistance models are slightly more expensive but offer smoother motion.
They come with different levels of resistance which makes them suitable for beginners as well as experienced athletes.
Hydraulic rowing machines combine advantages of both previous types (and some other features too) without major disadvantages aside from their bulky size, which could make them difficult to store or take on your travels unless you have a big car or transport it in pieces.
Water resistance rowers should only be used indoors because they will cause water damage if taken outside (unless you buy one specifically designed for this purpose). They produce almost no noise and they come with different levels of resistance and preset programs. Depending on the model, they can be great for indoor rowing races.
3. What is a Concept2?
Concept2 is one of the most popular rowing machine brands in the world, they represent high-quality products that will serve you well if taken care of properly (see question 5).
4. Which type is better: air or magnetic resistance?
Air rowers are usually cheaper, therefore more people own them which means they tend to break down faster. It's also possible that some features like a heart rate monitor may not work properly (see question 5) and if it is an older model then spare parts might be difficult to find.
Magnetic rowers are usually more expensive, but they have lower noise levels and some models have built-in fans which add price to it. They're also more durable and the resistance levels can be adjusted according to your skill level.
5. What should I look for in a rowing machine?
Fitness goals: you need to take a decision whether you want to use it mainly for cardio or training purposes.
Most machines provide preset programs but if you plan on using them only a couple of times a week then probably you won't need anything too complicated with lots of different resistance levels that would also increase the cost of the product, or there's no point in spending money on something that will be used only for warming up before other fitness exercises.
Storage: if you don't plan on moving it around the house or taking it with you when traveling, then it's best to get something that is either foldable or comes in parts. Check the dimensions carefully because some models are too big even for users 6'1 feet high and 240lbs (for example).
Portability: if your main goal is to get into shape while at home then it's better to go for something that is not too heavy – this way you won't be struggling with lifting out of storage after a long period of non-use.
Some rowers can take up space bigger than a treadmill so make sure to measure the available space before buying. Warranty: this one is going to be a big deal if you want to use the machine for some serious cardio training.
Some models have a 3-year warranty while more expensive ones can offer 10 years of coverage on frame and 5 on parts. The higher price also shows commitment from the manufacturers towards their products but it doesn't mean that cheaper models are not durable or reliable – they just tend to have a shorter warranty which might not matter if you don't plan on using your rower every day.
Other features: there's no point in buying something that has few preset programs and no resistance levels because most workouts require changing between different resistances; a heart rate monitor is usually only found in more expensive machines; speakers and fans can be fun but most people probably don't need them.
6. I can't afford a Concept2 or WaterRower – what other brands are there?
It's not like you're missing out on something if you buy another brand but the only reason to do that is to save some money; in this case, it would be important to know what kind of warranty will cover your machine; they might not all be made equal (see question 5). Other options include Stamina, BodyCraft, and ProForm.
These companies make reliable machines designed for home use with less advanced features than top models by better-known manufacturers, but they won't cost you an arm and a leg either.
Keep in mind that most home growers don't come with workout DVDs so unless you want to use the machine only for watching TV while exercising, make sure to check out what accessories are included in the price or you'll have to buy them separately.
7. How do I properly maintain my rowing machine?
It's best to store it in a cool dry place and wipe it after every workout with a damp cloth. There isn't really such thing as "maintenance free" so if your rower has moving parts be sure to grease it from time to time – but remember to read instructions first because some bearings need special tools which can be quite expensive if purchased separately (i.e: Robertson head screwdriver).
Keep in mind that water and electricity don't go well so avoid getting any water inside the console or motor.
8. Is Using A Rowing Machine For Kayaking Good For Therapy?
One of the most common ways in which people use a rowing machine is for therapy. In our busy lives, it seems that we sometimes forget that our muscles and joints ache from time to time. If this is the case, then a 'therapeutic workout' on a rowing machine may be just what your doctor ordered.
People with musculoskeletal disorders, back pain and the like often find relief when they use a rowing machine.
With all that let's end our article and we hope we have you excited about some rowing machines. They are truly a great way to stay in shape.
If these weren't enough, take a look at these products that are available right now on Amazon:

Adelaide Gentry, a seasoned kayaking enthusiast and expert, is the driving force behind KayakPaddling.net. With over a decade of experience navigating the world's most challenging waterways, Adelaide combines her passion for adventure with a deep knowledge of kayaking to provide insightful and practical guidance for paddlers of all levels.