The name Intex Explorer K2 Kayak has become really popular in the last few years. Intex is a name that almost anyone can trust because they offer the widest range of inflatable boats. Especially, when it comes to fulfilling your leisure time needs, you need a kayak that will provide you the support and stability you need when on water.
Image
Intex Explorer K2
Name
Intex Explorer K2 Kayak, 2-Person Inflatable Kayak Set with Aluminum Oars and High Output Air Pump
That can only come from Intex where you won't have to spend thousands of dollars yet you will be able to get an amazing yak that will last you for a long time.
This yak comes with all the essential features you need to have a good time on and off the water. Whether you're a kid or an adult, a beginner or an expert, a saver or a spender, the Intex Explorer K2 comes with everything you have been looking for. In this article, we are going to provide you with all the details you need to know before making your purchase.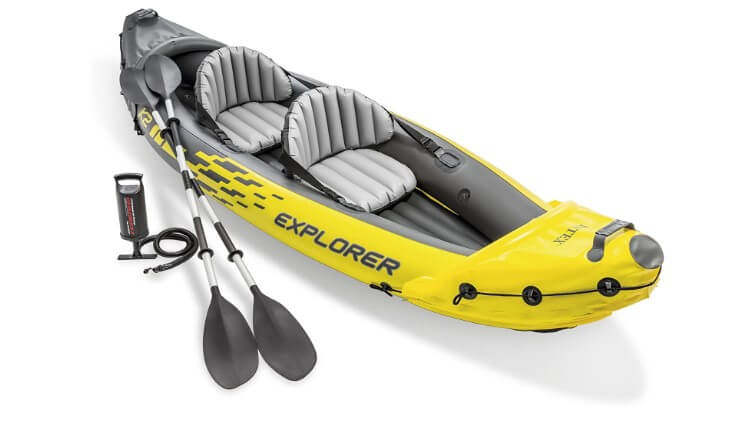 Features: Intex Explorer K2 Kayak Review
Length – 10.25 ft
Width – 36 inches
Weight – 30.60 lbs
Max Weight capacity – 400 lbs
Basic Information!
The Explorer K2 Kayak is an affordable, two-person kayak. The best thing about this yak is that it comes with all the additional accessories you will need to put it on water. You won't have to make any extra purchases, maybe a gas tank for your own feasibility but other than that, it is really easy to set up and you can get it going as soon as you make it hit the water.
The overall construction of the boat is from premium vinyl which is highly resistant to all kinds of punctures. Along with that, the boat features two air chambers that will keep the yak afloat even if one of the chambers hits a bump. You will have enough time on your hands to get the boat to safety and get off of it.
Overall Construction
It is manufactured out of premium quality vinyl that makes both of its chambers highly resistant to various kinds of punctures and keeps the yak from ripping apart. The reason why Intex used vinyl is that it is rust and corrosion resistant, highly durable and rigid, very strong, and is also capable of resisting moisture.
As far as the quality of the material is concerned, we won't say it is very strong but it does the job well so we don't have to worry about that. We tested it for quite some time however, we should tell you that do not expect it to function solidly after a few months. Once you start using it regularly, as time will pass, the boat will be more prone to punctures.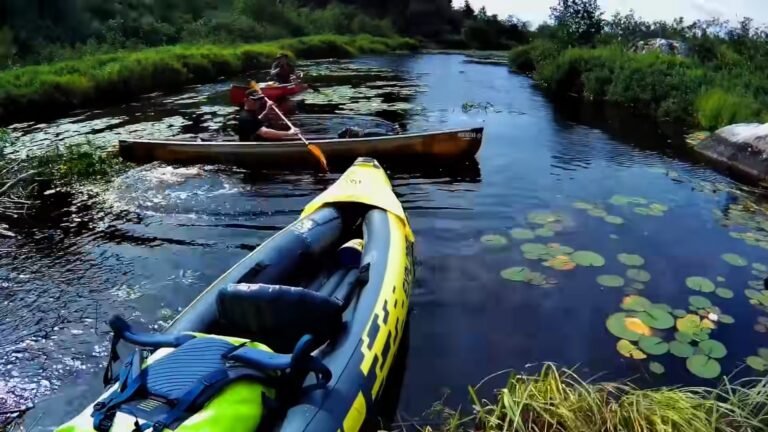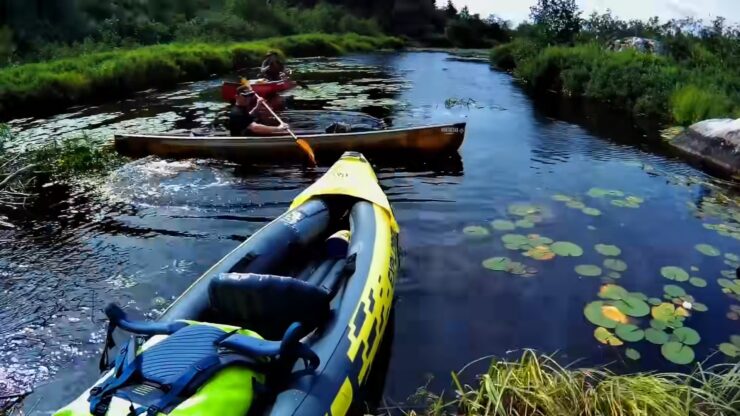 Highly Stable
Since the Explorer K2 comes at a very affordable price point, we really did not think that it will do well but it did and that left us shocked. The yak is extremely stable, especially on calm water but it also does the job on flowing water. This is mainly because of its large width. It keeps the yak from wobbling and provides utmost stability to the user so he can easily stand on it and enjoy his time.
However, we will not suggest that you take this yak on surfing water. It won't be able to withstand strong waves because of its weight and you will probably be risking your life. The maneuverability is also very easy. You only need to make one or two strokes and the yak will change its direction.
Comfortable
This kayak comes with adjustable seats that feature extra cushioning to make you comfortable. The seats are not that good so you may be able to spend an entire day on it but they work just fine for short and concise trips. Another thing that we should mention here is that once you put both these seats together, there will be very little room for your legs so that might be something that will make you not feel at ease.
The maximum weight capacity of Intex Explorer K2 is 400lbs which is more than enough for two people. It will keep you stable and you will be able to enjoy fishing and paddling with much ease.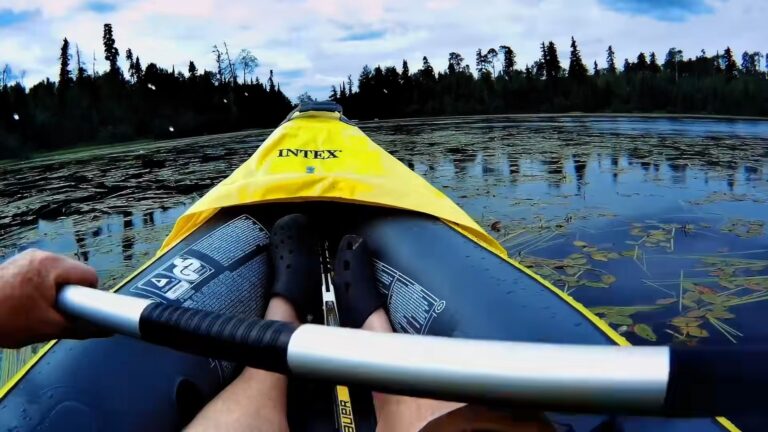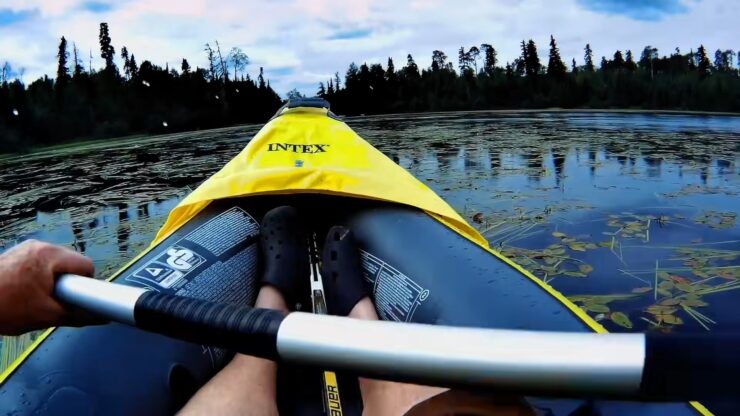 Performance
The Explorer K2 performs really well for recreational trips. It isn't meant for competition because you won't be able to get a high level of speed out of it. It's smooth and very fun to move around if you just want to lay low and relax for hours to come.
The tracking of this yak is also very accurate which was another surprising fact for us since lightweight yaks do not track well. It stays accurately in the direction you want it to be on and you won't have trouble stringing it along.
For its price, the yak also offers great storage space. It has sufficient space on the stern and the deck for you to keep a cooler and crate on board. You can also take along any kind of gear that you might need for the trip without worrying about overloading the boat.
Bottom line:
The Intex Explorer K2 kayak is by far one of the most affordable two-person boats in the market. It is highly durable and makes a perfect fit for people who love going on water adventures just for fun.
If you're not someone who wants to take an extra leap and invest in a high-end inflatable boat, Explorer K2 will definitely become your best friend. The boat is very stable on warm and flowing water and very easy to maneuver with the skeg.
Another thing that makes it worth buying is its weight capacity. As mentioned above, the boat can handle a maximum weight of 400lbs which is more than enough for two people.
Sale
Intex Challenger K1 Kayak, 1-Person Inflatable Kayak Set with Aluminum Oars and High Output Air Pump
Nimble, durable kayak is made of durable welded material with eye catching graphics for added safety on the lake or slow moving river
Cockpit is designed for comfort and maximized space, and inflatable I beam floors add stability. Removable skeg provides exceptional directional...
Cargo net to store extra gear, and grab line on both ends of kayak; inflatable seat with backrest
Comes with 84 inch aluminum oar, repair patch and Hi output manual hand pump; Rugged vinyl construction
Measures 108 by 13 by 30 inches (W x H x D), with 27.2 pound weight and 220 pound maximum capacity
Sale
Intex Excursion Pro Kayak, Professional Series Inflatable Fishing Kayak, K2: 2-Person, Red
Super tough laminate PVC with polyester core: Light weight and highly resistant to damage from abrasion, impact and sunlight
High pressure inflation provides extra rigidity and stability, with high pressure spring loaded valves for easy inflation and fast deflation
Includes 2 removable skegs for deep and shallow water, 2 floor mounted footrests, 2 integrated recessed fishing rod holders, 2 adjustable bucket seats
Removable and adjustable mounting bracket for additional accessories, such as GPS systems, fish finders, swivel fishing rod holders etc. Includes a...
Storage space in bow and Stern with stainless steel d rings for tying down Dry bags and gear; Kayak total weight capacity: 400 pounds
Sale
Intex 68303EP Excursion Pro Single Person Inflatable Vinyl Fishing Kayak Set, Red
SUPER TOUGH: laminate PVC with polyester core: light weight and highly resistant to damage from abrasion, impact and sunlight
RIGID AND STABLE: High pressure inflation provides extra rigidity and stability, with high pressure spring loaded valves for easy inflation and fast...
ACCESSORIES INCLUDED: 2 removable skegs for deep and shallow water, 1 floor mounted footrest, 2 conveniently detachable fishing rod holders,...
EVERYTHING YOU NEED: includes paddle, hi-output air pump, carry bag, inflatable seat booster for elevated seating, adjustable seat, grab handle on...
ADDITIONAL STORAGE SPACE: Storage space in bow and Stern with stainless steel d rings for tying down Dry bags and gear
Sale
Advanced Elements Advanced Frame Sport Kayak
A kayak designed to perform in universal water conditions. Roomy, comfortable, and lightweight
Proven aluminum bow and stern ribs provide increased paddling performance, easy movement & control under all conditions
Quick set up time, fast to inflate and deflate, lightweight 26 lbs., designed for 1 person, max weight of up to 250 lbs
Large cockpit area for easy entry and exit. 4 air chambers
Paddles similar to a rigid hard shell kayak. Compact, no roof rack needed, packs in the trunk of your car
Sale
Driftsun Rover 220 Inflatable Kayak - 2 Person Adult White Water Tandem Foldable Kayak Canoe Set...
2 PERSON KAYAK: The Driftsun Rover 220 tandem kayak features a front & rear rocker profile, so you can maneuver & navigate through calm or rough water...
WHAT'S IN THE BAG: Rover 220 inflatable kayak, 2 adjustable EVA padded seats, 2 adjustable aluminum kayak paddles, double action inflation hand...
ULTIMATE COMFORT: Constructed with reinforced double layered PVC, this enables the 2person kayak to handle obsticles in rough waterways without...
ADVENTURE READY: Diftsun folding kayak will deliver unmatched stability in rough water compared to low-pressure foldable kayaks for adults. It can...
SIT IN TANDEM KAYAK SPECS: Exterior 12.6'(L) x 38"(W) x 13"(H) / Weight: 28 Lbs. / Capacity: 600 Lbs. 2 Adults + child, gear or a furry friend /...
Sale
Sea Eagle 370 Pro 3 Person Inflatable Portable Sport Kayak Canoe Boat w/ Paddles
3 person/650 lb capacity, weighs 32 lbs, suitable for up to Class III whitewater
370 Deluxe Kayak Package features two movable, super comfortable Deluxe Kayak Seats for improved back support and 2 paddles, foot pump, and carry bag
2 AB30 7'10"" 4 Part Paddles with asymmetrical blade and aluminum shaft
2 skegs on the bottom for better tracking & speed
Open and close drain valve, 5 deluxe 1-way inflation/deflation valves
Intex Tacoma K2 Inflatable Kayak
Comes with Two Person Kayak, 2 Paddles, Hi Output Pump, and bag.
Heavy Duty Puncture Resistant Vinyl
3 separate air chambers
Boston valves, for quick inflation/deflation
Inflatable I-beam floor for rigidity
Sale
AQUAGLIDE Deschutes 110 Inflatable Kayak, 1 Person
INFLATABLE KAYAK: With its combination of length, stiffness, and light weight, the Deschutes 110 is designed for effortless paddling, portability, and...
LIGHTWEIGHT PACKABLE DESIGN: Deschutes weighs only 18 pounds and includes a duffle-style storage bag for effortless transportation. Molded plastic...
KEY USER FEATURES: Kayak includes quick release seats, adjustable foot rests, velcro adjustments for personalized seat positioning, paddle keepers,...
DETAILS: 1 person, 300 lb. (136 kg) max weight. Dimensions: 11' (335 cm) L x 36" (91 cm) W x 9.5" (24 cm) H. Includes kayak, seat, quick-release...
AQUAGLIDE: Our passion for water sports drives us to engineer some of the best boating technologies available so you get the performance you want...
Sale
Sevylor Quikpak K1 1-Person Kayak Blue, 8'7" x 3'
5-minute setup lets you spend more time on the water
Easy-to-carry backpack system turns into the seat
21-gauge PVC construction is rugged for lake use
Tarpaulin bottom provides durable protection from punctures
Multiple air chambers allow another chamber to stay inflated if one is punctured